Modify and Deform: Jacqueline de Jong Interviewed by Vere van Gool
An exhibition by a prior member of the Situationist International.

Discover MFA Programs in Art and Writing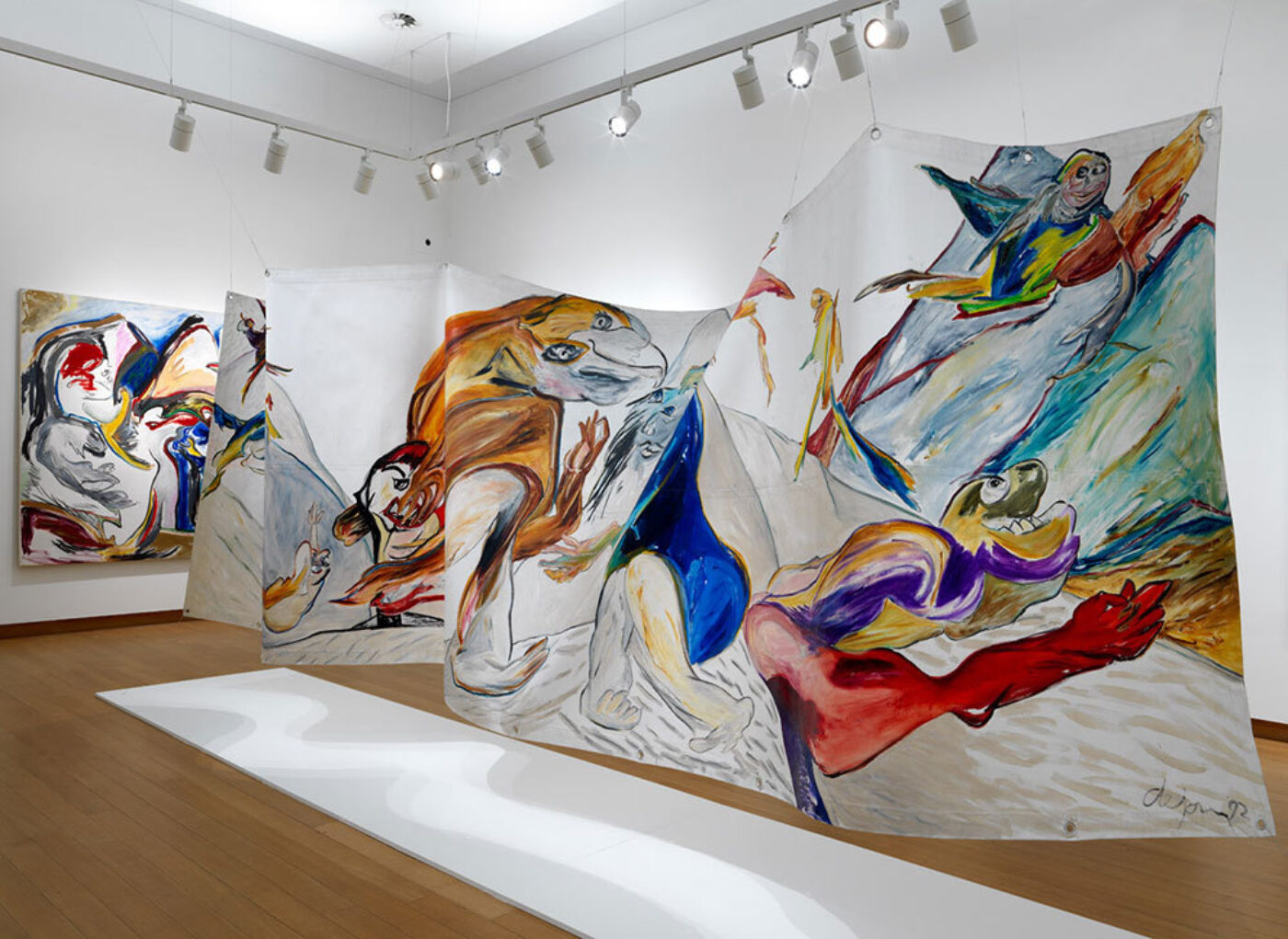 Talking to Jacqueline de Jong can best be described as a roller-coaster ride. Sharp curves and steep inclines forge new meanings while racing at unmeasurable speeds until all of sudden, with an abrupt stop, you stand still. Glancing over this cliff, you glimpse a momentary view into her past. And just before you catch your breath, you are at it again, pitched toward the unknown. There's an adrenaline rush—one that only a few conversations can conjure.
De Jong refuses to label her work as part of any style or cultural period. Though best known for her affiliation with the Situationist International, her current retrospective, Pinball Wizard: The Work and Life of Jacqueline de Jong, encompasses six decades of her experimental work and casts a new light on the Dutch artist. Chronicling the historical development of De Jong's practice, from Abstract Expressionism to new figuration and Pop art, the survey exhibition at the Stedelijk Museum in Amsterdam presents De Jong as one of the most illuminating autobiographical voices of the twentieth century. Spanning across thirteen rooms, her artist books, collages, installations, and paintings are exhibited alongside works by De Jong's contemporaries—white, male, established artists from the museum's permanent collection—which highlights the obscurity of her radical oeuvre.
I met De Jong at her atelier in our hometown of Amsterdam to discuss the complexity of exhibiting a personal history and the exclusionary democracy of the avant-garde.
—Vere van Gool
Vere van Gool Pinball Wizard: The Work and Life of Jacqueline de Jong features work by Jean Dubuffet, Asger Jorn, R. B. Kitaj, Wassily Kandinsky, Kazimir Malevich, and Chaim Soutine. I was told this was an attempt to write you into the institutional history of the museum?
Jacqueline de Jong To be honest, I find conversations about who is part of the canon and who isn't uninteresting. I wanted to find a new way for people to view my work, and the museum's curators wanted to do so via a dialogue with its collection. I spent months at their depot to select paintings that influenced my practice.
VVG To add context?
JDJ Yes.
VVG Adding context retrospectively is both an accumulative as well as reductive act— the paintings you didn't pick, the works you didn't show.
JDJ I find the process of exhibition-making inherently an act of limitation, even when it involves my own work. And while the museum's collection is vast, there are plenty of works I would have loved to include, but couldn't. Either they just weren't collected by the museum, or they were out on loan elsewhere.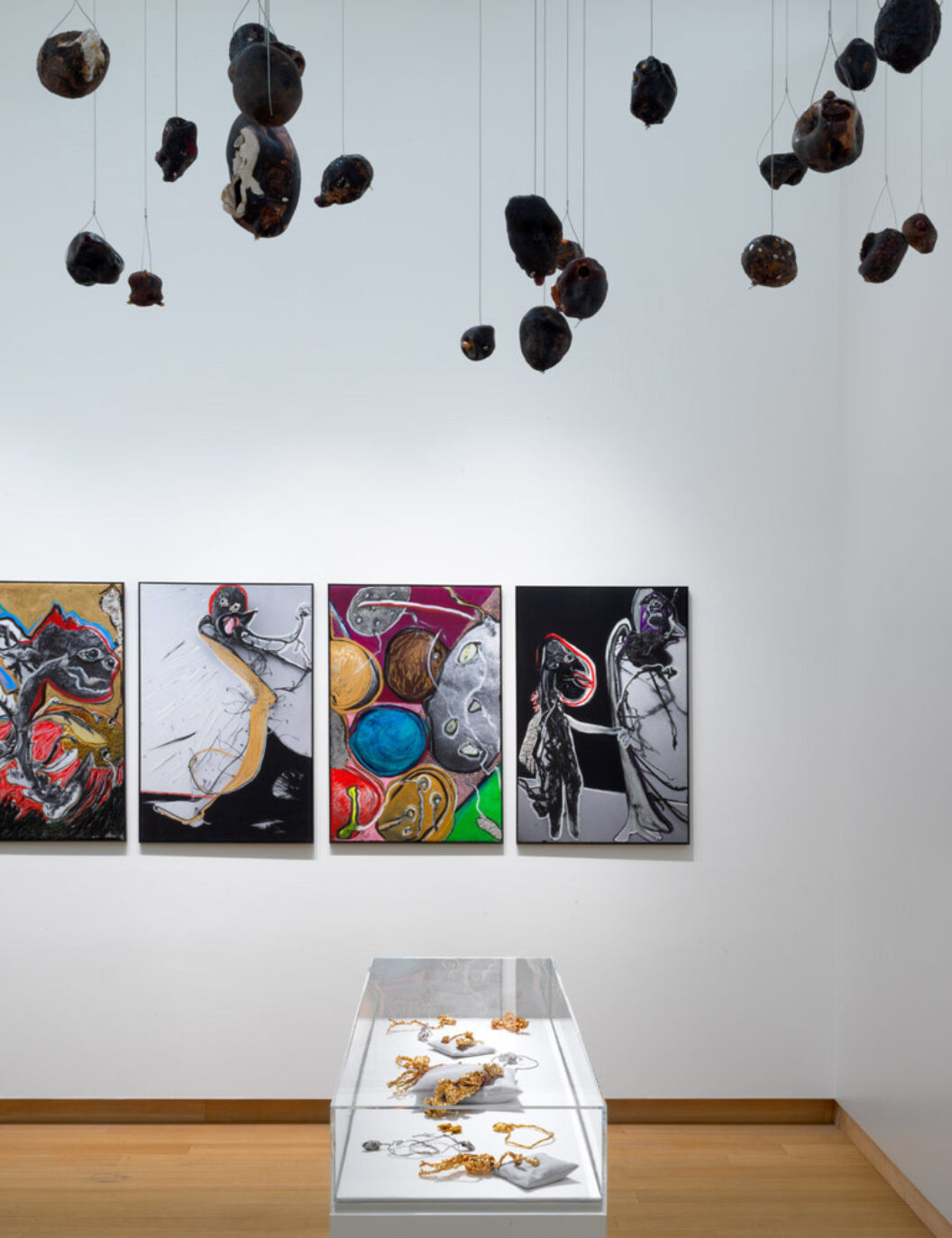 VVG Can you talk about this process of being both the artist and curator of your own survey?
JDJ Although I certainly worked as a curator in terms of making sure my paintings were hung correctly, I didn't perceive this as an artistic or intellectual exercise. Only when it involved the archive did I persist in doing it my way, as ultimately it is my archive, my history.
VVG The archive plays a pivotal role in the survey exhibition, connecting each room through vitrines filled with historic material. Does the archive play an important role in your practice?
JDJ I don't believe you need an archive to understand my paintings. But since I do keep a lot of things, it was great to include so much personal material in the exhibition. It's a kind of family tradition to keep things, as my father kept copies of all the letters he exchanged throughout his entire life. Even though I am not sure why he did, I find myself doing the same. Perhaps we both compensate for our bad memory by keeping things?
VVG Your archive consists of historical photos, news clippings, and trivia. Yet your personal history seems to be communicated mostly through the exhibition's wall texts, narrating your life in detail. Can you talk about this component?
JDJ What do you think about the wall texts?
VVG I found them somewhat derivative? You?
JDJ The wall texts were the most complex aspect of this exhibition. Not in terms of providing information, but rather the idea that exhibition texts should educate, as if audiences need schooling. It's kind of disrespectful, and I see it as a populism of the intellect. For example, with The Case of the Ascetic Satyr (2015), the facsimile I made with Asger Jorn, I wanted to describe it as a facsimile. But the museum's curators were worried visitors wouldn't understand what a facsimile meant, so they added the word copy to the text. A facsimile isn't a copy, so why do we tell our visitors it is?
VVG Didacticism as the opposite of exhibiting the fragility of life.
JDJ Exactly.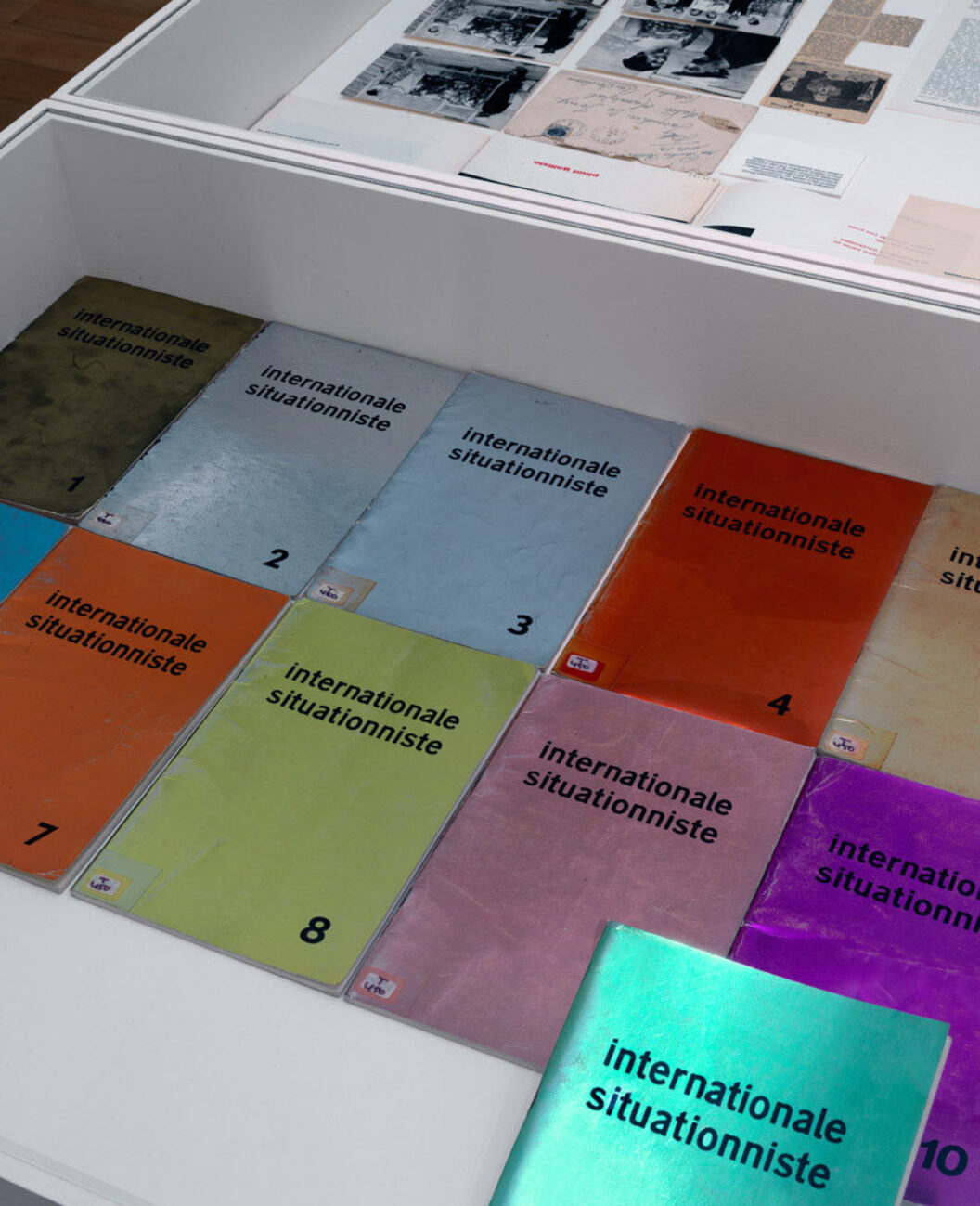 VVG Words, texts, and publications have insurmountably shaped your practice from the beginning. How did you get into publishing the Situationist Times magazine?
JDJ When I moved to Paris in 1959 at the age of twenty to join the Situationist International, my painting practice hadn't really taken off yet. This was during the period that Guy Debord started to dismiss art as commercial, and thus capitalist. In 1962, only a few years later, I was expelled from the group. And not just me, but most of the artists: Constant, Asger Jorn, Jørgen Nash, and Ralph Rumney.
Being thrown out of the Situationist International did not stop us from making work. I started the Situationist Times as a platform for us to share our work, in dialogue with one another. Unlike a group publication with blank pages to fill, the Situationist Times had a clear focus, with each issue focusing on shapes, such as the knot or labyrinth. But free of interpretation and without any rules.
VVG Now immensely valued, with original copies held at the Beinecke Rare Book and Manuscript Library at Yale University, I'm curious to learn how the Situationist Times was received at the time?
JDJ They hated me for it; Debord nicknamed it "De Jong Magazine." But I have no idea why. Being kicked out of the Situationist International meant that all contact was broken, almost like a game over, the end. I remember bumping into Debord during the '68 protests, and we didn't say hello to each other!
VVG Following the events of 1968 in France, you moved back home to Amsterdam, where you continued developing your practice. Looking at the Situationist Times and your visual work, like the Accidental Paintings (1964) or the Suicide Paintings (1965), it seems like a switch in styles: one focusing on geometrically controlled shapes, the other on abstract paint strokes exploding off the canvas.
JDJ Quite frankly, I never really thought about that. And to me, each painting is a deliberate choice. I look at the world; I read and smell whatever the world is; and then I deform it. I modify it. But rather than the focus being a shape coming out of the brush, it's what comes out of the painting.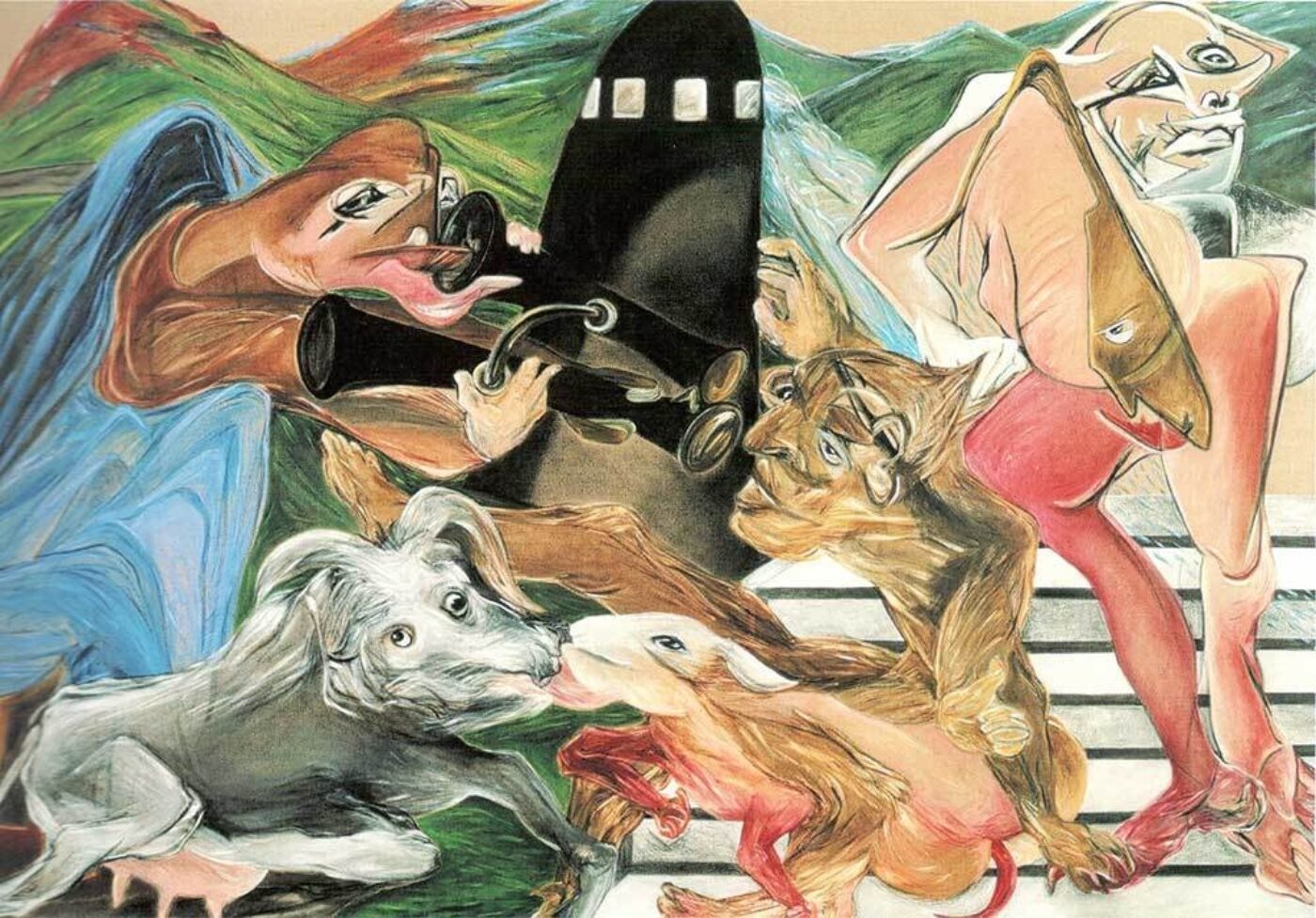 VVG The cultural revolution of the late '60s and early '70s plays a significant role in the evolution of your painting practice, since from then onward you portray iconographic objects in your paintings, like the pinball machine.
JDJ You know, there really isn't any kind of symbolism in my work, and I can get angry when people ascribe that to my paintings. Like rock and roll, the pinball machines were around me at the time, and so they ended up in my work. It can be that simple.
VVG But you were able to register its significance?
JDJ Yes.
VVG Were you equally aware of the significance of the Situationist International at the time you joined?
JDJ We all joined the Situationist International convinced that it was going to change the world for good. Alas, I don't think Debord ever imagined how he would end up as this French treasure, but he too knew how important it all was. We really all did.
VVG Was this a sentiment of importance in the way that resistance movements can install such emotions without always having to have a clear cause, or was it more specific?
JDJ It was both: from grand ideas about societal change to smaller issues like the politics of copyright. While the big ideas never manifested, I still care about the small ones and tackle them in my practice. For the retrospective, we have digitized all editions of the Situationist Times, to be shared online, with the public, for free. Abandoning copyright.
VVG With a complementary text?
JDJ Without any text, without any explanation, free from interpretation, free for everybody.
Pinball Wizard: The Work and Life of Jacqueline de Jong is on view at the Stedelijk Museum in Amsterdam until August 18

Vere van Gool is a curator and writer based in New York. Currently she works as Associate Director of IdeasCity at the New Museum.