Gary War on his latest record, Jared's Lot, inspired by the harshness of Massachusetts in winter, the sounds of Chrome, and the times in life when shit gets real.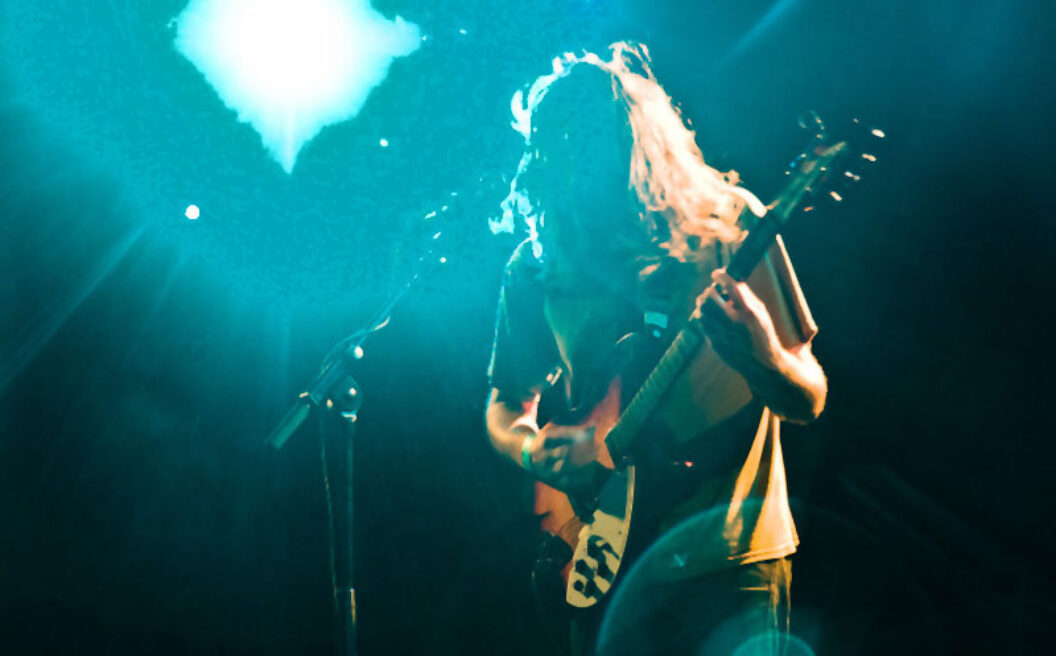 Gary War's latest full-length album, Jared's Lot, is out July 24th on Spectrum Spools, the label founded by John Elliott of Emeralds. It is an oddball epic of dark psychedelia and warped pop, and the sounds are weirder, the textures harder to decipher, and the songwriting deceptively sharper than anything War has released to date. His 2009 LP, Horribles Parade, had traces of classic rock and New Wave, falling in alongside the outsider-pop continuum of friends/collaborators John Maus and Ariel Pink.
Jared's Lot, though, is harder to place. There are hints of '70s prog and and high-bpm electro, but the album is more mood than anything else—ghostly, hypnotic, fun, like a lost Giorgio Moroder soundtrack to Duke Nukem for MS-DOS. War spoke with me via email about his philosophies of recording, San Francisco psych pioneers Chrome, and the geographic and psychic confusion that inspired his most recent work.
Nicholas Earhart When did you start making music, and what is your primary instrument?
Gary War I started off making goofy little recordings with tape recorders and a camcorder when I was a kid. I can't say that I can play one instrument very well at all, I can sort of just barely play a bunch of different ones.
NE Can you talk about the where and how you recorded this new record?
GW I did one song in New York and the rest were recorded in Gloucester, MA, on a jury-rigged DAW software/1/2'' 8 track reel-to-reel/8 track cassette combo-sync set up. My pal Ned added drums and percussion on Side 2.
NE The title Jared's Lot brings to mind something like Ender's Game, and the album has a science-fiction feel to it. Did you have a story in mind when you were writing these songs?
GW Not a specific story, really. The album title attempted to conjure the essence and spirit of the tragic yet unaffected local vibes found on the North Shore of Massachusetts during wintertime and my love for the area in general, for want of a better way to put it. I can see how there's a science-fiction feel but the album attempted to alleviate the very real and dark circumstances that brought me up to Massachusetts from New York at the time. I laugh at how off-the-rails and fried I was when I look back over some of the album content, but it was real so what do I care?
NE It's a very visual album—I picture spaceships in turbulence, or maybe a brutal intergalactic war. Do you have plans to make music videos for some of the tracks? What are some of your ideas?
GW Yeah, I plan to make videos for all 8 songs and have 3 completed thus far. Nothing too fancy or serious though.
NE Organic sounds play off of synthetic ones in a lot of these songs. Do you have a specific balance in mind between "human" and "non-human" textures?
GW I'd say that even the synthetic textures are human as I programmed and played them all by hand but I know what you mean. Yeah, no, I just tried to pull out all the reasonable stops in an attempt to make a timeless album of music that doesn't sound like anything that came before it, or will come after it, hopefully. I'm not saying that this was achieved of course, but I sure as shit tried, and won't ever stop trying.
NE What sorts of drum machines and synthesizers did you use?
GW Only the most fabulous ones! Uh, I normally lend and borrow quite frequently with friends so I usually have a good variety of stuff coming through. On "Jared's Lot" I mainly used shit by Moog, Sequential Circuits, Korg, Oberheim, some smaller modular companies, Elektron and Roland. All analog hardware though, no plug-ins.
NE What is the role of the human voice in your music?
GW Lead and backing vocals and samples generally.
NE Do you listen to metal? I ask because your music is heavy, but not in an obvious or conventional way. What are few bands or musicians that you find particularly inspiring?
GW Not so much. Lately I've found some European DarkPsy that's pretty decent and new sounding to my ears. The only rock band that has consistently fascinated me though is Chrome. They get right to the point and never dick you around. I also have huge love and respect for John Maus. I think he's one of the best songwriters that the U.S. has produced and is one of the funniest fuckers I know. He's another one who's not gonna shit you. "There are people who mean it and people who don't," as he would say.
NE Are you recording anything currently? What is next for Gary War, the band?
GW A buddy and I are currently working on some extreme electronic tracks that are sort of acid or trance-ish but way faster and completely ruined and mangled into oblivion. After we finish an album, I'll start a new G.W. record. I have a few weeks of touring planned for this August and October too. And Human Teenager is me and my buddy Taylor Richardson—we started jamming about two years ago in New York and released our first LP last spring on Spectrum Spools. We plan on making a new one when I get back down to New York this winter.
I have general discomfort with the idea of "lists" as I am fundamentally opposed to the concept of consumption establishing identity. With that in mind, and in efforts to avoid being a total sourpuss, here are three great pieces by the artists mentioned above:
For tour dates and more, go to Gary War's facebook page or Spectrum Spools site.
Nicholas Earheart is a writer and editor who lives in Brooklyn.