Mixtape: Gang Gang Dance by Luke Carr
New York's Gang Gang Dance have spent the last decade solidifying their reputation for fiery, schizophrenic electronic experimentation. Multi-instrumentalist Brian DeGraw describes the group's composition process before laying out his Mixtape.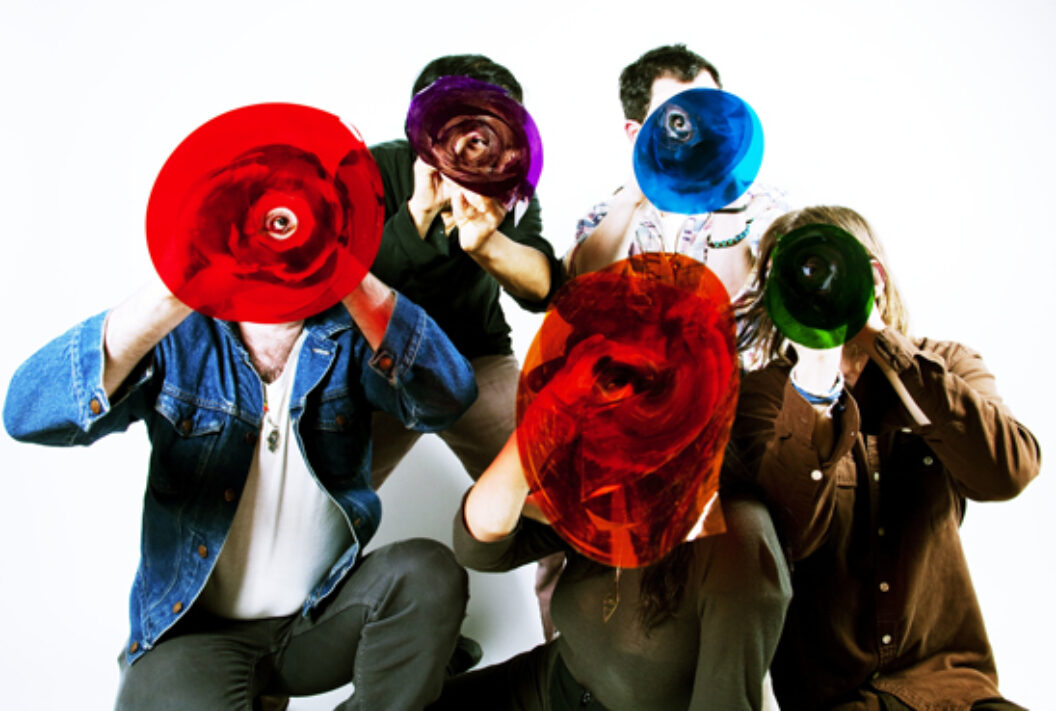 Gang Gang Dance returns this week with Eye Contact, their first album in three years and their 4AD debut. The group has spent the last decade solidifying a reputation for fiery sonic experimentation, spooky ambiance overlayed with looped tribal percussion and singer Liz Bougatsos' spectral filtered vocalizations. This installment of BOMBlog's Mixtape series features Gang Gang Dance's multi-instrumentalist Brian Degraw, whose video selections include Black Dice, Sic Alps, and Public Enemy. Degraw also explains the group's composition process, origins, and future. Gang Gang Dance will play the Music Hall of Williamsburg on Wednesday, May 4th, and the album, which can be streamed in its entirety below, is out next Tuesday.
Luke Carr It's been three years since Saint Dymphna. What has been on your minds in this time and what were some of your sonic goals for the new recordings? Was there something you wanted to expound on, or steer clear of, that you've covered in previous material? Were there certain sounds you wanted to achieve?
Brian Degraw None of the above, really. The way we work never really involves plans. We very rarely set any goals in terms of what we want a record to be. I would say the major element of our working process is to allow the songs to create themselves rather than us forcing them out of somewhere unnatural. The key is instinct. Our records are samples of our subconscious rather than results of a conscious game plan. This is mainly because we have always worked out of improvisation rather than traditional songwriting, so we really have a lot less control over what the songs are than you might think. They are basically just things that are already drifting around in the air around us and the ones that end up on the record are the ones that our physical bodies were somehow able to fish out of the aether and bring down to earth.
LC Gang Gang Dance has been included in shows at the MoMA and the Whitney. How does the band feel about being showcased as fine art? Is there a dichotomy between being an abstract, artful band and being a group that writes digestible music that people can listen to on their stereos or see live?
BD I'm perfectly happy to exist as a band in both the realms of art spaces and music venues. Music is Art and Art is Music so I don't see the separation as such a heavy line. We started ten years ago by playing in galleries so that's sort of where we were born—the music venues came later. There isn't really much of any internal struggle in terms of defining ourselves as ART or MUSIC, ABSTRACT or DIGESTIBLE. Part of the beauty of the music having its own life is that we can't shape it into anything other than what it naturally is. We are just the mediums between the cosmos and the public really—after we make it, who ends up listening to it is really up to the ears of the people. I think people from lots of different walks of life are receptive to it.
LC Are you excited about any contemporary music? Most of your mixtape selections go back in time—is there anything current on your radar? Where do you think independently released music is headed in the coming months and years?
BD Yeah I'm interested in lots of current music. Actually, the reason I didn't include some of the more modern music that I am listening to is just the fact that most of it doesn't include a visual on the Youtube clip. I spend most of my time listening to DJ/producer types these days. Joker is one of absolute favorites, I really like NGUZUNGUZU from Los Angeles, the new Zomby record is really great… and some of the footwork stuff from Chicago I can get into—mainly Traxman. Independently released music seems to just be the norm I guess. More power to it. It's a very sensible approach, especially in the wake of all the capitalist horror that is going on in the world now. This world would be a much better place if the DIY ethos had always been commonplace. I think Mother Nature would be a whole lot happier and the separation between "successful" and "unsuccessful" artists would be a lot less broad.
LC Can you describe the group's composition process? Do the songs stem from improvisation or do they sprout from any member's written structure?
BD It's always out of improvisation. It's been like that from day one. The only difference now is that we tend to spend more time after the improv phase—like once we've found the sweet spot of the improvisation, we spend a lot more time refining it and turning it into a "song" or structured piece of music.
LC The group is embarking on an extensive tour in support of Eye Contact. Is there a date in particular that you are excited about?
BD I'm excited about a lot of the dates on our tour. ATP should be amazing. Big family vibe at that one. Primavera is always so magical. Looking forward to the US East Coast tour as we'll be bringing a DJ crew that I'm pretty excited to get to hear every night. Was really looking forward to Nagasaki—one of the most beautiful places I've ever seen—but unfortunately we aren't going to Japan now due to radiation levels caused by capitalist nuke mongers. So sad.
LC Where do you feel the album stands in the context of modern music and in the context of Gang Gang Dance's discography?
BD I have no idea where the album stands in the context of modern music, I really don't. Someone at 4AD described it as a sort of bridge between non-electronic and electronic music—like a bridge that could make the electronic world seem more appealing to people who are normally just into guitars or something. I kinda like that thought. In terms of our own discography, this record seems to me to be sitting really perfectly in the lineage. We had some pretty major changes in the dynamics of the band with this one. Tim stopped playing with us and Jesse joined as the new drummer, so that's a pretty drastic element that also seems to be signalling some sort of new era for us, I guess. I am trying to embrace that, even with the artwork on this one. I tried to let go of some of the aesthetic consistencies from the past and open up to a new approach with the design. It's all pretty refreshing and exciting. It's the start of Decade 2 for us!!!
Brian Degraw's Mixtape: May 2011​
Sic Alps, "Bells (w/ tremelo and distortion)"

A video from a few years ago by Sic Alps. They are a band from San Francisco and they rule. Finally got to see them play last month in a real small garage at a college in upstate NY. They played with Magik Markers. It was one of my favorite shows in recent memory. There's a familiar wink in this vid at 1:19 as well!!!
Phil Minton's Feral Choir at the British Museum
This is Phil Minton's Feral Choir, which has been completely blowing my brain apart lately. I didn't know a whole lot about this guy until I saw a video of him performing with Dylan Nyoukis (who can be spotted in this performance as well). I guess he started out doing more traditional reading type stuff and it evolved into this primal gut explosion improvisation—and now he is conducting pieces like the one in this vid.
Demerol
I'm not sure who made this vid but I am a big fan of his youtube channel—pretty much everything on there is really great and of this tweaked, chopped, and screwed VHS style ilk. Someone told me they reckon it's made by Oneohtrix Point Never, which makes complete sense.
Nina Simone, "Who Knows Where the Time Goes"
A very special live cover version of the Sandy Denny tune. Some real true magic and emotion goin' on in here, as is most often the case with Nina Simone—but something about this one really gets me.
Magik Markers at the Flywheel 2005
Super brutal footage of a Magik Markers show in 2005 that I really wish I had been at.
Payne and Relph, Mixtape, opening scene
This is the first few minutes of artists Oliver Payne & Nick Relph's 2002 film Mix Tape. This is a really important film to me both as a piece of art and as a sort of landmark in my friendships with several people from London. I will always love this film…
ASA-CHANG + Junray
I know nothing about this piece of beautiful trance music other than I really really enjoy watching and listening to it over and over.
Milford Graves + Toshi Tsuchitori Live in Tokyo 1993
A quick clip of Graves and Tsuchitori that begins with Milford's signature dance steps and ends in a gloriously bombastic drum eruption.
Public Enemy, "By the Time I Get to Arizona"
Public Enemy are one of my favorite groups of all time. This is not one of my favorite jams of theirs, but the lyrical content and video are very important and a perfect representation of the political essence of P. E. For those who don't know, this song refers to when John McCain was an Arizona senator in 1983 and both he and the state made a decision to no longer honor Martin Luther King Jr. Day as a holiday. I believe this video aired only once on MTV before they pulled it.
Black Dice, "Kokomo"
Black Dice in all their visual and sonic glory. Also one of my favorite groups of all time.
Bob Marley summoning a lightning strike
A clip from the One Love Peace Concert in 1978 in Kingston. This concert was held during a time of opposition between two political parties in Jamaica, the Jamaican Labor Party and the People's National Party. Marley had the leaders of both parties come on stage and join hands.
The build here that starts at about 1:45 and culminates in a bolt of lightning at 2:12 is absolutely everything I love about the power and energy of music. There are skeptics who say this was staged or a special effect—but a friend of ours named Dan Asher (R.I.P.) was at this concert and apparently it was very, very real. Indeeeeeeeeeeeed!!!!!!
Gang Gang Dance's Eye Contact is available May 10th from 4AD. The band is on tour now.
Luke Carr is a writer from New York State now rooted in Bushwick, Brooklyn. His writing has appeared in the Brooklyn Rail, The L Magazine and The Submission. He is also a member of the band Ellis Island. Material, including photography and video, can be found at lukecarr.net