Mining the Underground: Nicolas Sassoon Interviewed by Alison Sinkewicz
Combining the sculptural and the digital.

Discover MFA Programs in Art and Writing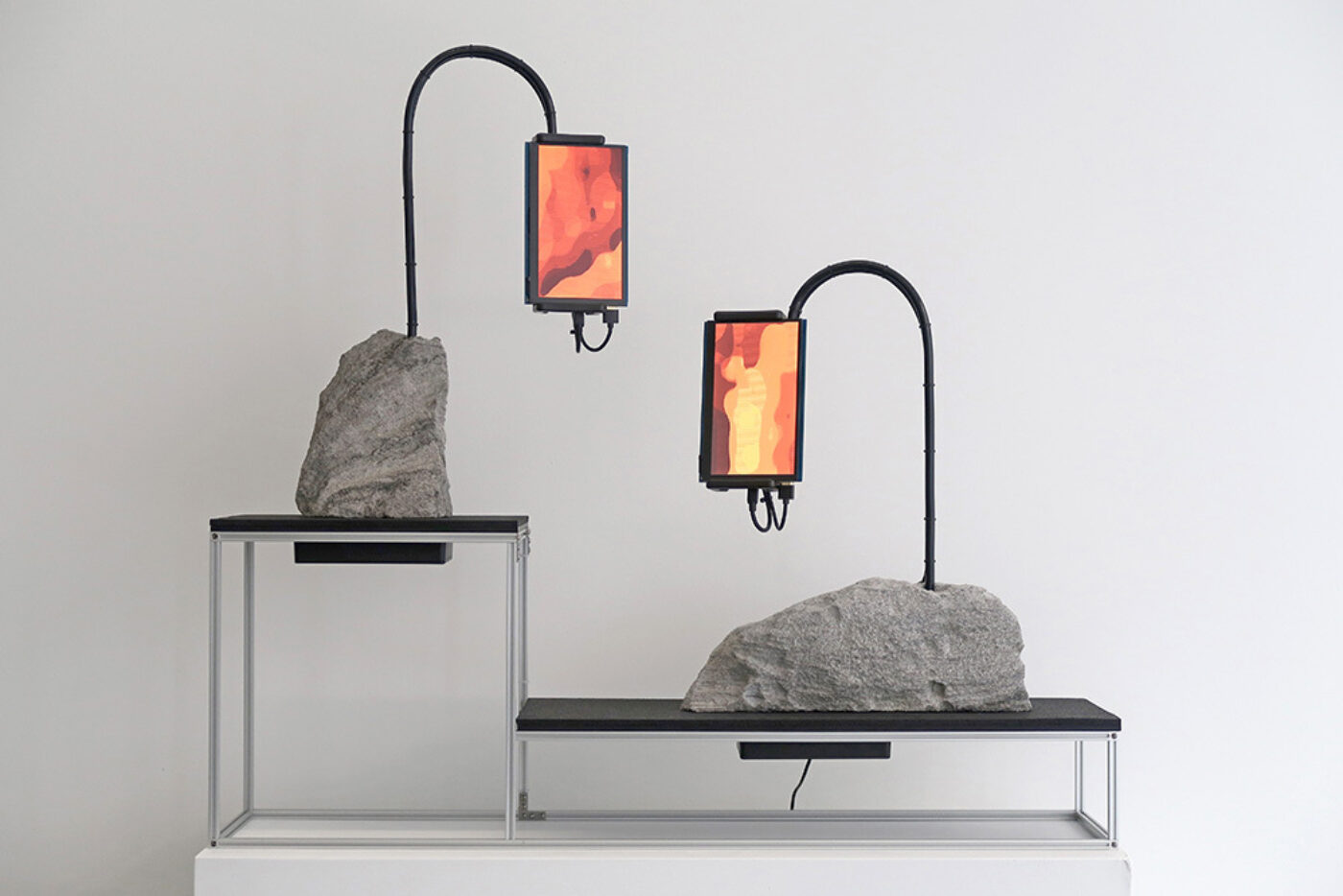 Nicolas Sassoon's work employs early computer techniques to represent human-built architectures and natural phenomena. His latest exhibition, Subterranea, at Galerie Charlot in Paris presents three bodies of works connected thematically through notions of the underground as it applies both to the literal geology beneath our feet and to the social networks connected to afterhours dance venues.
Sassoon's work often ponders the mystical associations to technology. The figures in his series The Prophets (2019–) appear like ancient beings, plastic necks and wooden branches acting as cables connecting the rocks to LCD interfaces that screen hypnotic, abstract GIFs. The artist's interventions are twofold: examining the materiality of our technology extracted from the earth and discovering the spiritual origins and potential of these materials.
—Alison Sinkewicz
Alison Sinkewicz This exhibition brings together three projects of yours, including a collaborative project. There's some playfulness with what "underground" refers to. Was this a theme you were building upon prior to the exhibition?
Nicolas Sassoon It was my first solo exhibition in France, at least of this scale, and because of that the decision with Galerie Charlot was to present different projects from different periods, although the projects exhibited are from the last four years, so they're all fairly recent. When we started looking at the three projects selected for the show, I tried to think of a title that could act as a reading grid for them. "Subterranea" and the broad idea of an "underground" tie the projects together and give an entry point for the audience to read the works.
The exhibition is laid out on two floors. On the first floor there is CORES (made in collaboration with Rick Silva; 2019–) and The Prophets, which have a strong dialogue together. On the basement floor is the project Index, Avenue, Skylight which is from 2016, 2017 and 2018, respectively. It's almost like two exhibitions.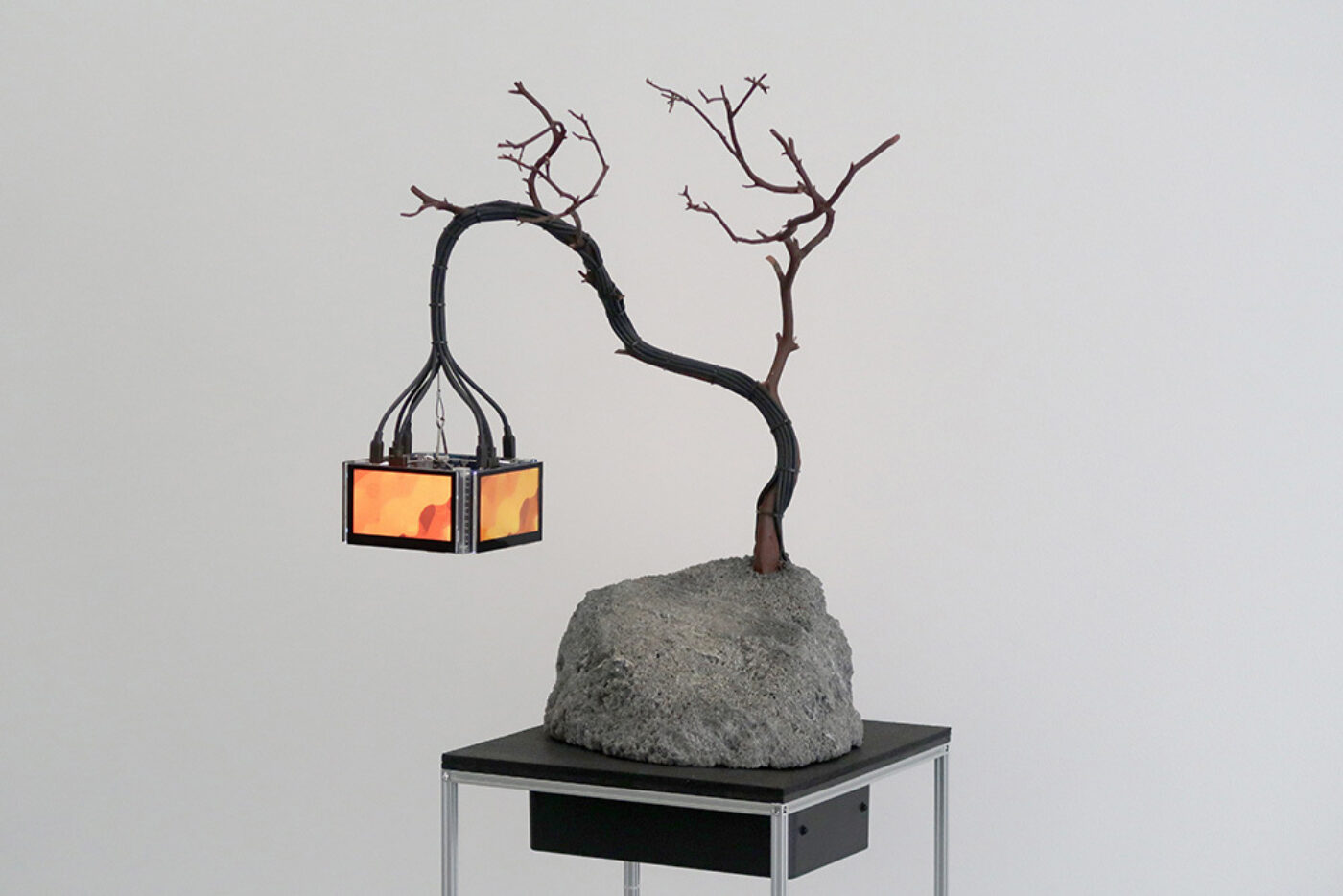 AS The Prophets are a reference to ancient knowledge systems, but they're also presented through a digital interface. Someone like Alex Galloway would say that an interface is "not a thing" but rather an effect—a way of mediation. How did you approach the role of the interface in these works?
NS I see the sculptures as visual and imaginary interfaces between the minerals and the hardware, which generate an effect on the viewer. I want the rocks to appear as if they are mediating something through computer technology, some form of never-ending combustion or magmatic activity. The technicality behind that is secondary to me; it's more about the visual language and the structure of the sculptures—how to create these connections and relationships visually. There is a tendency in some technologically engaged art to reveal the computational processes in order to deliver some truthfulness in the resulting artwork, supposedly. I never cared for that.
If anything, I would like the sculptures to be challenging one's perception of minerals and geological specimens. When I work with geological specimens, I feel like two visions of the world collide. One of them is very materialistic where rocks are just resources. What can you do with that resource? Can you manufacture something? But looking at rocks for their formal qualities, for their origins, for the processes that created them, different kinds of reflections emerge on what is possibly contained within them. What are they representing in terms of cycles? In terms of time? In terms of materiality? How do they connect with the cycles, the times, and the materiality of our lives?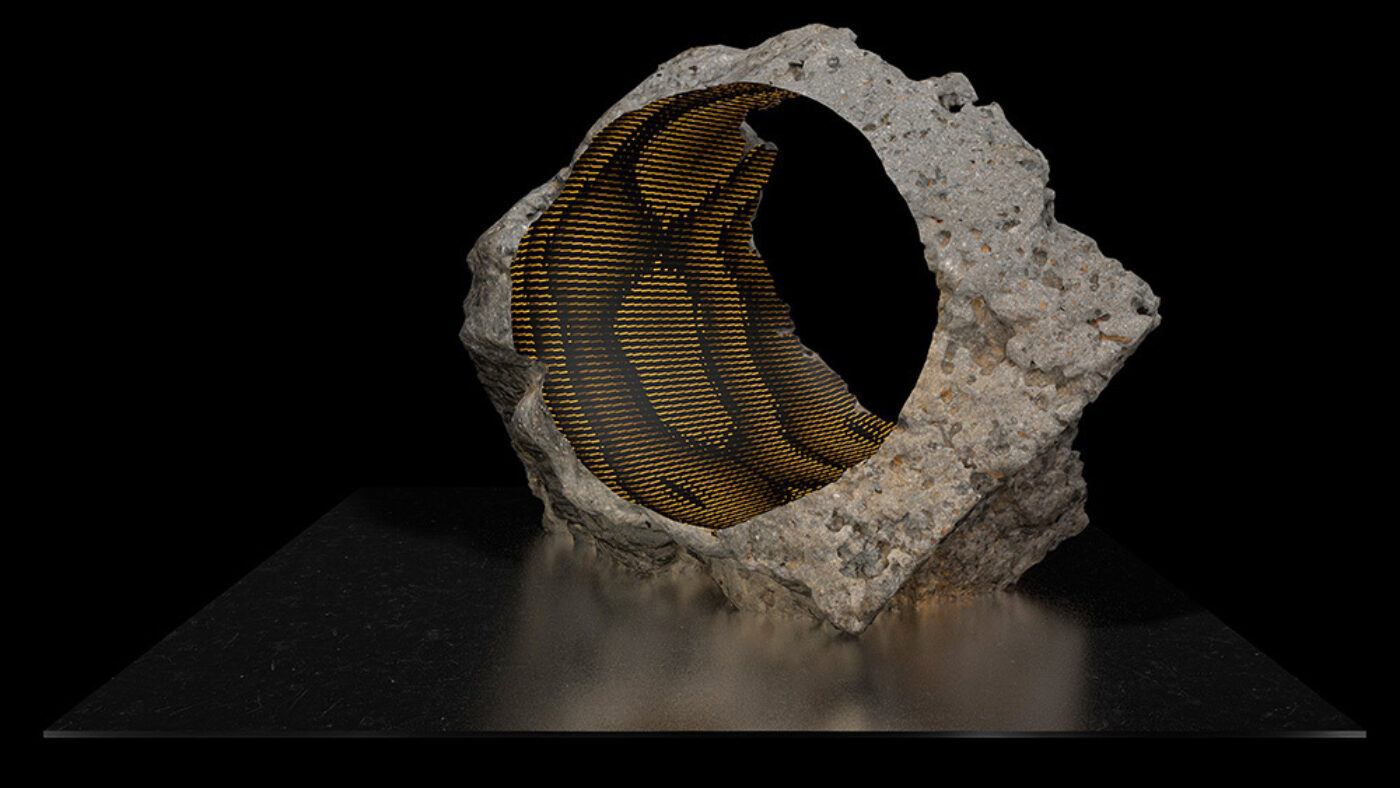 AS CORES is an extension of your work in abstraction. There is a spiritual, magical process in it. As you move further with abstraction, I'm curious how you move things along in this process?
NS One of my challenges with abstraction is to contextualize it, which I guess is a self-imposed challenge. When I create these types of animations, there's always a reference point, and the works are fairly open-ended in that they don't necessarily convey that reference. With CORES it was easy because there was an obvious connection with the rocks. I tried to develop patterns to match features of the rocks; it was almost like guessing what their insides would look like. One of my reference points was Widmanstätten patterns, which are found in certain meteorites. Some meteorites are almost entirely composed of iron, and when you slice them they show these really beautiful, crystal-like patterns. You won't find that kind of metallic formation on earth; it's something that solely comes from space.
AS I like the kind of role switch that happens with Index, Avenue, and Skylight—from transcripter to imperfect visual historian. Do these works function as record keeping?
NS I think that was the intention. It was about creating a very unconventional and alternative record. What motivated me at the beginning was my personal attachment to these spaces in Vancouver, socially and culturally. One question I asked myself was, What is going to remain of this space when it's gone? What sort of residual trace or energy will be remaining of these spaces? What's interesting, as I am sure you know, is that when these underground venues disappear there's no documentation, there's no tangible trace of them. The only way they exist is through word of mouth; like an oral tradition, they exist as mythologies or tales. There's something quite beautiful and exciting in that.
I wanted to create a record that would reflect on the nature and energies of these spaces that were chaotic, irrational in many ways, and transient. When you think of an archive, you tend to think about an objective trace: a photograph, a text, a document that proves a certain level of existence. But that document doesn't really tell you much about what you could have experienced in that space.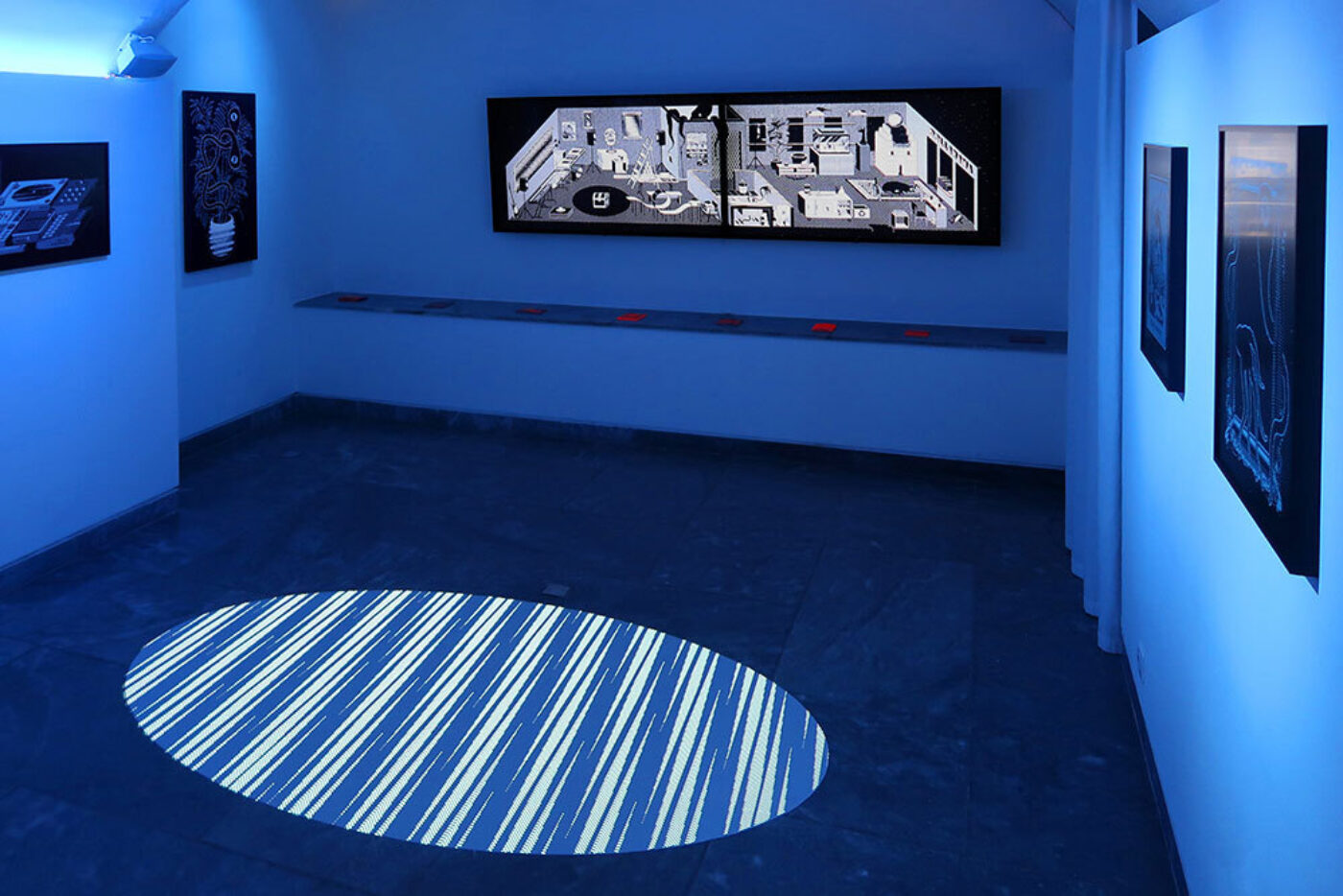 AS Each of these spaces are void of any people, which you might think is what imbues them with meaning. Can you talk a bit about that inherent element that you wanted to explore with these works? How did you want to enter these spaces?
NS I decided to render them through an oblique perspective, in black-and-white, pixelated patterns, and use a figurative visual language inspired by early video games and computer graphics from the late '80s and early '90s. My animated work has sometimes been associated with nostalgia because of the visual language that I use, and I used to battle with that because I found it reductive and dismissive of that aesthetic. I've always tried to take the pictorial qualities of these graphics elsewhere and talk about digital abstraction through them, as well as architecture, landscape, and natural forces. But for this project it was like, "Okay, here you go. I'll give you some nostalgia." (laughter) That was exciting; it felt like looping the loop. And there is some nostalgia in this project, but I see it much more as a celebration than a form of grieving.
AS I've seen these works before, but now, as someone who also went to these spaces, I feel so totally different about them. If you were to do them now, hypothetically, do you think your memory of the spaces would be different? How do you understand the role of the artist's and viewer's imagination in the works?
NS I'm curious, what was different for you?
AS I think definitely the Index hit hard because that was a formative place for me. But I also felt a kind of grief—longing and grief, I would say. Definitely no cynicism, which had informed some of my feelings when I first encountered them. (laughter)
NS That project was a way for me to turn a page in my life. And that isn't to say that I'm not longing for these kinds of spaces—I definitely miss them. It was a big part of my life; these spaces connected me to my friends, to my musical and visual interests. I also see these venues as the heart and lungs of what we call contemporary culture. They provide a platform of experimentation for people who don't have access to artist-run spaces, to commercial galleries, to more established spaces. When I look back at the project, I don't see them so much as portraits of these particular spaces, although they are, but as evocations of that underground culture.
AS When I said grief and longing, you can go dancing anywhere, but it's the counterculture that's what I think I'm missing now. And with global populism and the global pandemic, it just feels so big, and these are small spaces of refuge that you miss when they're gone.
NS For sure, like you said there are plenty of clubs where you can go dance, but there are very few places like these underground venues. The environment is completely geared toward something else. It's a space for release.
Nicolas Sassoon: Subterranea is on view at Galerie Charlot in Paris until February 28.
Alison Sinkewicz is a Vancouver-based art and design writer. Her work has appeared in Wallpaper*, Dwell, Canadian Art, Azure Magazine, The Editorial Magazine, NUVO, VICE and Pitchfork, among other publications.