Mike's World: Michael Smith and Joshua White (and other collaborators) by Nell McClister

Discover MFA Programs in Art and Writing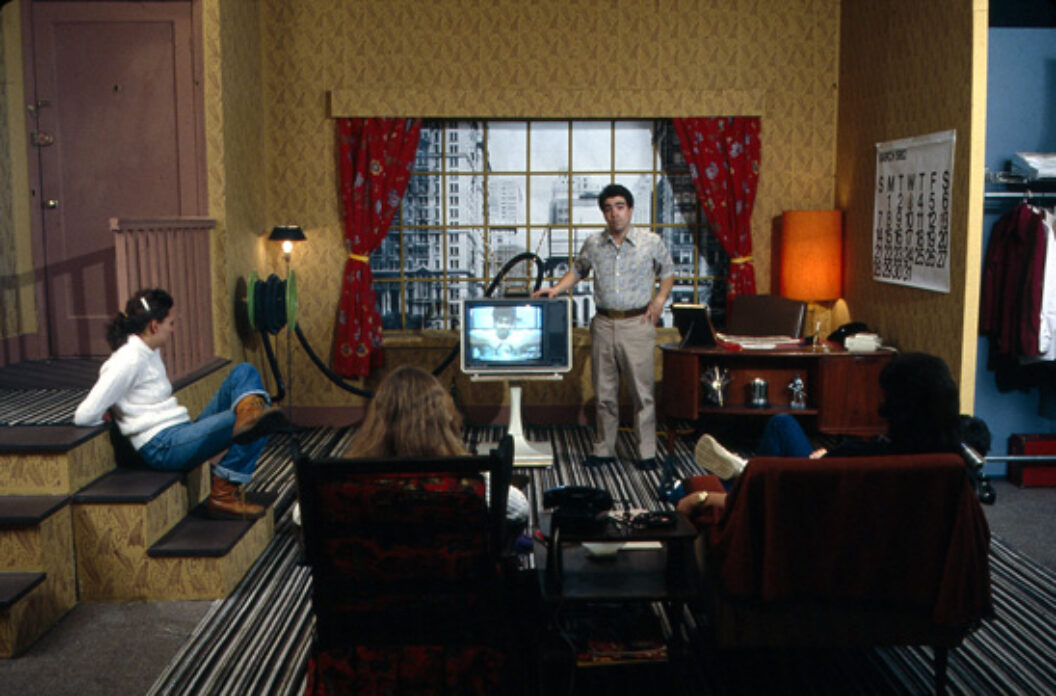 Everywhere you look in Michael Smith's first midcareer survey—a cacophonous carnival of videos, skits, installations, publications, and drawings—there's "Mike:" a pasty, caterpillar-browed, small-time entrepreneur with American values and a fondness for JFK. Smith's main performance persona is often called an everyman, but above all, "Mike" is the wise fool.
His wisdom is dark: running throughout the candy-bright installation are themes of apocalyptic paranoia, nostalgia for the 1960s, and bewildered post–9/11 reactionary politics. Mike needs to redo the rec room, so, to get his money's worth, he builds a fallout bunker, a 1985 project documented here by drawings, a video, and a full-size yellow concrete snack bar with a hinged canopy, stocked with coffee and Glenlivet. The grim can-do tone and the clever, tacky design are characteristically spot-on. Elsewhere, in one of the elaborate fictions Smith has created with his longtime collaborator, producer-director Joshua White (the legend behind the Fillmore East's 1960s psychedelic light shows), "Mike" converts a quaint artist's colony into a corporate retreat. In the 2001 installation The QuinQuag Arts and Wellness Centre Touring Exhibition, a pixelated photograph of JFK hovers over a colony-made rocker that Jackie ostensibly popularized by buying for her husband. The joke is not as simple as it might appear. Nostalgia for artistic and political purity saturates the scenario, but the viable intersection of art, commerce, and power is one of Smith's favorite topics. He manages to give lie to the theory of primordial wisdom while showcasing the opportunistic corruption that such wisdom combats.
Nell McClister, a freelance writer and editor based in Philadelphia, was formerly senior editor of BOMB.
Mike's World was on view at the Institute of Contemporary Art, Philadelphia.
Originally published in
Featuring interviews with Claire Fontaine, Nayland Blake and Rachel Harrison, Roman Signer and Armin Senser, John Giorno, Kelly Reichardt and Gus Van Sant, Alan Vega and Matt McAuley and Brain McPeck, Richard Maxwell and John Kelsey, Chris Lipomi and Kathryn Andrews, and Peter Cole.