Miguel Gutierrez & Stacy Szymaszek
Syllable, step, and surplus.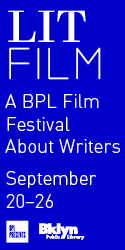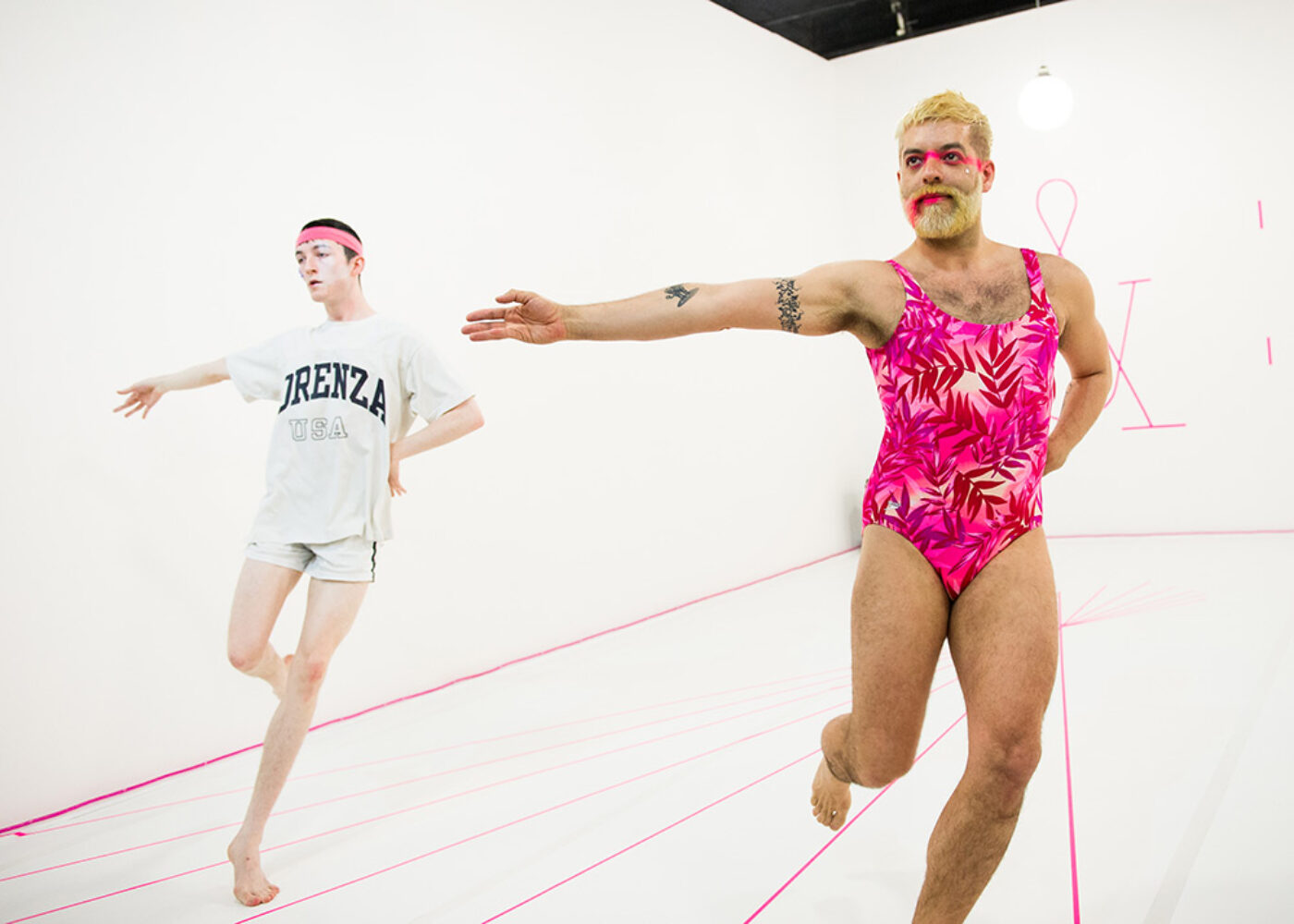 In anticipation of The Poetry Project's annual Spring Thing on May 9th, dancer, choreographer, writer, and featured performer Miguel Gutierrez sits down Stacy Szymaszek, poet and director of The Poetry Project, to talk about the function of the somatic in writing, the potency of action, excess, and Yvonne Rainer's Trio A.
Stacy Szymaszek One of my curatorial motivations since I've been director here has been to explore and expand the way people think about poetry and to create new contexts for complex work to be received. 
I first heard about your work from our neighbors at Danspace Project, and I invited you to perform at the New Year's Day Marathon Reading in, I believe, 2010. That day is always administratively grueling and attention-fracturing, so my introduction to your work was an extraordinary several minutes of being with your performance, your high-energy construct. I say "being with" because I didn't experience it like a spectator. I felt like I was being restructured within a frenzy, and through that, stress became joy. The way I think about poetry has a lot to do with energy and metabolism. One of the texts that was foundational for me, and many poets, was Charles Olson's essay "Projective Verse," and I've been referring to it a lot over the years as I've been grappling to make connections between poetry and dance that don't seem overly specious. I've read that you don't like "how dance is reduced to the visual," and, similarly, I don't like how poetry is reduced to the nonphysical. Walking, for instance, is a primary mode of composition for me. And one of the things that makes your dance performances so interesting is the abundance of language. Language is part of the body that issues it. 
Miguel Gutierrez So, I've just read "Projective Verse." I was unfamiliar with it, and I love it. It just taught me so many things and also clarified many things I already believed without understanding that I believed them—one being the function of the somatic in writing (and by extension, in all art-making), and two being the role of technology, the way he talks about the typewriter giving the poet control over the exactitude of spaces and line breaks. I love thinking about this intervention. I'm always sensitive to looking at the alleged "givens" of any performance situation—the room itself, the dimensions, the way it's been set up, the time of day, the energy of the audience, my own energy, the lights, the sound, the speaker placement…
During the performance you mention at The Poetry Project, if I remember correctly, I was nervous as shit. I warmed up in the balcony at St. Mark's Church, which always feels sort of isolating and detached, and listened to poem after poem about bitterness or drinking, or both. It weirded me out. I had the vaguest of notions of what I wanted to do. The only thing I was set on using, of all things, was a Radiohead song, and wearing a blond wig, vintage bathing suit, and Batman T-shirt. Everything else was reactive, feeling, and maybe also, since the marathon is held on the first of the year, some kind of destructive ritual of beginning and ending. I ended up with major rug burns from that fucking performance, since I hadn't had time to actually rehearse, and it hadn't occurred to me that I was going to be dancing on the disgustingly carpeted altar. 
SS I appreciate your segue from Olson's talk about the typewriter giving the poet control over exactitude to the way you assess "the alleged 'givens' of any performance situation." As a person who has organized hundreds of events, I do see the space itself as integral to the experience. I'll come in and move all the chairs two inches to the left. I used to think I was engaging in magical thinking, but now I just think: Well, it objectively looks and feels better, and that matters for everyone involved. Being tenants of St. Mark's places limitations on what we can do with the space. A Christmas tree will appear, and then we just have to have a couple of months of events with a large tree in there. I can't be as micro as I'm inclined or I would lose my mind. After I saw your Marathon performance, I realized the event needed more dancers between poets to move people's eyes around the room, and that even asking the audience to shift their necks, heads, or butts in seats could create a significant experience over the course of half a day's time.
MG I believe in the potency of action. Something I like, but also deviate from, in Olson's essay is his discussion of the syllable. I've never understood how to reduce a unit of action. Conventionally, in dance, people talk about steps as being the way to do that, but I find the idea of steps fundamentally silly. The determination of the beginning and end of a movement is purely arbitrary and imposed. Even if I think I'm only doing a step with my arm or my foot, my whole body is present and involved the whole time. In this sense, I envy the clarity of the syllable. I understand the syllable if I'm speaking text or singing a song in my work, which happens often, not only from a place of rhythm and energy, but also from a place of effort—do I have enough air to make this sound?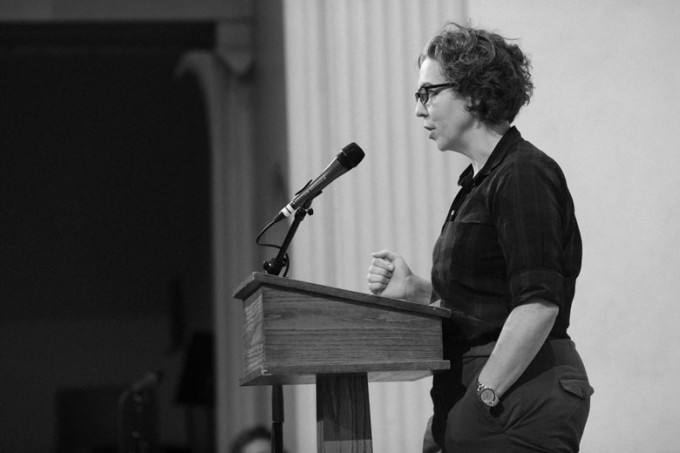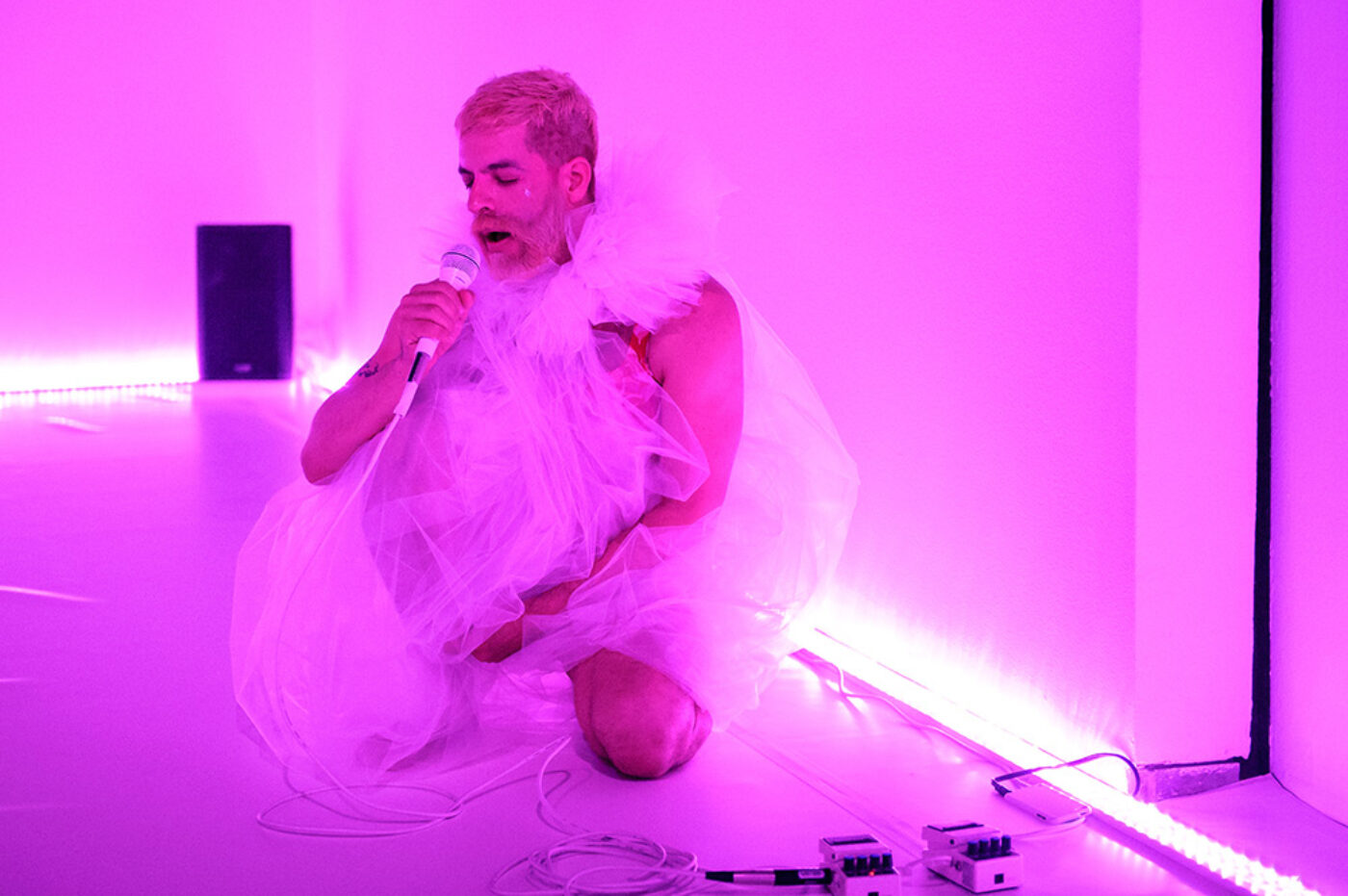 SS As a poet reading my work to an audience, I've been much less attuned to the physical space (we're kind of static up there, holding a mic or speaking into it) and much more attuned to my own body and transmitting the work to the audience. Ideally, the creative field is mass embodiment.
MG From the poems of yours I've found online, I am amazed by the economy and selection of syllables! I don't know if you think of it this way at all, but reading your poems in concert with the Olson essay sort of forced that reading. I tend to overfill things. It's strategic. I like excess and surplus as a way of complicating people's desire to think of dance as visual. If they can't "read" it in a traditional sense, then they are forced to experience it, feel it. They are forced to deal with the gestalt or the aura of the thing, which in the end, at least for dance-based performance, feels like the more viable—and maybe even politically efficacious—choice. 
I'm in Zürich, and at this apartment I came across a brochure for a performance festival that divided the participants into "artists" and "thinkers." I hear this kind of taxonomy a lot in Western Europe, which always de-physicalizes the thinking and de-thinks the art. It makes me fucking crazy. 
SS My work, particularly in my first two books, is very invested in using sound to generate meaning. I wasn't thinking so much about content, beyond a word that felt charged to me and where I can take it. I'd pull down another word from that word—kind of an anagrammatical logic to poem building. When I read that work aloud I try to accentuate that I have a syllabic relationship to each word, as much as that can be conveyed! My current work is very different, with an "include everything" ethos. And it's autobiographical. I wonder about the reader/audience still feeling invited to participate in making meaning, in creating an experience with me when I'm taking up so much space, but I think my interest in the journal-poem form is also an interest in how our minds work associatively, how memory functions/malfunctions. I've always seen my poems as psychic models, so this is a much more intimate manifestation. My trajectory has been from economy to embracing excess. The risk feels greater, and this is more gratifying as an artist, and something I look for in other artists, too. I'd love to hear more from you about surplus/excess in a dance-based performance being "politically more efficacious."
As a side note, I recently took the workshop Emily Coates led on Yvonne Rainer's Trio A at Danspace, and I'm connecting something Emily said with your finding the idea of steps "fundamentally silly." She said something like this: Everything you do in this dance is just doing. I definitely had the feeling, while in it, that the best way to deal with Trio A was as one continuous movement. Near the end of this workshop, I had to sit down simply because I couldn't "take it from the top" anymore. I have no muscle memory. And this is really bothering me today! It seems important to improve this condition, even as a non-dancer.
MG Oh, that's great you took the Trio A workshop. But I disagree with the idea of "just doing." This idea of postmodern "non-affect" is itself a very particular way of being that involves a kind of toggling between doing and suppressing and "naturalism"—all of which are forms of "doing," as far as I'm concerned. Of course, at the time of its making, Rainer was responding to Modernism and its bigness—the drama of Martha Graham for example. But what people never mention—and this will be my segue into talking about excess—is how fucking sexyYvonne Rainer was as a performer then. She was just totally badass. This "non-doing" of hers had a real smoldering, defiant fullness, which strikes me as feminist and queer. There is no such thing as a "neutral" body or a "natural" way of doing things. There are greater and lesser degrees of effort, and there are native styles of being that depend on culture, gender, sexuality, etc. This is partly why I have embraced the idea that you mention, that of "include everything," though, in my case, I'm more about "start with everything." Don't reduce or minimize.
SS I like the subtle shift or distinction of "start with everything." The verb "start" suggests you already have everything you need. It's more dynamic.
MG This came up for me when I made a piece called HEAVENS WHAT HAVE I DONE, I found that I was trying to press up against a very powerful Eurocentric/NYC privileging of minimalism or reduction, which strikes me as one of the tactics of the white avant-garde to make dark bodies feel excessive, overly emotional, or overly "storied." I'm being a bit extreme in my description of it here, but I really do view minimalism with a huge amount of suspicion. Of course, there are a couple folks who queer it or personalize it (Felix Gonzales-Torres, Agnes Martin) in ways that are so deft, ridiculously powerful, and seductive.
I see this as different than selection, which of course we are all doing all of the time when we make things. Selection conspires with predilection conspires with conceptual conceit conspires with whatever the fuck ends up exciting me that day in rehearsal. This last point is crucial—I have found that thinking I can "know" what my interests will be is fanciful. I can write the grant, the proposal, whatever, but when it comes to the moment I actually start to follow my mind/body thing, when I listen to the situation in the room, my life, the world, then all of these cute little "ideas" about what I want to do fall away. Or maybe they were only ever an excuse to get me into rehearsal in the first place, so that I can come clean with what I actually want to do. And so, this is the surplus, in a way—the extra I couldn't have predicted.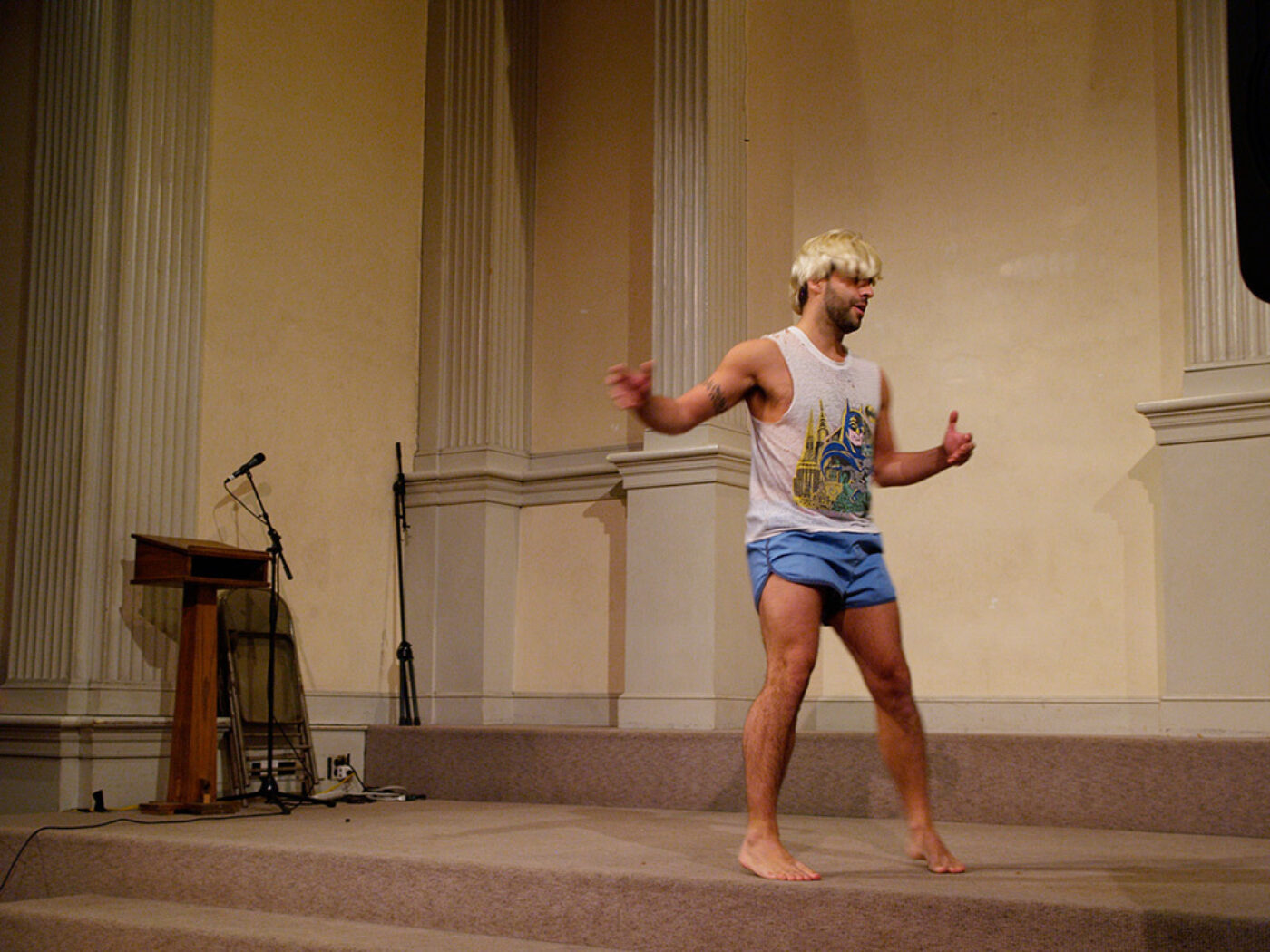 I say that while also loving that I'm part of a scene, city, and tradition that has always valued making something out of nothing. This is something you learn from queer nightclub performances. Take that ragged piece of fabric that's lying around in your apartment, fold it, reshape it, turn it into a wig, a dress, a set. I'm mixing in a lot of ideas together all at once, but I guess, if i think about excess and its relationship to political efficaciousness, I am brought to camp, drag, and the lessons I've learned from those corners of my practice and history, as well as recent experiences I've had that ground the idea of excess in aesthetics or social interaction. The riot of color in Mexican-influenced mural art in San Francisco, the sensory overload of pedestrian traffic, restaurants and other businesses in Flushing, Queens, where I was just earlier today. Or just the multiplicity of feelings I've had since this morning until now.  
SS Whenever there is any discussion of the white avant-garde, I'm very aware of my role and my responsibility as the director of The Poetry Project, as it is one of the most significant centers of avant-garde poetry in the US. It is, and has been, radical in so many ways, but it has also reflected some of the racial problems of our culture.
The Project's current programming has never demonstrated more racial equity. This correlates to the fact that it's run by a diverse group of people—our staff is entirely women—who want to honor what is so vital and important about our artistic and political histories while attending to equity as an organizational imperative.
Race, racism, and the avant-garde is being addressed in the poetry community right now in a way that feels hopeful, and also, at times, hard or painful. Dorothy Wang wrote a recent book called Thinking Its Presence: Form, Race, and Subjectivity in Contemporary Asian American Poetry, and she says "aesthetic forms are inseparable from social, political, and historical contexts when it comes to the writing and reception of poetry." Part of our present-day work is to be a site where queer, feminist, and anti-racist activist politics not only have a thoughtful audience, but also to be an incubator for new aesthetic forms.
I thought of you while reading an interview that Rainer conducted with Anna Halprin. There Halprin defines her work as "the rhythmic phenomena of the human being reacting to the environment." She's hesitant to call what she does dance, unless the audience accepts this particular definition of it. This resonates with so much of what we've been talking about—a direct-action approach to presenting work, listening to the situation in the room, sometimes forcing an experience when a performance can't be read in a traditional sense, and starting with everything.
Stacy Szymaszek is a poet, editor, and arts administrator. She is the author Emptied of All Ships (2005) and Hyperglossia (2009), both published by Litmus Press. Her book, hart island, was just published by Nightboat Books, and Journal of Ugly Sites & Other Journals won the Fence Books Ottoline Prize and will published later in 2015.
Miguel Gutierrez lives in Brooklyn and makes performances. He is currently creating a suite of queer pieces called Age & Beauty. He's sung with Antony, Nick Hallett, and Justin Vivian Bond. His book When You Rise Up is available from 53rd State Press, and he maintains a blog at Stargayze.com. He invented DEEP AEROBICS and is training to become a Feldenkrais Method practitioner.