A Surreptitious Form of Activism: Michelle Handelman Interviewed by Jane Ursula Harris
The filmmaker on her 1995 film BloodSisters documenting San Francisco's leather-dyke scene.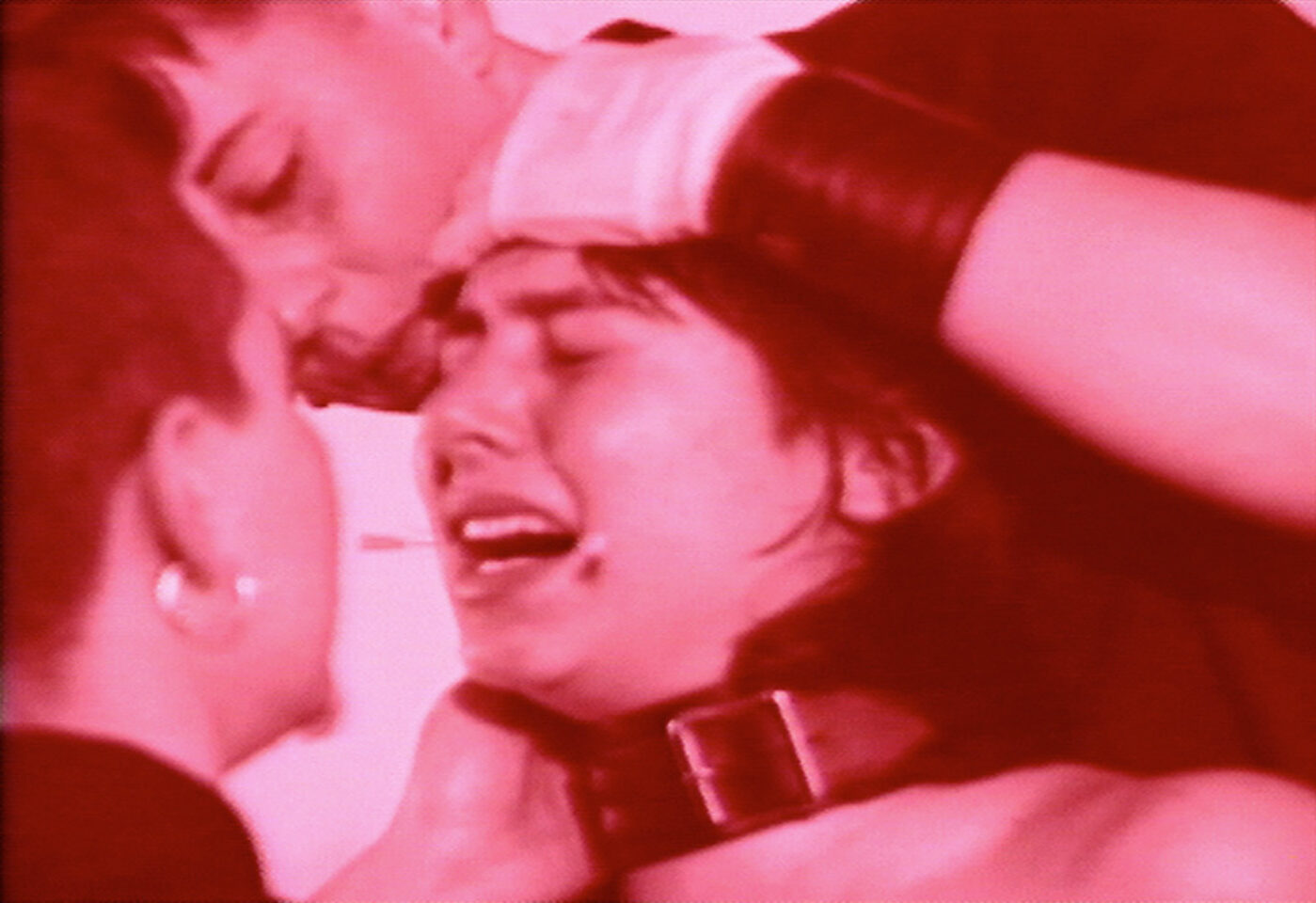 Michelle Handelman is best known for sexually charged, highly stylized video installations featuring queer icons like Zackary Drucker, Flawless Sabrina, John Kelly, Shannon Funchess, and Viva Ruiz. These lush, darkly erotic fantasies with their elaborate sets and Felliniesque costumes invoke decadence, fetish, and horror. Many draw upon the outré literature of deviants and outlaws: fragments of Charles Baudelaire's Les Fleurs du Mal (1857) are adapted in Handelman's This Delicate Monster (2004–07), for example; and Marguerite Duras's The Lover (1984) is one of three texts that inspired her film Hustlers & Empires (2018). These sources are always transposed into the feminist and radically queer milieu of the artist and her performers who merge the characters they play with versions of themselves.
Handelman's groundbreaking documentary, BloodSisters: Leather, Dykes and Sadomasochism (1995), reveals the origins of the artist's interest in the transgressive power of fantasy and pleasure. A feature-length film on the mid-'90s leather-dyke scene in San Francisco, it bears the themes of survival, risk, and belonging that mark subsequent work. The doc centers around eight self-described leather dykes who personally discuss the stigmas associated with S&M subculture—even among feminists and lesbians—and the fluid identities it presciently fostered: "There are people who top from the bottom, and bottom from the top. There are pushy bottoms and passive tops," Donna Shrout clarifies. "I primarily identify as a faggot. I'm really into other butches, and I'm often effete," Robin Sweeney shares. It's a brave, complex, and unflinching look at a much-maligned subculture. To celebrate the film's twenty-fifth anniversary in conjunction with the fiftieth anniversary of Pride, the artist and I talked about its impetus and legacy.
—Jane Ursula Harris
Jane Ursula Harris What motivated you to make BloodSisters?
Michelle Handelman I moved to San Francisco in 1986, right at the height of the AIDS crisis, when the leather scene was still fairly underground. Through my friend Scott Shatsky who worked at The Gauntlet piercing salon, I met Skeeter and Jaime (who both appear in the film), and they invited me to the 1992 International Ms. Leather contest. I had been involved with S&M as a practice, yet I didn't know much about the leather community and the depth of its activism. But that night at the International Ms. Leather contest my mind was blown wide open. The event was beyond anything I had expected: it was politically charged, hardcore, and sexy as hell. And immediately I knew that I had to make a film about these powerful women, to amplify their voices, and to capture a piece of queer, feminist history in the making.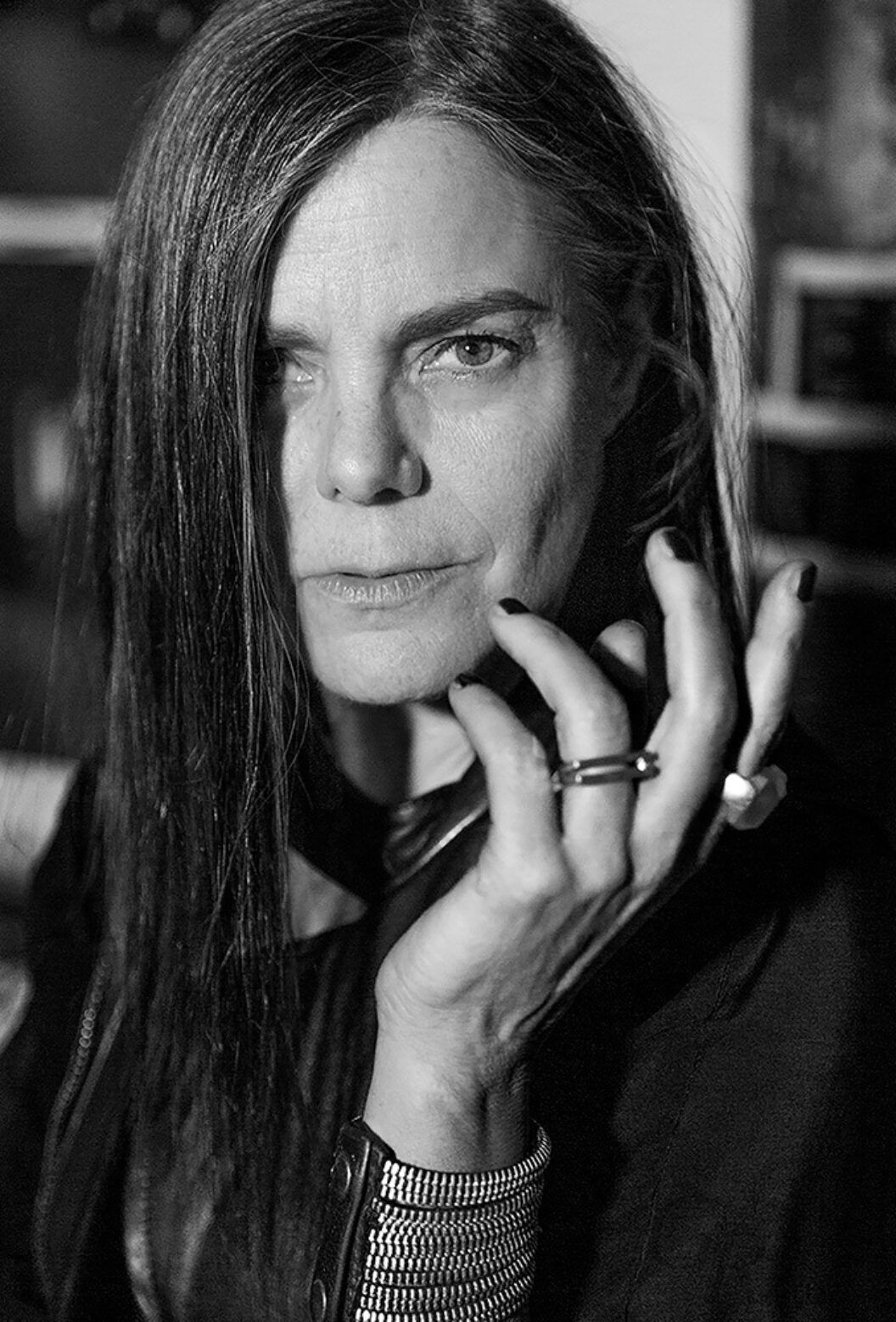 JUH And it really was history in the making that you captured. Near the end of the film, Patrick Califia (then known as Pat)—a pioneer in the scene, already infamous for his BDSM fiction collection Macho Sluts (1988)—points out the progress he'd observed, noting all the "little young dykes" who'd "never done anything but S&M" and how different that was from when he came out. What kind of progress have you observed in the wake of your film?
MH It's interesting you bring up that line, because I see that as one of the most important moments in the film. It acknowledges the importance of struggle, the belief that change that's worthwhile must be hard-won and can happen within one's lifetime—if you're lucky. When BloodSisters was first released, no one in the United States would broadcast it. It was too controversial. Like Patrick, it took over twenty years for me to see its full impact. But now that it's been screened internationally and is accessible via home video, I get emails from young, queer people around the world thanking me for giving them back a piece of their history they didn't know existed.
JUH The film particularly underscores just how fluid and nuanced BDSM roles were back then. Did you choose your subjects to cultivate this diversity for a vanilla audience, and did any of it surprise you?
MH From the beginning, I found sympathetic resonance with the leather scene specifically because of these nuances, so, no, it wasn't a surprise for me. It was the reason I was there in the first place. And, yes, I wanted to cultivate this awareness for a vanilla audience. I always thought of BloodSisters as not only a historical document but also a teaching tool. That's why I structured it the way I did. I wanted to keep it palatable enough so that TV would broadcast it and so it could reach people who harbored biases against the scene and perhaps change some minds.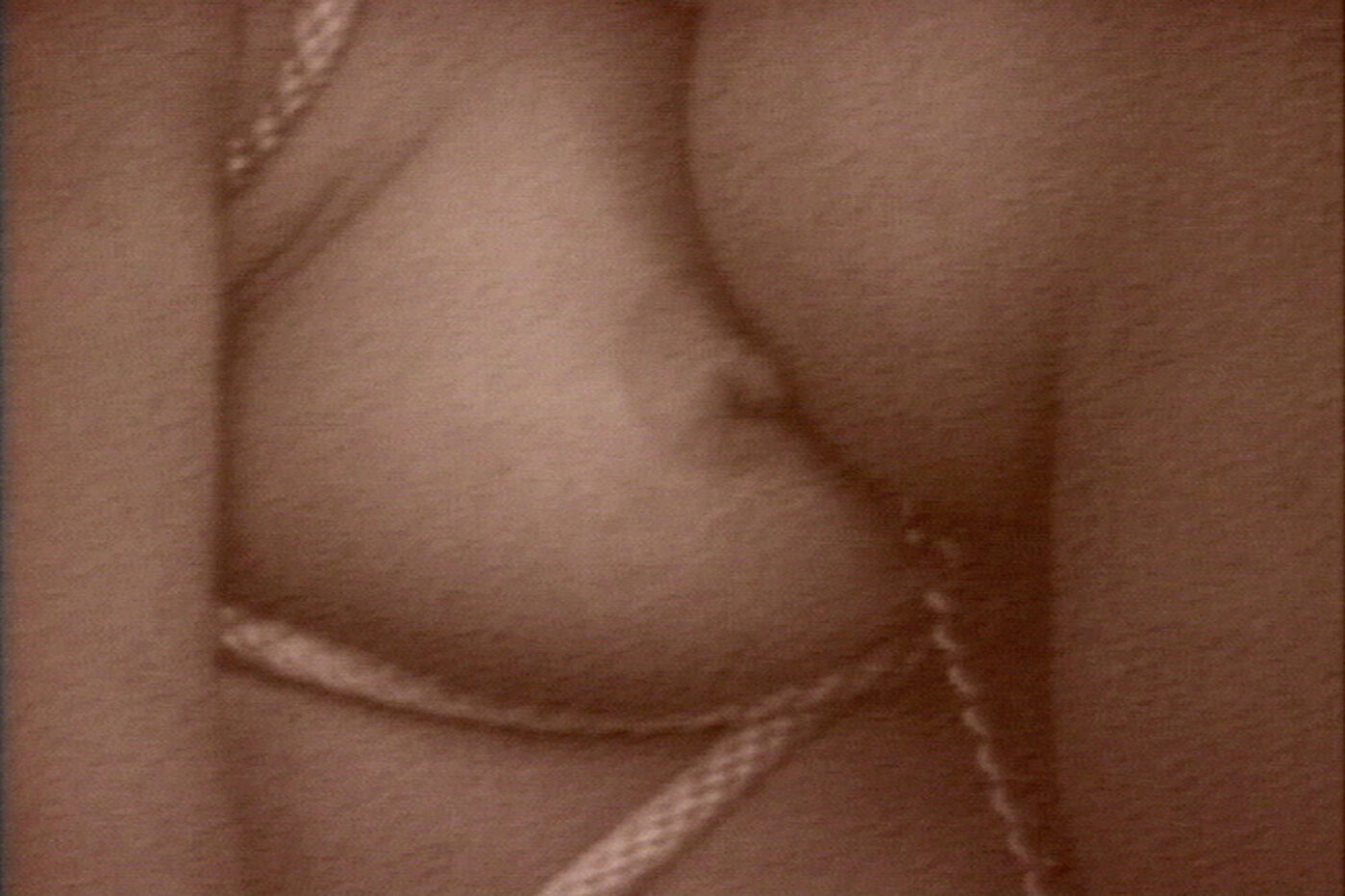 JUH Yet BloodSisters got caught up in the culture wars of the 1990s. What was that like?
MH That was confirmation that I was doing something right! In 1997 the NEA was up for ratification, and the American Family Association (AFA) put together a "sizzle reel" of films distributed by Women Make Movies (WMM), which they used to lobby against the NEA. I never received NEA support, but WMM did. The AFA put together clips from BloodSisters, along with clips from Barbara Hammer and Cheryl Dunye films. I managed to get a copy of the tape, and of course they picked the sexiest scenes! I immediately called all the female California reps and found out that they'd only sequestered male reps to screen the tape. They would not allow any female reps in! It was infuriating thinking about all these hypocritical, horny men watching lesbian sex scenes in the halls of Congress while actively trying to silence us—because you know they were turned on!
JUH What happened after that?
MH It became a bit of a news story, and Debbie Zimmerman, executive director of WMM, was interviewed on several news outlets, including the New York Times and NPR. After the story died down Debbie said, "I always knew we were going to get in trouble for this film," and just like that she dropped BloodSisters from the WMM roster. I was shocked…and furious. She ended up connecting me with Water Bearer Films who handled the home-video market, but the message was clear: WMM did not want leather dykes in their collection. WMM is an archive of films made by and about women—in some ways you could call their collection canonical—and I always thought they should have supported BloodSisters and held it up as an example of free speech. But we were kicked out of the canon. And ultimately that's fine with me, because canons are hierarchal systems of oppression.
JUH It makes me think of the feminist sex wars, and the idea that BDSM was an aberrant mirror of the patriarchy, which brought on third-wave feminism right at the time you were filming. Did BloodSisters at least get support among some feminists?
MH Those feminist sex wars you're referring to were still very much alive, and the theoretical texts that started to deconstruct gender and desire—by Judith Butler, Barbara Creed, and Laura Kipnis, to name a few—were just starting to appear when I began shooting, so they hadn't yet made their cultural impact. While BloodSisters was successful in that it played at over fifty festivals around the world, it was still met with a lot of resistance. There was a lot of "We're showing this, but…" People were afraid. I never saw BloodSisters as an important documentary in terms of filmmaking; I knew it was flawed, but I always knew it was an important film in terms of representation, and I thought other women would recognize that too. But I was wrong. The people who were really excited by BloodSisters were outliers—radical thinkers, underground writers, European programmers, queer feminist filmmakers like Monika Treut and Barbara Hammer, and the sex-positive community of sex workers and artists developing around that time. So now, it's been galvanizing to see all these young festival programmers actually loving BloodSisters. I think it's a reflection of what Patrick says about seeing social change happen. It's humbling.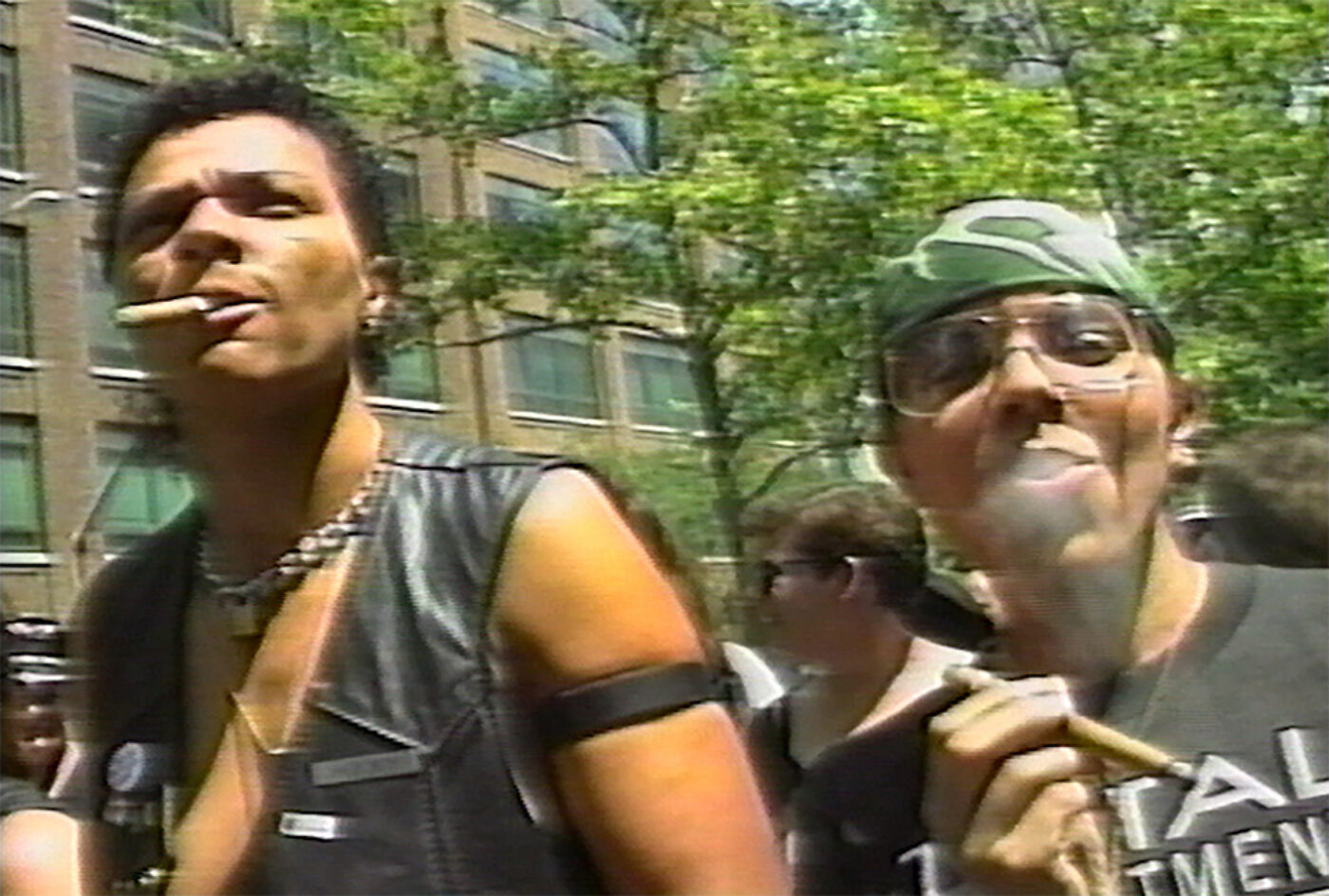 JUH I love how you interspersed toy tutorials, sex scenes, and your own leather-fetish-based sculpture with activist footage like the Pride March where two leather dykes carry a sign that reads OUTCASTS (with the O rendered as a pair of cuffs) and the National Leather Association press conference in New York City in 1994, among others. Can you talk about what you decided to include and your process in putting it all together?
MH Wickie Stamps, one of the featured voices in the film, said to me, "You're here because you want to find out something, and once you find that out, you're gone. You're on to the next thing." And I've always held that statement close in term of my working process, which is very research-based. With BloodSisters I wanted to know everything. I wanted to experience everything. So, I had to find a way formally to include all that. It was important to follow my tribe to the 1993 March on Washington and the NYC Pride March, not only to show the commitment of my subjects but for my own need to be at these events and be counted. I wasn't there only to document. But editing was a nightmare! This was before digital editing, so it was insane wrangling nearly a hundred hours of footage! Funny enough, one of the things I got shit for was making it so colorful! I remember a lot of the community coming up to me and asking, "Why is it so colorful? Shouldn't it just be black and red?" That was my aesthetic imprint on the scene, which in a way presaged the next generation's non-binary, queer, punk style, and amazingly became the driving force of the film.
JUHOne of my favorite lines in the film is when Patrick (speaking of his fictional work, which was often banned) says, "Writing goes places a picket line can't." It speaks to the power of art and fantasy as a surreptitious form of activism. Would you agree?
MHYes, what Patrick says is important, because we usually think of political activism as something that one does as opposed to what one is, and what one is goes into everything an artist makes. For me, Patrick is not only speaking about the power of fantasy and metaphor but also the subversive power of art. All of my work is about desire and power, and I've chosen to use the opulent and visceral forms that I do precisely because of what Patrick is saying. I'm interested in the aggressively seductive qualities of immersive installations, and how they infiltrate, infect, and subsequently become part of the viewer's psyche and body, blurring the boundary between fiction and reality. But I don't really believe in the concept of "fiction" when it comes to cultural experiences. Culture molds our bodies and identity. All the layers are there.
JUHAs you remastered BloodSisters and found yourself looking back at the film twenty-five years later, what struck you the most?
MHI was surprised that as far as filmmaking goes, it wasn't as bad as I thought it was! (laughter) But most importantly, I was struck by how BloodSisters had captured the burgeoning trans community with Patrick Califia, Tala Brandeis, and Susan Stryker, all people who started the public conversations on gender fluidity and trans identity back in the early '90s. And I was also struck by how radical and vital the film still feels, as the need to take to the streets is more potent now than ever.
BloodSisters: Leather, Dykes and Sadomasochism will be screening online as part of OUTFEST film festival's Legacy Project on Wednesday, August 26. This fall, Kino Lorber will be releasing a restored version of the film. Watch the trailer here.
A Live Panel discussion on Friday, August 28 will be livestreamed on OUTFEST's Facebook, Twitter, and YouTube feeds featuring Michelle Handelman in conversation with Patrick Califia (writer/activist), Queen Cougar (leather titleholder/activist), and Pony Lee (CruiseLA).
Michelle Handelman also has a new video, Solitude Is an Artifact of the Struggle Against Oppression, on view in the online exhibition Artists & Allies III at signs and symbols, NYC.
Jane Ursula Harris is a Brooklyn-based writer who has contributed to Art in America, Artforum, BOMB, Paris Review, Flash Art, The Believer, Vice/GARAGE, Surface, and Time Out New York, among other publications. Her essays appear in catalogues including Carnegie Mellon/Miller ICA's forthcoming Jacolby Satterwhite: Spirits Roaming on the Earth; Participant Inc.'s NegroGothic: M. Lamar; Hatje Cantz's Examples to Follow: Expeditions in Aesthetics and Sustainability; Kerber Verlag's Marc Lüders: The East Side Gallery; Phaidon's Vitamin D: New Perspectives in Drawing; Phaidon's Vitamin P: New Perspectives in Painting; Universe-Rizzoli's Curve: The Female Nude Now; and Twin Palms's Anthony Goicolea. Harris curates on a freelance basis, and is an art history faculty member at the School of Visual Arts.