Discover MFA Programs in Art and Writing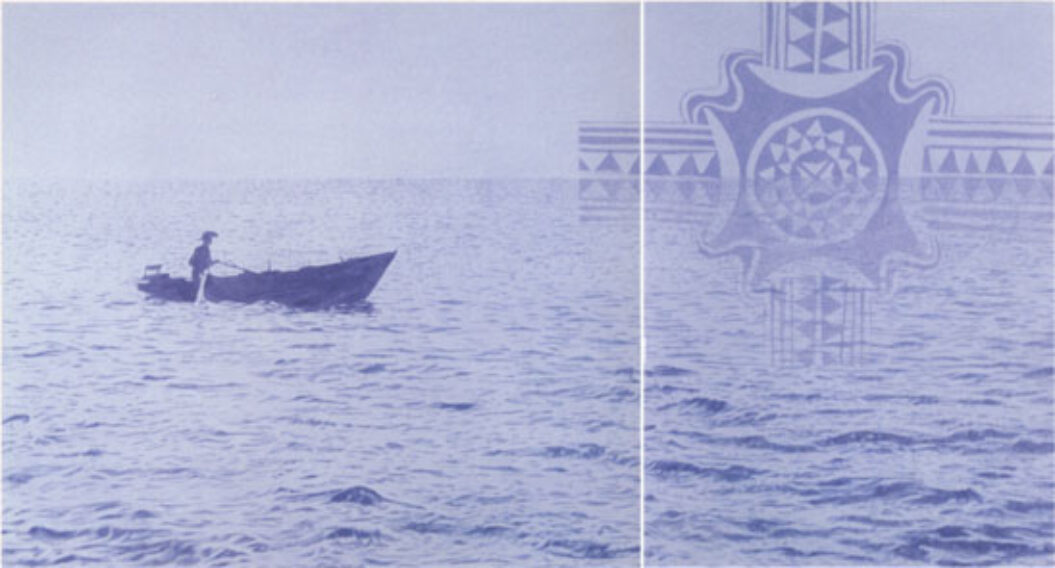 Michael Zwack (b. 1949) moved to Manhattan from his hometown of Buffalo in 1977, settling into the loft on Kenmare Street where he lives today. Trained as a sculptor, he taught himself drawing and painting, inventing his technique as he went along. Though he is known for cofounding Hallwalls in Buffalo (in 1974, along with Cindy Sherman, Robert Longo. Charles Clough and Nancy Dwyer) and for being a ground-floor artist of Metro Pictures (he is currently represented by Paul Kasmin), his arresting and strongly personal work was never part of any easily locatable style or movement.
One day in 1996, he rented his loft to a Haitian folkloric troupe for a video shoot. The group's director, the drummer Damas Fan Fan Louis, stopped by beforehand to look the place over. As Zwack tells it, "He looked at a painting of mine that was a bunch of trees, with some language in it, and a bunch of different cultural designs that floated behind it and through the trees, and he said, 'Michael, that's minokon.'
"I said, 'what's that?'
"He said, 'The whole world. You're painting the whole world,'
"I said, 'What do you mean?'
"He said, 'Okay, in vodou, when you call a spirit you make a veve. Minokan is when you want to invite all the spirits, and so instead of having to make each one individually, you make a minokan veve that invites all the spirits."
Zwack had indeed been painting the whole world. His images are drawn from the widest possible panorama of geography and culture. He made a series of portraits of faces from all over the globe, their ethnic diversity reinforced by symbols from their corresponding cultures. He painted landscapes peopled not by human figures but by alphabets. "My work is some kind of subliminal intellectual process," he told me. Intuitive, created directly in the language of images, the pictures propose enigmas for the viewer to solve. Zwack composes in layers, painting partly or entirely over images and sanding others away. In Heaven and Earth, 1994, he erased the central figure from a drawing, leaving a white space in the middle of the picture. Deep-perspective surfaces vie with flat ones; meticulous tracings underlie impulsive actions as though space and time were disputing who had control of the picture. Techniques of abstract art play against the emotional power of representation. It is something you can't do with a camera or with pixels; it has to be seen in its original texture and size to be appreciated, because it isn't conceived in terms of how it would be mechanically reproduced. It is painting that believes in magic.
Six months after the video shoot, Fan Fan—who is a houngan (roughly translatable as "vodou priest")—invited Zwack to a ceremony in Brooklyn. By the time Zwack had gone to several dozen ceremonies, the Iwa (spirits) Erzulie Freda and Erzulie Dantor were calling him. At first he didn't want them to, but they kept calling. "Fan Fan said, 'Michael you keep dealing with the lwa, eventually they're gonna ask you for something. right?'"
Uh-oh.
This is not necessarily something you went people to know about. It's hard to think of anything more widely ridiculed than vodou. But vodou has much to offer an artist. We speak of it as religion, but vodou is, in the words of Harold Courlander, "a highly formalized and sophisticated attitude toward life." It took shape in the French agricultural colony of Saint Dominique, which became known as Haiti after a long, bloody revolution in which vodou played a central role. Its most prominent influences were Dahomeyan and Congo culture, but it appeared in a place where hundreds of thousands of arrivals direct from distinct regions of Africa were mixed together, and it grew in an independent nation of its own for two hundred years. Highly metaphorical, vodou requires each practitioner to be inventive, investing mundane objects with unexpected powers and meanings. Its rituals and ceremonies, endlessly complicated, are a sort of sacred theater, sometimes frightening and malodorous, but no less beautiful for that. There is a complete artistic system in its magical traditions of painting, flag making, altar decorating, the pictographic writing of veve, the complicated repertoire of the drums and the melodies sung to them, the inexhaustible literature of songs, stories, and procedures.
After years of intensive study, Zwack is now houngan asagwe—the highest level of houngan—able to initiate new practitioners, conduct ceremonies and do "work." Minokan Vodou, the societé to which he belongs has a peristyle (adjacent to the landing strip of the Port-au-Prince airport) whose construction was financed by the sale in New York of dwapo, hand-sewn ceremonial flags. He has hundreds of hours of videos of ceremonies whose analysis will one day be the work of anthropologists.
"The peristyle is just a concrete building with a huge center post, and the floor is just a dirt floor," Zwack says, "but when you come for one of our ceremonies, you are walking into a palace." These ceremonies can last seven days or more, entailing the energetic participation of the entire congregation, with careful attention to every detail—from the preparation of food to the clothes people wear to the intricate veves traced in cornmeal or coffee on the floor. They are and are not works of art in the same way as they are and are not religion—that is, art and religion are words for aspects of something that in Africa has never been separate.
Zwack still paints, and with great intensity. The study required to become a houngan, as well as the effort of learning to speak Creole, occupied much of his time over the last few years. But now he has achieved those goals, and he has relaxed by going public about his practice of vodou. How all this has affected his painting is still an open question. His work is emerging from a chrysalis—"both by necessity," he says, "and by desire."
Though there is now a before and after in Zwack's work, the continuity is stronger than the change. His art didn't take a sudden left turn; it's recognizably the product of the same hand and eye, on its way to something new and as yet undefined. And his older work can now be reread: from one of the two djevo (impermanent altars) in his loft peer babies' heads in cast bronze and concrete, Zwack sculptures given a new home and a new meaning.
Despite the unavoidable influence of vodou's visual and symbolic vocabulary. Zwack is not doing the obvious things. He's not making portraits of the lwa, or painting veve, though he will surely do that when he feels like it. And his work doesn't look like that of any Haitian painter I know.
There seems to be a newfound sense of power, a surer rhythm, a vaster space, in these more recent pictures. In Fisherman, 2001, an image of the ocean borrowed from a photograph that Zwack took in Haiti is combined with a floating symbol from Benin. "There's a belief that there's a secondary world that matches this one, underneath the water. There's a song at the beginning of all the ceremonies that says. 'I was in the boat. I dropped my hat from the boat, I saw the angel.' It's announcing the angel in the water that's coming. It's rising both out of the water and into the water at the same time. It's the continuous presence of the Iwa."
It would seem that Zwack has gained an organizing principle. Now he says. "When I meet people and they say, 'What's your art like?' I say. 'Well, I paint the whole world.'"
But he's also painting that whole other world, the one on the other side of the water.
Originally published in
Featuring interviews with Brooke Alfarmo, Stanley Greaves, Santiago Sierra, Erna Brober, Jorge Volpi and Martin Solares, and Jesus Tenreiro-Degwitz and Carlos Brillembourg.