Multimedia artist Michael Snow on painterly photographs, photographic paintings, filmic sculptures, and other blends.

Discover MFA Programs in Art and Writing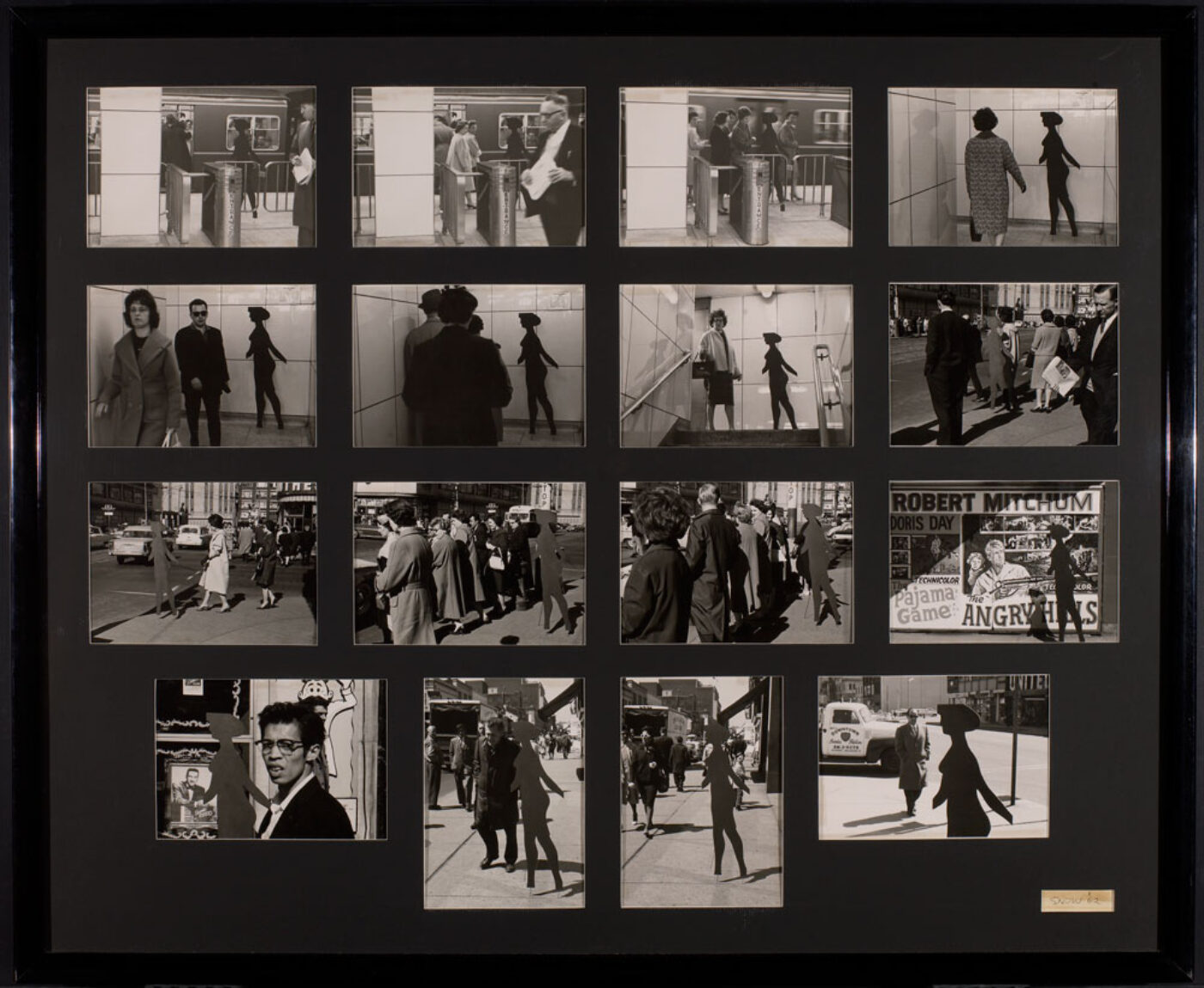 The Canadian filmmaker and multimedia artist Michael Snow talked about self-reflexivity and process with musician Alan Licht after the opening of Photo-Centric at the Philadelphia Museum of Art. The exhibition focuses on Snow's photographic works since 1962.
Alan Licht Just to give people an idea of how your photo work compares to other exhibited photography, there's a quote I found in an artist's statement you made for a show at Galerie Claire Burrus, in 1992, in which you said "as art, the best photography I find lacking when compared to the best painting, but I've been attempting to balance the lack by adding the camera as a tool to the ones one might use in making painting and sculpture."
Michael Snow I did say that; that's something …
AL You stand by your statement?
MS Yes. (laughter)
AL Can you talk a little about your approach to photography? It doesn't come from "the decisive moment" or other forms of what's considered "fine art" photography.
MS Well, my approach is a studio approach. There are "decisive moments" in it here and there, but basically I'm trying to work with all the different possibilities involved in the making and showing of photography—the staging of it, how the prints are made, the scale, the size—which is, I guess, not unusual. I did start in 1962. My work's almost simultaneous with Ed Ruscha's—we're not the same or anything, but we both came at photography from another point of view.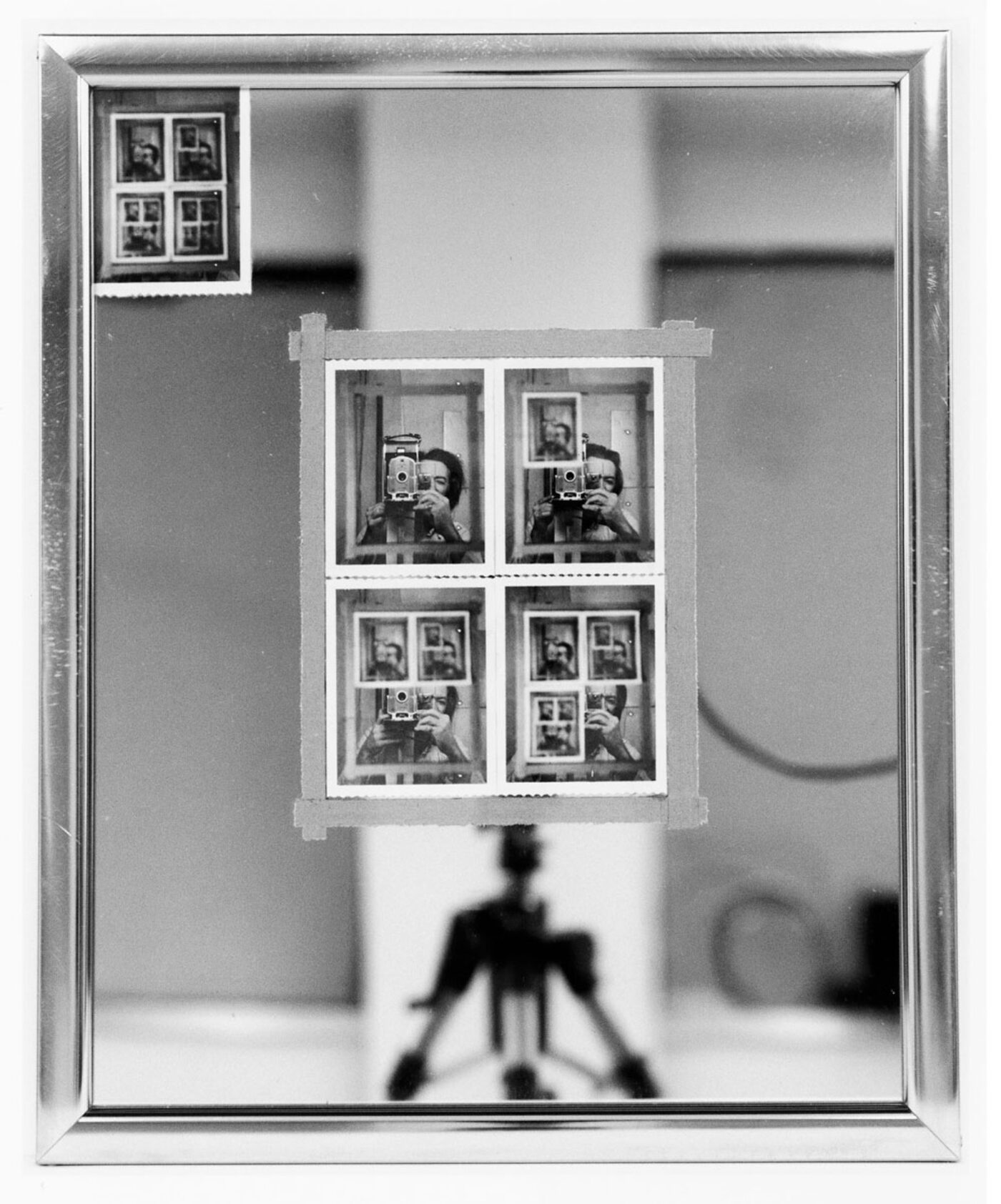 AL A lot of the pieces in the show deal with themes that are present in your other work—the idea of process, for instance—but you go about using the camera in a very different way. Authorization (1969) or Digest (1970) are records of their own making, but you're not showing the process in real time the way you do in some of your films and recordings.
MS Yes, and that's kind of a painterly thing, because painting is an accumulation of strokes, and Authorization is decidedly that, in that a stroke was made, and then a stroke was made that included that first stroke, and so on. So it's a cumulative thing but done with photography.
AL With some of these, it seems as if the steps along the way could be seen as an end result in themselves.
MS I think that applies to 8 x 10 (1969–99) for example, because there are eighty photographs, all of the same subject, which you see simultaneously.
AL Atlantic (1967), Of a Ladder (1971/1999), Glares (1973), and Field (1973–74) show their subject in segments. The ladder in Of a Ladder is something that could be photographed in its entirety. In Crouch, Leap, Land (1970) there's a temporal element also—it has been fragmented, but in a film you might have presented the entire sequence in real time.
MS Yeah, I guess Crouch, Leap, Land is the most film-related, in a way, because it's three stages of an action, whereas Of a Ladder is an optical climbing of a ladder, which includes the wall. It's filmic because it goes from frame to frame.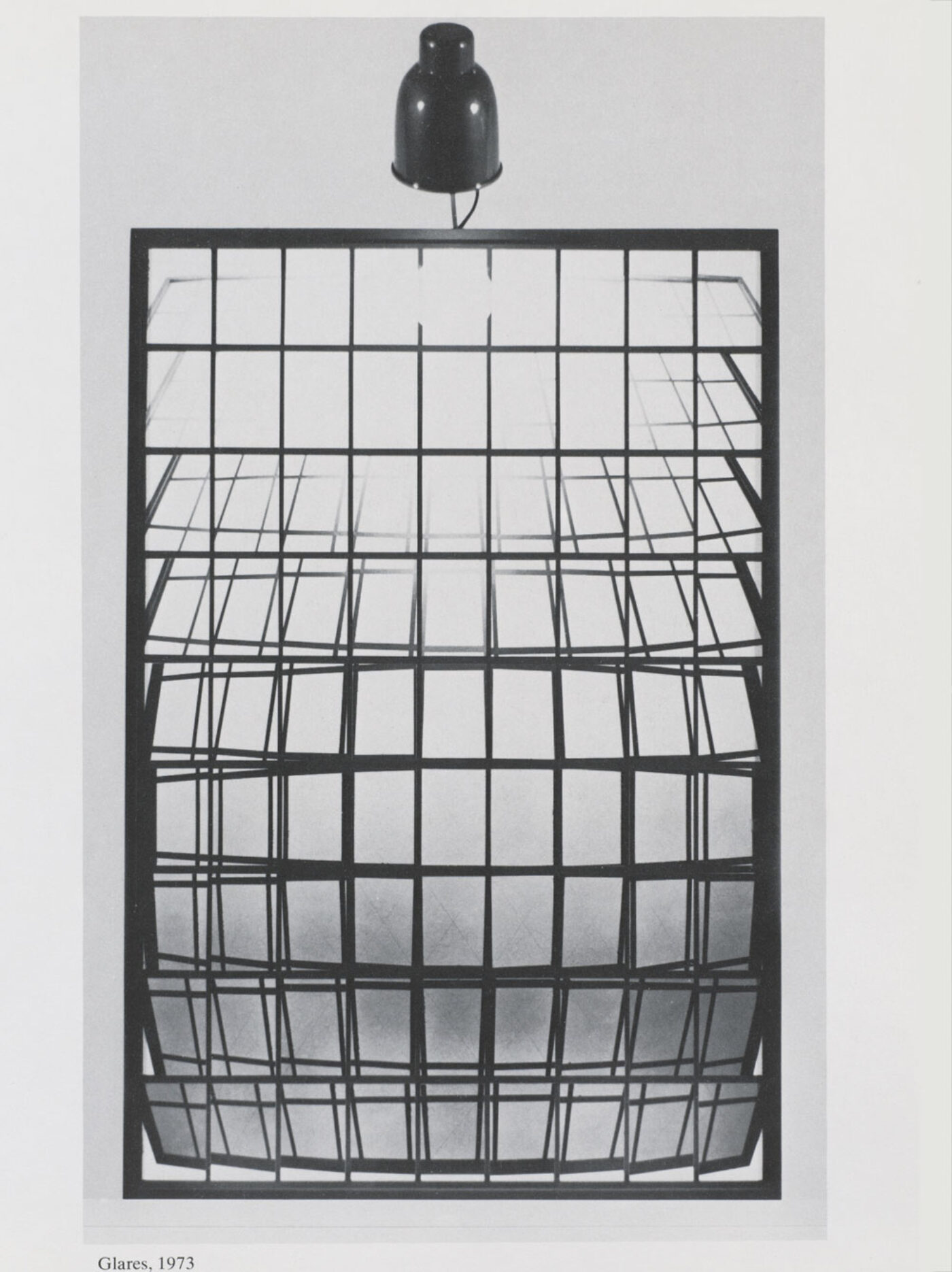 AL Glares is a grid that you reassemble by taking photographs of the individual sections.
MS It's "of itself," as you said, but it's of itself in a way that features the inevitable distortion that photographing something always leaves, but now it becomes a feature of the work. And there's a change of light—when I made that, the picture plane was parallel to the surface it was photographing. The light that's used in showing Glares was used to make the photograph, so it's a little overexposed at the top and a little underexposed at the bottom.
AL Lighting is quite significant in much of your photo work, but maybe less so in the films.
MS In Wavelength, every few frames there is a change of stock or a change in the way a scene is illuminated. Of all my films, that's probably the main one in which lighting plays a role. But some of the gallery works, like [the video] Solar Breath (Northern Caryatids) (2002), uses natural light, and it keeps on changing.
AL The films Side Seat Paintings Slides Sound Film (1970) and One Second in Montreal (1969) both feature still images. Were those in any way an outgrowth of the things you were doing in photography at the time?
MS I filmed Wavelength in '66, finished it in '67, and in the show is a piece called Atlanticwhich has photographs of waves. I took those photographs the same day I took the photograph that I used in Wavelength, so there's a stretch in there. But One Second in Montreal is about controlling the durations that a still image is on the screen, which is a very obvious thing you can do with film. One Second in Montreal relates to Recombinant (1992), eighty 35 mm slides projected against a surface made for the images to be projected on, and the duration is controlled there too. They're all the same length of time, but the eighty variations relate or don't relate to the surface that I made for the projection. And you mentioned Digest. There you have one frame after another, so to speak, but the spectator can look at them for any duration that they want to.
AL iris-IRIS (1979) has the photo on the wall, which reminded me of Wavelength.
MS That's the glacier at Mont Blanc. It's a very small image of a very big thing. (laughter)
AL Which is like that very small photo of the ocean on the wall in Wavelength.
MS That's true.
AL What about the sculptural elements of some of the works in the show?
MS When you use the camera to make art, you can make the subject you're going to photograph. Quite a few things in the exhibition are things I made to be photographed, printed, and presented in that way. In some cases, their physical aspect is emphasized. The eighty photographs in 8 x 10 are not framed and not matted—what you see is the extent of the photo. So while it's not thick, there is a physical sense of each photo's individuality. When something is framed, there's a different reading involved. Waiting Room (1978) is a photograph of a very roughly made representation of a room, like a doctor's waiting room, but there is something that could be read as a movie screen on the wall. And then in front of that, not in the photograph but as a physical model, there is a very small movie projector aimed at the screen in the photograph. So there's a kind of narrative hinted at there—the movie will not be shown because the whole thing is still. (laughter) It's a sculpture and a photograph of objects. The emphasis there is that it's all constructed, there's nothing found. I guess there's an emphasis on that in my work with photography too, although in Still Living(9x4 Acts, Scene 1) (1982) there are many found things then brought into the picture. Basically, that was the project in making Still Living—it's the tradition of still life, assembling those objects, extended into using photography.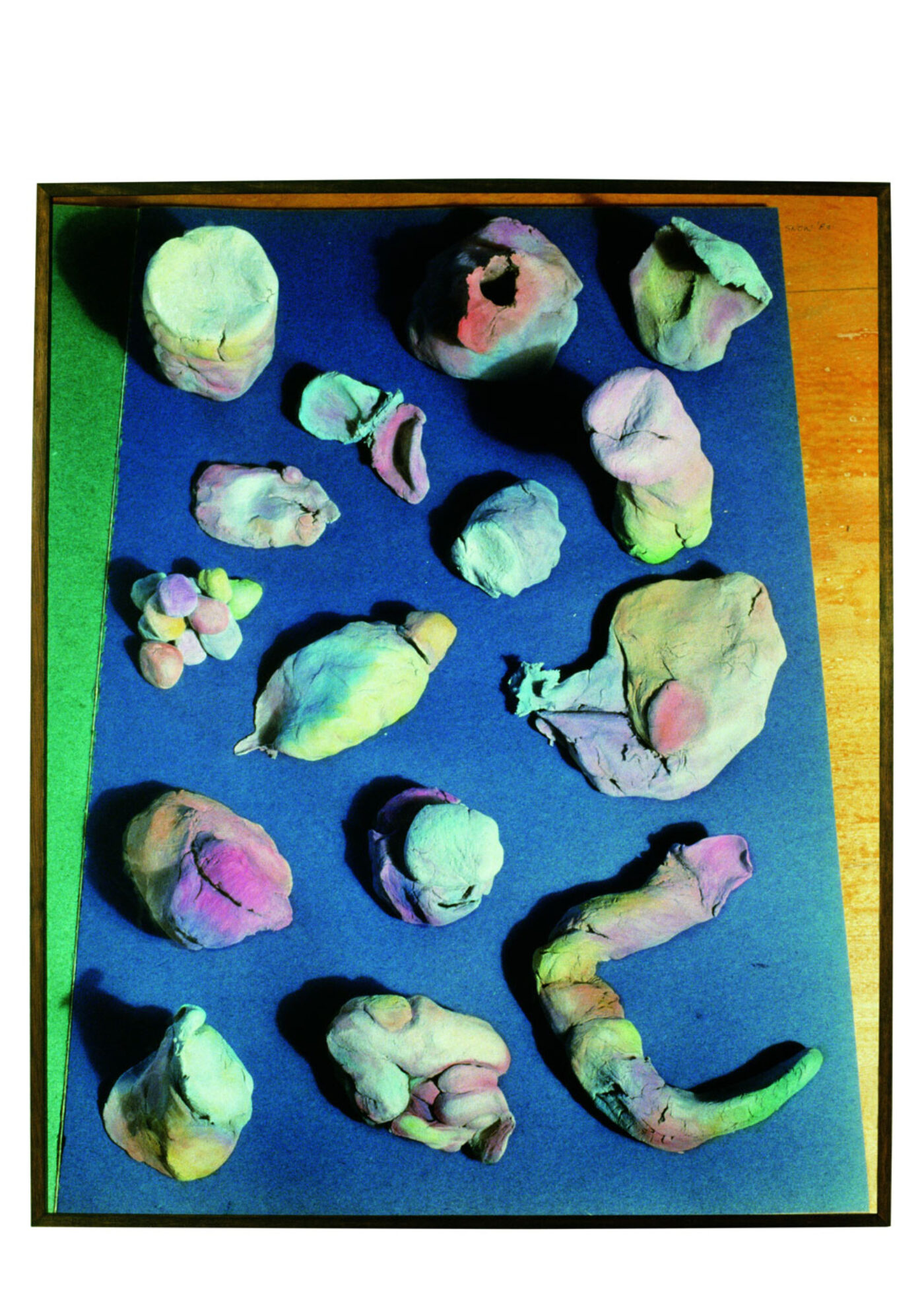 AL In the photo Handed to Eyes (1983), you combined painting—
MS —and sculpture. I made the little objects by squeezing clay in my hands. So they're very much hand-made and then hand-painted. They were whitish, photographed against a colored background, and then I painted each one of them onto the photograph. I used transparent colors, and I did it with my fingers, so you can still see the photograph through the color. The piece combines painting, sculpture, and photography.
AL So is there any medium you haven't tried using? (laughter)
MS I guess not. One of the points of doing the Walking Woman series (1961–67) was to do the same outline of the same figure in every medium that I could think of. Just in the paintings, I used oil paint, enamel, watercolor, spray enamel … everything. The point was partly to see what the difference would be between this same thing imaged in this or that medium.
Snow's Photo-Centric is at the the Philadelphia Museum of Art through April 27.
Alan Licht is a musician and author based in New York.