Discover MFA Programs in Art and Writing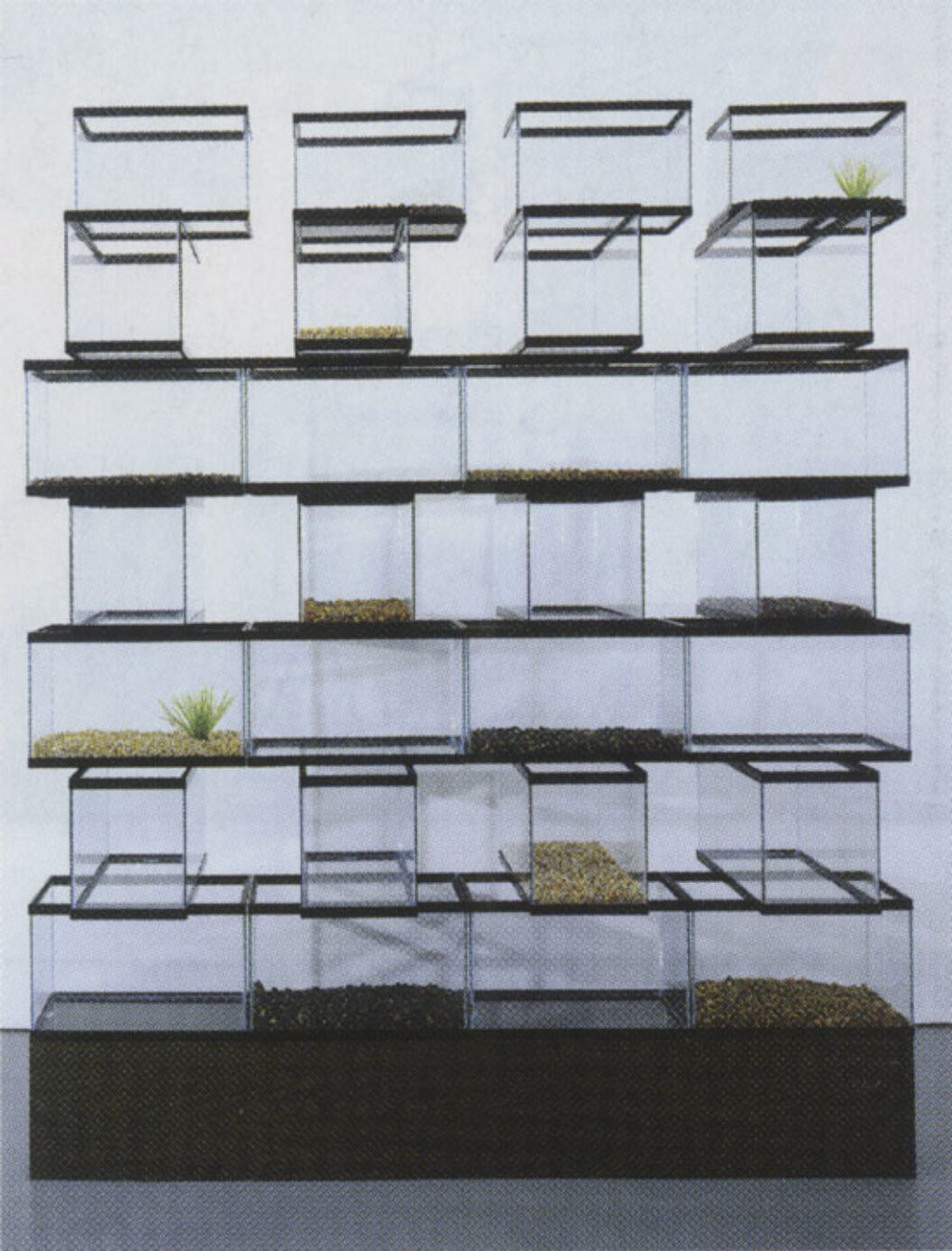 Droog Design's Knotted Chair and Knitted Lamp famously wed industrial materials—carbon, Perspex, epoxy—with low-fi aesthetics to create a coolly minimal furniture line aptly titled "Dry Tech." Visual artist Michael Phelan takes this notion of an arid, domesticated minimalism one step further. In 24 ready-made aquarium tanks acquired at the average pet store, Phelan creates weirdly desolate terrarium environments with colored gravel in desert shades of cream, ocher, and beige. A stillness and quietude pervades Phelan's work, as if a crew of Biosphere lab technicians have fled their vacuum-sealed living quarters for the terraced landscape of flora outside their doors; for while Phelan has brought nature indoors like the simplest feng shui rock garden looping around a backyard deck, nature within these sterile tanks feels curiously embalmed, desolate. Not a precious dried flower pressed between the pages of a book, but a vision of nature stripped down to an accessory; a mere accent, a design option.
The 24 stacked terrariums that comprise Like Sands Through an Hourglass, So Are the Days of Our Lives, possess the modular, interlocking efficiency of basic wall or shelving units; the lightness and transparency of the thinnest partition or room divider. Each piece is as unobtrusive as an end table or side chair until you step back and regard it from a distance. From across the gallery Phelan's work carries all the metaphysical transcendence of a vaulted glass ceiling, reminding me of Rosalind Krauss's description of the modernist grid: "It is flattened, geometricized, ordered; it is antinatural, antimimetic, antireal. It is what art looks like when it turns its back on nature."
Michael Phelan's work was recently on view at RARE Gallery, in a group show titledTomorrow.
Originally published in
Featuring interviews with Vik Muniz, Shirin Neshat, Madison Smartt Bell, Javier Marias, Misia, Michael Frayn, Karyn Kusama, and Michael Roth.