Discover MFA Programs in Art and Writing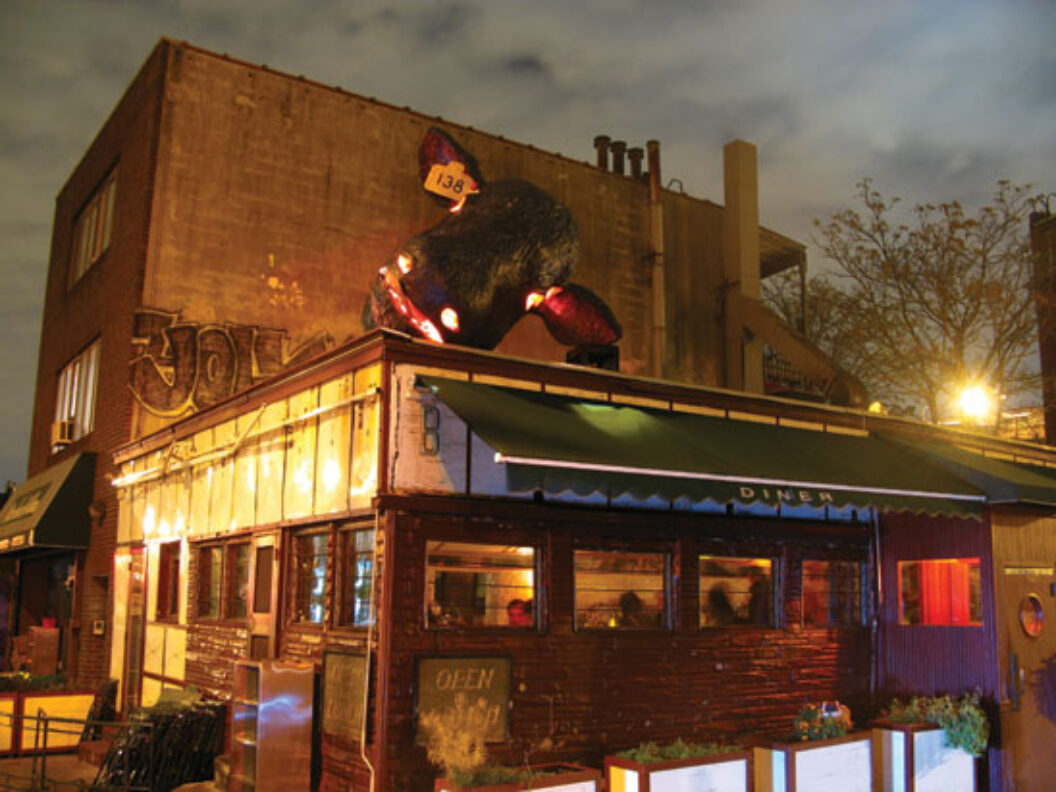 Michael Ballou distrusts traditional art world classifications. His work is practical art; it follows his frank, literal, and can-do attitude of the Midwest, though often at the core of that onion is an idea so fleeting and spontaneous that a long contorted story involving a cast of dozens is the only explanation. Looking back over an oeuvre that would have confounded Carl Linnaeus, but would have pleased Charles Darwin, one could realistically break down much of Ballou's work into such subheadings as "Puppet Shows," "Weather Vanes," "Miniature Versions of Things," "Projections," and "Animal Heads." Alternately these classifications could be translated into even more accurate representations of Ballou's work: "summoning of spirits," "divination," "ancient Egyptian tomb furniture (you can take it with you)," "prophetic vision (similar but different from divination)," and "hecatombs."
Ballou's most recent projects—a sculpture for Marilyn Minter and a light show at Pierogi Gallery's The Boiler—re-present practical art as its more sinister sibling, practical magic. On Minter's Hudson Valley property, Ballou, acting as an inverse Apollo, drew Daphne, the shy nymph, from the safety of her tree, brutally at first, with a chain saw, and then with the more delicate touch of a chisel. Not without consequences. The carved legs of "Dancing Girl" destabilize the tree trunk—thus picnickers have been advised that they should give her a wide berth, lest angry Daphne take revenge on her human tormentors. On the other hand, though we can see the girl re-emerging from the tree, like the rapacious sun god, we can't ever possess her as the elements will slowly destroy the already dead trunk, and any attempt to move the piece completely desecrates its meaning.
An evening of projection art at The Boiler in Williamsburg, Brooklyn, wound up with an epic 45-minute light projection. Ballou marshalled a team of projectionists: Tony Martin, Ken Brown, Sally Webster, and Rob Ebeltoft, plus two assistants (myself and Anna Gelderd) from a reviewing stand. Martin's liquid light show melded with Brown's collaged found images and Ballou's video clips of running shadows, subway reflections, gerbils in a wheel, and out-of-focus porn, among other subjects. Six projectors of various stripes focused on the same spot on the massive back wall of the space. Starting with sundown and ending with a sunrise over Brooklyn, an opera-scale night of opium dreams, one-night stands, and happy to disturbing accidents unfolded over the heads of the Film Club house band.
Much of Ballou's work is collaborative—the exhibition/event/studio/living space Four Walls, co-managed with Adam Simon; The Replica of Four Walls, built by many artists; a Beast Feast, with food designed together with Elaine Tin-Nyo. All of it focused on one or several moments, an evening of sublimety, or its commemoration. In the spirit of engaging in that moment, I found myself, New Year's Eve 2009, climbing a tree in the garden of Williamsburg's Union Pool, hanging up the heads of giant elks, cats, and rhinoceroses, in preparation for the night's revels. It was hard to tell if the tree was some cheerful carnival set piece or some primal, horrific sacrifice. Maybe they are the same thing.
Michael Ballou has filmed in Super-8 for over two decades. He has two basic rules: to use the entire roll of film and to edit directly on the camera.
William Corwin is a sculptor from New York. He is a host for Art International Radio, contributes regularly to Art Papers magazine, and teaches at the Metropolitan Museum of Art. He is a 2010 recipient of a Hamburg Guest Studio grant and will spend the fall in Germany.
Originally published in
Featuring interviews with Charline Von Heyl, Fred Tomaselli, Mika Rottenberg, Thomas Hirschhorn, Adam Phillips, Charlie Smith, David Toop, and Jan Lauwers.