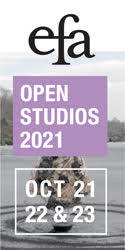 I sat behind the front desk of a well known art gallery for six years. This gallery had an "open viewing policy" which means that any artist could come in the gallery with representation of his artwork, have it looked at, and considered for exhibition. We screened approximately 120 artists every three weeks during a nine month season.
The screening procedure took anywhere from three minutes to 15, depending on the aesthetic of the work and/or if it was presentation ready.
If the art fits the gallery's standards then a date for a studio visit is made so the dealer can view the actual work. An agreement for exhibition is made only if the initial interest in the work is substantiated by this visit. Most galleries schedule their season shows one to two years in advance for advertising and marketing purposes. The process for an artist trying to get an exhibition in an art gallery, from initial contact to actual exhibition, takes a minimum of two years … that's if everything goes well.
I should also point out that the gallery I worked for was an exception to the rule. Most galleries already have a closed "stable" of 12 to 25 artists and will not view the work of unrepresented artists. Represented artists show every two to three years for a period of three weeks. There are no guarantees of sales, critical response, or retribution for the artist's investment of hard work, time, and money.
The artist faced with the difficulty of entering the established hierarchy can turn to the non-profit alternative space for exposure and perhaps entice some gallery to take him on. Artists trying to get their work shown at Artists Space, The New Museum, The Kitchen, and the like, learn that alternative spaces have their own selection process. Although the alternative organization does not have to answer to the marketplace, it does have to account to its funding sources.
In addition to the usual budgeting, mounds of paperwork, and frequency of proposed programs and exhibitions, these organizations constantly compete with each other in the yearly grant Olympics. Their strategy in achieving funding is not far removed from the commercial art gallery. Both strive for consistency in what they exhibit and hope to obtain good track records. Good track records attract press, grants, museums, and collectors. All feed into each other.
The expectations of the artist rarely equals reality. There is, however, a new breed of artist with a keen marketing sense and an ability to take some control of their careers. But even the most independent artist still depends on the existing system for exposure. And whether you're on the inside of the system, or the outside there's compromise. To acknowledge this as fundamental and not a debasement, is being realistic. Moreover, it seems that artists prefer staying within the "how to make it" myth. This myth is perpetuated by the artworld, the critics, art history, and the artists themselves. It keeps them in their place as servants to the elite. The goals of the art world hierarchy become their goals. There is a built-in support system that provides a sense of security. The artist will keep waiting for that one-person exhibition, the retrospective at a museum, and the cover of a leading art periodical. I didn't want to wait for my turn … I started thinking about having my own television show.
MICA-TV and The Artists Television Network presents "Crossovers—A Series on Photographers"
From my experience in the art world I knew that to start the process you have to have contacts. This is even more true in the television industry because television is a collaborative medium. To make television is extremely expensive since access to broadcast quality, state of the art equipment is limited unless you have the dollars to pay for it. When the independent producer is ready to "pitch" his ideas for a project, he researches its distribution and marketing possibilities first, then approaches his sources for the necessary funding.
I was able to bypass this process by collaborating with Michael Owen, an independent video producer who has worked on broadcast productions. Michael has worked in most major production facilities in the city but has limited creative outlets. He was a founding member of Metropolis Video (known for its pioneer work in shooting live rock & roll bands at CBGB'S) and desired to work on other innovative projects. Michael, with his technical knowledge and industry connections, made entry into the world of television production possible. Fortunately, he likes my ideas.
In 1980, with Michael Owen and under the auspices of The Artists Television Network, I started to make a series of collaborative videotapes with emerging artists working in mediums not necessarily associated with video or television. The subject of the tapes is the artists themselves. I took into consideration that most of the public experiences art through printed reproductions (magazines, newspapers, books, or the offset poster). On television they usually encounter it in a familiar documentary format (interviews with artists, artists in their studios making art, people experiencing finished artwork in the gallery or museum, always with classical or experimental music in the background). I did not want to make a documentary on art and artists. I wanted to translate the artists' ideas into the medium of television, make it entertaining as television, and still not compromise the artist. I use recognized television formats such as the talk show interview, 60 Minutes Editions, the commercial, the film teaser, and the public service announcement.
We decided to start our series on artists by collaborating with three photographers: Cindy Sherman, Richard Prince, and Laurie Simmons. These artists appropriate images from the media using the medium of art photography much in the same way we appropriate their work using the medium of television.
The tapes were shot with an inexpensive broadcast quality camera and deck in three-quarter inch tape then "bumped" up to one inch for editing.
Cindy Sherman—An Interview, 10 min., color—Cindy Sherman recreates B-movie stills, using herself as the director, producer, and protagonist. She uses mock set-ups in her photographs, so we used a mock talk show staging and format. I play an ambiguous role of quasi-talk show host, art dealer, or agent viewing Cindy's book of photographs. As we talk, Cindy metamorphoses into the different characters we see in her photographs, the backgrounds change with the help of a slide projection, and there is a muzak film score which transitions to accompany the changes.
Richard Prince—Editions, 7.5 min., color—Richard Prince's photographs are manipulated appropriations of advertisements in the New York Times and various magazines. He is also a writer. His stories, like his photographs, are ambiguous as to whether they are personal or "lifted" from our media environment, A 60 Minutes Editions format is used with three stories (told by Richard) divided into segments by a video animation of his images (like the image of the ticking clock on 60 Minutes). The word editions in the title refers to the television format and to the photographic offset process Richard uses in his work. The soundtrack is a music adaptation of an actual recording of a printing press. The piece ends with the simulation of switching TV channels with Richard's work on each channel.
Laurie Simmons—A Teaser, 5 min., color—Laurie takes underwater photographs of women that resemble Weecky Waicki bathing beauties or Esther Williams water ballet. We taped Laurie through a glass window in the bottom of the swimming pool at Queens College while she was shooting her models underwater. Her static photographs come alive, making the television set into a human aquarium. Using the format of a film teaser, the tape promotes the artist and "teases" the viewer to want to see more.
There are difficulties in entering the cable world, but it is not as established a hierarchy as the art world. With the rapid growth of technology, the experts today are the amateurs of tomorrow. As the technological Tower of Babel rises to the sky and the possibilities of 50 channel selection, there is a demand for more software.
With product in hand, Michael and I have begun the process. Right now we are exploring all the possibilities of video and cable distribution and will soon press forward with new projects. We will continue to straddle various media—fine art, commercial art, film, television, and music … a place more artists are choosing to be.
Originally published in
Barbara Kruger & Richard Prince, Keith Sonnier, Valie Export, Alan Scarritt, and Jim Chladek. Cover by Mark Magill.