Metaphors of Malleability: Shawanda Corbett Interviewed by Jareh Das
The recent Turner bursary recipient discusses her interdisciplinary practice.

Discover MFA Programs in Art and Writing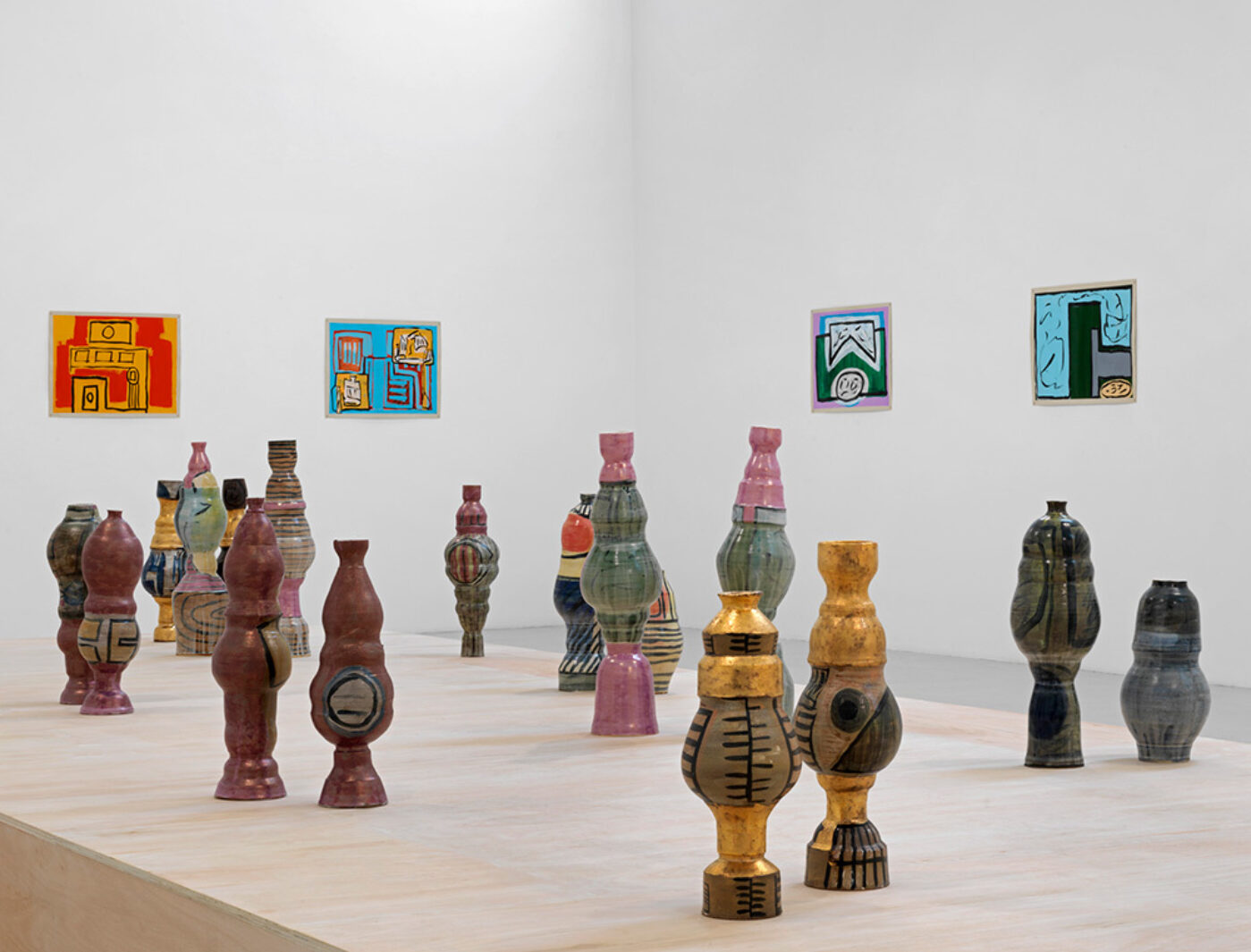 Shawanda Corbett's interdisciplinary practice spanning painting, ceramics, poetry, and performance probes ideas of the complete body at different cycles in human life. Her works are grounded in Donna Haraway's cyborg theory and Octavia Butler's science fiction novels as part of an effort to reject legitimized domination and oppression structured around human/animal, human/nonhuman, able-bodied/disabled body binaries.
Corbett's lived experience as a Black woman with a differently-abled body (she was born with one arm and no legs) permeates every aspect of her work and its confrontation with fixity, definition, and boundaries. This refusal of hardened definitions and categories is evident in her first solo exhibition, Neighbourhood Garden, at Corvi-Mora in London.
A series of abstract watercolors and over a dozen ceramic vessels draw on Corbett's childhood memories of living in Mississippi and New York. The ceramic vessels reframe damaging racial and gender stereotypes. People from Black, working-class communities are reimagined as dignified paired characters rendered in clay and decorated with luster, gold, and geometric patterns that Corbett painted as she performed a dance scored to improvisational jazz. In the following conversation conducted via email, Corbett discusses how her embodied practice sits within the fictional/speculative/fleshy worlds as she probes new ways of thinking about bodies and decentering the human.
—Jareh Das
Jareh Das You make ceramics, performance, dance, and sound works grounded in cyborg theory. How do these areas intersect in your practice to allow a rethinking of ideas that have informed how we engage with bodies?
Shawanda CorbettWell, cyborg theory is just a theory. It is used as a discussion for how the body is functioning in societal environments, but at the same time it projects a future on an environment that supports the body. However, that would suggest a drastic change in societal structure before that support could take place. Whereas cyborg theorists use differently-abled body terminology to describe the social structure and how that affects the body in a science fiction manner, I want to use my perspective in reality as a differently-abled body to understand the collective body in present time.
Ceramics record the movement of the body; sound records the movement and sound the body makes when interacting with an instrument or vocals; and dance records the environment in which the body is situated. I don't think of two areas as intersecting but rather as components functioning as one. I think it is the same for art and life.
JDDonna Haraway referred to Octavia Butler as a "theorist for cyborgs," and her work is importantly located at the intersection of postcolonial and cyborg theory, as well as creating an inclusive model.
SCYeah, but I don't want to focus on what other writers or theorists thought about her as a writer. What's great about Butler's work is how she spoke about it. She has explained how she didn't want a protagonist to say, "I am a Black woman without limitations," but to be a character without limitations. Create worlds where it is commonplace for protagonists to not have limitations based on their identity. Also, her never wanting to be a Black science fiction writer, but a writer, has greatly influenced how I think about my studio practice.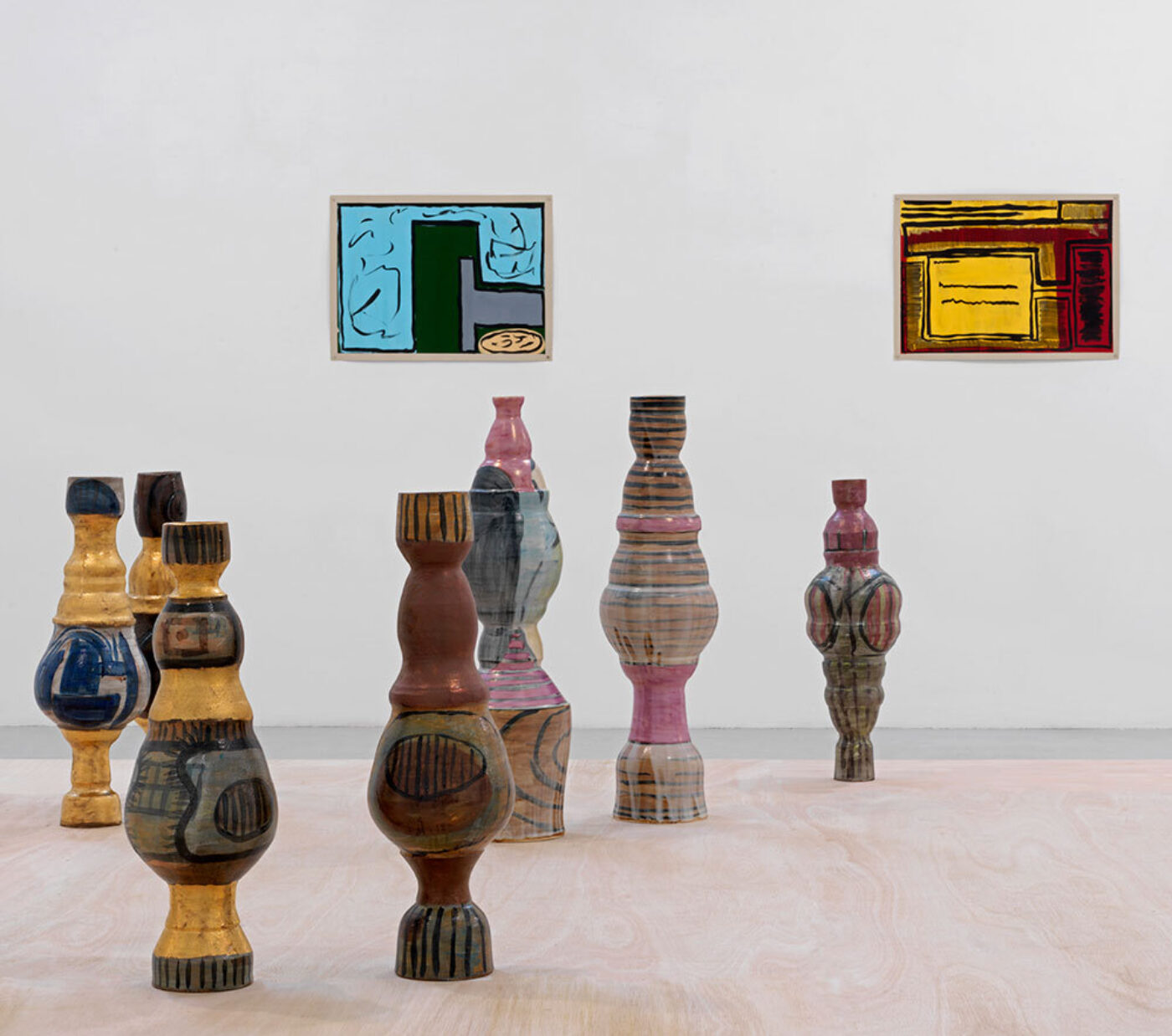 JDClay serves widely as a metaphor for malleability. In its raw form there is a limitless possibility for its shaping. If it is destroyed, it becomes a shattering of something. Can you describe your relationship to the medium, the making and unmaking inherent in the ceramics process?
SCThe wet and dry materials that are found and processed—destroyed—are the raw forms before clay bodies are mixed, so if the original state can be changed then the vessel or the finish can move past its physical permanence. Once something is taken out of its original state, the unmaking process is in constent motion and not truly being made. I relate to the medium of clay so much because people are the metaphor for malleability. We start in an original form, and because of life, time, and environments we are constantly changing, are in a constant state of undoing.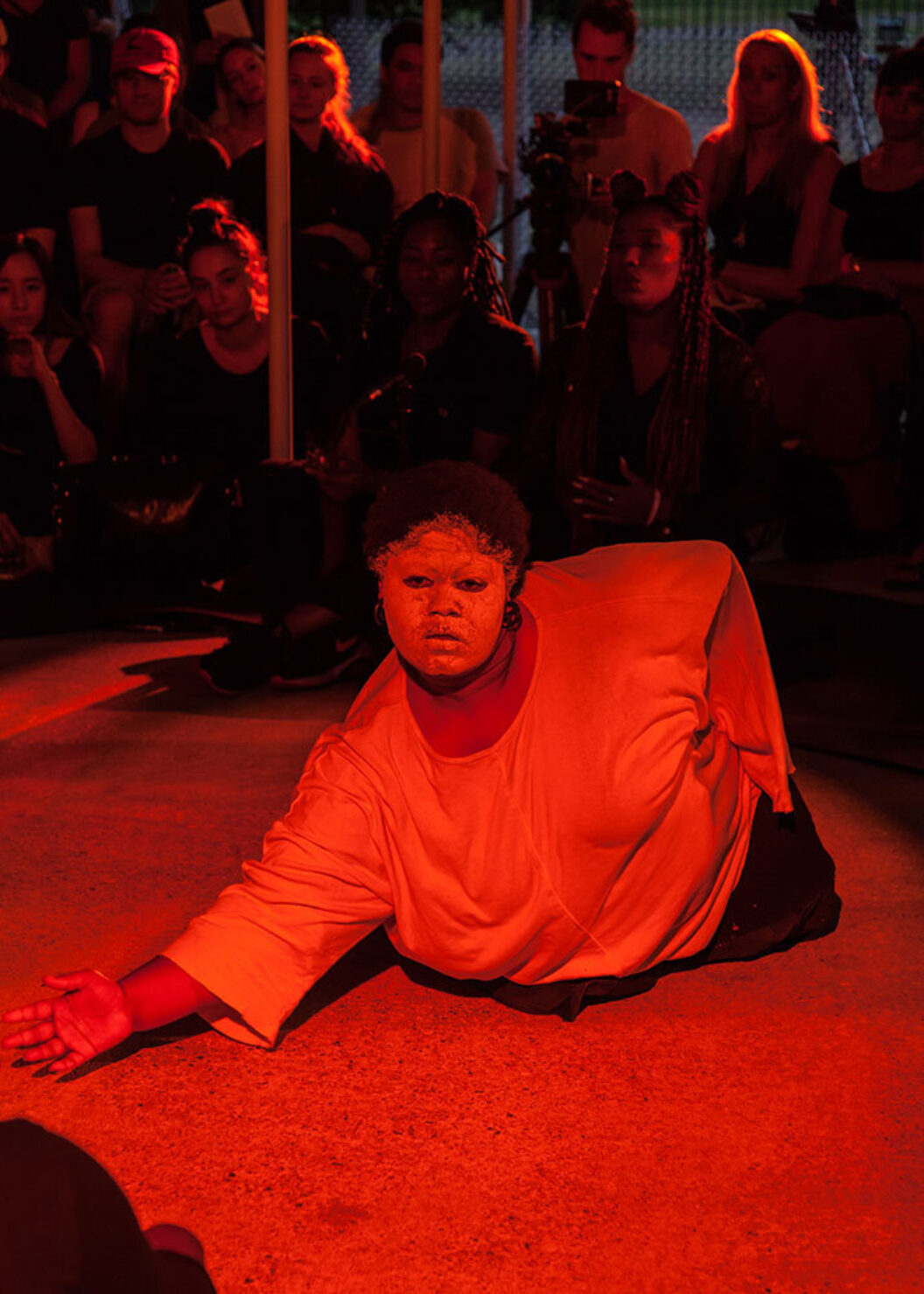 JD Your Blackbird in Mississippi performed as part of Serpentine Park Nights in 2019 sees the main protagonist, haar wese, employ time travel as a critical tool to link the personal with the collective. How has centering on time and time travel allowed you to tackle the fact that history is fractured, contradictory, and subject to multiple interpretations?
SCMemory, and how we replay memory, characterized by both time and time travel is central to Blackbird in Mississippi. With this work, I wanted to address how we receive history and information from someone else's memory or artificial memory, which is ultimately fractured history in a sense.
JD For your current solo exhibition, Neighbourhood Garden, you reimagine "the hood" through paired ceramics vessels, improvised jazz, movement, and childhood memories. Why was it important for you to reframe this term and its associations?
SCI didn't see it as something to be reframed but a perspective, in reality, to counter the artificiality media culture has created. I wanted to challenge how the mainstream media outlets and mainstream media culture use the term "hood" to characterize certain individuals in predominantly Black communities as tropes. Mainstream media and other places facilitate visual representations that reduce Black individuals to their place of residence. This is one of the many ways people of color are criminalized and oppressed through visual representation. There's a need to ground the image of Black people in reality, and I think this exhibition does that.
JD Do the works on paper further contextualize the ceramic vessels on view?
SCNo, the works on paper are created as separate but draw on childhood memories, improvised jazz, movement, and community. I have explored these in other bodies of work, i.e., works on paper connected to the ceramics, but they aren't shown in the exhibition. In my process, the paintings are created before the ceramics. The placement of the paintings and where you're positioned in the gallery contextualizes the ceramics. The only way to receive the different narratives from the vessels and paintings is to be eye level with the vessels. The vessels are presented on my eye level, so that's another layer of contextualization.
JD How has an interdisciplinary approach bringing together performance with spatial-architectural qualities and swapping disability theory for cyborg theory furthered your practice?
SCAn interdisciplinary approach allows me to challenge the ideas concerning what a studio practice could be and to search for other schools of thought to challenge my way of thinking. In terms of architecture and space in relation to my performances, I focus on what can be added for the space to feel limitless.
Shawanda Corbett: Neighbourhood Garden is on view at Corvi-Mora in London until July 31.
Jareh Das is a curator, writer, and researcher based in Nigeria and the UK. She holds a PhD in Curating Art and Science from Royal Holloway, University of London, for her thesis, "Bearing Witness: On Pain in Performance Art" (2018).