Miasmic Dread and Inexplicable Lightness: Meriem Bennani and Orian Barki's 2 Lizards Reviewed by Simon Wu
Narrativizing everyday experiences of the pandemic in New York City.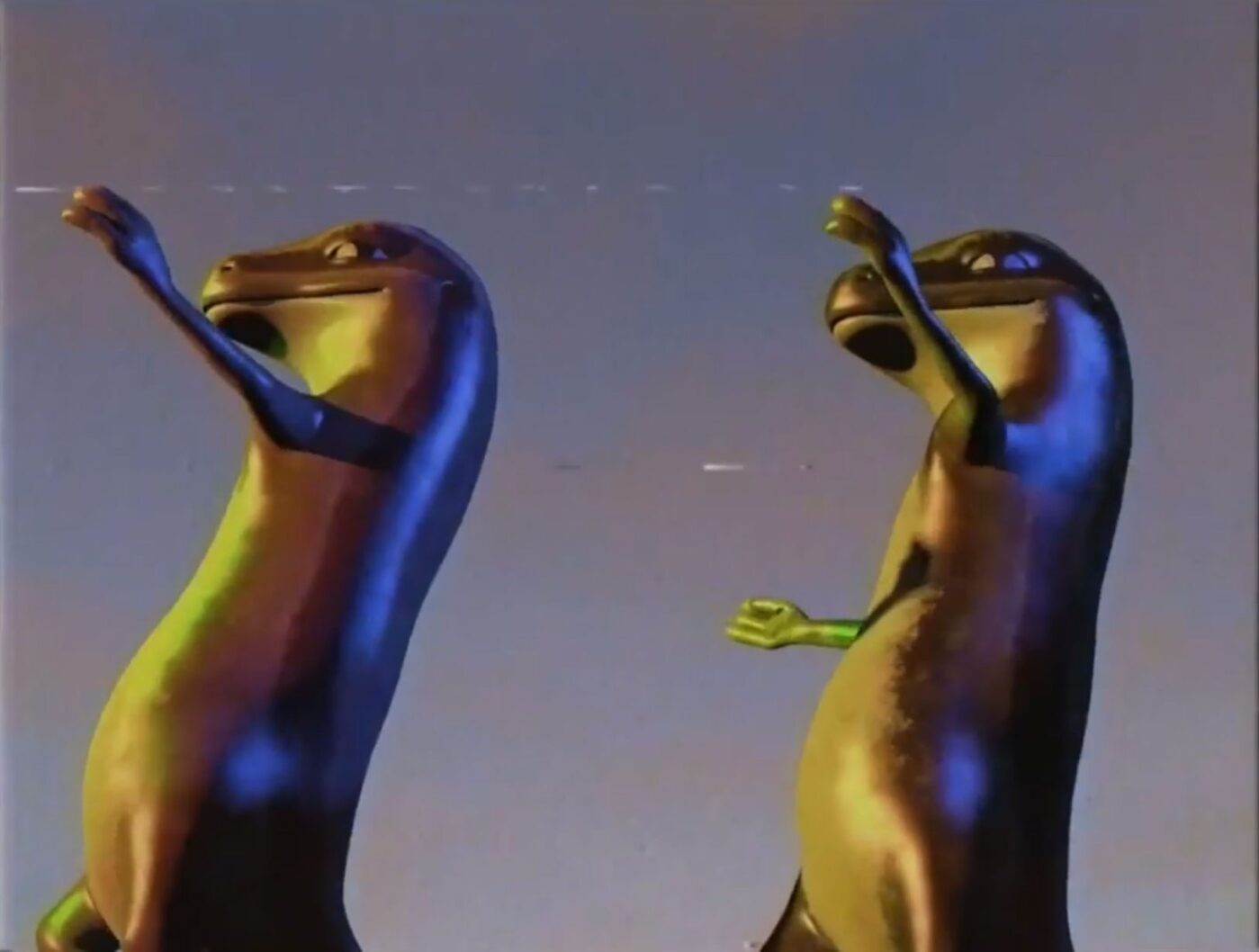 In the fifth installment of Meriem Bennani and Orian Barki's quarantine series, 2 Lizards, the protagonists take a walk through an empty Times Square. "It feels like we're walking through a museum," says a tan-colored lizard, voiced by Bennani, to which a green-colored lizard, voiced by Barki, responds, "But at the same time I can't tell … is the city busier usually?" Walking past a massive, shuttered M&M store, they realize it's not the lack of people in the streets that feels weird but the fact that no one is buying anything: "… that's the one thing that will make NYC feel empty," Bennani's lizard suggests. Casual conversations like this, variations on the conversations that many of us are having, make up the bulk of the short scenes of 2 Lizards. They focus on the moods of quarantine, capturing miasmic dread as well as moments of inexplicable lightness, with subtle references to greater systemic issues. In this scene, the lizards begin to forget what things were like before. They notice how odd the cessation of physical commerce feels, lightly drawing attention to how much of a constant it was before; but then they carry on, continuing their walk past empty Broadway theaters.
The six animations released to date are short, ranging from two to three minutes, and formatted to be watched sideways on a smartphone. Much of the pleasure of these videos is in not needing to take them too seriously. Bennani and Barki describe the project as something they would have made if they had been friends as teenagers. Accessible on Instagram TV, they rub elbows with Zoom windows, TikToks, online yoga classes, and all the other #content that makes up the fabric of our social lives during the pandemic. 2 Lizards does a good job of rendering the circumstances in which we encounter it. In the third episode, Bennani's lizard confuses her dreams with newscasts and ASMR videos from YouTube. Video has emulsified reality, at times making it difficult to tell the difference between what is lived and what is watched.
Something about having to rely on digital media for socializing feels anemic and dismaying. I could not put my finger on what exactly it is exactly until I watched the rest of the fifth episode. In the middle of their stroll through Times Square, Barki says she needs to pee. Bennani suggests looking for a Starbucks, but when it is closed as well, she ends up peeing in the street. Relying on Instagram for social needs feels kind of like having to rely on Starbucks for restroom needs. You have to give up something—your data or five bucks for a latte—to do your business. The episode ends as the frame lingers on the urine pooling into colorful billboards reflected in a street puddle.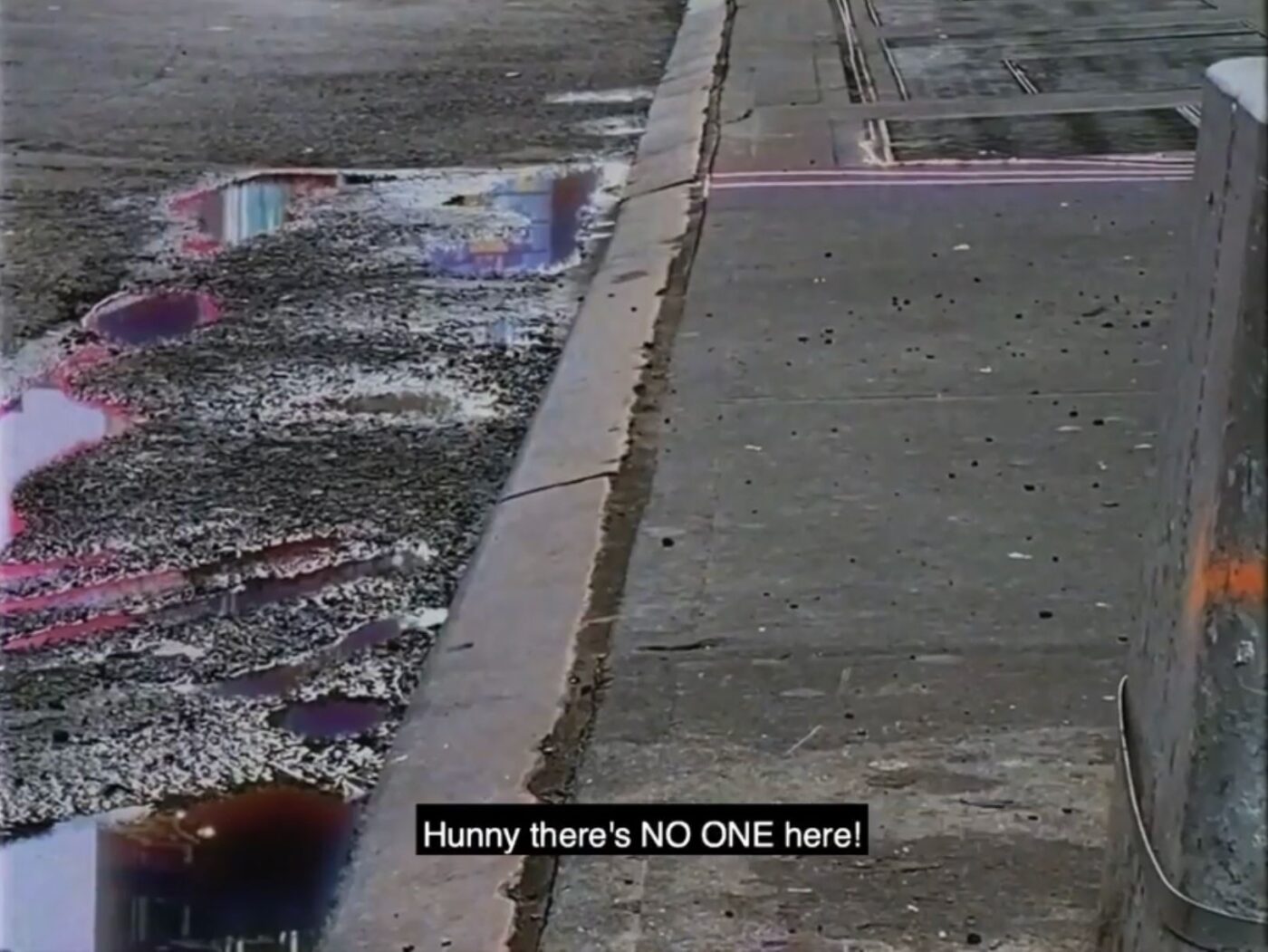 I was drawn to the way that the lizards move. Each episode is a bit of quarantine choreography. A synchronized roof shimmy in the first episode embodies the trepidation and optimism of early lockdown. Driving through the city in the second episode, the lizards slip outside while staying inside. Their languid, boneless bodies splay out on sofas and beds even when they're just looking at their laptops in the third episode. The fourth is an awkward ballet of social distancing as they talk to a cat friend outside her house, and the fifth is the empty stroll in Times Square. The sixth begins with the memory of a club night, all bodies and elbows. We may be locked down, but we're still being asked to dance; the videos are an astute capture of the subtle new choreographies our bodies have internalized. "Everyone is gonna be a chef or a dancer by the time this is all over," Barki notes in the third episode. "Very, very anxious chefs and very, very anxious dancers," Bennani says.
A friend recently told me that since she isn't making new memories with friends, she will sit sometimes and just replay the old ones. The lizards spend a lot of time daydreaming as well. The sixth episode is a memory: discussing horror movies over dumplings with friends in Chinatown. One friend, a spotted anamorphic cat, dips her finger into the soy sauce, and Barki's avatar fixates on it as she zones back into the present. She recoils silently from such casual contact, now unthinkable.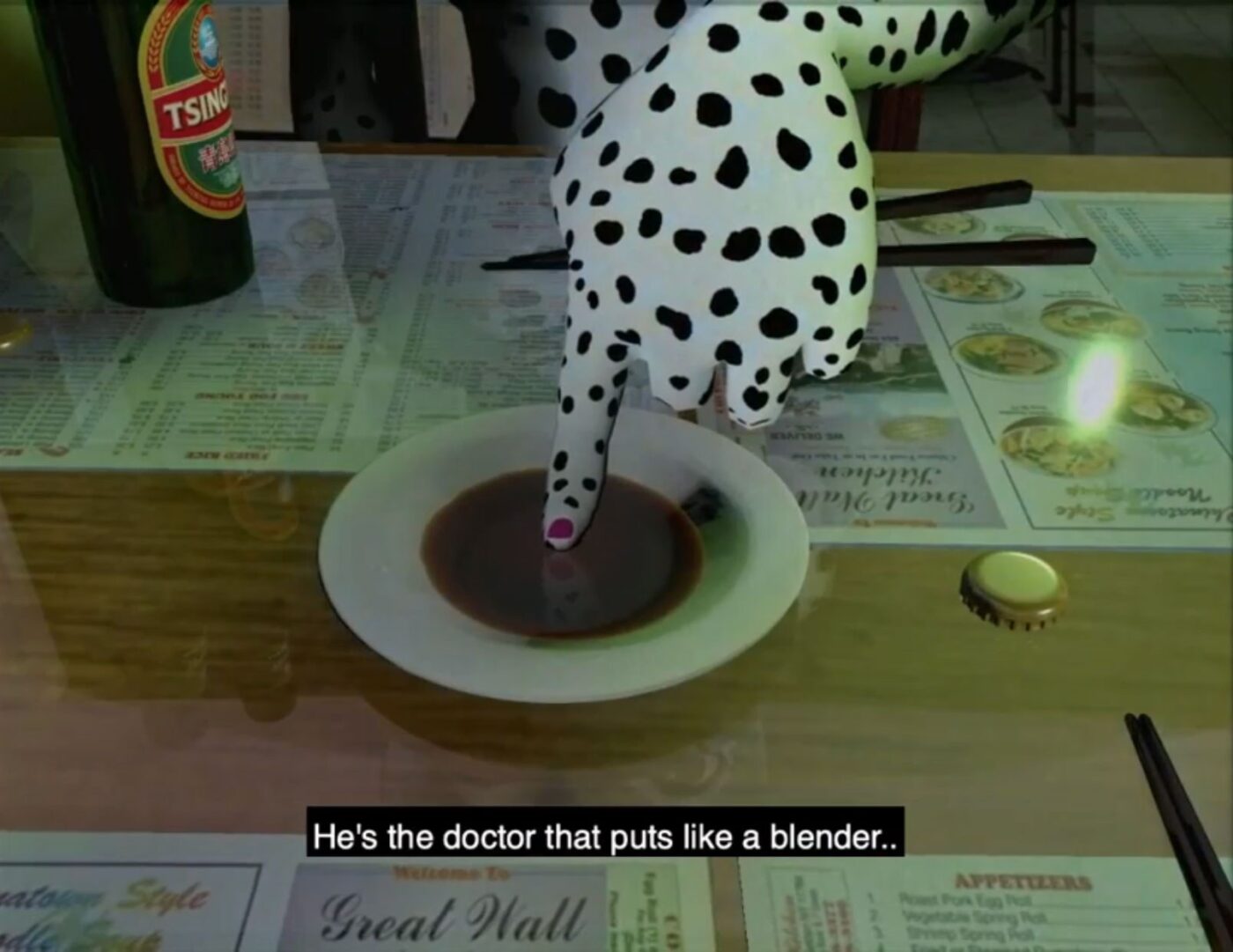 2 Lizards is comforting because in some ways it is a mirror. But the other, underlying mechanism of this comfort is the way that it narrativizes our present, weaving our circumstances into the trajectory of a story. "There is going to be an arc, and it's going to reveal itself to us," Barki has said about the ongoing nature of the series. The series renders the now with such precision that it might help us believe that there will be a not-now, a time that will be after our circumstances—an ending that might also be return. This is a myth, albeit a comforting one; yet the possibility of forward and backward inertia is something many others have also mused on, from Arundhati Roy asking if the pandemic is a portal to Paul Chan asking if there is a direction home that doesn't point backward. 2 Lizards joins this conversation to capture this sense of mid-air suspension in the smallest of everyday interactions. Wherever our story goes, at least the lizards will follow us.
Episodes of 2 Lizards can be viewed on Meriem Bennani's Instagram.
Simon Wu is an artist based in New York City. He serves as the Program Coordinator for The Racial Imaginary Institute and is an alumnus of the Whitney ISP.