Melanie Crean: How To Do Things With Words by Thom Donovan
Language is a source and form of action, and anything but secure as seen in the recent WikiLeaks cables. Thom Donovan further explores the radicality of speech, in all its potential protest with his essay on Melanie Crean's exhibition How To Do Things With Words.

Discover MFA Programs in Art and Writing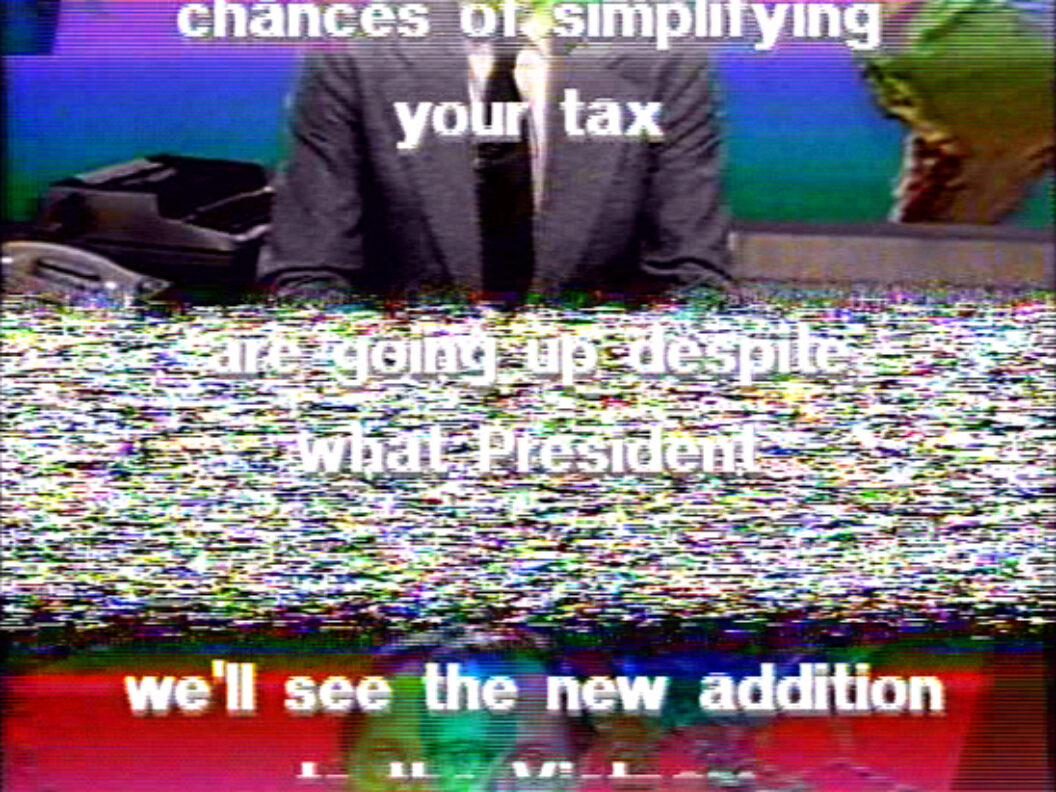 How To Do Things With Words, the title of a recent exhibition curated by Melanie Crean at the Sheila C. Johnson Design Center, Parsons The New School for Design, takes its name from a series of lectures delivered by the British language philosopher, J.L. Austin in 1955, and published in 1962. In Austin's work, the philosopher demonstrates the extent to which language functions performatively rather than to describe the world in a "truthful" descriptive manner. Language, by Austin's estimate, relies on interest, desire, and context in order to be effective. Language is also an active force; it is used to accomplish actions, to enact, to do.
The works displayed in Crean's exhibition explore the possibilities of art to organize our senses of world making and both civic and social responsibilities. Though many of the works in the show involve images and sounds, spoken and written language is central to how they function to engage their audience/participants. A handful of the works will probably be familiar to the viewer, such as Martha Rosler's If It's Too Bad To Be True, It Could be DISINFORMATION and video footage from various projects by The Yes Men, but the majority probably will not.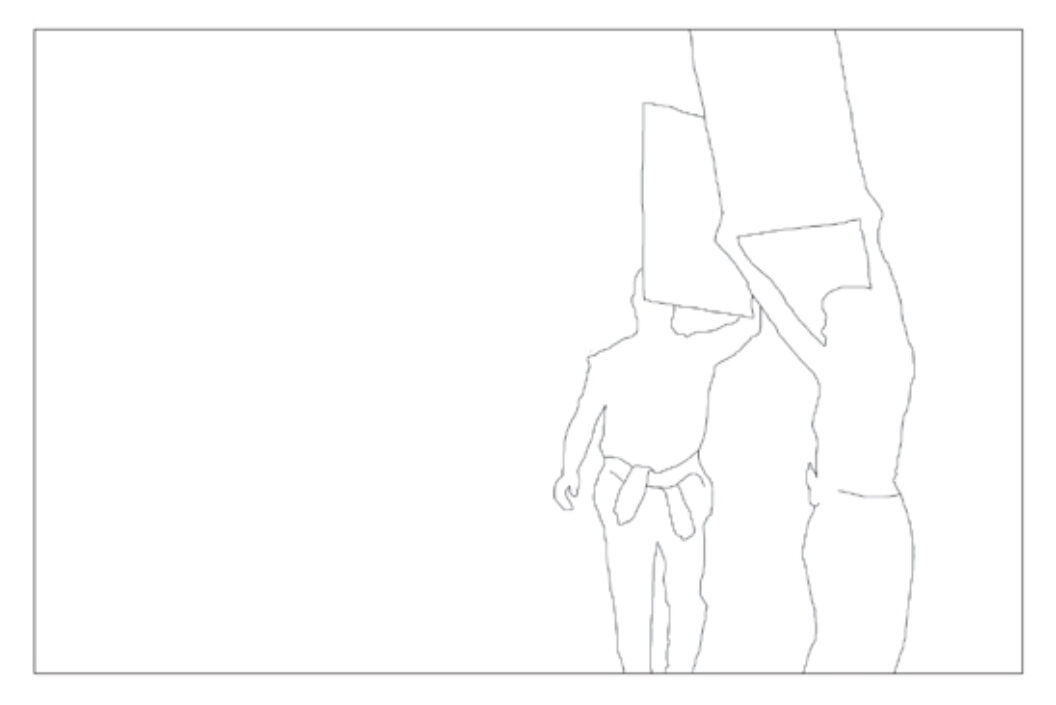 Sharon Hayes has a work in the show in collaboration with Andrea Geyer, which characteristically blends text with image. In this work produced as a newspaper fold-out, In Times Like These, Only Criminals Remain Silent (2005), one encounters a series of sparse drawings of people marching with signs. The signs are blank indicating potentiality and possibility, if not a skepticism towards political representation. The content of the fold-out consists of a series of questions pertaining to interpellation—the hailing of the subject. Through the questions one is asked to reflect on the history of their subjectivity, and how their subjecthood is co-constitutive with family, church, state, and multitude (a populous at large).
Another recognizable name was that of Rhizome founder Mark Tribe, who presented work in the show, and who also visited the gallery space to give an artists talk. In Tribe's video, Chinoise A (2009), named after the 1967 film by Jean Luc-Godard, he restages the dialogue regarding Leftist terrorism between two of Godard's characters on a Paris train, giving this dialogue new significance and vitality by imagining it as a Skype conversation between a young and elder radical in our present. What comes out of the restaging is an expression of skepticism about contemporary uses of terrorism for Leftist and progressive causes, as well as a sense of historical distance from Godard's original context pre-May '68.
In Tribe's artist talk, he discussed ways that one may think about aesthetic performativity in terms of political demonstration, alluding extensively to projects like his well known Port Huron Project (2006-2009), which restages speeches by member of the Students for a Democratic Society from the '60s, as well as more recent projects which help us to reflect on how conditions for socio-political action and intervention have changed since the cultural moment of the '60s. Tribe's talk was poignant in, among other ways, his discussion of the place of "embodiment" in protest, and how art works may anticipate the subject's immersion within post-cinematic environments such as the Internet and social networking technologies, or Web 3.0.
The other participants in the exhibition were virtually unknown to me, yet they are people whose work I would like to get to know better. In the Columbian artist Carlos Motta Six Acts: An Experiment in Narrative Justice (2010), the artist restages speeches of assassinated Columbian politicians who in their time spoke truth to power, and spoke up during periods when it was dangerous to do so: these politicians include Jorge Eliécer Gaitán, Luis Carlos Galán, Bernardo Jaramillo Ossa, Jaime Pardo Leal, Carlos Pizarro and Rafael Uribe Uribe. Motta's videos typically feature a lone figure standing in the middle of a public square reciting a speech by one of the assassinated politicians. What's intriguing is the variety of reactions from passers-by, some of whom look bemused, others curious, and some clearly moved. I relate Motta's project to Tribe's Port Huron Project, but also to Sharon Hayes' various performance works and installations in which she will also read speeches by important historical figures in public spaces in tandem with letters she has exchanged with lovers and friends in private. Through this work, the artist brings historic public speeches back into a contemporary public's attention, thus preserving these speeches through their telling. Motta's restaged speeches also hold a mirror to the conditions of our present moment, in which we wonder to what extent our current political leadership may also speak to power in the interest of a public good.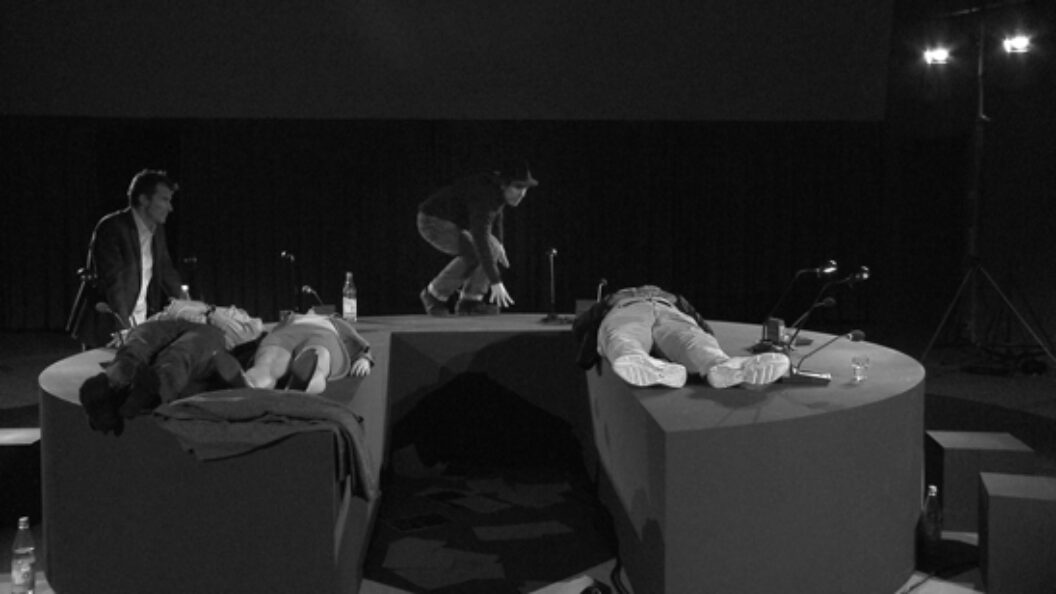 Another artist whose work I came across for the first time is that of Azin Feizabadi, who had two video works in the show. The first video work, in collaboration with Ida Momennejad, The Epic of the Lovers: Mafia, God and the Citizens (2009), is a lyrical essay about the Iranian demonstrations following the elections of 2009. The visual content of the video features figures seated with hoods and veils covering their faces. On the hoods and veils are projected images taken from the Internet of participants from the 2009 demonstrations. The seated figures represented by the video move only slightly. When they do, the images projected on their faces become distorted and deformed. The images of projections alternate with amble black leader, which punctuates the lyrical tempo of the sound-track whereof one hears portions of a diary read by the collaborators, Feizabadi and Momennejad. The diary consists largely of a series of questions and observations focused on the demonstrations. Poignant about the questions, is how they address contemporary socio-political uprisings, and particularly the sense during such an event that one is no longer acting as a single individual. The lovers' dialogue—if that's what to call it—calls to our attention the dilemma of the subject who must perform agency as part of a spontaneous collective subject. Skepticism and hope pervade the dialogue, which offers a moving and thoughtful portrait of the Iranian demonstrations both as a specific geopolitical event and as an index of a more general problematic of how collective subjects may come into being and solidify.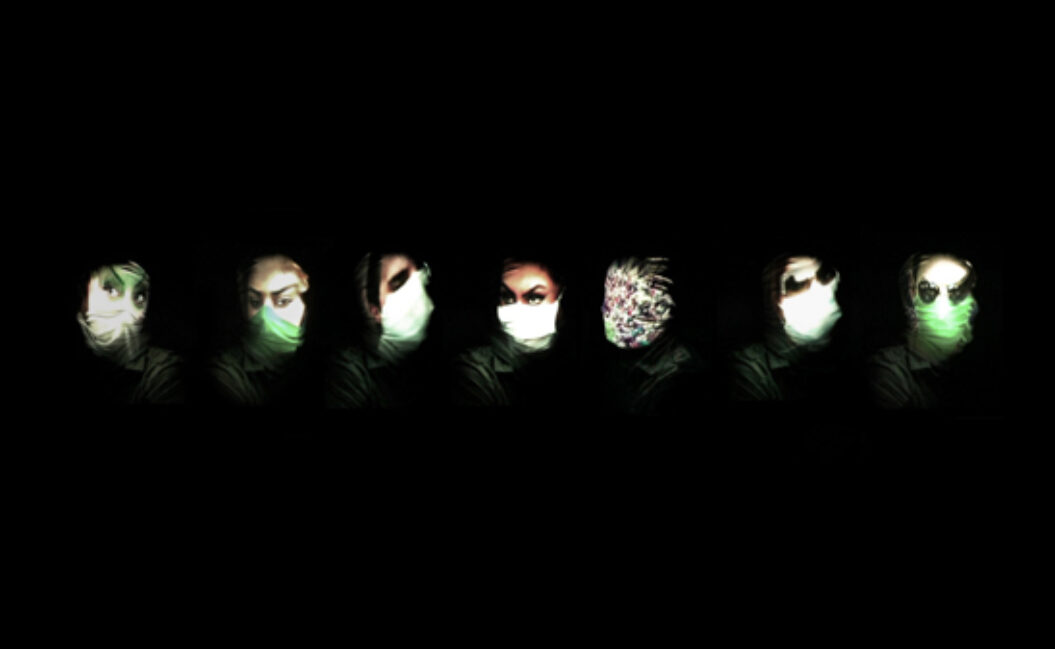 In another video by Feizabadi, The Negotiation with Kaya Behkalam (2010), we witness a set of actors in a room gathered around a conference table. The conference table resembles a structure built by Crean and her collaborator, Jordan Parnass, in the center of the gallery space, titled Continuous Session, which alludes to the design of U.N. Security Council. Through the video, a series of stage directions and inter-titles alternate with footage of the actors improvising about "revolution." What I found particularly compelling about this video were the ways that the actors seemed to speak a number of received positions about revolutionary events. The fact that the video compiles 35 minutes of a nearly eight hour performance also gives one a sense that they are witnessing moments of intensity as well as exhaustion within the longer improvisation—moments in the performance where the actors' guards may be let down, or where they start being "real" with one another.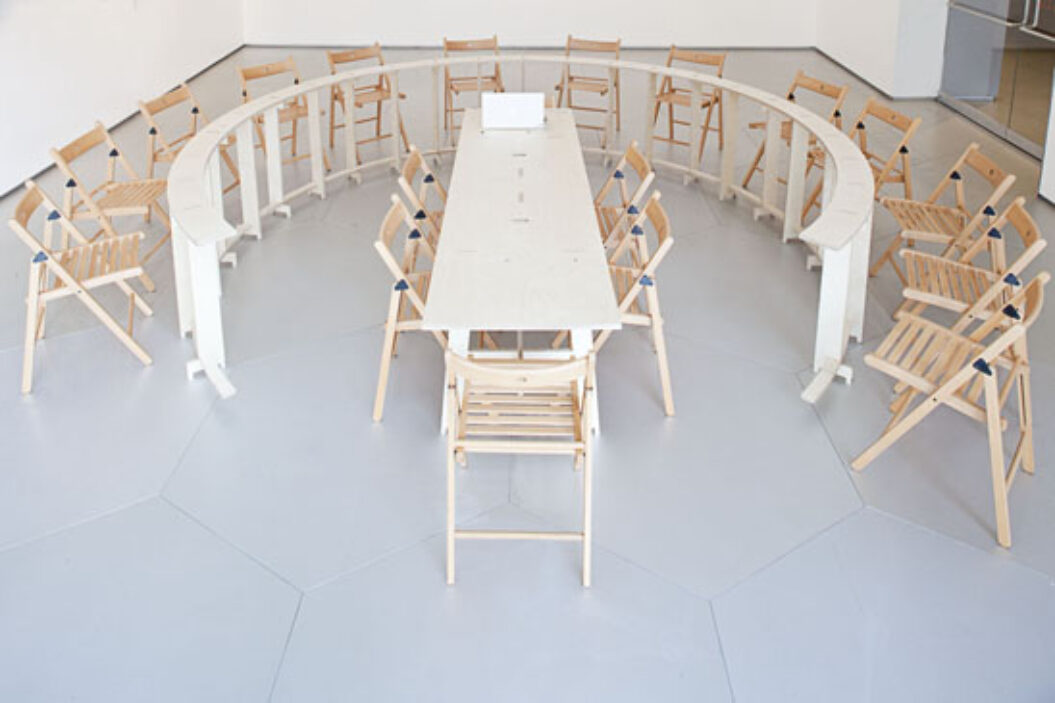 Another important feature of the exhibition were a series of public programs devoted to ways that speech functions in civic, social, and political spheres. Three of these performances, by Huong Ngo & Hong-An Truong, Yael Kanarek(who also has a sculpture in the main gallery space), and Mary Walling Blackburn, featured extensive audience participation. Both Kanarek and Blackburn's performances were compelling to me in the ways that they encouraged rituals of healing, catharsis, and understanding in their audiences.
Blackburn's performance, The Order of the Joke, involved a pedagogic narrative structure, in which Blackburn taught her audience a series of dirty jokes from the current conflict in Afghanistan (the jokes being taken from soldiers on both sides of the conflict). Though they didn't know why they are doing it yet, the audience spoke/sang parts of the joke. What happened was a kind of deconstruction of the jokes' logic; what also occurred that is perhaps more interesting is that the audience seemed to come to a recognition of how it feels to tell the joke, as though in a foreign tongue. The point, in other words, was to undergo a discourse that one may not have otherwise encountered, and more so, that one probably did not want to encounter.
Similarly, in Kanarek's performance, Trigger Words, she asked a group of women from different cultural backgrounds to collectively perform words that had a violent or 'loaded' significance in their society. Many of the words that came up had specifically to do with women—"whore," "bitch"—and were spoken in both English, Hebrew, and Arabic. Other words had specifically to do with the Israeli-Palestinian conflict, Kanarek herself being Israeli. Watching the women perform these utterances and moving their bodies in collective gestures, I was struck by their sense of joy—and relief—at saying many of the words Kanarek requested they utter together.
In their performance, AND, AND, AND – Stammering: an Interview, Huong Ngo & Hong-An Truong used a format that was both elegant and deeply problematic—the interview for U.S. citizenship—seeking to reflect on how audience members view their own citizenship within the U.S. and elsewhere. Enlisting a volunteer, the pair asked a series of questions that would be typically posed during the application process to become a U.S. citizen. A range of my own questions occurred to me while watching the volunteer interact with Ngo and Truong. Would, for instance, the volunteer really be giving these answers if she didn't already have citizenship to the U.S.? Wouldn't someone seeking citizenship be more careful to anticipate the ways their interrogators wanted certain questions to be answered? As a result of her unwillingness to answer a few of the interview questions—and to agree to bear arms for the U.S.—the volunteer was denied citizenship. This led to a rich discussion with an audience of approximately 20 people regarding the ways that one thinks about citizenship in terms of one's position as a citizen as well as in terms of one's sense of their civil rights. At one point Crean, who was documenting the performance, commented that she feared for the volunteer, who by volunteering personal information may put herself at risk in an age of intensified surveillance—one of many startling responses to the performance.
Another significant element of the exhibition was a series of works along a wall outside the main gallery space featuring collaborations between students at Parsons and students in Iraq. This work, a "social sculpture" created by Crean in the tradition of Joseph Beuys and called Conversations on the Line(2010), referred to the consequential nature of all recent cultural dialogues and symbolic exchanges between the United States and Iraq. The most substantial among these works was No Its Broken, Broken for Me Too, a large poster in which Twitter exchanges between the students were enlarged and on which the Iraqi constitution was printed. Through this exchange students considered their own senses of civic responsibilities and reflected on the freedoms offered by their different societies.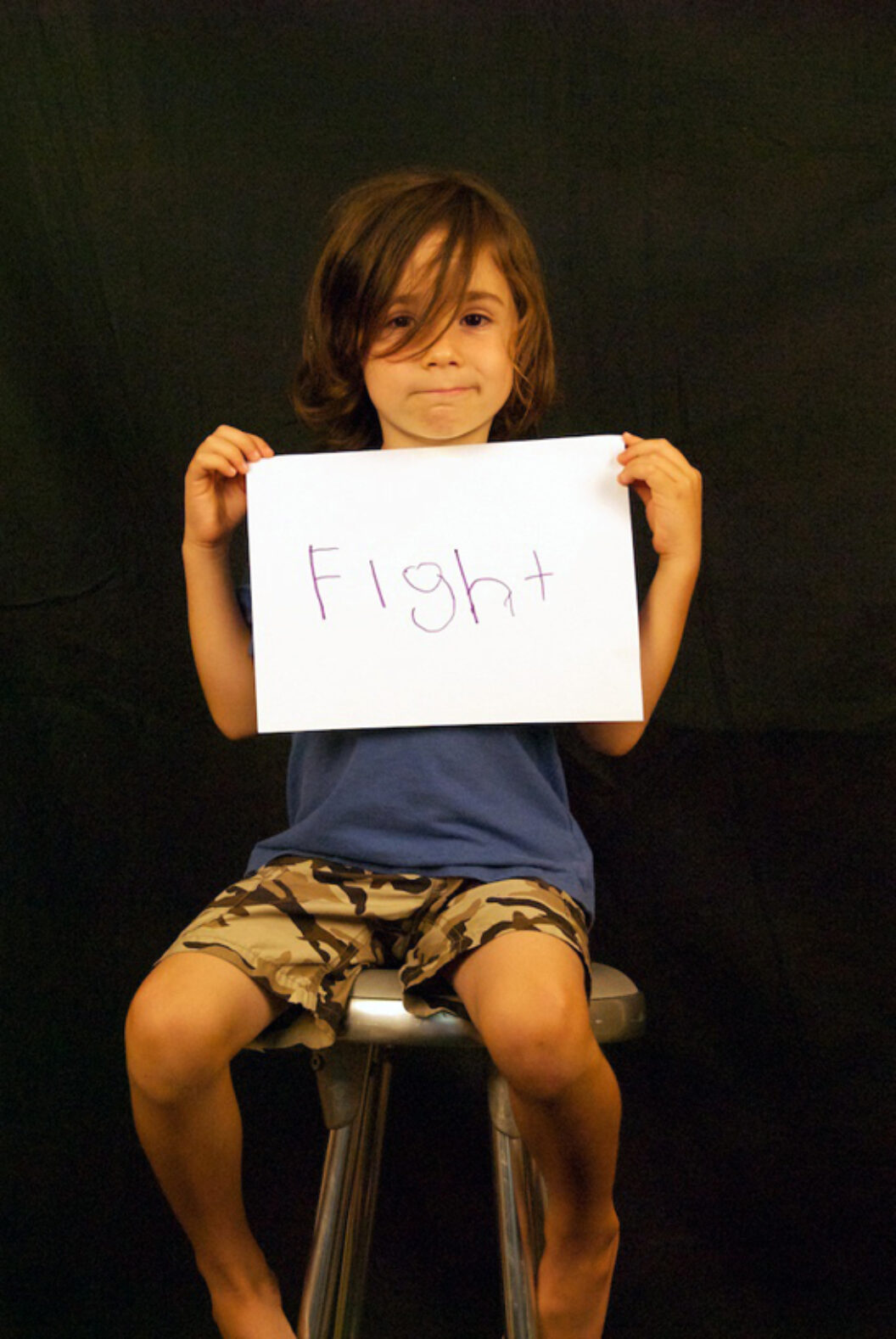 Crean's exhibition was also punctuated by an installation her own work featuring monthly video interviews with her five-year-old son (How My Son Learns To Speak of War, 2010) counterpoised with various musical scores composed in a Fluxus-like compositional style and based on video footage of her son as an infant (Music for Shiloh, 2010). Focusing on linguistic acquisition and Jean Piaget's theories of early childhood development, in the video Crean demonstrates how her son's imagination of war changes throughout the course of the interviews. In the scores, a series of scrolls reading from left-to-right across a full wall of the gallery translate video footage of her son's infant development into musical notation, kinetic drawings, and a series of Muybridge-like stills. As she writes of Music for Shiloh in the catalogue to the exhibition, the work is intended to explore "the process of learning to walk, speak, and express desire (and thus become an independent political subject), and the nature of breaking down information into an archive."
Both Crean's own works, the Conversations on the Line social sculptures, and the artist-curator's Continuous Session form a common thread within an exhibition devoted to underscoring the power of language to both mediate and shape action in the public sphere. Though the show is unfortunately no longer up, you can view Crean's online archive of interviews with U.S. and Iraqi citizens leading-up to the 2009 elections in Iraq here and download an iPhone app of Music for Shiloh here.