Meg Stuart and Damaged Good's BLESSED by Lauren Bakst
Stuart's dance piece BLESSED offers a mediation on what happens when the world around us falls apart, and the state of falling apart is the only thing to rely on.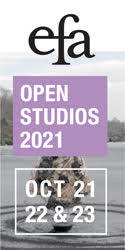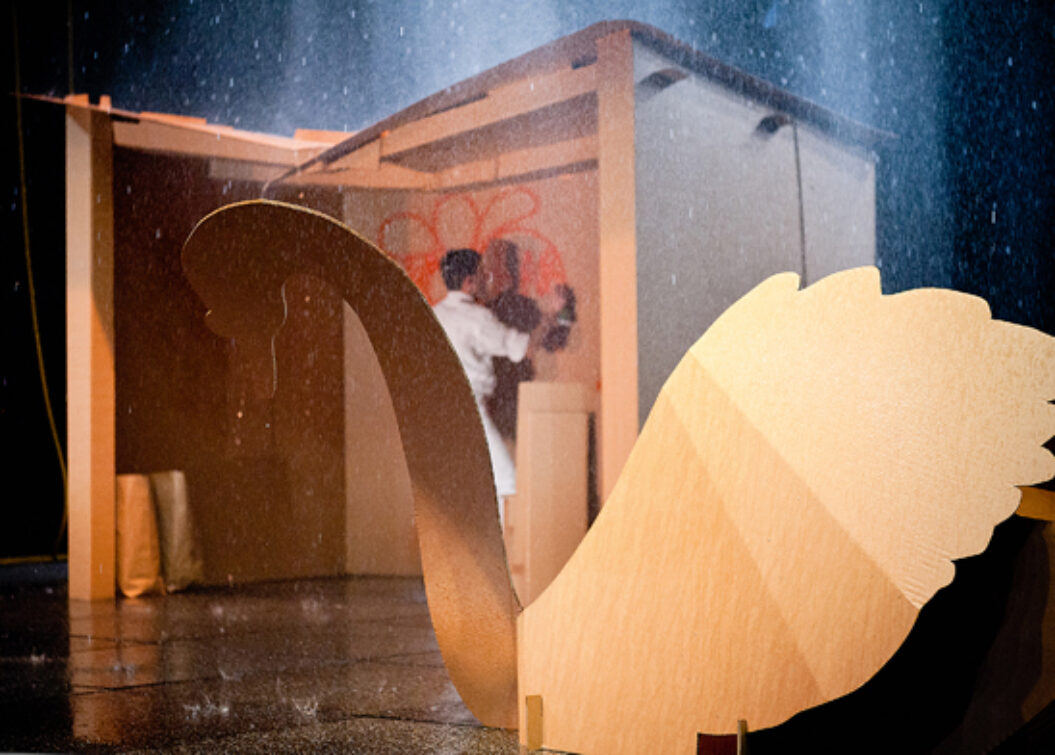 Meg Stuart's BLESSED, a dance piece performed at New York Live Arts this January, begins and ends with Francisco Camacho, a lone man in flip-flops traversing an artificial paradise. A one-room shelter, a palm tree, and a larger-than-life swan, all made of cardboard, set the stage for what was soon to be a persistent downpour of destruction. Camacho moves carefully through the space; his joints fold and extend across a singular plane, as if to mirror the flatness of the landscape surrounding him. He slowly walks over to the cardboard shelter, sits, and stares out at us. Then, suddenly, rain begins to fall. And it does not stop.
Structures compromise under the force of the rain—palm fronds shrivel; the swan's neck collapses; the roof leaks and eventually caves in. Camacho, still sitting in his shelter, reaches for a red spray-paint can and rapidly inscribes an image of the palm tree and the swan side-by-side on the shelter's back wall. He attempts to preserve what once was, while simultaneously desecrating all that's left behind. Camacho's representation fails to stand in for the "real," as representations tend to do. However, in this context, it exposes a slippage in the "artificial" and the "real." His swan and palm tree inscription is a copy of an already artificial landscape—a copy of a copy of a copy. While this is one of many poignant yet fleeting moments in BLESSED, it is this act of mimicry that invites the audience to drop into another perceptual space with Camacho, one in which notions of authenticity and context are highly unstable.
BLESSED offers a meditation on what happens when the world around us falls apart, wherein the state of falling apart is the only thing we can come to rely on. In the darkness, Camacho makes many a failed attempt to find shelter in the now decrepit cardboard. He curls up and shivers in a self-made structure akin to a doghouse. A soaked cardboard blanket renders him invisible. Later, Camacho is joined on stage by Kotomi Nishiwaki, who is dressed as a Las Vegas showgirl complete with feather headdress and patent leather pumps. In this scene, Camacho's smile is overstretched and warped with the aid of a dental contraption and Nishiwaki prances gleefully around the stage to an eerie effect. No sooner has Nishiwaki left than the rain pours again. Camacho's situation remains unchanged by Nishiwaki's brightly distracting spectacle. He is alone in the rain, just as he was before.
BLESSED ends quite like it begins. Camacho traverses his surroundings with the same careful steps, only this time each impression registers a sorrowful sense of understanding. Just a pile of soggy cardboard remains, and I am left with the feeling that if anything is inevitable about humanity, it is survival. It is still raining.
Lauren Grace Bakst is a dancer and choreographer. She is also BOMB's development associate.
Originally published in
Featuring interviews with Charles Long, Liz Deschenes, K8 Hardy, Heidi Julavits, Nicolás Pereda and Gerardo Naranjo, Mohsen Namjoo, Dean Moss, and Ingo Schulze.