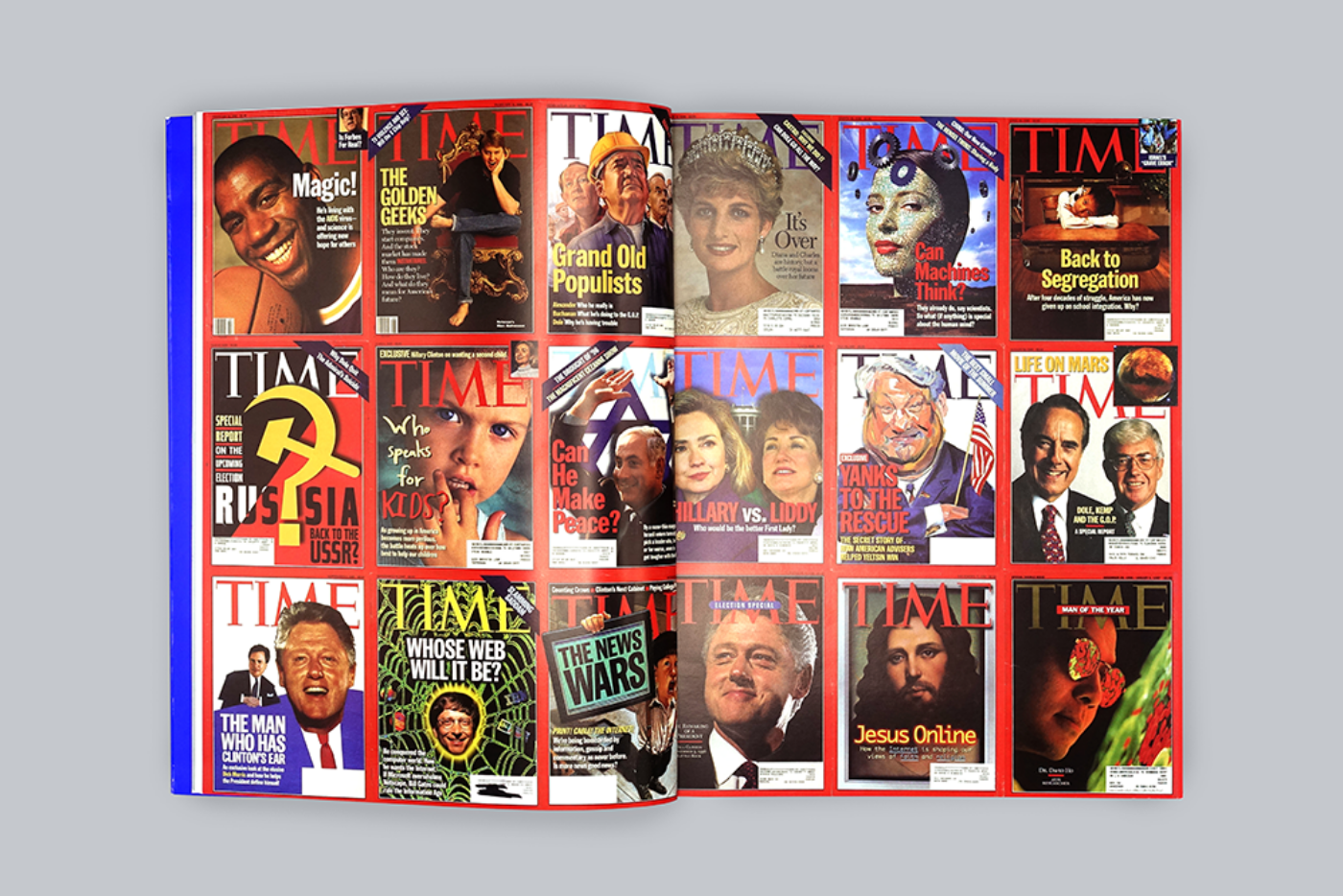 (Inventory Press, 2020)
In 1996, Betsy Sussler's editorial letter for this magazine announced that BOMB was celebrating its fifteenth anniversary by going online (with live chats!)—Netscape, anyone? My first email password (suggested by a techy elder) was "forgetmenot"—sometimes I do forget that bygone temporality of slow info, before the algorithm colonized our DNA. Never mind the Wayback Machine: artist Matt Keegan has produced 1996, a sleek but sensitive compendium of cultural production and politics three years in the making and spanning more than two decades. With the visual sagacity of Brian Hochberger's design, it mimics a glossy magazine (its first spread reproduces the covers of TIME) and echoes the media-obsessive '90s. The book presents critical analyses alongside chatty anecdotes from artists and writers who were young adults in the '90s, plus an absorbing Q&A with those who were born in 1996—linking two generations with very disparate experiences.
The eponymous year was a crucial one in the US, marking President Bill Clinton's reelection. The left's slide to the right had commenced. The North American Free Trade Agreement had gone into effect just two years prior and would irrevocably transform trade, labor, farming, immigration, and wealth distribution for decades to come. The loss of human life to AIDS was then estimated at 6.4 million worldwide, and for those of us who came of age during the epidemic, the message was that sex (and silence) was synonymous with death. Evangelical right-wing ghouls exulted in a danse macabre of homophobia, censorship, and sabotage. It was not a particularly rosy time, but when is it ever?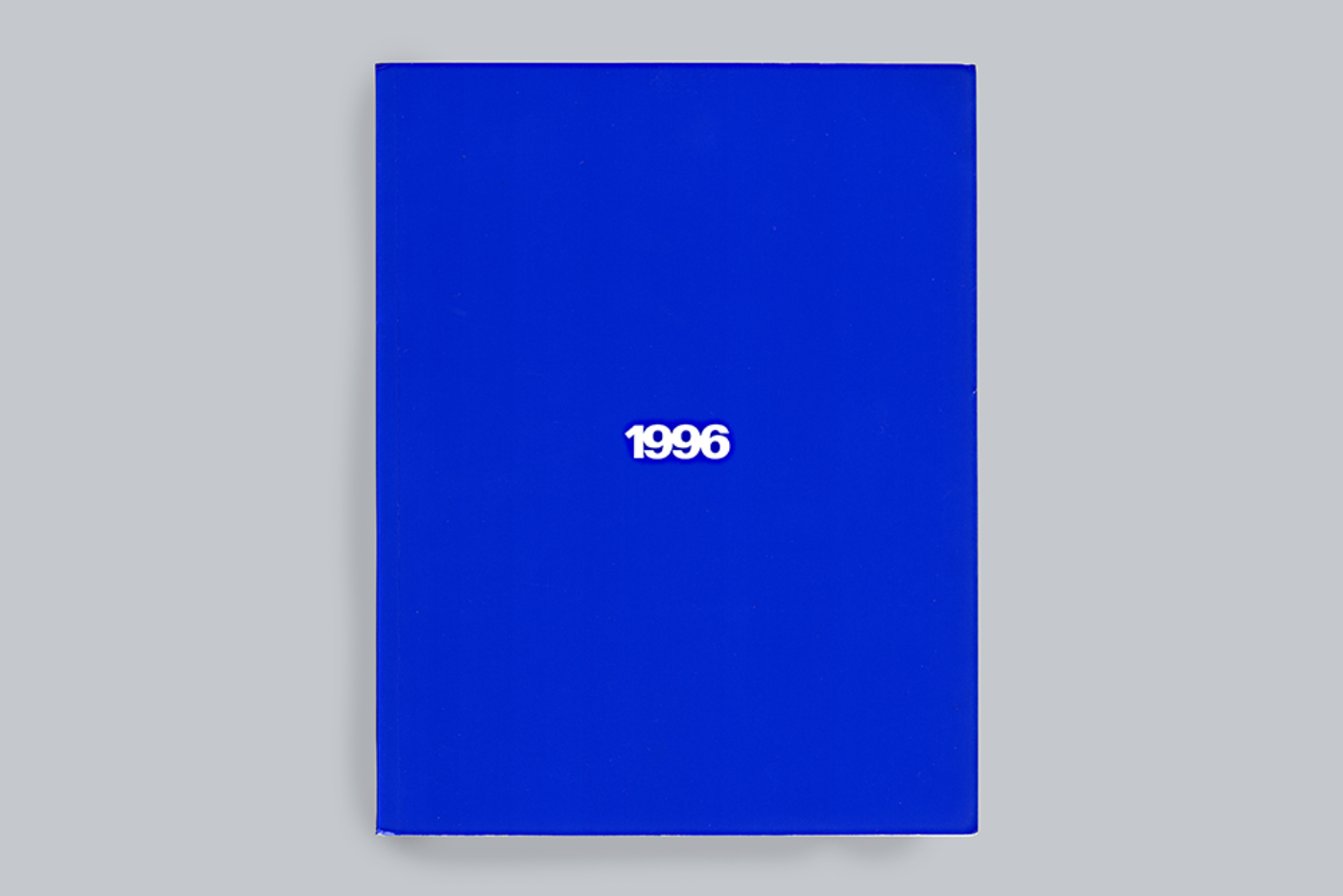 Still, it's tempting to dip into '90s nostalgia, especially when our present moment seems to be the worst one. As Martine Syms says in a discussion with Nicole Otero: "I'm just trying to stay alive." 1996 ties past to present in an intergenerational conversation across time and place, from a reprinted essay by José Esteban Muñoz about Real World star and activist Pedro Zamora to a friendly eight-person trip down memory lane titled "An Aroma of '90s Gay Smells." Michael Bullock's "Cruising Diary: 1991–2001" is a firsthand account of gay online culture; Svetlana Kitto traces the work of activist Charlotte Bunch and others to "codify women's rights as a human rights issue." And Mychal Denzel Smith's study of shadowy Democrats, "A Lesson to Be Learned: On Clinton's Approval of the 1994 Crime Bill and the 1996 Welfare Reform Act," outlines two hostile measures whose repercussions reverberate deeply now.
1996 does not aim to encapsulate so much as contextualize an accelerated trajectory of global transition. Fashion, film, art, riot grrrl, and raves are discussed alongside queer representation, media obsessions, HIV/AIDS, punitive legislative grabs, immigration, and the deliberate suppression of climate science by politicians and the fossil-fuel industry. If it sounds like a lot, that's because it is, and it can't be otherwise. As Black lives are imperiled, as ICE terrorizes people, as we contend with another excruciating election season and crises too numerous to list, understanding what got us here is a means to stave off amnesia. In Keegan's introduction he makes the case for doing the "collaborative and collective work to sustain a better future." With a vigilant spirit of inquiry, 1996 digs deep, extracting clarity from a legacy of deceit, while keeping humor and nuance intact.
Charity Coleman is a Brooklyn-based writer.
Originally published in
Our winter issue includes interviews with Tashi Dorji, Danielle Evans, Walton Ford, Guadalupe Maravilla, Mary Lovelace O'Neal, the Ross Brothers, and Aaron Turner; DIY cookbooklets from Dindga McCannon; poetry by Rae Armantrout, Imani Elizabeth Jackson, and Allison Parrish; prose by Langston Cotman, GennaRose Nethercott, and Brontez Purnell; a comic by Michael DeForge; protest drawings by Steve Mumford; and more.