Post-Post-Post-Era: Mats Gustafsson Interviewed by Alan Licht
The free jazz saxophonist on new realities for experimental music.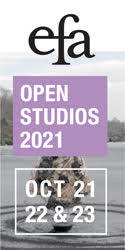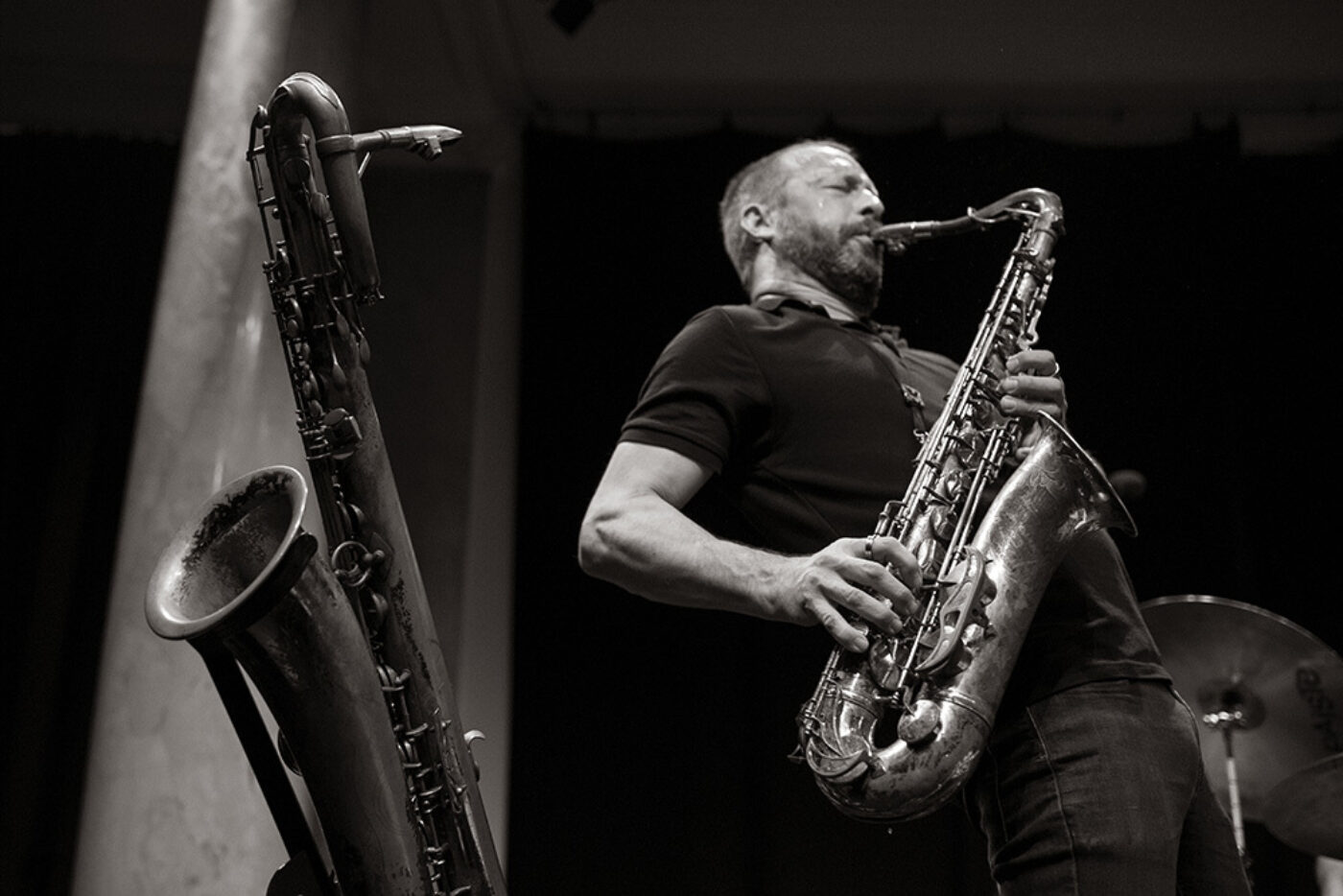 I first met Swedish saxophonist Mats Gustafsson at the Nickelsdorf Konfrontationen Festival in 1999, where he was playing with the AALY Trio and I was doing a one-off trio with Jim O'Rourke and Christian Fennesz. I had already been hearing about Mats from Jim as someone else of our generation coming to free jazz from a punk-rock background. A couple of years later Mats invited me to a festival he was organizing in Ystad, Sweden. It was an amazing experience, involving people like Sonic Youth, Christian Marclay, and YoshimiO from the Boredoms. I fondly remember doing a trio with Mats and Peter Brötzmann where I went running to my amp to turn up, my usual volume no match for their acoustic saxes.
Since then Mats has led a couple of other powerful trios—The Thing and Fire!—and collaborated with many other artists, from Neneh Cherry to Merzbow. It's been a while since we connected, and when the pandemic hit I noticed he was slated to play solo as part of Experimental Sound Studios' superb series of livestreamed Quarantine Concerts. I've been fascinated by the development during this reconfigured reality of solo concerts being the only type to continue to be booked and promoted, solely online. I was excited to catch up with Mats and discuss these issues and others via Skype at his current home in rural Austria—the same town, in fact, where we first met.
—Alan Licht
Alan Licht So have you been in Nickelsdorf since everything went haywire?
Mats Gustafsson It's been an interesting journey, because I was on tour with Christof Kurzmann in South America when shit hit the fan. He's in the high-risk group, because he had a couple heart surgeries, and he's been smoking since he was like, two. When we left, this virus didn't seem like a big deal, but traveling with Christof really changed my mind about that.
I have a feeling that we will work a bit differently in the in the future, and it will take a long time before we can start thinking about doing regular concerts again.
ALIt's interesting—as musicians we're used to "the show must go on." People go onstage with fevers; I'm sure we've both done it. But with this everything shut down so quickly. People are getting more and more scared. It doesn't make sense to do a show now if you can do it six months from now.
MGWhat surprised me is that in the EU every country has different rules. And Sweden had almost no limitations in the beginning.
ALYeah, there was an article in the Times about how Sweden was sort of the outlier in that way.
MGIt's just economical and political decisions they're trying to make. But they're playing with people's lives if you ask me. I was recently scheduled to play a weeklong tour in a duo with Thurston [Moore]. One venue after another started canceling, but the club we were playing in Sweden said, "No, you can come!"
ALThat reminds me of a funny story I heard once about Lemmy from Motörhead. There was a blizzard, and Motörhead had a gig at The Limelight in New York City. So he got on his motorcycle and drove down from wherever he was. In fact, he may have hitched a ride on the motorcycle! When someone called the club to ask if the show was happening, Lemmy picked up the phone and said, "Sure, mate, we're playing. Come on down." That shows you, again, the "show must go on" mentality we all have.
MGYeah, but this is different. It's completely out of our control.
Art and music will always survive. Likely we will need to rethink how we work and how we travel, and there will be limitations. But there are also some positive things happening. My favorite word, which my stepfather taught me when I was a kid, is "solidarity." It was the biggest "aha" moment I've ever had. Solidarity has been so out of fashion in the modern society, but it's amazing to see how its meaning has come back, how people are helping in healthcare, with volunteer work, helping neighbors out.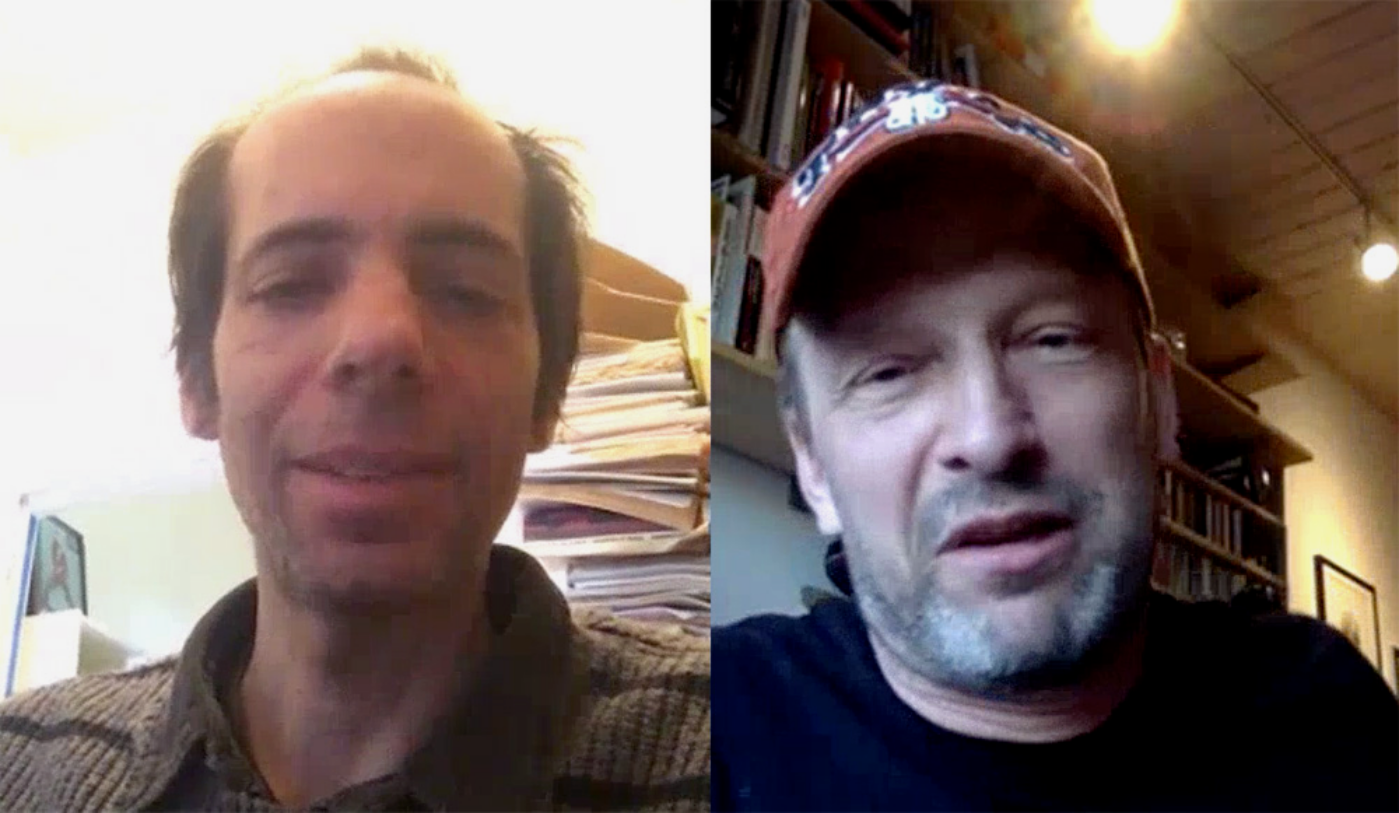 ALWe're also in the age of the internet, and that kind of connectivity has made a real difference. I can't imagine what this would have been like if it had happened thirty years ago
This is a good segue to talking about these streaming concerts, like the one you're doing with Experimental Sound Studio (ESS). Have you been watching any of them?
MGThe livestreams are at awkward times here in Europe, between 2:00 AM and 5:00 AM. But they are all archived, so I've been watching them after the fact.
The whole set up is very intelligently done. To have six concerts one after another is great, because you can watch one thing and think, What's the next one going to be compared to this? This is one of a few good attempts I've seen to do something meaningful. Their donating system has kicked in some money for the musicians. Corbett vs. Dempsey and ESS also set it up so that the musicians can, in turn, donate their share to this fund that Corbett vs. Dempsey set up to support less-established musicians who are out of money. That goes back to the idea of solidarity.
ALI was watching the ESS livestream night with Ken Vandermark, Ikue Mori, and Joe McPhee. And then I watched a bit of the following night, with Aaron Dilloway. It's interesting to see how people are adapting to the whole streaming thing. Dilloway was in his studio, and he had all these chickens from his property pecking on the instruments. He really incorporated his domestic situation.
Lou Barlow from Sebadoh and Dinasour Jr. also did a livestream on Instagram recently. He was in his bedroom or whatever, and his kids were there, constantly interrupting. He was playing with them at the same time, juggling that. And his wife is off-camera reading him comments and requests that people are making.
MGI actually stopped with social media, because it was just too much with the whole coronavirus thing. There were so many musicians doing livestreams that were, for me, quite meaningless. But when it comes to these set structures like ESS is doing, it's completely different. It makes me curious about how the musicians will choose to set up their performance space. There are a lot of added parameters that you never deal with in a normal solo situation. It's not just the sound; you are also showing something more personal.
I love solo gigs because they allow the audience to have more direct contact with the performer. I like to hear improvised music and interactions between performers, but solo performances have a special feeling of necessity.
I'm curious to see if these kinds of streaming events will stay in the music scene once we shift back toward normality. It needs a structure though, a specific form to make it interesting.
ALWhat also struck me is the geographic locations of the performers. In some of these bills, like the other night, Ikue was in New York City; Ken was in Chicago; Joe was in upstate New York; Arto [Lindsay] was in Brooklyn somewhere. You can now curate these things where people are all over the map. I'm sure the one you're going to be on is a bit more international.
MGYeah, there is going to be a European focus that day. Also, with the time difference, it's going to be in the afternoon US time.
ALYou would normally have to be a festival in order to bring all these people together from different locations, but now people don't have to travel. It could be a new alternative to festivals, rather than to local gigs.
MGAnother thing that really struck me is the visual aspect that's involved. I mean, when you see Joe in his so-called bat cave—
AL—and wearing a Batman tee-shirt too.
MGIt was fantastic. It was super blurry, and there was bad internet connection. Claire [Chase] had a fancier situation. They all had different approaches.
AL A few months ago, I went to this event that John Corbett had for his book, Pick Up the Pieces: Excursions in Seventies Music, which involved a discussion with Joe and the late Hal Willner. They each had very different takes on the subject. Of course, Hal's is all about the music-recording studios and the scene in New York City. And Joe was local to Poughkeepsie, but he was also working with Hat Hut Records in Zurich—I can't think of another artist who had a European label set up specifically to record them. When you start to compare Joe with other people, he's really his own guy.
MGYeah, he has a special place in our family. He's known as the popcorn man, because he always brought popcorn for the kids. He stays with us whenever he's in town, and we celebrated for his eightieth birthday when he was here in Austria last November. He is something else.
ALI also want to ask you about your new record Fire! Orchestra: Actions, in which you redid Krzysztof Penderecki's Actions. Can you talk about that project?
MGYeah. It's so strange, because Penderecki passed away only a couple weeks ago, on March 29.
This experimental music festival in Krakow, Sacrum Profanum, asked if I'd consider making a new version of the piece with Fire! Orchestra. So we put together a version of the orchestra without singers. Then I worked to re-arrange the piece, but for the same setting, same instrumentation. I always thought that the piece was really great, but short, only like sixteen minutes. And I also got to know more about how it was originally was done, talking with Peter Brötzmann and people who actually played in the piece. Penderecki also had some instructions for the band, and he was conducting it.
Afterward, the piece was written down and made into a published score, in the twentieth-century classical style. It's interesting turning improvised music into a score, and then using the score as the fundament for making a new reading of it. I took some of the phrases and remade them as riffs, but I followed the general form and instrumentation. The solo order also follows the original piece. The published score is a forty-five-page piece for all instruments, but I made it into one graphic score with some additional traditional notations, and then I made a conduction of it. We only did one take of the recording and got really lucky with it.
ALPenderecki originally got this idea from Globe Unity Orchestra. He saw them in '67, looking again at the notes in the original record.
MGYeah. When they originally recorded Actions in 1971 at Donaueschingen, Don Cherry put the band together. But he wasn't actually playing in the Actions piece. He was only playing on the other piece.
That group [the New Eternal Rhythm Orchestra] is like a small version of Globe Unity, with Terje Rypdal added to the mix.
ALThere was a whole era of that kind of music. There was the Baden-Baden Free Jazz Orchestra, which Terje was in, and of course Alan Silva and the Celestial Communication Orchestra.
MGFucking beautiful. There was so much creativity and openness to other forms. People were really trying things out, and making a lot of mistakes, which I love.
That time will never come back, of course, and we should not try to repeat it. That was also a fear I had working with the Actions piece. I didn't want to make a version that sounds like it was made in 1971. It should be something that sounds like Fire! Orchestra, and something that sounds like now. I hate the term post-free jazz. Either play free jazz or not; don't play post-free jazz. But we're living in a post-post-post-era, so what can we do?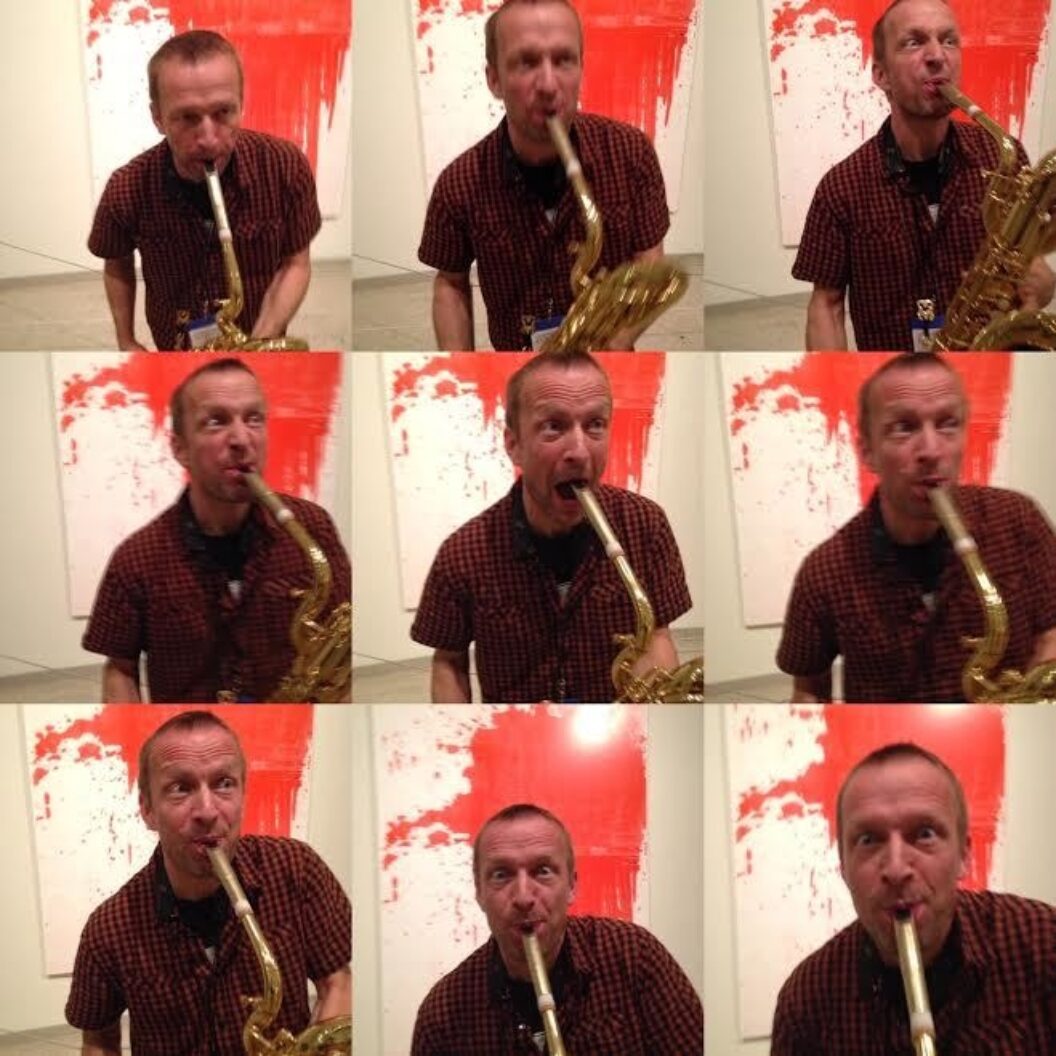 AL I don't know if it's going to be new technologies or what it is that's going to set a new course. It's weird to think that 1971 is now almost fifty years ago. In 1971, fifty years ago was 1921. I mean, if you think about where music was in 1921 compared to 1971, it seems a lot more radically different than music from 1971 does as compared to music today.
MGThere's no comparison when it comes to improvised music. These were such radical steps in jazz history. In the years I've been active, the only radical change I've seen was, funny enough, at a festival in the village where I'm living now, Nickelsdorf, when Jim [O'Rourke], Fennesz, and Peter Rehberg made this amazing concert with three laptops in the basement of Jazzgalerie.
ALI was there! That's when I played with Jim and Fennesz as a trio, which was also not very well received.
(laughter)
MGNo, people hated it. My colleagues just left the basement.
ALThe audience was not ready for that, at all.
Eugene Chadbourne was up there with Paul Lovens playing all country songs, and people were sitting there bobbing their heads like, Yeah, go buddy. It's like, Are you kidding me? I thought this was supposed to be a cutting-edge, experimental music festival.
MGI will never forget that basement set. Fantastic. I haven't seen many radical steps that are changing the whole course of things the way that was. But let's see what happens. Maybe these livestream concerts are a new step.
(laughter)
Mats Gustafsson will perform in a livestreamed solo performance as part of the Sequesterfest series by Experimental Sound Studio on April 18 at 4:00 PM.
Alan Licht is a musician and author based in New York.