Material Intelligence: Teresita Fernández Interviewed by Osman Can Yerebakan
Artworks that challenge colonial narratives.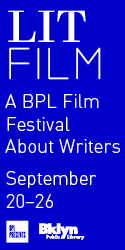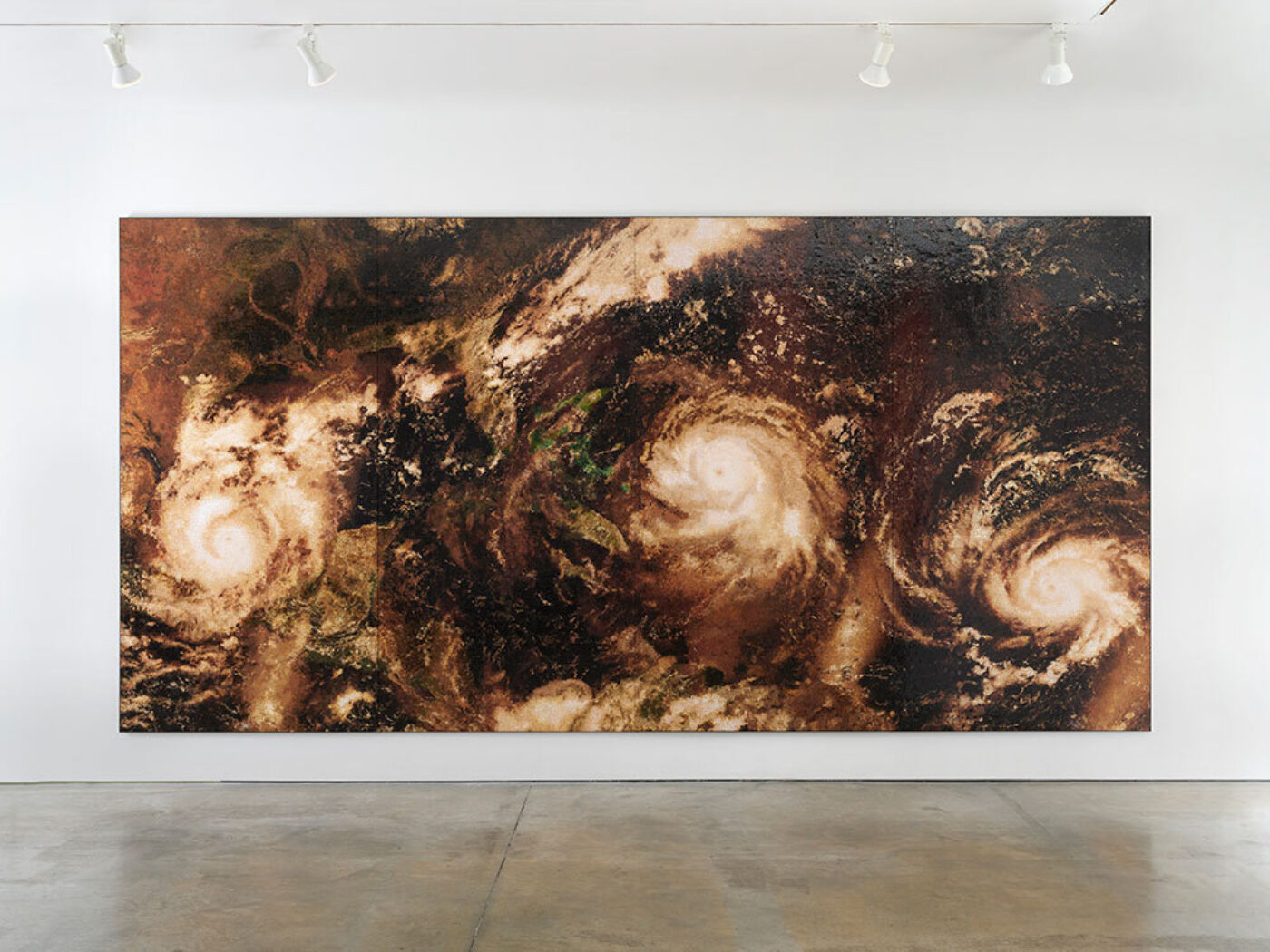 My interview with artist Teresita Fernández began with a discovery. At her Brooklyn studio where she's surrounded by different types of plants, she explained to an astonished me the origin of the word aesthetic. "We think about beauty or tastefulness, but aesthetic comes from 'making aware'; just the opposite of doctors anesthetizing their patients, artists aestheticize." Fernández's recent exhibition Maelstrom at Lehmann Maupin in New York City showed her own ways of making aware.
From a floating, copper-and-wood replica of a life-size palm tree to panels composed of countless tiles that illustrate aerial views, the works in Maelstrom, as she described them to me, "entered the viewers' minds and bodies not through words, but with subtleties." Fernández believes in pursuing alternative modes of thinking and approaching the past because "the foundation of de-colonial thinking is this ability to go outside of all the colonial structures deeply embedded in our psyches." At her studio, she compartmentalizes her space, carving out separate corners for reading, contemplating, drawing, and physically making. The resulting works are physically malleable yet ideologically focused on power structures between humans or nature's resistance to decay. They are geographies of places or minds, and Fernández proves that the two are unexpectedly similar.
—Osman Can Yerebkan
Osman Can Yerebkan Fire is both a destroyer and maker, and your works feature both of these potentials. For instance, you utilize fire to create glazed ceramic and to illustrate its own image on panels.
Teresita Fernández In our imagination, fire is connected to ideas about magic and the ineffable. For me, materials are haunted: they have their own history. In the past, I've used used graphite, gold, glass, pyrite and iron ore, and lots of other things. I often am drawn to these materials because they're subterraneously actual parts of places and physically extracted from specific locations. In that sense, they're facts not metaphors. When I create a new image with raw materials, it becomes, simultaneously, the landscape it came from in addition to the secondary image that it represents. I use this term that I invented: stack landscapes. You're in more than one place. This material intelligence is crucial to my work. When you see, for example, a smoky wall drawing of a landscape made from charcoal, you're looking at burned wood from trees of another landscape, a real one. Same goes for fire clay in the mosaic pieces: earth has been fired at high temperature and coated with minerals. Suddenly, they're burned to depict, say, a nocturnal burning landscape. You can see that making the image is self-referential and circular, which ties to your point about fire being regenerative. Thinking about transformation and the ephemeral also means the time invested in experience. I'm committed to that intimacy because we're slowly losing it as everything is mediated through soundbites and screen time.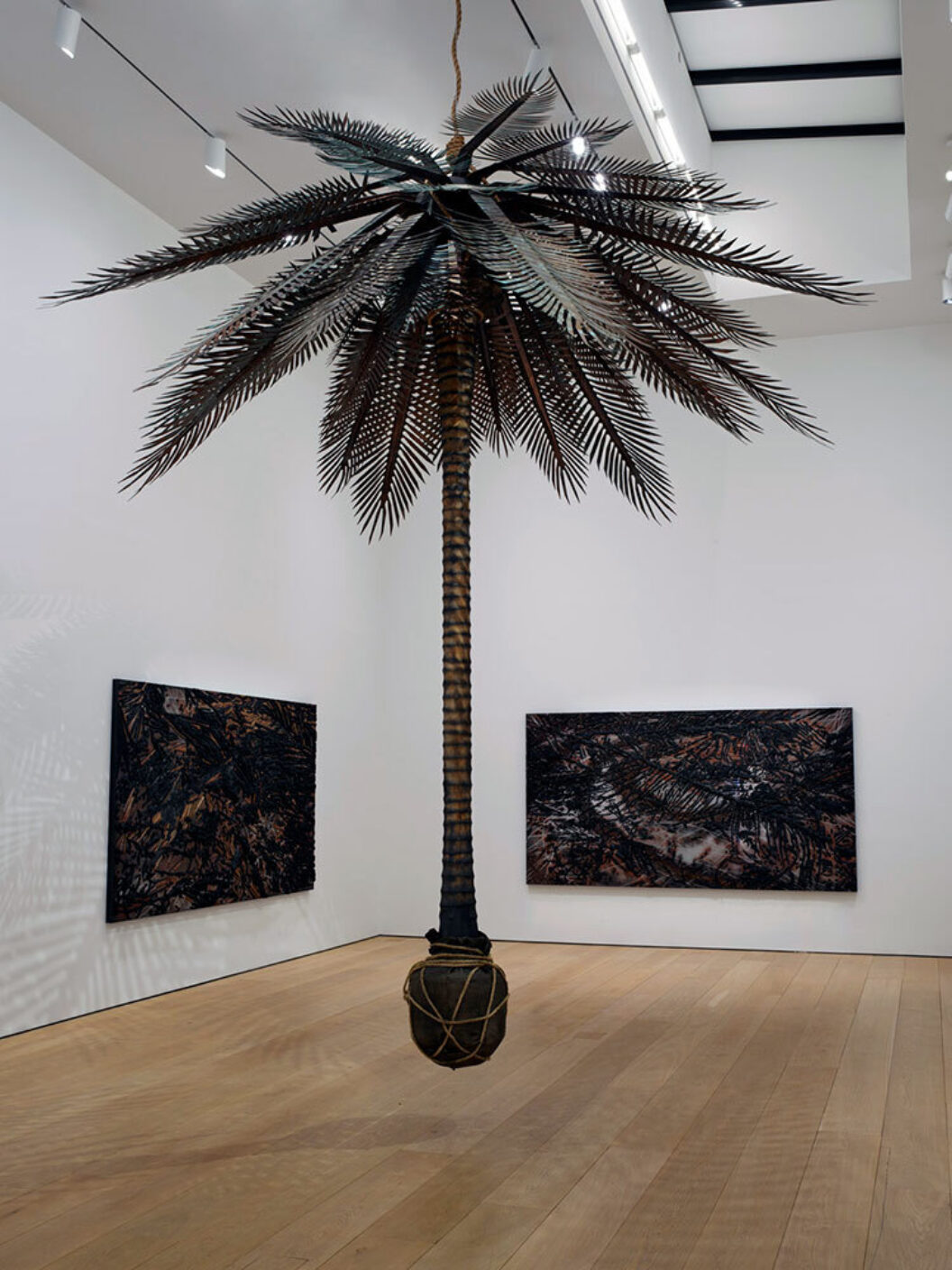 OCY The tree sculpture Rising (Lynched Land) (2020) was one of the strongest images in Maelstrom. You were also shortlisted for the High Line's Plinth open call with a sculpture of three, cast-bronze palm trees weathering the wind. Let's talk about the role of trees in your work.
TF I've learned so much from trees. Nature always chooses this tributary growth, the path of resistance. It's fascinating to see forms grow with that logic; and in that way, trees are sculptures as well. Imagine how raw materials connect to myths, dreaming, and imagining. I love the notion of the sculptor as someone who summons and invents images out of the elemental substance of the world—plant or mineral. The High Line proposal was imagined as an island within an island: the plinth is an island within the island of Manhattan. The Lehmann Maupin show was a Caribbean reimagining: the islands as a state of mind and as a decentralized diaspora reality.
The Caribbean is the locus of modern colonization, as well as a modern notion of nation, citizenship, and even humaneness. Who gets to count as human was really shaped in these little islands, and they came out of radical events, such as the Haitian Revolution. They shaped our ideas of who we are and where we are. The fact that these islands were initial places of colonial contact and violence inform how the systems were designed, and there are many ways to take those systems for granted. We must, however, bypass the Caribbean as this sort of cliché, a paradise and escape from reality, or the periphery and insignificant in relation to the Continental imperial.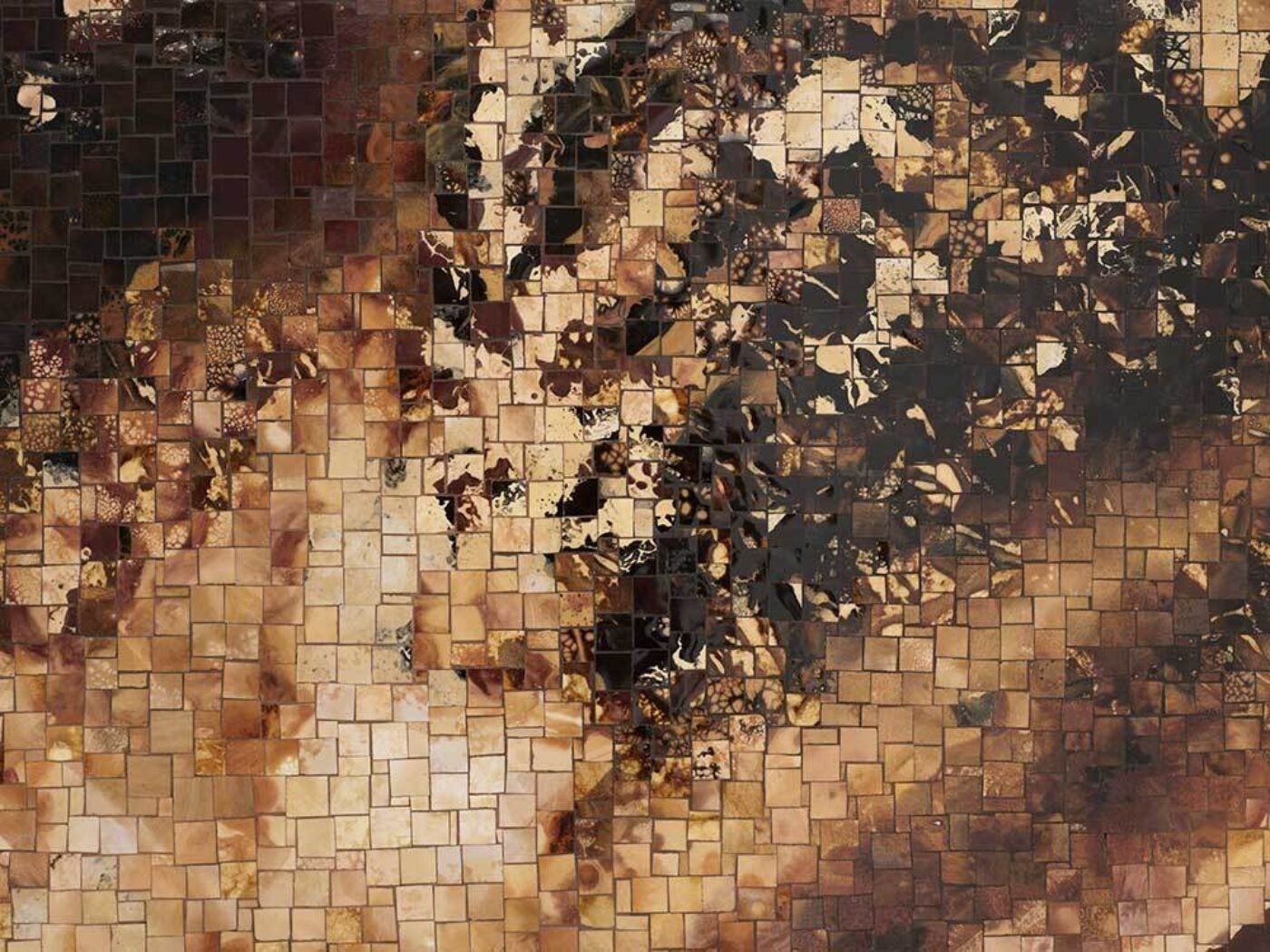 OCY You build a connection between abstraction and aerial views of geographies. Next to natural phenomena of earth, sky, and water, there are borders that have been built around geopolitical tensions. How do you parallel political and artistic abstractions through aerial views?
TF I often use the word landscape because it's a word that is perceived to be passive—as opposed to territory or country. But place is an entirely social construct, always attached to narratives of power and dominance. The places are named by the winners, by the oppressors. Maps are drawn up in the same way. People with no claim to land are usually also thought of as being without history. Complicit erasure is often a deliberate act, and we're complicit in making concealment happen. When scratched, the surface reveals these hidden narratives. Zooming in or out to a map makes it abstract, which is my way of dealing with these landscapes. Being present at a place is an abstract notion: when you're in the middle of the desert, you may see the sun in the southwest, but you don't know where you are. So, I am pointing out this ridiculousness of how things are named and backed up. In Maelstrom, you could see aerial, distorted maps of the Caribbean and the Gulf of Mexico. But if you get really, really close, you're inhabiting each of those tiny little squares; they were their own little landscape paintings. And if you zoomed out, it felt like the cosmos.
OCY I think glazed ceramic's iridescent nature has an important role here. An otherwise dormant and flat surface gains the impression of movement and a multilayered quality. We can even say the surface becomes malleable or perhaps liquid with the viewer's movement. I am interested in this relationship between your material and your viewer's changing experience around it.
TF The viewer in my artworks and installations almost functions as the figure in the landscape. The glazed ceramic, and lots of other materials I've used, are reflective. I consider my work to be figurative even though there are no figures in the work. Your reflection on the surface brings you into the work, and you locate yourself within a place that might have been built on dominance and oppression as well. Of course, these references are subtle, but it happens because people are very drawn to their own reflections. There is a poetic and elusive seduction in finding yourself with a distorted reflection.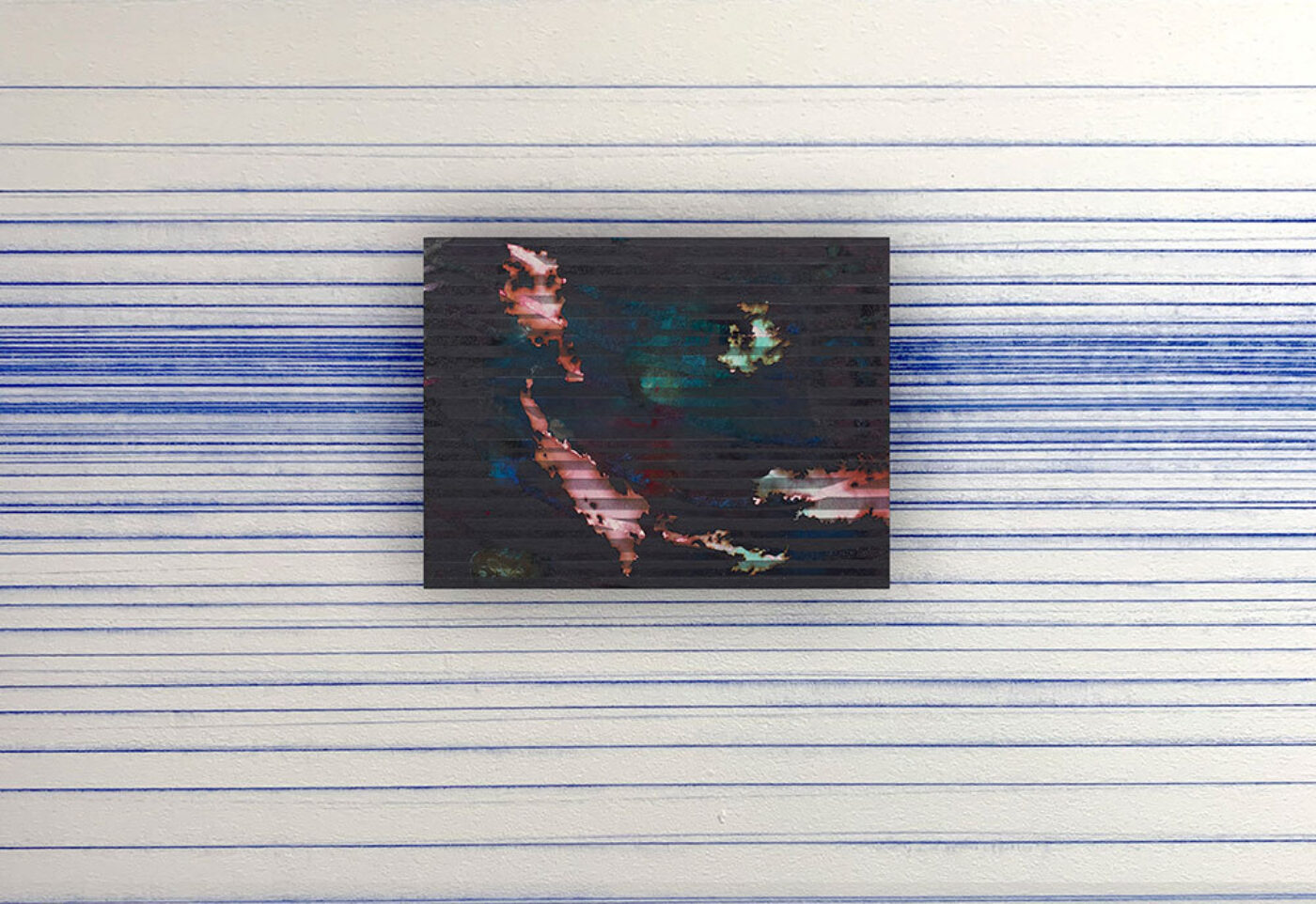 OCY The land and the body, particularly female body, are intertwined in the work. Exploitation of a land starts with exploitation of its bodies through rape, torture, and labor. The installation Hurakán (2020) at Lehmann Maupin was dedicated to Caribbean women whose bodies were used for testing birth control pills.
TF I created a constellation between the practice of naming hurricanes after women (which started in 1954) and women who were sterilized between 1930 and 1971 for testing birth control pills. A third of Puerto Rican women were sterilized, and in fact Nazi Germany learned eugenics practices from the state of California. This act was done by law for the pills' FDA approval. These family stories, many of them of immigrants including my own, are very recent and still told. Decisions were made by those who decide what's a desirable or undesirable population, and women of color, impoverished women, and Indigenous women have always experienced this. Puerto Rico in particular was used as a laboratory for birth control for the entire world. Margaret Sanger is today celebrated for helping facilitate white American women's liberation, but that came at the expense of other women who were used like lab rats without their knowledge. This way, white American women were able to join the workforce and control their own reproductive agency. Many women, American women, who claim to be feminists today have no clue about this history. The immersive installation includes small wood panels each named by another woman, and I consider each work an island, but also a little embryo, a cell.
Teresita Fernández's work can be seen in the exhibition Contemporary Optics: Olafur Eliasson, Teresita Fernández, and Anish Kapoor at the San Francisco Museum of Modern Art until March 2022.
Osman Can Yerebakan is a curator and art writer based in New York. His writing has appeared in T: The New York Times Style Magazine, Paris Review, The Guardian, Artforum, Artnet, Brooklyn Rail, BOMB, Observer, New York Magazine, Wallpaper*, Village Voice, and elsewhere.