Material Engagements: Craft and Feminist Futures by Melissa Potter
The challenge of craft practices to patriarchy and the art world.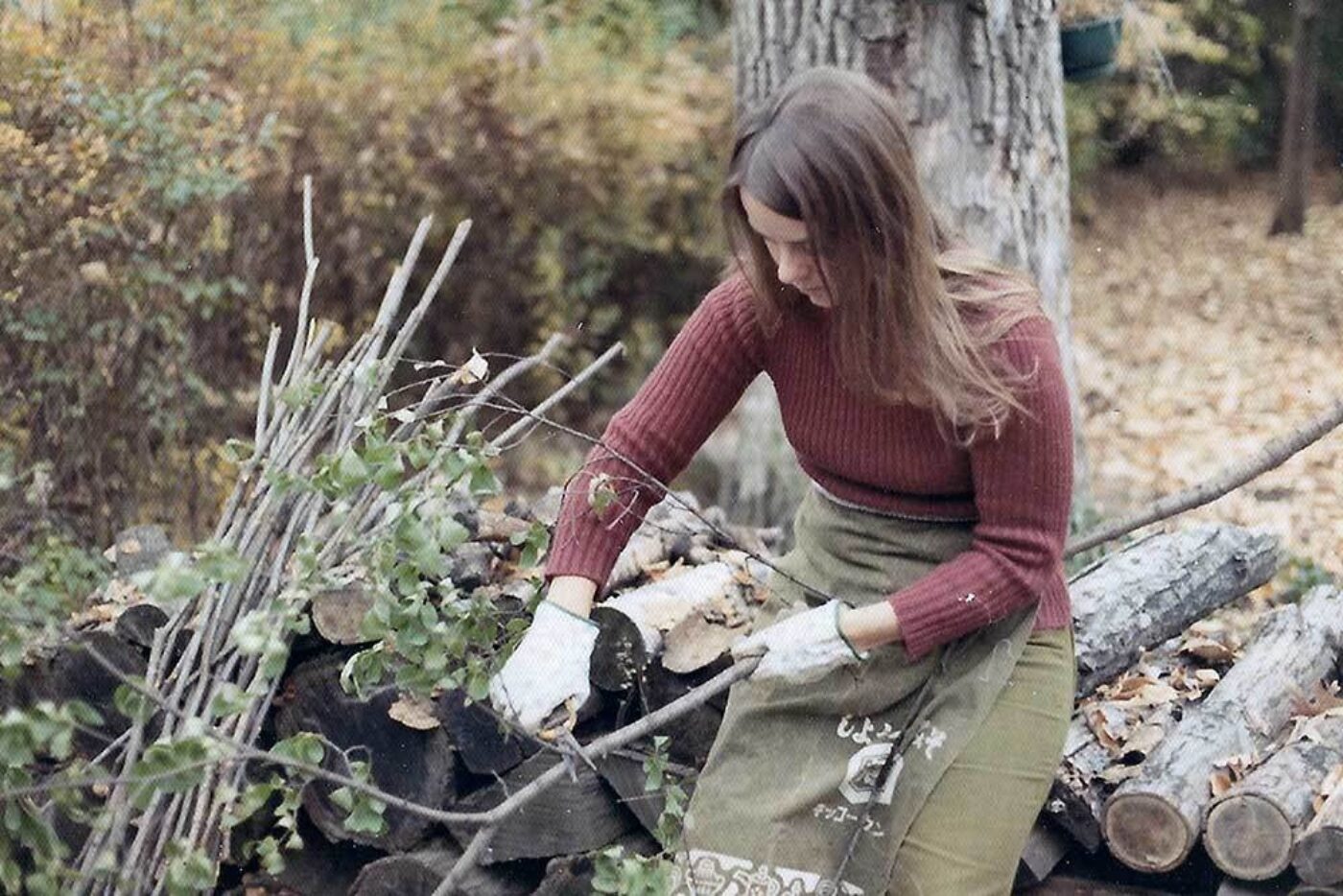 Theory + Practice is a series supported by The Andy Warhol Foundation for the Visual Arts and the Shelley & Donald Rubin Foundation.
From the beginning of the feminist art movement, artists have resurrected traditional women's craft practices as a form of resistance against the male-dominated art world. These artists placed craft practices such as weaving, hand papermaking, and clay at the center of a new feminist pedagogy, and they declared craft to be a legitimate art form equal to those promoted in the Eurocentric canon. Though sometimes charged with essentialism, feminists sought to reveal the lived experiences of women through craft and its relationship to everyday cycles of life and to revive what they perceived as the woman-centric language of these practices. While surprisingly little discourse exists on the relationship between feminism and craft, contemporary feminist theories on materiality broaden the crafts discussion and assert the relationship between maker and material as an active exchange with the substances from which craft objects are produced.
Craft materials ranging from plants and trees to wool and skins can never fully be mastered; they are "variously, material-semiotic, inter-corporeal, performative, agential, even literate" (Stacy Alaimo, "Trans-Corporeal Feminisms and the Ethical Space of Nature," in Material Feminisms [Bloomington: Indiana University Press, 2008], 244). They are—as we are—linked to their natural and human-constructed environments. In an effort to transform material into craft, humans sow and forage materials, knead, cook, and spin matter into workable substances; they mold, carve, beat, and fire it into objects. Yet many craft materials are living matter subject to the elements. The inability to control these outcomes and this aspect of chance are central to contemporary works by women artists. This interchange between maker and material promotes the collaborative, inclusive, process-oriented tenets of feminist art, and it places crafts practices within critical feminist conversations ranging from embodiment to climate crisis.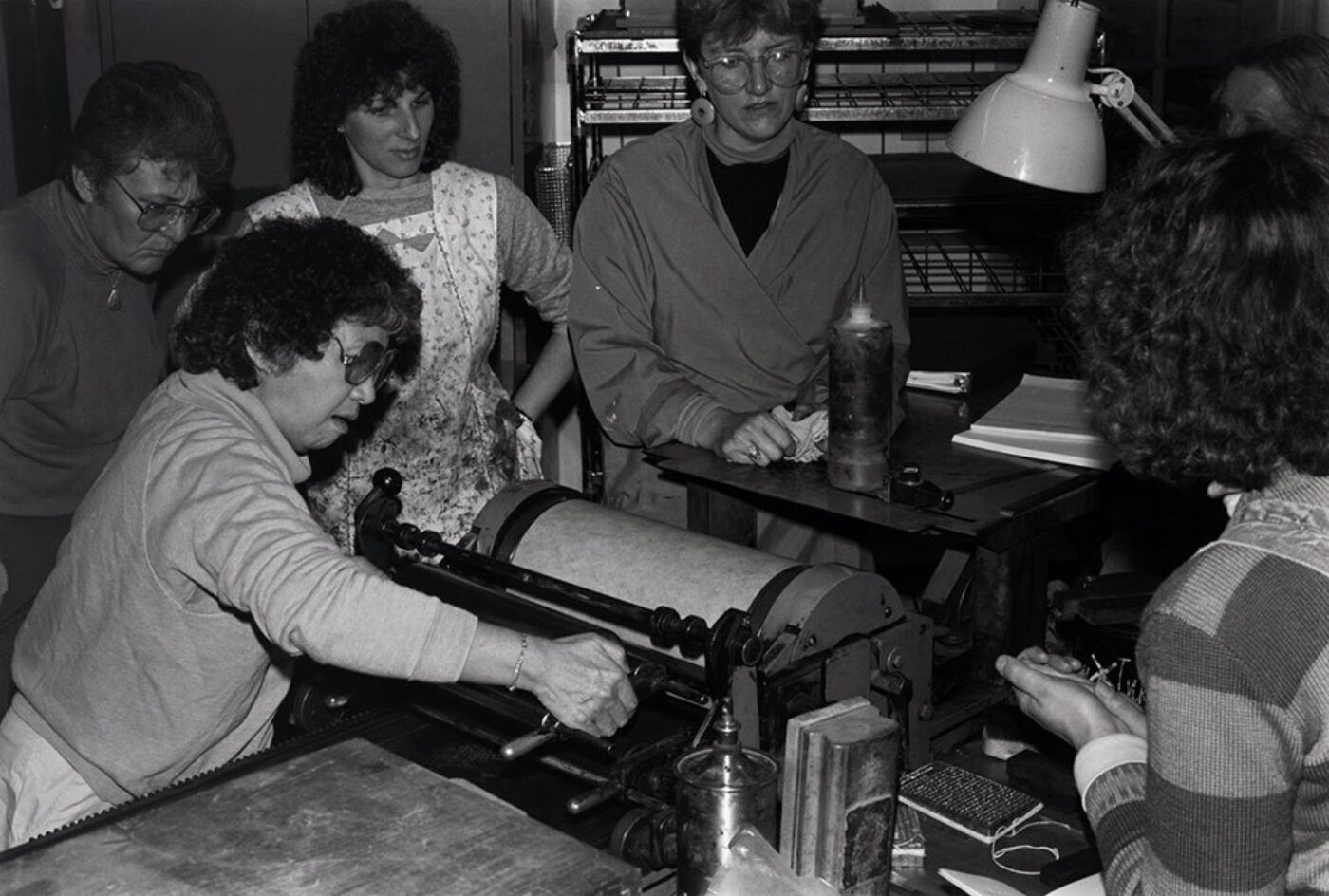 Judy Chicago, Sheila Levrant de Bretteville, and Arlene Raven founded the Woman's Building in 1973 in Los Angeles to create a new home, so to speak, for feminist discourse and artistic practice. Freed from their positions at California Institute of the Arts, they engaged women from across the country to build the first woman-centered art program from the ground up (Jenni Sorkin, "Learning from Los Angeles: Pedagogical Predecessors at the Woman's Building," in Doin' It In Public: Feminism and Art at the Woman's Building [Los Angeles: Otis College of Art and Design, 2011], 47). Among the classes, programs, and multi-media studios and performance spaces, printmaking was a core activity at the Women's Graphic Center for producing and distributing publications such as manifestos and newsletters by and for women. Publishing was in service to feminist politics, art, as well as women's sexual health information without depending on publishers that rarely promoted work by women, and certainly not work espousing feminist revolution (Sorkin, 53). Other Woman's Building self-publishing efforts included broadside posters and artists' books, which now constitute the primary historical archive of its activities.
The feminist axiom "the personal is political" shaped this new art and pedagogy. Classes at the Woman's Building were created exclusively for women and used consciousness-raising techniques as a pedagogical tool for women to share their experiences, which primarily centered on the body: from sexual violence to abortion and old age. For generations, the nuclear-family model isolated women from one another; and while it might be difficult to imagine in the current era of #MeToo, for many if not most of these women, these classes offered them a platform to speak collectively about their lives for the first time.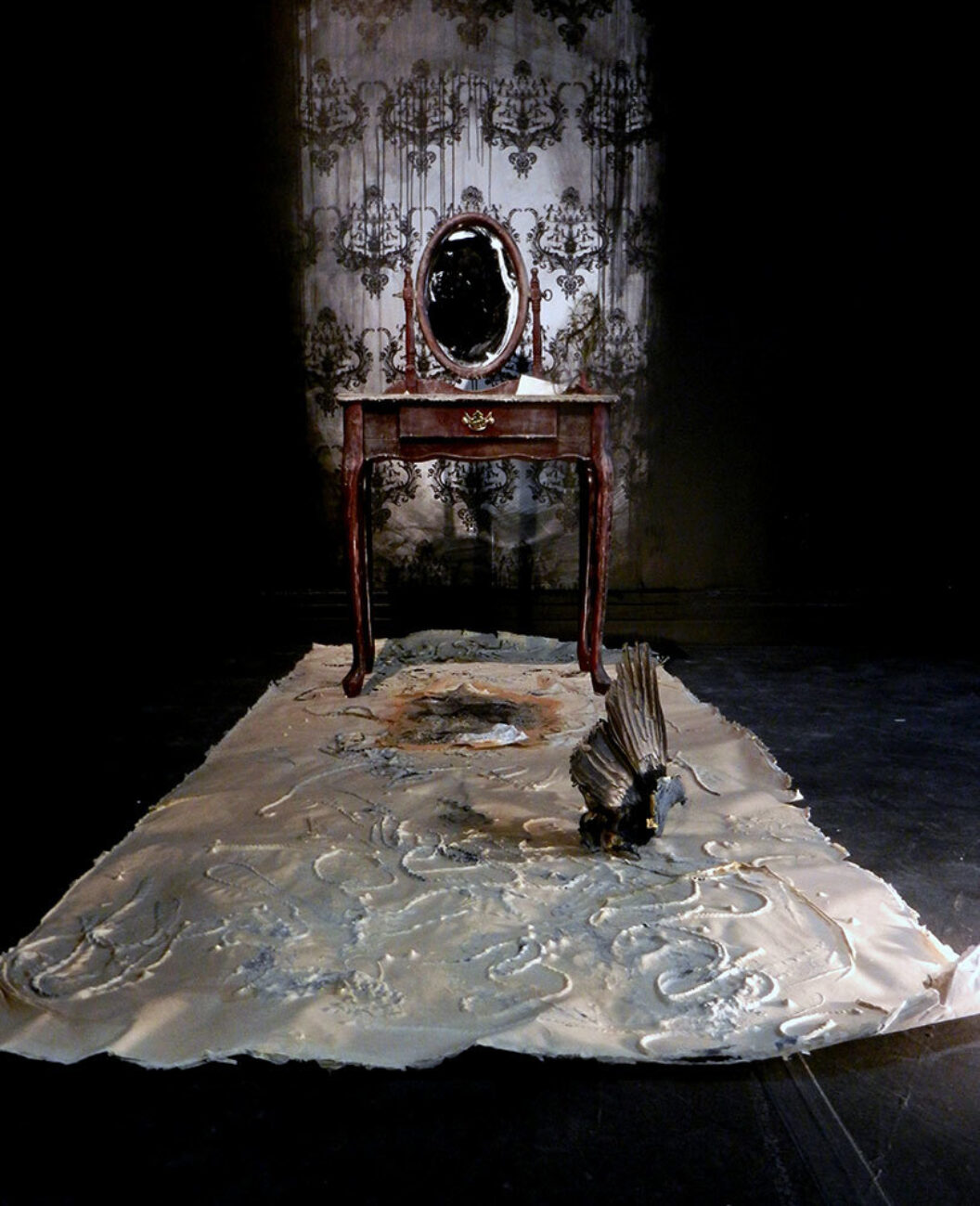 Artistic production often took the form of traditional "women's work"—from ironing to cooking and cleaning—and incorporated symbols derived from the female body, such as eggs, blood, breasts, and vulvas that are now virtually synonymous with the feminist art movement. The domestic spheres in which this work took place were equally about providing safe spaces for women. In these environments, craft practices provided alternative forms of communal interaction in which women could articulate their oppressions as collective and systemic rather than a series of individual traumas ("Women's Work," Elizabeth A. Sackler Center for Feminist Art, Brooklyn Museum). In the words of Faith Wilding, whose iconic Crocheted Environment was featured in the 1972 Womanhouse exhibition: "Our female ancestors first build themselves and their families round-shaped shelters. These were protective environments, often woven out of grasses, branches, or weeds. I think of my environment as linked in form and feeling with those primitive womb-shelters, but with the added freedom of not being functional" ("Crocheted Environment," Institute of Contemporary Art / Boston).
Within a year, the Woman's Building curriculum included a robust community workshop program highlighting a variety of crafts practices. The Extension Program offered hundreds of classes between 1974 and 1989 on issues including incest, self-defense, aging, and professional development. The program featured, for example, Afro-Caribbean and Eskimo dance, Mexican mask-making (in celebration of Día de los Muertos), and origami. Over time, classes included matriarchal spiritualities and women's healing craft practices, with courses ranging from "Fetish Making and Effigy Figures" to "The Missing Link: Seeking the Dark Goddess" ("Woman's Building: History Timeline, 1987–1991," Otis College of Art and Design).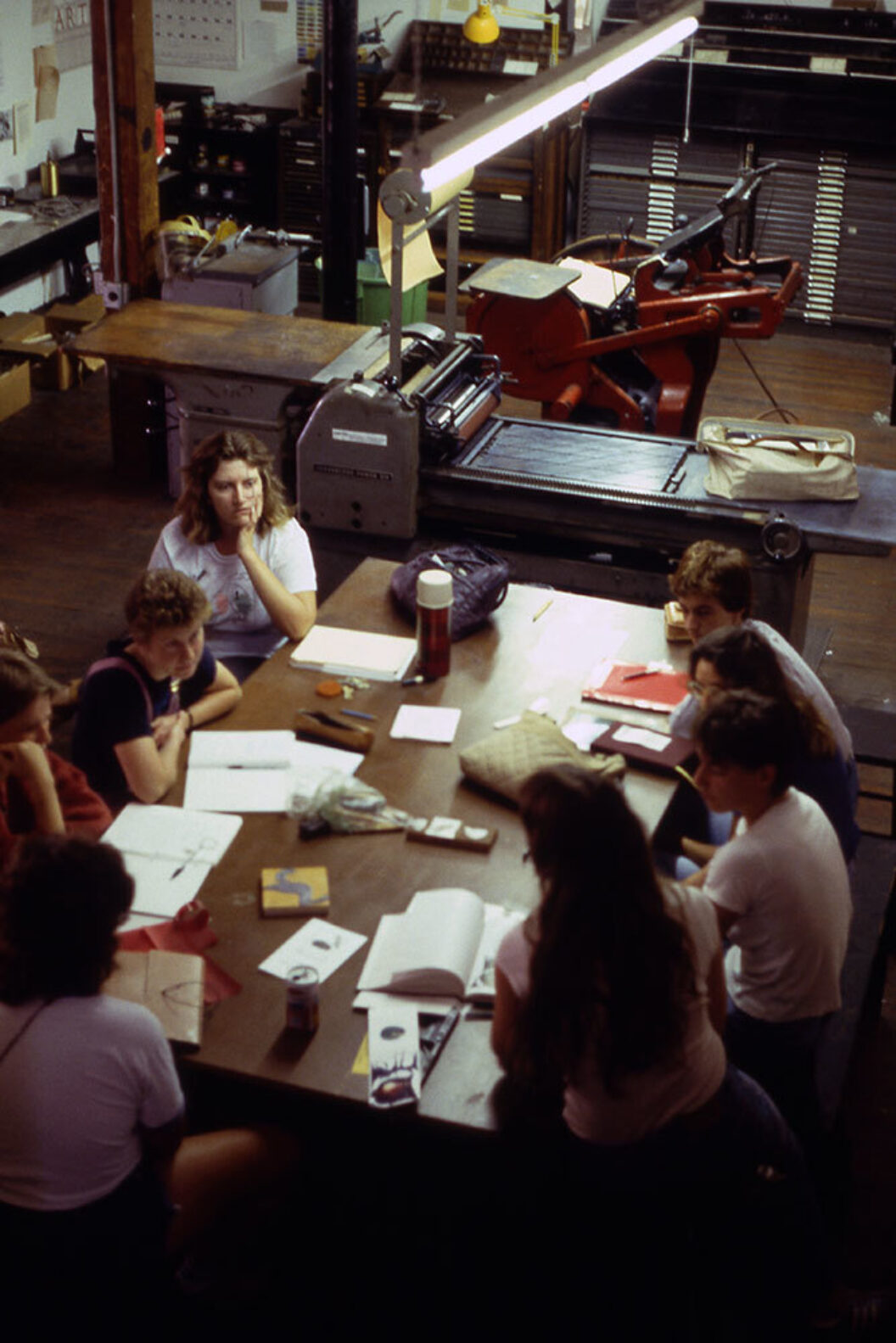 Although the students and leadership of the Woman's Building were overwhelmingly dominated by white women (an injustice the program was never fully able to overcome), culturally specific crafts amplified communities of color and positioned their practices as equal forms to Western art traditions. Reflecting the rise of the American Craft Movement of the 1970s, hand papermaking was offered regularly by artists including Sukey Hughes and Patricia Reis. Both artists explored alternative spiritualities with ancient connections to the natural world and embraced the process of hand papermaking as a central message to the medium. These material processes inspired the development of workshops and academic programs for a generation to follow at institutions across the country, from Scripps, to Mills College, to the Minnesota Center for Book Arts (Jenny Klein, "The Ritual Body as Pedagogical Tool: The Performance Art of the Woman's Building," in From Site to Vision: The Woman's Building in Contemporary Culture [Los Angeles: Otis College of Art and Design, 2011], 209).
As is still true today, academic and cultural institutions upheld rigid delineations between art and craft. Women crafts faculty were located in applied arts or design programs and quite literally relegated to basement studios while men ruled fine arts departments in media such as painting and sculpture (Sorkin, 65). Craft's invisibility within academia and art history was fertile ground, however, for innovative craft theory and practice that existed outside the rules of art history. A pedagogy evolved that resisted the traditional guild master/apprentice model and embraced the performative and process-driven nature of craft media. Women professors of craft began to develop a discourse that ultimately supported their pedagogical and artistic innovations in craft (Namita Gupta Wiggers; phone interview with Melissa Potter; April 29, 2019).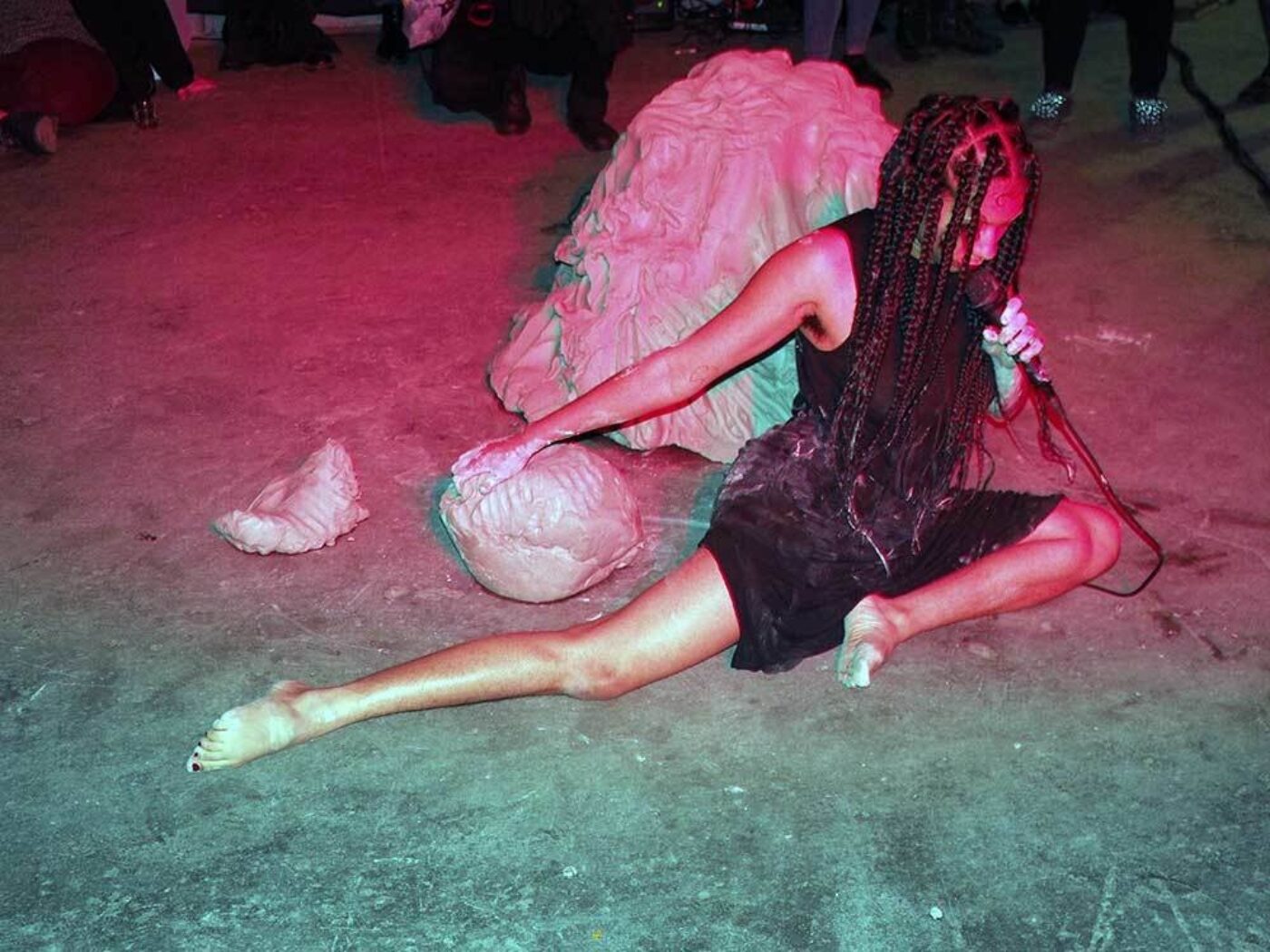 Such devotion to material practice was highly suspect in postmodern theory, and as the decades progressed, craft became further trivialized, even within feminist circles. As Julia Kristeva writes, "Nature, charged as an accessory to essentialism, has served as feminism's abject—that which, by being expelled from the 'I,' serves to define the ''I'" (cited in Alaimo, 237). The laborious craft processes of mixing, rolling, kneading, and shaping in clay work, as well as the fermenting, cooking, macerating, and pulping process in papermaking, for instance, offer a transformative interaction with the natural world. The postmodernist preoccupation with representation and discourse, however, meant little critical attention was offered to the material essential to the production of craft. Material process for many craft artists was not directed toward mastering techniques as much as it was a means of "thinking-through-making," a process-oriented approach that revealed the potential of a given medium. Performative gestures and pedagogy-as-practice attuned makers to material alchemies, which further directed their interpretation. In her book Live Form: Women, Ceramics, and Community (Chicago: University of Chicago Press, 2016), Jenni Sorkin describes clay as a "live form": "Ceramics is one of the unacknowledged models of the object-action in which the live presence of the pedagogical process was the gesture of its maker" (13). Similarly, hand papermaking reveals the live presence of the plant material from which it is made, and like clay can be regionally located through the characteristics of the material from which it is produced. Examples range from the red clay soil of the Carolinas in the southern United States to Japanese mulberry and Indian dung papers.
These material engagements recall other traditional women's crafts of midwifery and plant medicine. Reframed as "witchcraft," these practices were eradicated in order to control domestic and reproductive labors. In the Middle Ages, men formed craft guilds that co-opted and monetized women's craft and forced women into domestic spaces where their work became invisible. In the new patriarchal order, women became servants to the male workforce through their crafts and domestic practices. Dualistic Cartesian philosophy reinforced a sexual division of labor and promoted fear and revulsion for the female body and its association with nature. According to Silvia Federici, "[A]t the peak of the 'Age of Reason'—the age of skepticism and methodical doubt—we have a ferocious attack on the body.… This is how we must read the attack against witchcraft." Counter to this conception, "At the basis of magic was an animistic conception of nature that … imagined the cosmos as a living organism" (Silvia Federici, Caliban and the Witch: Women, the Body and Primitive Accumulation [New York: Autonomedia, 2004], 141; emphasis in original). The radical reinstitution of control over women's reproductive choices and lives today harkens back to this violent erasure of women's culture and autonomy.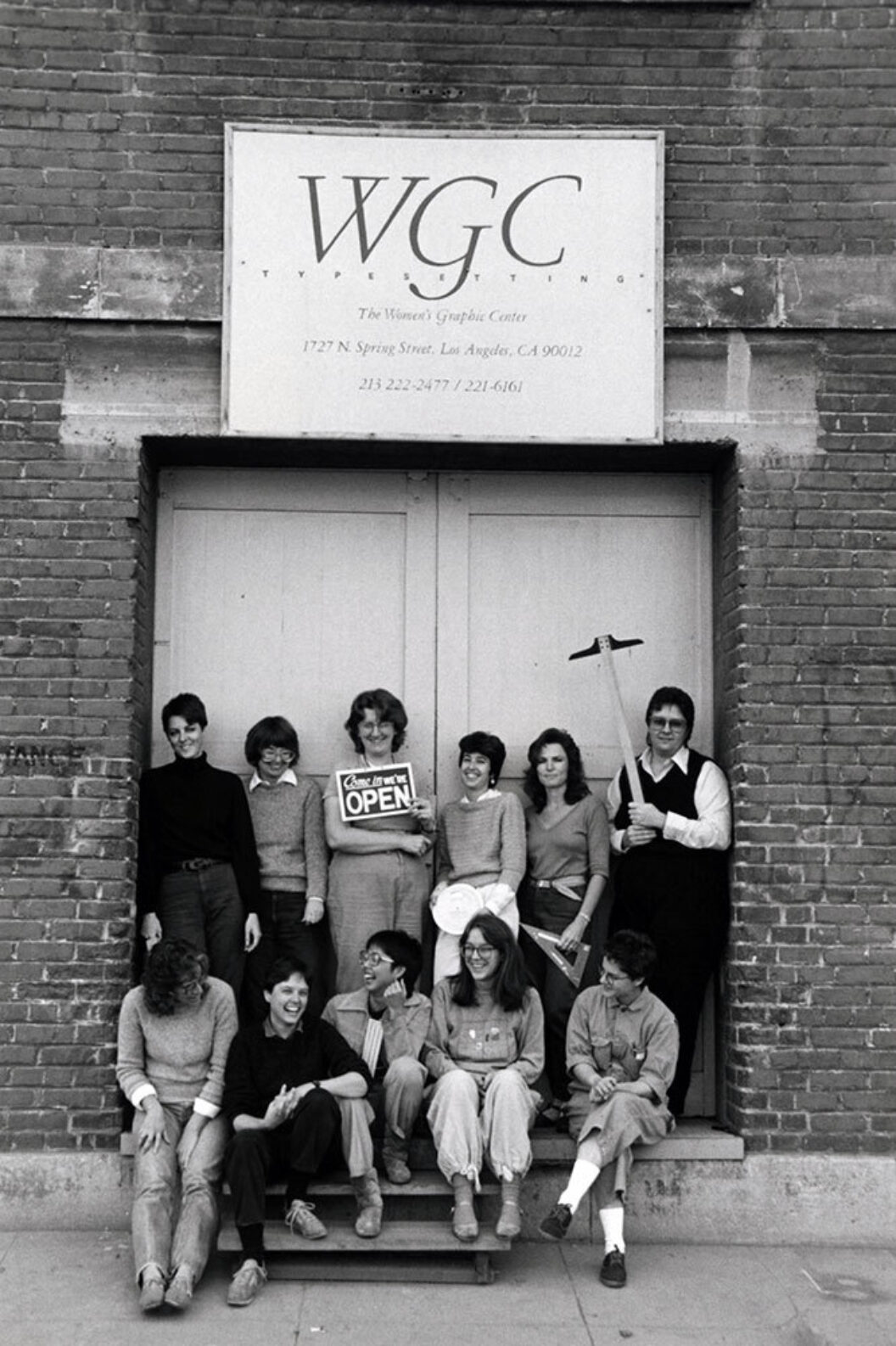 The communal knowledge production of craft dwells not only among its women makers but also in collaboration with biological, chemical, and physical nonhuman worlds in their own forms of communication. A recent report on plant communication described underground mycelial networks as a "fungal internet" influencing growth and even disease resistance ("Plants talk to each other using an internet of fungus"; BBC.com; November 11, 2014). Feminist discourses centered on materiality remind us that the resources we use for craft resist mastery. Soil, plants, trees, water, skins, fire—each have their own material contingencies that require process to determine outcome. These nonhuman life forms equally determine the outcomes of our own bodies—from micro-organisms that govern our gut biome health to synthetic estrogenic material toxifying our water system. In "Trans-Corporeal Feminisms and the Ethical Space of Nature," Alaimo describes this confluence of living being as "trans-corporeality," which she suggests offers an opportunity that "acknowledges the often unpredictable and unwanted actions of human bodies, nonhuman creatures, ecological systems, chemical agents, and other actors" (238). This awareness of material agency enables the interpretation and construction of intersectional ethics central to feminist principles, "acknowledging that material agency necessitates more capacious epistemologies, allows us to forge ethical and political positions that can contend with numerous late-twentieth-century/early-twenty-first-century realities in which 'human' and 'environment' can by no means be considered as separate: environmental health, environmental justice, the traffic in toxins, and genetic engineering, to name a few" (238–39).
In this context, craft practice supports a wealth of new feminist strategies to interpret and engage the material world. A new generation of women artists reveals the interdependence of all embodied beings, human and nonhuman, through engagements with natural material processes such as decomposition, evaporation, and fermentation, while others engage crafts media to represent bodies as they evolve, reproduce, and decay. Once we divest from art-world notions of mastery and outcome, we might recognize the restorative potential of feminist craft. As Sorkin notes of the women clay artists she features in Live Form, "making and living were intimates, connected through the embodiment of form as a generative and sometimes therapeutic process, healing and quieting the mind from ailments as diverse as wartime trauma, sexism, and the psychosis of modernity itself" (249). The feminist art movement sought to transform our society radically, and, more specifically, to dismantle the systems that enforce man's domination over all beings—from women, to animals, to the environment. It would be naïve to suggest that material feminism could imbue craft with the ability to restore our relationship to all life forms as we now grapple with the dire realities of climate collapse. Yet while we can no longer adhere to the idealism of early feminism, material engagements might help us contend with life in the world we have created.
Melissa Potter is a multi-media interdisciplinary artist, curator, and writer whose work has been exhibited at the Museum of Contemporary Art Chicago, White Columns, and at film festivals internationally. She is an associate professor in the department of Art & Art History at Columbia College Chicago.