Masks That Conceal and Reveal: Maxwell Deter Interviewed by Naomi Falk
An artist's collaboration with musicians.

Discover MFA Programs in Art and Writing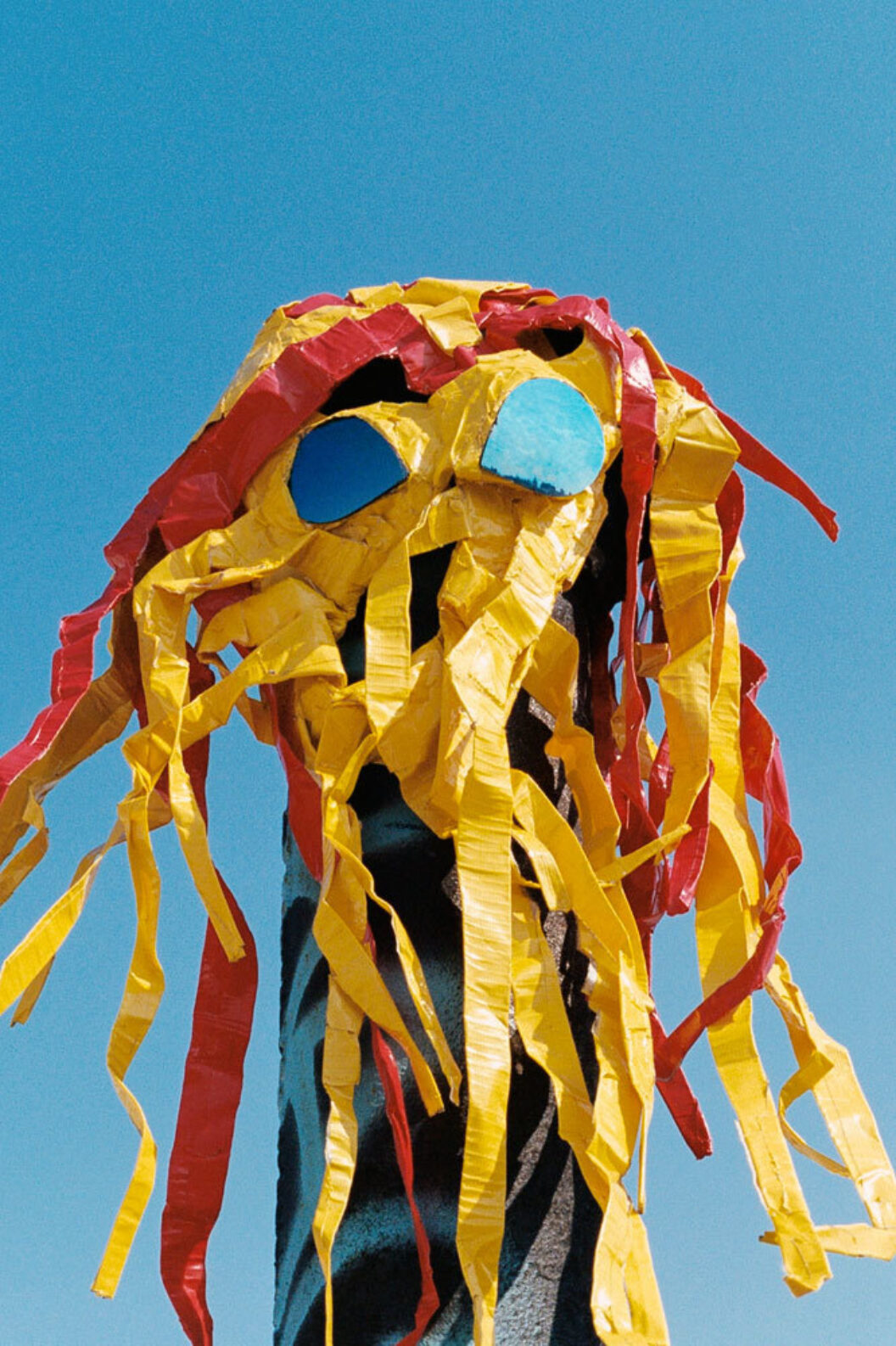 As New York City's J train screeches overhead in Chinatown, Maxwell Deter pulls his hand-crafted masks out of a canvas bag, untangling their appendages and inspecting the damage. They've been on tour with Onyx Collective, whose home base is here beneath the Manhattan Bridge. The experimental jazz group's founder, Isaiah Barr, is improvising on his keyboard, as Deter puts on a mask and sits on the arm of a couch. On the floor, thick strands of duct tape stream from the brim of a dirty, white construction helmet, also recently used in one of the group's performances. Deter's masks shapeshift between static art objects and pieces intended to be worn, inhabiting a spontaneity that is the heartbeat of Onyx Collective. A recent State University of New York at Purchase graduate, with a concentration in sculpture, Deter is Onyx Collective's Visual Director.
—Naomi Falk
Naomi Falk How do you and your visual art configure into Onyx Collective's larger project?
Maxwell Deter My work has been a part of Onyx from the very beginning, as Onyx couldn't exist without visual representation of some kind. When I first met Isaiah, he would jam out, and I would draw. Sometimes I'd draw him. Other times I'd draw whomever else was there, like Josh Benitez. When they started having shows or gigs and became more of a group, they needed flyers. I'd sketch and throw some text over it, print it, put it up in the school lobby or on Instagram.
NF So you're always reconciling your art with the music.
MD We started off as a bunch of kids who were going to jazz clubs or small spots where our friends were playing. I've learned to be creative and adapt as we grow; hence, my expanding from flyers to masks. Now I'm part of the show, in the sense that they're wearing my pieces. I might even wear a mask and be in the background onstage. The art has become more performative.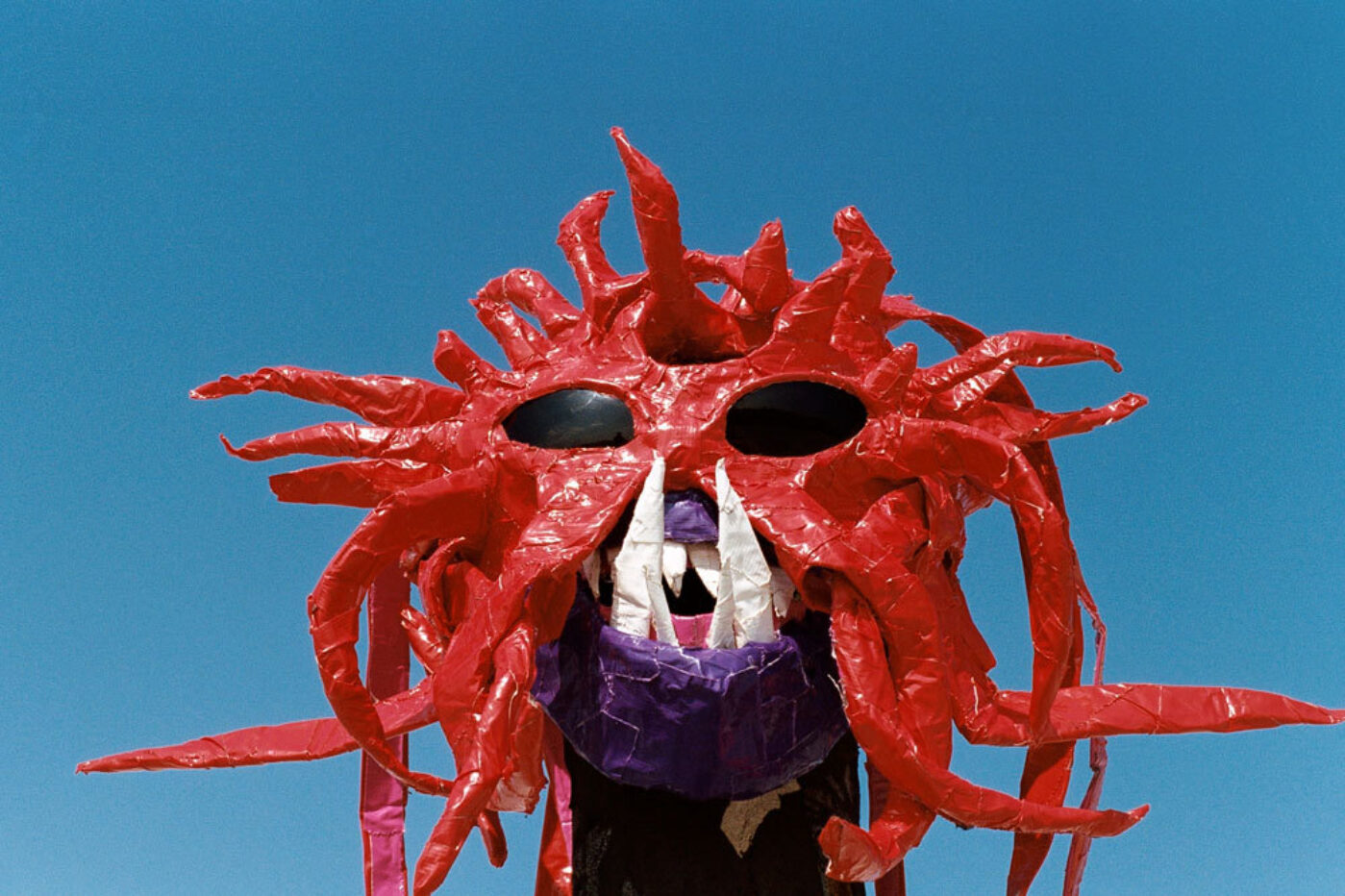 NF How integral a form has the mask been to your work as a sculptor?
MD I was doing work with plastics, paint, and clay for a long time. I showed one to Isaiah, and he told me he wanted to perform in it. We thought that was hilarious; we like to mess with people. What's the point of a creative process if you're not having fun? The masks I'd been making until that point—particularly the thick paint ones—were not intended to be worn. But once he started wearing the ones not intended to be worn, I started making them with the intention of being worn. Otherwise, the materials would fall apart. The duct tape makes sense for my budget right now. I go two blocks to the 99 cent store.
NF Right. We've talked before about a mask's capacity to simultaneously draw attention to and conceal one's face. Your pieces vary greatly in terms of facial coverage.
MD Yeah, the idea of a mask is to transform, to hide, to conceal, but also to highlight. It's a way of bringing attention to yourself while maintaining a layer between you and the audience. I wouldn't usually feel comfortable joining the stage with Onyx. But throw a mask on, and I'm just part of the group, of the whole scenery. It empowers you, to an extent. I've heard the musicians tell me that before.
NF What was the conceptual force behind Onyx's unannounced performance in July with the construction hats?
MD We wanted to recreate the constant construction and work of the New York streets. There's always something being fixed. Union men in their work clothes, sitting around drinking coffee: that's the aesthetic of NYC. It's also part of the sound atmosphere: noise, construction, chaos. Isaiah started collecting cones. Then we went out and started strategically taking construction equipment for the set. We repainted the roof into an abstract pattern with splatters and drips and the repeated colors of black, orange, and white. This was an intimate showing, so a certain amount of people got to view it. This happens a lot in the city, where, if you pause to look, you might be one of few people to witness something interesting.
NF And you were born here, in the East Village.
MD It's hard to live up to, in a way. When you tell someone you're from the East Village, they immediately think of the worst possible scenarios you've experienced. Yeah, some things were notable, but I had a pretty normal childhood. Middle-class family. Tiny apartments. That intimate feeling carries over to my artwork.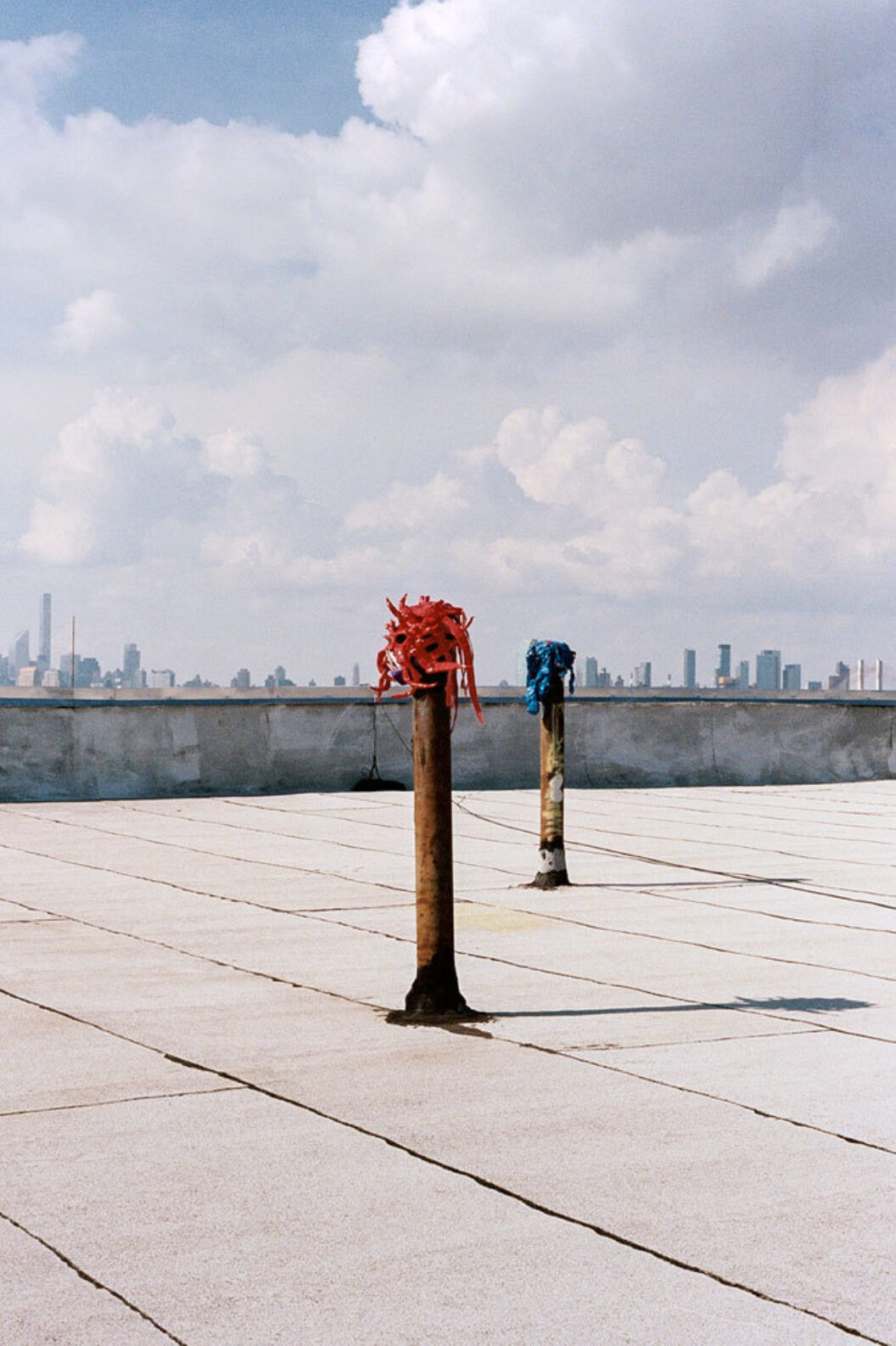 NF In thinking about masks, an intricate tradition comes to mind, most obviously African masks and the early modernist's appropriations of them. How do you place yourself in relation to the form's history, or not?
MD You're within a mask; you can feel it on your face. I'd go to the Metropolitan Museum when I was a kid and would be fascinated with the masks from Africa and Polynesia. Those masks were from places far apart from each other, but right next to each other in the museum. The museum wall texts were my only context for them. I used to try and picture those big, wooden sculptures with their original paint, which has faded. Imagine seeing those in the middle of Papua New Guinea, lit by fire at nighttime. That has a presence. I want to recreate these feelings in my own way. Our performances are always in the dark, with stage light instead of fire. I like the parallels between the two images. The history of mask-making focuses on the self. It reminds me of that Japanese saying about the face you show everyone, the face you show your family, and the face no one ever sees. That's something to think about. Masks transform. These bright colors are for other people to see.
NF They are extremely vibrant. And jagged. The architecture of the duct tape masks stabilizes them without foregoing the musicality established by your paint ones.
MD I had a teacher who once told me, "We're not engineers, we're sculptors." If you're an engineer, you know a steel beam can hold so much weight. As a sculptor, I don't know those limits, so I'll over-compensate with three beams. The first mask worn by Onyx was derived from forms I'd sculpted out of clay. I would paint thick layers over the clay, peel them off, and sew them together. It was a process of the removal of skin and of making something out of various animal-like parts.
NF That reminds me of those videos of you wearing a mask in the woods. You photograph them, too. Talk to me about how you choose to record your work.
MD A head is a three-dimensional object. If you're sculpting, you usually refer to someone's head more than to someone's face. In recording the head, the best medium is film, or better, live performance. I'm not making feature-length films like Ryan Trecartin, with personalities and scripts for the creatures I create. It's about spontaneity: the identity belongs to the person wearing the mask. I'm not going to form the same identity as you, even if we both wear the same one.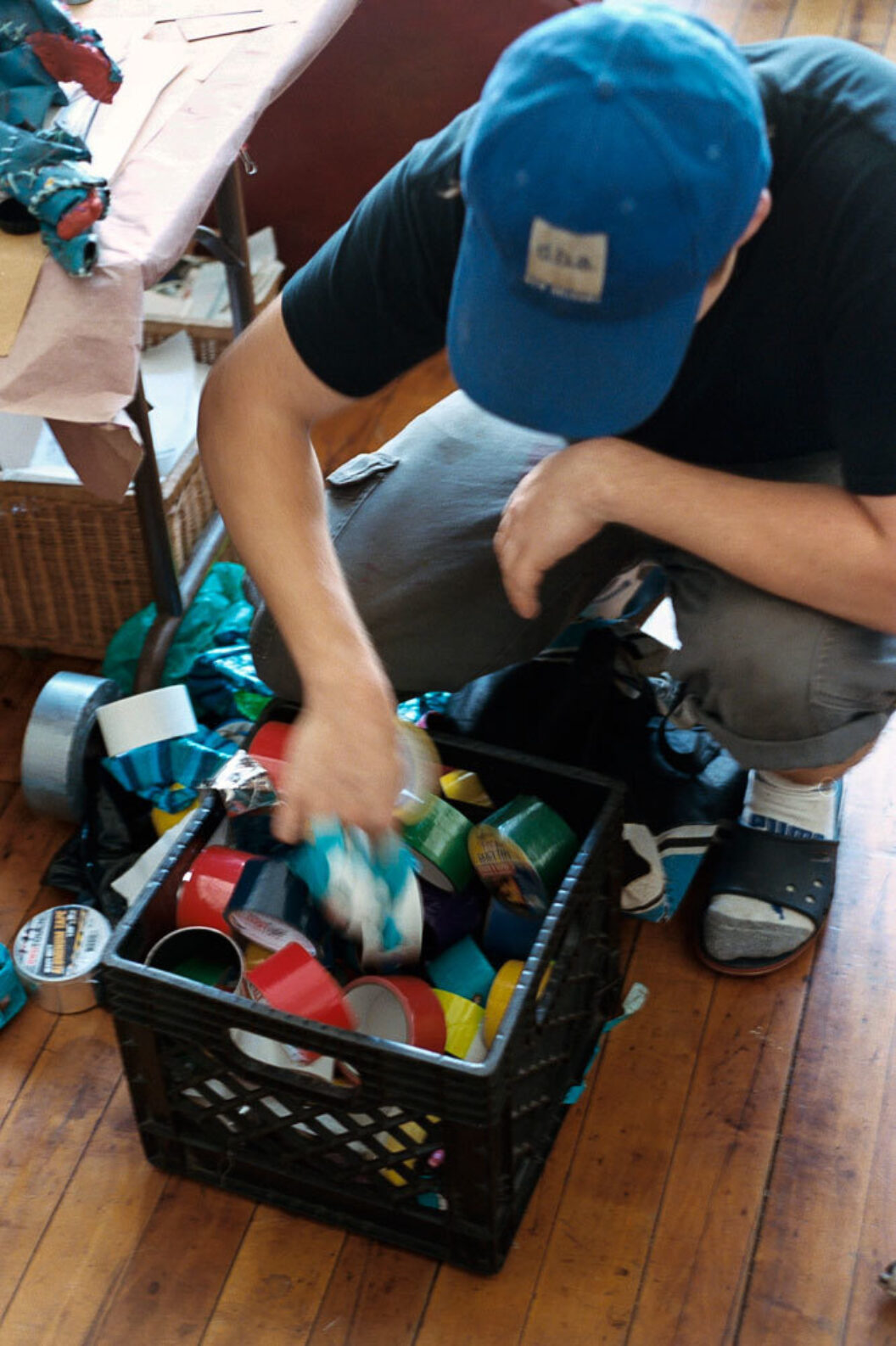 NF To what degree are you keeping the performers in mind as you plan for the upcoming performance?
MD You could say that it's a solo show in terms of the visual art. My job is, I think, to change the environment of the space, to allow the artists to perform according to the space I create for them or what they get to wear. It helps the audience form curiosity. I might re-use the materials. Draped garbage bags with tape for the walls might become the skin of an inflatable down the road. I try to recycle, forming new textures and surfaces so that past work is a continued presence.
NF And a little bit of weathering is part of the lives of your artworks, to be sure.
MD Definitely, and some of them look lived-in. But they have to be art objects at all times. I usually place the mask on a stick or hang it on a wall. Waiting to be worn, I guess you could say, in a safe space, if possible. They're usually not safe! They end up getting kind of abused. That's something I need to change. The show is only one night: I can make sure the stuff is safe. But these are objects made to be used, not just objects made to be looked at.
Onyx Collective Presents NYXO Round Robin at Abrons Arts Center in New York City on September 28. The video for "Space-Wars" features Deter's masks and sculptures.
Naomi Falk is a writer and editor. Her work focuses on visual art, ecology, and the ways in which we engage and disconnect our sensory perceptions. She lives and works in Brooklyn.
Gage Young is a multi-disciplinary creative based in Brooklyn.