Mary Lum's Edge Conditions by Lena Valencia
Mary Lum combines comic strips and photos in her paintings and collages to create spontaneous, obsessive, architectural pieces.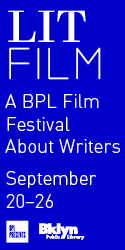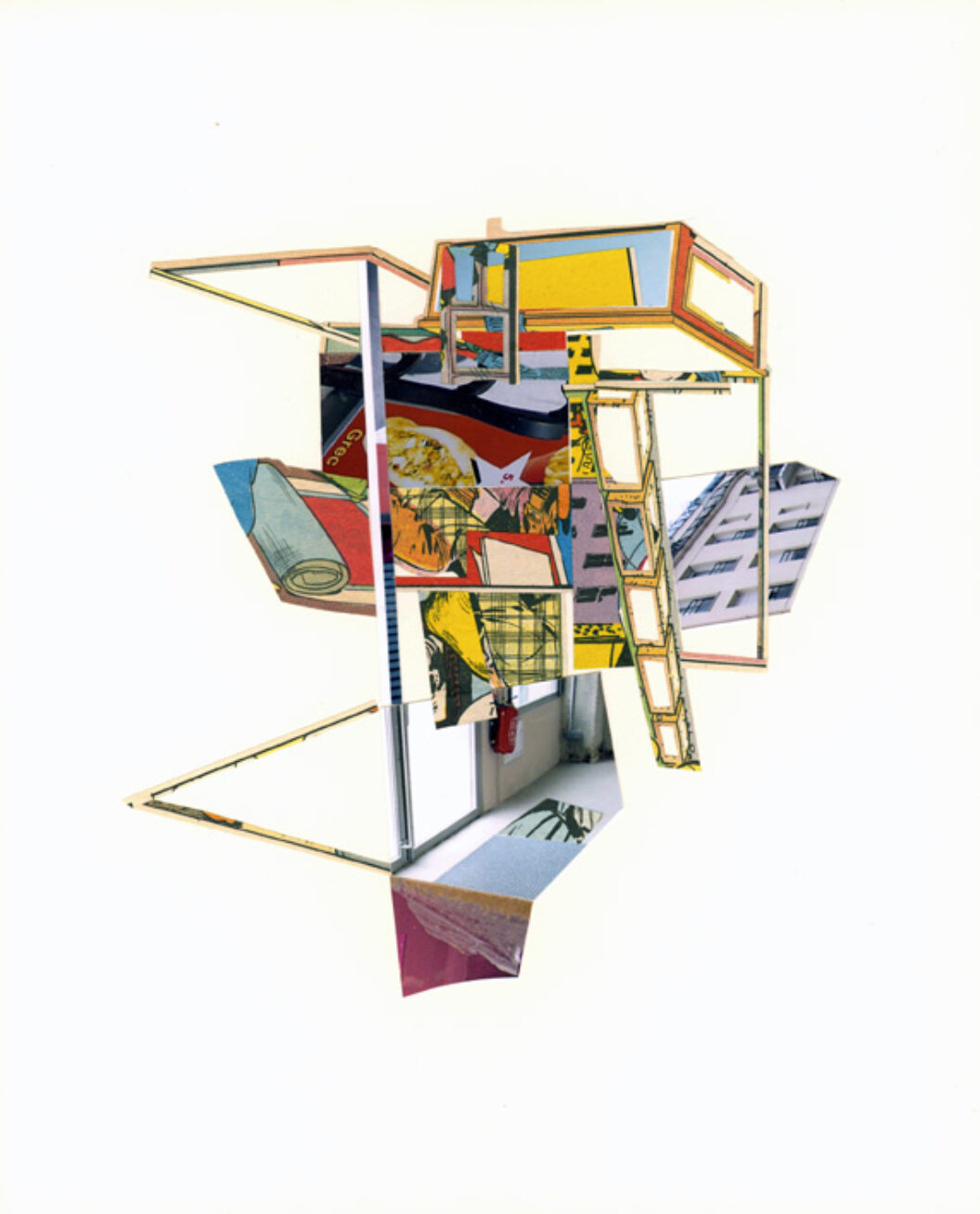 "When walking or driving in the city it is sometimes possible to detect the poetic subconscious of the place, the thing we cannot see but can only occasionally access through feeling. The sharp attention required for this experience comes from extensive looking (for nothing in particular), walking without distraction but implicitly always distracted."
—Mary Lum
Plodding to the subway, trying not to spill the coffee in one hand all over my coat and at the same time maneuvering my shoulder so that my tote bag full of books doesn't slide down my arm, gazing with a mixture of envy and disgust at the brand new demonic black-brick apartment complexes going up on Union Avenue that I will never be able to afford, glancing at a peeling concert poster, leaping over dog shit, wondering when, if ever spring will come, smelling the exhaust and wondering if it's more polluted here or in LA….
If the literary equivalent of walking through the city is a run-on sentence, then Mary Lum's paintings and collages of fragmented comic strips are the visual equivalent. In Edge Conditions, Lum blurs the line between spontaneity and control. Interspersing bits and pieces of comic strips with the occasional photo, Lum's collages, paintings, and murals that comprise the show seem to be created from the discarded clippings of a comic-book obsessed scrap-booker. The contrast between the cartoons, once neatly organized in panels placed in chronological order to tell a story, and their new haphazard disorganization creates a tension that mimics the stifling aura of neatly organized city streets crammed with traffic. Many of the fragments of comic strips she chooses are staircases, floors, sides of buildings: things we hurry past, scurry up, and, for the most part, ignore. Palettes of bubble gum pink and mint chip green cater to the 7-year-old Saturday morning cartoon-watcher in all of us.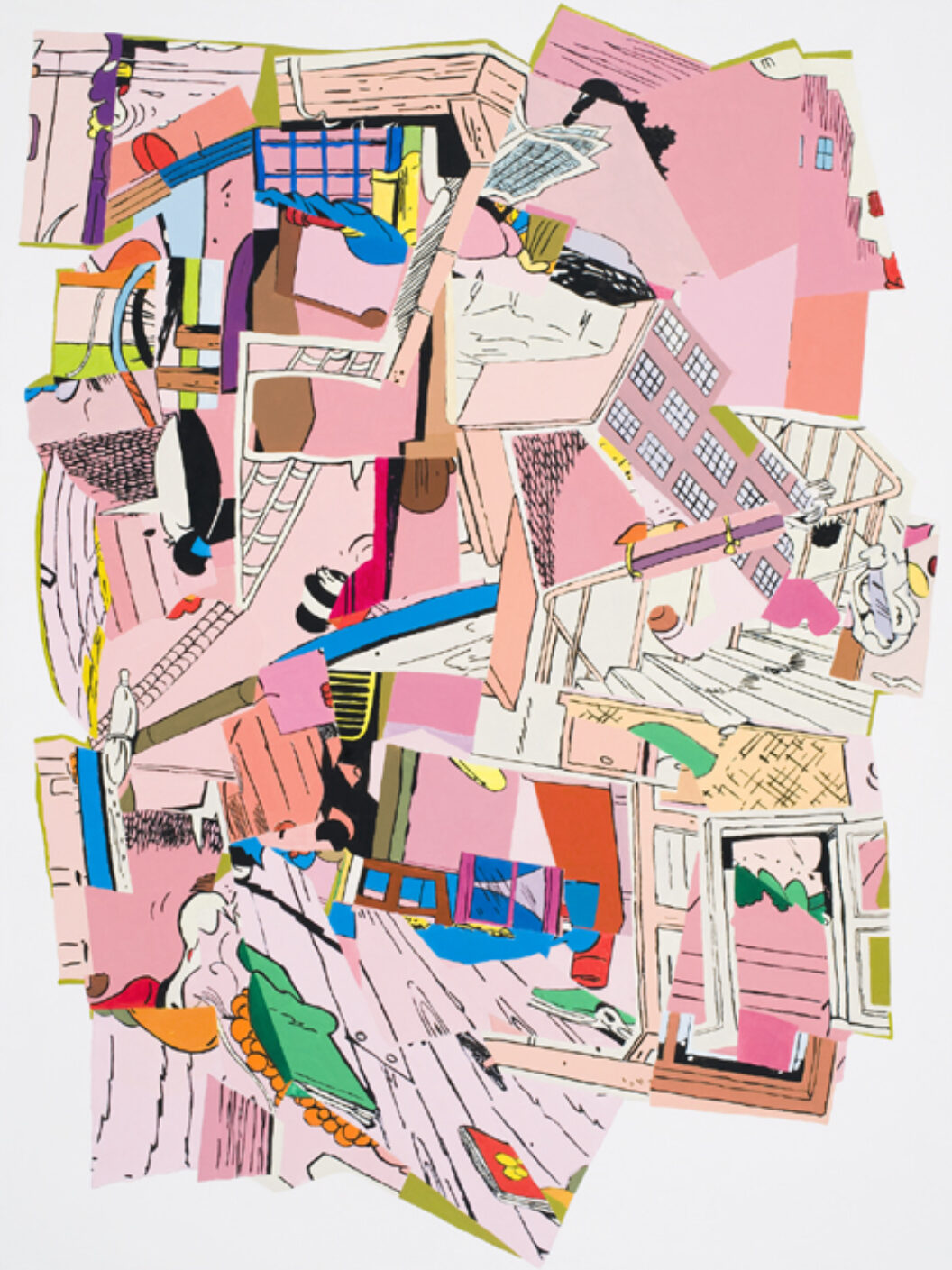 Her pristine, architectural collages play with texture and perspective, sometimes layering the clean, black lines of the cartoons against photographs to create a startling cartoon/live action contrast, and sometimes just building abstracted structures with cartoon clippings alone.
The wall paintings are the most eccentric of the works, totally departing from the traditional panel-by-panel sequences of the comic strip. This idea becomes literal-ized with her wall painting of an actual strip with the panels removed, leaving only an impression of what was once going on inside, creating a giant paned window.
Catty-cornered to Lum's artificial window is an actual window, an odd feature in the sixth floor gallery. It gives the whole show a place-specific installation-like air, almost as if Lum is inviting us, while looking at her work, to absentmindedly gaze out over Chelsea, thereby achieving the "distracted-without-distraction" state her work represents.
Edge Conditions will be on display at the Frederieke Taylor Gallery through 2/21/09.
Lena Valencia is a writer living in Brooklyn. She is also BOMB's Web Editor.