Discover MFA Programs in Art and Writing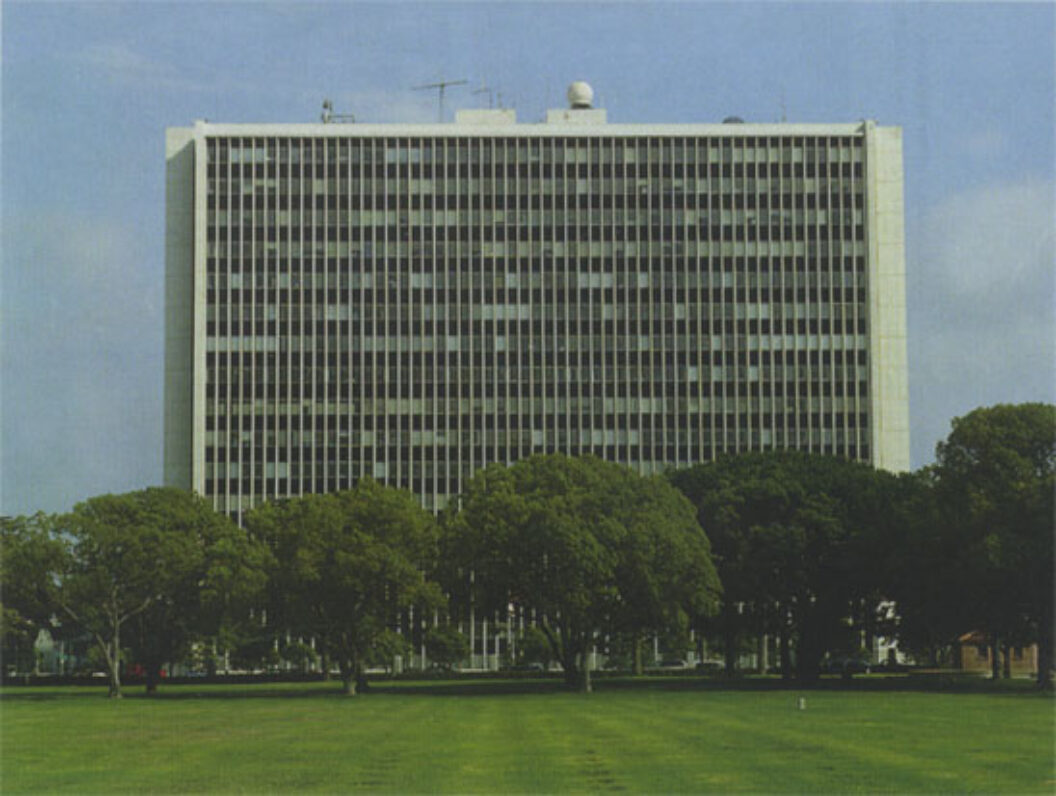 In a word, Mary Ellen Carroll's Federal is boring—and that's why it's so effective. Shot on a single day in 2003, the project documents the front and rear facades of the Federal Building in Los Angeles in two films. Recently shown as part of her exhibition at the Storefront for Art and Architecture in New York, the films are projected simultaneously in separate theaters and timed to establish a correspondence between film time and actual time. Twilight occurs simultaneously inside and out.

With nods to Andy Warhol and Michael Snow, the project is an exercise in patience and perseverance. There are no characters and no plot, and the building itself provides little relief. Constructed in 1970 by the architect Charles Luckman, the Federal Building is one of those slightly apologetic, pre-postmodern, glass-and-concrete structures popular at the time. Nothing about it seems to warrant this kind of attention. It's not sumptuous like the Bradbury Building in Blade Runner or iconic like the Empire of Warhol's eponymous film.
But thanks to Carroll's unrelenting focus, the building becomes an icon despite its anonymity. Her fixation discloses an ongoing interest in the inability of objects to remain neutral in a hypermediated world and in the inevitable reciprocity between container and contained. The film also reveals an unexpected parallel between the edifice and its tenants: the FBI, the CIA, and the Secret Service. As imposing and inscrutable as the building, these agencies only tacitly allowed Carroll to film by granting her a license to demonstrate.
While Federal doesn't proselytize, there is perhaps a cautionary tale here. Despite the value being placed on surveillance as a deterrent to all things "evil" in our society, it's interesting to note that not a single useful fact can be gleaned from the film's 24-hour gaze. It raises the question, Who will cull through all the real/reel time information being gathered at an exponentially increasing rate? The one-to-one time scale relationship of the project is a startlingly accurate projection of where we seem to be headed, a mirror world where there is one observer for each person being observed. Federal succeeds by becoming part of the process it seeks to reveal rather than airing gripes like dirty laundry. It leaves one wondering if surveillance may best serve as a medium for making art rather than a means of securing freedom.
Federal was on view at the Storefront for Art and Architecture, New York this August.
Originally published in
Featuring interviews with Arturo Herrera and Josiah McElheny, Jennifer Bartlett and Elizabeth Murray, Lincoln Perry, Anthony Downey and Yinka Shonibare, Eliot Weinberger and Forrest Gander, Lionel Shriver, Noah Baumbach and Jonathan Lethem, George Lewis and Jeff Parker, and David Rabe and Evangeline Morphos.