Martin Wilner is an artist and psychiatrist. For his ongoing Case Histories—a series of portraits each completed over the course of a month—subjects send him daily dispatches that are woven into the drawings. Novelist Francis Levy calls the process "a mini analysis of sorts."

Discover MFA Programs in Art and Writing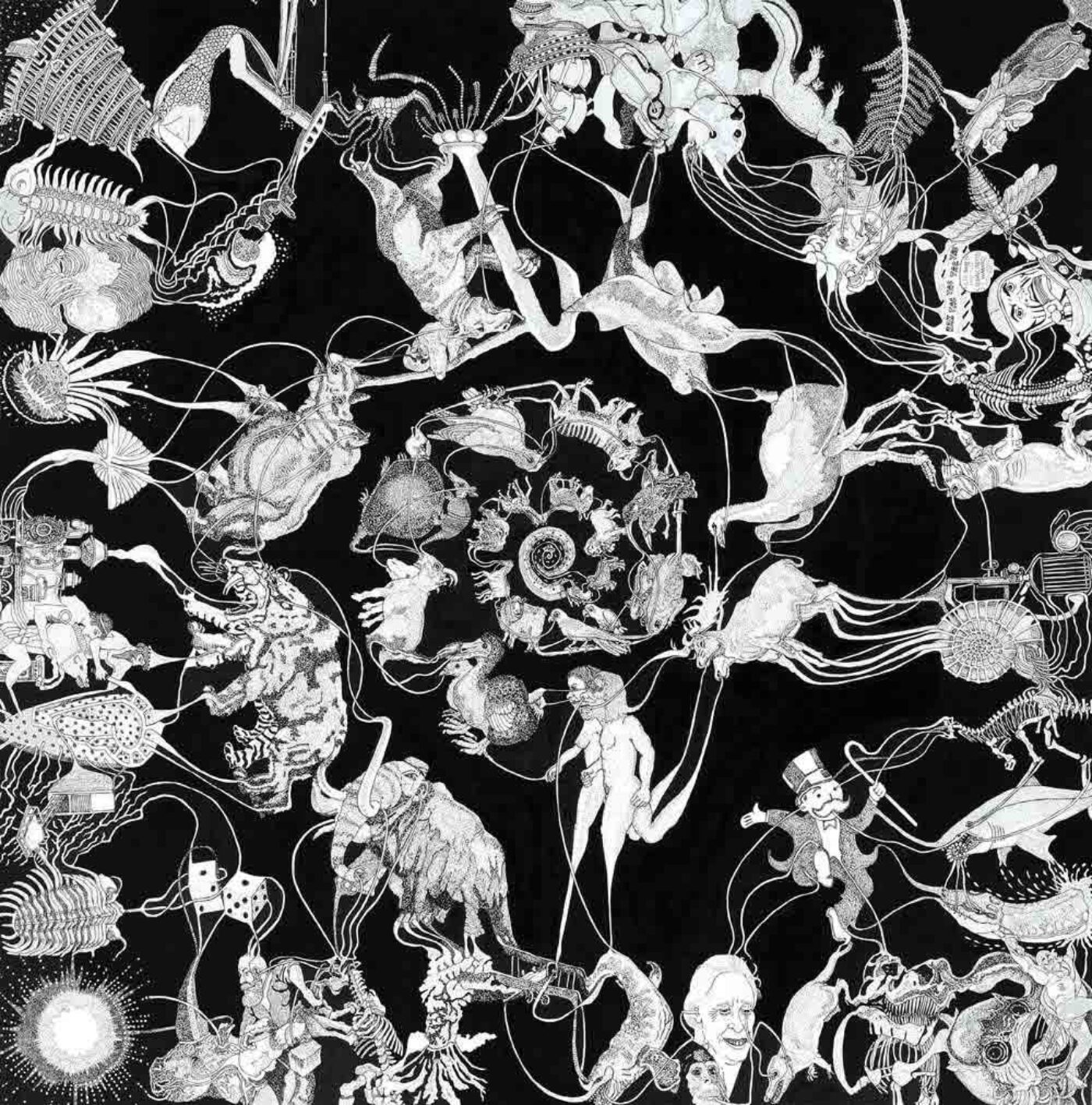 Martin Wilner is a translator of sorts. He is an artist and psychiatrist by training who uses visual imagery to locate the unconscious substrates in language. The portraits that comprise his ongoing project Case Histories pose profound questions about the creative process and collaboration. His subjects—mostly writers, gallerists, fellow artists, and psychoanalysts—provide written material to him every day over the course of a month. From experience, I know that to work with Wilner is to undergo a mini analysis in itself. Here, subjects communicate much like analysands do with their therapists.
Our first interview went really well, but unfortunately the nightmare of every interviewer who has used an electronic device occurred—practically nothing was intelligible. Our lovely little work of art had vanished into oblivion. I emboldened myself with the mystical notion I sometimes employ, and which I don't really believe in, that everything was as it was meant to be and that there was some meaning in our having to meet again. Should I try to recreate the original interview or shoot for a different narrative? I wanted to try to "make it new" and institute a different kind of energy in which ideas we hadn't discussed would be generated. After all, his Case Histories are fundamentally all about the imagination. However, I was also driven by an antediluvian narcissistic drive to try to recapture the former glory of the previous interaction. After about five minutes into the second interview, as I was trying to remember my lines—i.e., the original questions—we were interrupted by the sound of the tumbler turning in the front door of his loft, signaling the arrival of unexpected guests. Whether I liked it or not, this was going to be different. The experience itself was turning into an entry I might well have contributed to Wilner last May, when we were still working together on his portrait of me. 
— Francis Levy
Francis Levy There's a famous Lumière film from the silent era called L'Arroseur arrosé (The Sprinkler Sprinkled or The Hoser Hosed), in which a gardener ends up watering himself with a hose. This comes to mind because role reversals are so much a part of your work—perhaps even to the extent that the therapeutic encounter that generates this series of drawings is ultimately for the benefit of the therapist/artist, rather than the patient/subject. So in the spirit of table-turning, what question would you have me ask of you?
Martin Wilner Sometimes a hose isn't just a hose. (laughter) But the question I would have you ask is: How did I develop my process for Case Histories and how do I see the role of my subjects each month? To which I'd respond that I was drawn to the idea of collaboration, the kind one sees in music more than in visual art, and so I've been inviting people to correspond with me, asking them to send me what's on their mind, what's compelling to them, each and every day for a month. And I do a drawing on each day—a visualization based on that experience. Over the course of the month it coalesces into a kind of portrait of the subject over time. It's a sagittal slice of their temporal state of mind, to use a neurological metaphor.
And I've been pleased to find that some people were so engaged in this relational process that they would send multiple messages each day or continue to contribute long after the drawing was done. Just this morning, I got an email with another potential contribution from a very close friend, a patron and mentor of mine, Mickey Cartin, who did a month of the project back in July 2012.
FL I recall that in the beginning, before 2012, you called it Making History. What was the significance of changing the name?
MW Making History was an attempt to tell my own history, but not by looking inward. It was directed outward, done by observation. It's a conceit, playing Herodotus, creating a peculiar nonverbal history. It also refers to the song "Making History" by dub poet Linton Kwesi Johnson. The refrain is, "It is no mystery, we're making history." I am drawn to the mystery.
After doing that for ten years, learning about the process and about myself in the process, and after creating a series of problems to solve in terms of draftsmanship, I wanted to create some new problems and find new solutions. Rather than choosing the subject matter myself, I'd have others choose it on my behalf, each day. It would put pressure on all the conventions I had developed. There would be a whole new element of uncertainty.
I populated this world of mine, then invited visitors to come and see if they could breathe in this environment. Fortunately, they could. Case Histories is actually a subtitle intended to indicate this shift from the stories of nations to the stories of individuals, from history to biography. It's all still Making History.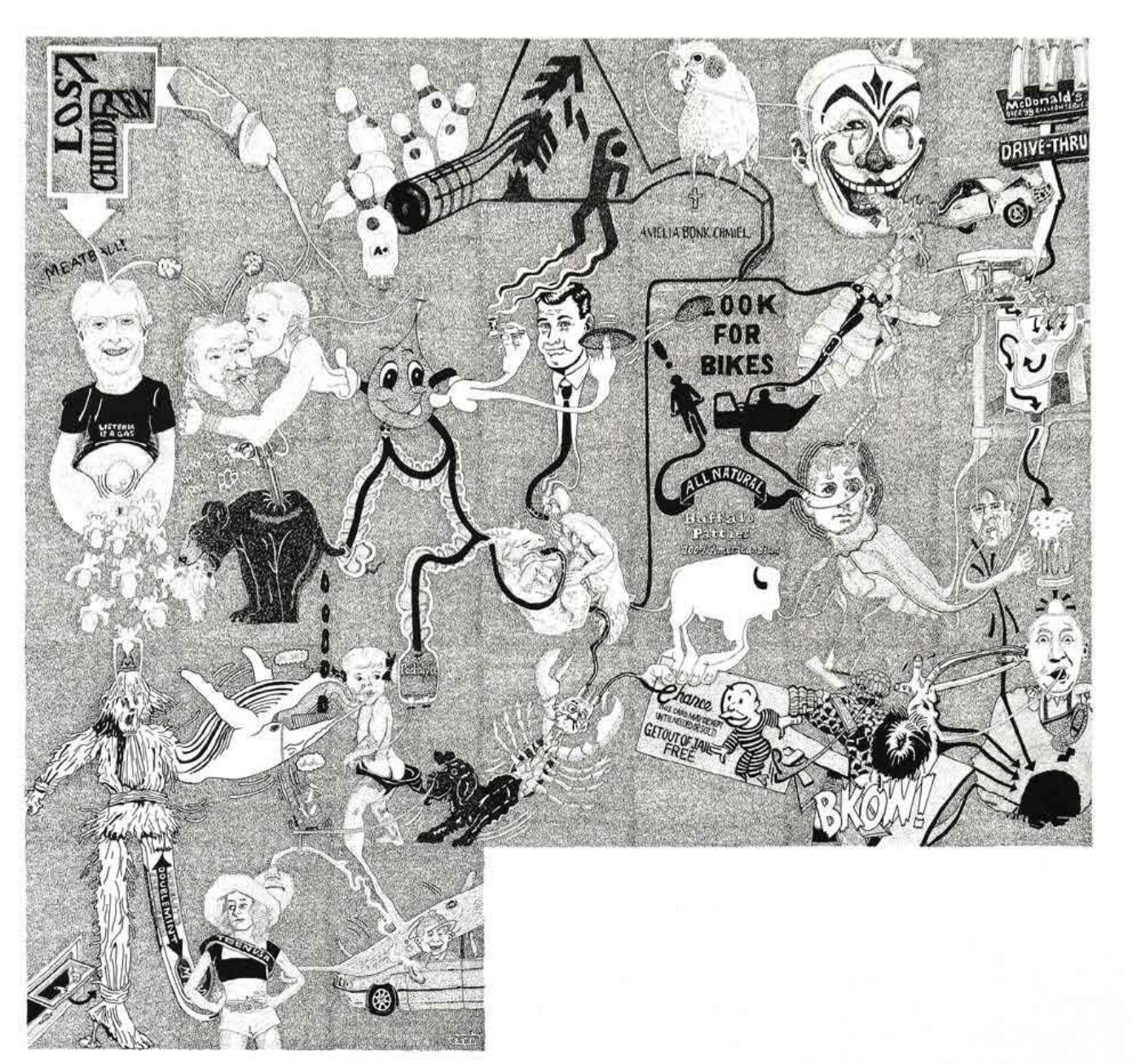 FL This notion of "history" also connotes a kind of collective consciousness, and the notion of the "case" has resonances with therapeutic literature—the case histories of Freud, like "Anna O." and "Rat Man."
MW And for me both aspects are essential. History, in a sense, is an accumulation of biographies, and Freud's case histories taught me the centrality of the narrative in lending meaning to human experience. My work is an ongoing learning process, and that's part of what makes it interesting and vital. People are invited, in effect, to teach me daily.
FL Are your collaborators models in the classic sense? Like in the famous Balzac story, "The Unknown Masterpiece," are these the ultimate models from whom you're trying to create an ideal image? Or are they more active than a model normally would be?
MW It's a different kind of participation. It's not physical or even within my visual field. It's really more analogous to a traditional psychoanalytic setting where someone is facing away from me, lying on a couch, sharing things of interest on an ongoing basis. I cobble together a picture of that person, but it isn't literal or anything like conventional portraiture. It's not just about what they send to me; it's also about how I react to it. And it's about the context, too—not just what they sent today but whether I can see any relationship between that and what they sent yesterday. Is there an evolution in their descriptions? Is there a reaction to me? Am I reacting to them? And I try to take all of those variables and use them as constructively as possible to guide me along.
FL You've said you would do this for your whole life. Do you think the collocation of Case Histories could ever be like Jung's The Red Book? That it could stand as a therapeutic literature? Could it be studied by those who are interested in therapeutic interaction and endeavor?
MW I don't think it could be studied formally, the way one can study Freud or Lacan. There are indirect applications, ways of enrichment that come from having a visual analog to that kind of experience. It's something people can look at as a chronicle of a life spent observing and documenting.
FL I want to dig a bit into our therapeutic encounter. I know you through the Philoctetes Center, which was devoted to psychoanalysis, humanities, and neurology and where I was co-director. Yet, when I started to see your artwork—first, I think, at Pierogi Gallery—the imagery was so arresting that I totally forgot you were a psychiatrist. For me, you were Martin Wilner the artist.
Then we started to collaborate this past May, on my portrait, and it became very much like psychoanalysis—like the analysis I'd undergone for many years, in fact. Every day, I longed to speak to you. I was experiencing some kind of almost premature ejaculation because I would be writing two or three entries a day. And I confessed this at one point. I said, "Martin, I'm cheating. In truth, I can't stop wanting to write you!" At a couple points I actually made a mistake, pushed the button, and sent it early. There was a complete awareness that you were there. In a sense, I felt like I was doing this Faustian bargain. I had the ideal listener. A lot of patients are afraid of the therapist closing their eyes; they worry about him or her falling asleep. But here you were reading every word. Not only was I going to be heard, but a Grecian urn would be created from my own language. A fantastic offer—but I'd have to sell my soul!
MW But it was your idea to put the ashes inside that urn!
FL (laughter) But at the end, it is your work. I give myself over to you, and you make something. In a typical therapeutic encounter, I pay money, and it's for my benefit as a patient. Here, it's about the making of your monthly artwork. During the procedure, I went through three stages: having terminated my analysis several years ago, I had the initial excitement of having a new therapist; then a plateau or routine where I became comfortable, thinking it would go on forever; and finally, anticipation of the end of our interaction, a sadness almost akin to death. I went through all these feelings, but there was also a sense that I was the Galatea and you were Pygmalion. My ideas, feelings, and transferences were the raw material. They were the palette.
MW I think that's true on a certain level. In this sense, you were indeed my model, but not of flesh and blood, just of the mind. Your likeness does appear in that month's drawing, but it didn't have to. Again, it's really about the state of mind. I present the project to people as art. But, at the same time, I feel there is a need for full disclosure. People understand I am also a psychiatrist. I explain that they're going to be asked to do this thing and have feelings and reactions. Fortunately, most have been comfortable with that.
It's my responsibility to be tactful, to abstain from passing judgment. I'll simply acknowledge what is sent by saying, "Thank you." Of course, if someone is writing about the death of his or her grandmother, the loss has to be acknowledged. And when someone sends something particularly emotionally charged or something which touches upon a subject with which I'm not familiar, I may ask for further elaboration, as I would in a clinical setting.
FL In classical analysis, when a patient has something terrible happen—when there's a death or other loss—an intervention in the form of an offer of comfort is not usually on the agenda.
MW It's not on the immediate agenda because the greater comfort in that kind of situation is to understand what that experience means to that individual. When someone says, "My father died," as a psychoanalyst, without knowing what their father meant to them, simply saying, "I'm sorry to hear that," might be the most awful thing to do. You may inadvertently deprive them of the opportunity to talk about what they're really feeling.
FL I have to tell you, like a lot of patients, I had, even on this kind of microcosmic scale, the faint, underlying hope that somehow, among the other things our month together was doing, it'd make me different or would change me. It ignited a lot of different things in me. I had that therapeutic wistfulness and naïveté. I re-experienced that whole thing again.
MW I've been doing this project for about three years and found that people enjoy the daily correspondence. It's an exercise in focus, an opportunity to ask: What's important to me? What are my values? What really interests me? Sometimes that is sufficient to abrogate difficult conflicts and feelings.
For example, in August of 2012, I worked with my own former analyst on a drawing. He wrote me after the month was over, telling me that, in this odd role reversal where I became the analyst and he became the analysand, he experienced a catharsis.
FL Did you find it disturbing to know things about your own analyst? In the psychoanalytic interaction there's always that notion of analytic neutrality. I take it there were many things you didn't know about him.
MW I knew absolutely nothing about him. And yes, the very notion of doing it was an act of hubris on my part and entirely disconcerting. I wasn't sure I wanted to know the things I was going to hear. But part of the challenge for me, again, was not just about drawing but about examining my own anxieties and dealing with feelings and situations outside the purview of my own experience.
FL It's almost dangerous territory, since it's new territory. It's uncanny and strange.
MW That's part of what drew me to this in the first place. I like to put myself artistically in challenging places. When Freud was doing his casework he was in terra incognita, charting unknown emotional waters. Things backfired and went wrong; there were clinical errors. But the result transformed the way we think about ourselves and created a model of the mind that's still relevant. People say Freud and psychoanalysis are dead, but that's far from the truth. Psychoanalysis permeates our culture everywhere, all the time.
FL I want to ask you about the notion of enactment, where a patient starts to act out somehow in the analytic encounter. For instance, notoriously, patients have been sexually provocative. In the course of doing these drawings have there been any emotions ignited? Have you noticed in this unusual, quasi-therapeutic encounter certain occurrences where you felt an element of danger or provocation? Did things ever catch fire, in both a good way and in a way you had to be tactful about?
MW Absolutely. The most recent example that comes to mind was in August, when I was working with one of my gallerists. He posed a question to me about the role of the artist in today's world as his communiqué for the day. I deliberated for some time about how to respond. In a clinical setting I would have said: "What makes you ask me this? Are you reluctant to express your own view?" I introduced the disclaimer, "Forgive me for my day job, but I wonder what led you to pose this question to me today instead of telling me how you would answer it." And he responded, initially, with frustration—much the way an analysand might, saying, "There you go. It's a power struggle." I thought this was very interesting, especially in terms of the drawing and the way it then progressed. Things come up. Sometimes I push a little bit. I'm not looking for some easy solution. I'm trying to see what's really going on.
FL You incorporate all the words your subjects have sent you into the artwork itself, on the verso. That's an incredibly complex job. I've looked at these passages and sometimes they're almost hieroglyphic in quality. There's a calligraphic beauty to them, but how do they function within the work? And meanwhile, there are all these connections going on visually, between the images. You proceed chronologically along the Roman calendar, day to day, left to right, row by row. But there are connections that don't proceed in that way; they can be diagonal for instance. How do you plan for a day that has yet to be done? Or do you go back?
MW There's no going back. All the daily drawings bleed to the edges of their allotted space in all directions, whether with tubules or parts of bodies or—
FL —right, they are like axons and dendrites. There's a kind of neurological feeling to them.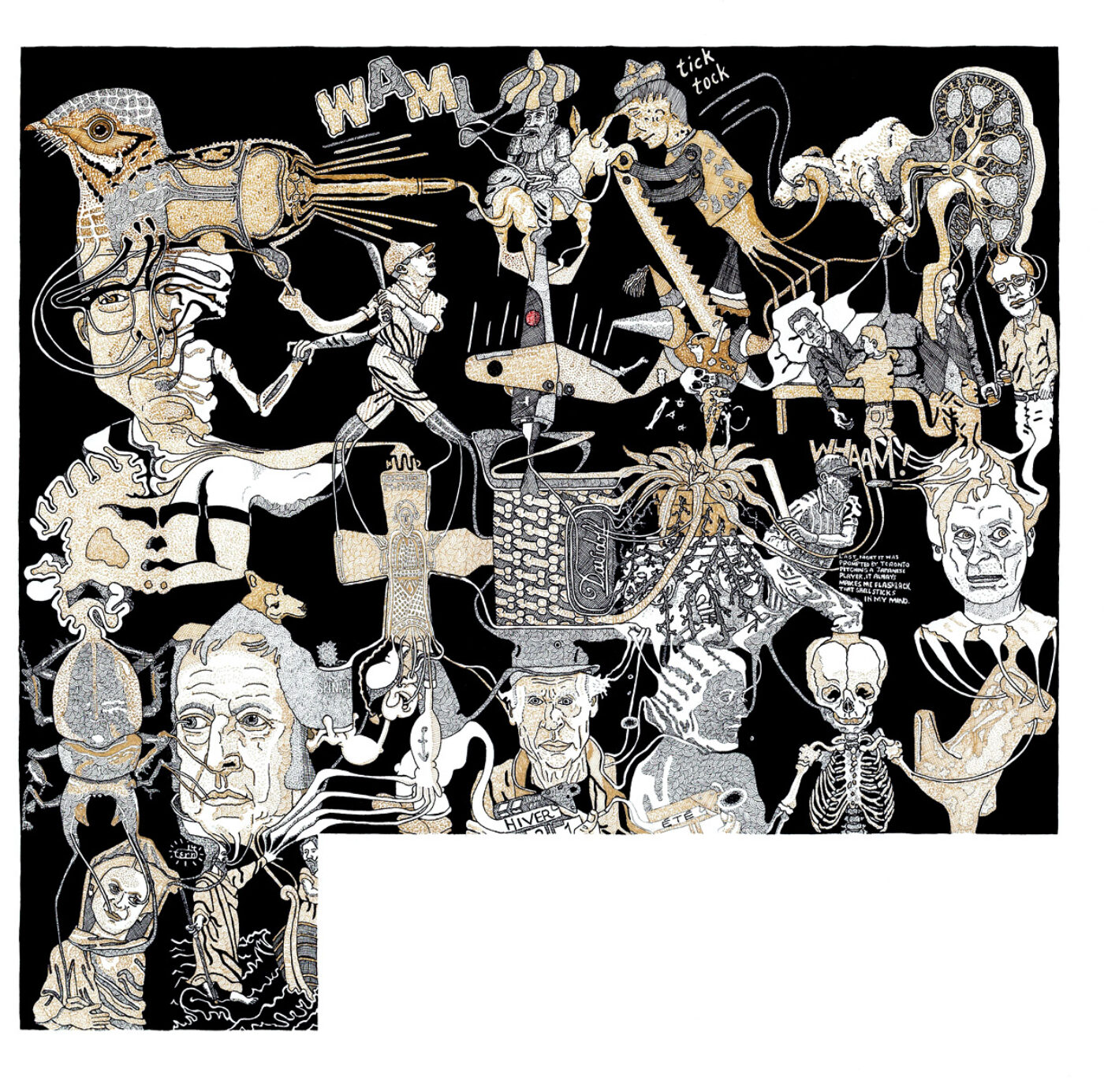 MW Each image creates the conditions for the next day's work. I don't know what's happening tomorrow, but I do know I'll have to make it work. It is a game of exquisite corpse played solitaire. I don't know the outcome until the final day of the month. There's a level of suspense for me. I'm crossing my fingers and hoping it will make some kind of visual sense.
FL The language in these drawings reminds me of the Midrash and of the Talmud. Is there any sense of your Jewish history, training, and education having influenced things?
MW Oh, absolutely. The pages of the Talmud are double-sided; my drawings are double-sided. I can't say that's a coincidence. I studied it in school, and I think what you learn early on leaves a profound residue in your imagination. And the way I encode information is similar to the way the Talmud uses sidebars of different shapes for commentary upon the central text.
FL Even though you use the calendar, your work exists in a kind of synchronistic universe. The images, dependent as they are on the imaginations of your subjects, are helter skelter, with no logical meaning or form to the progression. And your rendering of the words also goes beyond the formal constraints of language. The words on the verso have a visual effect, which is conducive to all kinds of associations. The sentences are intact, but it's as if they were spilling over with the kind of primary-process thinking that underlies rational thought. Are you trying to create a feeling of unconscious association in language?
MW I think all artists try to tap into their unconscious—into what we call the imagination. It certainly has something to do with unconscious processes, primary processes. These are my efforts to get inside it. The micrographic text is not meant for the reader to parse. Its purpose is to allude to a less conscious process, to allude to the idea that words can transform into images, and vice versa.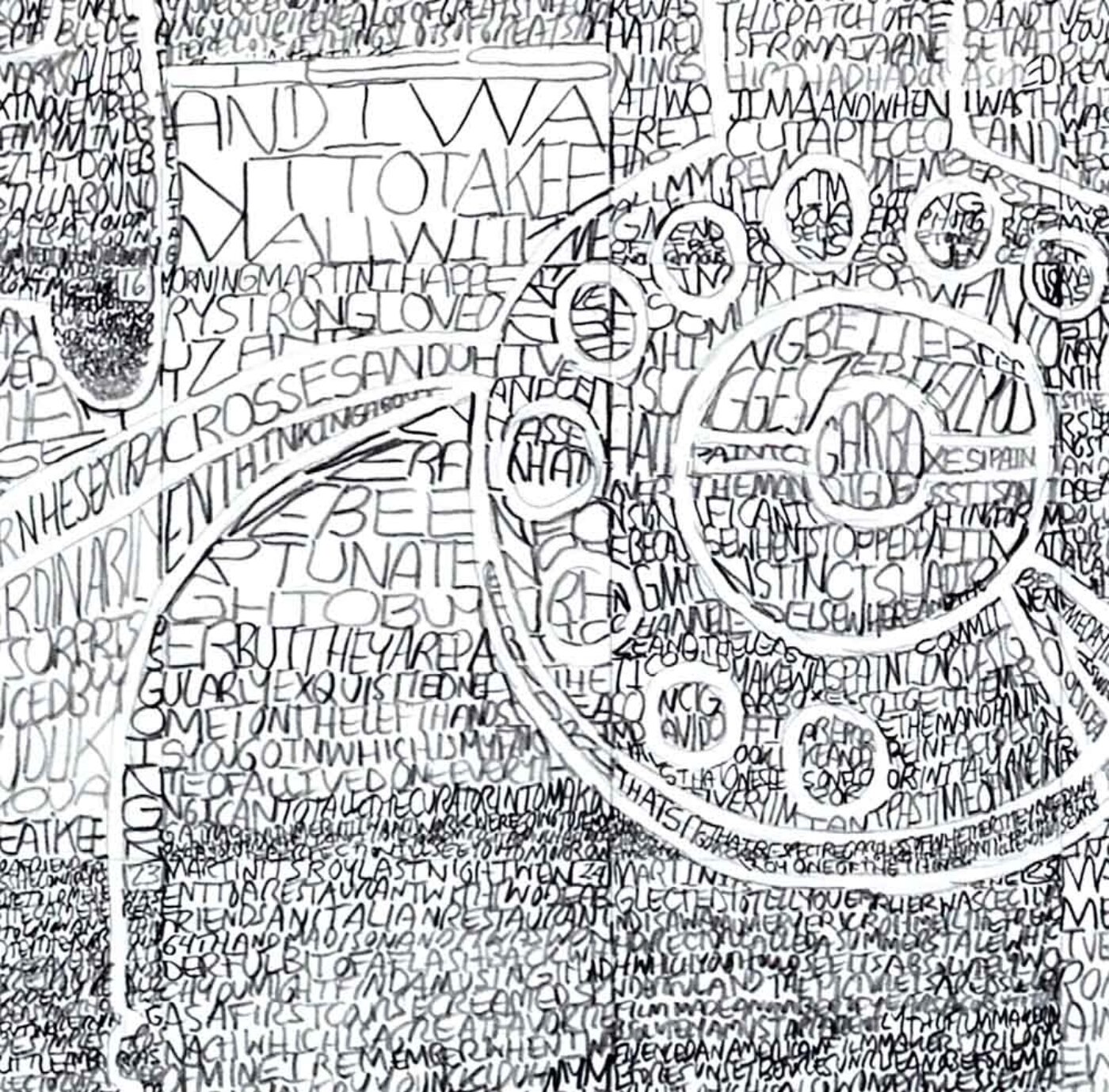 FL What implements do you use? When I first saw your work, years ago, it was all black-and-white. Now, I see you've started to use color. What is the significance of that change?
MW I use Rapidographs—technical pens. I didn't study art formally growing up. I never went to art school, though I was the kid in the back of the room drawing comic-book figures and things from magazines. That was my laboratory; that's where I learned to draw.
The gallerist Jack Tilton once came to my painting studio for a visit and said, "Don't take this the wrong way, but your work is about drawing." I did take it the wrong way, thinking maybe he was politely telling me that he didn't like the work, but by the end of the visit he had bought one of the paintings. I thought there was a lesson to be learned there, which over time I processed. I eschewed painting entirely, and with that, color too.
I wanted to draw in the most economical fashion and Rapidographs allowed for the most precise rendition of what I was trying to envision. I began to see a lot of growth in the work, and so, rather than trying to explore a lot of different approaches, I dug in deeper. By narrowing my field, I felt able to mine more deeply into my imagination. As for color, it came in organically. I happened to use a bit of yellow and blue in December of 2013, the only month that year with any color at all. Something was happening there, and I needed to let go of the constraint to see how it would develop. Color is so seductive that I almost feel overwhelmed by it at times, even frightened. But with all my other work parameters in place, I can see where it leads.
FL I know you've worked with Darren Aronofsky, the filmmaker, and that both of you have dealt with biblical history. I went to one show called Fountains of the Deep: Visions of Noah and the Flood that Aronofsky curated and for which you did a work titled Arkopoly. Does the creation of this kind of imagery pose a different type of challenge?
MW The Old Testament was really the first history I studied, but my interest was also in collaboration. Darren was one of my first collaborators, and I've had a number of opportunities to work with him. The piece you mentioned, Arkopoly, is our most recent and is part of a project of mine titled Game Pieces, named after John Zorn's series of musical compositions.
Darren asked me to create a work based on the biblical story of Noah. I deliberated about what sort of game I would play to create this piece. I thought about Robert Crumb's Book of Genesis, which disappointed me in its literal take on the biblical narrative. I was hoping for a hallucinogenic fever dream of the Bible. So I didn't want to do a literal narrative about the story of Noah. Hence, Arkopoly refers to the game of Monopoly, from which I borrowed ideas about both the board structure and manner of play. I moved around the board in order to create a drawing, to tell a story of Noah that melds the biblical and the scientific narratives of extinction cataclysms. 
Many people tend to think of these as irreconcilable, but if we think about it from the perspective of a text written some 3000 years ago, in a pre-scientific world, when all man could do was observe a pretty terrifying world, it is a reasonable account passed from generation to generation about an ice-age event. We created a mythical story about how one man decided to save the world by creating the first monopoly. It's a good story.
FL One with applications today—Spaceship Earth!
MW We are creating arks as we speak. Part of what my drawings are about is using the Fibonacci spiral, which some believe is a central structure of creation. We spiral from extinction to creation time and again. The center of the drawing becomes the Anthropocene era, in which we live now, where scientists are pursuing the de-extinction of species we had a hand in driving from existence.
FL Reaching back to Crumb and, more generally, to the influence of comics, I see that you even employ thought balloons.
MW It's a vocabulary I grew up with. Even though the structure of my work is like a traditional calendar or board game, it is also very much like pages of a comic book with its series of related panels. It's that kind of narrative structure I play with, both creating and destroying it as I break the separations between various panels. Narrative linearity is implied, but it's really more about playing with time.
FL I think of this work more in terms of Bosch and Dalí—the morphing of the imagery and surrealism. But your work is also sui generis. It's not comics, Dalí, or Bosch. How would you describe yourself? What is the nature of your endeavor? What kind of an artist are you?
MW I am a kind of existential artist. I seem to need to make art in order to live. When I was in medical school I flunked my first anatomy exam, but luckily I had the presence of mind to realize the problem was that I wasn't making any art. So I went down to Twenty-third Street, to the School of Visual Arts, and signed up for a night class. My grades shot up. I'd come home late with wet canvases in my hands, and my roommates thought I was out of my mind. Maybe so, but I was doing well.
FL And you're a diarist in a certain sense, even in the collaborations. Can you envision going back to a solitary enterprise?
MW I can, and I may, but there should be a reason to do so. Right now I feel like collaboration is compelling, and I will keep going until the work leads elsewhere. I may revisit a solitary project just to see what effect this current relational one would have on its outcome.
FL So, in some sense, the clinical situation is presently the fuel or fire for these artistic constructions. But does your work as an artist inform your work as a clinician? Have you noticed a change in the therapeutic interaction, at the office, so to speak?
MW I've always thought of psychotherapy—and psychoanalysis especially—as both an art and a science. For all sorts of bureaucratic third-party issues, there is a certain pressure to make it seem more scientific than it is, but the ineluctable truth is that psychoanalysis is a philosophical discipline—a way of thinking about the mind. 
We're all blessed and afflicted with consciousness and therefore think about why we are here and what we are trying to do. We don't just travel through life taking care of our immediate bodily needs. We think about meaning and purpose. Being attuned to the artistic elements allows me to work with people in a more creative way. I like to think of people as works in progress.
FL You've attained a dream I imagine other psychiatrists and psychoanalysts have had before. They hear the equivalent of thousands, maybe even millions, of transcribed pages of the innermost thoughts of some rather interesting people. But you are different from the average practitioner of your profession to the extent that you get to make whatever you want out of it. You create an artistic and therapeutic edifice of the dreams of others.
MW It's very exciting, but also dangerous and a big responsibility. I feel indebted to all the people working with me and grateful for what they have shared—it's invaluable to me, a gift.
FL Well, I had a lot of fun. You said that my drawing would have to be NC-17?
MW No children permitted. It might be like seeing Pasolini's Salò or something. It's got everything, like when Marvel comics from the '60s would announce on the cover: "THIS ONE HAS IT ALL!" Life, death, sex, defecation, urination, a whole panoply of experience, even suppositories.
FL (laughter) Yes, I remember asking whether Wernher von Braun was the father of the suppository, to the extent that most look like a V-2 rocket!
MW Every kind of excretion was tactfully dealt with and explored.
FL Excretion being a form of auto- biography.
MW Yes, something left behind. Every month brings something new and interesting.
FL I can't paint, draw, or do anything except a childish scribble of breasts or something like that, but here I found a way to be a visual artist through collaboration. It was as if I had written a film script that was to be produced. It was very exciting to come here and see how the imagery turned out. Have you ever had difficulty transferring what someone has written into an image?
MW Occasionally people don't seem as engaged in the process as I might wish them to be. I get this impression, and it is supported by the data gathered over the course of the month. There is some form of resistance. They aren't sharing what is most compelling to them.
FL Is there anything you can do?
MW I work with whatever is sent and examine my own feelings about the situation, allowing the work to proceed. Participants do not have to free associate perfectly for me to be able to produce a drawing. That's not what it's about. It's about transforming a special dyadic relationship into art.
FL My last entry was a goodbye, but then I went on the very next month to collaborate with a poet by using the same structure. We shared every day for a month. I had to embark upon another collaboration in order to deal with the loss of ours.
MW My July case history was Robert Michels, a mentor and former chairman of psychiatry where I trained. His first note to me included this: "I can see what you are trying to do here. It's very insidious because you are asking me to think about things, and I can already see it's affecting how I look at everything." And at the end of the month, he wrote: "I'm thinking of all the things I didn't tell you. I'm going to make a list of all the things I didn't share."
FL Resistance is funny. I'm spouting about fetishistic objectification—lingerie, Brazilian waxing, all manner of excretions—and others are holding back in their encounter. I mean, some patients go into an analytic session and say nothing for long periods of time.
MW I've had that experience at times. It is one way to fend off fundamental themes like passion and mortality. Sadly my subject this past June, Roy Davis—a great gallerist—passed away in September. He introduced Lucian Freud to the United States, among other achievements. I worked with him when he was 92, and his messages spoke of his inevitable passing. I was able to see him just a few days before he died, on his deathbed, and to show the drawing to him. He was able to hold it, ask some questions, and enjoy what we had shared. It meant a great deal to both of us. That's why, for me, your question about what sort of artist I am makes me think more about how art is woven into the fabric of my life.
FL Sometimes I wonder about endings, for instance, about the last day I'll ever have sex. Can you imagine the last day you will be doing this lifelong project—a last day when a lifetime of really marvelous, haunting, and incredibly complex, calligraphic, hieroglyphic work will come to a close?
MW I hope to be at my drafting table, Rapidograph in hand, trying to solve one more puzzle.
Francis Levy is the author of the comic novels Erotomania: A Romance and Seven Days in Rio. He was co-director and co-founder of The Philoctetes Center for the Multidisciplinary Study of Imagination. His short stories, humor pieces, poems, essays, and criticism have appeared in the New York Times, the New Republic, the Washington Post, the Village Voice, the East Hampton Star, Evergreen Review, Contemporary Psychoanalysis, and American Imago. He blogs at The Screaming Pope and the Huffington Post.
Originally published in
Featuring interviews with Adam Broomberg and Oliver Chanarin, Theaster Gates, Martin Wilner, Paola Prestini, A.G. Porta, Pierre Guyotat, Paweł Althamer, and Eugéne Green.