Martin Kippenberger: Sehr Gut | Very Good by Karen Rester
Karen Rester reviews the first museum exhibition of Martin "Kippy" Kippenberger's work in Berlin, considering his playful legacy in this new context.

Home of the Bill T. Jones / Arnie Zane Company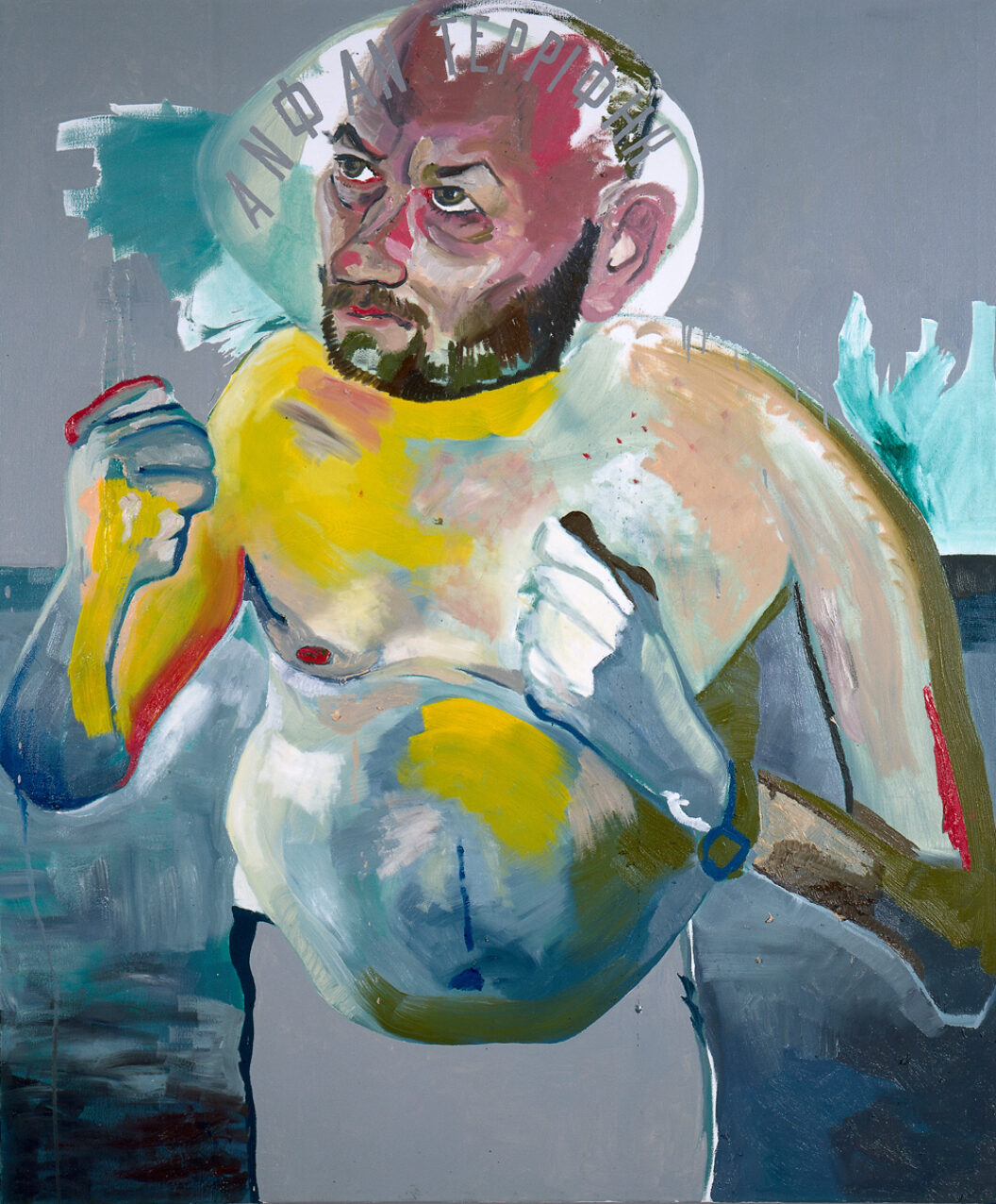 Since his untimely death at age forty-four from alcohol-induced liver cancer, there has been an upswing in the opinions of collectors, curators and art historians across Europe and America regarding Martin "Kippy" Kippenberger. Virtually ignored by the German art establishment during his lifetime, Kippenberger is currently being navigated into the pantheon of late 20th century artists where he will stand—with his pants down, he would no doubt have insisted—alongside the likes of Joseph Beuys and Sigmar Polke. I say "pants down" because the antic he was arguably most known for was dropping his trousers in public while breaking into the boogie-woogie.
They say his influence is only beginning to be appreciated, and his über-expansive oeuvre of paintings, sculptures, installations, photographs, drawings, books, collages, poems, posters, stickers—which spans a mere 20 years and yet would fill the careers of several artists—will take several lifetimes of exhibitions to unpack. He has been called the James Dean of German artists, given his prodigious output, early death and subsequent mythologizing that continue to provide a font of inspiration for the young artists that congregate in Berlin. This is one reason why Der Spiegel called the first ever museum exhibition of Kippenberger's work in Berlin, Sehr Gut | Very Good, which runs until August 18, 2013 at the Hamburger Bahnhof Museum for Contemporary Art, long overdue.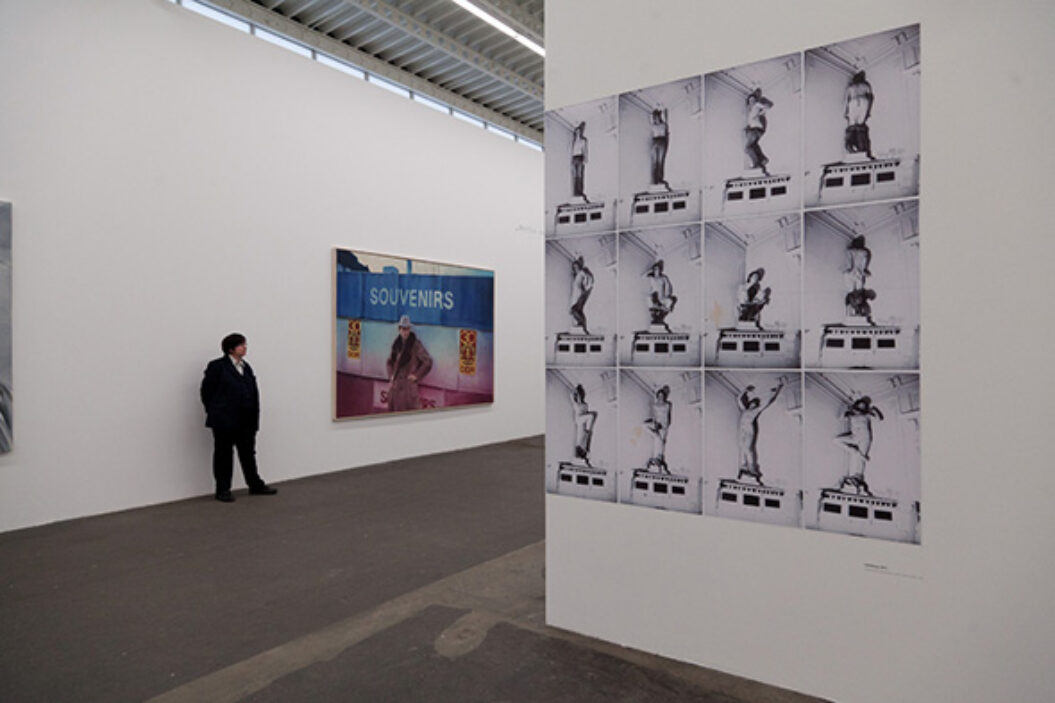 The show coincides with what would have been Kippenberger's sixtieth birthday, had he not conducted his life at such an alcohol-fueled, vertiginous speed. Over 300 works are on display, most in the recently acquired former warehouse known as the Rieckhallen, a 900-foot-long, 6000-square-foot structure behind the Hamburger Bahnhof, as well as in two additional galleries in the main building. Rather than a chronological retrospective, curators Britta Schmitz and Udo Kittelmann organized Kippenberger's work sometimes by theme or series, sometimes by medium or place, grouping together, for instance, his Florence series, his exhibition posters, his hotel stationary drawings (the peripatetic artist lived and worked in over 18 cities and towns), and his self-portraits. These are accompanied by personal letters, photographs from significant moments in his life, and his humorous sayings stenciled on the walls ('Never give up before it's too late!'), underscoring the need to consider his work in the context of his personal life.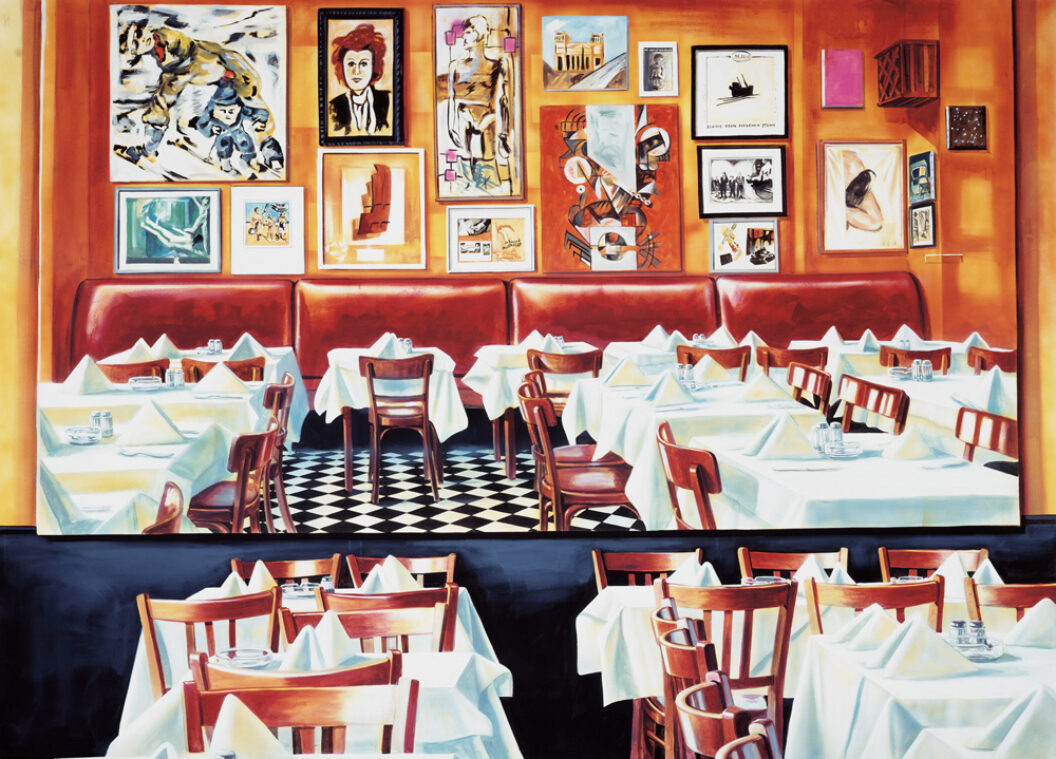 The exhibition puts some emphasis on the four years Kippenberger lived and worked in West Berlin from 1978 into 1981, first at the artist loft Fabrikneu, then in the loft space he founded as a German take on Warhol's Factory, called Kippenberger's Büro. In the museum's East Wing we glide in slippered feet across the collage runway he shellacked together for Fabrikneu's fashion shows from 1,300 photographs he took in Berlin. In a darkened room in the Rieckhallen's basement we come across scenes from the Slaves of Tourism slideshow of his trip across America that he screened at Berlin's famed Café Einstein in 1979. And in the Rieckhallen's main galleries we find selects from Kippenberger's first major exhibition Dear Painter, Paint for Me, a series of 12 six-by-nine-foot photorealist paintings he commissioned from a billboard artist named Werner, this being one of his many attempts to test the limits of what constitutes art. Other highlights from his Berlin years include his relationship with the renowned Paris Bar, memorably captured in the large painting he made of its interior that opens the show; his cameos in several Berlin art films, a clip from one projected in a room in the Riekhallen basement; and the six months he spent as co-owner of the legendary punk club SO36 where he played in the short-lived band Luxus. A selection of Kippenberger's favorite tunes, including Lee Marvin's Wandering Star and the German miner's song Glück Auf!, emanates from a dimly lit room, festooned with a photograph of Kippenberger playing drums for Luxus, which serves to draw us deeper into the hall of galleries.
The show's title Sehr Gut | Very Good refers to both Kippenberger's single issue zine sehr gut | very good that he published in Berlin and his White Paintings series wherein he copied in white paint onto white canvases a school boy's one line descriptions of his paintings, each line, per Kippenberger's request, followed by the phrase 'very good.' Because of the difficulty in embedding the paintings flush with the wall so as to be barely discernable, as Kippenberger had instructed, the series has rarely been seen. (He must have appreciated the irony in this).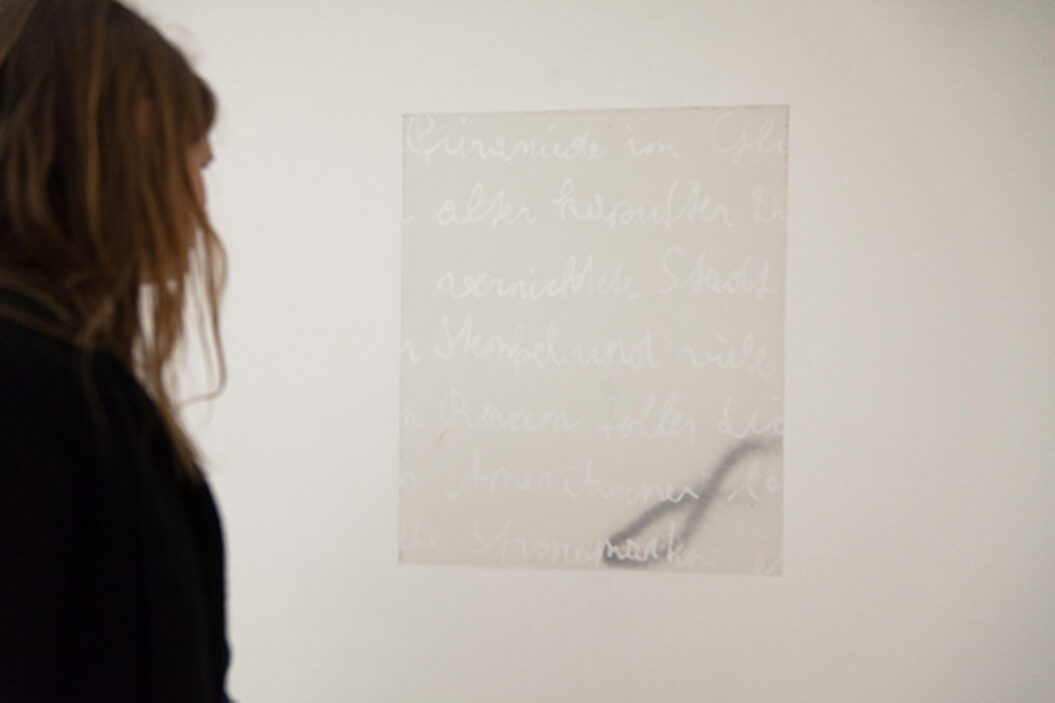 Also on view are a number of self-portraits in the form of suited mannequins, crucified frogs holding beer steins (a self-parody of the suffering artist), photographs and, more commonly, what appear to be sloppily executed paintings in which Kippenberger depicts himself as an unshaven, lumpy has-been clad in Picasso's oversized underwear. Here he's not just taking a stab at undermining the idea of the 'great artist' but also what constitutes good art. As an assistant of his once put it, Kippenberger didn't paint "bad bad art" but "good bad art," going so far as to create weaknesses in his execution where none existed. When, for instance, Albert Oehlen (who belonged, along with Kippenberger, Markus Oehlen, Werner Büttner, and Georg Herold, to a group of German artists known as die Junge Wilde, linked by their efforts to disrupt the art establishment through parody and provocation) told him that one can tell if an artist is talented by how well he paints hands, Kippenberger began painting hands like a five-year-old.
The show's profound moment comes about two-thirds into the Rieckhallen with an excerpt from Kippenberger's 1996 Raft of the Medusa Series, inspired by Théodore Géricault's 1819 painting of the desperate, near-dead survivors of the sinking frigate. Here, near the end of his life, all of his joking and reckless drinking, his understanding of art history and his exhibitionism come to a brilliant point. His naked body sagging and swollen from years of hard living, he had his wife, the photographer Elfie Semotan, photograph him in the dramatic poses of the figures on Géricault's raft, each of which he painted, transforming it in the process. Kippenberger also had a blueprint of the raft reproduced as an 8-by-15-foot rug, which lay on the ground, flanked by four self-portraits from the series. By chance, I stood with the width of the rug before me and the line of photographs on a distance wall. This wasn't an intended vantage point but the effect was striking. Like a series of Muybridge photographs, Kippenberger seemed to be performing a dance macabre on the raft.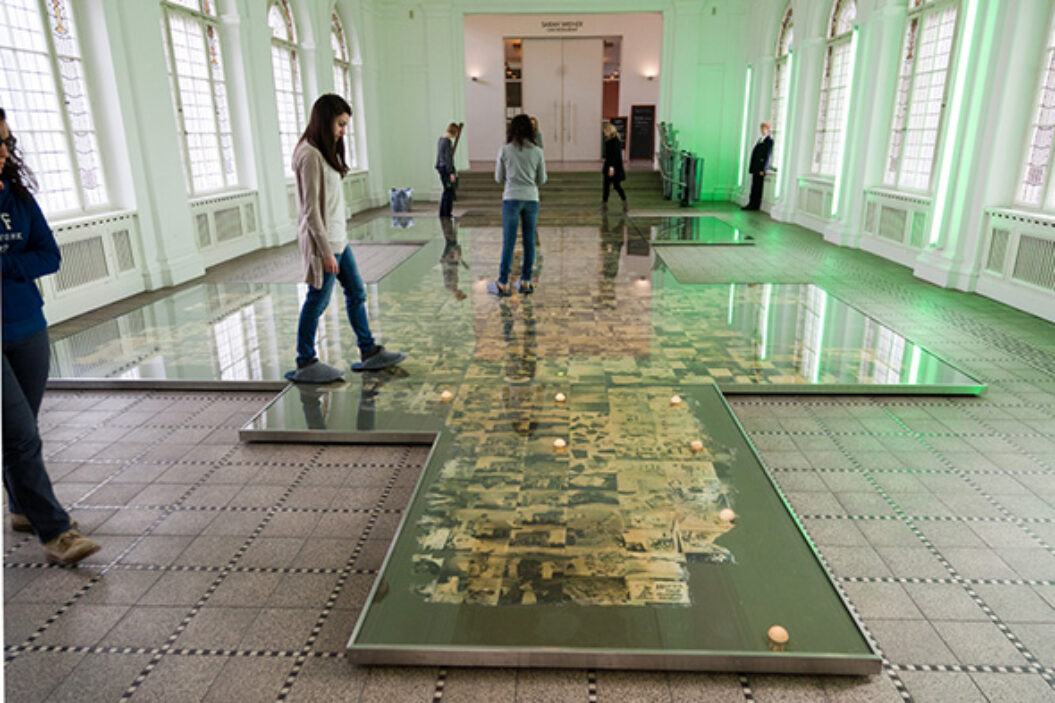 Though absent some of Kippenberger's major works, namely his vast installation The Happy End of Franz Kafka's "Amerika," included in MoMA's 2009 Kippenberger retrospective, the Hamburger Bahnhof show feels exhaustive. Yet one wonders what Kippenberger, who put as much effort into how his work should be exhibited and publicized as he did in creating the work itself, would have thought of it. (An exhibit of his once involved a motorized chair that spun on its axis like the Mad Teacup Ride as it traveled around a small circular track in the center of the gallery, so that viewers could 'relax' while taking in the art). The perhaps unavoidable effect of adapting Kippenberger's sprawling oeuvre—including some of the hastily conceived ideas he threw at the public—to fit the austere museum aesthetic is that it not only domesticates Kippenberger, depriving him of some of his bite, but one also wonders if we're not taking the be-bopping provocateur and bar room clown a tad more seriously than he would have wanted.
For more on Martin Kippenberger Sehr Gut | Very Good, check out the Hamburger Bahnhof Museum for Contemporary Art website. Karen Rester is a freelance writer based in Brooklyn and Berlin.