Discover MFA Programs in Art and Writing

Mark Lombari's drawings are beautiful. It's worth noting at the outset, because you will forget it as soon as you get close to one.
A strange thing to say about an artist's work, but then Mark wasn't your typical artist. The subject of his straightforward pencil-on-paper flow charts is always the same: conspiracy. Not weirdo conspiracies like black UN helicopters over Montana or Kennedy assassination scenarios, but real honest-to-goodness ones like Iran-Contra. His recurring cast of characters does a slow waltz through drawing after drawing: Reagan, Thatcher, and Saddam Hussein; Bill Clinton, Tyson Food, and Jackson Stephens; Mobutu of Zaire and Pat Robertson; and everybody's favorite, Oliver North, with most of the Bush clan. Holy shit, you think, is anyonenot in these drawings?
Then there are the companies. Mark had more than seven thousand index cards outlining corporate high jinks. They include Banca Nazionale del Lavoro, who helped Reagan and Thatcher arm Iraq. And the Lippo Group, whom Clinton indirectly helped to transfer US missile technology to China. And Palmer National Bank, who acted as middlemen for Iran-Contra—and George Bush's 1992 presidential campaign. And World Finance Corporation, which had tens of millions in missing funds, making theirs the largest bank fraud case of the '70s. When FBI agents went to arrest the bank's CEO, his secretary calmly informed them, "He's out fishing with Vice President Rockefeller." Byzantine? No doubt about it. It's enough to make your head swim.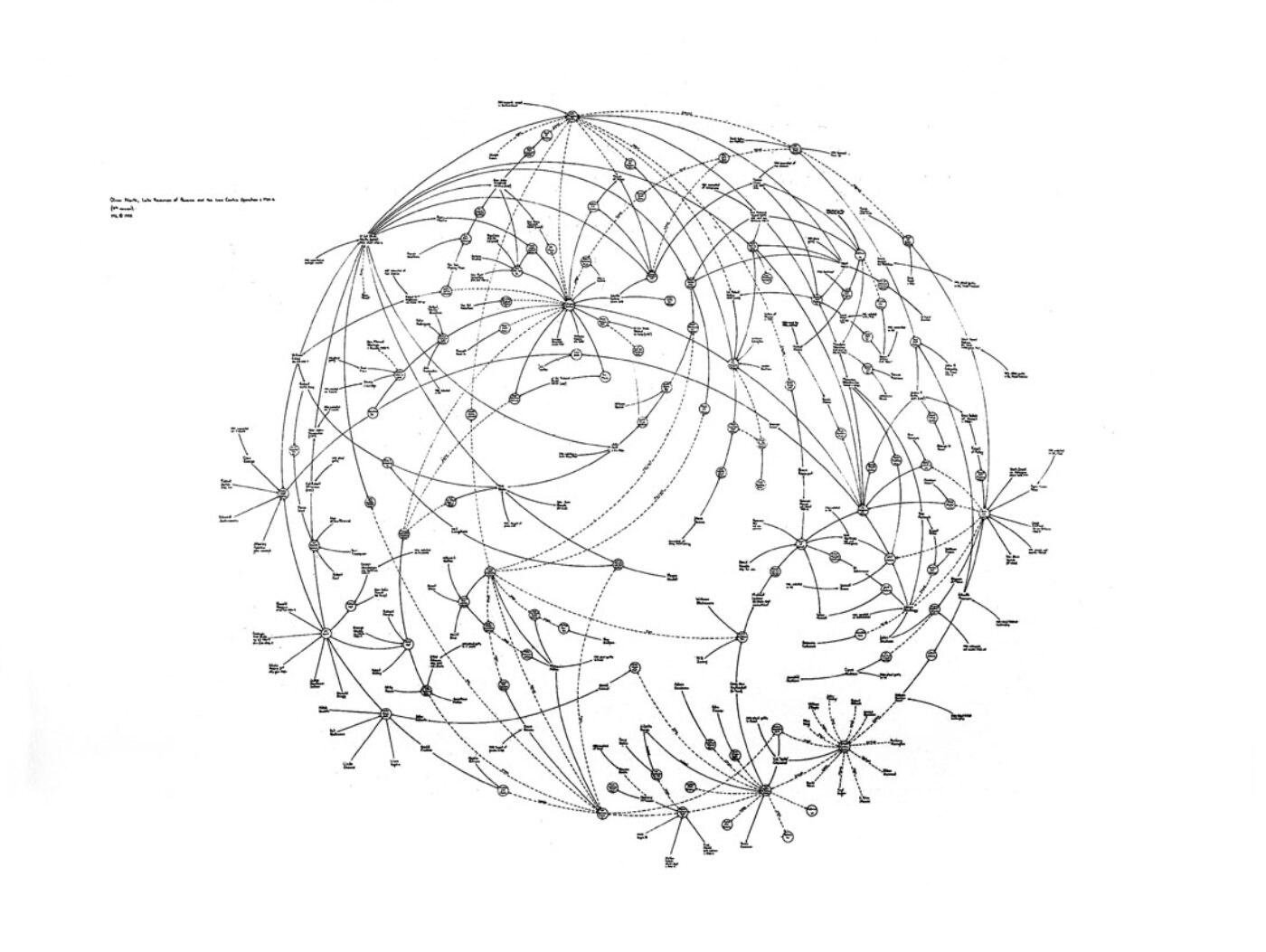 But after just a few minutes of looking at one of Mark's drawings, you actually understand what's going on. It can kind of freak you out. I remember people asking him, "Aren't you afraid these drawings might piss the wrong people off?" "Nah," he'd laugh, "there's nothing in them that wasn't already in the New York Times or Washington Post. I let those big newspapers vet the material first in their articles."
You're probably thinking something like, "Interesting stuff, but it sounds dry, dry, dry." Remember what I noted earlier. From the usual art-viewing distance, the drawings are dozens of long, gentle arcs tracing their way across warm manila paper. Sometimes they loop around and over a series of ruled lines; sometimes they swoop all the way around to form large globes. From a distance you can see that there are words handwritten in careful little block letters, but you can't read them, and it doesn't matter.
Mark's drawings have an elegance and grace about them that is at once personal and inviting. Their overall aesthetic conveys, through the mysterious and sublime interaction of line and composition, that the artist cares deeply about both the subject matter and the viewer. Experiencing a Lombardi drawing has nothing to do with listening to a man on a soapbox, and everything to do with seduction.
Deven Golden is a writer living in Brooklyn.
Originally published in
Featuring interviews with Sol Lewitt, Vera Lutter and Peter Wollen, Rikki Ducornet and Laura Mullen, Edward St. Aubyn and Patrick McGrath & Maria Aitken, Jon Robin Baitz and Stephen Gaghan, Gina Gershon and Dave Stewart, EL-P and Matthew Shipp, and Suzanne Farrell.