Discover MFA Programs in Art and Writing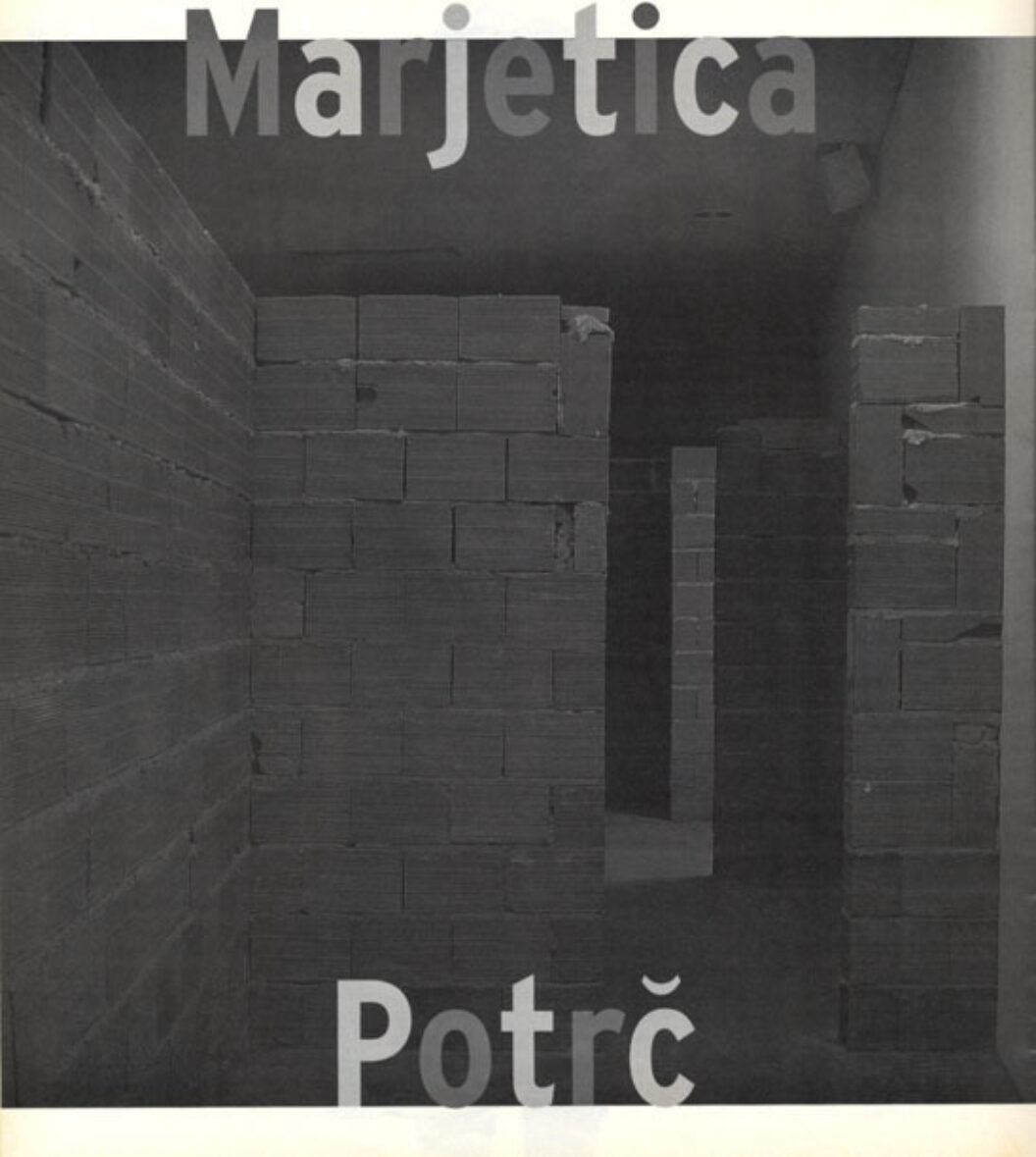 Marjetica Potrč was born in Ljubljana in 1953. She graduated from the Department of Architecture in 1977, and from the Academy of Visual Arts in 1986, both at the University of Ljubljana. She has exhibited at museums and galleries throughout Europe, and was the Slovenian representative to the 1993 Venice Biennale. Currently she is exhibiting as a participant of the Universalis exhibition at the São Paulo Bienal. Marjetica constructs walls—the remains and facades of European cities, fallen or rebuilt. Walls from her Territories series have been shown at three sites in the United States, the Center for Curatorial Studies Museum, Bard College; the McLean Project for the Arts—Emerson Gallery, McLean, Virginia; and Lombard-Fried Fine Arts, New York. This summer we met at Hvar, an island in Croatia, and conducted this interview.
Goran Tomcic In the last few years we have both been interested in two major and opposite experiences of place: the genius loci and displacement. No matter how displaced I felt while living in the United States, I always had the sense of belonging to that other of my experiences, my personal history. I think that this living in between helped me develop a stronger sense of individuality.
Marjetica Potč I am lucky enough to live in the genius loci. I come from Ljubljana, Slovenia. Before the political changes in Eastern Europe, Ljubljana was a small world, closed into itself. It was a world in which it was still possible to long for something unattainable, quite specifically for the world on the other side of the Berlin Wall. My friend Alexei Pourtcak told me a joke, popular in St. Petersburg in the '80s, about this desire for the other world: Two Soviet men meet. One of them says. "Oh, how I want to go to Paris again!" The other one replies in astonishment. "You've been to Paris?!" The first one says. "No. but I wanted to go there before!" So, if you have the genius loci, you also have that other, unattainable world. And if you don't have the genius loci, you don't belong to any world at all.
What fascinated me about the Americans was the ease with which they non-belong to places. The question "Where do you come from?" does not seem to mean much in America. It is quite different for Europeans; we still come from a certain place and time, from within the context of nation, history, culture. Today, displacement and the loss of history are happening in Europe. This is what Europe is dealing with, not America.
I also experienced displacement. It brought pain and fear, but also pleasure. Being in between is a pleasure if one has in one's memory that fictional place. I remember a taxi driver telling me on the way to Brooklyn how he'd thought Lithuania was a fairytale land until he heard one day on the news that it actually existed. Just the opposite happened to me: A real place, America, turned into a fiction, a memory, a desire.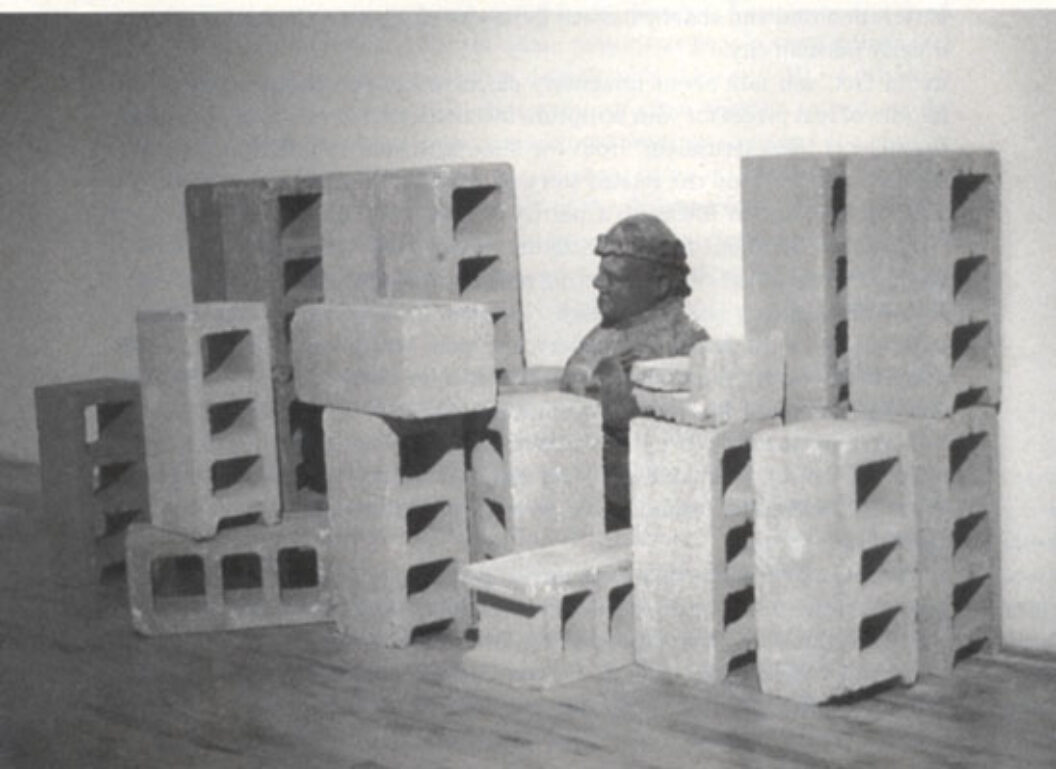 GT I agree with you. Displacement is pleasure, it forces you to live in constant duality, to think in at least two languages, and to compare forever different cultures and different systems. That is my American experience and that is probably the reason why multiculturalism is so natural in the United States. But here in Croatia, I feel a complete stranger with my desire for multiculturalism. Only now, back home after six years, am I really displaced, but it makes me happy. Paradoxically, displaced I feel free.
MP While the political changes were happening in Eastern Europe, I was in America. When I returned, I noticed that we were all looking for places that had in the meantime gotten lost. In reality this search was quite curious.
When recently in Vilnius, Lithuania, I heard about such a search for a lost place. A monument to a national hero was to be put up in the main square in Vilnius, and this was to celebrate the independence of Lithuania. The monument represents a figure on horseback on an enormous artificial rocky slope, but that's beside the point. I thought it was very funny how they searched for the right spot in the square for it. They made a life-size model of the monument and moved it about the square for weeks. Of course, they were unable to find the right spot. Once the desire—in this case a national state—becomes reality, the desire moves elsewhere.
The same thing happened to me in Ljubljana when I was looking for the Old Town, the historical part of the city. It was there, but it felt very strange. Something happened to it while I was away. Most of the facades of the Old Town had been renovated. Undoubtedly the promptness of the renovation after independence was seen as a way of confirming Slovene history and identity. But the effect was just the opposite. It was not history that the facades conveyed. Somewhere in the process of renovation the past had gotten lost. The image of the Old Town struck me as if it were as flat as a postcard. It had become a nostalgic scene for the tourists. And you know that camera-loaded tourists in old cities are no longer interested in this particular city or that particular architecture. It's the photos they want.
The old part of Ljubljana had suddenly become just another historical part of any European city, one of many, a sort of cliché. A cliché is always predictable. You know in advance what you will find. There are fewer and fewer places that are different, and therefore unpredictable. When it is no longer possible to tell each other stories about the wonders of other places, imaginary places will move somewhere else.
I am not interested in the image of a city, I'm interested in its body. I have always felt there is more body in an empty city than in a city full of stores and bars. A deserted and shabby Eastern European city is more beautiful than an orderly German city.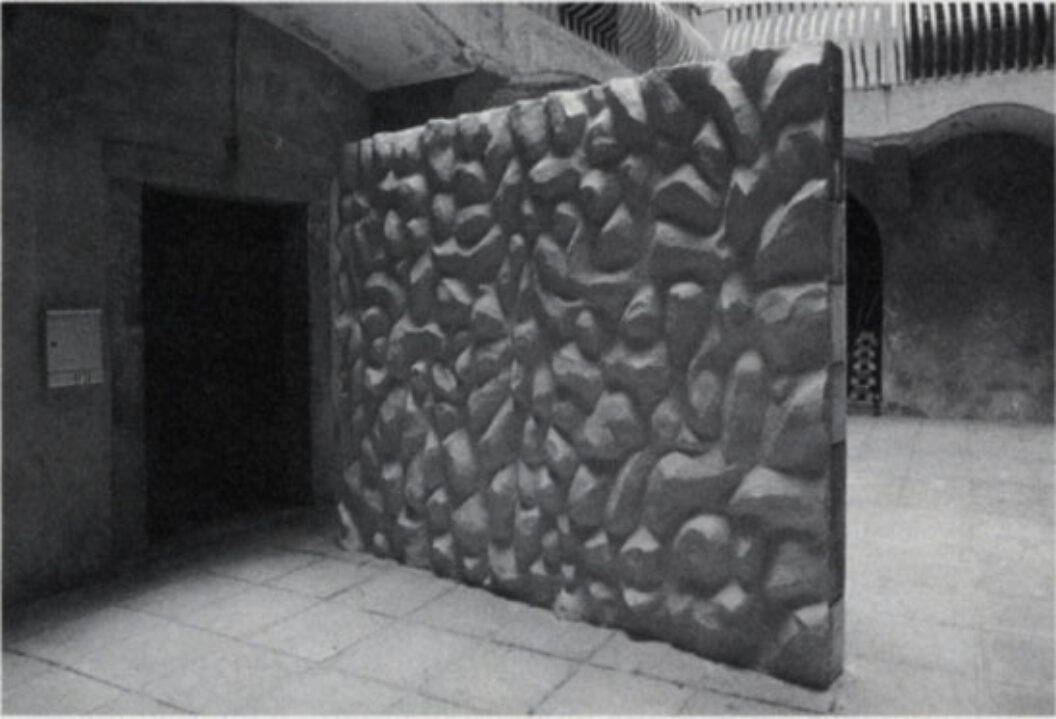 GT In fact, you talk about imaginary places while you make copies of the facades of real places for your sculpture installations. For instance, you linked the story of "New Jerusalem" from the Bible with your installation the Trieste Territory. I understand the related story as a pretext for reality in your work.
MP I never want to illustrate a particular city. The city facades that I call Territories are all about fiction, literature, if you want, although they show a real body from a real city. My starting point is the buildings we walk by every day without giving them a thought. I choose a particular building, next I build a copy of the facade in a gallery, and then I couple it with a tale about a city. In the case of the Trieste Territory a man came every day to sit on the wall and read aloud the story of "New Jerusalem" to the visitors of the gallery. My Territories are there for people to realize that what we love in a place, what makes us go on, is imaginary. Peter Handke wrote: "We live on illusions. Without illusions we would never do anything." Illusions are thus the precondition for reality.
For me, a perfect example of an unreal place is a museum or a gallery. One goes to a museum because of the desire for imaginary places, and not to see a real-life situation. The same goes for cities. Which cities does one like to return to? I never grow tired of Moscow. Moscow remains uncontrollable, I can never fathom it. I do not see Moscow as a comfortable or beautiful place. It fascinates me because it is an impossible mixture of architectural styles, it is hard to find one's way there, one does not understand the language. Anything can happen to me there. This instability, this unfathomableness of the city is why I want to go back there.
I think what we love in a city is precisely what we can not control, use, or read. Now adventurous tourists can get a taste of that if they take one of the trips to Sarajevo which are already being organized. Obviously it is exciting to be in a city where running water is available for only a couple of hours a day and where it is difficult to move around.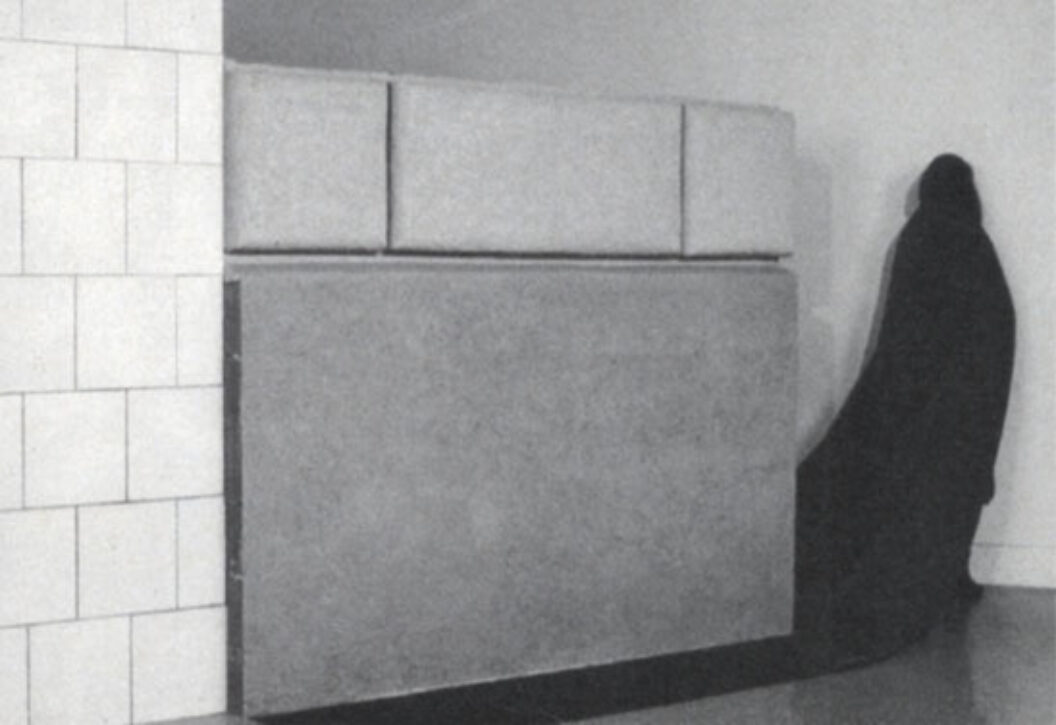 GT Let's go back to your statement from the Venice Biennale in 1993: "I don't make objects. I build walls." Your principle of working is building with architectural materials and using traditional building techniques. But at the same time your architectural walls are sculptures. How do you see the distinction between architecture and sculpture in your work?
MP I think I am a cross between an architect and a sculptor. I do build, but I do not build anything useful the way architects do.
I build walls that I consider bodies. I want my walls to convey a human presence. We tend to forget that architecture was made to the measure of man—an inch was originally the breadth of the human thumb. Architectural proportions were human proportions. Then architecture changed its measure. Corporate building in America first addresses the social vision and only later man. And I like to build on the human scale. My Territories are human scale cut-outs of this oversized architecture. Once in the gallery, these facades, due to their altered scale, become strange bodies, similar to people.
In the Bosnian war, cities almost became human. They were treated like people: They were loved or hated, cared for or deserted. They were destroyed with the same passion and for the same reasons as people were killed. And you know that a single man can not destroy or build a city. All he can do is build a house. That's why this destruction of cities seemed unreal. As for objects—for me, an object is too far removed from mystery and too close to the world of utility. Also, an object speaks about being made, while I am interested in the process of making and not in the finished work. When working on a proposal for a show, I always leave myself enough freedom to make various decisions on the spot itself. To me, working out a detailed proposal seems as impossible as knowing the space of a gallery on the basis of its ground plan.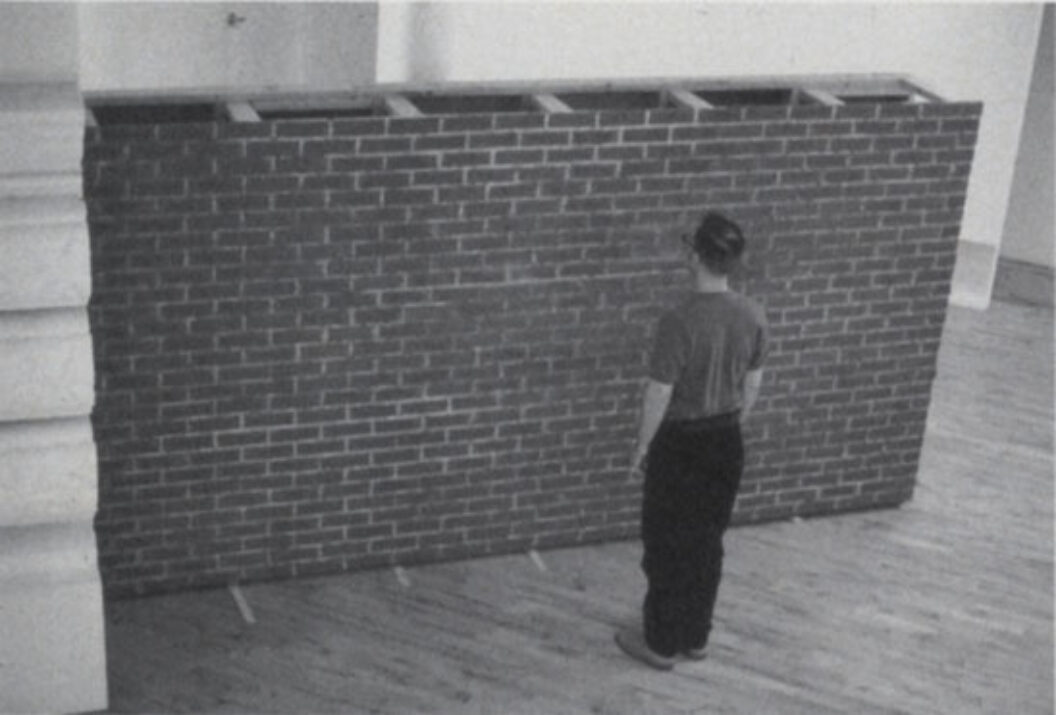 GT You also said once that your sculpture returned to the wall, whence sculpture had emerged in the early Renaissance. And in fact your sculpture is always between the representation of a body and a wall.
MP When talking about her home on the Karst, which had a wall around the courtyard, my grandmother used to say: "Paradise starts at the gate." People like to build walls. There was the Berlin Wall, there are rumors of dividing the city of Jerusalem with a wall, there was talk of a wall in Sarajevo, there is the wall in Derry. Walls are more than piles of building blocks. They divide, and by dividing, they conceal, and there speak of desires. What's behind that wall? The forbidden land or the promised land? Behind the wall there are people I don't like! Over the sea there is the New World! All these walls and places we have dreamed up ourselves.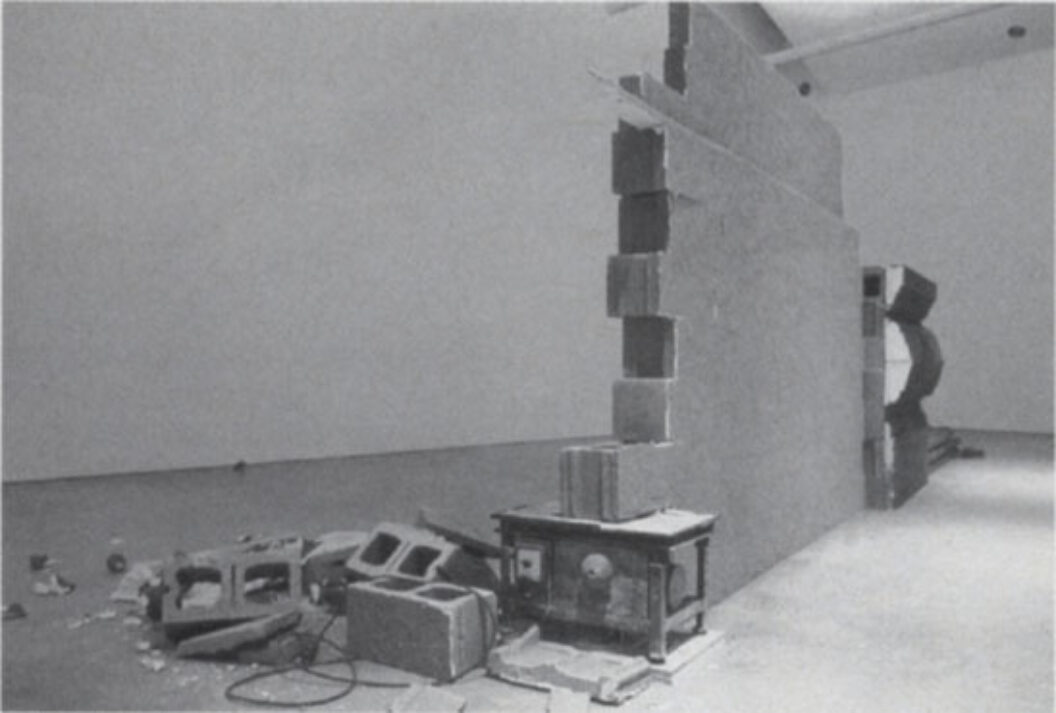 Goran Tomcic is a freelance curator and poet. His poems have appeared in Croatian, Czech, English, Hebrew, and Slovene. Currently he is working on an exhibition of Uri Tzaig's work for the Museum of Modern Art, Ljubljana.
Originally published in
Featuring interviews with Michael Ondaatje, Billy Bob Thornton, Hilton Als, Oumou Sangare, Emmet Gowin, Donald Antrim, Stuart Hall, Marjetica Portč, Miloš Foreman, and David Rabinowitch.