Chilling Artistry: On Mariana Dimópulos's All My Goodbyes by Sarah Blakley-Cartwright​
A novel about new global citizenship, the absurdities of late capitalism, and the unsettling power of silence.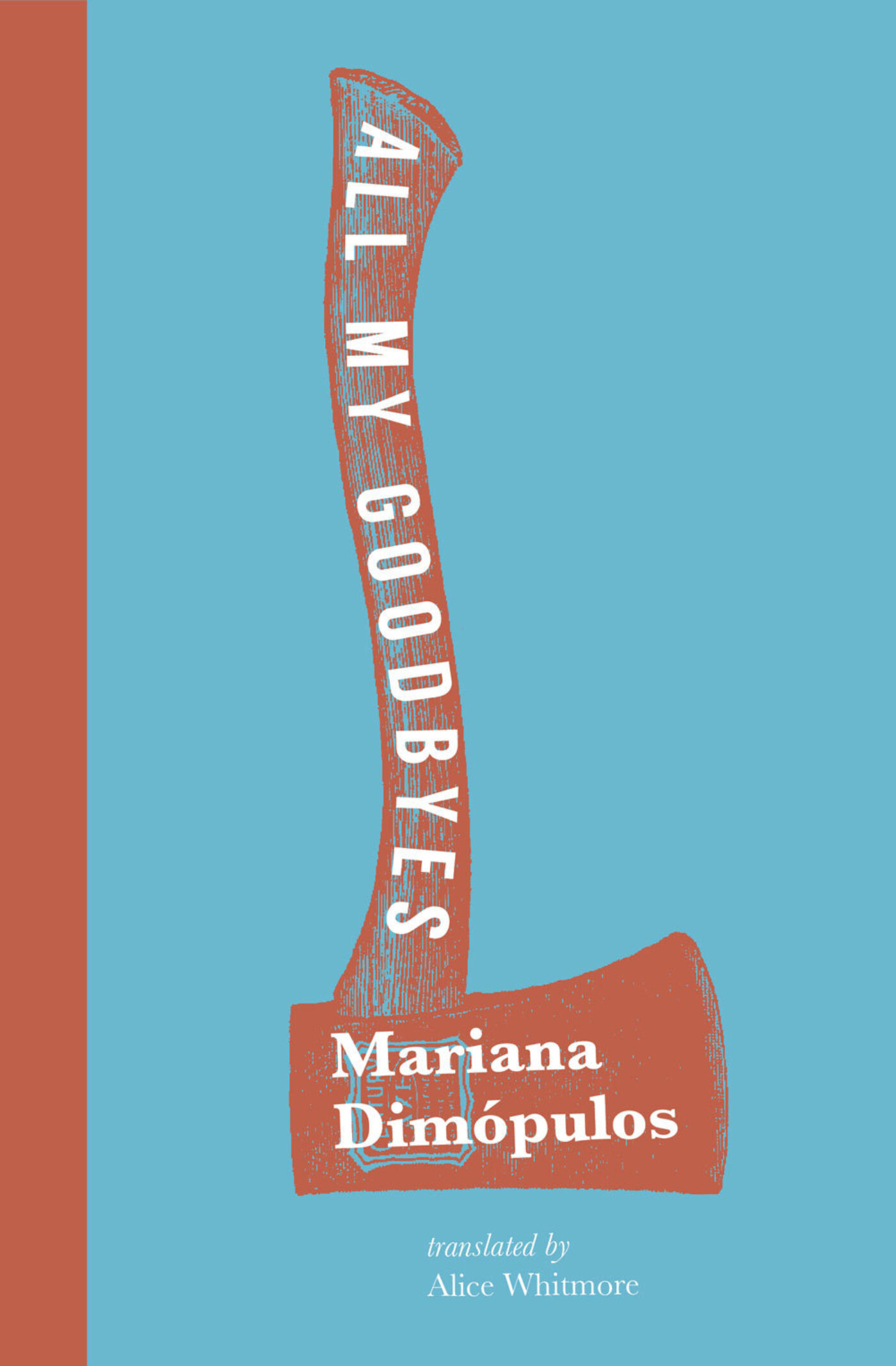 Mariana Dimópulos's remarkable All My Goodbyes (Transit Books), the latest novel in Giramondo's Southern Latitudes series, follows a young Argentinian woman during a decade of departures: from her hometown of Buenos Aires, through Madrid, Almagro, Malaga, Heilbrunn, Heidelberg, Berlin, Patagonia, and finally back to Argentina, where she beholds a murder. Susan Sontag—whose biography Dimópulos translated into Spanish—writes in Styles of Radical Will, "The becoming of man is the history of the exhaustion of his possibilities." One has a sense that Dimópulos's character, too, is trying to exhaust her possibilities.
Even as the narrator stakes claim to a fragile identity—"the raw stock of my being never seemed to cook"—in fact her character comes through fully conceived. She is ambulatory, transient, and receptive. She works as a glass stacker at IKEA and sorts auto-parts at a factory. She is so autonomous that she is impossible to exploit. Working as a baker's assistant, she is only at ease when customers leave, "which was almost never, for it seemed they only entered." She doesn't "understand what the word for is for. Being useful is of no use to me." She is terrifically funny, especially as she catalogues the absurdities of life and leisure under late capitalism.
It is extraordinary to read a book in which no single word is wasted. The brevity of the prose results in a page that is hot to the touch. The novel seems to suggest that if a person stays in any one place, she will get burned. The narrative thread does not advance conventionally, but roams, seemingly unsystematically, as it reexamines earlier occurrences. In writing All My Goodbyes, Dimópulos seems to have taken to heart Walter Benjamin's (another of her translational subjects) remark: "He who seeks to approach his own buried past must conduct himself like a man digging. He must not be afraid to return again and again to the same matter; to scatter it as one scatters earth." The whorling time in the novel is authentic to the expatriated citizen's experience of how the present is often ruptured by undercurrents of the past. The destabilizing sequence of events illuminates Dimópulos's commitment to portraying a new global citizenship characterized by interruption, dispersal, and disruption.
Dimópulos has spoken about the "silence of dictatorship." The impact of military rule in 1980s Argentina on her and her narrator's generation cannot be overstated. While the author does not draw explicit connection between the country's legacy of political violence and the narrator's pilgrimage across Europe, the history of her origin can be detected in what she does not say.
The novel's central plot point, the murder—a word first mentioned on page ninety-nine—is refused pride of place. Rather than front-load the crime (á la such procedural powerhouses as CSI and Law and Order) or reserve it for the climax, Dimópulos stows it away in the middle, where we might never find it again.
And yet, it is never entirely far from mind.
The local newspaper's crime section reveals the murderer to be a "known outlaw," hands cuffed in the accompanying photo. It is reported to have been "a hit… organized in advance." Though the case is plainly stated, somehow, the clarity of the resolution is less than satisfying.
The narrator continues to call the murders "alleged." She explicitly likens them to "all [her] goodbyes," coyly noting that she, too, leaves people for dead. In recounting the events preceding the murder, she records that the victim's "life is at stake and he doesn't know it." The narrator is in possession of the information. The chilling artistry of the sentence lies in the fact that it is not clear when she knows, whether the present tense situates us in the present or the past.
Guy Debord's 1955 term "psychogeography" distinguishes purposeful walking from drifting. The trouble is, it is not clear which she is doing. Is her silence precautionary? As a witness and not an actor, the narrator is irreproachable. As readers, we object to a narrator, especially a woman, who refuses to divulge what she knows; we distrust her reticence.
At one point, an old woman is distraught to find her necklace missing, a string of pearls upon which the narrator has recurrently fixated. The narrator is questioned, to no avail; the white gulf of a scene break engulfs her reply. This silence, and others, exert an unsettling power, an inconclusive verdict we have to live with.
In the final two words of the novel, a character promises to be somewhere "without fail." By this point, we already understand that a promise is senseless, that a sworn pledge is cheap, that failure is ever possible. We already know that this character will never arrive.
Sarah Blakley-Cartwright is a New York Times bestselling author, Associate Editor of A Public Space, and Publishing Director of the Chicago Review of Books.