Marcos Castro and Baris Gokturk by Sabine Russ
Fashioning ersatz artifacts and museological displays, two artists dispense with individual authorship to inhabit the "speculative nature of history" with an eye on the future.

Discover MFA Programs in Art and Writing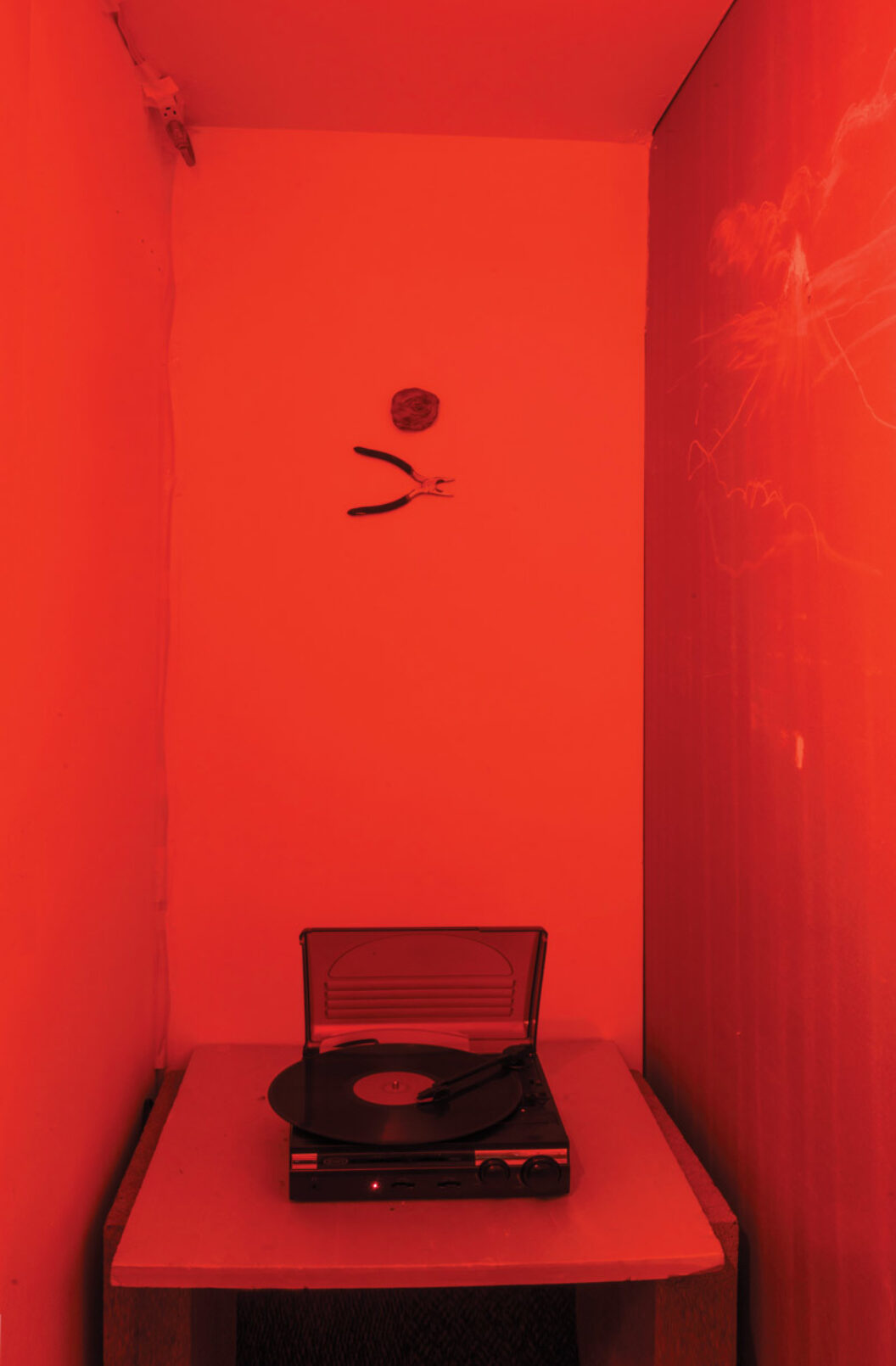 Mexican artist Marcos Castro and Turkish-born, New York-based Baris Gokturk first met in 2016, when they were both in residency at Maine's Skowhegan School of Painting and Sculpture. They quickly discovered their mutual spirit of improvisation and an interest in a productive yielding to circumstances—not only in their object-making but also in community-building. While both separately pursue individual and collective endeavors in the arts, their ongoing creative dialogue has become a vital part of their thinking and has resulted in a string of interconnected projects, which include installations, books, workshops, and activism.
I walked into their sprawling collaborative installation, titled S. Y Su Apocalypsis (S. and His Apocalypse) at the 2018 Spring/Break Art Show in midtown Manhattan and was held captive by the many associations and speculations the work triggered. The presentation—a cross between an archeological dig and an untidy museum display involving numerous artifacts—was irreverent yet assertive, allegorical and humorous, and inversely didactic.
Gokturk and Castro are members of Junte, an arts project and place of gathering in Adjuntas, Puerto Rico. Alongside other artists, with local residents, and under the mentorship of Casa Pueblo of Adjuntas, a self-sustaining environmentalist community organization, they aim to "collectively cultivate culture and reinforce its relevance to politics."
This past summer, Castro flew in from Mexico City and the three of us met at Gokturk's Brooklyn studio to record this conversation.
—Sabine Russ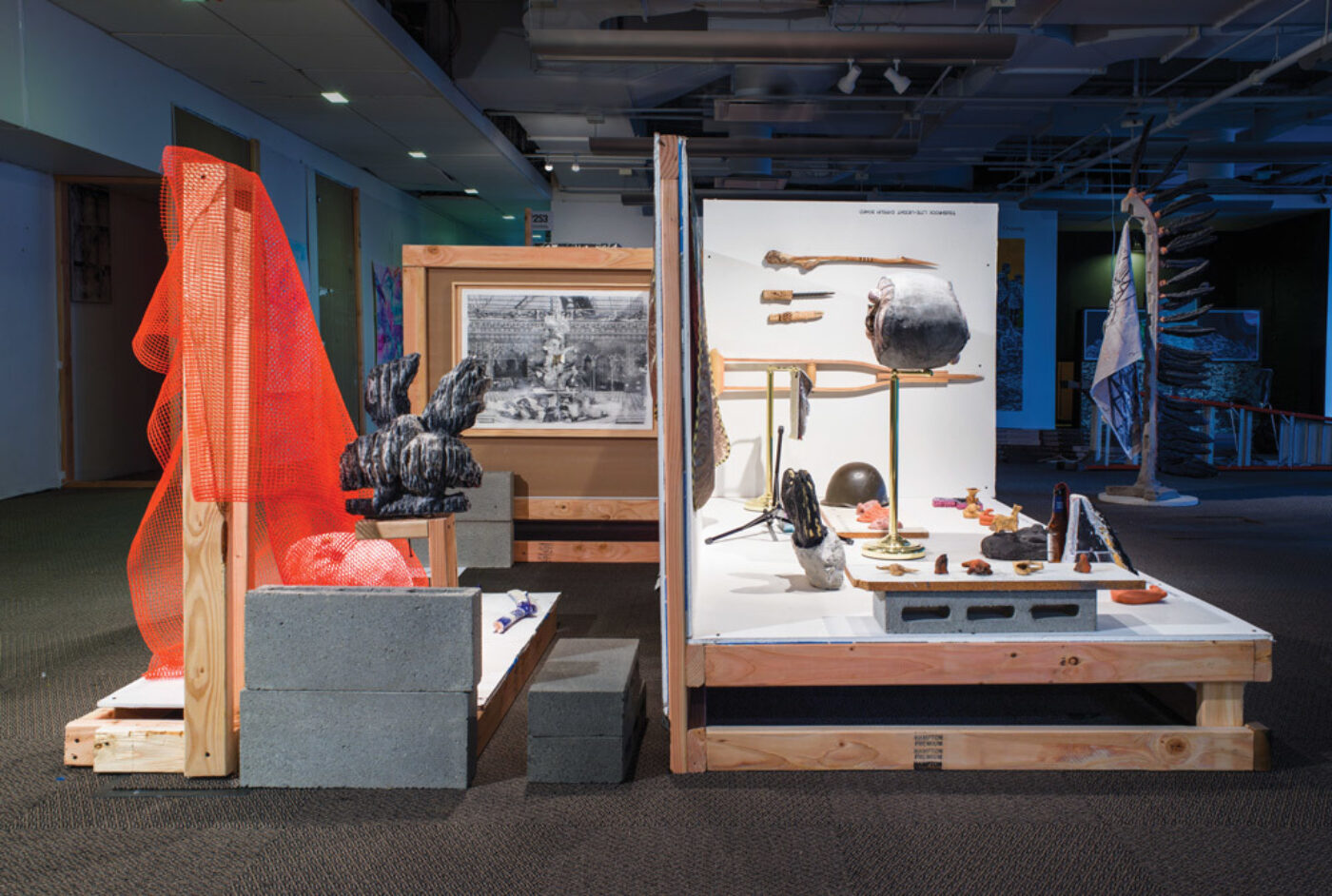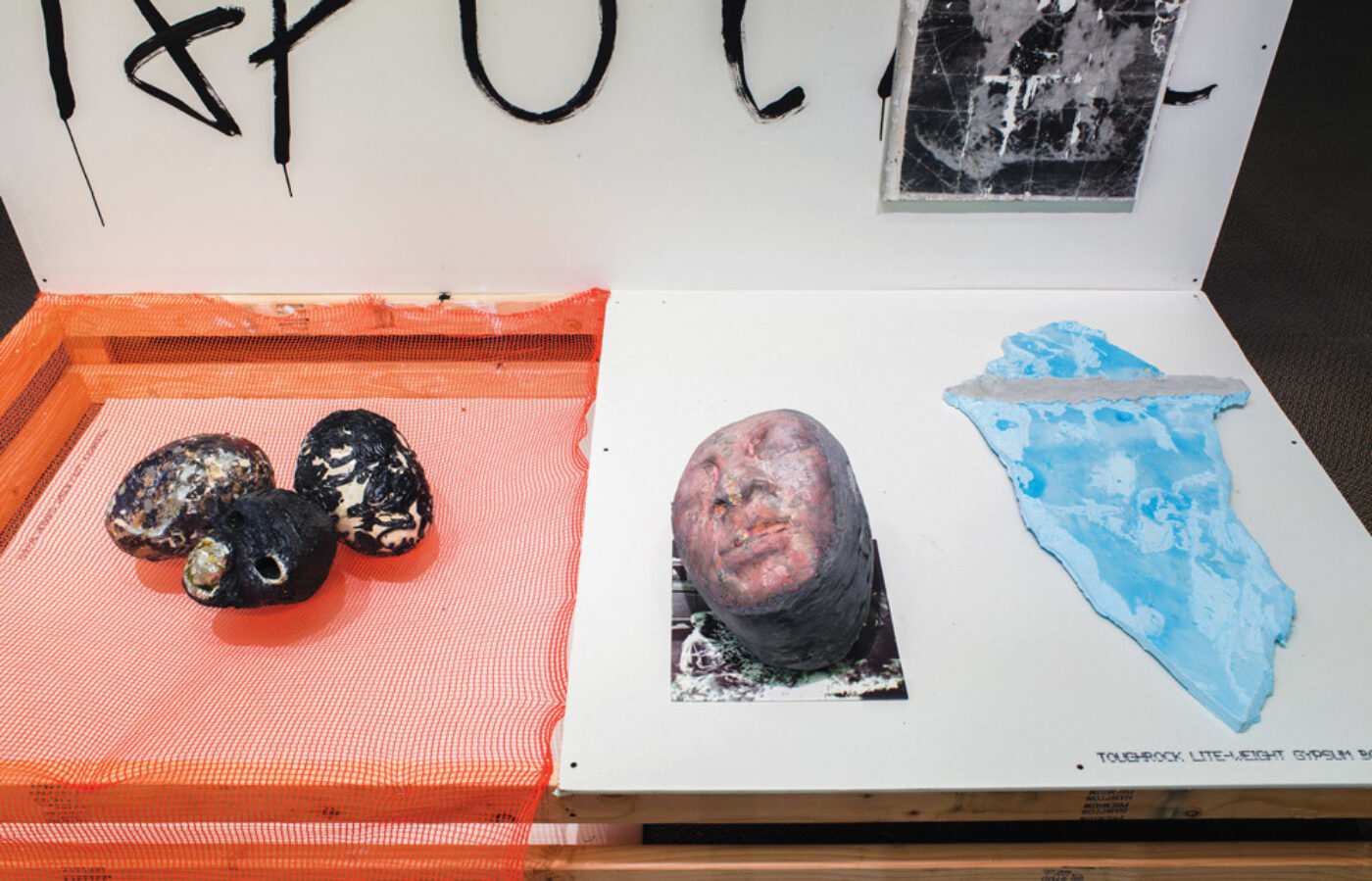 Sabine Russ Was it at Skowhegan that you decided to embark on a collaborative journey? How did it happen?
Marcos Castro We were neighbors. There was an area with several studios called the sculpture yards, and all of us were talking and hanging out there.
Baris GokturkWe were not really supposed to walk into other people's studios without permission. There was this assumption that people want privacy at a residency. Fair enough, but that wasn't how we behaved. Our studios were always open, and Marcos and I were around each other most of the time.
MC I was very interested in the work Baris was making. It seemed related to the stuff I was doing. I remember asking him endless questions because I wanted to learn about the way he thinks. And we found there were all these points of overlap in our approaches.
BG I was making these double-sided heads out of clay, cement, and photographic prints, and you were making tools out of found pieces of wood. A few works from that time ended up being part of our installation in the Spring/Break show this year.
SR You didn't reveal authorship for any of the objects displayed in the installation. That's telling in a time when we talk so much about individual authorship and identity in the art world. Beyond lacking information about the maker, the objects—which you presented like found artifacts—were also culturally misleading, or at least confusing. They were hybrids of the ancient and the new, the sacred and the mundane, the here and the there. Even the materials didn't always make sense for the alleged function of an object, like a tool made of blue-painted porcelain, rendering it basically useless.
Without any hints to a maker or time and place of origin—all of which would be disclosed in a museum, or in an art gallery for that matter—one finds oneself in a void of references. It's disorienting yet there was something very liberating about it. How did you decide to "throw" your works together this way?
BG We never considered labeling any of the works individually. It has been the same with all our collaborations. I have to go a bit further back to explain how we started collaborating. Before Skowhegan, I went to an ecological residency organized by Casa Pueblo de Adjuntas in Puerto Rico. It's in the middle of the jungle and they usually invite scientists who study the rain forest. I proposed doing plein-air paintings in the forest at night, in the dark. It was about seeing and not seeing at the same time, about what type of seeing occurs in the darkness, physiologically, and politically. I thought about it in the context of Goya—the monsters of the mind, the darkness inside meeting the darkness outside. I expected the jungle to be this threatening environment, but it's actually a very joyful place, especially at night—birds are singing, bugs are humming; it's like a party with all kinds of noises. And I loved it.
The plot next to the forest reserve eventually became available and they wanted someone they knew to have that land. They asked me because they had seen how happy I was there, so I got the land. Recently, they passed an exploitative law in Puerto Rico that encourages foreigners to buy land there—a fiscal measure to deal with the dire financial state of the island. My purchase didn't take advantage of that law.
Anyway, in 2016 I arrived in Skowhegan in this strange position of owning a piece of forest in Puerto Rico. I don't believe in property and knew I wasn't going to build a home there and retire or something. I wanted to use the land for art and education, but my ideas were vague. I talked about this with people at the residency, and eventually sent an email around inviting others to come up with responses to my proposal. In the end, there were eight of us who got together. So Marcos and I started working on that project and that's how I learned he was already doing something similar in Mexico with Obrera Centro, which is an artist-run, community-based space. They don't show individual artists' work; it's not about authorship but about activating something bigger than that.
MC Exactly. Obrera Centro is very flexible. We only have a couple of rules: we don't make exhibitions and we don't show my work or my partner's. The two of us are just running the space, which is for the community, not us. We generate and disseminate cultural projects that can come from any discipline—visual arts, music, design, theater, education, cinema, and gastronomy. It's about building community. We've done events like Artists' Assembly, Slow-Dance, Open Rehearsal, Mantra, as well as ping-pong tournaments, a project lodge, cocktail parties, and a lot more.
What I was doing with Obrera Centro in Mexico City and what Baris had in mind with the land in Puerto Rico were related. I was very excited to get involved, also because it's in the jungle!
SR For both spaces, the proposition is openness and communication.
BG Yeah. What attracted me to having the space in Puerto Rico was that it was a physical location but also an idea that we could mold into reality. After that email, the eight of us started thinking about the first step. We called it Junte, which in Puerto Rican slang means a "get together." We agreed we should make a meeting structure first. We thought of building something where you can sit or convene around a table or fireplace, and then that evolved into a dance platform. Music and dance allow us to get together in a corporal and emotional way instead of only an intellectual and rational way. Also, Puerto Rico has such a strong music culture. Songs are means of communication and oral history. So we built this dance floor.
SR And the public can just come and participate?
BG Yeah, the first event included people who read poetry, others who played music, and there was a birthday party for a twelve-year-old, and so on.
MC And we had a workshop for kids where we used the red clay from the soil. We first did some tests with the clay, making small objects, some of which became part of the show you saw.
BG We also organized events with the local Casa Pueblo music school—for instance, a parranda for which we designed costumes. Parrandas are traditional Puerto Rican music festivals; in Spanish they are called asaltos, "assaults," and they usually happen at night and last into the wee hours. We also were invited to do a special project for Mecca, the Puerto Rican art fair. We did what we called "the haircut conversations." The University of Puerto Rico had been on strike for three months, so we collaborated with this barber collective inside the university barricade. We set up haircuts with the condition that the barber and the client chatted about the future of the island—what could happen, what should happen in Puerto Rico? We recorded these conversations and made a video from them.
MC That's the impetus for our other pieces, too: we want to have conversations about the future. And that includes the question of what future generations will make of us. How will the stuff we are leaving behind be seen, in an archeological way?
SR I like how you employ these traditional ways of getting people to talk and communicate, like at the barber or on the dance floor. Rather than setting up an artificial interactive situation, you utilize already existing convention. I first came to your work by seeing your installation, but I got a sense of a larger communal effort although I couldn't really decipher it. So it's fascinating to hear how all these projects come from a place of interaction but also custom, perhaps even ritual.
MC When we started Junte, we spoke a lot about how we wanted to just let things flow. We don't have plans for what happens.
BG Right, we wanted the idea of connectivity or communication to circulate as energy. Coming back to what you said about authorship, I think when you collaborate, you have to release ideas and float them in the air until they take shape. It's allowing something to grow like a plant. Junte took shape as a platform. It's a symbolic idea but also a concrete and literal thing.
Both Marcos and I are invested in the process of ideas taking physical shape as objects. Objects moving from an abstract level to a concrete level. Tools becoming weapons that then become decorated artifacts. And then there's the notion of how archaeological ruins are half in the past and half in the present. It's about the transient nature of things—the shift from one to the other. And then there's coincidence and discovery. When we started building the platform, we cleared an area in the forest and this red clay came off the land. It was an amazing material to work with—we used it for the platform itself and then Marcos made these clay figurines, which we fired. We were shifting and changing things all the time and molding our ideas to the situation we were living.
From: baris gokturk
barisgokturk@yahoo.com
Sent: Wednesday, August 24, 2016 7:20 PM
Subject: A Place
Dear all,
You are receiving this email because this is something we already talked about and you showed interest. There is also a small chance that we did not talk about this at all; yet, I had imaginary conversations with you in my own head and I know you are the right person to reach out to.
So what is it? It is about place as idea. But I should be more concrete. Some facts first: I recently acquired a piece of land (property is theft-Proudhon) in the central, mountainous part of Puerto Rico. It is six acres of rain forest on a slope on the sides of a mountaintop. I did this because of my previous experiences there in the rain forest (in 2014 I spent a month in the forest, painting plein- air paintings in the night) as well as my previous collaboration with and admiration of a nearby institution, Casa Pueblo (http://casapueblo.org/)
What is next? I have ideas but I want to ask you for your ideas. I want to ask you to imagine. I would like you to imagine place as nature, as architecture and as social space. Imagine it as an organic structure with interconnected parts that fit the way you see them fit: A good gestalt. How do you imagine an ideal space and people in it, around it, bound to it? How do you imagine people as space and vice-versa? What is the relationship, how should it be?
I've been thinking about these things myself. I've thought about doing an informal residency, a school of sorts, an open space for artistic pursuit and social interaction, a place for positive change. The conditions on the ground, the climate, the cost, the mind and need of people, all of that matters immensely, however I would simply like to start by reaching out to you and ask you to propose, to think together, to imagine a place together.
A place that is, a place that does, a place that is worth having in this world at this moment. A good place.
What do you think of the artist residency industrial complex? Some of you already did similar projects in the past, some are still working within organizations with similar aspirations. Tell me what you've learned. Anything and everything helps.
And then back to a more concrete plan. I would like to make the first move on the land this winter with a group of interested friends. This first gesture could come in form of a tiny house as a station for future thinking or could simply be a hole in the ground. This first gesture, in contrast to my work in other places, does not have to come in form of an upward erection. It can be as negative, as positive and as lateral as vertical. Until winter I will be studying possibilities and hopefully work collectively with interested parties like yourselves in developing a collective mind-set about an ideal and a working plan. Then comes winter and you want to join me there, let's figure that out also.
I am attaching three pictures. It is five minutes drive up on the mountains from a small town called Adjuntas. It has a road, water, and electricity. Most of the land however is currently accessible only by machete. But never mind that for now. First, let's imagine and share. Again, anything and everything helps.
Much love and appreciation to all of you,
Baris
A little additional personal story:
My grandfather was a poor village child in rural Turkey in 1940s. He was also one of the first students of "Koy Enstituleri" (Village Institutes:https://en. wikipedia.org/wiki/Village_ Institutes) a revolutionary educational project of the newly formed Turkish Republic. The idea was to establish schools in the rural heartland and educate poor rural children in modern agriculture, as well as in art, music, literature, and philosophy in their own village. The aim was then to turn these poor children into teachers who stayed on in their villages instead of migrating to big cities and teach the younger generations with the same vigor.
This project turned my grandfather, who had little to no prospect of any education, into one of the first modern beekeepers in the country, as well as a school teacher, a musician, and an avid consumer of art and literature. It also created a generation of initially poor village boys and girls who continued onto become teachers, poets, artists, and people who could work the land all the same.
Soon enough, Village Institutes were accused by conservative and religious circles in the country for being anti-traditional, pro-Soviet, for breeding communists and atheists. With the support and encouragement of United States, they were closed in 1954 for being Marxist and therefore dangerous to the constitution of the Turkish state.
People who were lucky enough to come across any graduate of these schools, like my grandfather, knew well what these schools were capable of achieving and how they were sacrificed for fear of an education based on enlightenment ideals as opposed to conservative and religious indoctrination.
MC I get very inspired by a location. In Mexico, we have this omnipresent history of ancient cultures. If you dig a hole in the ground, you're going to find something. There is speculation about what is found, leading to stories and legends, but we don't really know much about these cultures. I'm making objects thinking about how they might be looked at by future archeologists.

SRIs there an irony in there? In your installation I got a sense of you mocking our reverence for and reliance on our told histories. Often, those stories are invented by the winners. Obviously, colonialist history is the most glaring example. You're making up artifacts that might be dug out in a few hundred or even thousand years from now, and people will be puzzling over them. As viewers of these objects now, we become time travelers in a way. I was asking myself, What are we doing with all these objects and artifacts we amass, put into museums, and assign meaning to? Are they bringing us closer together or driving us further apart as we put them on their cultural "shelves"?
Your installation mashed everything up—the insinuated references to historical era, location, and tradition. What's from Turkey could also be from Mexico, and I couldn't really pin anything down.
BGWhen I met Marcos, I was interested in the fact that he was making tools and inventing artifacts. My point of entry was the power of myth and storytelling. Stories lead us in many directions. So the artifacts almost became keys or portals or activators for these narratives. And like you said, a historical narrative is constructed by the winners. There's something appealing from an artist's perspective because you can enter that narrative, reorganize it, and open it up to something less fixed and more hypothetical. What brought us together is the recognition of the speculative nature of history and then, in turn, participation in that speculation.
MCIn Mexico, for example, the notion of national and cultural identity is very effective. It's an identity created by the state. People are proud of their history; they think they come from the Aztecs or were ancient warriors. In the beginning of the last century, there was this boom of archaeology and they were restoring the pyramids with this idea of a great empire. All the archaeological sites of that time are reconstructed with that false notion of magnificence. It's like Disneyland. At the same time there's a lot of racism toward the aboriginal people of Mexico. It's a moral double bind.
I use the same tools for the construction of history, with an eye on the future. I change things a little to create confusion. In this particular project, we were thinking of a postapocalyptic future.
BGThe artifacts in S. Y Su Apocalipsis were from the past as well as from the potential past of a future. All these objects and fragments speaking of different histories and coming together in this display, was a kind of apocalypse of stories. We are thinking about apocalypse not as an end but as a beginning. S. and His Apocalypse was the first installation. For the next project, our working title is L. and Her Powers. Marcos has a seven-year-old daughter, Luciana. He showed me a list of things she wanted for Christmas: a bike, a doll and, at the very end, she wrote "powers." We thought it was really powerful that she asked for super powers. She also made a drawing of three kings and one of them was a dinosaur. So it's her speculative version of that speculative character. In working with Luciana, the idea is to generate hope and create—I don't mean to sound too lofty—something fruitful that can grow human experience. Like the rise of a new reality through the imagination of a child. So if this recent work was about apocalypses, the project with Luciana is about a new beginning. In a nutshell: Luciana saves the world. (laughter)
SRYou might not want to tell her that.
BGNo one knows yet what shape this project will take. Maybe it will be a comic book. We've been making small books, like the ones for the Junte project. We made one in 2017 after the two earthquakes in Mexico and hurricanes Irma and Maria in Puerto Rico. These disasters pointed to failures in the political infrastructure. Last year we did a performance event at Socrates Sculpture Park in Queens about how communities can work together to solve post-disaster problems. It shouldn't be this way, but in both Mexico and Puerto Rico it was indeed more effective for people to help each other than to wait for the state or governing authority to arrive—because they didn't.
MCI often draw with Luciana. Recently, we started a face and she turned it upside down. I said, "No, it's not like that," but she insisted and created a whole environment around it.
BGWe all walk into these traps of education where we're molded to a certain way of thinking within the economic system and all these things we're expected to participate in. At her age, Luciana's been exposed to that, but there's still a genuine ability to create without certain constraints in her thinking and drawing.
SRThere was an educational aspect to your installation. Museological displays are there to teach us something, but your artifacts almost function as a reverse instruction because they seem to ask that we unlearn what we know. Luciana's upside-down idea fits into that. We tend to move in the same direction in most of what we do, and that often proves to be wrong. It's important to stop our habitual and conditioned thinking once in a while and consider things from another perspective. The work in your archeological/museum display had that topsy-turvy feel to it.
MCYeah, this is also what's so refreshing about collaborating with others. When Baris and I started placing the objects we made next to each other, setting them up in a different way, it changed their meaning. We created a game, playing with our own artwork.
BGAnd now we have a few instances where there are recurring themes or symbolism in both of our works. For instance, as a counterweight to the cut-off heads I'd made, I've been working with this mermaid tail and Marcos made a drawing of that.
SRWhen I saw these large heads in your installation, I thought they could only be Marcos's because he hails from the territory of Olmec colossal heads. (laughter) When I found out they're actually Baris's sculptures, I caught myself on the track of narrow possessive thinking—this is your history, this is my history, etcetera.
MCThe first time I saw these sculptures I thought that, too. They feel so—not Mexican, but familiar.
BGI think a lot about fragmentation. For me the notion of a fragment is associated with speculation or partial understanding of something. So whenever we engage in communication, I think it results in a partial understanding. Going with these fragments in our display gave us room to speculate, without trying to explain or come up with a narrative. And that's why we presented the fragments like in an archaeological dig. We're piecing it together. There's no grand story.
MCIf suddenly we collapsed here, and were dead and done, and people found the objects left in this room, they would be looking at this thing (lifts iPhone) next to that thing (grabs a clay figurine)—which is actually something from the past found in Mexico.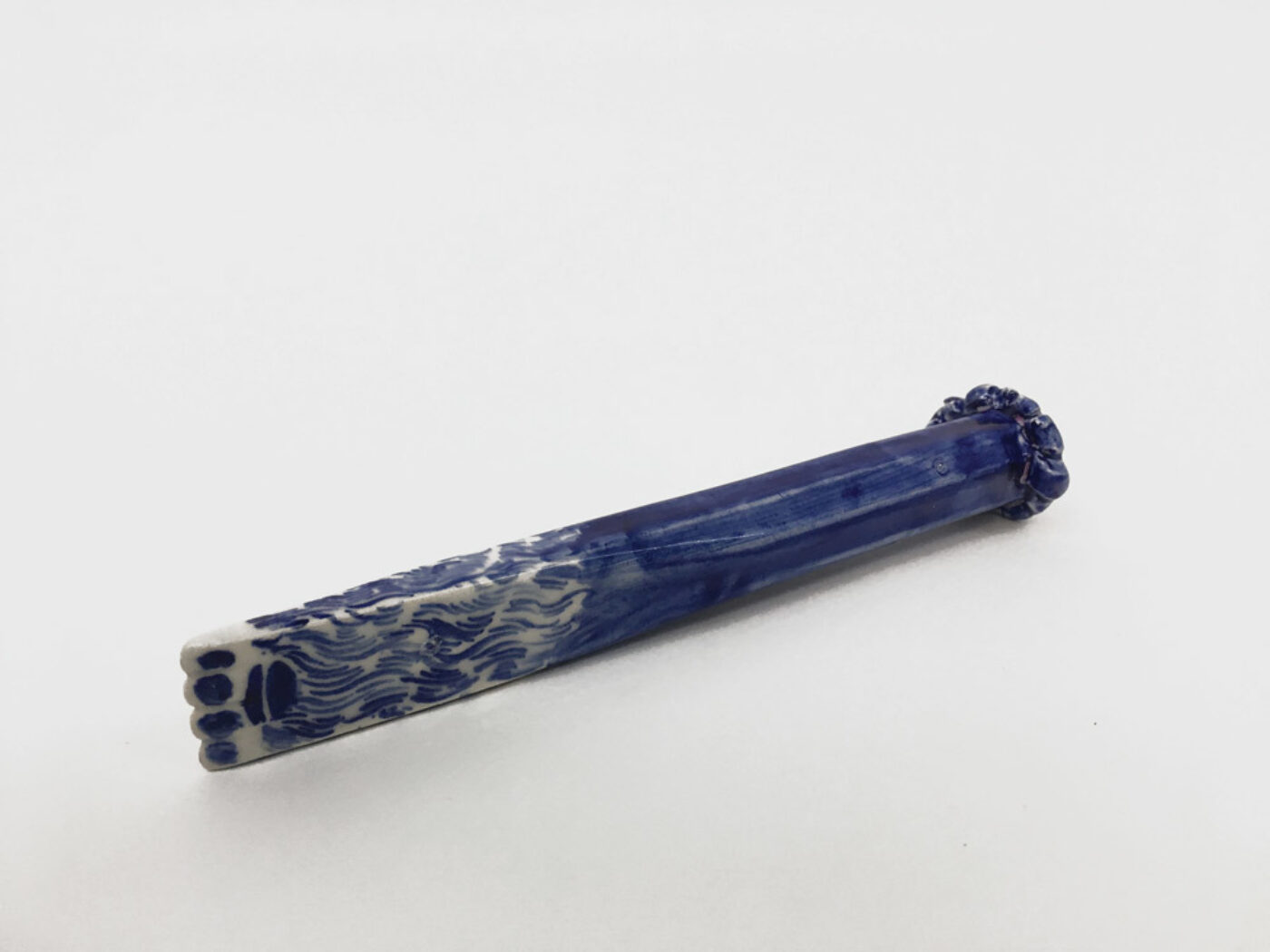 SR If you look at history in a linear way, they don't belong together. But if they are dug out from one deep hole, they do belong, in a vertical way, perhaps.
Both of you often use imagery from the natural world—animals and volcanoes, for example. Do these elements derive from stories or result from observation?
MC I was interested in talking about archetypes and, in a larger sense, the human condition through elements of nature, so I started making up these legends involving animals. I also looked into local legends in Mexico where animals symbolize specific things. What we're doing together is similar, in terms of inventing a world or fake history. But we're using the same tools and displays as in historical research.
BG I used to mainly work with political history. The heads mentioned earlier are Robespierre heads—from the French revolution. What drew me to Marcos's work was that he was engaging these larger ideas by involving myth and folk elements, which are a more accessible universal language. That inspired me because I didn't have animals or nature in my work. So I started working with fairytale elements, like the mermaid, to counter the grim historical-fact narratives I was dealing with. Next to the beheaded Robespierre there was now the mermaid who was suffering another kind of amputation or castration.
MC I often bring specific Mexican iconography into my work but then try to erase that identity in various ways. Two years ago, I did an intervention with light on a historical mural in Mexico. I wasn't allowed to touch the actual mural, so I projected an animation with a snake and an eagle onto the depicted scene (which had to do with anarchy) and made my own version of the historical event. It was a subtle way of intervening, but it changed the painted story.
BG You activated that narrative image, which suggests that history is not a thing of the past. It's happening now too.
MC And as we said earlier, history was written by the winners. Where is the truth, really? We don't know.
SR Let's talk about another part of the installation: the orange-lit, narrow tunnel with the volcano drawing on the wall and the turntable. When I was in there, the record was at its end, making scratchy sounds, which, next to the volcano image, I associated with seismic noise. The two objects pinned up above the record player—a pair of pliers and a small clay ring—suggested that the top of a miniature volcano had just been cut off. That's how I told myself a story "reading" the different components in that room.
BG Actually, there were three sound variations: silence, the record playing, or the needle just scratching the vinyl. The viewers could make that choice. The album is by Rage Against The Machine.
MC This part of the project came about unexpectedly while we were preparing this installation in the studio. We talked constantly while working and at some point, speaking about the music we listened to as teenagers, we learned we were into Rage Against The Machine at exactly the same age.
BG This was 1999, during the World Trade Organization protests, when people were out on the street in Seattle. The band was very involved in these protests and all their music had a political edge. This was an important radical grassroots moment, just as Occupy Wall Street was. We move on from these moments, but they are historic, even revolutionary. Making this piece was an exercise in memory for us. We were also looking at our adolescence, a time when we felt we could change things in the world.
MC We thought about that energy and what was representative of that time. We both had listened to this record hundreds of times.
BG When we get older, we tend to reflect more. Things take more time and our impulses slow down. It was important to acknowledge the urgent energy from that time—it's still relevant and around, waiting to erupt.
SR There was definitely a sense of alarm, of pending upheaval, potential change, or seismic shift in that orange tunnel.
BG It was important to have both—the silence of the record simply rotating and the option to stop the silence and start over, playing these songs of political protest. Putting things in motion again, making a revolution, so to speak.
SR What about the clay ring and the pliers above the turntable?
BG These two objects were actually our very first collaboration. Marcos made this spiritual object out of clay—kind of an eye, seeing far. And I added the tool. For us it was the expression of idea and action. This has become so loaded for me over time. I now want to get a tattoo of it. Marcos learned how to do tattoos at Skowhegan.
MC I first tattooed a moon on my own arm, and then I made this key in Puerto Rico. (shows both tattoos)
BG This is the key to Junte. We then made clay keys to give to everyone involved in the project. Symbolic keys from the land's red clay.
SR What's happening there next?
BG It's open. Anyone can go and use the space. During Hurricane Maria the road to the project collapsed. The entire neighborhood got cut off. So last January, three of us got together with the community to plan an effort to rebuild the road. That's what we're working on right now.
If you see pictures of the damage, it's shocking. We'd already been thinking how to reside respectfully alongside people who live there permanently, and trying to build a road together has become this really big thing. We've been holding meetings at our platform. The platform was meant to be a place of performative gesture, but it's now used to collect signatures for petitions. Everything feels poetic and political at the same time. I'm going there next week to have a second meeting with FEMA.
SR As someone from Turkey, how come you speak Spanish so well?
BG In 1999, I spent some time in Puerto Rico as an exchange student, where I learned the language. After the hurricane, I was thrown into this intense meeting about engineering, local politics, and the demands of daily life on the island. I had to somehow prove my worth as a fellow resident and participant but also not take up too much space. I was talking in Spanish about concrete and all kinds of construction details—I don't even know these words in English—and I was probably not making much sense. But I felt they were respecting that I at least acted as if I was making sense. And they were like, Okay, let him speak. Once the meeting was over I felt I was going to pass out from the overload. But in the end, I knew we were working on something big together and there's a lot at stake. The road has not been rebuilt yet; they created a temporary solution, which is the history of Puerto Rico in the last century—temporary patches!
MC Discussing and questioning our presence there, we all agreed to be facilitators first: let's make a platform that others can take over. Let's facilitate conversation.
SR Who are the other artists in the group?
BG We have a Puerto Rican member from the Bronx, one from Florida, one from Lebanon* and we are constantly discussing how we, showing up from somewhere else, can make this work in an organic way. We haven't established rules; we've just trusted each other's integrity.
SR It's a somewhat similar process and effort to when the two of you work together. Leaning in, listening to each other, and responding to the situation you're in. With Junte you are applying art to community, to daily life and its struggles.
BG It's interesting to see how meaning can move from making objects to these larger gestures. For both of us it's been a lot about recognizing situations and trying to work with them. Archeology is connected to that. You are looking in order to find.
MC These collaborations, with Baris, with Junte, and with Obrera in Mexico City, are very important. We're also playing, having fun, working in a way that's free. I think that's how art is meant to be practiced, rather than chasing after ideals like commodification, money, and success.
BG That's where we need Luciana's help to move forward, because she doesn't care about any of that yet. All the different collaborations I have done with Marcos have been incredibly freeing for me, an exercise in letting go. We don't know what shape the next chapter of our working together will take, but we trust that what we share is essential, and most importantly, we trust this process.
*Current members of Junte include: Angeli Velez, Elle Perez, Ian Miles Gerson, Melanie McLain, Noah Garcia, Omar Mismar, Oscar Rene Cornejo, Hernando Dorvillier, and Eunice Mabel Santana.
Sabine Russ is BOMB's senior editor. 
Originally published in
In the process of putting together each new issue of BOMB, we often come across distinct resonances between interviews—shared themes, creative preoccupations, and even specific phrases crop up time and again within otherwise disparate features. In these pages, artists discuss their expansive notions on collaboration. Their practices tend to split, reapportion, or redefine authorship, privileging process over individual intention and encouraging unique partnerships with spectators, local communities, film subjects, and one another. These willful acts of reaching out and beyond are as vital as ever, and worth emphasizing here.