Many Silenced Histories: Alicia Grullón Interviewed by Louis Bury
A photographic practice examining the relationship between art and politics.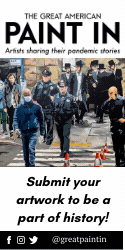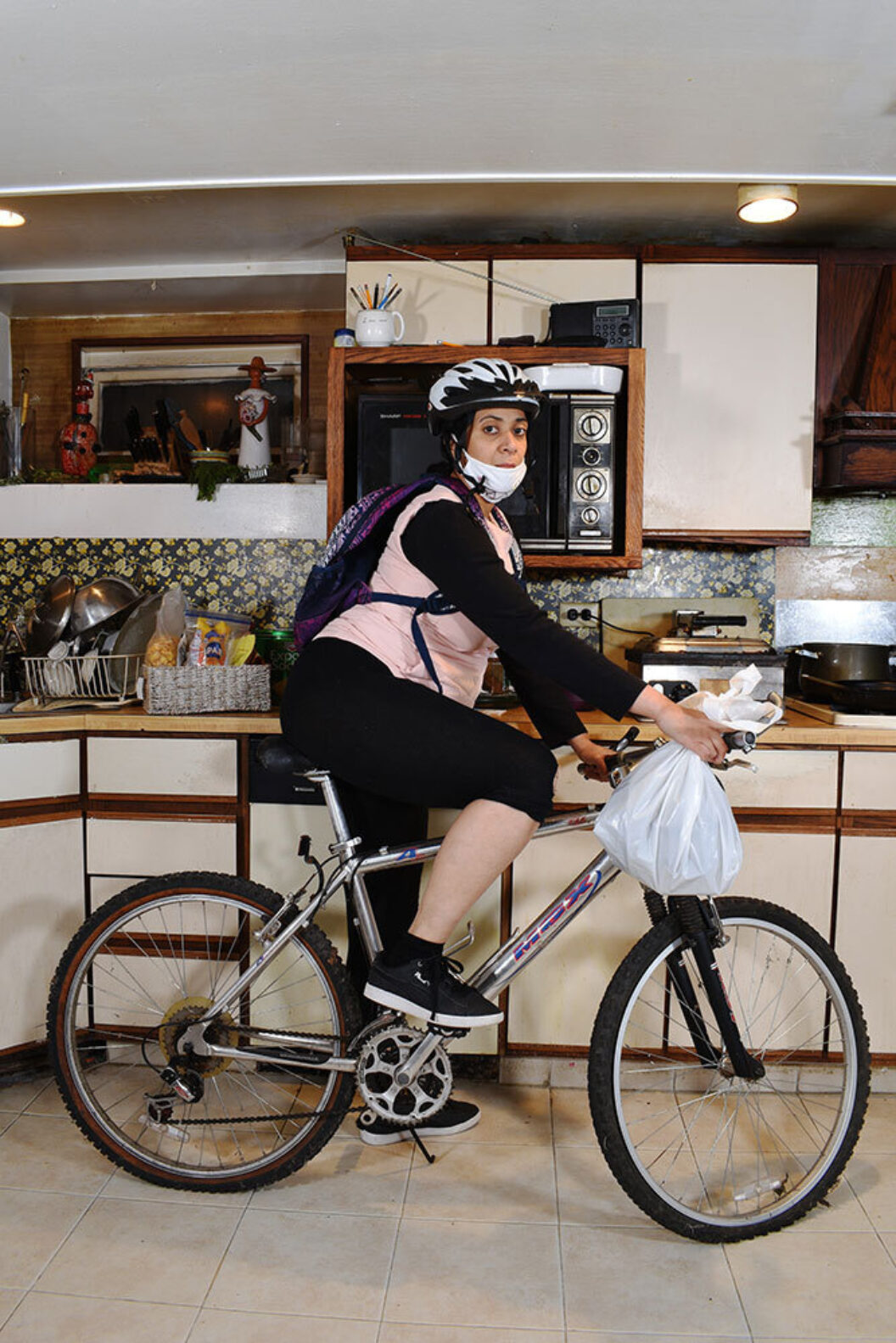 During the early months of the COVID-19 pandemic in the United States, Alicia Grullón took an ingenious series of self-portraits, March to June: At Home with Essential Workers (2020). The photographs depict Grullón attired in the workwear of so-called essential workers, set in rooms throughout her Bronx home. In April 28, 2020, for example, she sits poised atop a bicycle in her kitchen, clad in delivery person's gear. April 14, 2020 portrays her wearing hospital scrubs next to a cat on a beige loveseat. But it's a small recurring detail that renders the costume and set changes especially powerful: the artist's eyes. The protective face masks her characters wear call attention to gazes that are by turns wary, upbeat, disaffected, defiant. These searching looks confront the viewer with the injustice of a society that values BIPOC workers' labor more than their lives.
Similar themes and approaches have long formed a key tendency in Grullón's artwork. In photographs, films, and performances, she has staged or participated in numerous historical reenactments, from Revolutionary War battles (Battle of Brooklyn [2018]) to nineteenth- and twentieth-century ethnographic photographs (Becoming Myth: An Auto-ethnographic Study [2005]). While these re-created scenarios often contain substantial differences from Grullón's own subject position, the artworks have been designed to emphasize, rather than downplay or elide, those differences. It is a sensitive, self-aware approach that deserves greater prominence in the ongoing critical conversations about the ethics of representing cultures or lives different from your own.
—Louis Bury
Louis Bury Where does your interest in ethnography come from?
Alicia Grullón I became interested in it through photography. In graduate school, I spent a lot of time looking at nineteenth- and early twentieth-century ethnographic photographs, particularly carte de visites and images of historical events. Ethnographic photography was a colonialist tool for categorizing humans, plants, and animals, producing the "proof" that Caucasians were superior. Many of these images were staged to justify the enslavement of African people and the theft of Indigenous land, which allowed the rising middle class to consider themselves more human according to the logic of racial categorization.
LB How do these considerations manifest in your work?
AG For my photograph series Becoming Myth: An Auto-ethnographic Study, I explored aspects of my identity's creation by restaging ethnographic images in my contemporary environment and time. The images made me realize how the history of photography defined my identity in ways beyond my own control. When I was growing up, photographic images reinforced in me an assimilationist, internalized racism. Today, I have a greater sense of agency. I use my work, as well as my historical knowledge, to self-determine how I want to be identified, while honoring the many silenced histories that form my experience.
LB Can you talk about these concerns with respect to your historical reenactments?
AG Through reenactments, I crash into unfamiliar circumstances. I say "crash" because the roles are vastly different from my own experiences. Take Filibuster #1 (Wendy Davis) (2016) in which I reenact an upper-middle-class white female senator's filibuster to try to stop Texas's abortion ban. Inserting myself into that situation (I embody the situation, not the person) felt like a way to undo colonial thinking and its racist, quotidian metaphors. As a woman of color, talking about reproductive rights conjures histories of forced sterilization, medical experimentation, family separations, job scarcity, and lack of healthcare access.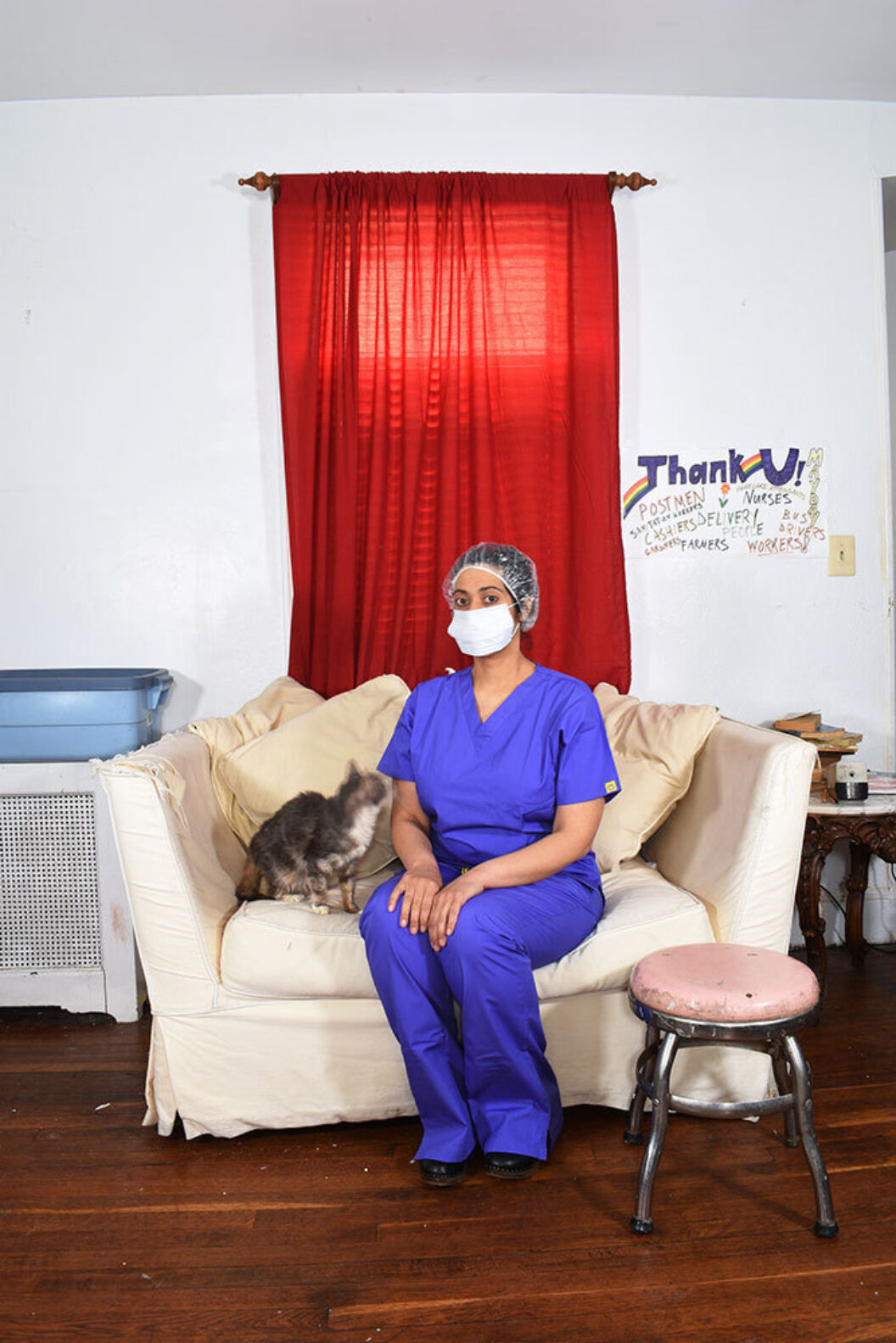 LB How is March to June: At Home with Essential Workers related to other work of yours in this vein?
AG The pandemic context might seem superficially different, but colonialism's underlying legacy remains. Many essential workers are BIPOC working-class people whose lives are not normally considered essential. As Saidiya Hartman notes in a recent interview for Artforum, that labor maintains the economic privileges and psychic lives of whiteness. March to June resulted from me asking myself how I can get others to recognize that essential worker's lives are more important than their work. You would think the coronavirus pandemic would be an equalizer, because anybody can die from it, but colonial thinking persists.
LB What do you understand as the relationship between art and politics?
AG In both art and politics, communication is central and the audience is the people. When art or politics serves the market, I feel they stop belonging to the people and become part of a power exchange. The guiding force for my own art and activism is history: What is the world I come from, and what is the world I want to imagine and work toward?
LB What are the similarities or differences between activist organizing and social-practice art?
AG One difference is that art is funded and organizing isn't. Another is that art has the choice to end. Activism only ends because its campaigns have been won or disrupted. Social-practice art can't take the place of activism and organizing. It can't take the place of social services or educational programs. However, when its intentions are genuine, it can be done with similar care, passion, and hope as activism.
LB Those are such great points, particularly about the element of choice involved.
AG Many of the best social-practice projects are successful because they didn't start out as social-practice projects. They began in service to a community impacted by inequity and grew into something else. A good example is Houston's Project Row Houses, still going strong decades after its creation. Debbie Lou Reynolds's Tamms Year Ten, a volunteer coalition that persuaded Illinois legislators to close Tamms supermax prison, is another example of successful grassroots artistic organizing. That's what influences my own projects: how can I be of service to the community.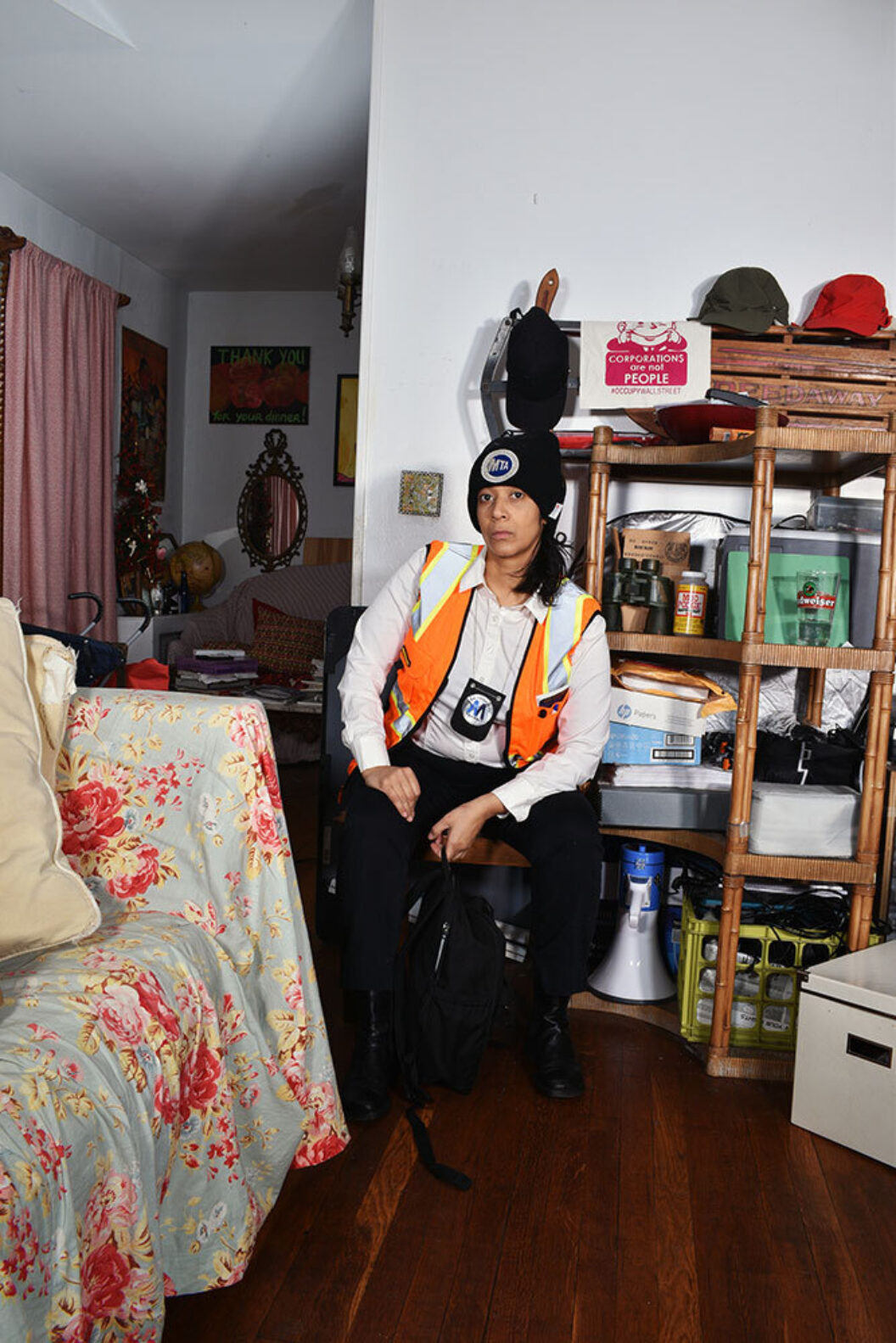 LB What's an example of that process in your own work?
AG A good example is PERCENT FOR GREEN (2014–16). The project addresses climate change in the Bronx—where I was raised and still live—as well as other inner-city areas of New York City. Listening to people's experiences helped me map the effects of environmental racism and discriminatory urban policies. Listening allowed me to discuss solutions directly with the people most affected, rather than the top-down approach often used in public policy or urban planning. That's how we came up with the idea for a legislative bill called Percent for Green. It was modeled after New York City's Percent for Art program, in which one percent of construction budgets go to public art in the city. With Percent for Green, another one percent would go to sustainable initiatives overseen by grassroots organizations in the South Bronx.
LB Who are important influences on you?
AG That's a tough question because there are so many! Toni Morrison's Playing in the Dark: Whiteness and the Literary Imagination is brilliant about literature's white meta-narrative and the inaudible violence it inflicts upon our imaginations. Carrie Mae Weems's and Wendy Red Star's self-portraits have also been very important to me. Both artists take back their bodies from photography's voyeuristic colonial gaze.
LB How do you remain alert to intersectional complexities in your work?
AG Context provides the work its necessary history and depth. It's also a reflection of the complexity of being an artist. Or of being a receptionist or lawyer or teacher. I don't stop being someone's daughter when I do a project. It's part of the context that shapes me. And that intersects with my being an Afro-Taino descendant from the Caribbean raised on Lenni Lenape land. Which intersects with my being an organizer participating in mutual aid work in support of BIPOC tenants losing their jobs. Making all this coherent is the challenge.
LB What's an example of how your work addresses that challenge?
AG The intersectionality has been particularly fecund in my environmental justice projects: PERCENT FOR GREEN and also Surge (2018). Climate change is directly linked to colonialism. To build their empires, colonial powers grabbed land, extracted resources from it, and exploited its occupants' labor. Today, neoliberal empires engage in similar behaviors under different names: gentrification, real estate speculation, poor urban planning, and redlining. These policies perpetuate climate change. Black and brown working-class communities are on the front lines of climate change in New York City; they experience its effects through pollution, asthma, lack of green space, and food injustice.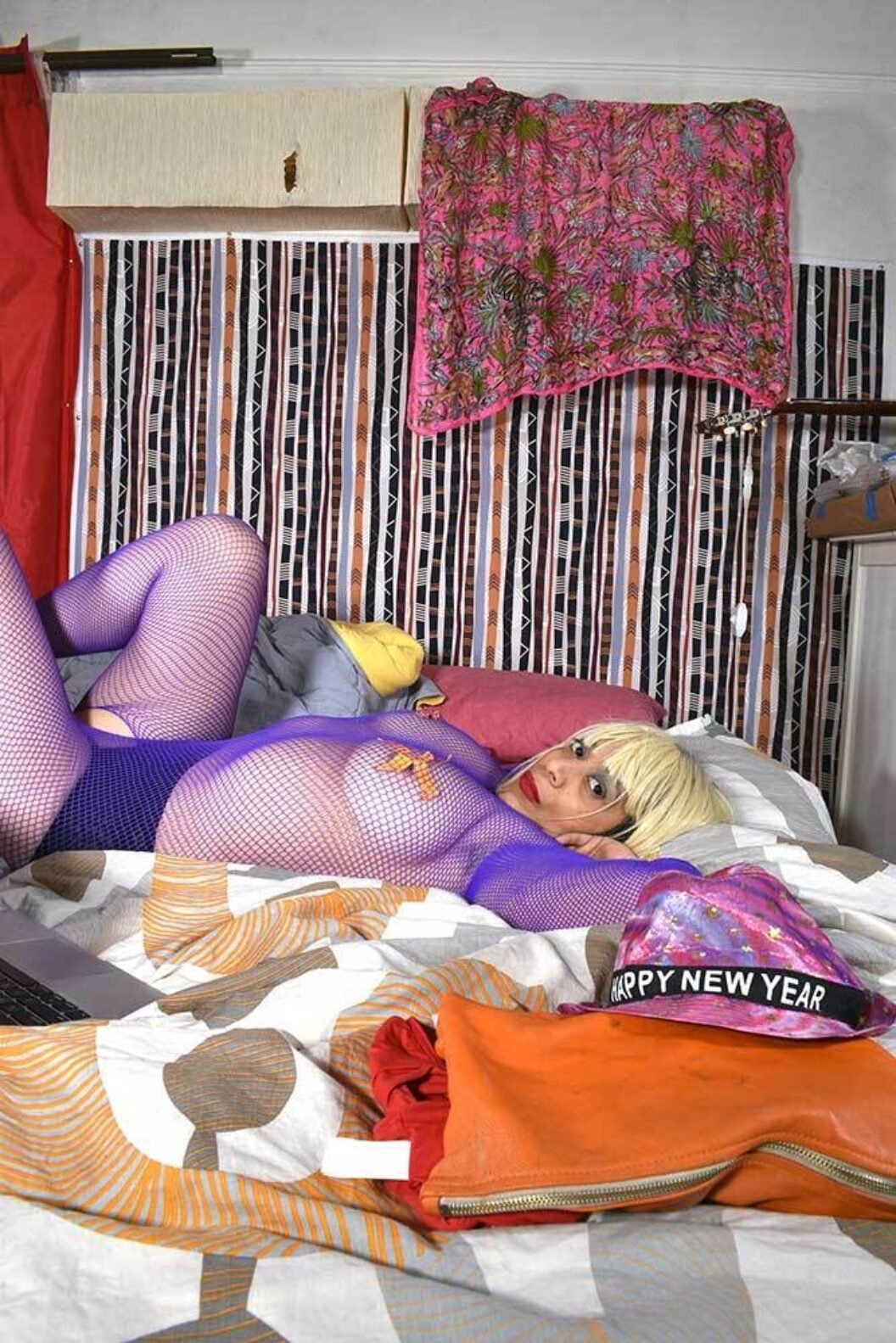 LB How do you handle feeling overwhelmed?
AG Two overwhelming feelings led me to create From March to June: sorrow and hope. Living close to a hospital, I heard the sound of ambulance sirens twenty-four hours a day during the pandemic's first months. I tried to keep count of how many sirens I heard, but it was too much to tally. Sometimes, I'd be so overcome with sorrow, I'd break down and cry. Then the protests started happening, which, in the middle of all this loss, provided hope. Police brutality isn't something new. But I think people were fed up because George Floyd's murder happened at a time when the federal government demonstrated a blatant disregard for its citizen's lives. The people's uprising in response felt hopeful because it contains the possibility for a necessary new beginning.
Alicia Grullón: Please Don't Let it Be Too Close is on view at SPACES in Cleveland until March 19.
Louis Bury is the author of Exercises in Criticism (Dalkey Archive Press, 2015) and Assistant Professor of English at Hostos Community College, CUNY. He contributes regularly to Hyperallergic, and has published art writing in Brooklyn Rail and Art in America, as well as creative writing in Boston Review and The Believer.