Making Connections: Joanna Kotze and Jonathan Allen Interviewed by Zachary Fabri
A choreographer and a visual artist imagine ways of inhabiting civic spaces.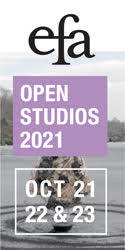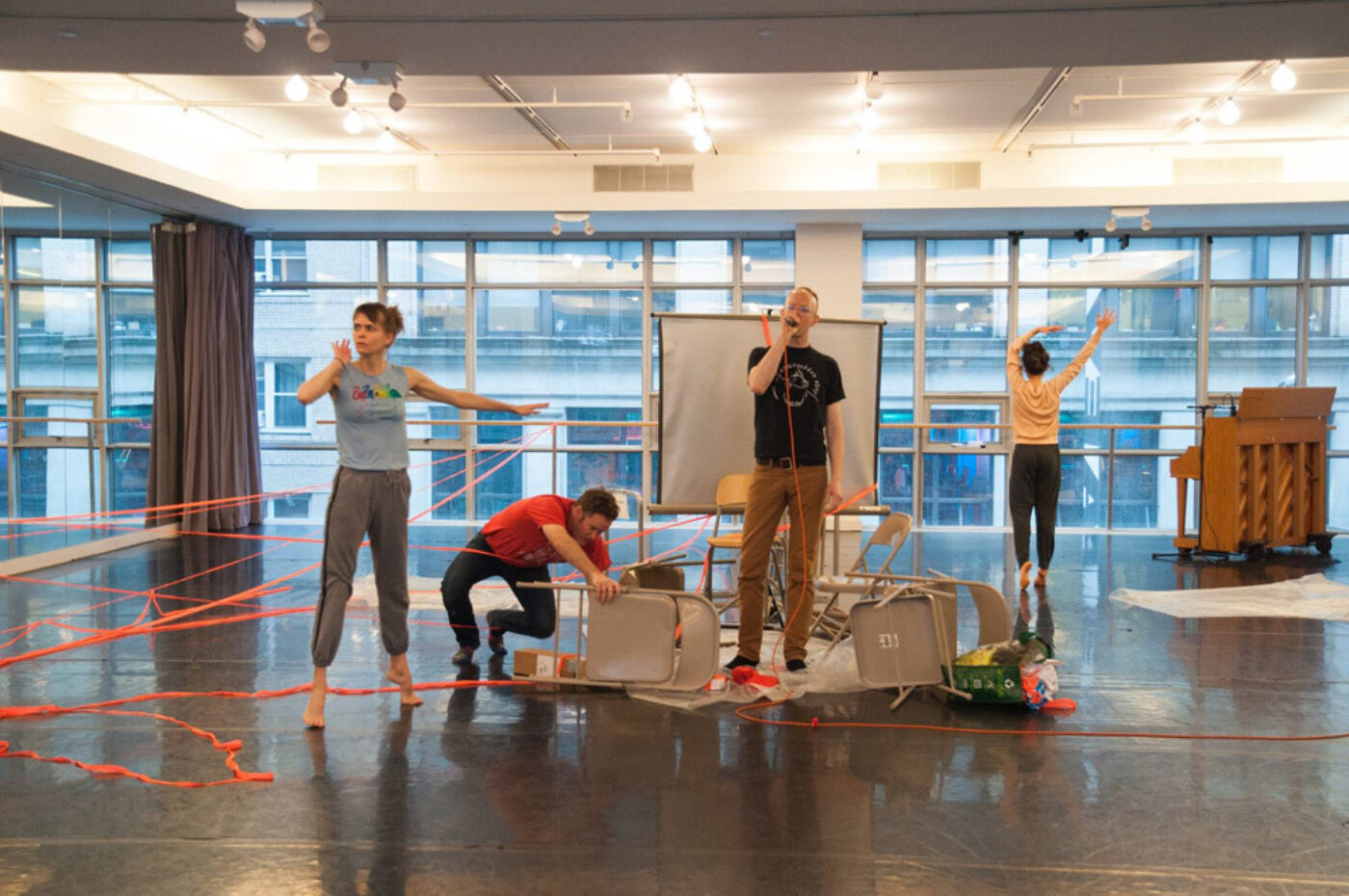 In 2015, I collaborated with the choreographer Joanna Kotze and visual artist Jonathan Allen on an evening-length performance, FIND YOURSELF HERE. I recently interviewed Joanna and Jonathan over email about their upcoming work—a multi-disciplinary performance and exhibition of new paintings—at New York Live Arts, and how their practices have sustained and changed over time.
—Zachary Fabri
Zachary FabriI was first introduced to both of you in 2009 through the Lower Manhattan Cultural Council (LMCC). How do the last ten years resonate with you?
Joanna Kotze The last ten years have been huge for me. I started showing my own work in New York in 2009 after being a dancer here since 1998. It has been non-stop since then creating new work, touring, commissions on other companies, residencies, teaching, and dancing in other choreographers' work.
Jonathan Allen Over the last ten years I have been moving steadily toward a more public engagement. I'll always love making paintings and collages, as well as the natural hermeticism of an artist's studio, but the collaborations and performances I've made in the last ten years—some with you—have broken that.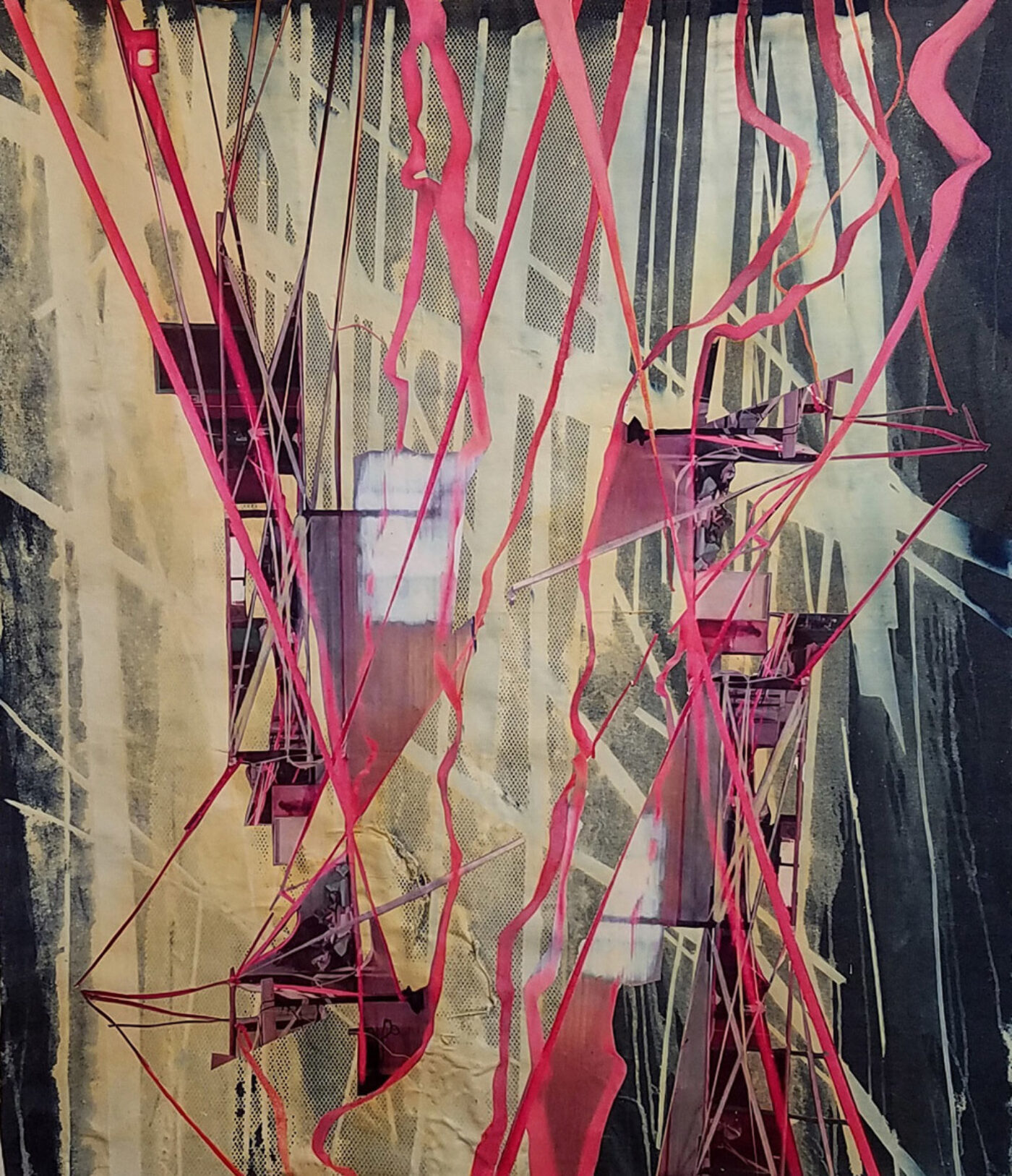 ZF Over the last few years, I've noticed a shift in both of your practices. What are the challenges to presenting new and different work after achieving success with previous work? How are you dealing with the expectations that surround your work at this moment in your careers? 
JA The shift toward interdisciplinary projects for me has been driven by a few factors. For about six years I was working with two dealers, one in New York (Lu Magnus) and one in Italy.  They opened a lot of doors and afforded me significant financial support, but eventually the dynamics of the Recession caught up with us. On a more philosophical level, my friendships with writers, dancers, and choreographers have drawn me toward the temporal and made me pay less attention to commercial viability—at my own peril, of course. I mean, poets and dancers are generally in a far more precarious financial and existential position in New York than visual artists; and without the distant carrot of potential commercial success, what you wind up with is an extremely hard-working, driven, and committed community. The art industry in different pockets has this energy, but the hierarchy and money surrounding it draw a lot of other players in with anti-creative stakes. Which ultimately blunts and neuters the work, sadly—when artists allow it to.
November 2016 basically dynamited any lingering interest for me in working within the New York gallery system, at least as it's organized now—with the 50/50 split, cyclical show expectations, social climbing, etc. For me the election revealed a raw and urgent need for drastically different priorities, risks, and experimentation to advance a compelling conversation about race, politics, and class that we need in this new #45 era. The expectations I impose on myself now are linked with advancing and participating in that conversation.
JK I feel like I've always, in some way, been working interdisciplinarily, but the last couple projects have included how artists in other disciplines evoke movement and how our processes can be brought together. I guess this is a departure from what people "knew" of my work, which highlighted very trained dancers and their bodily movements. I am still extremely interested in the potential in movement, and work very collaboratively with other dancers as well as with composers and lighting designers who help bring a piece to life. With my background and interest in architecture, the space and elements in the space—like the twenty-seven movable lights that Jonathan and I made for one piece—have also always been collaborators. During Jon's time with Lu Magnus, we worked on our first performance collaboration. That duet lead to FIND YOURSELF HERE, which lead directly to the upcoming What will we be like when we get there, with Netta Yerushalmy, Jonathan, and Ryan Seaton, which combines dance, visual art, and music. 
Expectation is a tricky thing. I don't really know what anyone expects of me, so I think it's more my expectations for myself that I manage. I feel lucky to have the support I've had but know that it will be a hard road to continue getting support as I move forward. What people want to support or present in terms of "dance" is constantly changing, so all I feel I can do is make the work I feel compelled to make and continue staying in dialogue with people.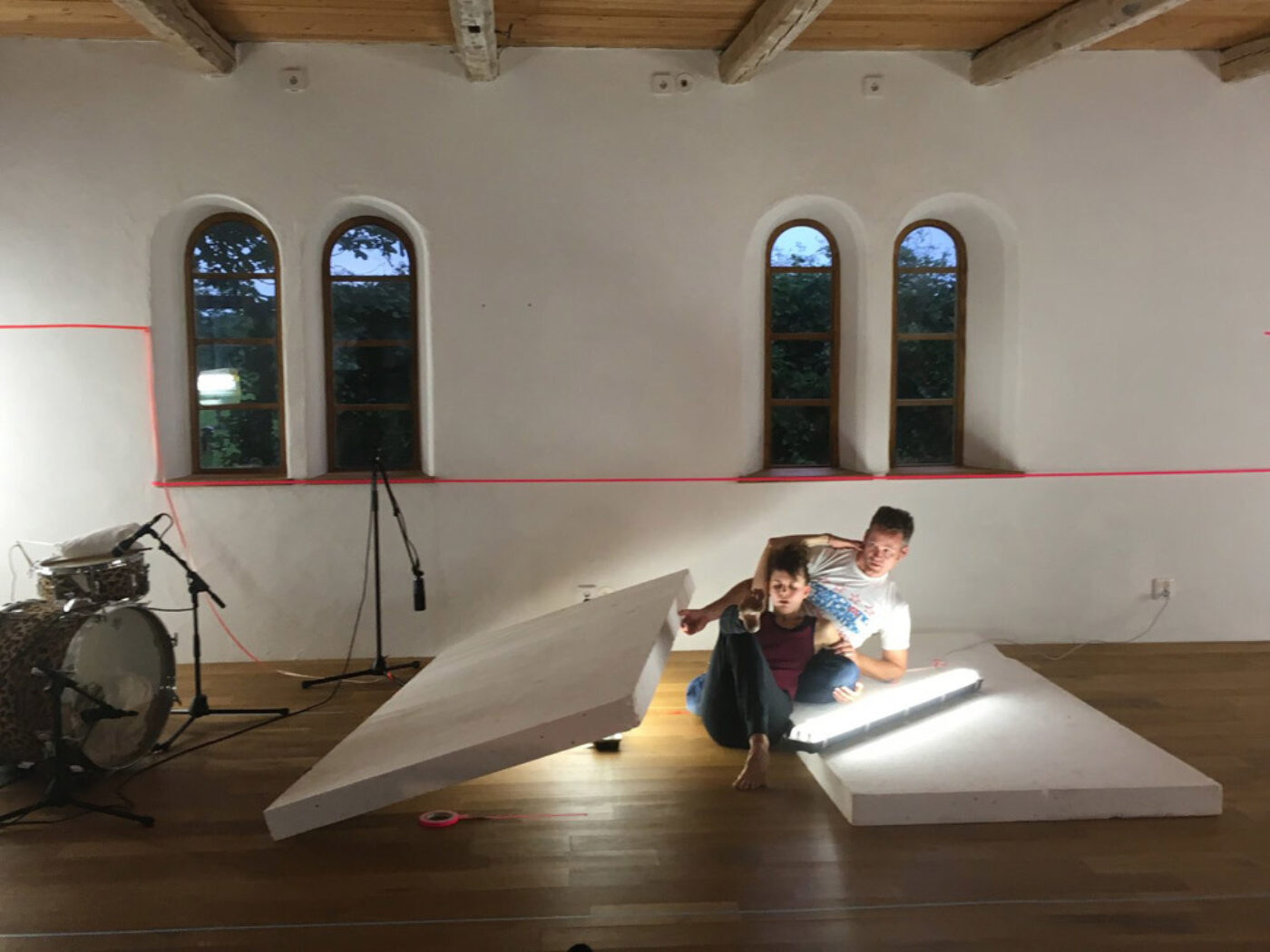 ZF Jon, you've just summarized the horrid plight that most New York artists are in. And yet you persist, bravely so. Are you working on anything right now that is born out of or addressing these concerns? And more directly, are you creating work that explicitly responds to our political situation with #45? Joanna, are those issues seeping into the way you choreograph or create movement?
JA Not brave, foolish! Following the 2016 election, I struggled with how and what to express. Retreating to my studio to make paintings and collages felt irresponsible, hermetic. I wanted to work more publicly, more immediately, and deploy humor and satire as weapons—to initiate a visual dialogue differently, approach political subject matter candidly.
Interruptions is a series of interventions in New York City subway stations that seeks to interrupt the language of advertising with images of the current U.S. president and other related characters. The subway system seems to me the perfect public forum for engaging in a civic dialogue—it contextualizes our current political predicament within the frame of the common, commuter experience, and simultaneously through advertising. This project, though installed live in subway stations around New York, was designed to be broadcast via Instagram.
JK After the election I felt even more need to connect to people. I always consider how the viewer is with us in a performance, but this felt even more personal. In Keely Garfield's latest work at the Chocolate Factory, she started the performance by coming out and saying to us, "We're all in this together." I really connected to that.
My current piece was born out of the pre- and post-2016 election time and our personal lives and growth in and among that. My work is not necessarily politically or socially overt but constantly deals with how we inhabit space together and how we create change, which to me are political and social. The state of the world has drawn out a chaotic, frustrated part of me that comes out of my body and into the space. It also draws out the need to seek each other out, really see each other, locate ourselves, understand how we care for one another, and how we can continue to look to ourselves to create the change that is needed. I continually want to put out questions instead of answers, as I don't feel like I have any answers.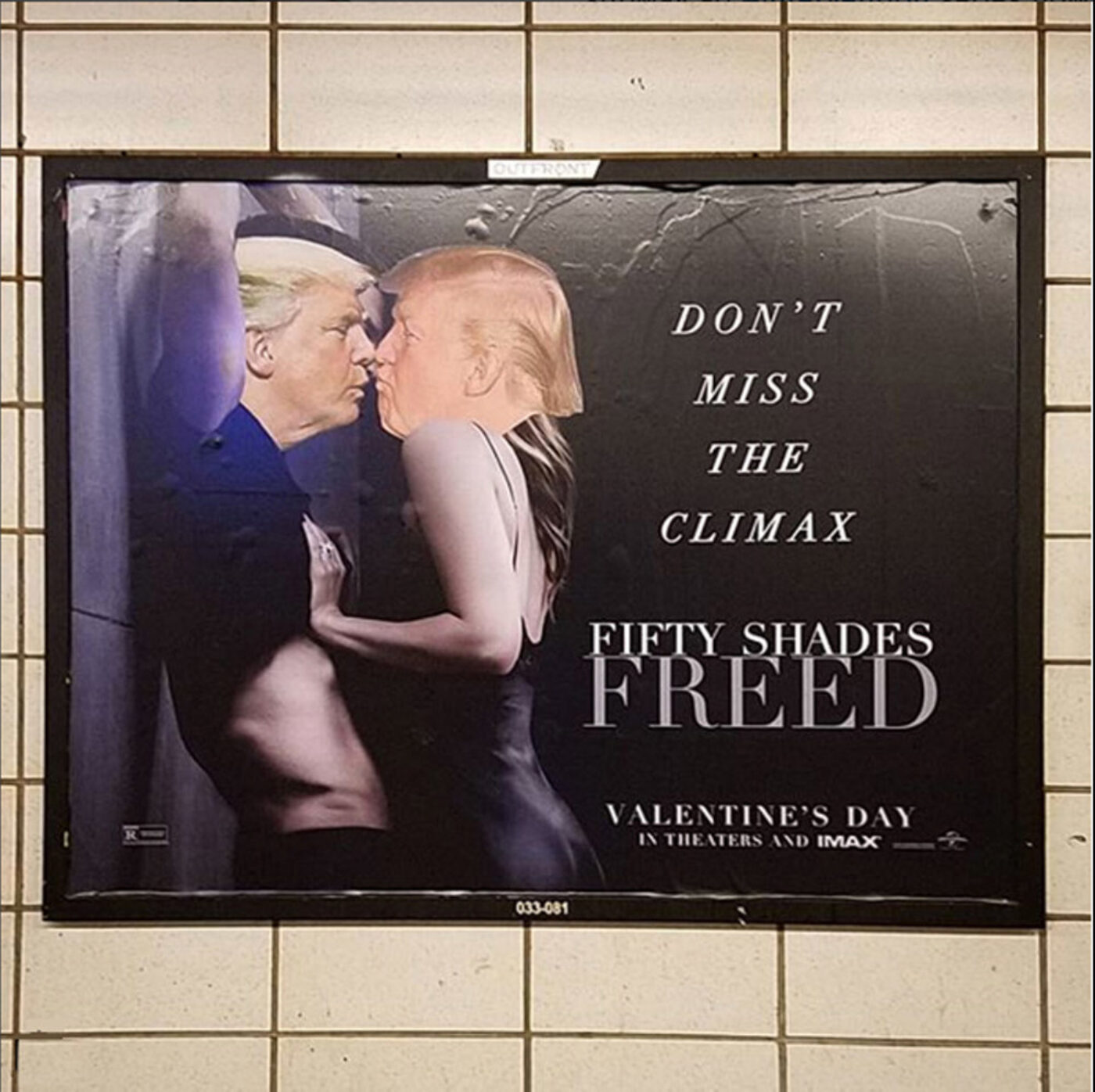 ZF Are you both looking for more intimacy in the context of how your respective audiences are engaging with your work? You both travel a lot. As we write this, where are you? Also, when you travel for different projects, what are some of the challenges or rewards you've experienced?
JK I'm thinking about how we inhabit space on many scales—in the world, in an intimate relationship, in a friendship, in a room of strangers. What do we give and take from each other in all of those instances? What are the expectations and how can those be both honored and challenged? I guess intimacy is playing a roll in my desire to be in a room with people, to share an experience, and to see what we all come away with.
I am in New York right now but started this interview on the road while I was touring an older work of mine, It Happened It Had Happened It Is Happening It Will Happen, at the Wexner Center for the Arts in Columbus, Ohio. Jon and I are together in New York right now to gear up for the premiere of What will we be like when we get there and for Jonathan's solo exhibition.
Traveling in and out of New York has always been helpful for me. It gives me perspective on this amazing city that I love, gives me a break from it so I want to come back. The Bogliasco Foundation outside of Genoa, Italy, and the Camargo Foundation in Cassis, France, hold very special places in my heart and work. I was meant to exist near both ocean and mountains, so it is, to me, where things percolate. The power of the water shifts and changes things each day, and the beauty is breathtaking. Finding space and time to work in New York is so challenging, let alone coordinating it with other people's schedules so when you get a residency in the city, that is a real gift as well.
JA I've had a few experiences with the Interruptions project where strangers see them and take the time to seek me out. I don't sign the ads, so this takes some amount of sleuthing and effort on their part. It is always a bit surprising and refreshing when this happens. In a curious way that context—the familiarity of a subway platform—invites a certain kind of intimacy that galleries can't provide. People get drawn in and intrigued by the incongruity, immediacy of it.
While I value the relationships that are born out of residencies, a challenge of making work that is produced over multiple residencies is maintaining momentum and cohesion. The paintings in my exhibition at New York Live Arts were made in wildly different studio settings. They were begun last summer at Blue Mountain Center, in the Adirondacks, and were continued in the fall at LMCC's Art Center on Governors Island. This winter I was fortunate to be selected for a BRICworkspace residency in downtown Brooklyn, and I'm currently completing the paintings at the NARS Foundation in Sunset Park. The experience of moving so much, and with such varying inputs and surroundings, has infused my process—and the paintings—with abandon and openness, but has also challenged me to retain unity across all the zigs and zags.
Performances of Joanna Kotze's What will we be like when we get there will take place at New York Live Arts from March 28–31.
Knowing That Your House Is On Fire, an exhibition of Jonathan Allen's paintings created in conjunction with Kotze's What will we be like when we get there, are on view at the Live Gallery from March 7–18 and March 26–April 13. 
Zachary Fabri is an artist working in video, photography, and performance. His practice looks at concerns surrounding cultural commodification, gentrification, and public space. He has been awarded The Louis Comfort Tiffany Foundation Award, the Franklin Furnace Fund for Performance Art, and the New York Foundation for the Arts fellowship in interdisciplinary work. Fabri's work has been exhibited at Art in General, The Studio Museum in Harlem, El Museo del Barrio, The Walker Art Center, The Brooklyn Museum, The Barnes Foundation, Rockelmann & gallery, and Third Streaming. He has collaborated in multidisciplinary projects with choreographer Joanna Kotze at the Baryshnikov Arts Center, and most recently with artist Torkwase Dyson at the Drawing Center in 2018. Currently, he is making drawings on napkins he stole from the Trump SoHo Hotel while working as a bus boy. Fabri lives and works in Flatbush, Brooklyn.