The Rest Is Silence: Magnus Mills's The Forensic Records Society by Sean Adams
The comic turmoil of the mundane, with musical accompaniment.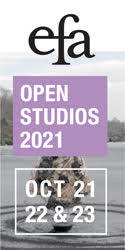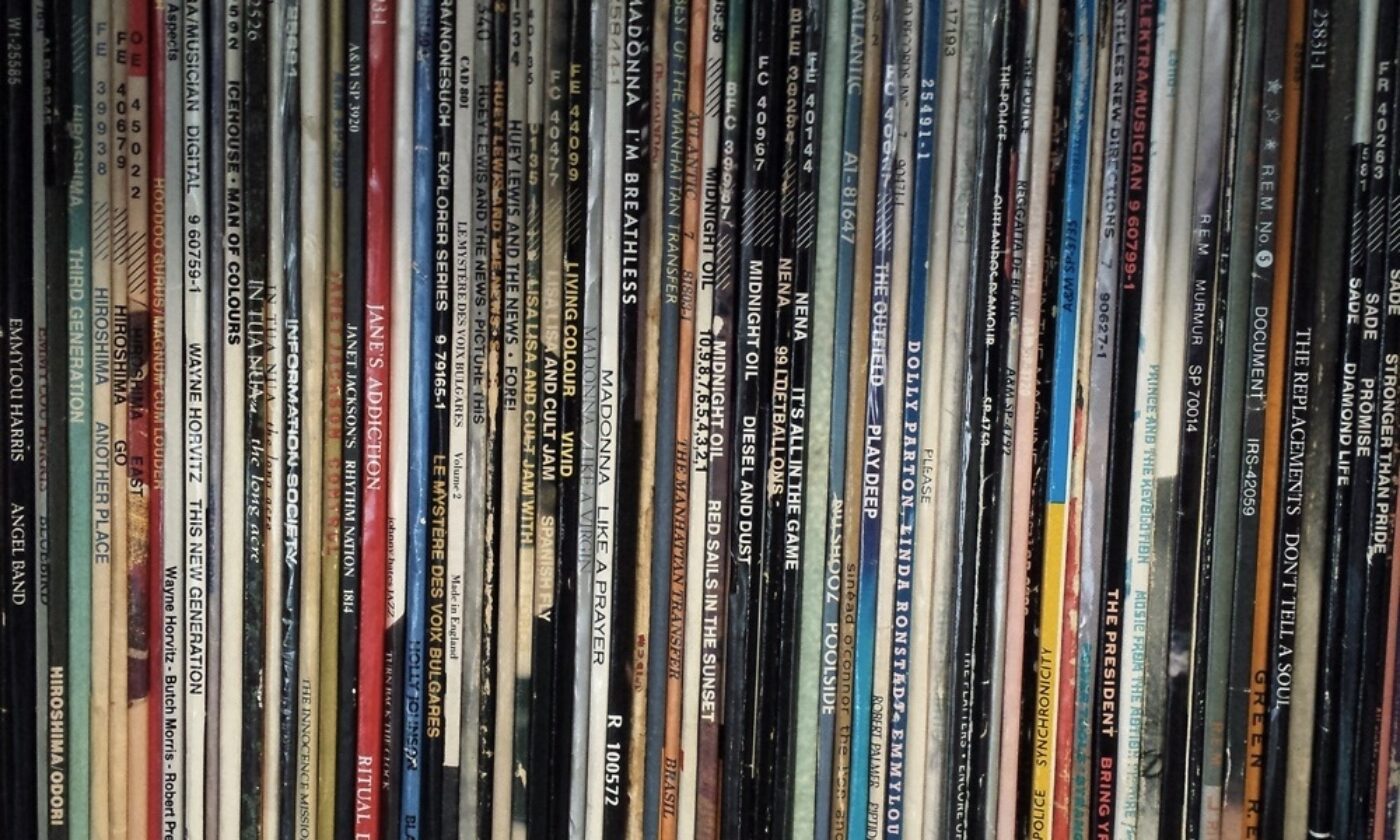 Is there a correct way to listen to a record? To simply utter this question aloud in a vinyl shop could earn you a twenty-minute lecture. But is it enough to sustain an entire novel? For Magnus Mills, who has made a career of writing hilarious and often absurd books concerning the turmoil of the mundane, the answer is yes.
While not wildly different in style or tone than his earlier work, The Forensic Records Society (Bloomsbury), his ninth novel, feels like a culmination. Mills often builds tension by means of a lurking dread, a feeling that there is something sinister just beyond the page. But danger is only revealed in his first two novels, The Restraint of Beasts and All Quiet on the Orient Express, and later in Explorers of the New Century, the closest thing to an outlier among his works. Still, none have attempted to build stakes from such mundane fabric as this. His delightful sixth novel, The Maintenance of Headway, in which the central plot concerns keeping to a bus schedule (and the philosophical question of, should we keep to a bus schedule?), comes close. But even then, there is the potential to lose one's employment. What will happen if the Forensic Records Society fractures? Nothing of consequence beyond a few hurt feelings. And yet the story is wildly compelling, and never does it feel any less than completely necessary that they continue their pursuit of listening to records in the "right way," and thwart the looming (non)threat of their "rivals."
The story follows a group of men who come together each week in the back room of a pub "for the express purpose of listening to records closely and in detail, forensically if you like, without interruption or distraction." Each member brings three records, and they go around in a circle, playing their selections, until none are left. That's it. If this sounds like a great frame for a novel that is essentially a collection of essays on music or a Nicholson Baker-esque examination of static or sound quality, you'll be disappointed to learn that one of the Society's central principals is, for the sake of civility, "no comments or judgments." The narrator abides, even in his interior monologue. Instead, song titles are listed one after the other with nothing more than a nod from one of the members, or sometimes (controversially) a quotation.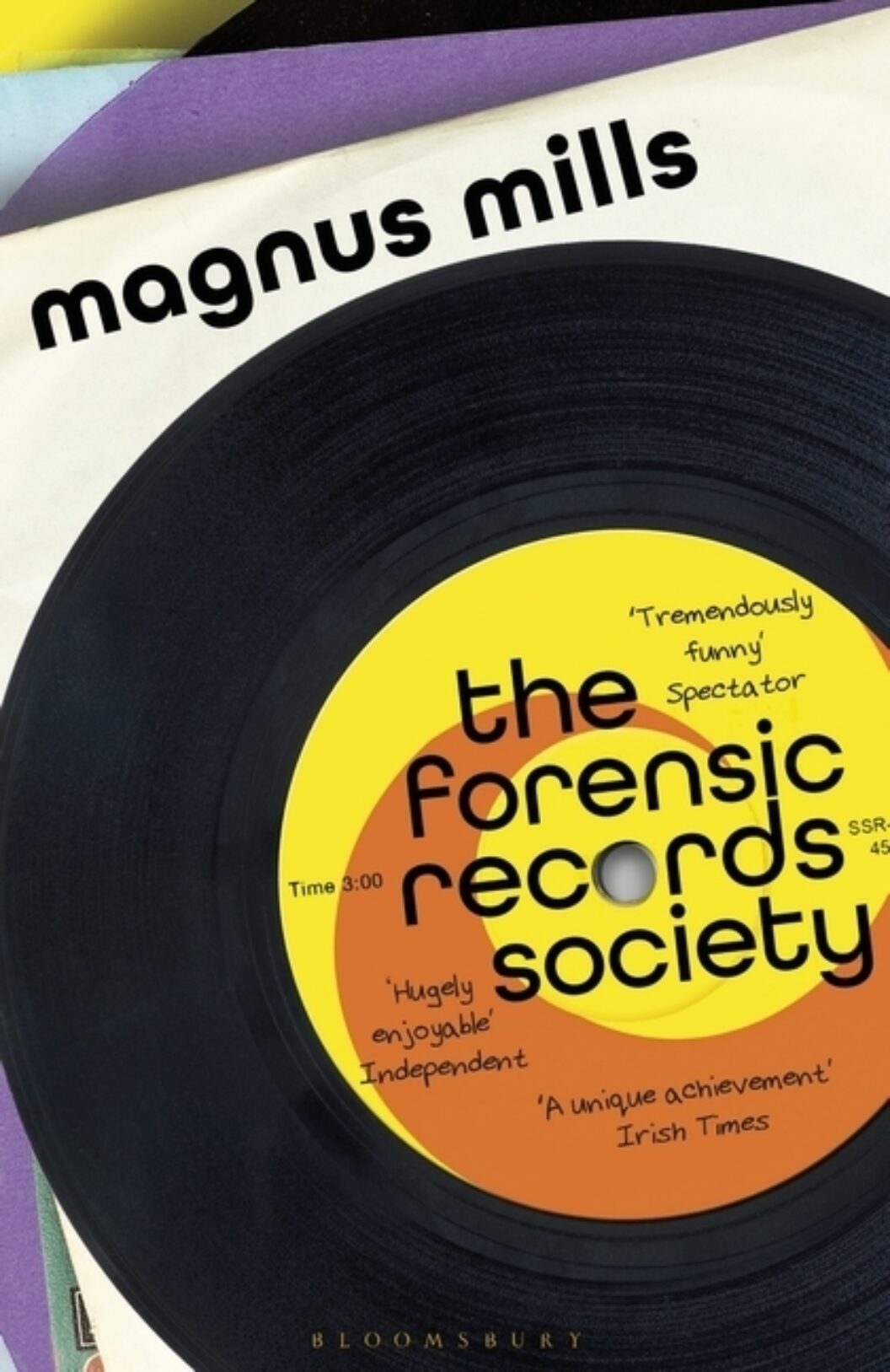 The novel is a typical Millsian snowball: minor events occur in rapid succession, building upon each other until a sense of urgency is established. There's strife among members of the Forensic Records Society; a mysterious unmarked record keeps turning up; and the strangely popular rival group, The Confessional Records Society (started by a man turned away from the Forensics because he arrived late) threatens to usurp their Monday night time slot and draw in their members. There's absolutely nothing about life outside of the Society. Time between meetings is not discussed unless, in that time, the narrator talks with another member of the Forensic Records Society about the Forensic Records Society or conducts Forensic Records Society business.
To facilitate this singular focus, the characterization is sparse. The unnamed narrator is well drawn as thoughtful, often raising the stakes by way of a hilariously deadpan inner monologue. When Society member Keith arrives, bringing with him a long player, the narrator considers if "the future of the Forensic Records Society would hinge on this particular piece of music," and if their "oversight [not to ban LPs] threatened to open the floodgates." James also gets a considerable amount of filling out as the group's authoritarian leader. Beyond that, each member of the Forensic Record Society can be summed up in one or two details. Chris is the one who enjoys quoting songs. Mike is the one with a mohawk and an obsession with songs of the perfect track length (exactly three minutes, in his opinion). Dave is the one who is friends with Barry. Barry is the one who is friends with Dave. Alice is the one who is a woman and who is mean to the narrator. Also, she's not a member of the Forensic Records Society. She's the barmaid assigned to the back room. The Society proper is all dudes.
Here, a comparison might be drawn to another loosely-plotted comic novel, Chris Bachelder's The Throwback Special. In both we have an unlikely means of convergence, bringing together more men than we can reasonably keep track of. (Bachelder's novel concerns twenty-two men who come together each year to reenact the horrific and true 1985 NFL play in which the Giants' Lawrence Taylor sacks Redskins quarterback Joe Theismann, breaking his leg and ending his career.) This in turn requires the author to build a system of simple cues to differentiate the characters when necessary, while allowing them to be an anonymous group member the rest of the time. But Bachelder uses this frame to discuss the real concerns of middle-aged men in a ridiculous way, whereas the concerns of the Society members are much harder to place in the real world. Yet despite being odd and unknowable, they still manage to feel important. Each plot turn brings both direness and absurdity in equal measure, creating something that is wildly funny despite being devoid of easily identifiable jokes. The novel itself becomes a joke, but the characters are not throwaway; they are citizens of the joke, living and struggling within its rules.
If there is anything that could ruin The Forensic Records Society, it's the threat of reading it as purely allegorical. The sparsity of the prose, the oddness of the plot, and the relentless forward momentum might lead readers to think it a singular metaphor for some historical event. And it can be, but it can also be more than that. It can be about revolutions and group dynamics without being about any specific revolution or group. Or it can be what Mills's work always is: a compulsively readable novel that comments on systemization and satirizes our need to overcomplicate everything—even our most basic pastimes. That it doubles as a killer playlist is a bonus.
Sean Adams is a graduate of Bennington College and the Iowa Writers' Workshop. His short fiction has appeared in such magazines as Electric Literature's Recommended Reading, The Normal School, and the Magazine of Fantasy & Science Fiction.