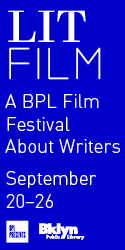 Thread Counter
Does this Maag actually do nothing other than frequent the downtown sidewalks and cafés, pester the Ana Belas, Laetitias, and Eminas, and loaf about in the parks of the city? Can he think of nothing better to do than keep the Willis and Ritas from their work? Has he come into a lavish inheritance and thus needn't pursue an honest profession like other people? In any case, it can't have been an intellectual inheritance—if from time to time he stops for a moment it's only to make a note of items he forgot to buy or a long overdue call, but certainly not to jot down a new philosophical axiom or, at the very least, an aphorism! And, nevertheless, he acts as if he knew all the answers! A detestable thread counter, that's what this Maag is! A small thinker, a—
"Penny pooper!" Minetti shouts suddenly, quickening his pace so no one will steal his bench in City Park.
Aura
Maag is of two minds about being taken for the serial killer Harry the Butcher.
On the positive side such horrible notoriety brings him advantages that are not to be underestimated. Ritz, the superintendent, whose list of annoying people Maag had thus far topped, treats him all of a sudden with extreme politeness, even carrying his bags to the elevator when he arrives home (though Maag is the younger of the two). In City Café, Lelli, with his bloody stories from the war—which he only knows from Erich Maria Remarque's books anyway—finally leaves Maag in peace. And in City Park, where no less than three fine citizens, two women and one man, have fallen victim, the reputation of the monster also weighs heavily: Willi is conceding points to Maag with remarkable frequency, something that, however, takes all the spice from their conversations.
Finally, Maag's relationship to Rita has undergone an expansion into the erotic. Each time she passes his table she touches him discreetly. Is this the ultimate fulfillment of a long-cherished wish? He notices a similar thing with Ana Bela at the department store checkout. And, recently, Emina hurried after him, crossing no less than half of Central Square, only to relay—out of breath and after resting briefly on his shoulder—Hermeling's regards, a blush rising to her cheeks. Regards from Hermeling of all people, that mental contortionist!
These are all incidents that flatter him yet, simultaneously, make him suspicious. Why is the aura of a serial killer needed? Why isn't his reputation as Maag the Untarnished, on which he has worked unceasingly, sufficient to receive the consideration he feels is his due?
On the day Harry the Butcher is finally apprehended, without another victim having to be mourned, the entire region is able to breathe easier. To Maag's relief—or disappointment?—it turns out that the only resemblance, and it's a slight one, is around the mouth. Since then he has repeatedly found himself in front of the mirror silently questioning whether he will ever succeed in just being Maag again, with all his shortcomings and qualities, without losing the benefits derived from his alleged likeness to the killer.
What Minetti Likes about Emina
She sits and is silent. She listens and is silent. She stands and is silent. She lies down and is silent. She walks and is silent. She climbs stairs and is silent. She doesn't even have to do anything to be silent. No one is silent more eloquently than she. She can be defiantly silent, tenderly silent, and loudly and quietly silent. She is silent approvingly, accusingly, gently, compliantly, congenially, and sphinx-like. Of course she is also reproachfully silent—who isn't capable of that? Her silence is just as committal as noncommittal. She can remain silent through a dinner with friends, an intermission at the theater, an afternoon by the river, even through a telling off peppered with unfair accusations. She is silent unpredictably, that is, unequivocally and equivocally depending on her mood. Her equivocal silence is his favorite, for it permits him to replace it with one that, at that moment, seems to him to be even richer. She can be silent with a large s, larger than she is, and with a very small s, so small that one not only does not hear her, but no longer sees her. Her silence is as tough as she is, and she is unspeakably tough. Silently she says everything she wants and she gets everything she wants, instantly, without opposition, without comment. Yet silence provokes speaking; he has often noticed that. He sees himself opposite her pushed into the role of the speaker, forced to answer the question—how silent does he have to be between sentences, how measured and of what quality must this silence be in order to make her speak.
Translated from the German by Alison Gallup.
Alison Gallup, a native New Yorker currently living in Germany, is a freelance German/English translator. She holds MA and MPhil. degrees in art history from Columbia University and has translated numerous books and essays on art. Her translation of Christoph Keller's memoir, The Best Dancer (Der beste Tänzer, 2003) is forthcoming in the fall of 2008 from Ooligan Press, of Portland State University.
Swiss writing duo Keller+Kuhn's (Christoph Keller and Heinrich Kuhn) published work includes the novels Unterm Strich (On balance, 1994),Die blauen Wunder (The blue wonders, 1997)—perhaps the first, and only, fax novel in existence—and, most recently, Der Stand der Letzten Dinge (The state of last affairs, 2008). They continue to work on Maag & Minetti. Stadtges-chichten (Maag & Minetti: City stories, ongoing since 2005), several of which have appeared in literary magazines in Switzerland, Austria, Germany, and Croatia, and in English translation in Absinthe: New European Writing, Gobshite Quarterly, and on failbetter.com. On their collaborative project Keller+Kuhn write: "For Die blauen Wunder, through endless faxing back and forth, Kuhn eliminated Keller and Keller eradicated Kuhn until the text belonged, smoothly and seamlessly, to the third author: Keller+Kuhn. Maag & Minetti, our somewhat casually evolving work in progress, our small stories of city strays, could be described, procedurally speaking, as the email version of the fax novel. With one major difference: here the idea (not the execution!) of each individual text originates from K., or K. The email, fleeting in form and content, is immensely suited for writing duet-style; ideas fly through the ether no matter where one might be."
Originally published in
Featuring interviews with Meg Stuart, Karen Kelley and Barbara Schroder, Kalup Linzy, Peter Saul, Mike Davis, Boredoms, Will Eno, and James Timberlake.