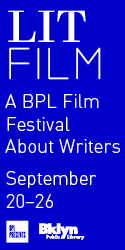 …gossiping, type-setting, weaner, weaner of the child—heir to her
own epos—her trip round the table. Tomorrow a letter, or a few
letters to make it like an anatomy lesson even, will rip right down
this table
on legs of thorn, elderly. And spit the hill of the tiny teacher with
scorching chalk.
Outline these bad dunes, the leeside pubes, the pube-crossed dews
hatched and switched in an errand's places.
One must rail and feel pressing, a bunk above, a bunk above a
beating wad a sob day in, day o.
The grand meal slides off the sob. A tiny fork silvers in the river, in
vain, the meal comes into relief on a bed
salted green.
It is birds from our long, nail-curling youth.
Now each wave curtsies, the bather has anal
and a suit of medieval holes for the dolphin's spurs.
So, it is a match for my good hand, these cloud-moves twining my
fork, all this set down on my epaulets, crème-
filled, the quivering silicon balances of lyricism,
transferred one word to the next, this weight agreed upon the lover
and the beloved both in me, agreeing for the world that music is,
that a child has punctuated my letter—that I bring the harmed,
deranged and foreign things close, and closer.
And so into relief I'll bring—receive?—arrive at my own love.
And talk anal in the dew, juggle my slug bells and whip the
gut our chariot till buoyant pube…Here comes down chariot
aisle streaming sides, turquoise, on a hoverboard of horse hair
the conductor, wearing a dew badge with his decimal so official, his
carton of warts from burning man, his rice with my name on
it, my name like the letters.
Then the decimal shall cap my skull, and grin at him.
Then a decimal will shout from its skull my skull, jet nerve and prove
fools. Fools from my own bed, fools without spotlight (the host
within the host), speaking in suns.
Their decisions clean after themselves as they are made upon the
flute.
Farnoosh Fathi is the author of Great Guns (Canarium, 2013), editor of Joan Murray: Drafts, Fragments, and Poems (NYRB Poets, 2018), and founder of the Young Artists Language and Devotion Alliance (YALDA). She lives and teaches in New York City, most recently at Poets House and Columbia University.
Originally published in
Featuring interviews with Milford Graves, Celeste Dupuy-Spencer, Meredith Monk, Jim Hodges, Lucy Dodd, Branden Jacobs-Jenkins, Jlin, Cate Giordano, Don Mee Choi, Christian Hawkey, and Friederike Mayröcker.