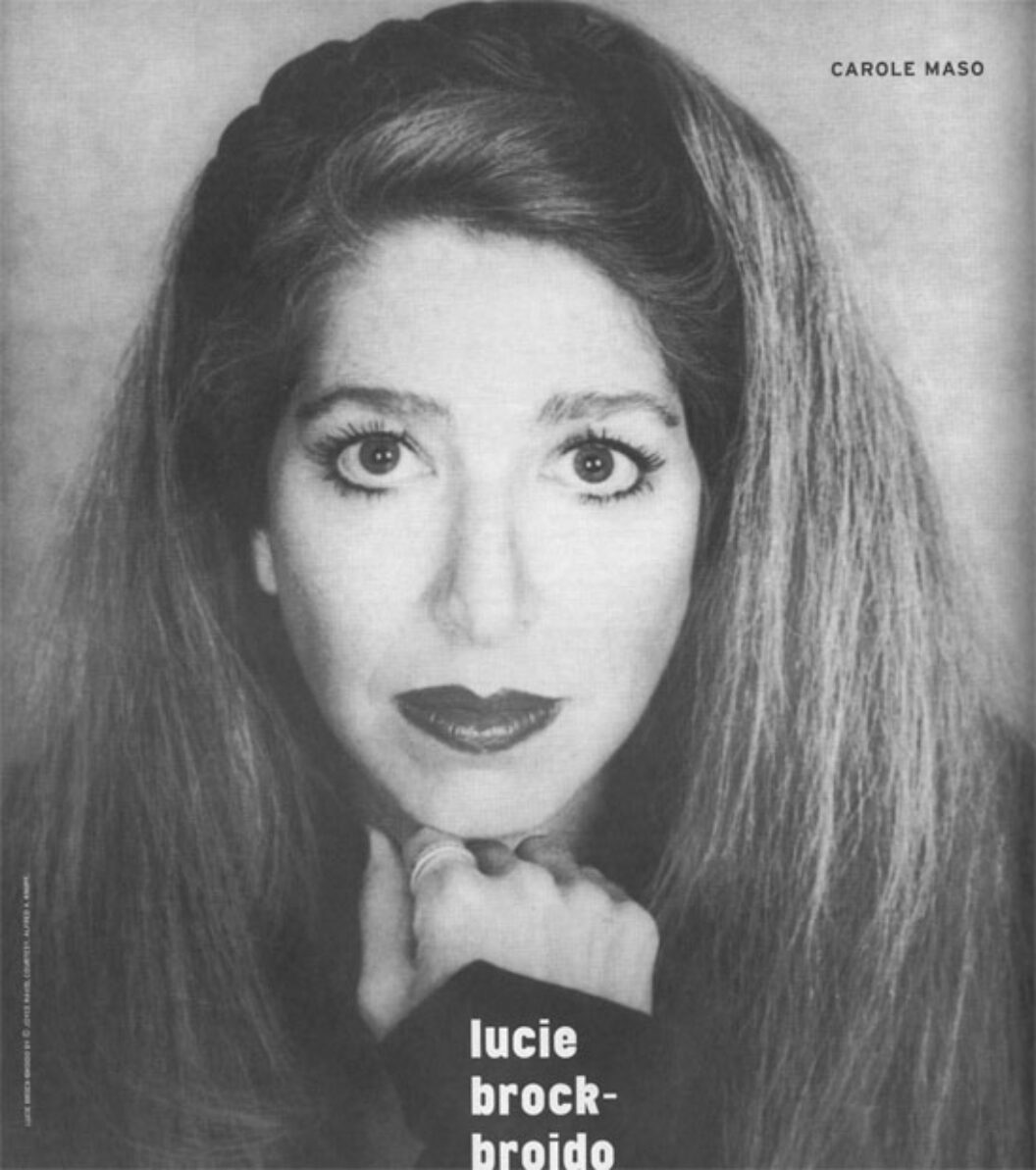 I see her from a distance in the last of summer. She has waist length blonde hair and is wearing a diaphanous white dress. From across the quad she is an improbable figure: wafting as she is toward me, enveloped in blue cigarette smoke. Even though it is only the first day, she is already followed by a cloud of students and they are speaking passionately of poetry.
Three years ago, Lucie Brock-Broido and I were hired to join the permanent faculty of the Graduate Writing Program at Columbia University. Along with classes and meetings, our afternoons would consist of endless cappuccinos and forbidden cigarettes, talk of Emily Dickinson and Maine Coon kittens. Such was the bliss of our short time together. Alas, I would only last one year at Columbia, but our friendship during that time became indelible. It is the kind of friendship I cherish most—based as it is, on a deep respect for Lucie's work.
I had found her first book, A Hunger, to be a mesmerizing and riotous rhetorical celebration and could not wait to see what would follow. Over the next seven years the intriguing Master Letter poems would slowly begin to appear in various magazines. Yet nothing could prepare me for the impact of the final text. It is a rigorous and dizzying book. A book of rage and renunciations and acute praise. A book of dark concoctions, of strange, gorgeous potions: Lamb's Blood and Chant, Crave and Ruin. A Book of Swoon and Fever and Goodbye. A Book of Mysterious Elusive Universe.
Carole Maso Every time I open a page of your work I see another one of these words: "corvid," "rubricant," "lubricious," "noctuary"… are you a collector of words?
Lucie Brock-Broido Oh, yes. Another word that's in the works is "ichor"—it's the ethereal fluid that runs through the veins of the gods instead of blood. I got it from one of my great heroes, now dead, someone I never met, the poet Thomas James. The night was my ichor, flowing…
CM You seem to write with night in your veins, your pen seems dipped in night. I think of charm and magic and fetish and talisman when I think of this book. Do you work at night?
LBB In the night, in the evening of the year. I have a peculiar, and reliable, and renewable pattern of writing. Every year I forsake writing for at least six or seven months. Each October, I begin again.
CM It's like a bulb that has to be put away so that it can bloom again, come its season.
LBB Only it's the anti-season.
CM How did you find your place as a seasonal and nocturnal writer?
LBB It must have happened as a child; I had some recurrent dread of returning to school, and the noises of late August, of the cicada, or whatever that low noise is that comes into the world that heralds the end of the summer. I dreaded returning to school. My theory is that a poem is troubled into its making. It's not like a thing that blooms; it's a thing that wounds. I had a terror I could tell to none, as Dickinson would say.
CM What was the origin of The Master Letters? You've got such a lovely description of the project in your preamble, could you talk about the original letters and your intention?
LBB Seven summers ago, to the day, no doubt, I began this project (unwittingly—I didn't know it would be a Project) after reading Emily Dickinson's three letters to her Master. I had always turned away from Dickinson's poems, I thought she was precious; I didn't get it. Then I began to read her letters. These, I fathomed. And if there were such things as visitations, then I would have had them. Though, just for the record, no one has appeared in a white dress by my fireplace.
CM Can you relate to her poems now, as well?
LBB Not so much, no. But I think the one perfect poem ever written in English is Dickinson's number 341, which begins, "After great pain, a formal feeling comes…" But it's still her surviving letters which are the Rorschach to her psyche. Among Emily Dickinson's 1,049 letters, there are three "Master Letters:" one addressed to a recipient unknown, one addressed to "Master," and one addressed to "Dear Master." They're very strange documents. I'm quite sure they're real, although there is no evidence that they were ever posted. I'm certain they were composed in earnest, though Dickinson was capable of playing any number of games. I keep thinking that somewhere in New England, there's one small humpbacked trunk that has what's left, what's still missing of her work. These three were found in a box by her sister Lavinia, sometime in late May of 1886 just after Dickinson had died. They were tied separately from the fascicles of Dickinson's poems. The letters were suppressed, of course, for a long time, because they're really peculiar, chilling. They are sexy, and they take the pose of a woman addressing what's clearly, in her mind, a male god figure, whom she calls "master" or "sir." The theories about the letters have been infinite and unresolvable: Were they to a real person? Were they to God? A lover? A woman? A man? No scholar thinks that the master is Thomas Wentworth Higginson (and, of course, the letters pre-date her correspondence with him), but in my mind they are closest to the tone that she uses on the page with him. He was the editor of the Atlantic, in an obvious position of power, and she was sending out her first verses, and she lied rampantly, and coyly, to him in their correspondence. He was about to reject the poems, pat her on the head and say, these are sweet, have you written much? And she wrote back: "Thank you for the surgery." (He had edited her verse.) And then: "It was not so painful as I supposed… You asked me how old I was? I made no verse—but one or two—until this winter—Sir—" It was April of 1862 and already, Dickinson had composed at least 600 poems. She was on the brink of her most fertile, furtive time…
In late August of 1988, my book, A Hunger, was published. I had gone to visit Stanley Kunitz, who was my prophet-teacher, and told him, "That's it for me, I have nothing more." And he said, though the well is dry it will replenish itself, and to just let it go for now.
CM How lovely, so Stanley.
LBB The letters, then, were a catalyst, a provocation. I thought, I'm going to go home and write a little triptych in homage to these three Dickinson letters. There are now 52 poems in the book.
The Polish poet, Zbigniew Herbert, says there are two kinds of writers: cats and oxen. The ox is plodding and deliberate, and goes back and forth and back and forth and line-by-line, and dutifully plows his acre by the light of day. And then there's the cat—who's sleek and nocturnal and furtive and has sporadic leaps at writing. I am one of those.
Through the seven years, though I've written over ninety master letter poems, I've killed off half of them. By the time those seven years were over, I had been through many, many forms. Though my letters originated in prose, eventually I found the present coupletted form. That's my great addiction. I can't ever imagine writing in another form. Every stanza has an absolute beginning and an absolute end. And no middle. I decided that it was my dream to write short poems, so I began writing what I call American sonnets.
CM Will you talk about the evolution of the master?
LBB The master began as what I call a "fixed star."
CM What happened next…?
LBB He became—not a force of light, but a force of sublimation, subordination. He became an unfixed star; he became a constellation—of ideas, a widening gyre.
CM It's a very courageous move. One feels that sense of supplication all the way through, that kind of ruined worship.
LBB There are a lot of times when the speaker, quite nastily, speaks of the master's hand, which she says is "concaved around her mouth." In other words, it is his will to temper or tamper with her languages. But the speaker always surfaces again and says, "You have the catchweed of quiet on your tongue, I have the power of speech."
CM The struggle all the way through is one of speech and silence. And master and speaker. What about the evolution of the speaker, because the speaker changes and constantly evolves and transforms as well.
LBB As the idea of the master got larger and larger, more encompassing over the seven years, the speaker, who began—not as a fixed star but as a whole little galaxy, an Andromeda of women with Dickinson at the center, her peculiar swooning syntax, her diction, her coy subservience, her voice—around her was everyone and her sister, the beloved and the not so beloved.
CM You do hear a polyphony of voices.
LBB She, then, became more and more hungry, and narrow and slim and lean, and muscled.
CM Particular.
LBB During the fourth year into the project, I had a student at Harvard named Ravi who became gravely ill during the course of the semester, and his handling of his illness was so brilliant and miraculous and honorable and brave that I wrote a letter, because of him, called, "I Don't Know Who It Is That Sings, Nor Did I, Would I Tell." This was the great answer in Dickinson's words to the question: Who is the master, after all. I signed this poem, Bliss Is Unnatural—Your L. And at that moment, I'm the speaker—not Akhmatova, not Plath, not Dickinson. That opened up a whole new realm of possibility. Though, as the project became more and more cruel and autobiographical, I gave myself complete legal freedom to lie, as always, for the sake of the poem.
CM You have a very complicated relationship to other texts in The Master Letters — in dialogue with other voices, in reverence, in all sorts of things; but, in fact, you do finally feel that L. is our speaker.
LBB It's only been during the writing of this book that I've learned to worship the terminal constraint of the poem as a form. I remember a time in 1979 when Richard Howard, who was my teacher at Johns Hopkins, asked us all to submit a poem in order to be admitted to his graduate workshop. I gave him an eighty-something page poem called "Pornography," and he handed it back to me a week later, put his monocle on, and said, "My dear, there's not a line break in the whole 80 pages." At which point I thought I would writhe on the train station platform where we stood. I thought, "What do you mean there's not a line break? Look at the lines, there are thousands of them!" But I had no concept of what a line break—no less a line—was. You spend a lifetime making up your line. Or—in every book, you reinvent the thing itself.
CM I've been writing for 15 years and I only now understand how the parenthesis really works, or a paragraph. It is a devotion of a lifetime. I love your comments on form in the poems themselves: frost on the pane of glass as a form…
LBB "The sedative of frost composes its infinity of dormant melodramas on the glass." That's about form, yes.
CM And then, "Only the unbruised slant of a neck broken by fear, limp now and perfect in the fluidity of damaged form." Your strange synapsed progressions of images are very effective. The poems feel far less flamboyant than in the past, and much more deeply felt. The erotic and the dangerous and the furious seem to be fused, over and over. There's also, with this rage, terrible loss, that this work keeps circling. Is writing for you a means of retrieval or exorcism?
LBB Neither. It counts as further injury. Insult to injury.
CM Eliot said that a poem presented itself to him as a series of rhythms—how do poems present themselves to you? How do they appear to you, and how do you move through that process?
LBB Rhythm is the last thing for me. I have my rhythms; they're inalienable; I can't mess with them. I know what syllable goes where and it's not negotiable, but it's not an act of cadences that triggers a poem. It could be a title, I love the names of things.
CM Clearly. Reading the table of contents reminds me of Stevens' tables of contents: they're poems in themselves.
LBB What a high compliment. You know, I run this 800-number for title services—anyone who wants to call. I love to name things, poems, vehicles…
CM Cats.
LBB Cats, pieces of land, strands of hair…so a title will often come long before a poem. Then, it could be an image that has nothing to do with anything, some little minor wound that is in the body, a rather unremarkable scratch to the outside world, but felt by the person who's carrying it, and then the irresistible impulse to touch that sore, you know, the tooth that hurts, the tongue…that's what begins this kind of poking, needling, a tampering, toward that incision, to peer inside. I've recently learned a wonderful religious term for this, a "morose delectation…."
CM So it is almost a visceral feeling that you're trying to get, or get near?
LBB Yes. I listen to the poem. First I hear the provocation and the name, and the trouble, the trouble in mind. But then what I listen to is not what provoked the poem, not what named the poem, not what I originally insisted that the poem was going to be about. The poem has to have its own circulatory system, and I begin again. When I'm "composing" it, I can say anything, no one's looking. I can be overwrought, underfed, I can be anything. It's in the editing of it that I allow the poem to tell me what its particular truth will be. Even if that truth is Autobiographically Incorrect.
And one more thing, as a long-term and unrecovering practitioner of the prose poem (which I disapprove of, and find indulgent, and feel helplessly drawn toward), the sonnet is the finest and most perfected little cage for a poem.
CM That Dickinsonian legislator coming out.
LBB To say what's what and who's who. Henri Cole used the term "violent concision" and the sonnet is that form of violence, and concisely, because there's this metallic cage you can rattle the bars of, but you can't get out of. Just as it should be: a place where you can't go on and on. In prose you must go on and on, and, in a prose poem, you have to account for the leaps and the white spaces and the deletions in a different legislative world. Sometimes when a student can't write, I suggest writing a blathering, indulgent, bubbling, frothing, mess of a prose poem. And then you put on the rubber gloves, put your hand down into it, and get out a sonnet. Like the time in the middle of the night that I dropped my only set of car keys down the toilet at a rest stop on the Massachusetts Turnpike.
CM How to retrieve that glittering key?
LBB Yes, how to retrieve, and even if you don't have rubber gloves, you've got to get the key, or you're not going home.
CM How do you think that the prose poems and the sonnets coexist in the manuscript?
LBB I had a dire compulsivity of arrangement for the book. For the first five years I allowed no arrangement; the poems were just floating around, no page numbers, no nothing. No pageantry whatsoever. I didn't want to commit it to a narrative, or an architecture. On the road to shaping the manuscript into a book, initially, some of the choices were arbitrary ones—I picked the magical number 56 for two reasons: One, Dickinson was 56 years old when she died. Also, I knew the book was going to be in four sections…I don't think I will ever write a book again in four sections. For me, the magic of a book of poetry usually occurs in threes. But I knew that the book was dense and heavy, and that it needed four corners to go into, maybe because there are four seasons, though I would never arrange a book "conceptually"—winter, fall, spring; earth, air, fire, et cetera. I knew it would be four, and there were 14 sonnets and 14 prose poems. Four folds into 56 fourteen times—a way to control the grazing pasturelands and to put up electric fences. I believe wholly in the slim volume of verse, I believe in the slim everything, I like the trees to be slim in October. As it turned out, there are finally 52 poems in the book, largely due to the resistances and druidries of my editor, Harry Ford. I'm quite certain he is the sternest and most brilliant editor of poetry alive in America. There is a quiet cult of worship around him, though of course he would never acknowledge this fact. He's the inventor of many things—including the Harry Ford Tall Book, the tall ships of poetry.
CM So many of these poems are literally stunning, literally arresting. Did you think about momentum and what kinds of juxtapositions and dialogues you came up with? You pull it off. It's very difficult when you have poems that just stop you.
LBB Well, the arrangement of the book is not translatable into English. It's not a narrative arrangement, but what Stanley Kunitz calls, "that state of knowing becoming gradually luminous." That is as close as I can get to describing how the arrangement works.
CM There are all kinds of motions that I noticed, but in the fourth section I think it is a pronounced motion. Throughout the book there are various forms; surrender, for example, is tried on and tested and flirted with and riffed upon, and sung. But in the last section, surrender seems to come closer to being enacted, or embodied, after a long and extraordinary descent. I'm looking at "The Interrupted Life," "How Can It Be I Am No Longer I," "The Sleeping Hollow of His Face"—that is such a tender, utterly lovely poem to your father right at the end of the book. And then "Am Moor," which is the homage to Georg Trakl, and is a terrifying poem; his troubled life and his suicide resonate in all of this. Is the book a farewell note?
LBB I think not. The only other person who asked that question outright was Helen Vendler, who read a version of the manuscript years ago and phoned me immediately and wanted to come over and make sure I was okay, because she read the book as a…major departure, shall we say. But that was a long time ago, and that was a very different version. I can't say that the poems have gotten any lighter, in fact, I'm sure they've gotten darker. As a reader you don't have access to the order in which the poems were written. But the last 13 poems written (which are not the last 13 poems of the book), are the ones I feel most connected with. To me they feel the most earned by life, by the real world. They're pretty grim.
CM Herb Liebowitz, who wrote what you called "a drive-by paragraph" for the book jacket, said that reading these poems was, "like watching Phillipe Petit walk a tightrope across the space between the two World Trade Center towers, without a safety net underneath." He talks about how the book is about bliss and blighted hope.
LBB He is the first reader to have seen any salvation in the book. "The patch of blue the prisoner calls the sky."
CM There are lots of things that are hopeful, just the energy of the language and the integrity of the conception, and the wholeness—even that last poem is still in gorgeous form. Nothing is dissolved about it.
LBB The book is so lanced with irony, that if you get worried about me when you're reading these poems, turn the page to a slight angle, to a different slant of light, and you'll see—it's like those hidden 3D pictures where you tilt it one way you get the subterranean picture, the equal, secret opposite, like a laser postcard, and you'll see—shimmering beneath it a riotous circus of "other."
CM I did see a black and outrageous humor, and that is part of that hopeful life urge in it.
LBB My sister Julie has a little girl, Elizabeth, whom I adore. She's three years old. She's just starting to make up fairy tales and they're little amalgamations of things she's heard. She just made one up that started with this line: "In her wisdom she felt hopeless."
CM This is from a three year old?
LBB Yes. And I thought, that's really smart. And, in fact, wisdom is the end of hope, finally. Jorie Graham says "contained damage makes for beauty." Damage and salvation, dark and light—I have this theory that there are two kinds of poems: the first kind is the Seamus Heaney ilk—the inclusive, universal, political, religious poem full of humanity, where his finger is curled: come here, come hither: this is what it was like. I think that's the line that starts every poem that was ever written: mine, yours, anybody's. When you are quit of that line, the poem begins. And then the other way to enter a poem, or concoct a poem, would be the other kind—a Frank Bidart poem, which is also a come hither: listen, you have never felt like this, as opposed to Heaney's: you have felt this way. When you enter a poem of Frank Bidart's it's so foreign, and formidably and brilliantly just—unfathomable. You can enter it, but you have to give in to it in a different way. You listen and acquiesce. When you arrive at a Heaney poem, that Door into the Dark is surrounded by a spool of light.
CM Where do you see yourself in your theory?
LBB I'm of the "go away, get out of here" school. I'm of the come-here, nothing-ever-felt-like-this school. That's just one way of looking at it, just the negative, the black and white, because I am very interested in real life and its benevolences, and a whole kind of moral code that I live by: a tribalness, a loyalty, a connectedness. But in poems I feel much more wicked, more distant, rather cruel in ways that I've never noticed in myself by way of the real world. I put poems, my poems, in a very separate realm.
CM What role does magic play in your work?
LBB Some of the pieces in the lexicon that inhabit this book, which is, in some ways, an arched and embellished version of what real life is like to me, are certain emblems of sorcery. There's a line in the prose poem "You Can't Always Get What You Want," which states: "There are no sorcerers left, only mechanics to fix things as they break down." But I have long sought to live in a sorcerer's world, his apprentice—my home, my love, my life—the poem as prayer, as a form of incantatory protection.
CM Many of the figures in the poems are mythic and archetypal. The sorcerer, larger than life, and magic actually. Talk to me about "Grimoire," the poem that appears towards the end of the manuscript.
LBB A Grimoire is a little book of black magic used to invoke demons or cast spells. This was one of the final poems that I wrote. It's a kind of summation of the whole enterprise of writing Master Letters, as a book of black magic, a Noctuary. As Dickinson wrote: "The Supernatural is only the Natural, disclosed."
Originally published in
Featuring interviews with Jo Baer, June Jordan, Kelly Reichardt, Abel Ferrara, Catherine Murphy, Mac Wellman, Lucie Brock-Broido, Wayne Wang, and Roy Hargrove.