Theater as Convergence: Lucas Baisch Interviewed by Vanessa Thill
On deep listening and language as liberation.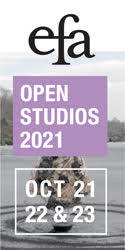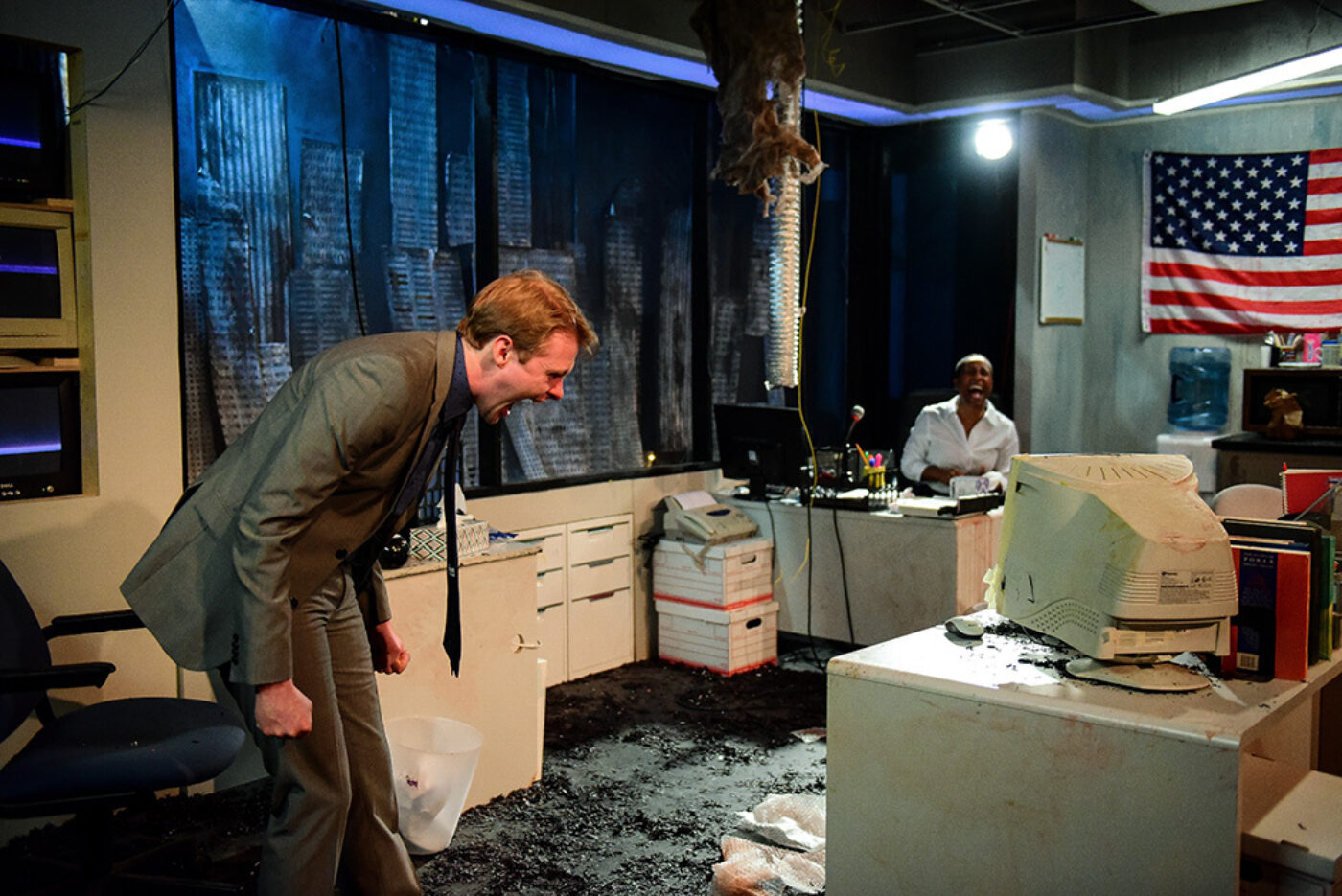 I was in a field in rural Wisconsin inside an abandoned semi-trailer when I was first introduced to Lucas Baisch's work. It was a sweaty July at Acre Residency, and by way of a demo he performed the first scene of his play Dry Swallow (2019). The monologue that thundered out of him stunned me with an unexpected ferocity. In the scene he played Pal, an East Los Angeles street vendor who curses the gentrification of his neighborhood in vexed Spanglish as he hawks bootleg medicine. He holds up a cinderblock throughout his commentary; the end comes when he drops it to the ground with a boom. As that first scene revealed—joking, begging, sneering, and mourning all at once—Baisch uses raw language in order to flesh out how we relate to one another within (around, against) oppressive structures.
—Vanessa Thill
Vanessa Thill I want to start with the stage directions in your scripts, the parts that aren't voiced by the actors per se. In your play import speech_memory (2019), the notes include: "Imagine between each scene / Is a swift burst of choking saxophone," and "Consider biometrics: the body performing data." There is a moment when a character is exiting the stage, and the note states: "She leaves him forever." Tell me about the importance of these instructions for you.
Lucas Baisch In writing a script, I'm also creating a manual for interpretation. It's about giving an offering and seeing what someone will do with that offering. Those notes are emotional suggestions for my collaborators. They're not for the audience. It's like I folded up a little note and gave it to the performer. They are a way for performers, directors, and designers to get a more holistic tone for a piece.
VT It also points to the fact that you create these texts, but as a playwright you have to relinquish control and hope that the director and actors will abide by your vision.
LB That's the scary thing about writing a play. But the ephemerality of theater is a given. One play can have dozens of productions, and none of them will look the same.
VT You also start all your scripts with an instruction: "This play will never be performed by an all-white cast." Why do you include this?
LB I found out that this would happen early on when I was getting my first plays produced. I would have a script sent out, and the cast would be entirely white. I'm just not interested in that. It wasn't necessarily that I was upset with the performers who were cast. But not feeling represented was a huge obstacle for me as a young actor. I don't advocate for a colorblind casting process, ever. If you are going to cast a person of color or a trans person or a person with a physical disability, you have to consider that and integrate it. I wish we didn't have to cast performers of specific identities only when the characters or narratives they are representing are based on those identities. In On the Y Axis (2019) I specifically don't gender the characters. Four actors are supposed to play multiple characters. But I guess because the play is so much about power dynamics, people assume they are all men. It's wild what we project onto narratives.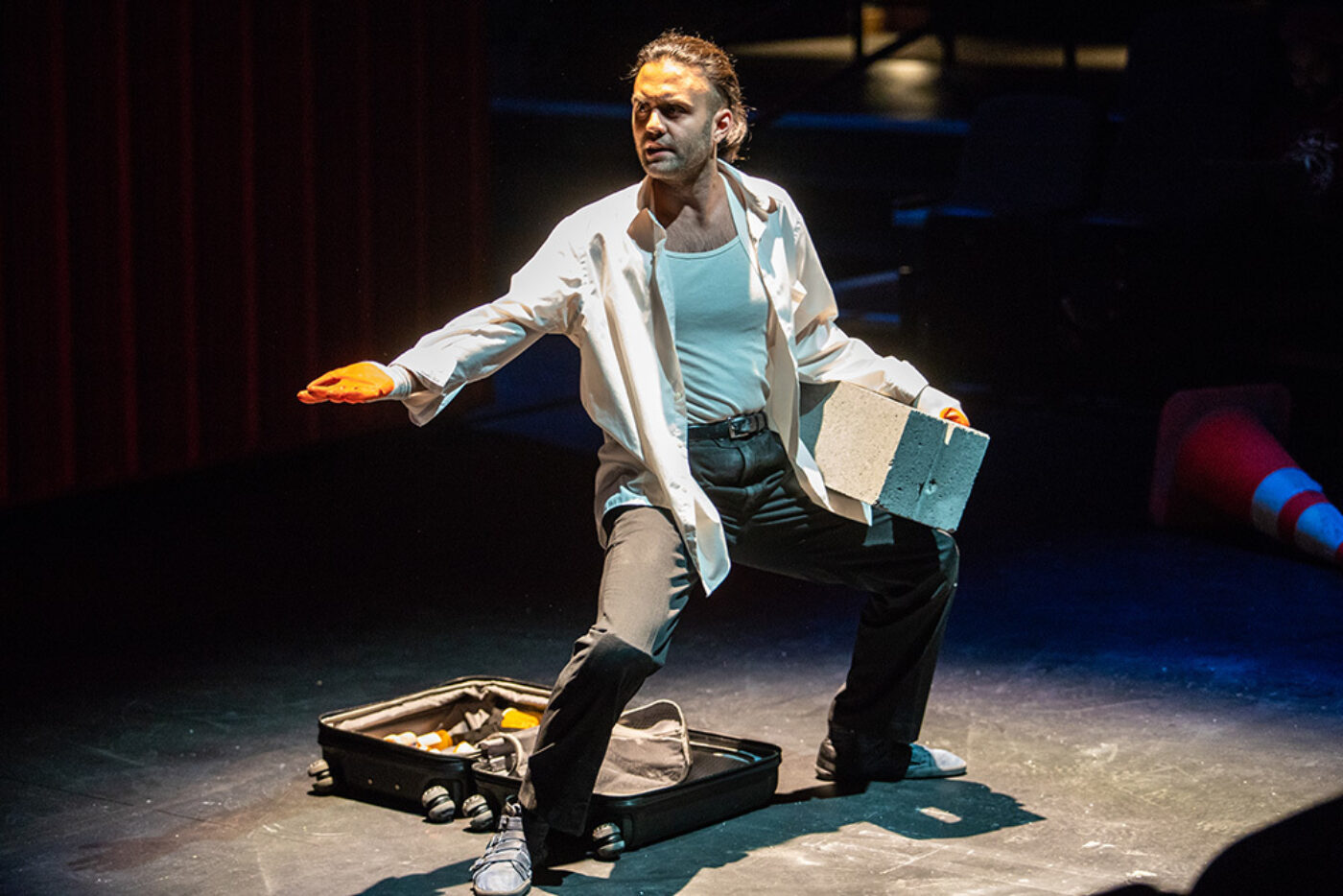 VT To what extent are your characters fictionalized?
LB My characters come from the myriad characters I meet in everyday life. I'll meet a stranger on the train who will tell me a crazy story, and then I will turn that story ninety degrees. I live a life of code-switching, and that really resurrects itself in my playwriting.
VT What initially attracted you to playwriting as a form?
LB I was fifteen when I started writing my first plays. I was such a little piece of shit; I loved how esoteric it was. I went to the Ruth Asawa School of the Arts for acting, and it was part of our curriculum. Playwriting is so analog; it's like a forgotten form. But we actually practice it in daily life. We are always producing text and exchanging dialogue. There is a stiff cultural conception of what theater is, but it's becoming more accepted as an interdisciplinary form that involves dance, music, technology arts, and so on. For me, it's a convergence point. It's so inherently communal, and I appreciate that. I'm always in a space with other living artists; I have to be.
VT What are those collaborations like?
LB The work I'm trying to make has a severity to it that requires a process of caretaking. Sometimes we have to actually sit down and talk about it: What is intimacy? What is violence? How do we engage with these things even if they are being presented in a fabricated way? They are still real behaviors and actions that occur in the world, and people come with a lineage of experience that precedes the show. I have to meet people where they're at. So it depends. I've had really great and really harrowing experiences in collaborations. It requires a certain buy-in with this kind of work. Sometimes my work can be gross and messy when I'm trying to get at something critical. But I also caution the language of "buy-in." This is something I think about a lot while I'm writing.
Hang on—is it really obnoxious to talk about capitalism?
VT Oh, my God, please do.
LB It's so embedded in our social dynamic, it's insane. When people have criticisms about a narrative, they say: "I don't buy that," "I can't invest in that," or, "Is this moment earned?" I'm so perturbed by how much that language has entered our mouths without us really knowing.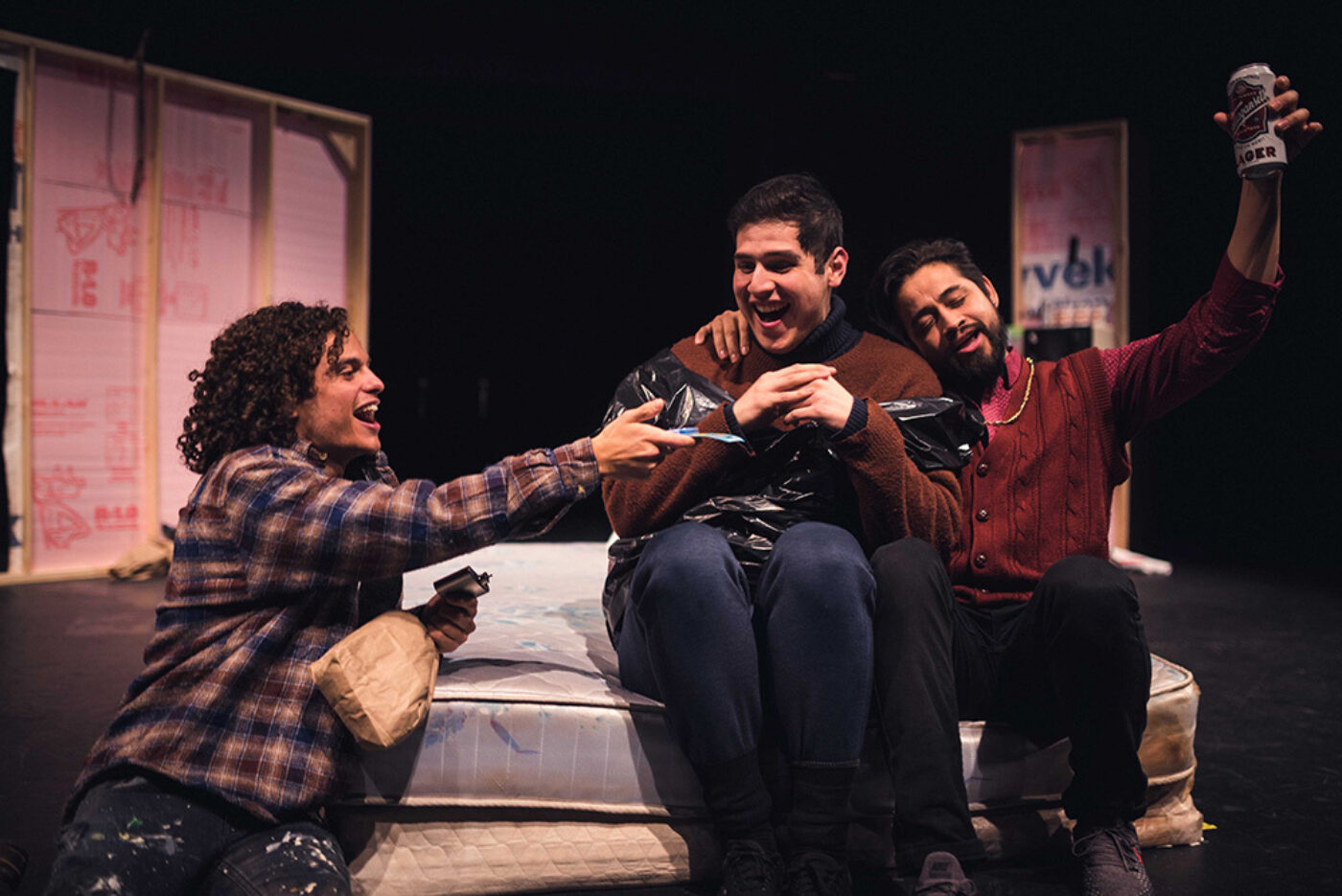 VT That value system has infiltrated so deep. We correlate worthiness with productivity in this really insidious way. It also has to do with technology, how we must optimize ourselves to be able to compete in the market. Is language as it relates to capitalism something you are exploring in your work?
LB Definitely. I've been thinking about this as a serendipitous inquiry in part because I was born in California in 1992, just before the dot-com boom. I saw subconsciously how the world turned toward commodity-making. Looking back, it makes sense that I'm trying to address it, because this is a thing I came from.
What does it mean to be a content creator today? To be mechanized to create output? Artists in our country have been placed in this gross position. Even actors are trained to talk about their objectives in a way that renders their interactions transactional. I wonder what it would mean to step away from that framework. How are we engaging with abundance? How do we reckon with excess and its impact on our day-to-day? And when is that abundance actually drought?
VT What are some of your inspirations?
LB I worked in performance programming at the Museum of Contemporary Art Chicago, and it was formative to my understanding of what performance could be. Peter Taub and Yolanda Cesta Cursach were so adept at bringing in international artists, local artists who were bending form, and people who really wanted to play with the notion of what live performance was. Some theatermakers who inspire me are Mariano Pensotti, an Argentine playwright-director; Toshiki Okada, a Japanese playwright; and Annie Dorsen, a director who makes algorithmic, chatbot theater pieces. I'm a sucker for a straight-up, linear-narrative play. Aleshea Harris, Will Arbery, and Celine Song are all doing things I'm really excited about. So is my cohort-mate at Brown, Emma Horwitz, who is incredibly adept at presenting the terrifying, beautiful desire that comes with queerness and womanhood. She is such an athletic listener. Across the board I'm excited about people who are listening deeply. To me, that means bringing a disciplined concentration to listening, breaking down preconceived notions of the world, and evaluating all kinds of communication with rigor—without a sense of good or evil, right or wrong. A play is a living machine. You can really tell in the bones of the script when there is a refraction of that listening.
VT What do you hope people take away from your work?
LB Recently my work is about ethics and technology, or ethics as they apply to any oppressive system. It's about having a kind of human literacy in terms of how systems work. It's so easy when we are talking about capitalism or technology or climate change to divorce the person from the issue. The utility of theater is that you are presenting live bodies in relation to these issues. I want people to be able to see themselves inside of these systems. How do they practice their own values within these systems? I hope people think about their bodies, what their bodies are accountable for, complicit in.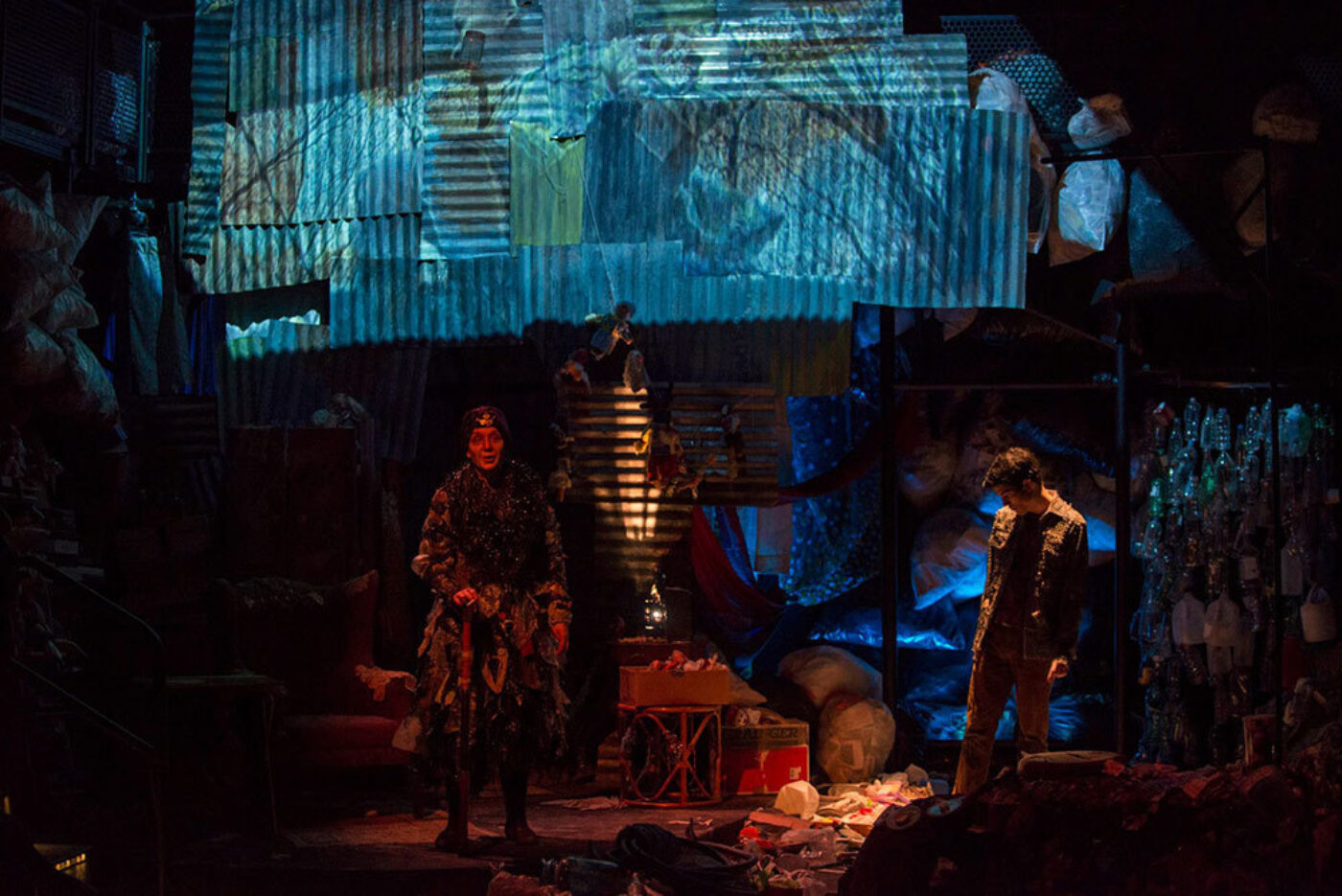 VT There's something unique about the way people in a theater are collectively giving attention. Have you ever gotten any surprising responses to your work?
LB I've had people walk out. It could be that they don't appreciate the content of the play or that they have indigestion. I had one guy in a talk-back tell me that I have all these threads of queerness, technology, and Latinidad, and that I should strip it back in order to think about things more singularly. I was like, First of all, look up what intersectionality is. Secondly, what does it mean for any marginalized identity to work with intricacy and density, to request that an audience member be an athletic listener? It's okay if you don't understand everything. I go to the theater all the time and think, What the fuck is happening? But I'm still engaged.
VT Do you ever think about playwriting as it relates to journalism?
LB Julia Jarcho said that playwriting is like an irritation of the human condition, and I much prefer this to the idea that it's a reflection of the human condition. Theater is always fabricated. It allows us to view what people would deem "human circumstances" through a kaleidoscopic lens.
VT Do you think theater can offer effective social critique because it operates so viscerally, on interpersonal rather than theoretical terms?
LB To me, people are full of sharp turns, idiosyncrasies. There isn't a singular morality to be mapped, so I'm more interested in how we contradict ourselves, how we twist from irreverence and crudity to a site of vulnerability and despair. We live in a world of false binaries that condition us to think there is a correct way to be. Caretaking, critique, anger, and sensitivity should all be allowed to live on the same plane. I'm never presenting an answer in my work. I just want us to consider what it means to throw romantic ideals and myopic fury into the wood chipper! Language is the instrument for this sentiment. Language is what built oppressive systems in the first place. Language is both liberating and full of damnation.
Lucas Baisch's newest play, On the Y Axis, will be read on December 9 as part of the Bushwick Starr Reading Series.
Vanessa Thill is an artist and writer based in New York.
Part of the Select Equity Group Series on Theater.