Love in Infant Monkeys by Lydia Millet by Emily Nonko
In Lydia Millet's new short story collection, Love in Infant Monkeys, she treats animals as rock star characters, paralleling them with real-life celebrities to create stories both eccentric and, in unexpected ways, honest.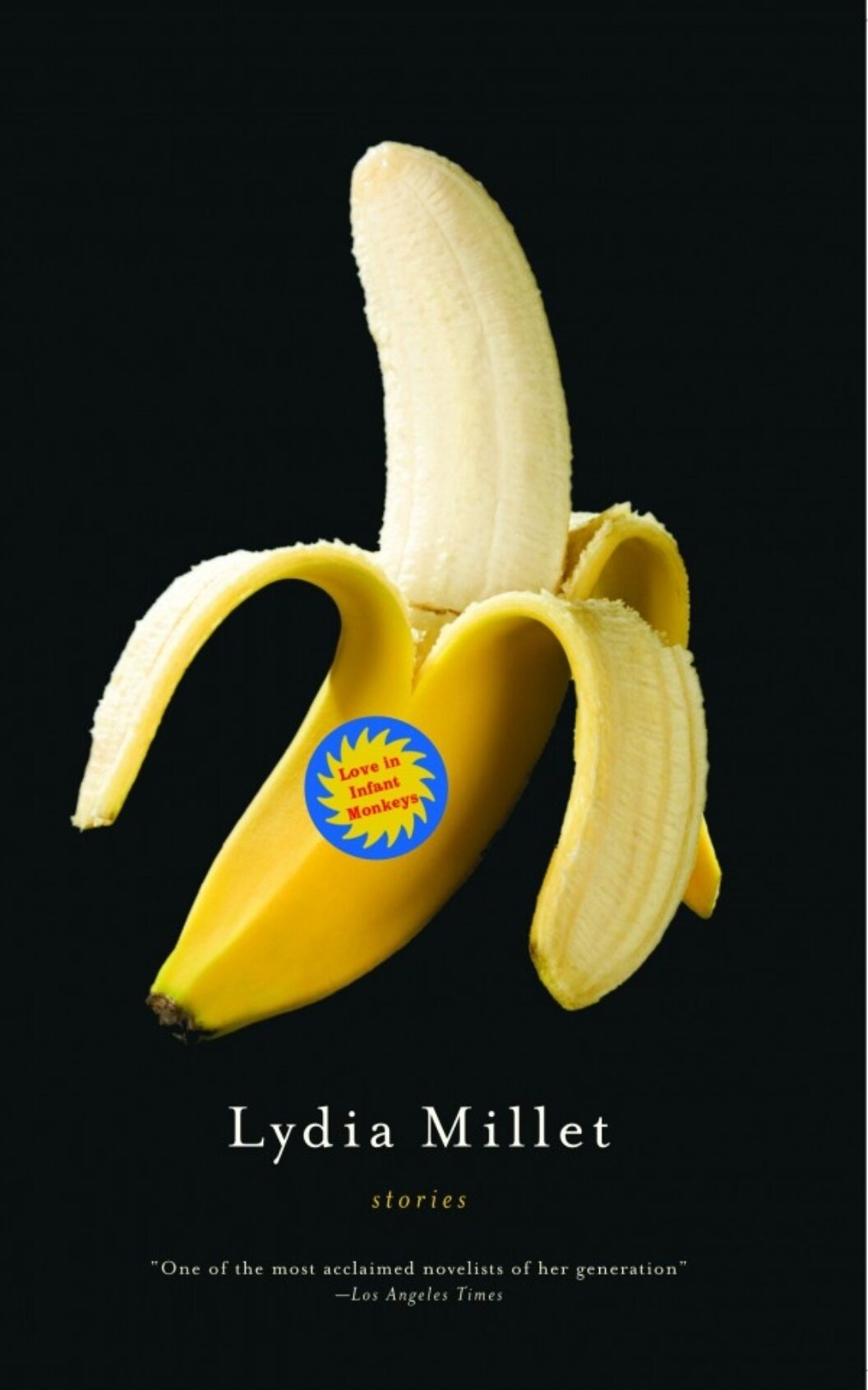 In Lydia Millet's BOMB Interview with Jonathan Lethem, Millet speaks of her captivation with animals, saying "Animals are like rock stars, they have that charisma." In Millet's new short story collection, Love in Infant Monkeys, she treats animals as rock star characters, paralleling them with real-life celebrities to create stories both eccentric and, in unexpected ways, honest. It is the animals, and not so much the human characters, that instill the stories with emotion and perspective.
The book opens with a playful monologue by the Pop Goddess herself, Madonna, who has killed a pheasant on her Scottish estate. While the first story leaves the impression that the book will poke fun at the vapidity of super-stardom, Millet's subsequent character choices are much more interesting and complex: Noam Chomsky, Thomas Edison, Jimmy Carter, Nikola Tesla. In a culture that is obsessed with understanding the intimate details of celebrity lives, Millet chooses "celebrities" outside of the paparazzi realm, public figures we perhaps have ideas and assumptions about but are not akin to Britney Spears or Paris Hilton. Millet certainly recognizes our culture's fascination with the rich and famous, but indulges the reader in an unexpected way: by working with characters we recognize, but still have to sit and think about their roles in our lives, the ideas we have of them. Because they aren't celebrities who have necessarily been branded by pop culture, our ideas and assumptions of them are more latent and complex. And when Millet does directly write about celebrities, she steps back and presents their life in a more unexpected context. Rather than dwelling on the celebrities, she makes them the minor characters, and the animals are more complex and intriguing. The story "Sir Henry," about David Hasslehoff's dog walker, is more about the walker's devoted relationships with celebrity dogs than the celebrities themselves. In "The Lady and the Dragon," an Indonesian billionaire purchases the komodo dragon that bit Sharon Stone's ex-husband in hopes of making Sharon Stone his concubine. The story ends with a Sharon Stone impersonator and the komodo dragon trapped together inside a storage room. (It's worth a read.)
Regardless, Millet takes a risk writing about real-life characters who readers already, in a sense, "know." The character is out of her hands when the reader is already coming in with their own perceptions. By juxtaposing these celebrities with animals, she allows the animals to take the story in unexpected places and ultimately underscore its poignancy. After reading "Thomas Edison and Vasil Golakov," chronicling Thomas Edison and his involvement with the murder of Topsy the Elephant, it is the murdered elephant that becomes the haunting focal point, representing Edison's own views on mortality and liberation. One of the most moving stories, "Love in Infant Monkeys" is about physiologist Harry Harlow's work with monkeys, in which he separated infant monkeys from their mothers and studied them under isolation. She couples frank descriptions of the medical tests with the painfully human reactions of the monkeys. And although Harlow claims, "I don't have any love for them. I never have. How could you love a monkey?" he is still haunted by the misery and loneliness of his test subjects. Both the Edison and Harlow stories are based on fact—Edison did film the electrocution of Topsy the elephant and Harlow conducted those controversial experiments. But Millet turns these stories into poetry, giving the animals a greater voice than either man.
The animals ultimately reveal something greater about their human counterparts: whether that be utter foolishness, selfishness, or their weaknesses. But it is truly impressive Millet is able to let the animals both speak for themselves and the human characters around them, without a line of dialog.
From her BOMB interview, a quote from Millet struck me: "Art is the struggle to go beyond yourself," she said. In Love in Infant Monkeys, these unconventional stories prove themselves to be art. Millet transcends her own voice by taking on unconventional characters, both warm and cold blooded. The result, to say the least, is uniquely moving.