Louise Lawler's Why Pictures Now by Zack Hatfield
The institution of institutional critique

Discover MFA Programs in Art and Writing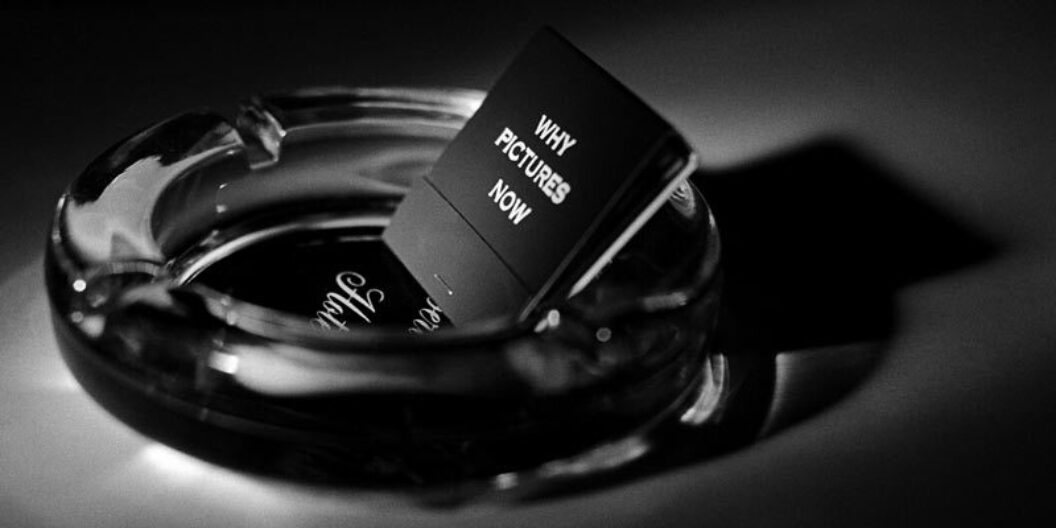 Photography is, of course, permitted in the new Louise Lawler retrospective. If you attend MoMA's expansive yet sparse survey, titled Why Pictures Now, you'll surely see visitors taking photographs of photographs, posing and producing selfies with their phones. These images will later be hashtagged accordingly. These visitors are, perhaps unwittingly, engaging in what Lawler has been practicing for over forty years: creating images that expose how cultural systems and economies shape how we perceive art. A member of the mischievous Pictures Generation, Lawler has largely dedicated her career to photographing artworks within their usual ecosystems, from the bleached walls of museums to the living rooms of the 1%, from storage facilities and backrooms to aristocratic auction houses. Why pictures now. The question doesn't need a question mark. Why pictures then? The answers are the same, though the issues the Pictures Generation addressed in the '70s and '80s are amplified now. Still, compared to recent, more instructive insurgencies mounted against powerful art spaces, the institutional critique pioneered by the Pictures Generation feels neither quaint nor harmless, but rather like an institution itself, complete with its own exclusive references and codes. By including her own past works in photographs, Lawler invites us to appraise her paradoxical strategy.
Lawler's eye behind the camera is often referred to as forensic. The word evokes crime laboratories and detectives, investigations and solutions. Yet instead of demystifying the process and production of art, her photography traffics in ironies that sometimes make it difficult to engage intellectually—not that her work is overly academic or aesthetically inaccessible. Quite the opposite; they are themselves beautiful compositions, savvily arranged. Masterpieces lean against white walls. Lightbulbs that comprise an uninstalled Félix González-Torres work are laid out on a table, extremely inanimate. A 1994 painting from On Kawara's "Today" series hangs quietly in a photographed still life that foregrounds an ashtray, a wine glass, and a candle. At MoMA, the still life is a vinyl adhesive, blown up and distorted to fit one of several huge walls that jut out in the exhibit space. In another photo, a Miró painting's reflection shimmers in a museum bench, radiating the sublime potential of art objects maybe more than it should. What unites these images, perhaps, is a deep sense of expensive loneliness. Though there are exceptions, her photographs are, for the most part, unpeopled. Salon Hodler (1992–1993) depicts two paintings hanging opposite each other on a turquoise wall. The canvases portray nude lovers, clearly enthralled with each other's chiseled bodies. The walls belong to a European connoisseur's chandeliered lobby, its tables, chairs, and lamps color-coordinated with Ferdinand Hodler's oils. The room is empty, charmingly useless.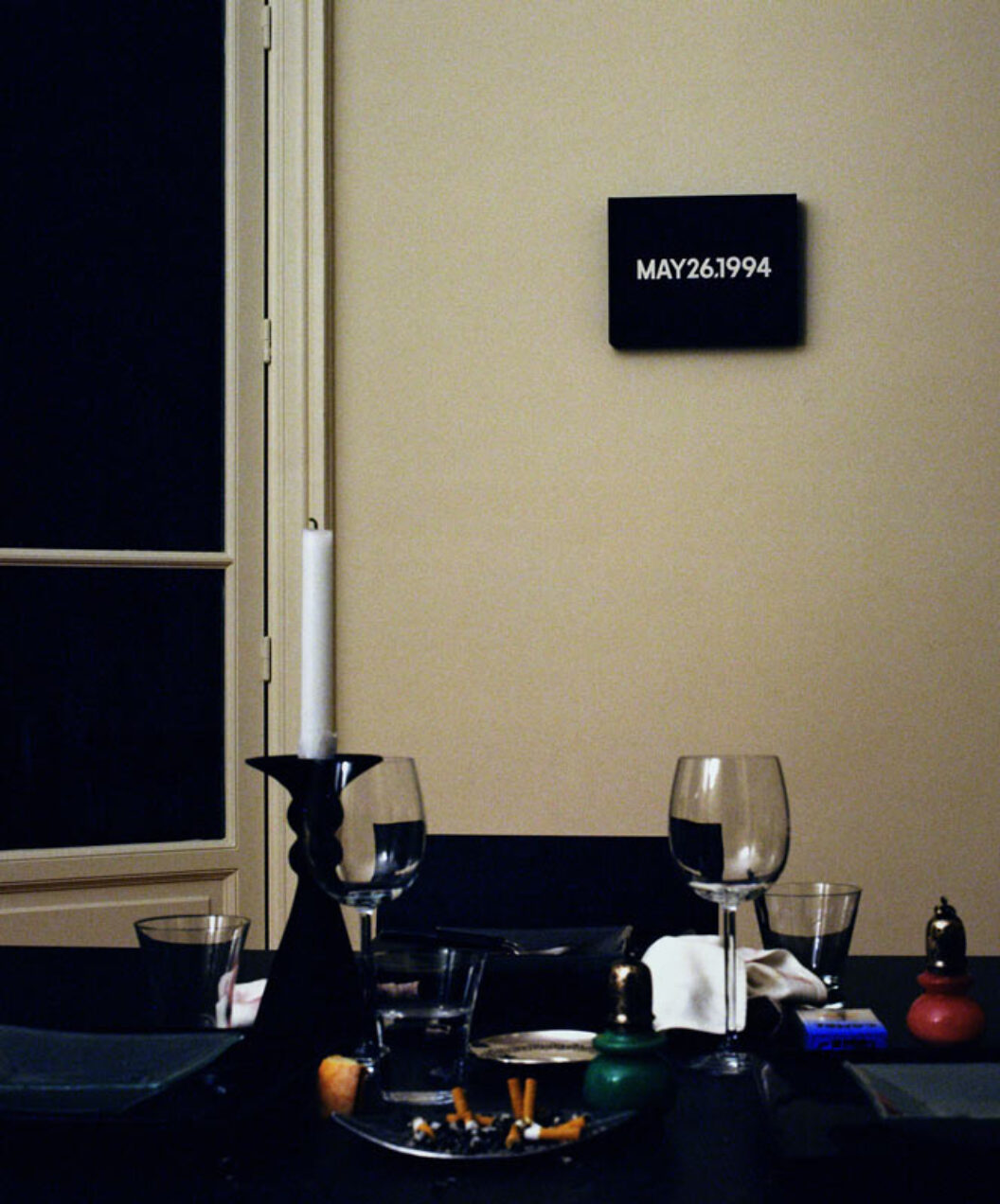 Elsewhere, Lawler appropriates her own images and turns them into small glass paperweights. A collaboration with González-Torres has visitors take a sheet of paper bearing one of her photos. Too much space in the show is devoted to a recent series made with illustrator Jon Buller—titled, why not, "No Drones." It has Buller tracing over Lawler's more well-known photographs. The resultant black and white images are maximally scaled and feel congruous with her earlier works' playful approaches to plagiary.
An antiwar ethos suffuses the survey, but functions less as argument than as fragile motif, a political décor—one work is simply a ledge of delicate glasses embossed with the words "No Drones," a slogan that reappears numerous times in the exhibit. Do the works that reference warfare and drones bear authentic messages, or is it all a cynical pantomime used to wage some irony with the art industry? The refusal to submit to a simple agenda is both a point of vexation here and one of its most admirable aspects. Still, Lawler's body of work takes on political dimensions in much more interesting ways. Although hesitant to identify as a photographer, she is a very skilled one, and by documenting settings within the male-dominated art world, her oeuvre should be read as undoubtedly feminist. A bit of lore the curators relish: When asked to provide her likeness for the cover of Artscribe magazine in 1990, Lawler submitted an image of Meryl Streep with words in a yellow sans-serif font: "RECOGNITION MAYBE, MAY NOT BE USEFUL." Ironically, the Artscribe cover has been repurposed to serve as promotional material for this retrospective. The original gesture, a response to the increasing phenomenon of artist-as-celebutante, highlights how Lawler flouts the industry's trajectories and avarice while simultaneously indulging in it (each work's label even includes where editions have been sold).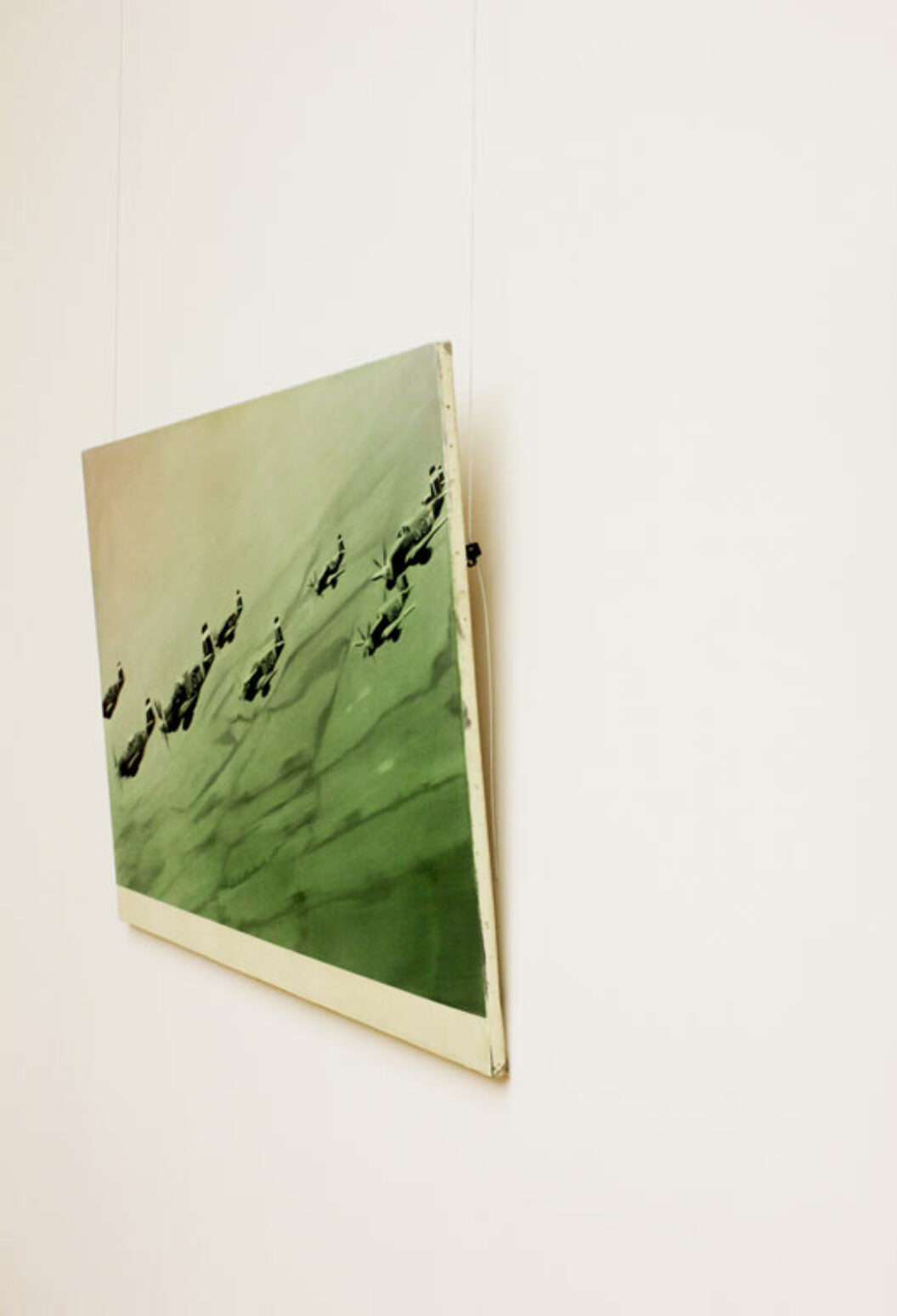 That Lawler indicts art's elite institutions from within those very spaces is not a fault. Institutional critique is often an inside job, and here it's executed with the accomplice of curators, public relations members, fellow artists, and maybe even a few poorly paid interns. For an exhibit that exudes skepticism toward white walls, MoMA serves not only as a sarcastic setting; it presents viewers with an opportunity to reassess the context of the exhibit they currently find themselves in. Far below the museum label for her glass paperweights, Lawler has included a small sentence so obvious most artists would be embarrassed to display it, though here it feels genuine: "This will mean more to some of you than others." The word mean is telling, as it's so inextricably bound up, not only with understanding and purpose, but also with value. One could say Lawler's works do not explain; they mean. Placed inside MoMA, they mean a lot more, in many senses of the word.
Louise Lawler's Why Pictures Now is on view at The Museum of Modern Art, New York, until July 30, 2017.
Zack Hatfield is a graduate student in NYU's Cultural Reporting and Criticism program. His writing has appeared in the Los Angeles Review of Books, Artforum.com, The Brooklyn Rail, and BOMB.