Discover MFA Programs in Art and Writing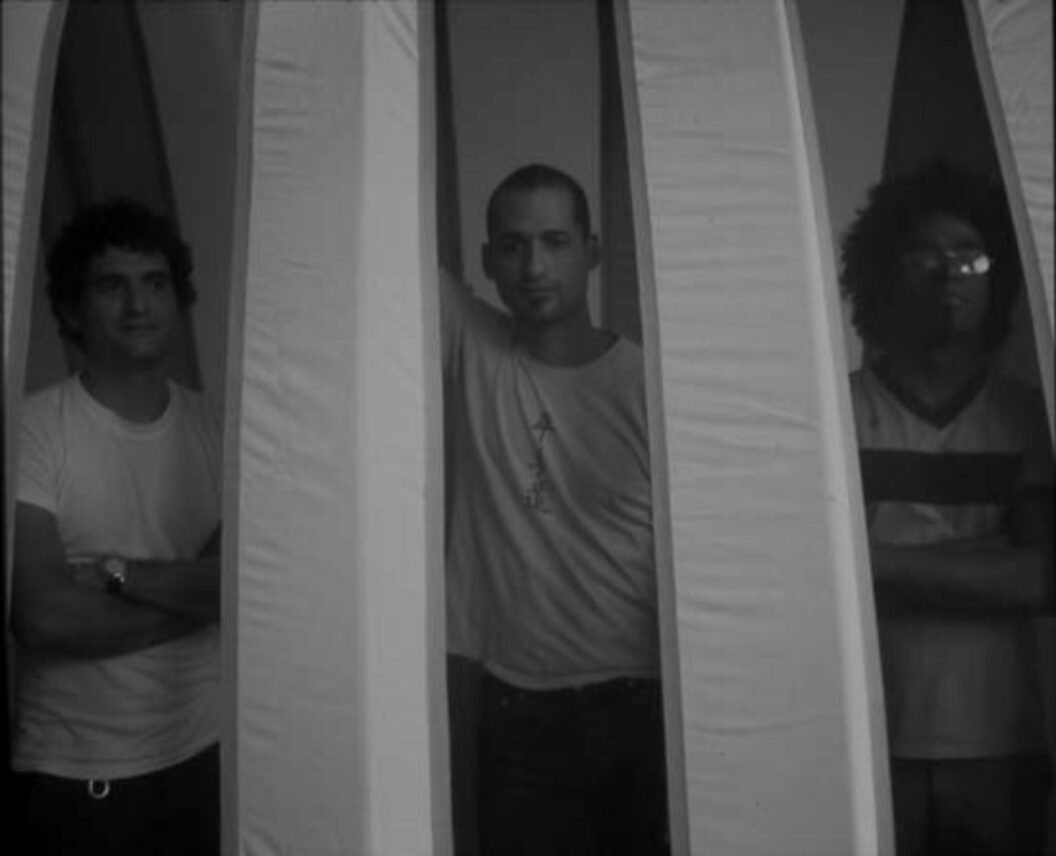 Los Carpinteros are a Cuban trio who create sculptures and large-scale public works all around the world. They have established their reputation as itinerant artists who juggle cultural assumptions by making architectural forms and structures that reflect upon our constructed cityscapes. In the summer of 2001, Los Carpinteros exhibited at P.S. 1 in New York, at Grant Selwyn in Beverly Hills, and were then gearing up for a September opening of their show at the Los Angeles County Museum of Art, Transportable City, which had originally exhibited at the Seventh Havana Biennial. Transportable City is an installation of ten tents, constructed of nylon and aluminum tubing, and representing distinct architectural forms reduced to their urban essence. They include a domed capitol, a Gothic-arched church, a lighthouse, a factory, an apartment building, a hospital, a military outpost, a prison, a university, and a warehouse. Perhaps Transportable City is in part a means to feeling comfortable abroad; much of the time Los Carpinteros are visiting new countries to gather up ideas and inspiration.
I met up with two of Los Carpinteros, Dagoberto Rodriguez and Alexandre Arrecha, in Los Angeles, at the home of their almost-fourth member, Rosa Lowinger, who was instrumental is helping to translate interview questions due to my limited Spanish and the Carpinteros's limited English. (Later, their third member Marco Castillo contributed comments.) All of them showed me the greatest warmth, and cooked me spicy chicken and rice after the interview.
Our talk revolved around specific works of art, especially the "library" of banned book texts displayed on measuring tapes which hung, extended, down the length of the Grant Selwyn gallery walls. Their show was enticingly mysterious, funny and meticulous, as were Los Carpenteros in person.
Trinie Dalton Did you just come to Los Angeles to visit for your opening? Do you live in Cuba?
Alexandre Arrechea We live in Cuba. We came here for two reasons: the first is that we still have a show of the Transportable City in New York at PS1. And the second one is the show here.
 Well, welcome. I want to ask you a few questions about your Cuban background as related to your artwork. I wondered how your show is being received here, versus how your Cuban audience reacts. Is showing your work in Havana a different experience, or does it depend on the piece?
>span class="initials">AA It's not so different. We show more regularly outside Cuba than in Cuba. We haven't done any exhibitions there since last year, but we were part of the Havana Biennial, a very big show. Actually, since 1998, we haven't exhibited in Cuba except in the Biennial. The reaction to our artwork in Cuba is good, but in some ways people are not up to date about the method in which we work. They understand a part of what we're doing, but they don't get the whole thing.
 Do you mean the art historical context?
>span class="initials">AA Yes, they don't have a lot of context. This is something that is happening to other artists in Cuba as well. They exhibit more outside of Cuba than in Cuba; it's a phenomenon right now.
 Some articles that I have read mention that you called yourselves itinerant, and that the idea of your work centers around the concept of an international city. I wondered if your art is somehow outgrowing your Cuban audience?
>span class="initials">AA I don't understand.
 Does traveling allow your ideas to evolve further than if you just stayed in one place?
>span class="initials">AA We can't conceive of doing our work over the next few years without traveling. Traveling doesn't just bring you new experiences; it also forces you to begin living again, anew, each time you leave one place and arrive at another. You have to reinvent yourself each time. This has been the best experience of all. We always maintain a standard of production in any type of condition or place.
 What standard, or what ideal is it that you like to maintain?
>span class="initials">AA For three individuals to produce and create a piece of art requires a set of standards and conditions. We have several topics that we regularly use in our work that don't depend on where we are. I mean we can be in Havana, New York, whatever; it doesn't matter because we always aim for this standard of production.
 So in a sense the concept transcends the location where you are working.
>span class="initials">AA Sometimes you get inspiration from the place where you are, but often you bring ideas from another place; we don't need the place to create a new piece, because we already have that with us. So what could seem like a stressful situation, always traveling and changing places, has actually become something necessary for us. Because it's more about transporting and enacting ideas in different locales.
 Cities each have their own character. Would you say that some of the topics in your artwork deal with the city and urban life, and how to live in a city?
>span class="initials">AA Yes, lately we have been working on that, and as a result our work is more focused on architecture, and design as well. Everything comes from those concepts, design in architecture, clothing, buildings, furniture, whatever.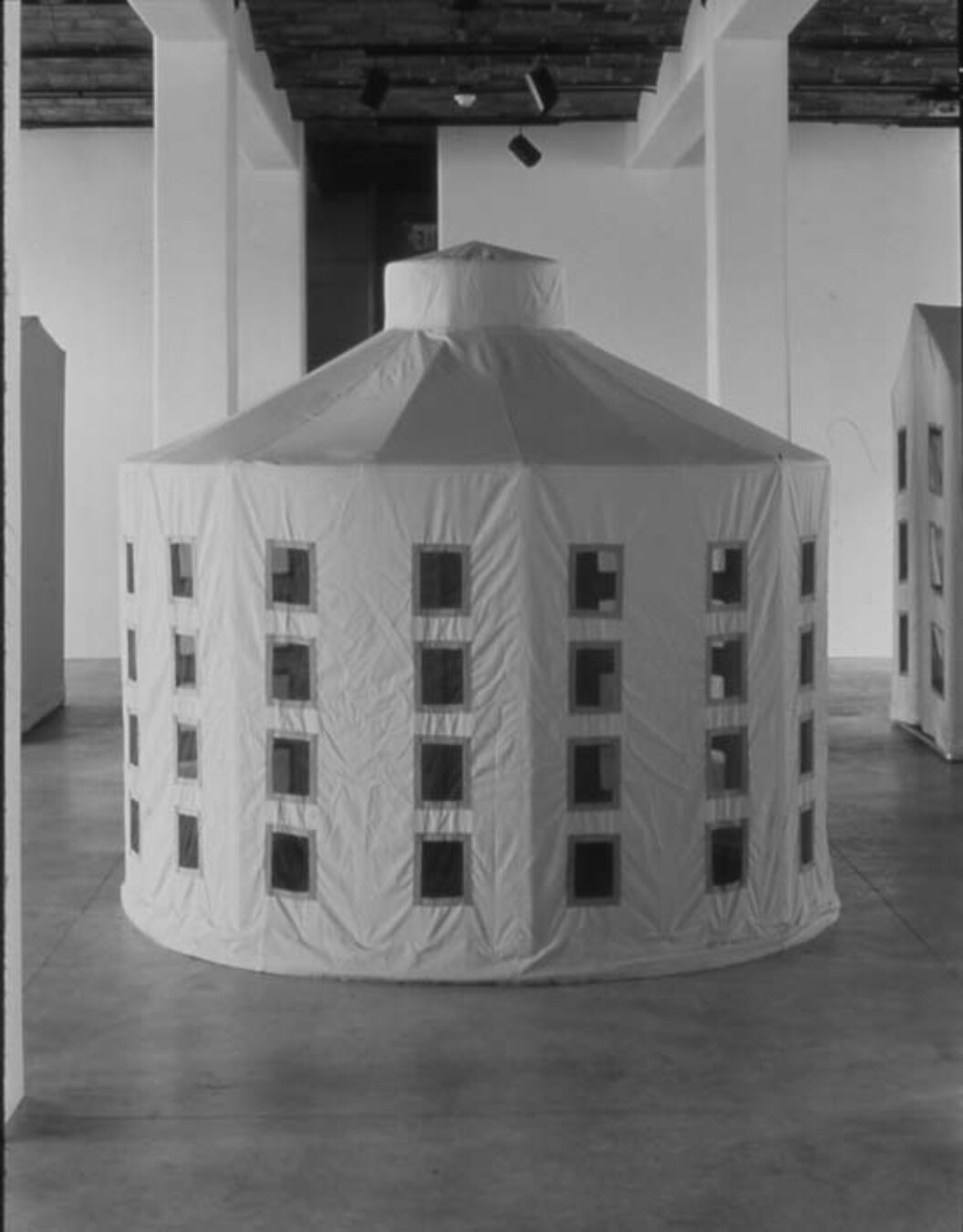 TD So it's about both exterior and interior design?
AA Yes. It's a back and forth between the interior spaces of a city and its exterior.
Dagoberto Rodriguez In the beginning, our work had no similarity to what it has become now. It was more focused on Cuban history, more like a social chronicle. Our first pieces, in 1993 and 1994, were along those lines.
TD What sorts of pieces manifested themselves?
AA We were painters in the beginning. We created installations and paintings, like the Havana Country Club or Quemando Arboles (Burning Trees). It was a very different kind of work, and unfortunately, we don't have any pictures. Flying Pigeon, one of these earlier pieces, is a big painting of a man riding a bicycle. On the frame of the painting is a wooden locomotive. Flying Pigeon is a brand of bicycles that came to Cuba in the nineties from China. They were very, very heavy, so the name is a contradiction. Our piece was a commentary on the whole situation of the Special Period (in the 1990s, when the Soviet Union, with whom Cuba did almost all of their international trading, collapsed, thus crippling Cuba's economy) occurring at the time in Cuba. We were dealing much more with various social issues at that time. Now we are dealing more with design, which is also a social thing, but on a different level.
TD What brought about this shift?
Marco Castillo One of the reasons we stopped painting is because of the question of authorship. The paintings documented how we made our art. There were always two of us in the pieces and the third was the viewer who painted. Working as a collective of three was a conceptual declaration. By eliminating painting we stopped being three and became one author. Another reason was that we wanted to concentrate on the inherent discourse within the object.
TD Your group's name, "The Carpenters," is it a social metaphor?<>
AA Yes.
TD Does the carpenter play a unique role in Cuban society?
AA All of our friends used to call us "los carpinteros," because of the way we worked. We used wood and tools in our artwork. Being a carpenter could, in the context of making art, function as a metaphor for what we do; it neutralizes our positions as artists. You are not under fire all the time.
TD From the critic? 
AA Yes.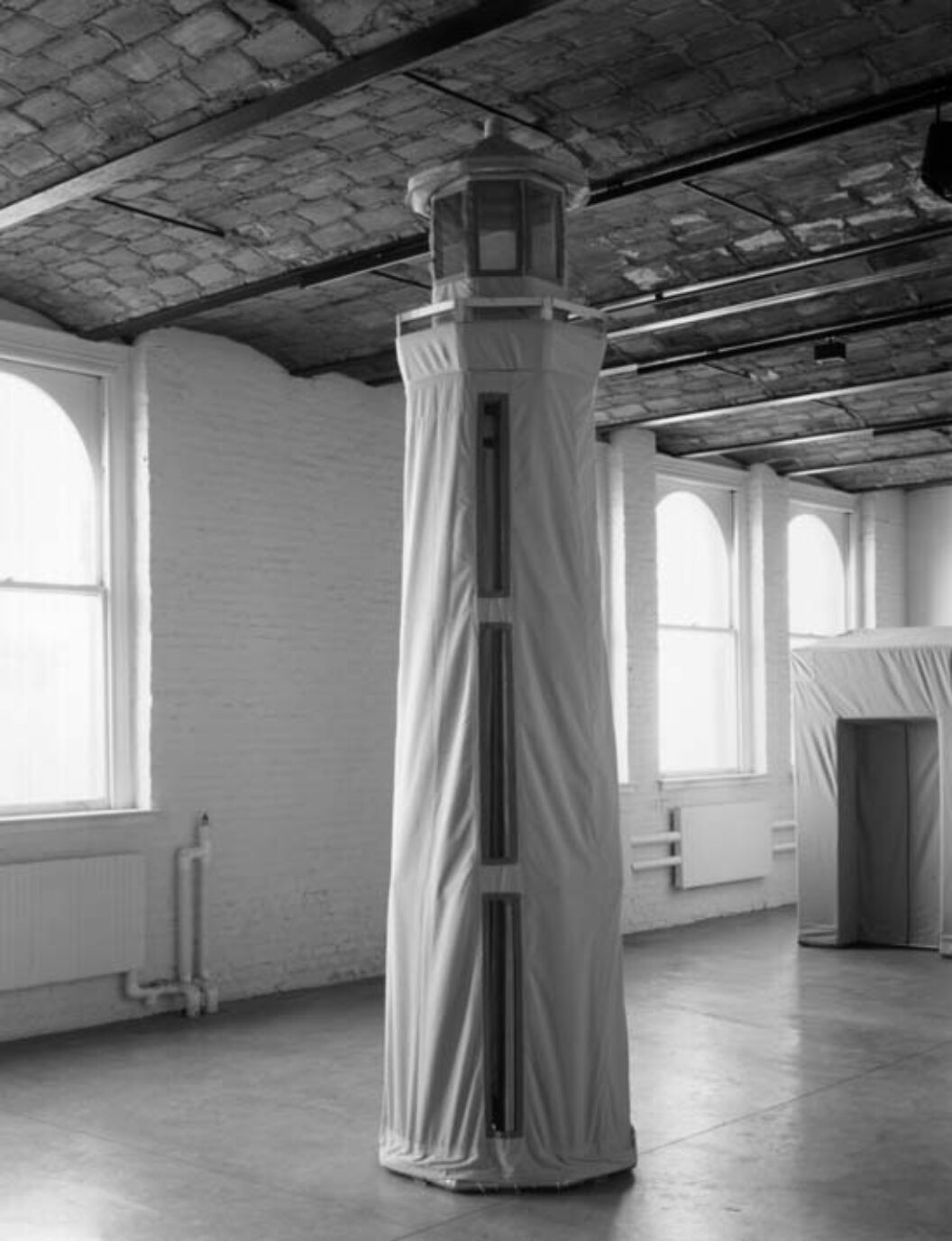 TD It seems like there are quite a few different artists dealing with architectural issues like you are now. I don't know if people ever bring up Jorge Pardo, since he is also Cuban. Do people compare your artwork to his thematically, in terms of art versus architecture?
DR No.
TDNo? I thought everyone would, and you would say to me, "No more Jorge Pardo, we are sick of it!"
AA Actually we love his work. We were just in his house, visiting. It was amazing.
DR But nobody has compared us with Jorge Pardo, as far as we know. He designs a space and makes it livable, and we try to do that as well, but in a false way. Our designs always have a point at which you realize they are fake.
TD Have you seen Andrea Zittel's work?
AA I don't recall.
TDShe's a New York-based artist who creates environments, she makes her own clothing, all of her furniture. She builds house trailers that she can live in, in a similar way to your city and your furniture. The design element removes her from the eye of the critics a bit, because she creates things that she can use. The objects are functional, but contain humor and social commentary as well; her work isn't just pure design. Could you talk about your stove pieces in the gallery? Obviously they are not functional, but—
AA Yes they are functional. You can turn them on, you can cook on them, absolutely.
TD Were they on at the opening?
AA No. That is not allowed.
TDOh, fire hazard.
DR The idea is to create real pieces that work, that are functional. In this exhibit, we work to the limit of what can be done, of what can be used but is also extravagant.
AA The pieces could be seen as a negotiation between design and violence in some way.
TDViolence?
DR Yes, because there is violence in the objects themselves. They look pretty and nice, but each one is a stove with burners—you could be burnt.
 TDWhat are you critiquing?
AA The specific object itself. We consider how the object can be more aggressive. Do you know this piece that we made a while back that is a hand grenade, titled Estuche (Jewelry Box)? It's about the same idea, living with an object that could be dangerous, or that represents what danger can be. It is a relationship.
 TDAnd there is an element of chance, too. In everyday life, you have to take chances in order to grow.
AA Yes. Basically, these are not pieces of furniture, but rather stoves that trick you into believing they are furniture.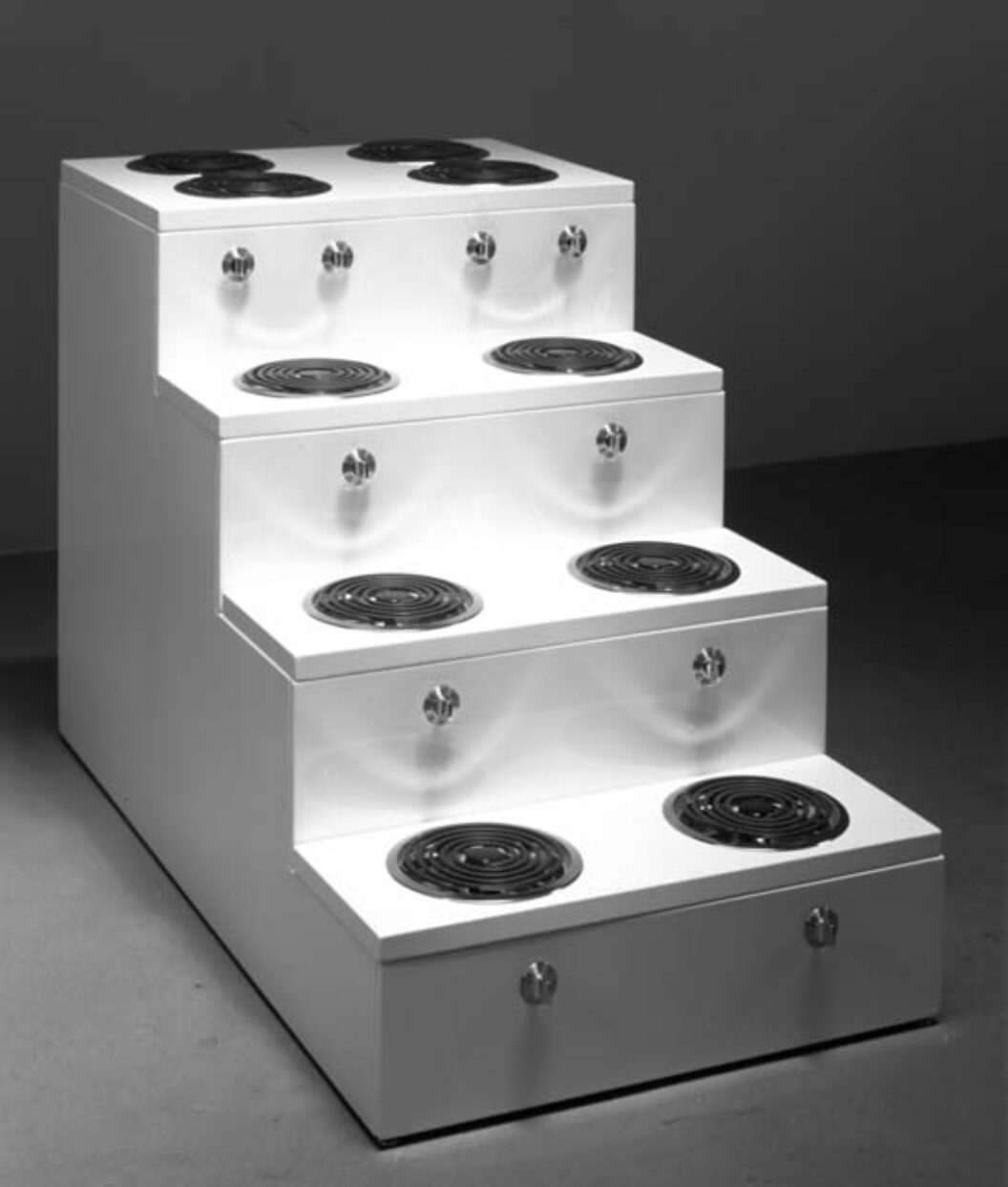 TD I was thinking of it backward in a way—that these were pieces of furniture trying to be stoves. Why do you insinuate violence in your work? Or, what's the nature of a "trick," its relation to the viewer?
MC For us it's not an issue of violence. It has more to do with a type of production that exists in Cuba. There is a department in every workplace that is dedicated to assimilating ideas and creating objects in order to solve problems. Sometimes these innovations are very ridiculous. For example, you can find the chassis of a bus fused to the top of a train, or someone who is grinding sugar cane using a grinding system based on a bicycle.
TDI wondered about the measuring tapes. The tapes extend down the wall, but instead of numbers appearing on the yellow strips, words from banned texts are printed onto them. Do you try to make your pieces humorous?
DR There is always something fundamentally humorous in the work, given the fact that we create objects that look one way in reality, but are really something else.
TDWhat content lies underneath or inside the work? When you're making your art, do you laugh, have fun?
AA Absolutely, if we don't laugh at what we are doing it is boring.
DR It makes no sense at all.
TD Does your artwork have a dark humor? The element of danger that you were talking about before?
DR We come from a strong tradition of black humor, and that can't be ignored. The way we construct a joke or commentary is the same way we create and construct our artwork.
AA As a hidden joke, something subliminal.
DR It's an issue of tradition, a way of organizing thought.
AA The name Los Carpinteros itself is a joke. When people first see us, they think we are carpenters who are trying to make art. Really, it's the way of conceiving life and organizing one's thoughts that gives a particular form to a piece of art.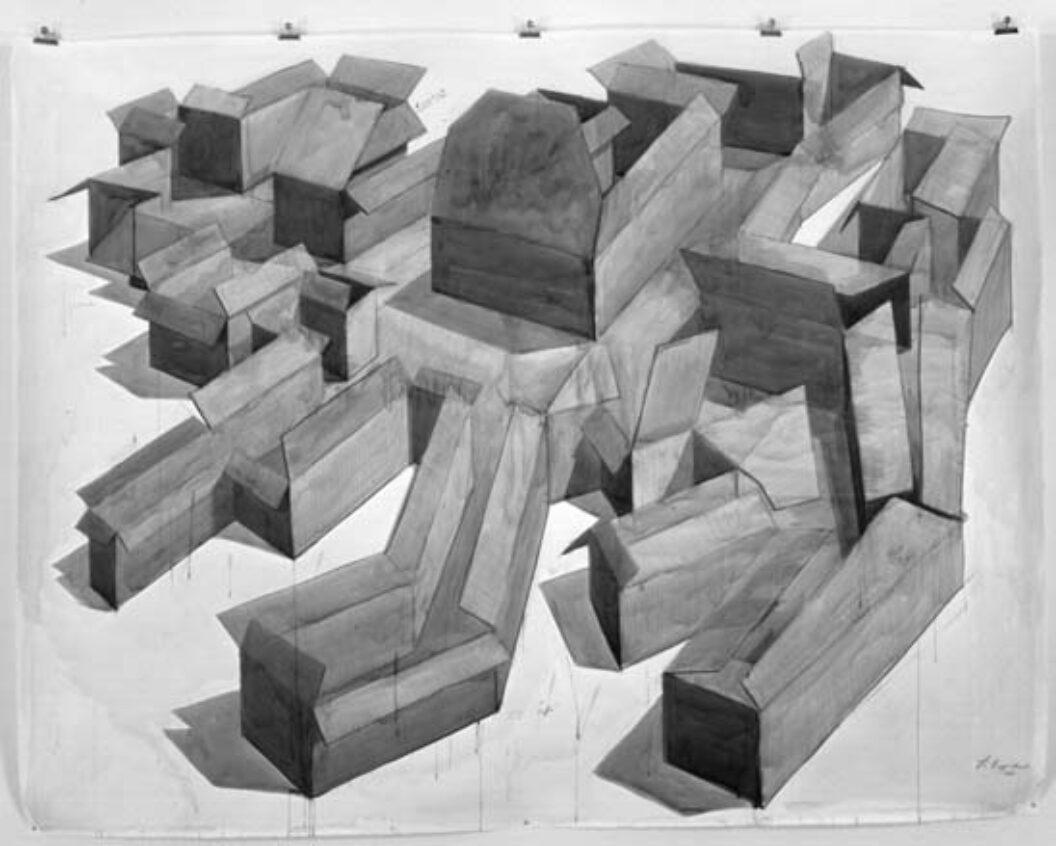 TDLet me ask you about the measuring tapes, in terms of language, did you choose any Cuban texts?
AA Yes.
TDI was trying to find underlying themes in them, thinking of why they are banned or perhaps locating some of the taboo issues that would make a book unpublishable.
DR We wanted to create a library and give it a theme, so we chose banned books.
AA Our measuring tapes present a weird form of expression, similar to the way that people smuggle drugs, or whatever it is they want to hide.
TDAs in the act of smuggling? Using containers to hide what's within?
AA There is not a theme. Censorship is censorship. It's global. We are not going to choose one specific kind of censorship—it's everything.
DR And we don't focus on one particular moment in history, either. We have tried to create a library with older books, and books from the present.
AA From Homer to … some of them have been banned or expurgated or the writer was killed because of the book or the publication.
DR And there are good books and badly written books as well, in our concept behind selection.
AA We were trying to include all writers that had been banned. But we discovered that when some of these same writers came to have power, they banned other writers. So we decided not to put those writers in because they had turned around and done the same thing to others.
DR In creating our library, we censored those books that did not interest us or appeal to us. We are not democrats, nor of democratic character. Literature is democratic, of course, because it is public, but you don't have to choose everyone. The central idea of this piece is that knowledge can be dangerous. We have tried to convey this with the measuring tapes, to illustrate that reality can be measured as well.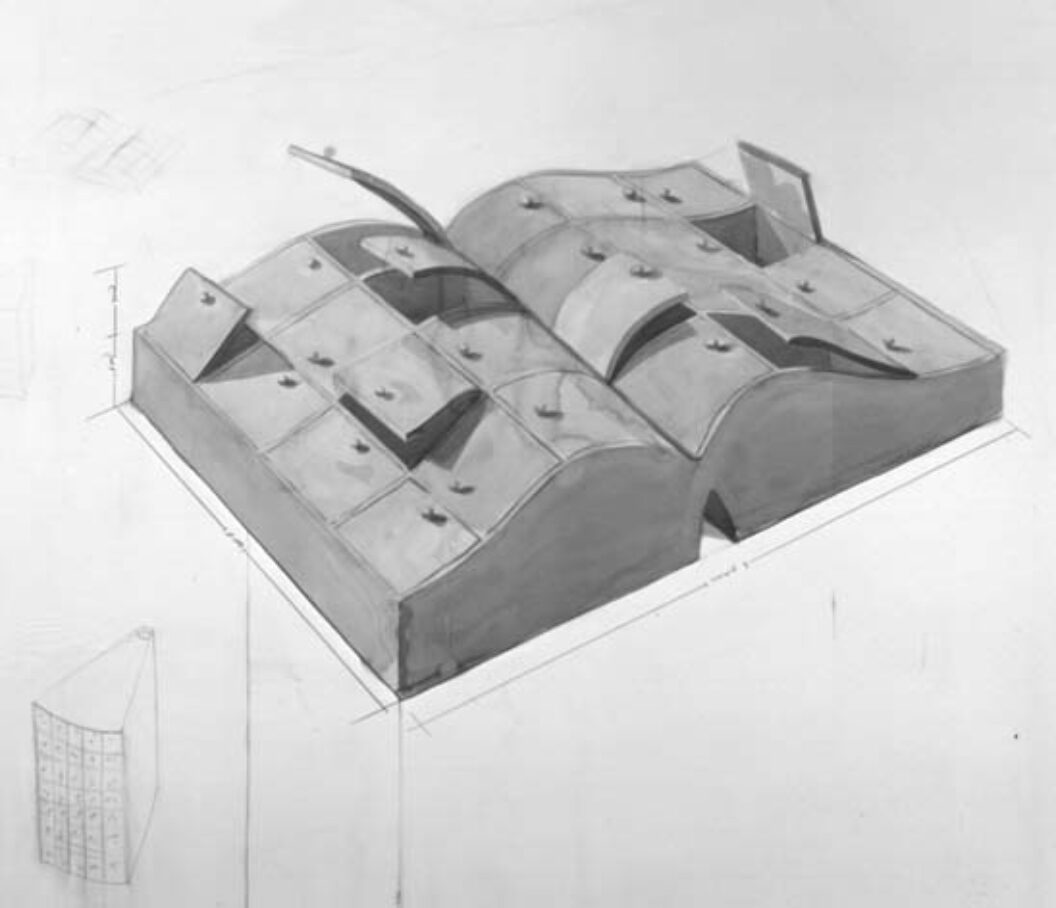 TD That piece seems like a point of departure from your other pieces, in which you've created objects that contained elements of danger and functional design. This piece is more about language. I wonder if your work is moving toward the textual or conceptual, and away from the creation of physical things. There is only one physical element in your most recent exhibit, the stoves, The distinct significance of the measuring tapes piece seems to be that you are dealing with issues larger in scope than the embodied object. You are moving into abstraction, making your statements in a new way.
DR The construction is mental. We had been doing that before the measuring tapes, such as in a piece we made in Salamanca with pillows and dice. We connected each pair of dice with a very thin type of wire, that you almost couldn't see.
 TDThe dice were floating?
AA No, they were hanging on the wall. This was a little piece, the title of which is Network, because although they were connected, you didn't see the connection. You could only see it after you stepped away from the piece.
DR We like to create a dialogue between object and concept. The exhibit at Grant Selwyn was conceived in this way. The first room was completely sensual and physical, because of the beauty of the objects, their pureness. And the library is a mental design.
TDSo more about this cerebral side of your artwork. The kitchen pieces also reminded me of Robert Gober. Have you seen those sinks of his?
AA I know his work.
TDThe lightness and aesthetic perfection of the white enamel.
AA Yes, I remember that piece now.
TD I also want to ask you about Marcel Duchamp.
AA We love Marcel Duchamp. But Marcel doesn't love us. He is dead—he can't.
 TDIt seems that you're coming from a similar tradition of elevating certain objects and giving them new meanings, and thus transcending conceptually the physicality of these objects.
AA It is almost impossible for artists to stay away from Duchamp. He is studied in school and everyone, at some point, has to go to him as a source.
TD You studied him?
AA Yes, of course. At our school in Cuba, the teachers were focused on seventies Dada in America, and the '60s of course. From Marcel Duchamp to Joseph Beuys exists a line, and we always intersect that line.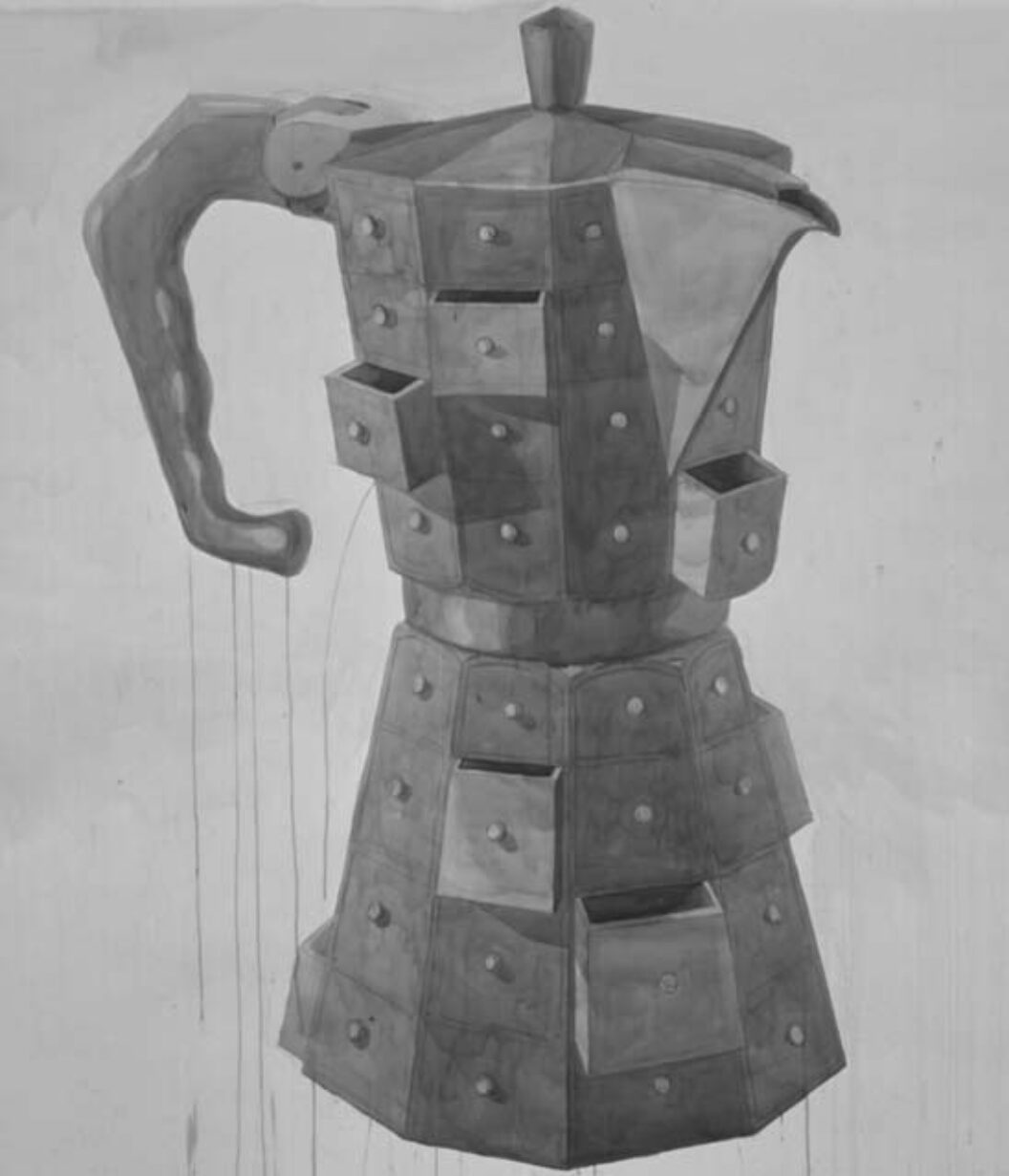 TDSo, conceptual art is a big part of art school in Havana?
AA Havana's school, ISA (Instituto Superior de Arte), is basically conceptual.
DR The professors of the institute were all artists who only created and exhibited in Cuba. Beginning in the eighties, a thriving environment was created for discussion. Flavio Garzandia, a teacher at the institute, brought all the conceptual ideas to us, especially the American idea of conceptualism.
TDIn a review of your show, Linda Yablonsky called your measuring tapes "metal tongues."
AA Metal tongues?
DR That's good, I like it. It's a nice relation to our piece.
AA We can change the title of the piece now.
TDHer phrase brings up the idea of the language or text in the work. The measuring tapes are in a sense a reference to your being carpenters. I started thinking about this funny dichotomy between the carpenter, a working-class person, versus all these authors trying to speak to the masses through their writing, and I wondered if there were any socialist undertones to that piece, or to your work in general, and if you could talk about that.
DR There is a subtle attempt to convey some of that in the piece.
TDIt's the history of Cuba, so it's a hard question, but was it intentional, did you think about the socialist or communist commentary that can be read into your work?
DR When we get asked that type of question, we sometimes think it's a joke. Cuba is pure energy for us, not a point of reflection. There are things in our work that refer to Cuba, but they are disguised and subtle.
TDBut your obsessions tend to be Cuban, of Cuban origin?
DR They are not meant to be specifically of Cuban origin, but they bring you to a place such as a beautiful sandy beach that reminds you of Cuba.
AA There are lighthouses everywhere in Cuba, but when we work with lighthouses, the big lighthouse at the entrance of Havana unconsciously comes to us.
DR You are subject to the light from that lighthouse—it's always guiding you. We use that image a lot, and every time I see a lighthouse, I think of Havana.
TDThere are lighthouses all up and down the West Coast, so for me, having grown up here, I think of California.
AA We were talking about the idea of being and working and thinking of Cuba in some subtle way. Something that refers to Cuba, but is not explicitly a Cuban thing. Perhaps it's a situation.
DR It works from an ideological point of view. The lighthouse, for us, is not just the light that guides, it is much more than that.
TDIn terms of what we were talking about earlier, the mental versus the physical object, are you focusing your new work in one direction or another? Is your artwork changing in any way? Or do you think you will continue to keep that balance between the physical and conceptual?
AA We are going to continue with that balance. A project I recently designed as an outoor piece for Madrid, Spain, will consist of ten lighthouses. It's going to be like a diagram, the same configuration of the first lighthouses that the Spanish put in every country when they came to colonize. So we are going to reconstruct the first lighthouses that they built in every one of those countries again, but this time, they will all be situated in Madrid.
TDFull-size lighthouses?
AA Fifteen feet tall.
TDThat's big—will they be stone?
AA No, they will be a light polycarbonate.
TDCool. When will you start doing that?
AA In January. They will be up in February.
TDYou'll have to work fast! This is a little off the track, but back to the measuring tapes—one thing I noticed was that a lot of them seemed to be personal notes from the author to the reader. They speak directly to the reader. Here are some: Anne Frank, "I hope that I will be able to confide everything to you," or Goethe, I have carefully collected whatever I have been able to learn of this story." Or the Kama Sutra, which is a very intimate text.
AA We picked the beginning from each book.
TDThe first line of each book?
AA Except for the Decameron—there is a specific section that was censored, and that's the section that was chosen.
TD I wondered if you were making a statement about having a personal communication with your audience?
DR That's lovely, but incidental—we hadn't thought of that one.
AA We were so focused in our project that there were pieces we didn't even get a chance to read.
TD People always find new interpretations of your artwork—that's a good aspect of art making.
AA Yes, we agree. That's beautiful.
Translated from the Spanish by Isabel de Sena.
—Trinie Dalton is a writer and English teacher living in Los Angeles. You can read her stories in upcoming issues of Santa Monica Review, Yeti, and Ghost Stories magazine.
Originally published in
Featuring interviews with Roberto Bolaño, Laura Restrepo, Miguel Leon-Portilla, Nancy Morejon, Graciela Sacco, Tunga, and Los Carpinteros.