Looking Back: BOMB Contributors on Music in 2018
Featuring selections by Steve Dalachinsky, Mark Fell, David Grubbs, Charmaine Lee, and more.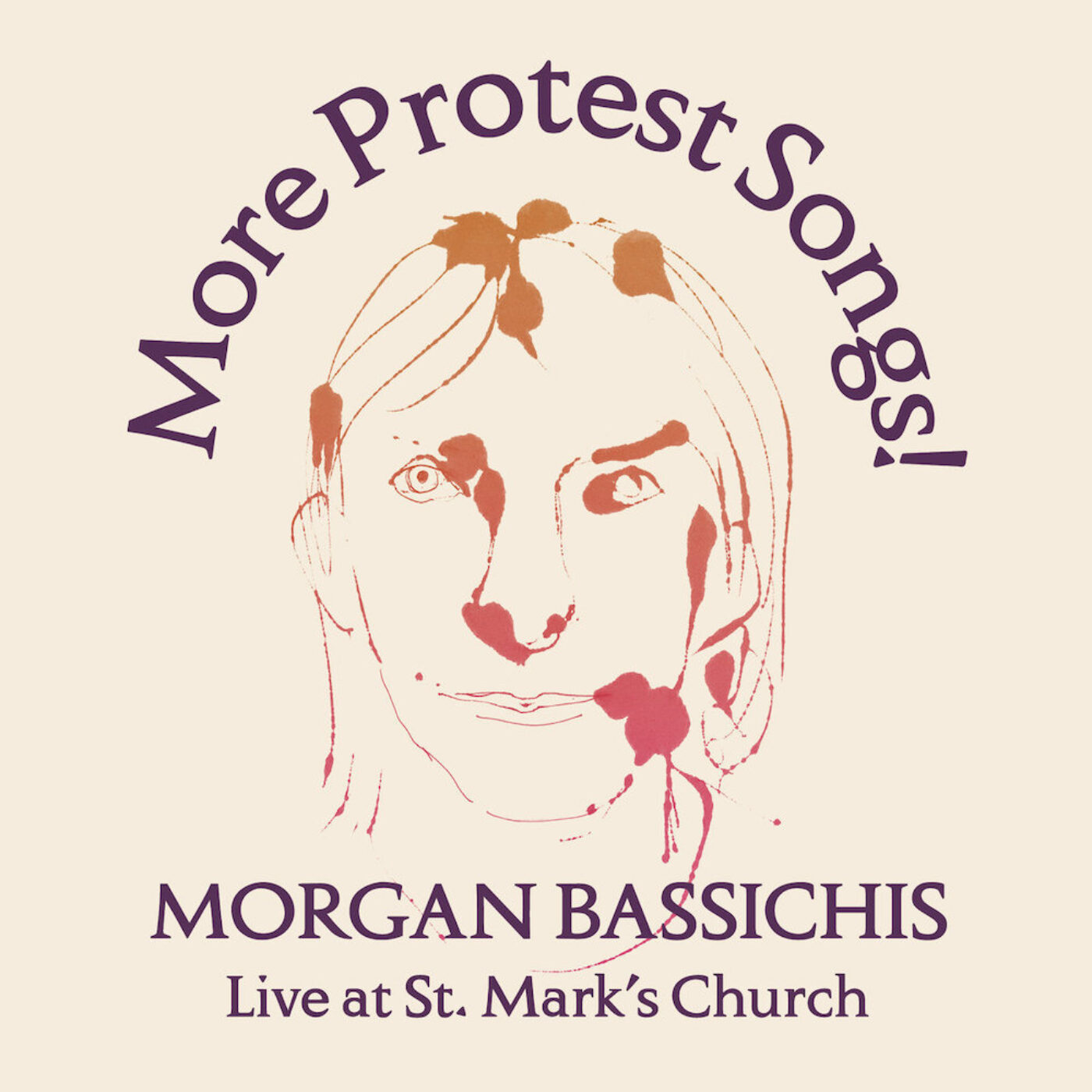 Jacques Becker, Tim Berne, Andrew Cyrille, Michael Formanek, and more

Every year there are so many venues opening and closing. So many exhibits. Concerts. Readings. To pick one over all the others can be a difficult task. Last year it was Carol Rama for me as far as art went. This year there were a few in all the arts that vied for my attention. But I can say for sure the one steady consistent thing that was by far the best out of everything was the LIGHT / LUMIERE MAGNIFIQUE—every clear evening the sunset was just a knockout / the red-oranges at their peak. Gentrification has run rampant: downtown / uptown > the boroughs have all seen uncountable new buildings rise up > but the one thing these edifices have been good for since most are primarily made of glass is the way the light hits them as the sun is going down / the clear magic that has occurred these past four seasons has at times been unsurpassable and perhaps the best art of all.
Aside from that there was Jacques Becker's Rendezvous in July. The trio of Tim Berne, Andrew Cyrille, and Michael Formanek. The duo of Tyshawn Sorey and Marilyn Crispell. The quartet of Michael Foster, Nate Wooley, Brandon Lopez, and Ben Bennett. My discovery of the venue Korzo. The retrospectives of Giacometti. Klimt. Delacroix. The release of an Eric Dolphy recording with previously unissued material. Ditto Coltrane. Ditto Monk. And this is just the tip of the tip. Need I say more other than HAPPY HOLIDAYS and take a walk west at sundown. Oh, and the ultimate best thing for me of 2018 was the opening of a Trader Joe's two blocks from my house.
Steve Dalachinsky is a past contributor to BOMB.
RAVEDIT (2018)

The British producer Rian Treanor first came to my attention some years ago before his first releases in 2016. In fact many people originally mistook this young producer's work for mine despite the very clear differences. For me his EP RAVEDIT on Death of Rave was a highlight of 2018 and marks a kind of pivotal moment in his development. The record, which is now almost impossible to find, contains four tracks, each of which revisits not only a particular record, but also a particular moment and place in musical history: "Don't Go" by Yazoo released in 1982 at the height of the British synth-pop era; "Oh Yeah" by Yello (1985); Whigfield's anthemic "Saturday Night" (1995); and the Lollywood classic "Good News For You" by M. Ashraf featuring Nahid Akhtar. Thinking about this choice of tracks it is hard at first to see any logic behind Treanor's choices. Clearly "Oh Yeah" seems symmetrically opposed to "Saturday Night"—the former heralding the early emergence of house and techno, the latter as a kind of marker of the acceptance of such forms into mainstream musical environment. It is perhaps "Good News For You" that seems rather tangential. But read in the context of Treanor's musical journey, I see the inclusion of this piece as a nod of respect to all his childhood school friends and the community within which he lived, which was predominately of Pakistani heritage. In this sense Treanor's RAVEDIT should be thought of not so much as remix, reworking, or deconstruction but more in terms of a retelling—of the things that circulated around his childhood. Beyond the subtle references that this record makes, what I really like about it is the music itself: the playfulness of the patterns, the skill and the sense of fun.
Mark Fell was interviewed by Alec Mapes-Frances for BOMB.
Pat Thomas and Seymour Wright

I saw almost a cubic ton of invigorating live music in 2018, so I could spin the wheel and sing the praises of any number of artists. Serendipity saw to it that I was in the right places at the right times (Hong Kong and London in April and August) to catch two very different shows both featuring the British improvising musicians Pat Thomas on piano and Seymour Wright on alto sax. The first was the quartet Ahmed (with Antonin Gerbal and Joel Grip), which takes inspiration from the music of Ahmed Abdul-Malik to launch something that's entirely their own—a wild polyrhythmic workout of looping fragments resulting in an ecstatic performance from the word go. Their lone album, New Jazz Imagination, is a dream. The second show was part of a Cecil Taylor tribute at Café OTO and featured XT (Wright and drummer Paul Abbott) and Pat Thomas presenting their take on Taylor's 1973 Akasakila—totally bold and marvelous. The drink of the night was a favorite of Cecil's: prosecco plus a dab of lemon sorbet. Can you believe that Pat Thomas has never played in New York City? Can someone please help to change this?
David Grubbs last interviewed This is Not This Heat for BOMB.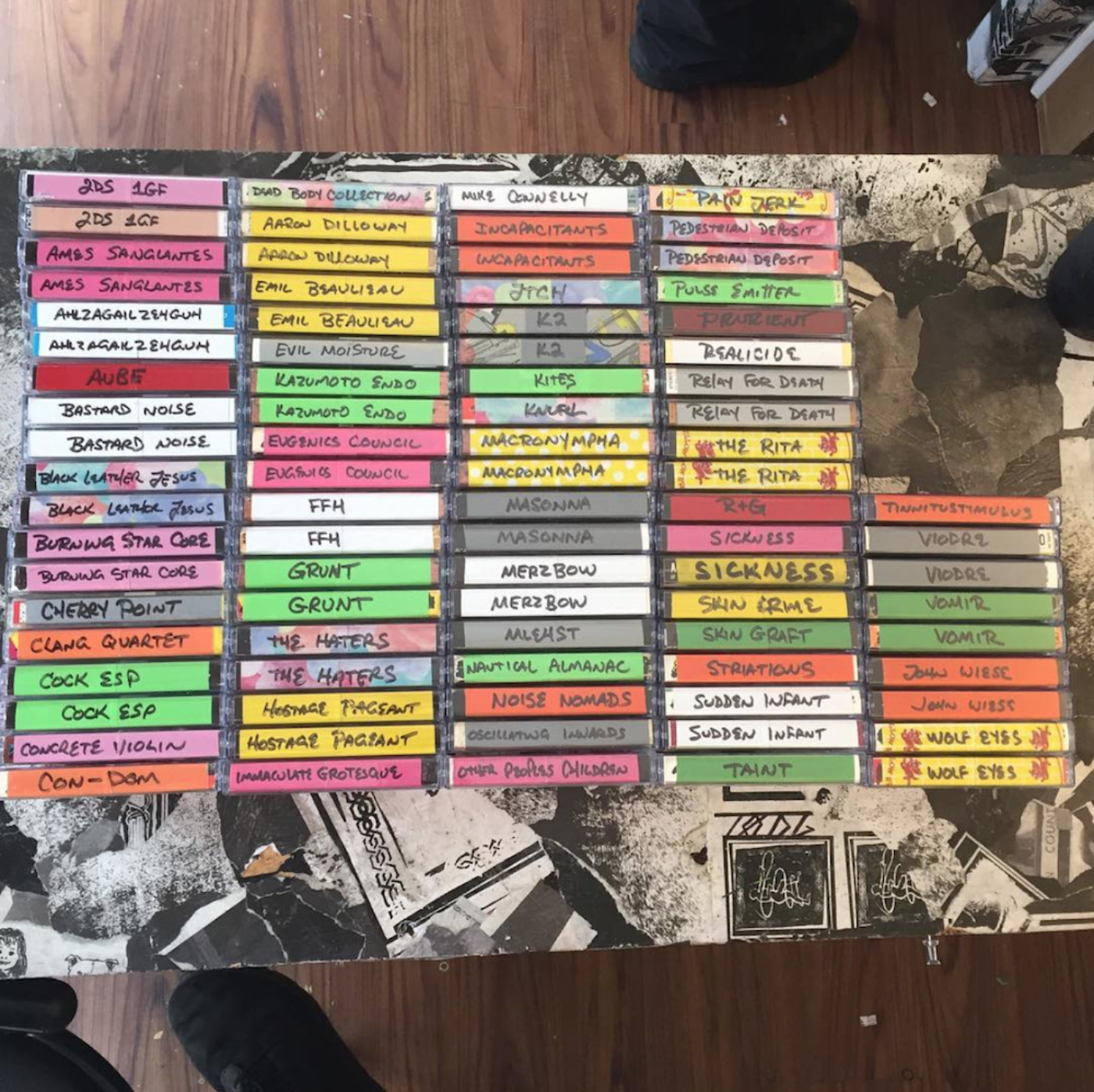 Thousands of Dead Gods

Noise, like most art forms with roots in the anti-establishment underground, has a tendency to feel daunting to an outsider. Its relative lack of institutional recognition obscures typical access points that one might find in other forms of music. I found this to be the case on my own personal quest to educate myself about noise earlier this year and was fortunate to be pointed in the direction of a tiny record store housed in an alleyway in Bushwick. Thousands of Dead Gods, founded and run by Matt Boettke and Justin Lakes, is a unique entryway to one of the most prolific genres in modern human history. It was there that I discovered a life-changing catalogue of recordings, literature, and films by influential artists from America, Europe, Asia, and Canada—one such work being a record by The Rita from which the store takes its name. These historically significant projects are celebrated alongside the newest releases from lesser-known international and local artists. Though its physical footprint is small, Thousands of Dead Gods is a shining example that square footage is no indication of the social and creative impact on a community. Recordings of local artists are released and distributed under its name, and live shows are frequently organized or promoted throughout the year. Matt and Justin defy any external perceptions that noise music is a hostile one; their utmost obsession and dedication to the art form combined with the proactive and welcoming embrace of curious newcomers such as myself has facilitated a wide-reaching community far beyond its Bushwick home.
Charmaine Lee was last interviewed by Conrad Tao for BOMB.
Senyawa, Yves Tumor, YAEJI, and more

Future-forward sound is alive and well this year. Bubbling at festivals like Big Ears, Unsound, and Brooklyn's own Spizzy Fest, audience members were dazzled by artists whose search for the brinks of music is seemingly endless. With record labels like Shelter Press, PAN, and Palto Flats leading listeners toward the unknown, 2019 seems ripe for a bump in the evolution of listening. As the bar continues to rise, here's a look back at the artists, promoters, and labels who bent the horizon in 2018.
LIVE
1. Senyawa feat. Patshiva Cie (25-member female choir) @ Worm / Rotterdam, Netherlands
2. Demdike Stare / Michael England A/V Collab @ Pioneer Works / Brooklyn, New York
3. John Luther Adams - In the Name of the Earth for 600-piece choir @ St. John the Divine / New York, New York
4. Charmaine Lee Solo and Ben Bennett & Michael Foster Duo @ Spizzy Fest / Brooklyn, New York
5. Fourtet vs Mats Gustafson Free Improv Set @ Big Ears Festival / Knoxville, Tennessee
6. The Necks @ Variations Festival / Nantes, France
7. Yves Tumor @ House of Vans / Brooklyn, New York
8. Mark Wagner @ Bascillica 24-Hour Drone Festival / Hudson, New York
9. YAEJI @ WARM UP PS1 / Queens, New York
10. Beatriz Ferreyra @ Issue Project Room / Brooklyn, New York
RECORDINGS
1. Tirzah—"Devotion"
2. Ustad Zia Mohiuddin Dagar—"Ragas Abhogi & Vardhani"
3. A$AP ROCKY—"Testing"
4. Jon Hassell—"Listening to Pictures"
5. OBJEKT—"Cocoon Crush"
6. Lucy Railton—"Paradise 94"
7. Dean Blunt—"Soul Fire"
8. SW:SVN—"AMB1805"
9. Ingleton Falls—"Champagne In Mozambique"
10. Ben Coleman—"Medium: Paranormal Field Recordings and Compositions 1901–2017"
Britton Powell is a past contributor to BOMB.
More Protest Songs! (2018)

"We won't calm down," chanted Morgan Bassichis at Danspace Project in New York during one of the many protest songs that lit up some April evenings at Saint Mark's Church. Through song, enchanting charisma, unremitting humor, and a belief that something happens when we hold space for each other, Bassichis's evening-long performance, assisted by four musicians (Kyle Combs, Elizabeth LoPiccolo, Sam Greenleaf Miller, and Rhys Ziemba), was pitch-perfect. You might not take his protest songs out to the street—but what if you did? The filmmaker Sasha Wortzel recorded one of these songs, "We Have Always Been on Fire," as a video set on a Fire Island beach at twilight and under the refracted glow of a disco ball that has borne witness to decades of dancing. Bassichis sings four simple sentences, mesmerizing in their incantatory repetition: "We have always been on fire / We have always been let down / We have always been an island … / … come get us." Watch it once and you might be moved to tears.
Rachel Valinsky last wrote about Boris Charmatz for BOMB.