Local Geographies: Jessica Vaughn Interviewed by Charlotte Ickes
Installations that highlight cubicles and institutions.


Discover MFA Programs in Art and Writing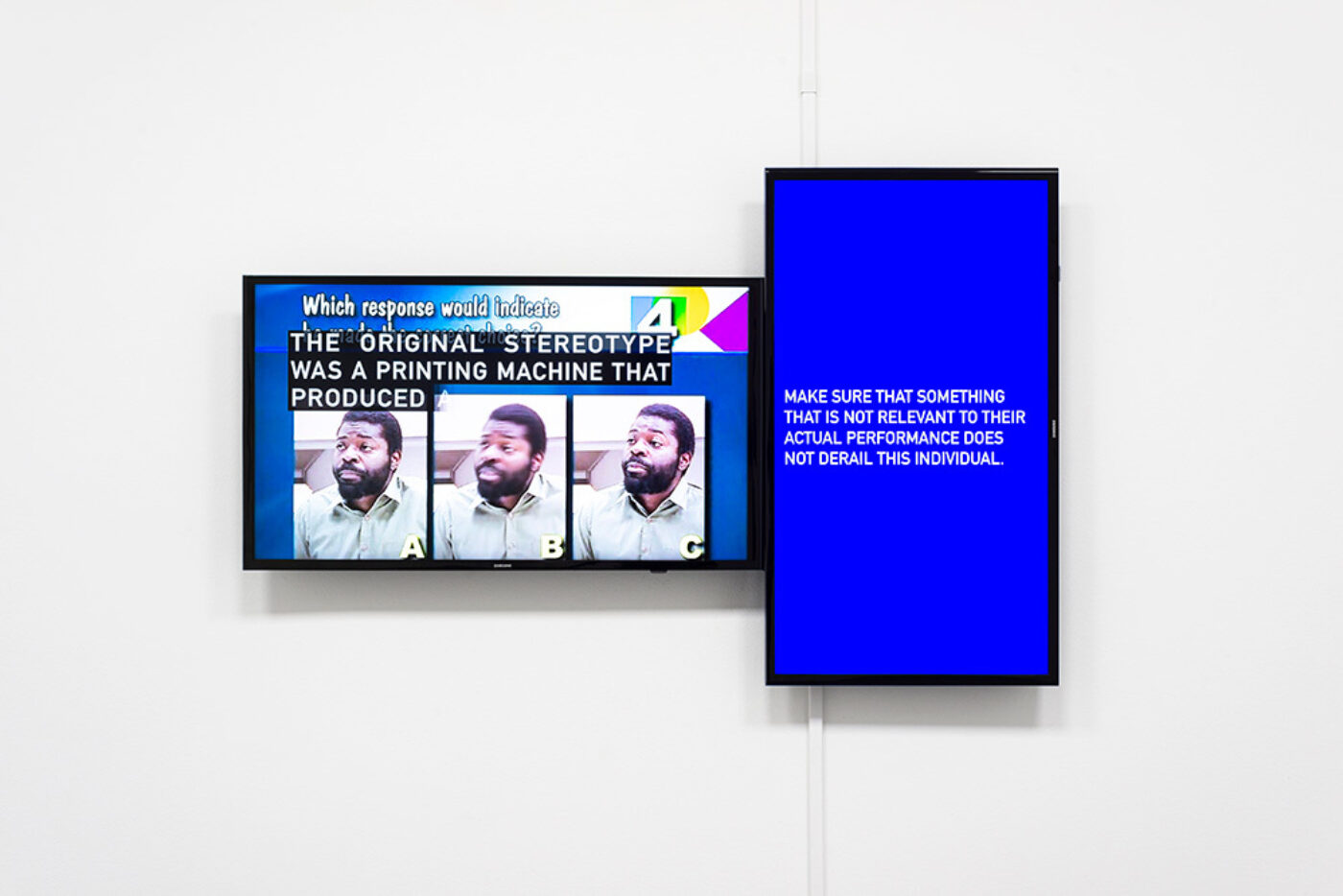 When Jessica Vaughn and I met in 2012, she was making photographs of sculptures constructed in the studio and staged in and around cities where she lived and worked. Since then, she's moved sculpture out of the frame. Vaughn primarily works with discarded, mass-produced materials. She approaches these materials on their own terms, letting them quietly convey complex histories of place, production, and use. For her sculpture After Willis (rubbed, used and moved) #005 (2017), for example, Vaughn neatly arranged thirty-six used bus seats from the Chicago Transit Authority in a grid on a gallery wall. More recently, she filtered the grid through the cubicle. In her recent exhibition at Dallas Contemporary, Vaughn transformed decommissioned cubicles from the Texas Department of Education into sculpture, tracing intersecting histories of US labor and education policies, affirmative action legislation, and post-industrial office planning. On the occasion of her solo show Turnover Rate at PATRON in Chicago, Vaughn and I discussed how her conceptual-based practice never loses sight of the particular force of material and form.
—Charlotte Ickes
Charlotte Ickes We've lived in the same three cities: Philadelphia, New York, Chicago. You're not only super specific about the modes of production behind the materials you work with but also the place in which these materials circulate, even if they are mass produced. How does place figure in your practice?
Jessica Vaughn And in two of those three cities at the same time! I think wherever you work provides obstacles or opportunities for refinement or changes to your practice. The work I made in Philadelphia could not have been made in New York City or Chicago and vice versa. Access to certain resources determines how I develop a piece. I find it difficult to use the same material I worked with previously.
I'm attuned to the overlooked or ignored details of my surroundings. This sensitivity allows me to treat these spaces with consideration for the mundane and to deeply question how things, institutions, materials, and people work with, against, and alongside each other. I'm also a history and politics nerd, so these larger conversations influence how I think about local geographies and everyday life in them.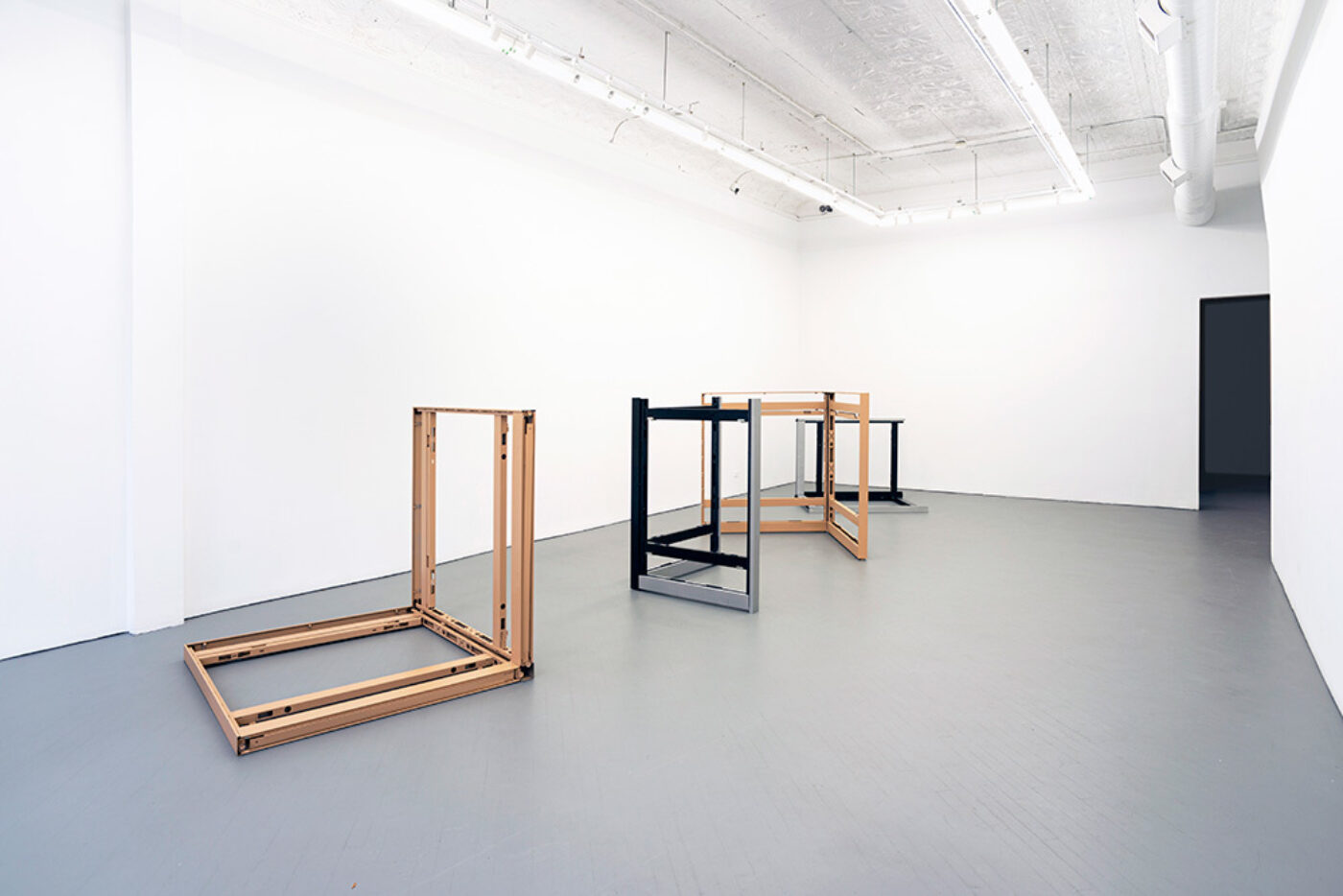 CI We've talked about your practice in relation to Allan Sekula's, and I know you are interested in his School Is a Factory (1978–80). For your exhibition at Dallas Contemporary, you researched how the federal government stimulated the economy through employment and educational opportunities for black workers during the Second Great Migration. We've also talked about minimalism and, more specifically, the grid. How do the cubicle and your new video work, composed primarily of clips from workplace diversity training videos, give material form to these complex histories (and art histories)? Although video is a new medium for you, your process of scavenging remains constant, except instead of found objects you're finding instructional video clips, a kind of HR detritus from the 1990s.
JV There is this almost unspoken rule about flexibility in American workplaces, which prizes the worker who is ready, willing, and able to do anything to get the job "done." This flexibility becomes a marker of competence, aptitude, and expertise. What does this flexibility look like, particularly when tied to production and labor?
I consider readymades a flexible body, encompassing material, objects, and text. Materials and objects that have been passed through space carry with them a sense of use and wear. Readymades place pressure on conventional categorization because of the residual marks and indentations left by the previous users. New histories are literally left on the material. The video and the cubicles are these things.
At Dallas Contemporary, Our Primary Focus Is to Be Successful (2019) was displayed as a two-channel video attached to the support beams of metal shelving units in the center of the space. I wove together clips from training tutorials on diversity in American workplaces and footage I shot at several offices. The animated text in the video is derived from these training directives, which are flexible in the sense that they are unspecific in terms of race or ethnicity and motivated by changing economic concerns rather than redressing injustice. The soundtrack consists of generic hold music that you hear on American business phone systems, which fits within the framework of the videos and the policies of equity they attempt to espouse. Like this hold music, these directives float through space indefinitely. Depreciating Assets: Avenir Series (2019) is composed of fifty-five Steelcase Avenir Series workplace panels arranged in a series of rows in the exhibition space. The modular cubicles are an extension of the flexible and indefinite sensibility found in the training videos, as they can be reconfigured to meet the needs of each office and, in many cases, the state of the economy.
Affirmative Action put into effect anti-discrimination laws that spurred the slow integration of black workers into the construction trades in the late 1960s and '70s, particularly in cities where government buildings and private office developments were constructed with prefabricated materials. Black American workers built these projects, and yet the repetitive and homogeneous grids of open-office floorplans, which appear neutral, were never intended for minority bodies. From the Federal Government publication known as the Peach Book to Rem Koolhaas's 1993 essay "Typical Plan," a universal, white male body is figured as the typical user of these spaces.
Today we see the relationship between capitalist forms of architecture and the type of "body"/"worker" invited to rent flexible workspaces. The original open-office floorplan has led to the WeWork (now failing) short-term lease model. Interior décor brands these spaces, geared toward young, entrepreneurial, and now illusively "multi-cultural" able-bodied workers.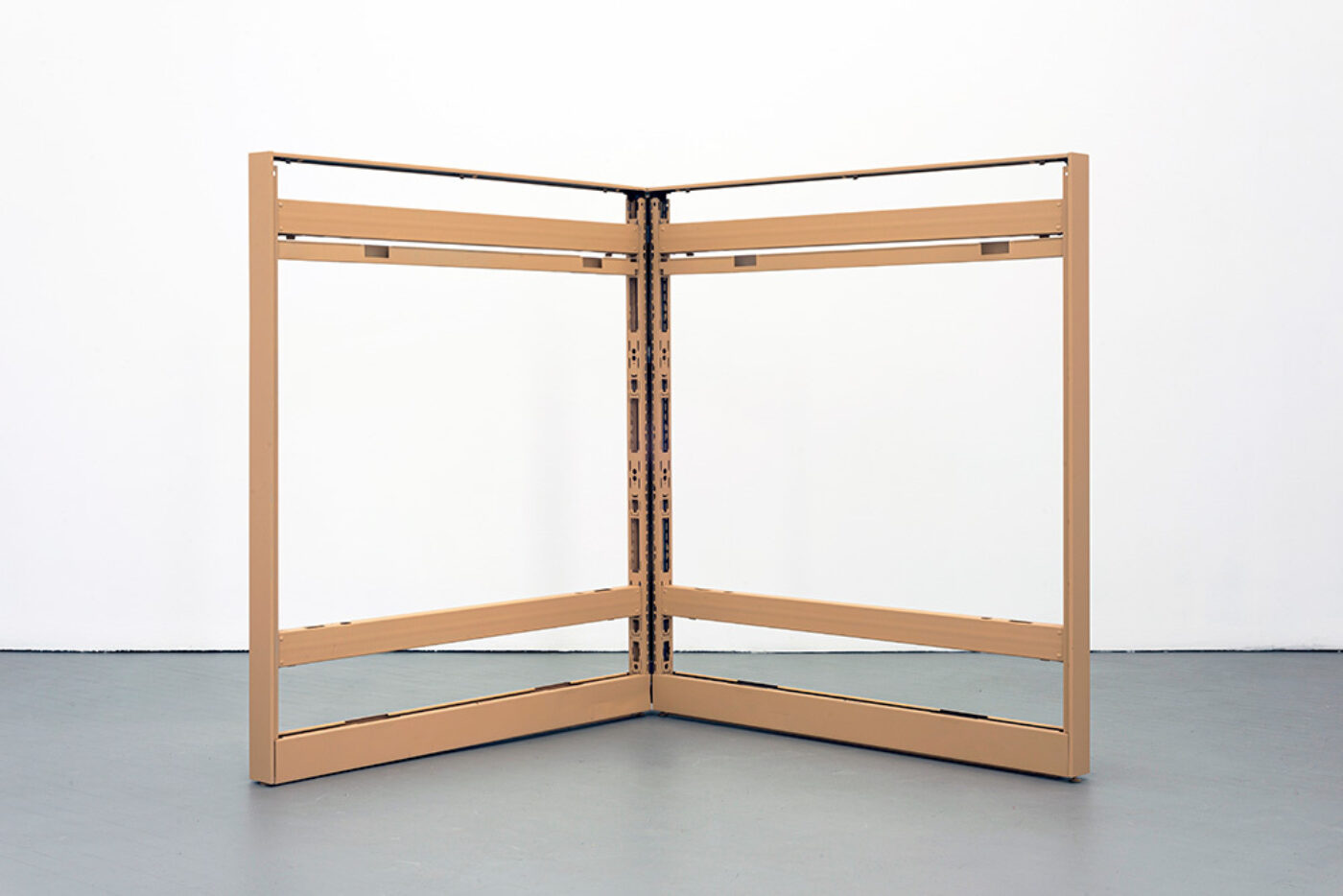 CI I'm thinking about a line in Michelle Millar Fisher's essay "Parenting and Labor in the Art World: A Call to Arms": "The true infrastructure of any institution is its staff, not its building." There is something powerful about seeing cubicles in the actual galleries of a museum because the labor performed in these cubicles—often by underpaid assistants (or unpaid interns) across different museum departments—is also often what keeps these institutions running. The art world gleefully discloses its glamorous parts but rarely the part of the profession that is the desk job. You've discussed how your own clerical jobs informed your decision to use office furniture. Your show comes at a moment when Art + Museum Transparency and waves of organizing at museums have once again drawn attention to the gulf between certain institutions' internal labor practices and the progressive values they broadcast.
JV The "day job," as unsexy and mundane as it is, figures very centrally in my life right now. It felt right to talk about it. Clerical and administrative work is labor that goes unnoticed until it starts to manifest concretely in our everyday existence as missing or malfunctioning.
I wanted to make an artwork that foregrounded white-collar work and its historical relationship to people of color. American (and now global) labor politics has literally figured or erased minorities into particular job sectors. I wanted to speak to knowledge-based work and work performed in spaces outside of manual or tertiary labor. Contemporary white-collar work somehow never eludes questions of gender and class mobility but often escapes questions related to race and ethnicity.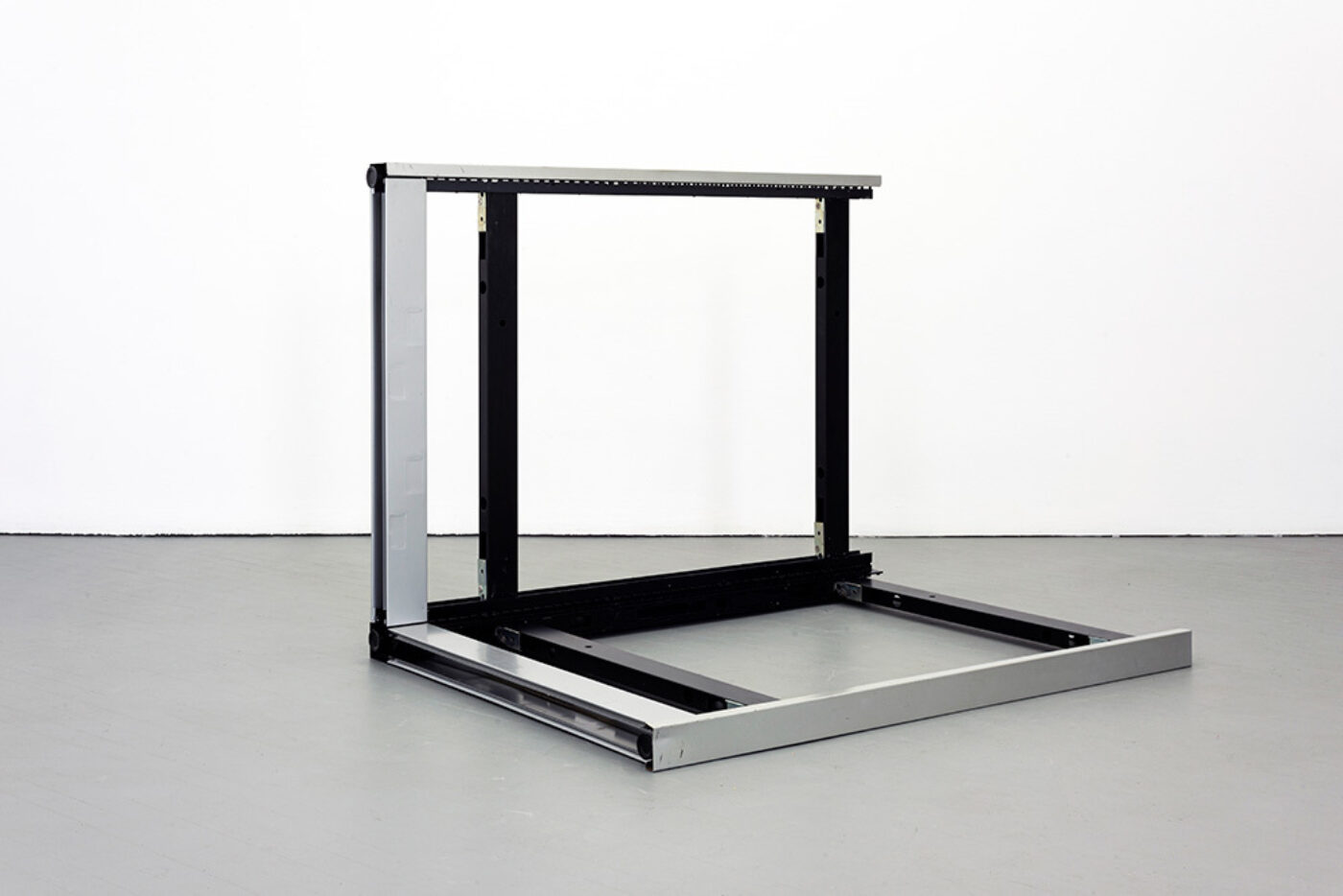 CI I'm interested in how you approach institutions and bureaucracies like the Chicago Transit Authority or the Texas Department of Education. You make a deliberate choice to move in and around these systems rather than at a distanced position from which you would issue a critique. How does working with these systems contour your practice?
JV I learn about industries and processes that are new to me and find ways of obtaining and using material that might not be viewed as the "right way" to work with something. Either through research or my own work experiences, I typically have an understanding of how these materials function in an everyday context. What does it feel like to sit in a cubicle all day? Or ride mass transit? I don't mean in terms of comfort but what these things carry as proxies of labor, class, and raced experiences. My choices are also shaped by the information I gather from the workers who make the materials. I use what I am able to procure, and from there I let the material guide how an installation will be created.
Language and communication play a critical role in this process. Cold calling places that may or may not be able to answer questions or grant access has become a huge component of my work. This is captured in text messages, missed calls, and drafted emails—the minutiae of labor registered in an art-making process. The sheer amount of time I invest in the unseen work of communicating with others made me realize the significance of language to labor, which is made explicit through the video.
CI Who is your favorite Real Housewife?
JV I would actually like to answer this question with franchises. Currently, it is Potomac. Then New York City, followed by Atlanta. But this order changes with the season. You?
CI I'm in agreement!
Jessica Vaughn: Turnover Rate is on view at PATRON in Chicago until January 25.
Charlotte Ickes is curator of time-based media art and special projects at the National Portrait Gallery, Smithsonian Institution.