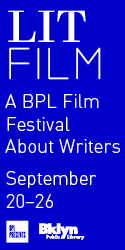 The lines for and of Olivia run a curious parallel between T. Zachary Cotler's poem and recent monumental silkscreen prints on wood by Clare Stephenson. This cross-current is best elucidated by an elusive presence streaming through both works … . A tenuous breeze curls through the space of Cotler's Olivia as "the cold, nine-second ladder/in her spine," perhaps the same chill that rustles the pages of the book, the same breeze lifting the skirts and wraps of Stephenson's angels-cum-drag queens who teeter asymmetrically at high-heeled-heights. The decadence in both poem and print are rife with a sense of impending decay, literary and aesthetic, which prove to be too much for the characters. Olivia turns away; Stephenson's troupe wavers flaunted and flawed. What shakes them is their connection to beauty, their reveling and revelation in it. Their responses picture an experience of beauty that attracts and repels.
– Richard J. Goldstein
She calls the cold, nine-second ladder
in her spine amber/elektron.
In humans, a series of trivial pain
sensations, imperceptible
as separate, is
perceived as a unit of physical pleasure, whereas
trivial pleasures in series
don't synthesize pain—this asymmetry causes her
to drop a book. She runs into
her house
with 19th century windows …
book on the courtyard stairs
with pages blowing at the speed
computers/archangels read. 
Clare Stephenson is an artist based in Glasgow represented by Sorcha Dallas, Glasgow; and Linn Luhn, Cologne. She has exhibited at Talbot Rice Gallery, Edinburgh; Dicksmith, London; and Malmö, Madrid. Most recently, she was featured at the Centre for Contemporary Art, Glasgow's The Dirty Hands group exhibition.
Richard J. Goldstein is a Brooklyn-based painter and writer.
T. Zachary Cotler's writings appear in the US and UK, with new poems soon forthcoming in The Paris Review, The London Magazine, and Poetry.