Life Like: Sculpture, Color, and the Body by Cynthia Eardley
A historical survey of figurative sculpture.

Discover MFA Programs in Art and Writing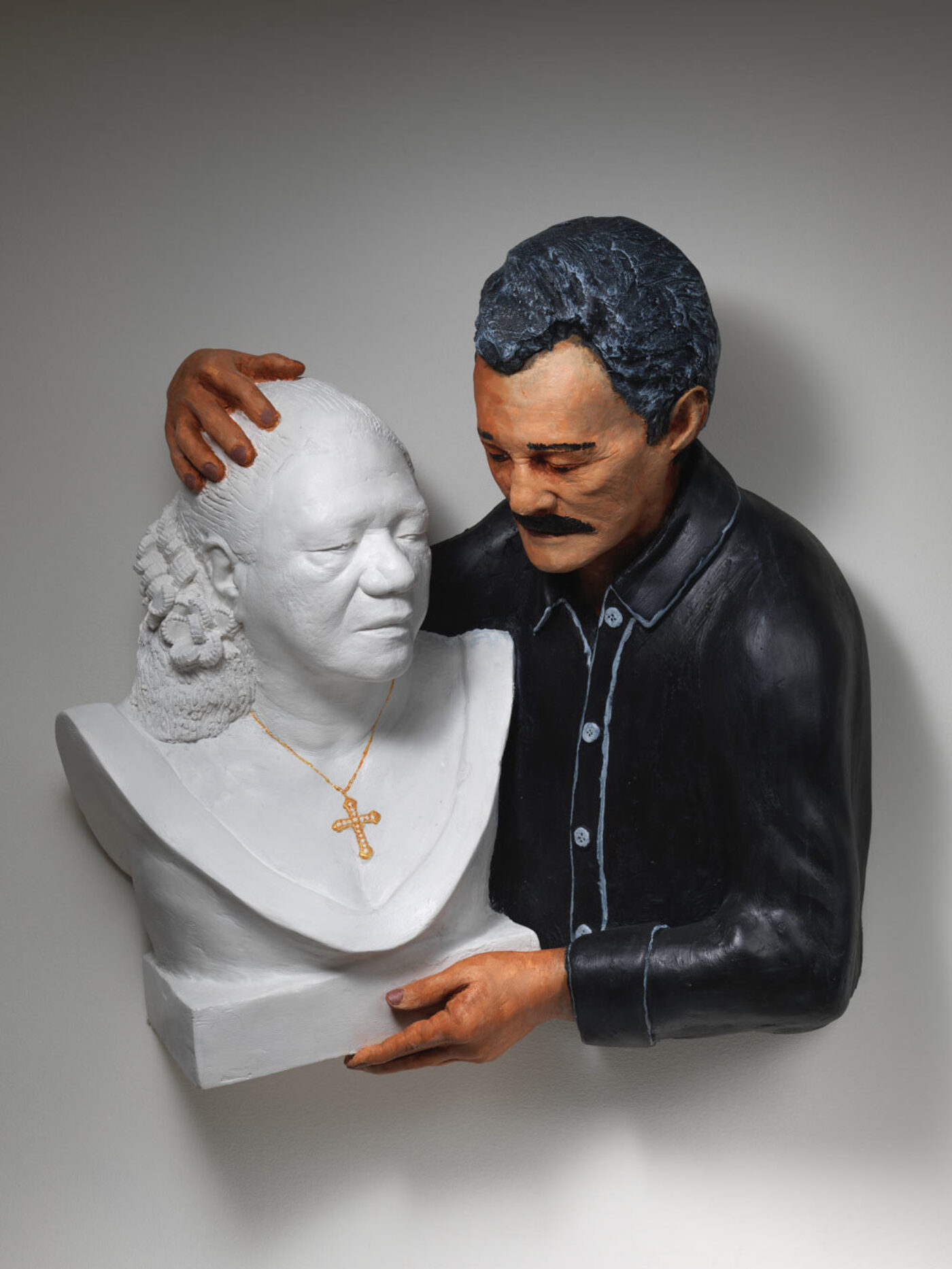 Showcasing around 120 international figurative sculptures from 1300 to the present, Life Like: Sculpture, Color, and the Body at the Met Breuer focuses on attempts to reproduce the human form as if it were alive, assisted by the application of color. Most of the works in the exhibition explore universal questions: What does it mean to be human? What happens as and after we die? How are we different now from in the past? Some works depict through political, cultural, and personal lenses the violences we inflict on one another (Reza Aramesh, Kiki Smith, Alison Saar, Mary Sibande, Hans Bellmer). At least one (Johann Kändler's Rococo Judgment of Paris [ca. 1762]) reminds viewers of the frivolous sensual pleasures of existence. Many of these sculptures are a visual feast: El Greco's polychromed-wood Pandora (1600–10) and Willem van Tetrode's painted terracotta of an aging Hercules (ca. 1545–60) were especially appealing to me.
The influence of early twentieth-century Surrealists and Dadaists runs through Life Like. Many of the works evoke an uncanny sense of something not quite real but real enough to cause discomfort. Odd juxtapositions within sculptures abound. A significant number speak to the artistic process and make use of a wide array of materials, both traditional and new, with perhaps the most evocative here being pigmented wax (Berlinde De Bruyckere, Smith); glazed terracotta (stunning in the hands of Lucio Fontana); papier-mâché (Greer Lankton); and fabrics/garments (Yinka Shonibare, Sibande).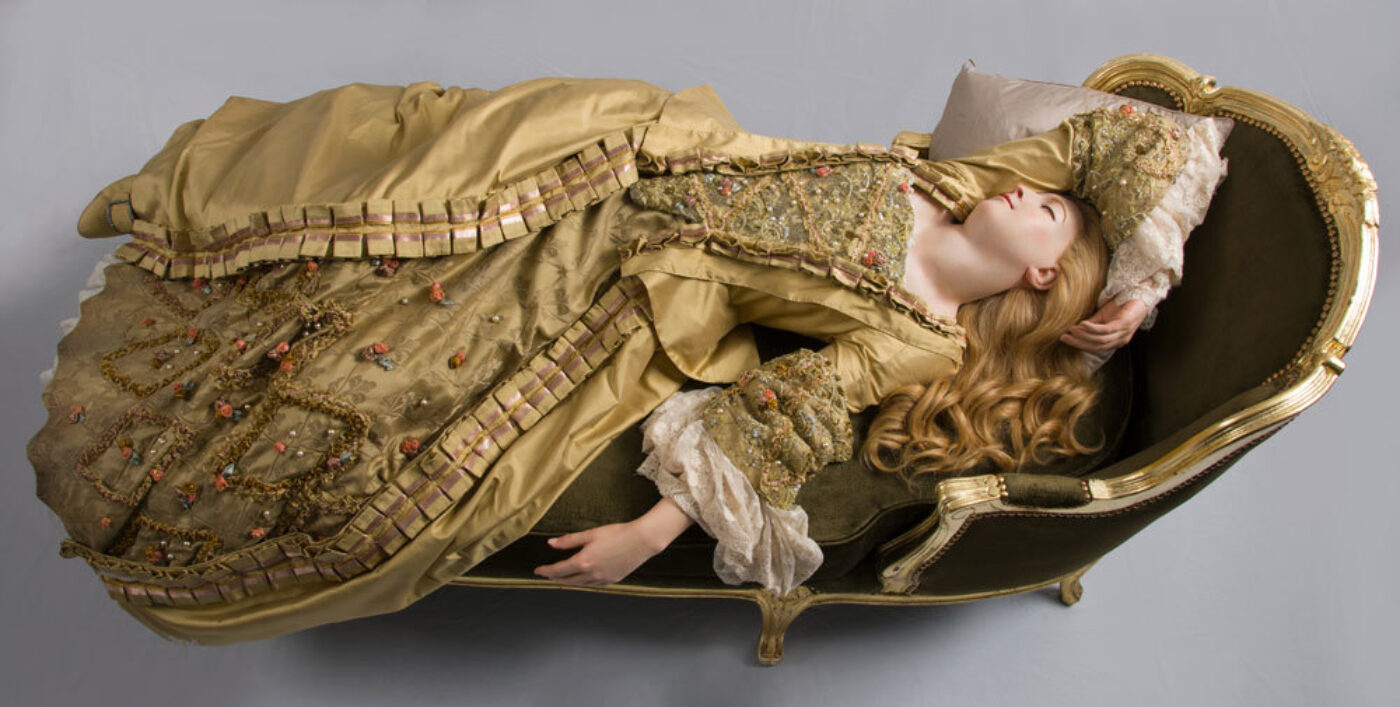 The results are moving, peculiar, and often grim, but in an oddly beautiful way. Some are horrifying, such as Kader Attia's Open Your Eyes (2010). Although the contextual and other information provided in the wall texts is always interesting, especially for viewers unfamiliar with particular artists, most of the individual works do not require verbal or written explanation to resonate with the viewer. Rather, they speak a visual language.
Charles Ray's Aluminum Girl (2003) is the first contemporary sculpture the viewer encounters. Emulating the once-presumed whiteness of ancient Greek marble sculptures, Ray's figure is made of painted-white aluminum and also includes a slight contrapposto. The "similarities" end there, however; the girl's genitals and nipples appear highly realistic, something the Greeks would never have done. She is also psychologically detached, but not in the contemplative manner of a Polykleitos. She looks machine-made, yet also human—a contemporary manifestation of a technology-gone-wrong nightmare.
In the same room is Bharti Kher's white plaster lifecast of her elderly mother (2016). Although her seated pose brings to mind ancient Egyptian statues, Kher's highly detailed cast highlights her mother's aging skin, conveying not permanence but fragility and the imminence of death—as does the closing work in the show, Ron Mueck's Old Woman in Bed (2000). In contrast with this work, Kher's Mother conveys an inner, spiritual strength.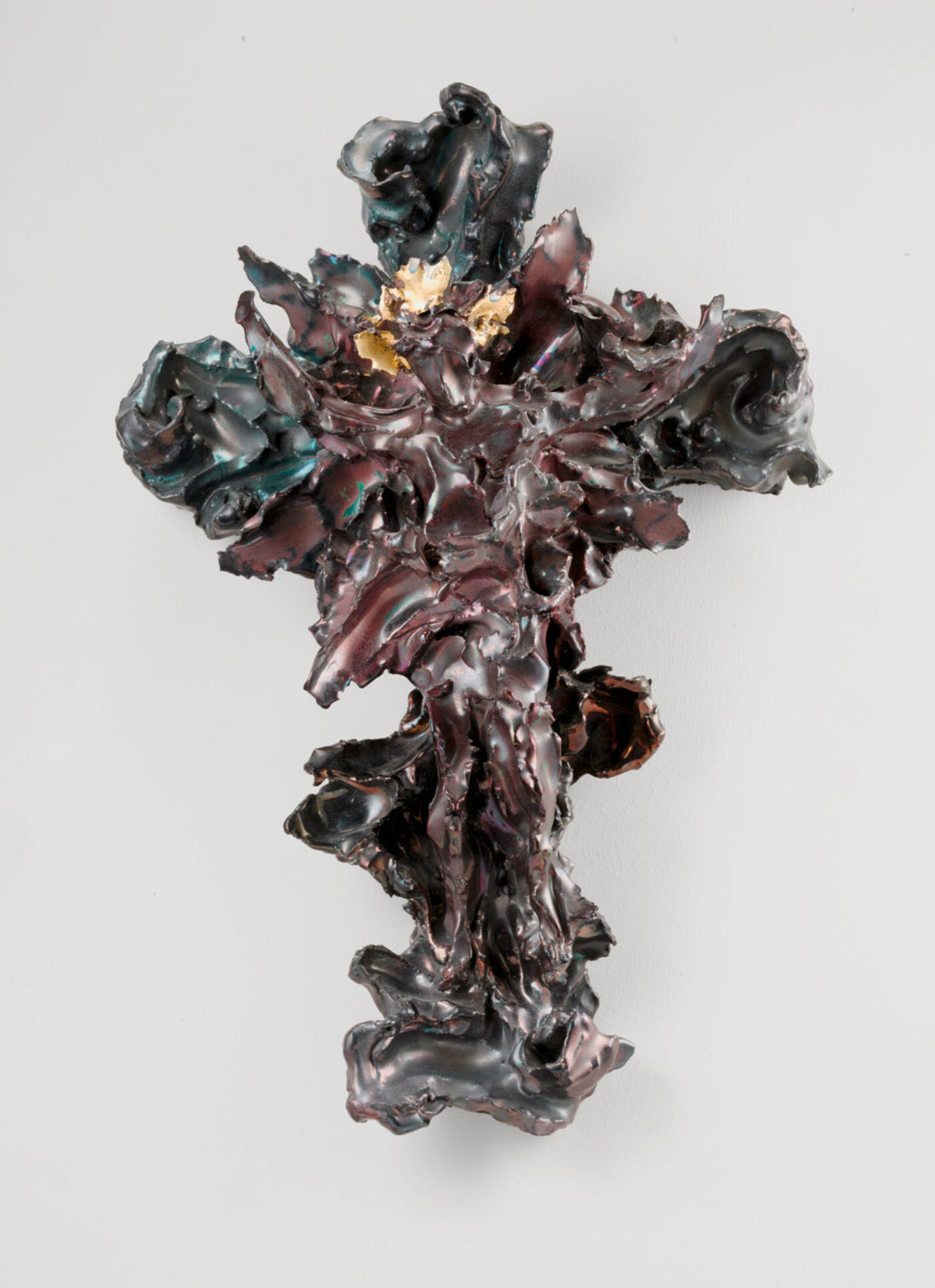 Donatello's exquisitely nuanced, realistically modeled and painted terracotta Bust of Niccolo da Uzzano (1430s) could exist comfortably in a contemporary art gallery (but for the draped clothing). The great innovator El Greco is represented by a small, carved-wood vision of Pandora, which features his work's characteristic torso elongation. Like those of Aluminum Girl, her genitals are realistically modeled, but here there is no sense of oddness or weirdness in the portrayal; it all fits together as one seamlessly graceful composition.
Not surprisingly, given the time span, many of the works have religious connotations. One of the most eloquent rooms includes contemporary Belgian artist De Bruyckere's Pieta (2008). The life-size, headless, stretched-and-pulled double figures in pigmented wax might at first glance call to mind Michelangelo's Rondanini Pieta (his last, ca.1552–64), but in this case, both figures are limp. De Bruyckere's layered modeling and nuanced color lend them a palpable, if irrational, sense of life.
Across the room are Fontana's glazed and polychromed ceramic crucifixions (1948–55). The fluidity of the clay and glaze, as well as the rapid touch of the hand (revealing every decision of his process), sensuously manifest the transition from life to death—from the space of the body to the surrounding space of the universe.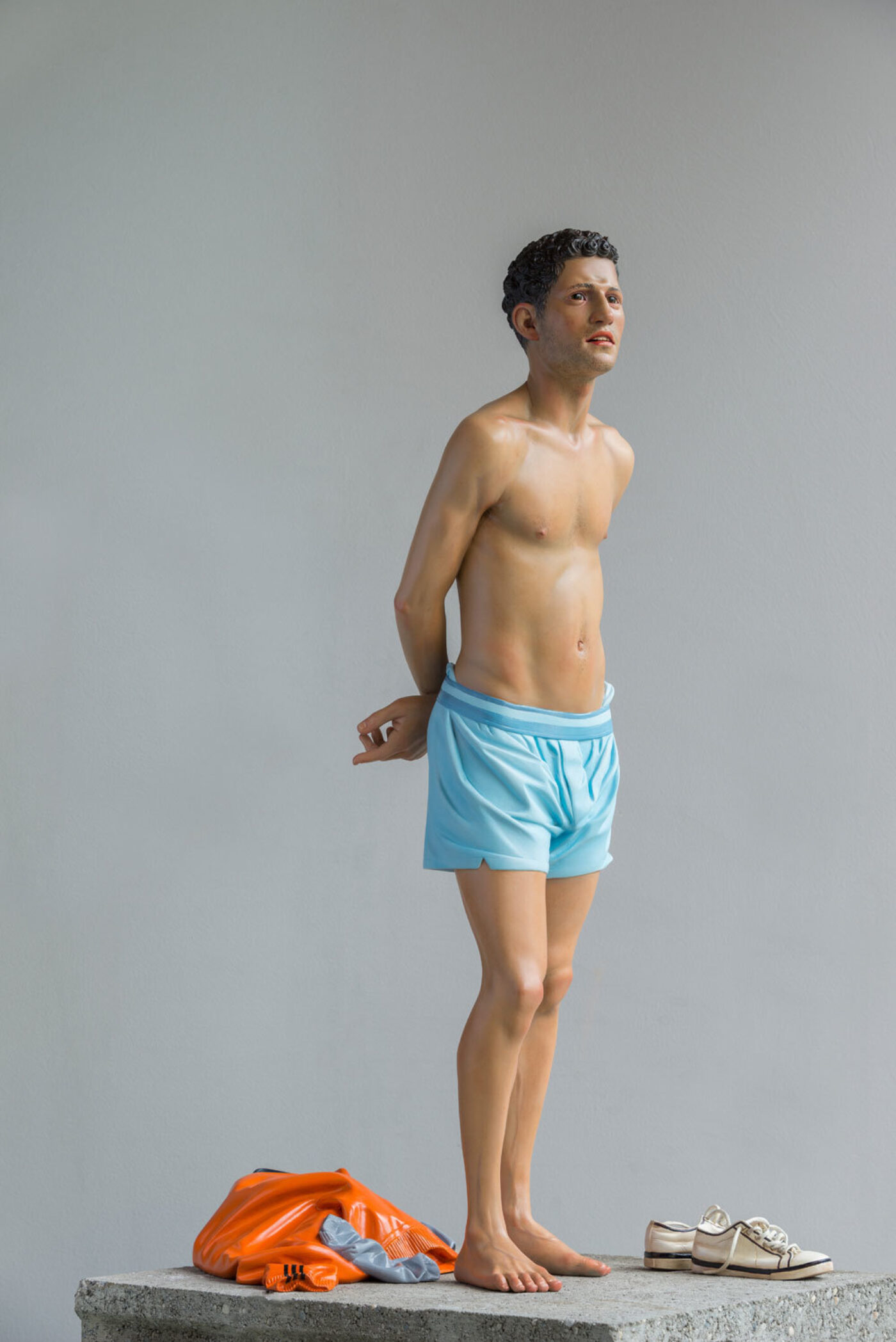 Aramesh's politically charged, hand-carved (by an Italian studio artist or artists, from his photographs), and realistically painted Action 105 (2017) is one of a series based on photojournalism depicting men inflicting pain and humiliation on one another. The humanity of the young Palestinian man, asked to remove his clothing at a military checkpoint, is enhanced by the material (wood) and processes, which taken together with the small scale (about thirty-seven inches high), his gesture, and his somewhat large, childlike glass eyes create a sense of vulnerability and invoke sympathy. The result references Christian martyrs and seventeenth-century Spanish religious sculpture.
Life Like must be seen at least a few times to be fully appreciated; it contains far more examples of unusual and inspiring figurative sculpture than the ones described here. Some of the most compelling move, talk, or seem to breathe (Philippe Curtius's automatized waxwork Sleeping Beauty [1765]), or were never intended as works of art (Fontana Workshop's Anatomical Venus [1780–85]). Moving through Marcel Breuer's building, which manifests perfectly his exquisite sense of materials and proportions, is itself reason enough to see the show, but that great pleasure is just the beginning.
Life Like: Sculpture, Color, and the Body is on view at The Met Breuer in New York City through July 22.
Cynthia Eardley is a New York-based sculptor, writer, and teacher (at the New York Academy of Art).  Her sculpture and early architecture have been exhibited and reviewed in numerous galleries, museums, and publications worldwide, including the New York Times, ARTnews, and Sculpture magazine. Her art reviews and essays have appeared in the Brooklyn Rail, where she was a contributing writer, and the Women's Caucus on Art National Update.