Life Before Death: John Bruce and Pawel Wojtasik Interviewed by Nicholas Elliott
The filmmakers take an unexpected approach to documenting people in the final stage of life.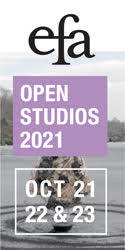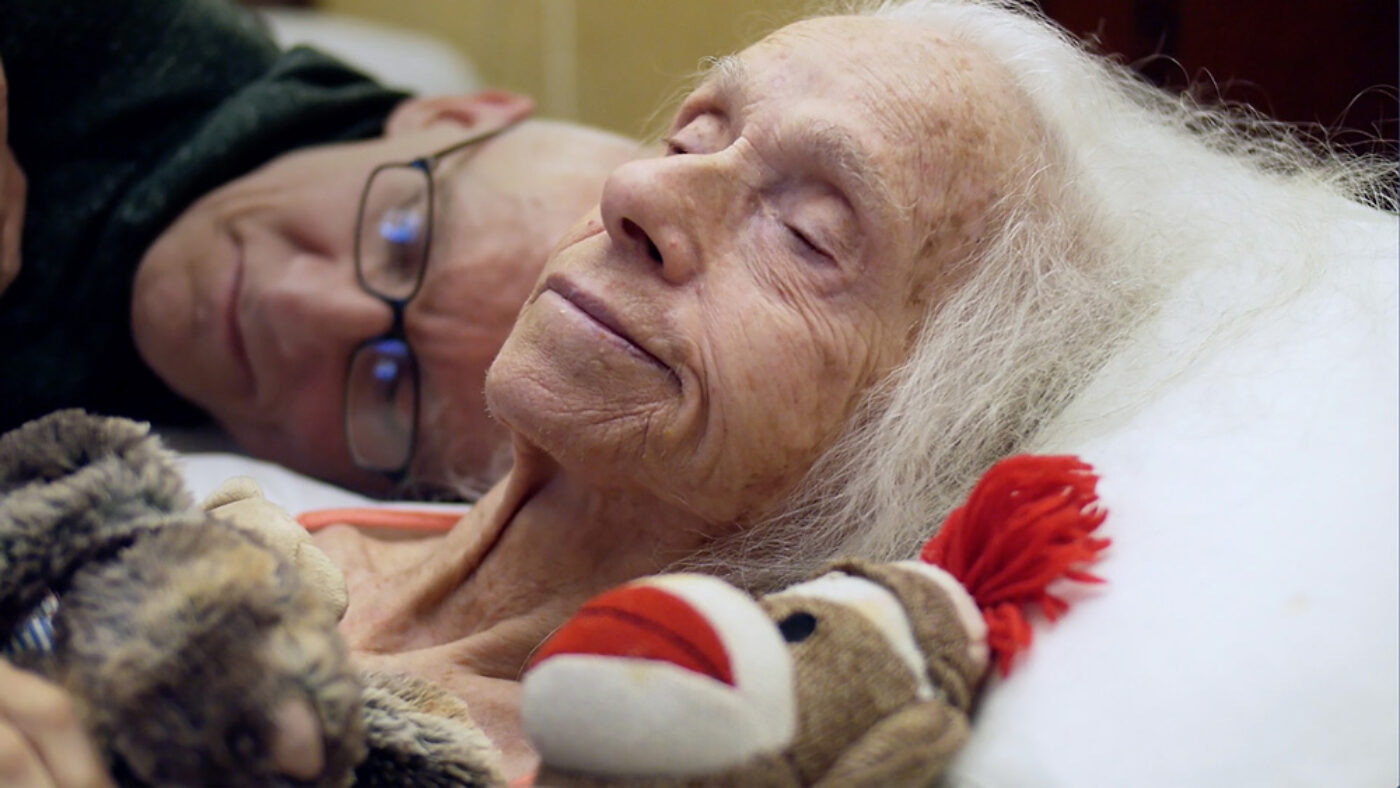 End of Life is the extraordinary result of the four years that New York-based filmmakers John Bruce and Pawel Wojtasik spent filming five people in the last phases of terminal illness. In a culture that tends either to look away from death or sensationalize it, the film takes the radical approach of dealing with the final stage of life as one that is lived fully and creatively, while presenting an unflinching view of the labor of dying. Far from a standard work of documentary recording, End of Life is an accomplishment in collaboration, in which the subjects, who include children's book author Sarah Grossman, spiritual teacher Ram Dass, and artist Matt Freedman, are fully engaged in shaping their representation. If End of Life is a beautifully spare piece of filmmaking, it is abundant in generosity and endlessly rewarding in its resolute, broad-minded view of what lies in wait for all of us.
—Nicholas Elliott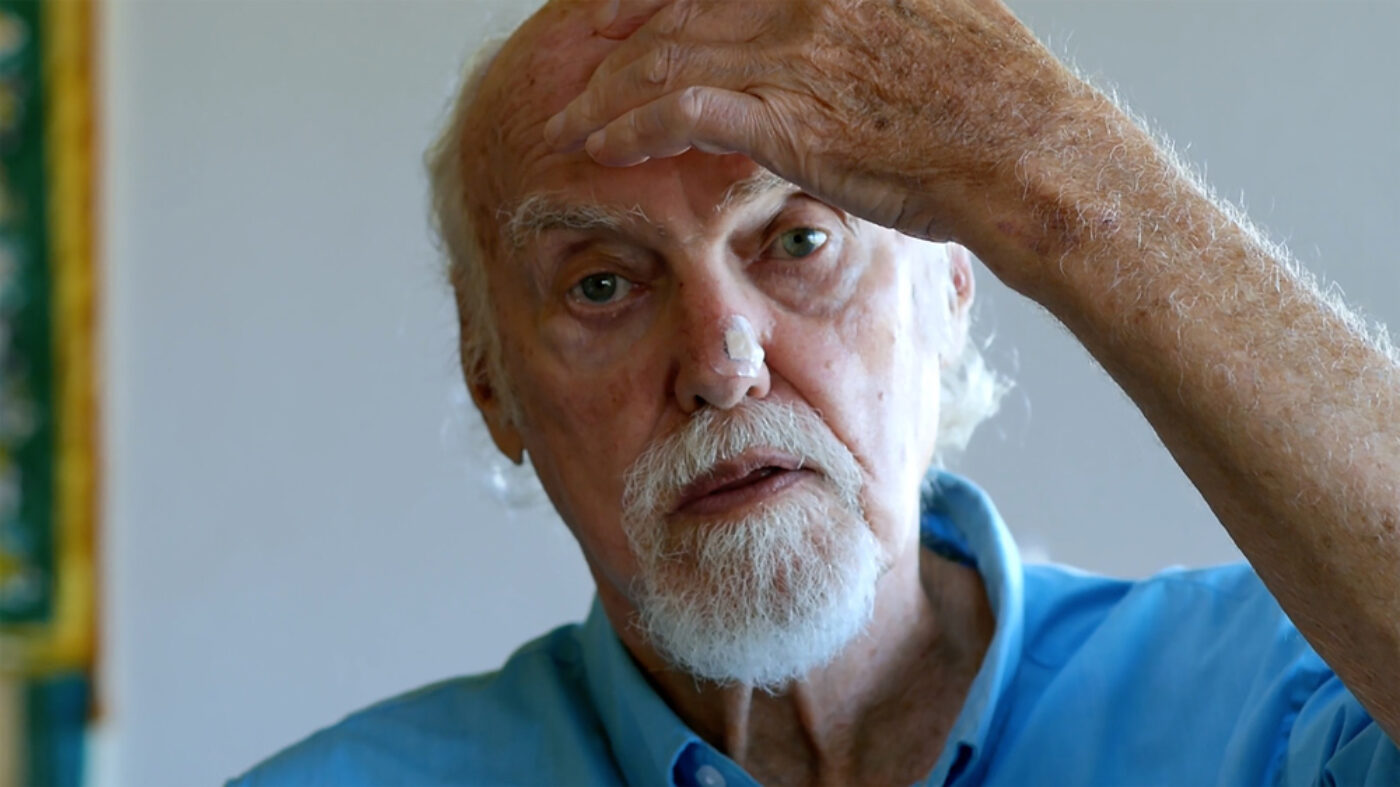 Nicholas ElliottYour movie is called End of Life. The word "life" indicates this is something other than a movie about death.
John BruceWe tried to change the title several times, but it never worked. The film is decidedly about the period of life that is toward the end. But it's not about death and dying. The title also asks, What is that period of life that is the end of life? The five characters in the film suggest it's not necessarily the last few minutes or days. It is not the typical Hollywood deathbed scene. It could be years.
Pawel Wojtasik Something that needs to be said about life and death is that they are inextricably joined together. As soon as you have life you have death: death implies life and life implies death. We try to bring the two together because, as Ram Dass says, in this culture everyone is afraid of death, like it's this unusual and unfair event that happens to us. By focusing on the period of these people's lives which are about to end, we can possibly bring attention to the identity of life and death. The intimate relationship of the two.
NEHow did you decide you wanted to make a film about this?
PWJohn and I both lost our mothers and other people—in my case, my grandfather and my father—so we were intimately faced with this conundrum of loss and the interruption of the life of someone we love.
JBThat's not necessarily true for me. I was actually quite relieved when my mother died. We weren't close; she was a very difficult woman. But I was thrust into a situation around my mother's death that was peculiar. Due to my father's grief, I was the only one in a functional role. I wasn't destroyed or distraught or confused. I could be clear, and in that clarity, I recognized how bizarre the entire system was. And to navigate that system toward any kind of contemplative or compassionate care was really challenging. Experiencing the loss of a mother was not my motivation, but it certainly brought about questions.
PWFor me, it was different because my mom had this amazing experience in a hospice and said this was the happiest time of her life. Like John, I had a difficult relationship with my mom. It was actually during the last two weeks of her life, when she was at the hospice, that the barriers broke down and I connected with her. There was a dramatic change where she became incredibly open with the world. She had been into right-wing politics, and she just dropped that whole thing about two weeks before the end of her life. She passed away the ideal way, in a state of happiness. Still I didn't understand. As much as I was delighted about the way she died, it was a mystery. It left a lot of questions.
NEWhen did you decide a film project could be a way to pursue these questions?
JBWe were researching it simultaneously and our mutual friend Steve Holmgren said, "Did you know that you're both contemplating this as a project?" We didn't. So, we had a phone conversation. And in one conversation we decided that we would join forces.
PWMaybe my reason for engaging in the project is that I try to select a topic that causes me some trepidation or fear. And the fear of dying was present ever since my grandfather died when I was nine. I filmed an autopsy for a video art piece called NASCENTES MORIMUR (2013). Working on End of Life with John took this further. The idea is that by diving into this fear or trepidation, you resolve personal issues and ideally help others at the same time.
JBPeople often asked us why we were doing this and, to be honest, in the beginning I didn't know why. The answer changed over the course of our work. It segued from that story about my mother to this other extraordinary experience in 2007 when I was attempting to finish a failed film. My friend, the editor James Lyons, said he could help me finish the film but was beginning to die. His HIV viral load was undetectable, but he needed to be hospitalized to have a lung infection monitored and asked if we could cut in his hospital room. Then he developed cancer, which was the beginning of the end. What started out as a couple of days of work in a hospital turned into months. I was going to the hospital several days a week to edit a film that would never see the light of day. Through that process I realized that I was accidentally involved in some other kind of project, of working with James.
I explained why I was doing the film in light of that story. Later, a whole other narrative jumped out at me which was that in 1985 I was a twenty-one-year-old gay man living in New York City and everyone around me was dying, and I was basically told that I wouldn't live either. So I have a strange relationship to mortality. I made that connection when my academic and film friends would call this project heavy and depressing. That point was so vociferously posed by these really smart arty people that I actually got a little paranoid about why I was so easy with it. I wondered if I was a sociopath. And then I realized I could enter these spaces more freely because it was connected to my time in the '80s. There were some challenging moments making the film, but we never walked out of those rooms feeling devastated.
PWOn the contrary, mentally we were uplifted almost every time. Even as conventionally tragic things were taking place, like when Sarah was in bed, unable to speak, with a bed sore that caused her tremendous pain, the proximity of death is somehow life affirming.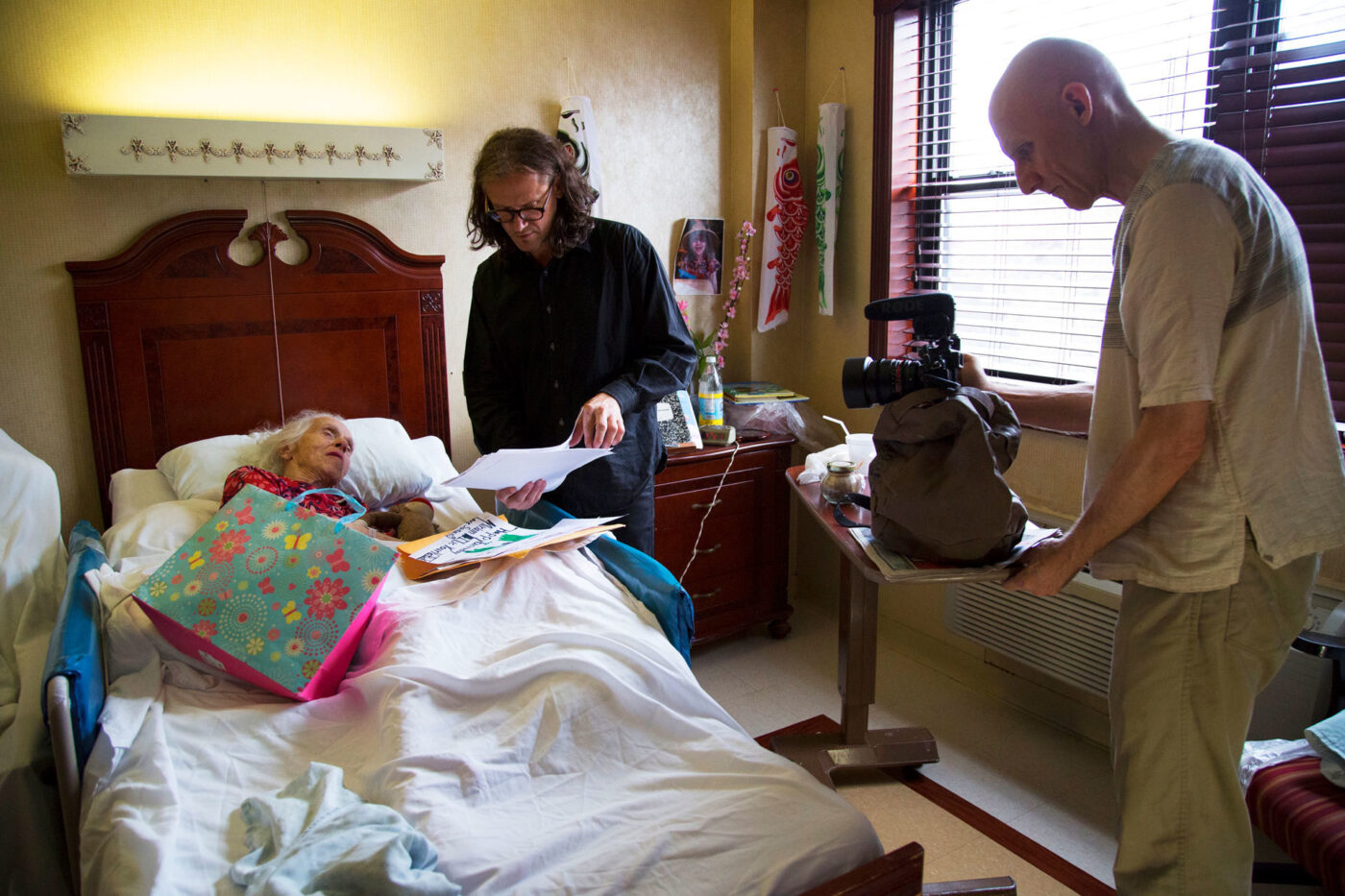 NEI'd like you to talk about the collaborative aspect of working with these people. Among other things, you're filming artists who are continuing to make their art, possibly because you're helping them to do that.
JBYou named it perfectly. Sarah was a children's book author. She could no longer write books, but she could engage in the creative activity surrounding that practice. And we could indulge that creatively with her as humans who would be present with her in ways that other humans didn't think to be. Most of the interactions she had were with caretakers: feeding, poking, prodding, giving medicine. Even loved ones who come by for thirty minutes, as generous and joyous as they might be, are always in the position of saying, "How do you feel? Are you comfortable? What can I do for you?" And there's this patina of loss because they're holding the memory of this person in a radically different role and are now confronted with them in this other space. It's hard to get out from under the perspective of loss. But we could show up and say, "Here we are. What are we doing today?" There's a moment that's not in the film where she's in the middle of a very long story and says: "You realize that running around in all the storytelling is the only way I can keep myself sane."
PWUntil she said that, we weren't certain where this storytelling was coming from. Then we became aware that she was aware of what she was doing. Her mind was not confused but clear and totally creative.
JBPawel often said that as the external world shrinks, the internal world blossoms with these poetic explorations that embrace a kind of a holistic, poetic breath of life. If the person asks, "Are my dogs under my bed? I hope they are," my response is, "Yeah, they're very quiet." It's not like, "What dogs what do you mean?" It's not about managing senility or Alzheimer's; it's about celebrating the poetics of time. The wholeness, the richness of one's life. I think this is what we found life-affirming.
PWWe didn't have any preconceived notions of what would happen. We allowed a space to let them dictate what was going to happen rather than come with some sort of agenda.
NEYou are dealing with an incredibly sensitive point in an individual's life. How did you determine the right way to deal with these people?
JBWe knew that entering this space was going to be complex. And we always recognized and respected that it was a sacred space. But what might the sacred mean? That's why Pawel and I trained with Henry Fersko-Weiss around this practice of being an end-of-life doula. We also set up a few rules for ourselves. We only wanted to be with people who are experiencing the end of life. We weren't going to chase down any interviews with doctors or loved ones. It was only that space, and we would be in that space no matter what was emerging.
We did have to find different collaborative modes for each person as they presented themselves to us. With Sarah, it was easier because of the kind of creative person she was. In the beginning Matt, as an artist, controlled the ways in which he would collaborate with us. He invited us to attend these performances and rehearsals. He would never talk about his illness or mortality other than through that. In the beginning, he used his artistic practice as a form of mediation.
NEYou shot for four years and have two-hundred hours of footage. How did you achieve such a spare form, containing about eighty shots?
JBI remember after a full day of shooting saying to Pawel, "I just don't know how we'll ever use this material in a film." It seemed so sprawling, the narrative stretched out and traversed these wild poetic rides. But there are arcs and micro-journeys in the poetics of what transpired; and we wanted to preserve that journey without cuts and with minimal camera movements. We realized there was something to this seven-minute shot of Ram Dass staring in silence, which we wound up using at the beginning of the film, or the eighteen-minute shot we use with Sarah. It set up a rhythm. I presented our editor, Ian Hassett, with these chunks and he cosigned the idea. Otherwise it was just Pawel and me. No fixers, no producers, just Pawel and me, two cameras, fumbling with the sound. And really almost no money. The hardest part was knowing that with two-hundred hours of footage the decisions we were making were leaving behind so many beautiful details and scenes, especially because we've passionately and joyously collaborated with people through the end of their life. Naturally, you want to memorialize.
Following its international festival rollout, End of Life will be available for digital streaming June 11.
Nicholas Elliott has been the New York correspondent for Cahiers du Cinéma since 2009. He is also a programmer for the Locarno Film Festival and a Contributing Editor for Film at BOMB.