Life as a Collage: Sarah Cain Interviewed by Maddie Klett
An artist's book paints on music sheets.

Discover MFA Programs in Art and Writing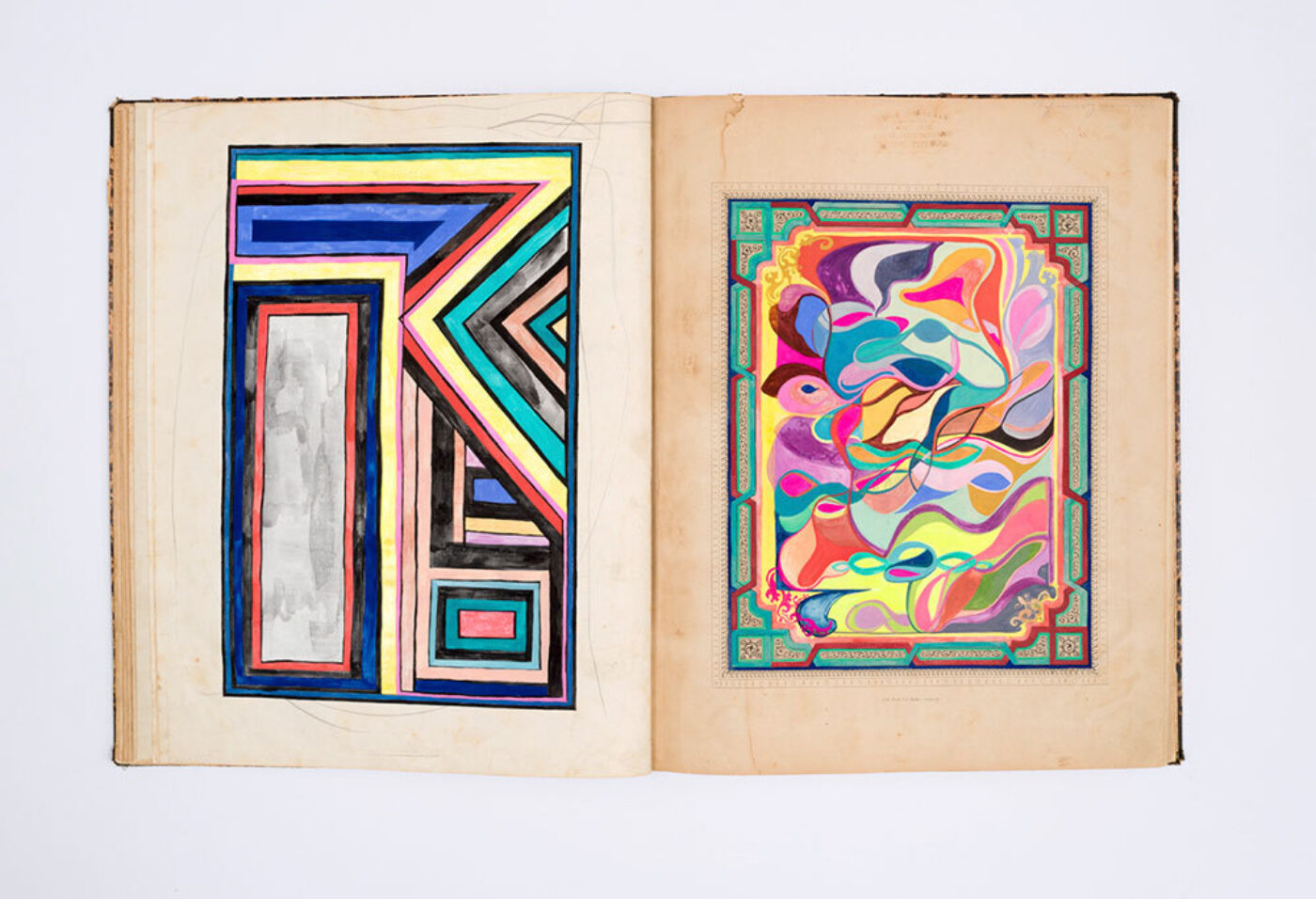 Sarah Cain is a painter living in Los Angeles. For her abstract works, she layers a wide range of paints and objects on canvas, as well as gouache on found papers, and creates projects "on-site" that are painterly responses to the architecture of galleries, abandoned houses, and, most recently, the East Building Atrium at the National Gallery of Art. On the occasion of her survey exhibition at the Tang Teaching Museum, the museum and X Artists' Books co-published a facsimile of her Music Book (2008–21): an illuminated manuscript of sorts made from a circa nineteenth-century album of sheet music. In the conversation below, we talk about the musk of our respective houses, not fully understanding musical notion, and making impressive art out of dumb ideas.
—Maddie Klett
Maddie Klett Tell me about the feel of the facsimile.
Sarah Cain It's pretty close to actual size with each page approximately thirteen by twelves inches. The original book is about three-quarters of an inch thick. But we didn't document every blank page.
MK How did you get the original book and decide to start painting in it?
SC I started in 2008. I had gone to Zurich for a show, and next to the gallery there was a thrift store where I went looking for materials for the work on-site. I found all these old music sheets, and I bought them for the artist Colter Jacobsen because I thought he'd like the paper. The back of it was really beautiful. It was just aged paper. I had recently moved to LA, so they sat in my studio for so long that I didn't see Colter, and I decided to start painting on them. In the beginning I was painting on the back. Then I went back to Zurich for a solo show, and afterward one of the dealers sent me this book as a thank you, and I started painting in it.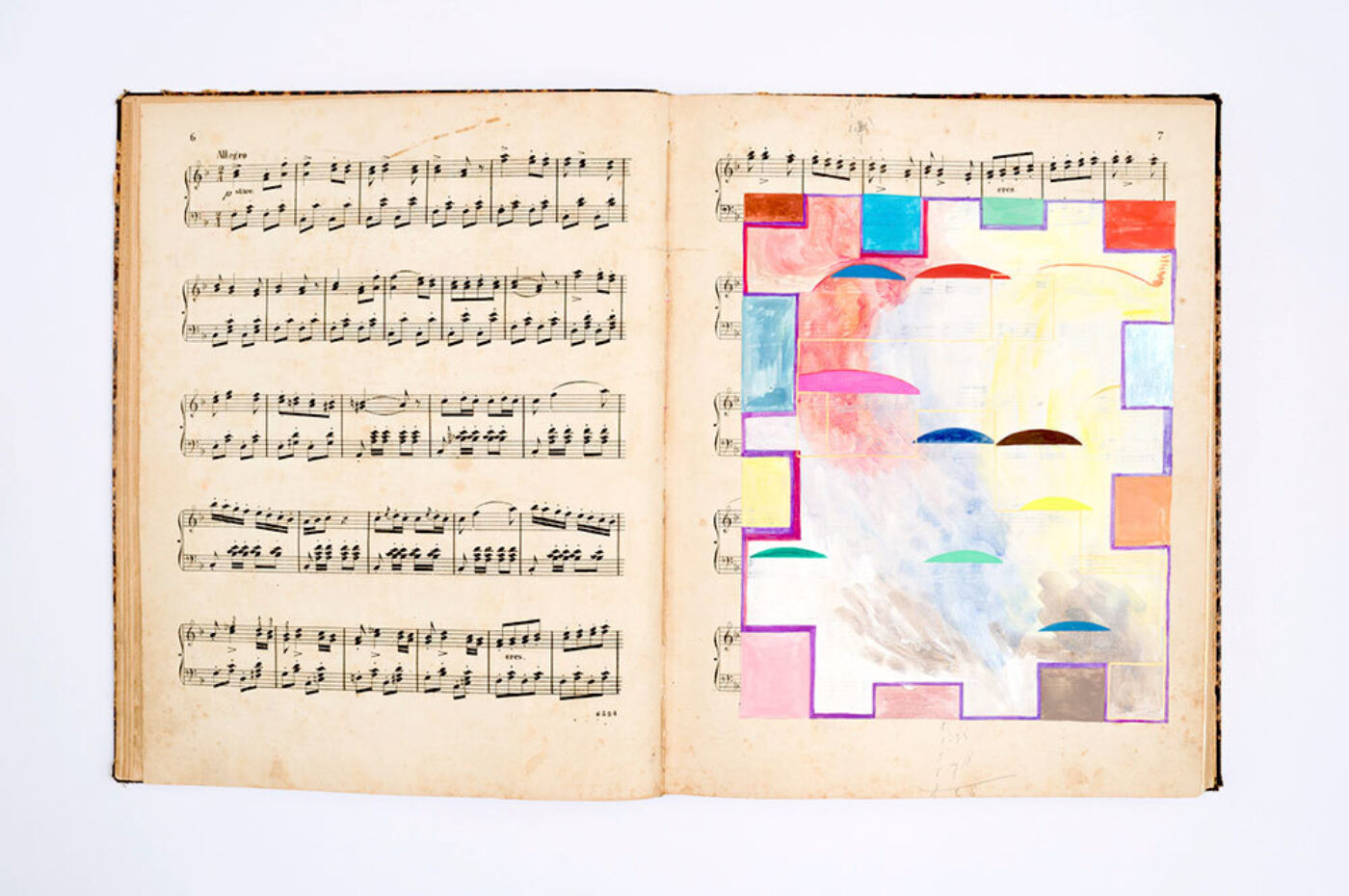 MK I looked up some musical notation terminology because I don't know it.
SC Are those crescendos, or what are those things called?
MK Slurs and binds. A "bind" is above the notes and looks like an umbrella.
SC I didn't know that. I love the one where I'm filling in the binds. It's a lullaby or something [image 2]. It's an early one. In the beginning my line quality was a little tighter. That's the hazard of doing these works on paper: they throw my arm out.
MK Do these take longer to do than the paintings on canvas?
SC The works on paper always take me longer. I do them seated with tiny brushes so it messes up my body as I'll work on one over a couple of months. The big paintings are physical in a different way, more holistic. I use all of the body. I use big brushes, throw paint, or a roller, with the canvases or on-site so it's a better mix and less repetitive strain. I also think of the paper works as very meditative. When I go away to do a work on-site, the first thing I want to do when I get back in the studio is one of them. It grounds me. You sit still for so long that you sort of process out where you just were, and you get back into where you are now.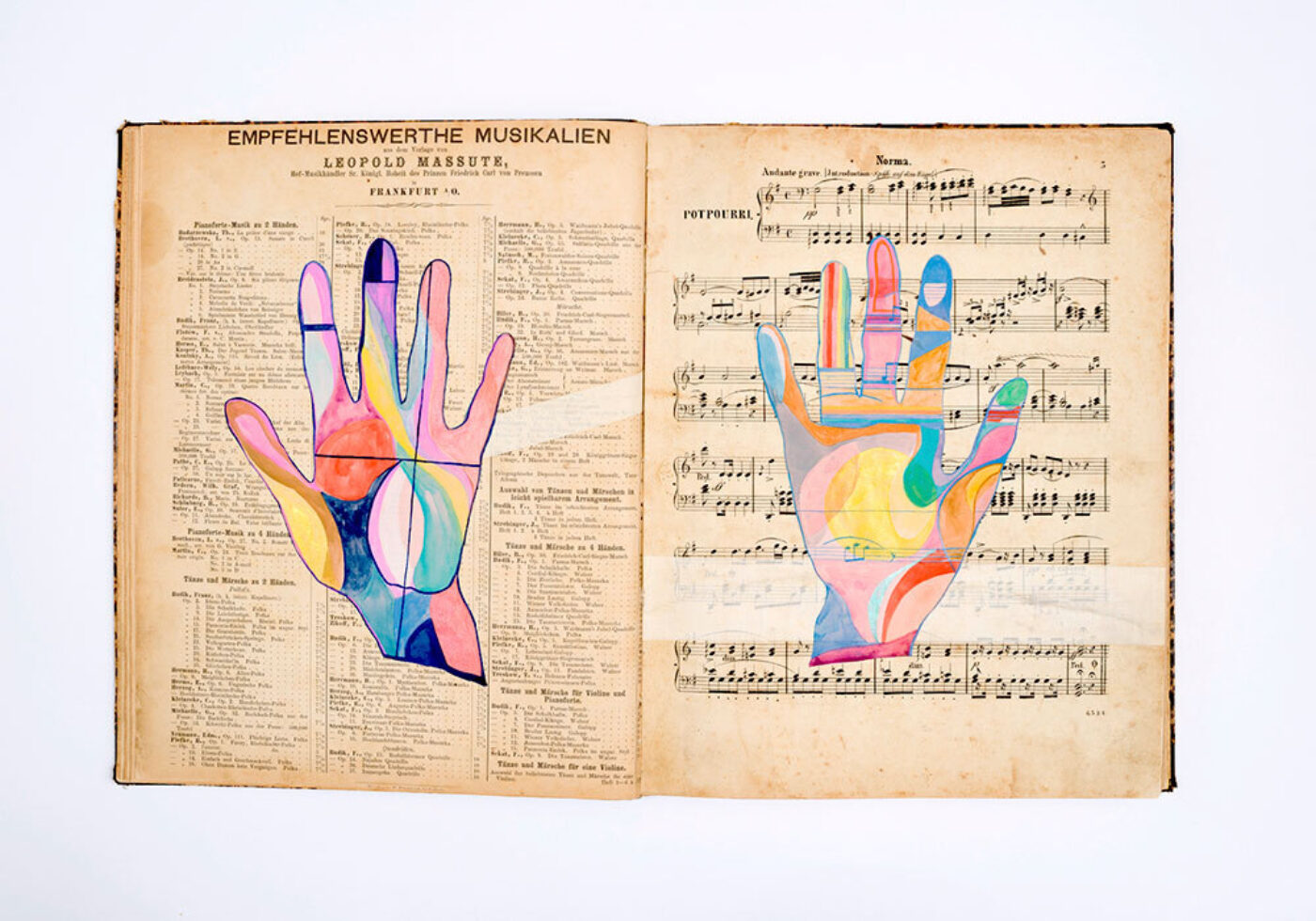 MK Is there a connection between the on-site works and these in terms of working with what's there: the bones of a page and the architectural bones of a space?
SC In all of my work I like to find things that are already there and pull out of them. I think through the movement of coming home from working on-site. You know when you're gone from your house for a while, you come home, and you're like, "Oh!"—you smell your house for the first time? My house always smells really old. It's an old wooden bungalow. So you get used to it, you totally forget it, and you walk in, and you're like, "Wow, this is an old house."
MK My childhood friend said, "Your house smells like laundry, cats, and Dijon mustard," and I'll never forgot that.
SC Yeah, it's that shock. After works on-site, I get so immersed in the site, and it is exciting. But it also flings me into survival fight and flight mode. When I get home it's nice to sit and go through the architecture of my mind and process everything out. Versus on-site where I am really dealing with the present-tense physicality of it.
I think everything is a response to something else. Sometimes I think every minute in life is a collage. How you get dressed in the morning, who you sit next to at a dinner party. It all dictates the next part. A lot of my work isn't just abstraction and the idea that it's the ether. It's really about things and the world.
MK Can you talk about outlining your hands [image 3]?
SC Tracing your hand seems so stupid. Often my work comes from this place of, "That's such a goofy move; can you actually make it so it works?" So the first ones I did were those two.
MK You would have crossed your arms.
SC Which is also a weird move. A dance move. It was a reaction to a dumb idea. To see if I could make a good painting. It cracks me up. There's a lot of humor. I think about cave drawings too. The hand is so basic. And it's impossible to look at this book and not think about the hand.
MK People's hands are present when they flip through.
SC It's an object meant for the hand. It's also a book that will never get shown in its entirety. Or not up to this point. I intend to have copies of it available for flipping through while people are sitting in my work on-site at the Tang looking at the paintings on the wall.
The paper that the red-quilt-like painting is on is cool; it sort of has Braille [image 4]. We weren't able to do that in the facsimile. This original book was somebody's practice book that they had bound together with some show flyers of shows they saw, I think.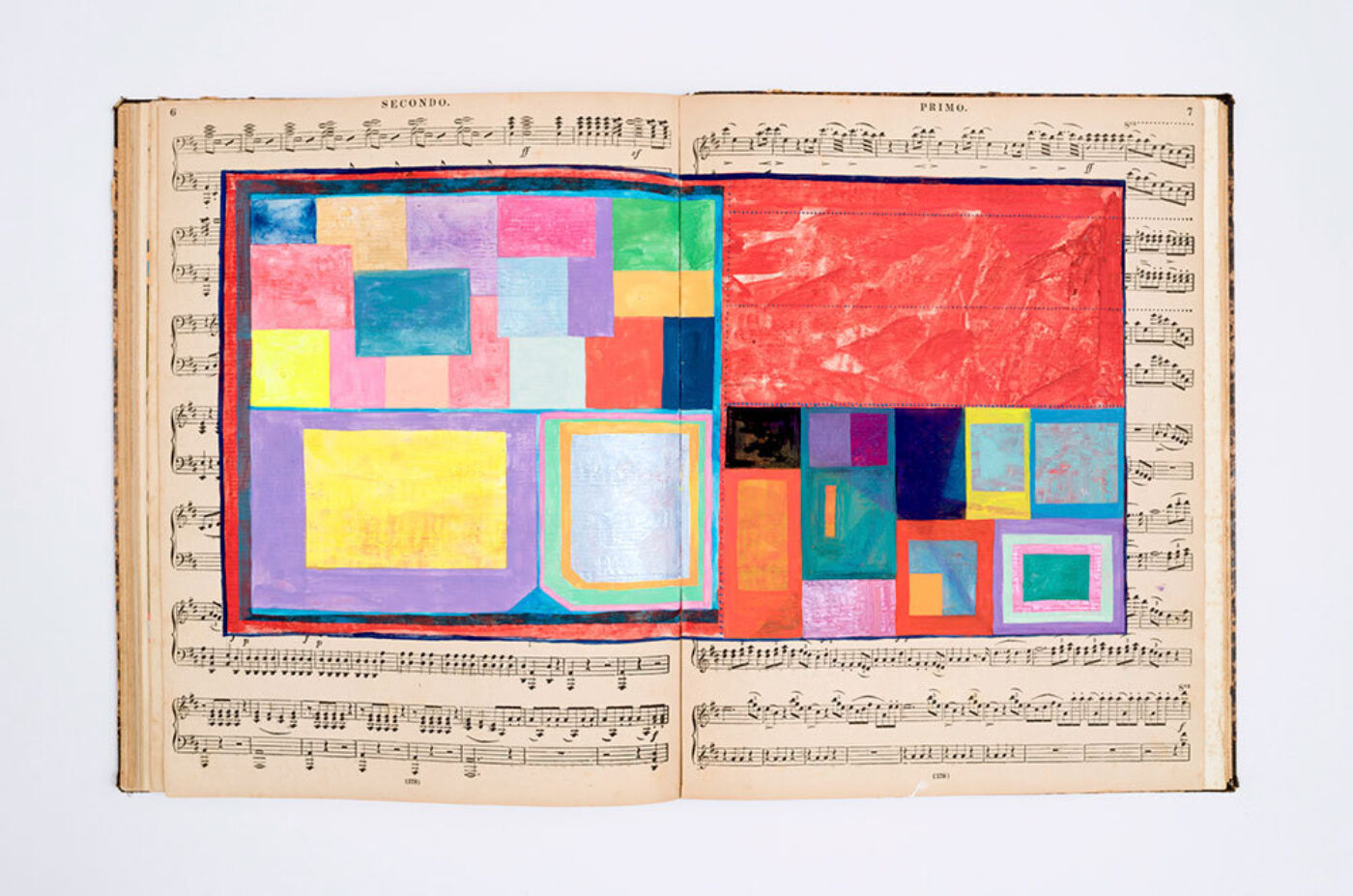 MK Do you read music?
SC I can't read this music. At one point in my life I could; I played piano and saxophone. But this gets really crazy.
MK I ask because I don't.
SC It's all shapes. Painting on it reminds me of the freedom you find when you are in a country where you don't speak the language; there's a freedom in the space of it all. I see it as a composition ground. But also, I know enough that when I look at some pages, that music gets so intense, versus something that is really light and that affects the painting.
MK Does this ritual of working on the book, closing the book, and then returning to it bleed into your paintings and on-site works?
SC Probably. There is a lot of back and forth between all three ways of working that I'm not always conscious of. But probably from looking at this book so much, something from here will end up in a painting. I'm not sure what that something will be.
MK Do you always use gouache?
SC Mostly I use traditional gouache though I now use an acrylic gouache sometimes, which is a lot brighter. One of the last ones I did is latex house paint. I wanted these moments of puncture, of saturated color [image 4]. But I always think of myself as that color red. You know, you associate people with colors? Or I do. That's one of my main colors. With traditional gouache you can use the same palette for a decade. You just spray it, and it reactivates. So you can keep your gouache forever. Which is sort of interesting to think about this book going on forever.
MK It feels ritualistic. There's a whole setup in terms of returning to the book and what that looks like.
SC I think this book has gone through three studios. It is this journal of time I can open up, start, close, put away, like a diary. There have been moments when I've let it live in New York City for a year, and then I take it back to the studio to work on it more. And there's always a point where I'm like, "Just take it, take it away from me. I'm so sick of working on it every day." This book is a vortex I can get lost in. And there are too many other things to do.
MK It's your Great American Novel.
SC That's what a curator once told me. "It's your masterpiece. It should end up in a museum."
MK Well, put it in one.
Opener 33: Sarah Cain—Enter the Center is on view at the Frances Young Tang Teaching Museum and Art Gallery at Skidmore College until January 2. Facsimile copies of Music Book can be purchased here.
Maddie Klett is an arts writer and researcher based in New York City and Virginia.