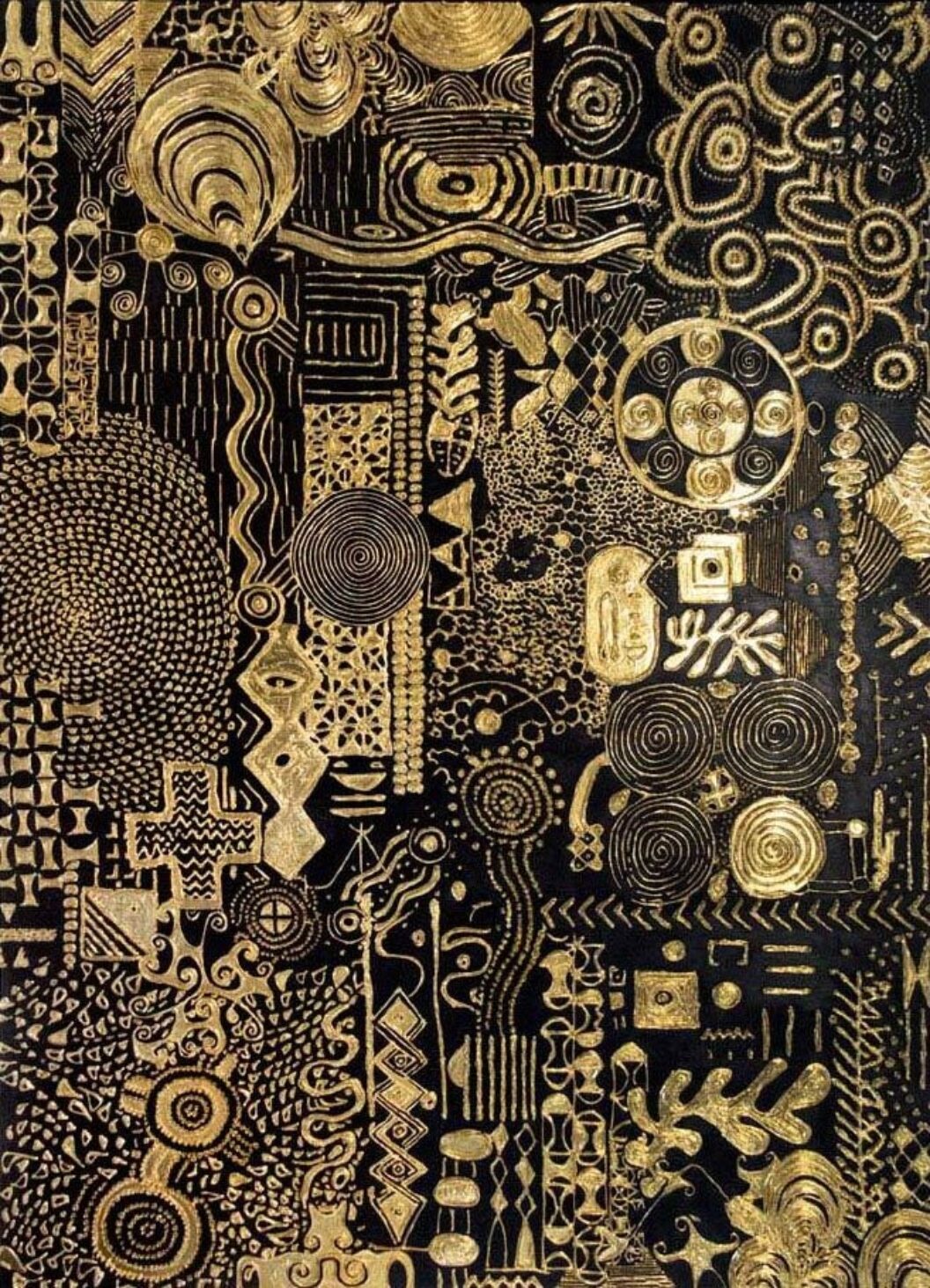 Theory + Practice is a series supported by The Andy Warhol Foundation for the Visual Arts.
Dear Lina,
1.
You sent me an image of the cover of the May 1973 issue of Black World with a simple question. Permit me to paraphrase: "What is a mindset of blackness that refuses to be homogenized?" I describe it as simple; it is anything but.
On less skeptical days, I often think that those with a homogenizing mindset of blackness—who, for instance, persistently assume that all African immigrants to the United States left undesirable home countries—are terrified of the undesirable in themselves. On more disaffected days, I am inclined to believe homogeneity is a trait cultivated by those who, despite evidence to the contrary, consider themselves as standing in the center of an orbiting world.
In that issue of Black World, Imamu Amiri Baraka contributed new work: a series of prose poems, including a dirge-like invocation commemorating the funeral of Amilcar Cabral in Conakry. He was Guinea Bissau's revolutionary leader, assassinated by party rivals eight months before Independence. Baraka is as provocative as ever:
… Nixon is a sick thief why does he
remain alive? who is in charge of killing him?
Why is it Cabral, Lumumba, Mark Essex, all can
be killed by criminals, & the criminals are not
hung from bridges?
In "Look Inside," also in that issue:
The Afrikan powerless Afrikan
The Black World powerless Black World
LOOK INSIDE!
to find in there, what words we need
What words we need. Black World, first known as Negro Digest, was published from the early 1960s until the mid-1970s. Its contents were as eclectic as its politics radical. Baraka, key actor in the Black Arts Movement, could write with unapologetic candor about blackness: "… wake up race, we wakin, you watchin a whole race wake up."
It is a tricky thing to speculate on how much has changed in the last four decades. One thing is clear: we've come so far it is possible to tell we haven't come as far to shirk the responsibility to stay woke.
2.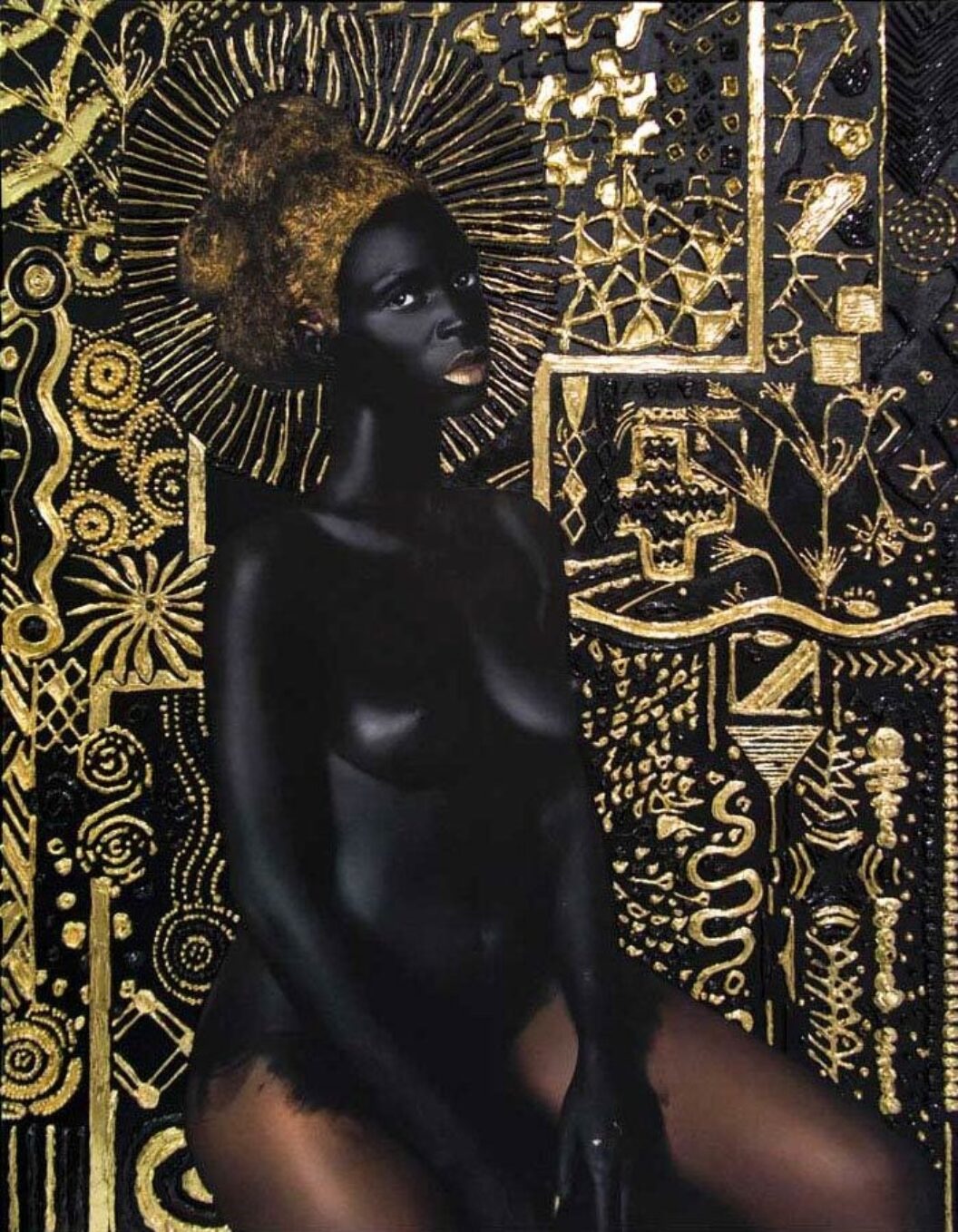 On occasion I struggle to explain to myself why I consider your paintings beautiful. I recall when you attributed a statement you vaguely remember Chris Ofili making: "Beauty is a tool." Which suggests that your mixed-media paintings, in their allure and heft, have something to do with dexterity.
The image we now consider is Ofili's Afro Lunar Lovers II (2005). The copulatory figures are outlined out of black—all the other colors used serve to highlight their black presence. It is almost as if I could take away the outlines and the figures would remain undiminished and intact, in true form. Master Ofili.
Let me turn your attention to fable to illustrate further. It's a story about Mbe, the tortoise, famed for his treachery in Igbo mythology. During famine, Mbe traveled across sea and land in search of food. A generous spirit handed him a many-sided drum. A side of the drum could produce mouth-watering mounds of food; another, angry spirits that flog villagers without mercy. When Mbe returned, he let the villagers beat the drum on the wrong side, and laughed at their folly.
For many weeks I have been tempted to claim Mbe as my tutelary spirit. I am not interested in his treacherous laughter, but the fact that he became custodian of a many-sided drum.
Beauty is such drum. Don't dare beat it the wrong way.
And so, why do your paintings seem beautiful to me? I consider the many-sided decisions you must have made, like a highway with several exits, arriving at these utterly black figures ennobled by gold.
There's something else. Last year, in your solo show at Amar Gallery, London, one walked through a gallery painted shimmery black from floor to ceiling. On each side of the wall, your works hung or rested, some large, others small, gilded on canvas or paper, in a solely black and gold color palette. The journey through the gallery was one into black. Materia prima, you called it. This color that is the base of all life, human civilization approached from a core visual vocabulary.
3.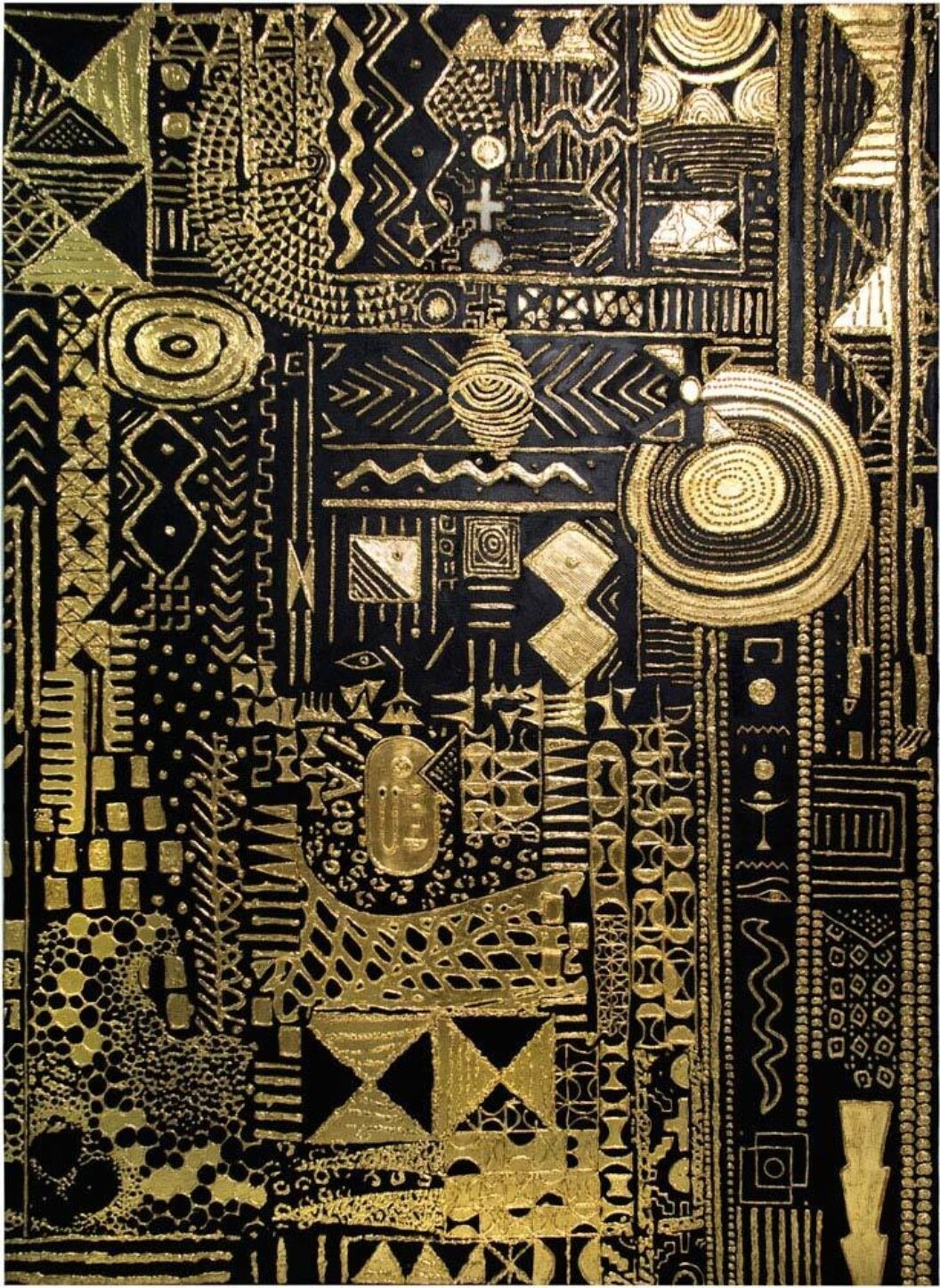 In the "preliminary expectoration" to Fear and Trembling, a treatise on the absurd faith of Abraham, who ties up his son Isaac, readying to kill him at God's command, Sören Kierkegaard writes of an "infinite movement of resignation." "In resignation I make renunciation of everything," he continues, "this movement I make by myself, and if I do not make it, it is because I am cowardly and effeminate and without enthusiasm and do not feel the significance of the loft dignity which is assigned to every man."
There is a loft dignity in everyone, and if Sören were to feel it in himself, he would take an audacious step, toward faith. Throughout the book he espouses on what Abraham's faith might mean from a philosophical stance. In this sense one might think of it in a common, secular manner—the degree to which each of us could express the absurd.
An absurd faith in the dignity of everyone. Depending on the lens from which they are seen, this group of Surma painted warriors from Kibbish, Ethiopia, might be considered primitive. This has everything to do with their naked butts, rather than, as you told me, "why these different tribal cultures do what they do."
Can you imagine a time when "primitive" was unclaimed by a Eurocentric vocabulary, when it was yet to mean uncivilized, a moment in human history when the European considered the African as an equal? "Black bodies in black worlds," you said, existing on its own terms.
A loft dignity.
4.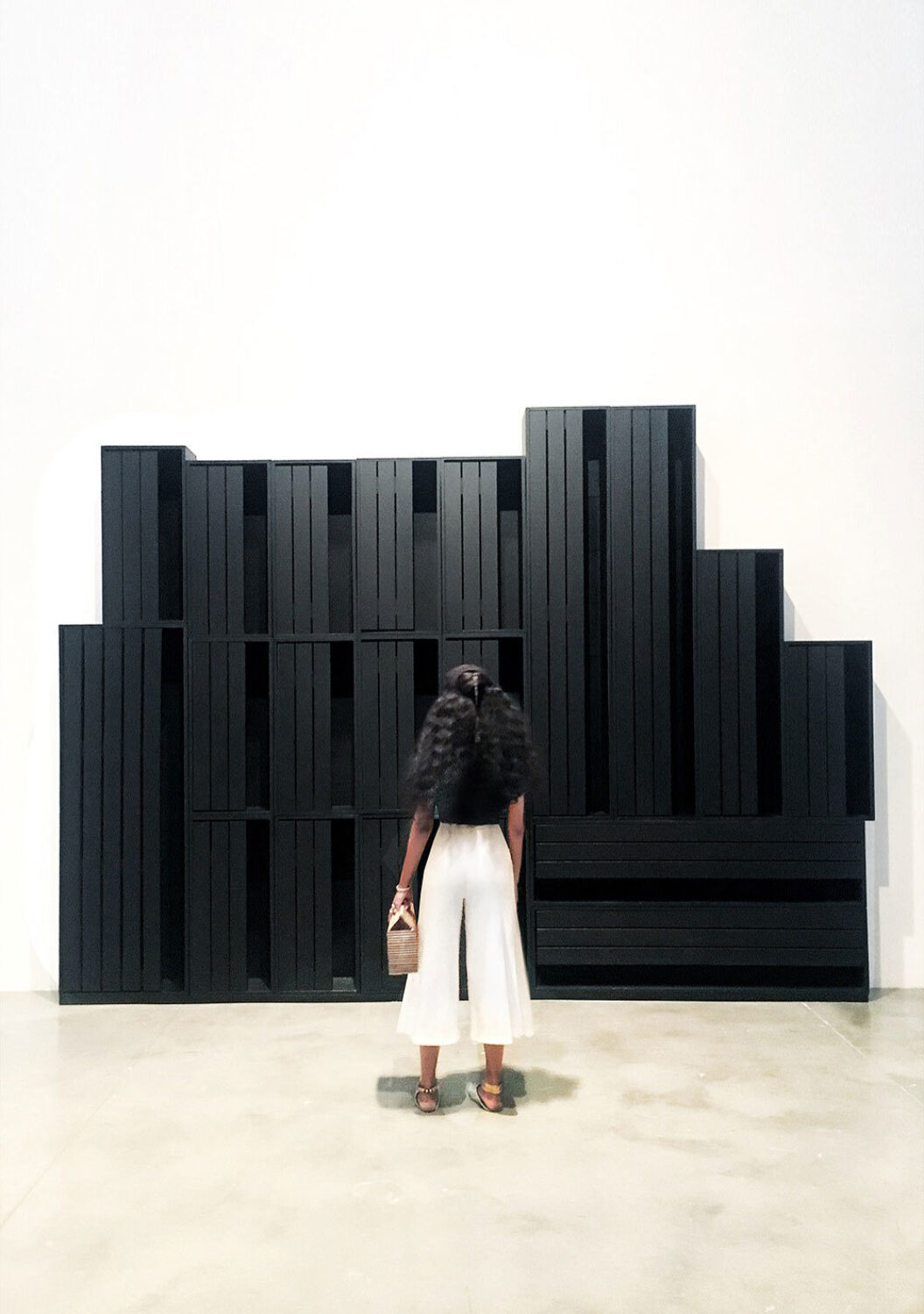 In this photograph you are looking at a sculpture by Louise Nevelson entitled City-Reflection (1972). To clarify why you loved her work, you sent along her words to Arthur C. Danto: "Black is the most aristocratic color of all."
I now consider the mathematical term for the properties and relations of points, lines, surfaces, and solids. Geometry. What is the geometric expression of blackness? How do we calculate the dimension of blackness, first in spatial terms, then in an ultimate sense? No easy query or endeavor. While calculating we are attentive to dimension and immense scale. Nevelson's sculpture—plinths of polished black—towers over you like an opaque screen.
A black world is an expansive, outreaching world. Some call this the "Black Atlantic," a nod to the ocean that joins the continent of Africa to its diaspora in the Americas and Europe. This triangular world, for example, is emphasized in your biography: Liberia, Britain, and New York.
Sometimes it feels as though I have to forgive myself for venturing to live outside Nigeria. The recurring angst that asks: How long before I return? What do I lose by being away? Until I came here, I did not realize that my fear of belonging only in part was so deep-seated. Little time has passed for me to evaluate with certainty changes in my temperament. Yet I now conceive of my feeling of estrangement from Nigeria as pivotal to how I conceive the fact of my being human.
The limit of identity is as the border of an outlying ocean. "Our boats are open," wrote Édouard Glissant, "and we sail them for everyone."
5.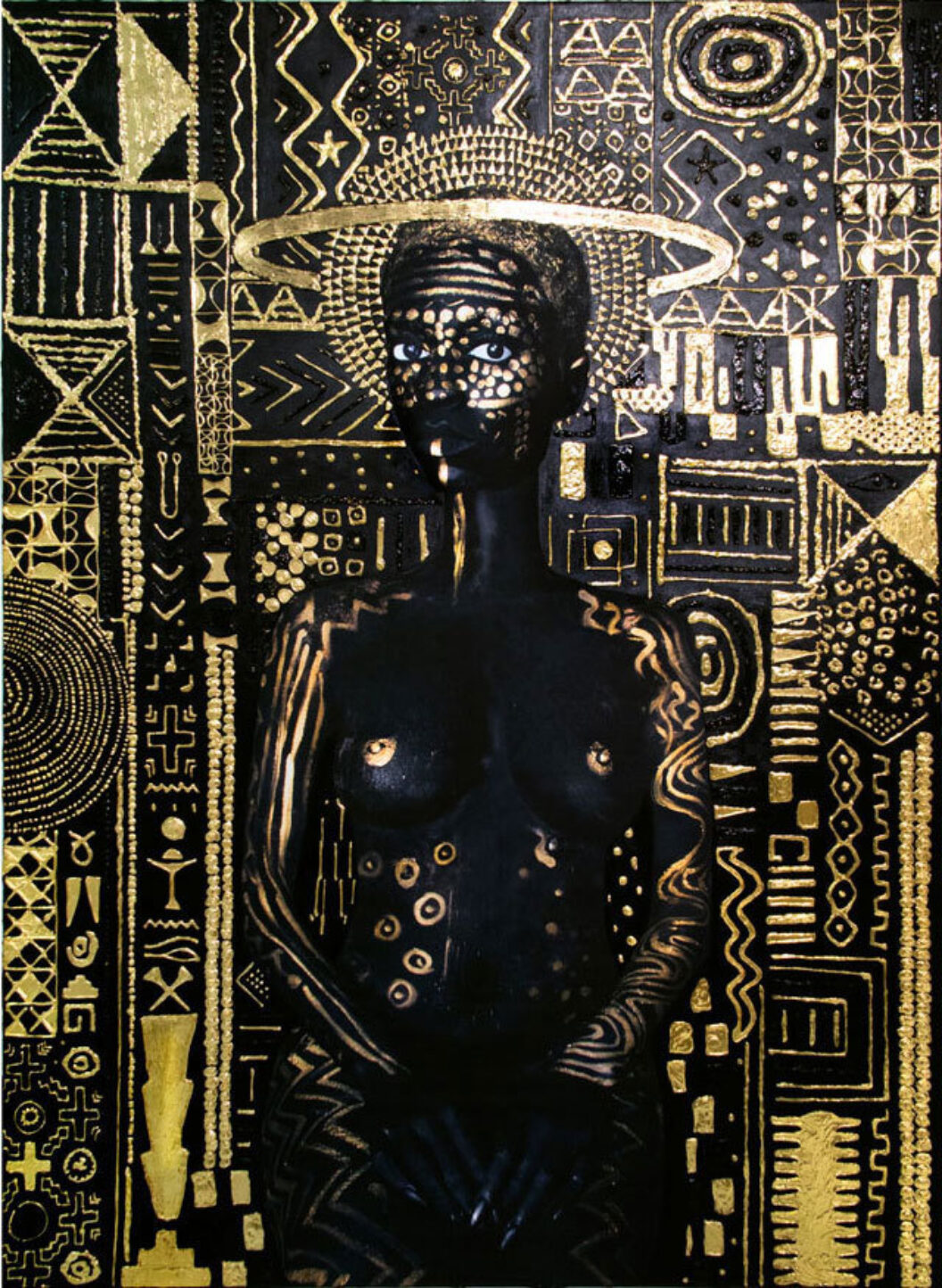 I told you how compelled I was by what she chose to do with her hands. I noticed that first—a tiny plant held up, her firm clench of the gown—before I glanced at her stern expression. Yet her expression most renders this image as something other than showy. She is not smiling, despite holding herself in a calculated, almost rehearsed manner (consider how her right leg rests on a folding chair, as if she floats). A smile might have indicated a maudlin orchestration of self. The stakes are higher: she hopes to suggest the extent of her potential.
I would imagine this is why you return to Seydou Keïta's photographs. Most of those who consider his camera do so with the knowledge that they are being photographed, but equally with a certain confidence in the photographer's ability to picture them, as if for a final time, as if to appraise the extent of their expressiveness.
Maybe Keïta's photograph serves as under-drawings for the female figures in your own work: similar to this photograph, the paintings portray still bodies and steely faces, almost pensive. Yet, emboldened without doubt.
We agree on the nobility depicted in this photograph; we also insist to be depicted in a manner consistent with our inner worth.
6.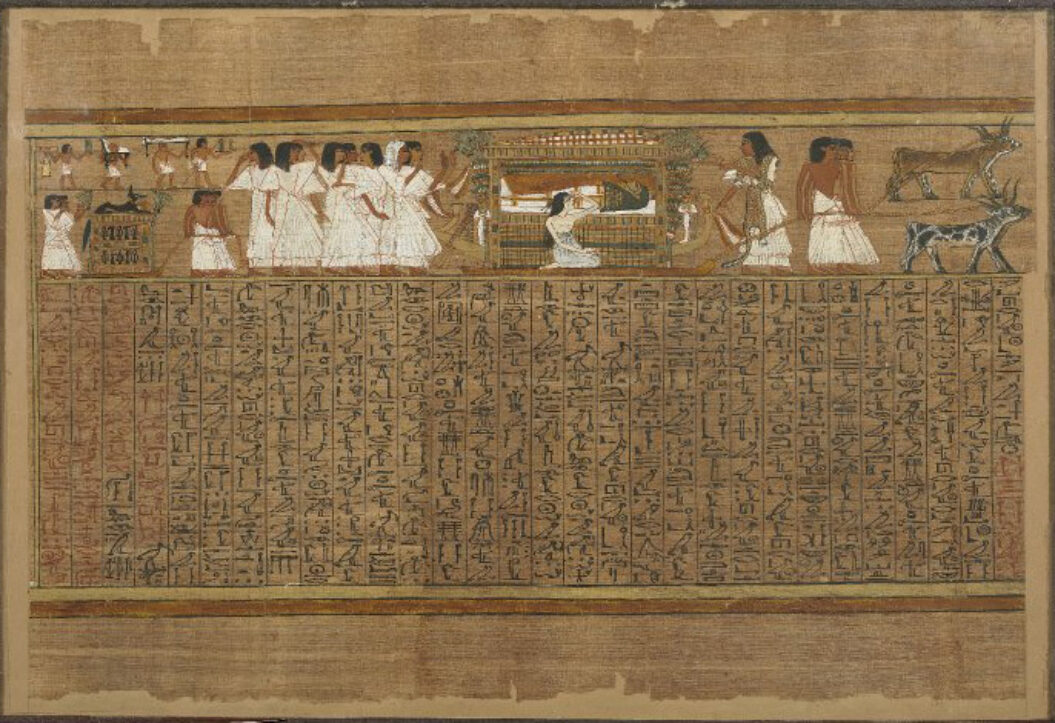 I have thought for days about what you said, regarding the purpose of art in ancient Egypt: "To show that which is hidden." Art is a sacred practice, you continued. "It can't be used in a slipshod or reckless fashion. And when I read about the purpose of art for the Egyptians, it made perfect sense to me. Because that's how I view myself—as a conduit between the real and the imagined."
Reading and writing as we know it—the inscription and decoding of marks according to traditions of legibility—is of a relatively short span when compared to the human use of words. Our inclination to communicate is prehistoric, pre-Platonic. But once it became possible to codify words and letters, and to present that to be read and understood, a new technology of communication came into being.
Not just that. Some would argue, also, that human consciousness was restructured as a result. I have read (the source eludes me at this moment) that writing evolved from the signs cast by diviners. Once we began to codify those signs, to transcribe them into words, without the help of diviners, we interjected ourselves between the known and the unknowable, reality and dream.
Artists, even if they consider their work secular, are involved in this straddling of the real and imagined. I do not suggest that all artists attempt to show what is hidden. How can I know? I can only suppose how committed you are to passing on swaths of codes, now that I recall sitting in your studio, watching you iterate and reiterate lines and circles. When the work is complete, the painting such as the one below contains myriad symbols; and if a figure has been placed in the foreground, it reveals a body as one additional inscription in a surface of mysteries.
7.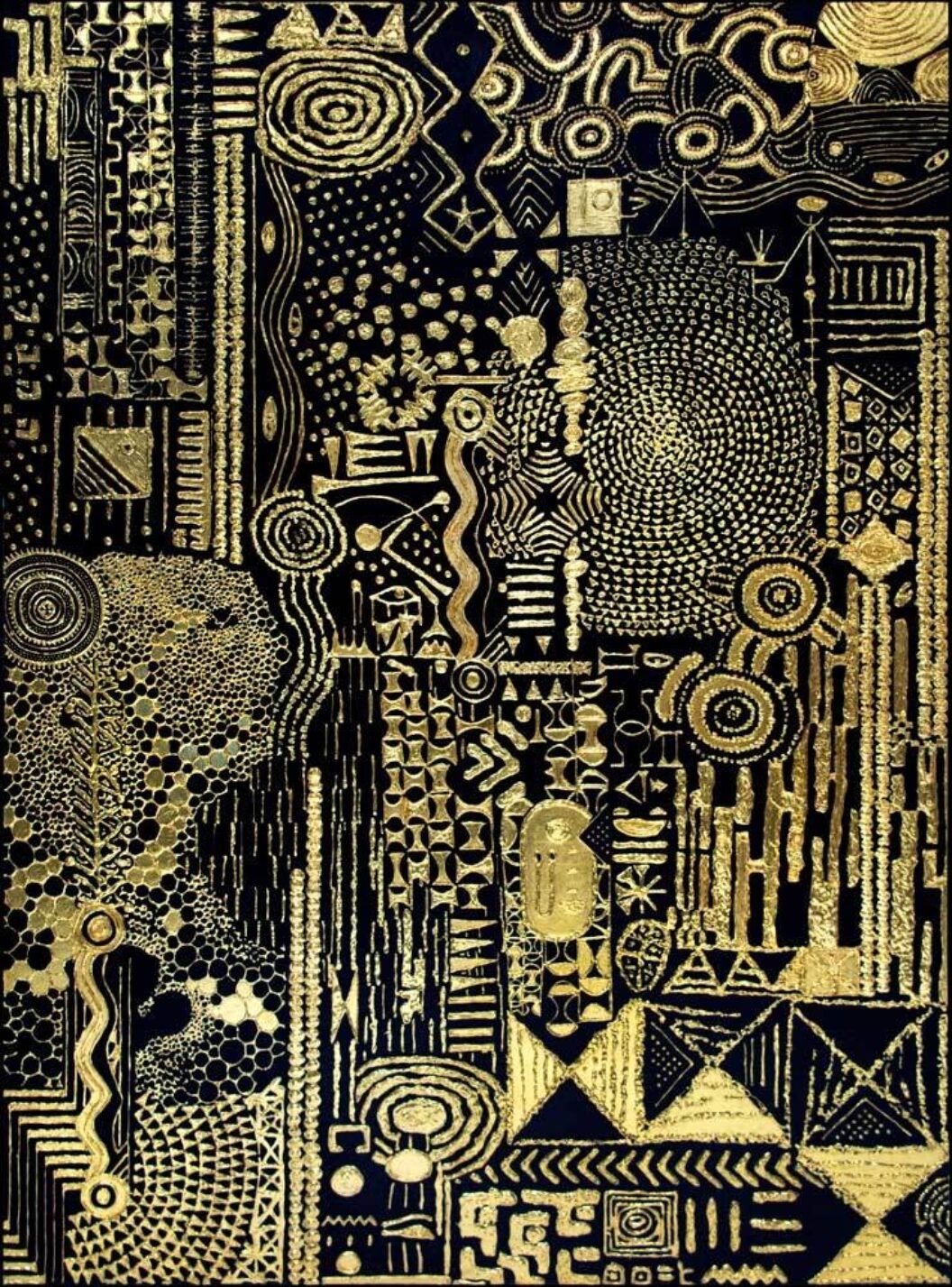 We consider an eight-step process in the making of a gold bead by the Baule people of Côte d'Ivoire. They impress intricate, parallel grooves on its flat surface. It is likely being made for sale, but its artisanal currency is more than a few centuries old, a tradition passed from hand to hand. "It's like a cyclical idea of time," you say.
There are many ways to illustrate time of that sort. Last week I found one in the voiceover text for Chris Marker's 1957 film Letter from Siberia. For many centuries the people of Siberia, who believe that their forest was made by the devil, are convinced that when he's not busy with making forests he also steals people's souls, resulting in their bodily death. Marker said: "In this frozen ground, corpses never rot. In these graves, which rest on foundations of ice, life and death are separated by nothing more substantial than a breath of air. Bring back the breath and the body is ready to live again."
Perhaps the analogy stands on shaky ground, but here's what I turn my mind to: one afternoon during lunch, our conversation tended toward longevity, the span of time you consider in relation to your work. You make a distinction between the short-lived and the time-honored, as it might be in Siberia where the dead are sent on their way until soon. You feel kin to any artist who works on a painting for years, even decades, only choosing to show it when ready.
A myth or fable, if any good, can be retold as many times as storytellers find an audience. I turn to your paintings with this elementary fact in mind. The prefatory way to examine them (prefatory, as I intend to write to you again) would be as gilded lines and marks, repeated until they convey the symbolic. And what is symbolic except what might be iterated, over and over?
Emmanuel Iduma is the author of The Sound of Things to Come, a novel. He contributes essays on art and photography to a range of journals, exhibition catalogues, and artist monographs. The editor of Saraba magazine, he is a faculty member of the MFA Art Writing program at the School of Visual Arts, New York. He is the recipient of a 2017 Creative Capital/Andy Warhol Foundation Arts Writers Grant.