Let CHERYL Ruin Your Life (Part 1) by Elias Tezapsidis
Is CHERYL a raging dance party wherein participants share blood, glitter, and a penchant for freaky felines? Hell yes—but that's only the beginning.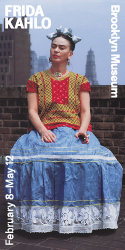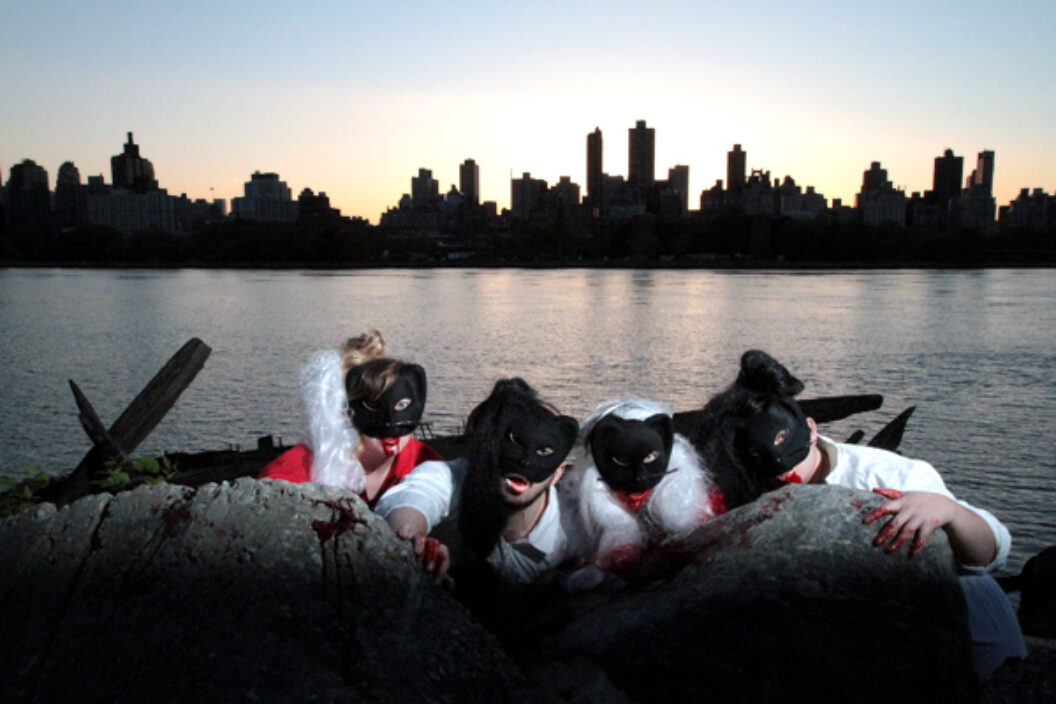 CHERYL is an artist collective birthed by the evil and corrupt minds of Destiny Pierce, Stina Puotinen, Nick Schiarizzi and Sarah Van Buren. They were bored together one night after an evening of bacchanalian debauchery in South Brooklyn and found themselves without a local landing spot closer to home to use as their very own danceteria. It is here that the saga of CHERYL began and how it became a household name, a performance art party, and even a verb—To Cheryl.
The CHERYLs possessed the insight to make this a memorable engagement by attempting to make it as strange as possible: they added cat masks, played music that did not come from the most recently released pop charts, and added a little glitter and guts to the mix. While hearkening back to the playful Club Kids of an '80s Tunnel-era New York, they still remembered to forget taking themselves too seriously. Far from Alig-murderous, an evening with CHERYL still promises (fake) blood on the dance floor.
For some, it can be hard to consider a hedonistic party as artistic practice. How can a party be art? In CHERYL's case, how could it not be? To find the footloose and silly at an art opening can be a challenging task in an art world that rarely cracks a smile. Yet CHERYL seems to be bridging the gap. Is contemporary art ready to rage? To have fun again?
In an attempt to categorize CHERYL on his art approval matrix, Elias Tezapsidis hits the group with twenty questions, lowbrow and highbrow alike. These questions will be released in two parts, this being the first, providing the lowbrow run-down of CHERYL's antics.
The Lowbrow How-now
Elias Tezapsidis Knowing the significant role cats have played in CHERYL events (cat paraphernalia) and promotional videos, what do you have to say to cat-haters? How do you view them, and what are they missing out on?
CHERYL Cats are just better than dogs. The fact that we would have to explain this to cat-haters, powerfully illustrates our point. Cat lovers like to work hard for the affection of others. They appreciate individuality and they derive pleasure from unpredictability. Cats are mentally ill across the board. They are the best dead-pan comedians on earth. All those cat-haters can go hang out at the dog-themed party, Frank, where all they do is play classic rock from WFNX in Boston and sniff each other's butts.
ET How would you describe your relationship with glitter? What has been your biggest adventure with it?
CHERYL We are in a long-term committed relationship with Glitter. We're flying to Ohio to meet Glitter's parents for the first time this Thanksgiving; we're a little nervous, since Glitter's parents are a little conservative, but we think we can win them over. One of our more extreme Glitter moments came during our 7-11 video shoot which took place at 2am on a residential street in Park Slope. Stina and Destiny had been dumping Big Gulps and Slurpees on their heads, smearing nacho cheese on each other's faces, and squirting cans of whip cream directly into our mouths. We were tired, sticky, and smelled terrible from all the junk food and then we had to freeze and hold a dreamy pose looking heavenward as someone off screen dumped the most ethereal, white sparkly glitter all over us. The glitter was floating in the air everywhere, landing on our eyeballs, choking us, but it was so beautiful.
ET In a battle between glitter and fake blood who wins and why?
CHERYL 3 out of 4 of us vote glitter: fake blood stains clothing—especially bras—really well, and makes a delicious hair gel. It's also almost as good as ipecac if you swallow too much of it. However, glitter wins. It can cause you real pain, especially when ingested or inside of your eyes. We believe that when we dedicate our corpses to science, they will discover glitter geodes in all of our lungs. You cannot get rid of it. Glitter stays on your skin, in your hair and scalp, and in your underwear for weeks and weeks. If you come to CHERYL, or our homes, or our studio space, or even casually hug one of us, you will end up finding glitter in your pubes six weeks later. Just ask anyone we've ever had sex with—it gets around.
ET If you were a drug what drug would you be?
CHERYL CHERYL is more powerful than any illegal drug out there or prescription drug on the market today. If anything, CHERYL would be "Meow-Meow," the club drug that was hot in London about a year ago.
ET You frequently explore themes of mortality. How would you like to die?
Nich Schiarizzi Far, far in the future, in a way that doesn't involve being sick for an extended period of time.
Sarah Van Buren Of natural causes, secretly in a forest, where my body can be broken down and mixed into the earth, instead of putrefying in a giant plastic bag in a suburban cemetery. However, in the event of a looming nuclear apocalypse, give me a cyanide pill.
Destiny Pierce In a state of euphoria on a dance floor.
Stina Puotinen When I get terminally ill with whatever will kill me, I'd like to be dropped off via parachute into a desert, overdosing on peyote, with a cyanide pill just in case, and let nature take its course.
ET Have you ever reached a point of utter satisfaction with CHERYL as a project? What's your biggest ambition that remains to be fulfilled?
CHERYL We will never be satisfied. We are always looking for what's next, what will keep us excited, what will keep people interested, what we are eating for dinner later … once you get satisfied, you get lazy. We've had some extreme high points (and a few low ones), but "satisfaction" is the word we would use when CHERYL no longer exists. We continue to strive for new things and challenge ourselves so that CHERYL remains dynamic and fun and unpredictable for all of us. Our biggest ambition is doing what we love full time, for money. Someday, hopefully!
ET How have your sex-lives changed following the success of CHERYL?
NS I'm having less sex now than I was having before CHERYL started. It's hard to meet people at a party while you're behind the DJ booth. And I don't drink while I DJ usually, so that makes sexy stuff less likely.
SVB Yes, considering I am three years into both CHERYL and the longest romantic relationship of my life—my boyfriend, who I met at CHERYL. For CHERYL, by CHERYL. That is a traditional story; others have more sensationalized things to say about that.
DP I've gotten more ass than ever before, all while wearing outfits made of post-it notes, spandex, garbage bags, duct tape, spray painted wigs, and having fake blood pour out of my mouth throughout the night. Life lessons from CHERYL: sexy is an attitude. Thank you, CHERYL.
SP US or abroad? Actually, no comment. A lady never tells.
ET What is your favorite horizontal dance move?
CHERYL Playing dead in the middle of the dance floor face down, the worm, seizure puppy pile, and/or sleeping for 8 to 9 hours and dreaming about dancing.
ET Having attended CHERYL events in a time prior to the success of Lady Gaga, I know that you were Lady Gaga before she was. How do you defend yourselves against those accusing you for copying her style for your events?
CHERYL Lady Gaga, like many famous pop personalities before her, is a master of thievery. She has incorporated many other people's ideas and aesthetics into her machine. She is a business woman. Anyone who thinks she is original is probably just not very imaginative or well-informed. Look at her. She's dead-serious about wearing that costume. Look at us. We are laughing our faces off while we're doing this. This is the difference. But due to the intellectual property lawsuit we are currently waging with her over "looking weird" as an original CHERYL concept, our lawyers have advised us that we cannot comment further on this.
ET If you were to utilize a celebrity as a spokesperson who would it be and why?
CHERYL Judith Light. Pourquoi pas? Isn't it obvious?
Elias Tezapsidis thinks CHERYL is lowbrow brilliant, because she is fun. CHERYL makes you dance.
CHERYL is coming to a Bell House near you Saturday, October 29th, 2011. Interested in ruining your life? More information available about CHERYLWEEN IV: PRELLRAISER can be found here. Or watch their promo video below.
What's CHERYL like in a gallery space? Come see for yourself. The group will be participating in American Idolatry, which launches Saturday, October 29th at the Invisible Dog and runs through November 5th.
Elias grew up in Thessaloniki, Greece, prior to attending Macalester College in Saint Paul, Minnesota. He is a regular contributor to Thought Catalog. Elias has primarily worked in finance, which he genuinely does enjoy, but he has also always kept a notebook.