A revival of Leos Carax's 1986 film showcases the director's wholly original vision.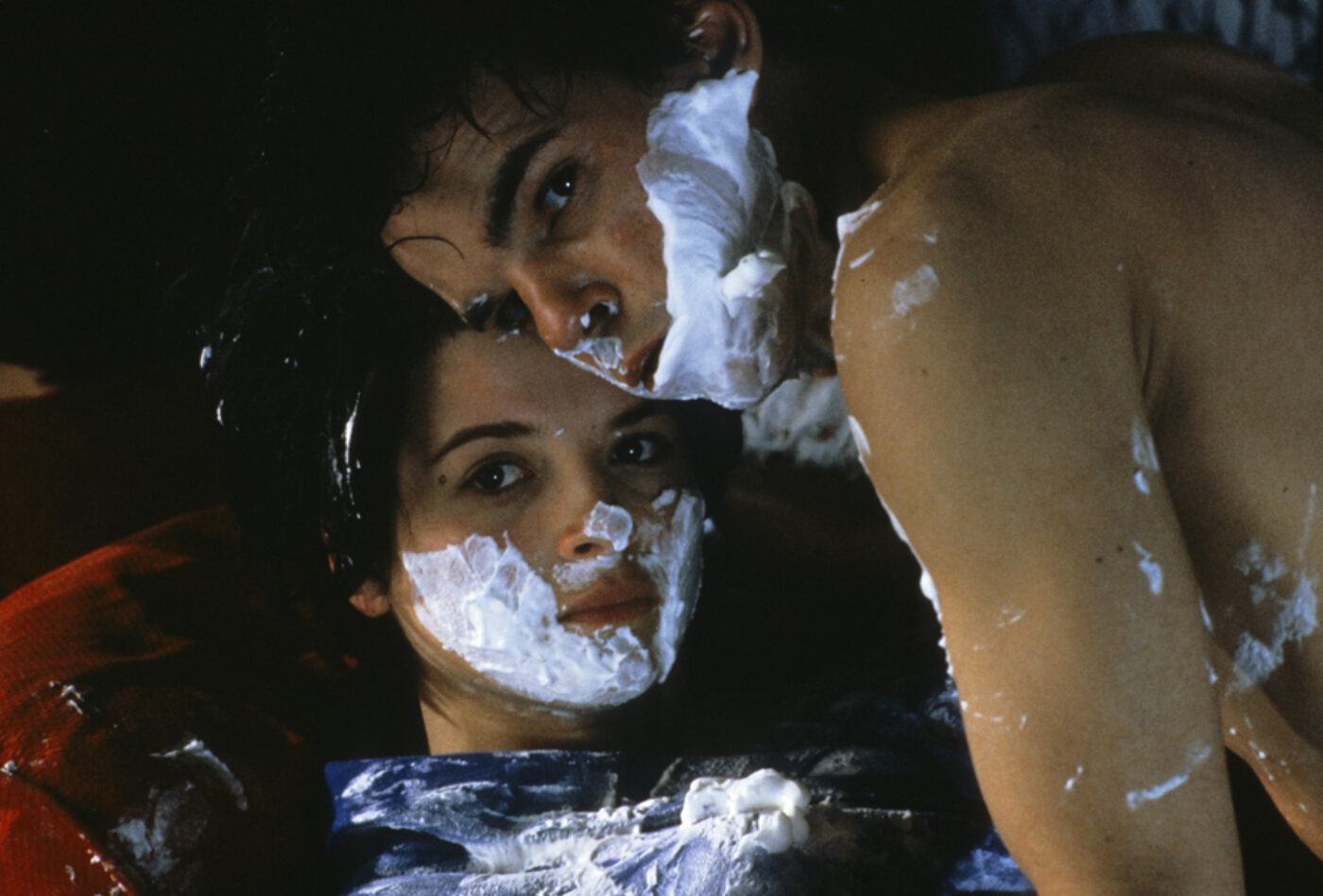 In 2012, no other movie even vaguely resembled French director Leos Carax's Holy Motors. In 1986, his second feature Mauvais Sang stood equally alone in the cinematic landscape. Paradoxically, Carax makes highly referential films (for Mauvais Sang, it was Godard, Chaplin, silent film in general, and the repressed tradition of poetic French cinema) that turn out unique to the point of being beyond classification. Though Carax may be against the times he lives in—denying reality in Mauvais Sang by shooting on studio sets with a highly restricted color palette (it's nearly a black and white movie in color, with a splash of red here and there)—he is not disconnected from them. Who else in 1986 shot a sex scene by showing a young woman (the incandescent Julie Delpy) slide a condom out of her box of Tampax, peel the packaging, and kneel to place it on her lover? The film world his characters live and die in revolves around the most salient, terrible fact of the period: AIDS. Mauvais Sang (literally: Bad Blood) is a love story and a heist film in which the central metaphor is a virus that attacks those who make love without emotion. Carax is a romantic, an artist who can turn the worst tragedy into a desperate call for true love. Thus he is also a tortured soul, whose contradictions mean that love in Mauvais Sang is impossible and that the heist—the object of which is a sample of the virus that could lead to a vaccine—is so easy that he omits the breaking and entering.
Mauvais Sang exists for Denis Lavant and Juliette Binoche, appearing here before Lavant looked like a pit bull veteran of a thousand dogfights and Binoche was the figurehead of French prestige. With their black hair and chalk white skin, they look more like twins than lovers. Lavant is an apparition, a beautiful monster with the body proportions of a newborn, a punk Lon Chaney, and the greatest physical actor the cinema has found in several generations. Watch him move like a matchstick man, swaying uneasily on stiff limbs, then burst into a run, flip over a car or spit fire. The movie's apogee comes when Lavant turns a dial on the radio and the big fake '80s drums of David Bowie's Modern Love kick in. Lavant charges out the door like a bull, clutching his guts in an agony of unrequited love before gradually exploding out of himself as he speeds and stumbles along the sidewalk with the camera hurtling beside him. Noah Baumbach and Greta Gerwig's homage to the scene in Frances Ha is lovely, but the original is simply one of the greatest sequences ever committed to film. It will stick with you long after you've forgotten the byzantine plot and lyrical voiceover.
Mauvais Sang has its sleepy parts, but it demands to be seen. No shot is conventional, no face or object taken for granted: Lavant's Smith & Wesson gets five angles the first time it comes out of a drawer. Even the most utilitarian medium shot of a police inspector is made eerie by the phalanx of police officers surrounding him, blurred to the point of appearing identical. And when it's time for the gang boss (played by Michel Piccoli) and his accomplice Hans to show Denis Lavant the future scene of the crime, Carax makes them ride shirtless through the night in a convertible on Paris's ring road. Only a filmmaker for whom the logic of the story is subservient to the power of the image would dream up the idea that Halley's Comet makes it too hot to wear a shirt in Paris.
In the '80s, Carax was lumped in with a crew of French directors referred to as makers of "visual cinema," a pejorative term referring to a series of fanciful films shaped by the gaudy language of advertisement, all surface and taxidermy. Carax superficially fit the bill in that he exerted great control over his frame. But notice, for instance, the way Hans's right eye pops wide and catches the light as he stands behind Michel Piccoli early in the film. It's a detail no director could have asked for and no actor could have intentionally supplied, and proof that Carax's rigid system not only allowed life to beat on inside the frame, but was designed to enhance it.
Mauvais Sang plays at Film Forum November 29 to December 5.
Nicholas Elliott has been New York correspondent for Cahiers du Cinéma since 2009 and is Contributing Editor for Film at BOMB. He will serve on the jury of the 2013 Entrevues Belfort Film Festival in December and is currently writing text for an upcoming project by Richard Maxwell and New York City Players.