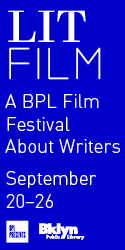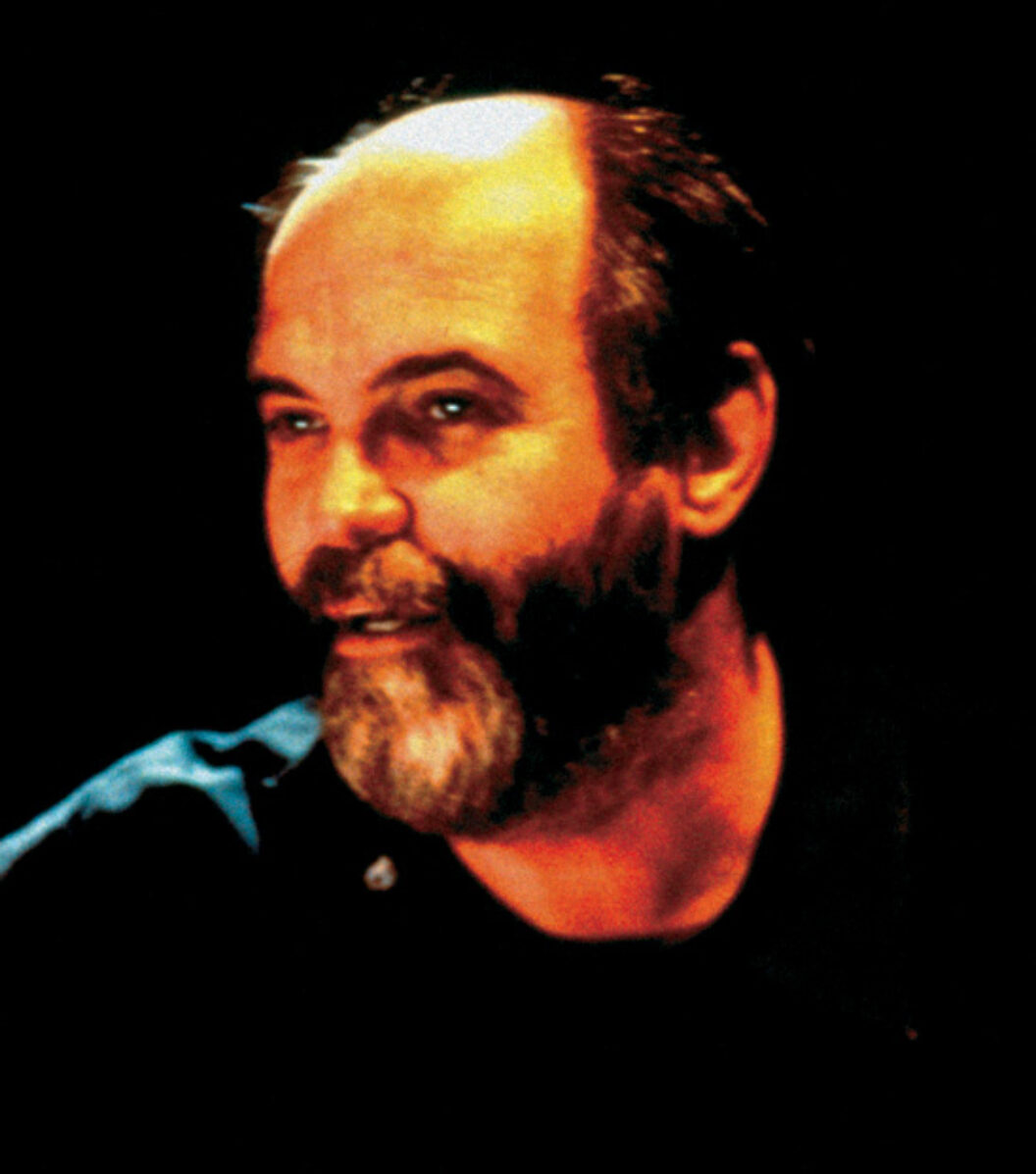 Perhaps because he emigrated from Cuba at 14, Leon Ichaso, a self-taught director with an eclectic background, has always had an affinity for outsiders—be it fellow immigrants (El Super, 1979), criminals (Miami Vice and Crime Story in the 1980s; Sugar Hill, 1993), disillusioned revolutionaries (Bitter Sugar, 1996), aspiring musicians (Crossover Dreams, 1985) or alienated stars (Hendrix, 2000), most of whom want desperately to fit in but can't quite manage it. With his new film, Piñero, Ichaso has found the ultimate marginal character, who, conversely, succeeds. Poet and playwright Miguel Piñero, best known for his play and subsequent film Short Eyes, was a product of the politicization of prison inmates in the '70s. While often embraced by the creative establishment, he continually chose to return to the lifestyle of the streets, to the crime and drugs that eventually killed him. In the current climate where cutout heroes and villains often replace multi-layered characters, it's amazing to enter the world of a genuine anti-hero, a true artist whose disinterest in "making it" stands in stark contrast to today's crop, many of whom would choose fame as an occupation. And it's a tribute to Ichaso that he has made a biographical film that transcends the genre. With an obvious sympathy for his subject, a collage-like structure and innovative use of dialogue,Piñero manages to replace voyeurism with a masterful blend of form and content. I was blown away by an early screening of the rough cut, but worried that it might not find a good home. Fortuitously, Miramax will distribute the film in New York and Los Angeles this December, with a wider release scheduled for early 2002.
Lynn Geller What drew you to filmmaking?
Leon Ichaso My father was a television director who worked in Cuba, as well as a published poet in a circle of well-known Latin American writers. So I grew up on soundstages, watching live television and films being made. American films were popular in Cuba; they were not looked at critically. You would go to the movies and somehow develop a film education of sorts. But I had no formal schooling. However, when I finished high school in 1967, I worked at Max's Kansas City here in New York, and there was a whole underground filmmaking movement.
LG As in Andy Warhol?
LI Warhol, Jonas Mekas. The European influences then were Fellini, Kubrick, the early Antonioni films. People had film heroes back then, we went to see films that changed us and made us think, I'd like to do that one day. In '68 I picked up my first film camera and began experimenting, making 8 mm films with friends, some of whom later became part of the business as well.
LG What was your first film?
LI El Super. I acquired the rights to an off-off Broadway play and wrote the screenplay. You could call it an art film; it opened at the Museum of Modern Art New Directors series and was distributed by New Yorker Films. El Super was about a Cuban man who couldn't accept the fact that he was here in the cold and the snow, or that his daughter was becoming Americanized and that he had no world to go back to. At the time, I was working as a copywriter and making TV commercials. I made El Super with money from Goya commercials. That was the beginning of the do-whatever-it-takes-to-get-a-movie-made approach.
LG You left Cuba with your family at 14. Your movies are from the point of view of Cuban exiles, politically and otherwise. Were you able to film in Cuba when you made Bitter Sugar(1996), which wasn't exactly a flattering portrait of the current government?
LI We shot in Cuba for a few days. My crew sneaked the cameras onto the island under the pretense of doing a Caribbean architecture documentary.
LG Did you go?
LI I couldn't get a permit to go so I stayed in Santo Domingo. But everybody else went, and the Cuban government rented us some equipment, so I'm sure they knew exactly what we were doing. But we were paying in dollars and they looked the other way.
LG Did anybody in Cuba get to see Bitter Sugar?
LI Bitter Sugar became a huge, huge video film. In 1998 a friend of ours went to Havana and after going to three different addresses located my nanny—she was living in a little room with six people. She called me in L.A., and when she heard my voice she said, "You sound just like your father." The next thing she said was, "I saw Bitter Sugar. Why in black and white?" My nanny that I hadn't talked to since 1961! Then she said, "Oh, and I also saw Titanic."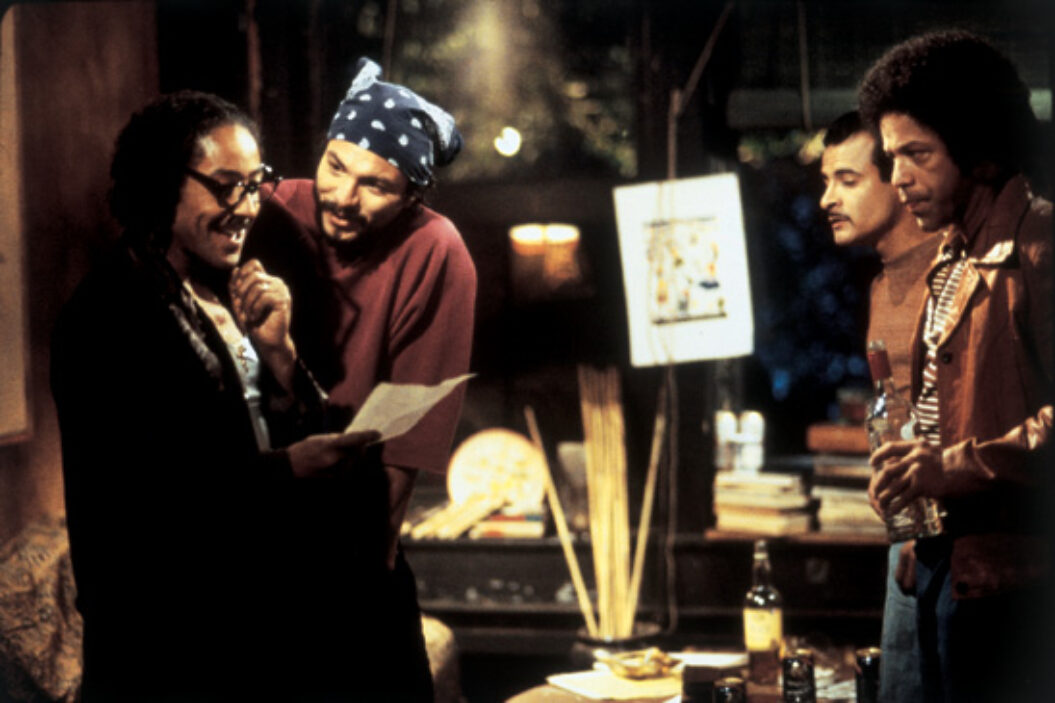 LG It seems the whole world saw Titanic. Looking over your résumé, it's very varied; you have the personal films, and you also have some episodic television, TV movies, and independents.
LI You do what you want, and at times you do what you have to do. Miami Vice was my first paying job in the business. After doing the independent Crossover Dreams (1985), I wanted to do things a little differently, to get paid, join a union. And the fact that with Miami Vice I was going to be using equipment I'd never been able to afford before was wonderful at the time, a new and fun project.
LG It was very innovative for that period, the casting was amazing, lots of New York actors. And the way they used music, even though by now it's a cliché.
LI Yeah, I had always believed that films had to be a little more pure, that dialogue had to be heard, and here they were cramming shows with pop songs and dramatic music. I had a wonderful time.
LG I know Miguel Piñero was on "Miami Vice"—is that where you met him?
LI No, I met Miguel Piñero in Central Park sometime in the early '80s. He was already known for Short Eyes. I was with an actor friend hanging out by the 72nd Street fountains, and this man who looked homeless came over to us. I thought he would ask for money, but my friend knew him! I was looking at this guy, with his baby blue bell-bottoms and polyester shirt, scratching—he had a little notepad in his left hand and kept hogging the joint. I thought, Who is this man who somehow seems coherent and intelligent when discussing theater, but who is covered with bug bites and looks awful? And then he kinda walked away, and my friend said to me, that's Miguel Piñero.
Years later, working on Miami Vice, I heard many stories about when he was on the show, the special kind of security measures that the production would take to ensure he would not disappear or sneak into the wardrobe department, and then hold a shoe sale the next day. But Michael Mann, the director who created Miami Vice, respected Piñero a lot, as a writer and as a person. He had worked with him on his first film, way before Miami Vice. And Miguel had written a two-hour TV movie for Michael called Smuggler's Blues, which was the definitiveMiami Vice. Our paths crossed again, and I met with him while casting a film. You never knew what was going to happen when he and his friends came into the room. But I got even more interested when I was having dinner with a group of people and the Miguel Piñero stories started flying. Like when Miguel used a phone booth on the Lower East Side as his office and he'd have some street junkie answering like a receptionist. Then I brought up the story about him getting busted the day of the Short Eyes premiere. It turned out there were two stories: he got busted jumping a turnstile at a subway, or he was stealing furs, doing a stickup. Anyway, the stories kept flying and somebody said, "That's the movie you should make next." I started reading Piñero; yeah he's a madman, but also a wonderful writer who was falling through the cracks. Short Eyes was no longer in print, his poetry was difficult to get, his plays were produced less and less and I realized that soon there wasn't going to be a trace of him. I thought, Jesus, what a shame—somebody that was so influential in the '70s, one of the people responsible for spoken word as we know it today, who used to do his poetry with music. Plus it was a fascinating life. He became as much a New Yorker as anybody else and yet his is also the story of uprooted men who started a life here without forgetting where they came from. Like in my film Crossover Dreams, the salsa musicians may have never seen a palm tree and yet they play music that is as tropical as music on the island.
LG Piñero was born in Puerto Rico?
LI Yes. He came to the U.S. when he was seven years old and had an incredibly hard upbringing, like most immigrants. It was physically hard, psychologically devastating, hard on the mother, on the family, on the kids. You're living in basements and you have sisters who are getting TB from the cold, and sleeping on stairways at night because they are homeless …
LG Five kids and the dad gone, right?
LI Yes. It was very difficult. Eventually, Miguel found a home in the streets and drifted into a life of rebellion leading to crime and Rikers Island, where he picked up a drug habit.
LG I love that scene where the mother visits him in jail, she has so much joie de vivre; and she's really a survivor.
LI She was a real inspiration to him, a very educated woman, who made him aware of poetry and who loved writing, but she died very young, while Miguel was doing time.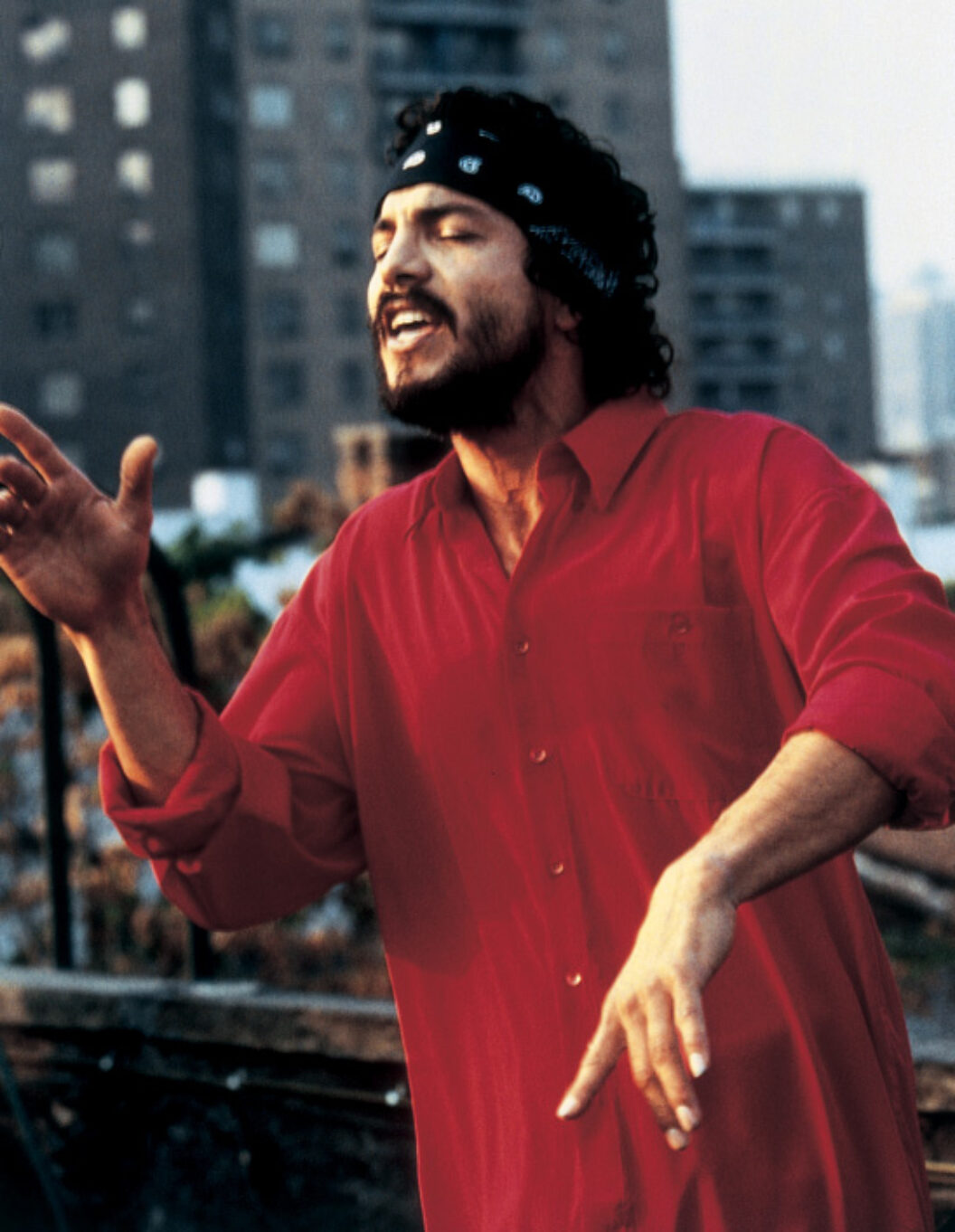 LG How many of the people in Piñero's life are still alive?
LI When I began researching, I tried to find those who were still alive—they were dropping like flies. Reinaldo Povod died of AIDS in the '90s …
LG I remember seeing him at Rikers Island. Sandy Stern, who was responsible for bringing in cultural programs to Rikers, invited me to a performance of his play in the Men's House of Detention, Cuba and His Teddy Bear, with Robert DeNiro, Bert Young, Ralph Macchio—the same cast who performed it on Broadway. Povod was sitting in front of me.
LI Michael Carmine, who was also in that play, died of AIDS … There was a group of guys who were associated with the Nuyorican poets from the beginning: Algarin, Piñero, Pedro Pietri, Lucky Cienfuegos, and Bimbo Rivas. Lucky was murdered in Puerto Rico, Tito Goya was murdered in a jail in Texas.
LG These were the guys who also acted in his plays, right?
LI In Sing Sing there was a writing program (started by Marvin Felix Camilo) and drama classes, and that's where Miguel Piñero met Tito Goya and others who performed in his plays first in, then out of, prison, until the game changed and life began to take a toll on them.
LG What's interesting to me is the duality, doing a stickup when he's supposed to be at his premiere. You have to assume he didn't need the money at that point. It seems like he just couldn't bear to be part of straight society.
LI I'm not his psychiatrist, but when you create a persona to retain that edge—perhaps he didn't have a real interest in success as we know it. There's something admirable about Miguel, and all those guys, which is the fact that they were not interested in being paid actors or writers—money didn't enter the world of the Nuyorican poets. There was a purity about the craft and a devotion to poetry and theater that somehow seems old-fashioned, and at odds with a criminal-minded character who is acting as if the world's gonna end in five minutes. It's really contradictory, and yet so admirable, and honorable.
LG Piñero had no interest really in getting clean, did he?
LI None. He didn't look at it like getting high, he looked at it like being chemically balanced. He had done it all his life, there was no thought of rehab. Although I think he had been part of Phoenix House in the late '60s, which was not just an antidrug rehab—there, the idea of community went hand in hand with rehab. Also there was a political consciousness that Piñero had developed in jail that had to do with the Young Lords and the Panthers, Puerto Ricans and blacks, the senseless Vietnam War and Attica—these were things that mattered to Miguel and his generation, things that gave them a grip on the craziness, ideals to hold on to, which seem missing today. Miguel was a voice for the ghettos, the barrios. I think Spanish people didn't want to be associated with him, which was part of my interest in doing the film, because he did speak for part of a population.
LG I like the way the drugs and the bisexuality were treated in the film, very matter-of-fact, no judgment.
LI It was a lifestyle, and it's a lifestyle that comes out of jail, where sexuality is complicated. The film doesn't dwell on it much because it wasn't a conflict for him, part of the highs and lows, things you go through.
LG Although his girlfriend does allude to it in some scenes. The film's dialogue is very poetic. The script almost seems like a collage.
LI As I began reading more of his work with the help of his best friend, Miguel Algarin, the one remaining original Nuyorican Poets Café poet, I was trying to find some device where I could use Piñero's poetry and plays. I knew it would seem less commercial to have a man standing and reciting poetry, but I was still very interested in doing that. I had already woven a lot of his poetry and plays into the movie, but I wanted to find a way to get even more in, but camouflaged. At times I grafted dialogue from his plays, putting the words into the mouths of the characters.
LG An example of that?
LI Well, the relationship between Povod and Piñero in the film is like the relationship of the young and old pimp in his play, The Sun Always Shines for the Cool. The young pimp is the new kid in town, Povod, and the old pimp (in the play he's called El Viejo) is Piñero, who somehow accepts that he's no longer—
LG —Accepting, but angry.
LI Yeah. "I understand brother, I been there, I know what's at the heart of the pocketbook," that's from the play. Sometimes I would read a play and the character's words made me realize, That's not the character, that's Miguel talking to his father. So when I started understanding that, I started using it.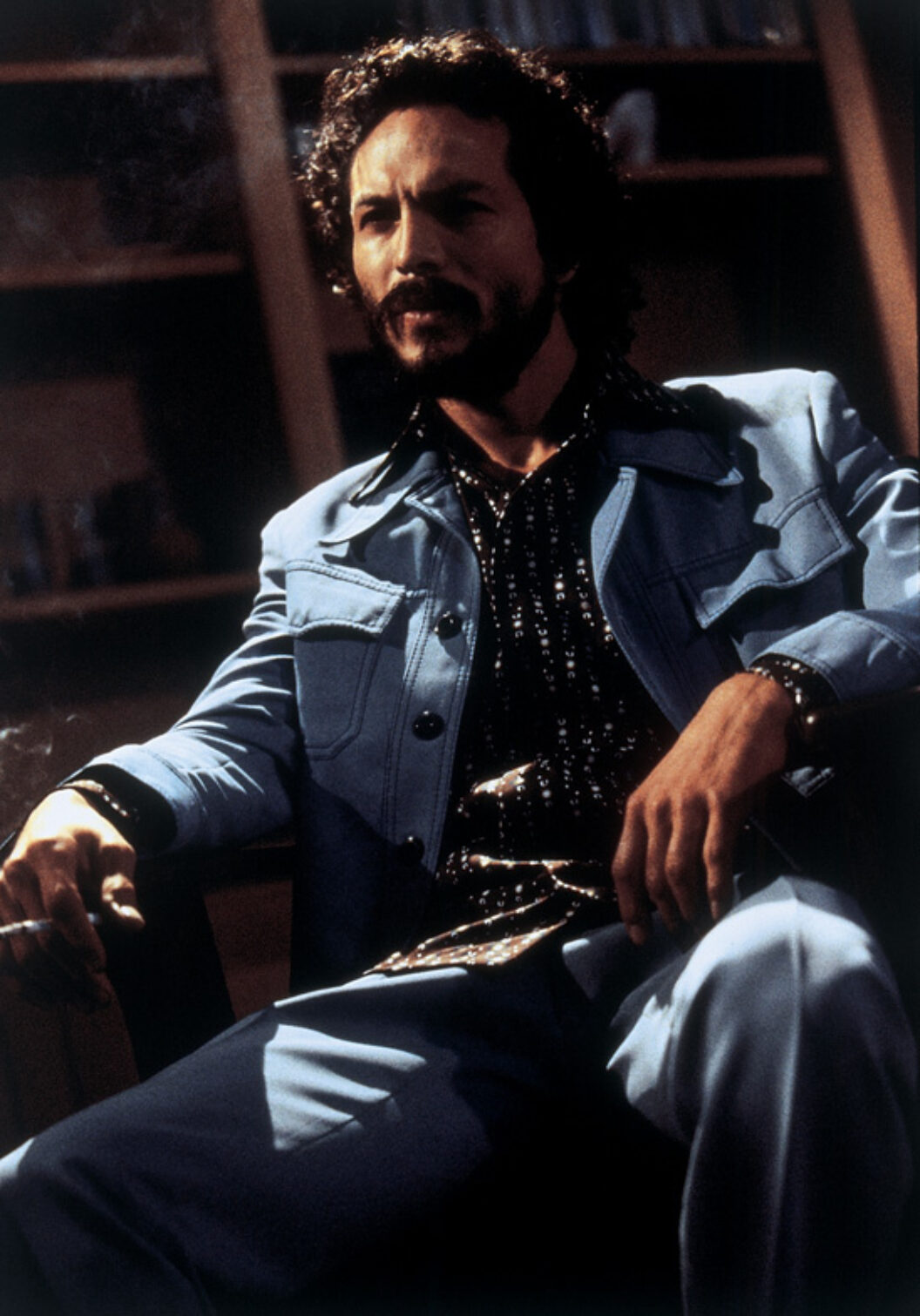 LG How did you get permission to use his material?
LI His brother, Dodi Piñero, was involved, making sure we'd tell the right story. And, yeah, we got the rights from his estate to use the work. I think they trusted me. I used the analogy of that film about Chet Baker, Let's Get Lost, that revived him. I told them, This will do the same for Miguel.
LG Right, because he's been lost to people.
LI All his work will be reissued through Arte Público Press, out of the University of Houston, Texas. Miguel touched a lot of people. He was seen as an actor's actor. When they did the filmFort Apache, the Bronx, he became an ambassador for the production. The community felt exploited—Oh, here comes Hollywood to make us look like junkies, whores, and murderers. And Miguel was like, Hey don't be stupid, we gonna make some money. I'm gonna use every one of you, we're gonna work. And Pacino, too. I came close to doing Carlito's Way with Al Pacino and he kept talking about Miguel and his influence on other actors, writers and directors.
LG That's a tribute to his charisma, obviously.
LI Joe Papp opened the Public Theater to Miguel and was a friend to the end, the whole cast of Short Eyes remained close to him, and the Beat poets, Burroughs and Ginsburg, came to his birthday party at the Nuyorican Café. People liked him. He had a chance, but I guess he was his own worst enemy. He knew how to fuck it up big, just when he could have had a chance to make it big. When they sold Short Eyes to the film industry and he got his chunk of money, one of his Sing Sing teachers bumped into him in Times Square and he was stone broke. He'd just blown 40 grand in two weeks.
LG Doing …?
LI He'd give the money away to friends, he'd lend it to people, he'd buy dope for the whole block, he'd buy a kid a saxophone, somebody a gun, whatever, he was like that, and then he'd be broke. It was almost as if he didn't want to have it, as if he wanted to stay a transient, to keep on moving and not settle, which a lot of us immigrants do to protect ourselves, to not accept the fact that we are here for good and that we lost something back home. We rent, don't buy, don't own anything, keep moving, and that way we're like tourists. It's a form of protection against the immense heartache of losing your land, watching a Puerto Rico that doesn't accept you, or a Cuba that you can't go back to.
LG Did you actually shoot in Puerto Rico?
LI Yes, we did. And I remember Miguel Algarin telling me the disappointment they felt when they went back to Puerto Rico. Nuyorican poets have been all over the world with their work and have been more or less welcomed everywhere, but when it came time to go back home, it didn't happen for them, and it was painful, because you have that island in your mind, a place that you're gonna go back to. And you say, I've thought about this all my life, to come back here, and now they don't remember, or worse than that, they don't want to.
LG In Piñero you used black-and-white and color—why both?
LI The idea was to shoot color with a digital video camera. And with black-and-white, it had in my mind that emotional, almost subliminal connection to jazz, to the old photos of the Beat poets, the bebop movement. I felt it'd be a way to get into Miguel's kaleidoscopic mind, using jump cuts and different colors, and keeping the film as disorganized, at least aesthetically, as possible. There wasn't much logic to it. There's a scene in color and then maybe a close-up in black-and-white and that became the language of the film.
LG Did you write it like that?
LI Yeah. It was difficult to write, because there wasn't that much left on the man himself. Slowly, we began to get videos; people would say, "Hey, I have a little film of Miguel at the Magic Lantern Gallery downtown," and Miguel himself, when he felt he was dying, made a video of all his poems, called A Poet's Visit. Some of these videos or films were in black-and-white.
LG It was a quick shoot, mostly on the Lower East Side?
LI Yes, the rooftops and streets of the Lower East Side were the locations I had in my head while writing it. But they were difficult to re-create—we had to move around the gentrification.
LG The original occupants just keep moving east and pretty soon they're going to be in the river.
LI If Miguel saw Times Square now he'd just start laughing or go insane. This was the only place in the world where you could walk those two blocks amongst hustlers, pimps, whores, Wall Street brokers, models, actors, and a famous star, whatever, everybody walked that block. Nothing would happen to you, but it was part of the color of the city. It was a cesspool, but it was part of what gave New York …
LG Character. The poetry, the architecture—there really isn't an equivalent to Miguel Piñero now, is there?
LI No. I read recently about Gil Scott-Heron in the Times, who was a great poet, about how he's living in a crack-infested part of Harlem, addicted, toothless. I was thinking, Is this what would have happened to Miguel, or to Jimi Hendrix, or to some of the people that we looked up to if they were still around? Where would they be? Would Miguel have become an HBO writer?
LG These days, that's a good thing. I just hope people continue to read. That's why I think movies like this are important. You're likely to get that audience of kids who really are alienated and need things to believe in. It's ironic, you're making a movie that might inspire people to actually read a book!
LI So few people know this history: Amiri Baraka, the Last Poets, and Miguel Piñero. And that's why the film got made.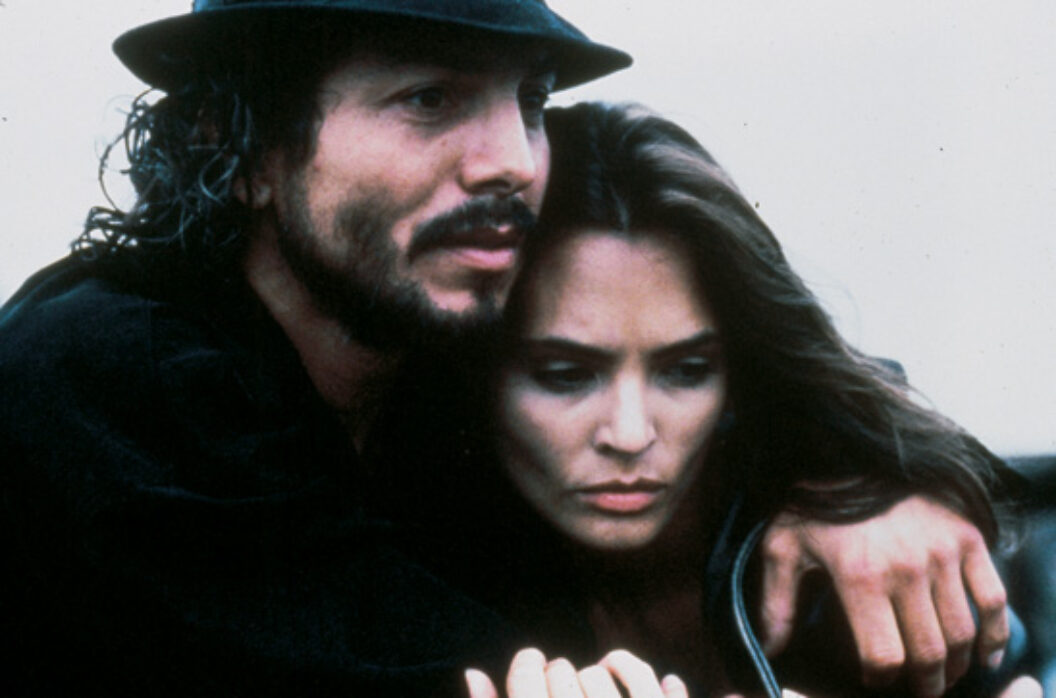 LG And got sold to Miramax. It will attract an audience, there's a hunger out there for something authentic. Let me ask you about the people in the cast, because you have a lot of Latin actors.
LI I didn't want to do what other films have done where they've hired a foreign director to do a Latin story and then they get Americans to portray Latins. So I offered roles to a lot of Puerto Ricans, some of whom turned me down for various reasons, but I felt a need to get as real or close to the community as possible. There's Rita Moreno, who knew and loved Piñero; Giancarlo Esposito, who had met Piñero on "Miami Vice;" Nelson Vasquez, who plays Tito Goya; Jamie Sanchez; Talisa Sota, who plays Sugar, his girlfriend. And the real Sugar is in the film. We have other great actors: Michael Wright plays Bowser, the man who lived with Miguel in the abandoned van during his last days, and Mandy Patinkin plays Joe Papp.
LG He's great. I loved his performance, that rigidity, and at the same time genuine admiration for the very people who are driving him nuts.
LI You got it. The things they did to poor Joseph Papp, like the day they broke in to the Public Theater and tossed a headless chicken inside.
LG Someone threw a live chicken into my high school assembly, so it must mean something.
LI Papp had a handful with those guys. A lot of that community worked with us. Valentina Quinn, Anthony's daughter, plays the interviewer that you see throughout the film. She dated Miguel for awhile. Miguel Algarin reads one of his poems wearing a little crown on his head.
LG He's a survivor, isn't he?
LI He just retired last week after teaching Shakespeare for 20-something years.
LG And, of course, Benjamin Bratt was amazing, Academy Award material.
LI There was a list of people for Piñero that included Benicio Del Toro, Robert Downey Jr., John Leguizamo, Mark Anthony, and then Benjamin Bratt. I met with him and thought he was the most wrong of them all. He was just so beautiful and so West Coast and so nice. The first thing he said when we met was, "I know I'm not your man." But then I saw a film his brother directed called Follow Me Home, where Ben plays a crackhead Chicano mural artist, and he was all tattooed with a crew cut, he had prosthetic teeth and he looked like, My God, he could get down. Because of that wonderful little film I got Benjamin, who said, "I'll go to the mat for you, short of getting a heroin habit." I said, "No! You have to get a heroin habit!" (laughter). When I mentioned Ben to Algarin, because I wanted his blessing, he said, "Yes, I saw him inBound by Honor, bring him by the house." And Benjamin stood there holding Miguel's ashes, and they did some kind of Afro-Caribbean chanting.
LG So there was a camaraderie in the cast. A cast of people who actually knew him, that's pretty extraordinary.
LI Everybody came up with a story. The day we were shooting the scene at the café, we needed a violin player, and Billy Bang, who's been away in Munich for ten years, happened to walk onto the set with his violin case.
LG Wow! Lots of coincidences like that?
LI A lot of things like that; it seemed like Miguel was with us every day. The day the shooting ended in Puerto Rico, we were doing that kind of postcard-perfect beach in San Juan, and the second the camera stopped, a monsoon came in. And we all went into the water, the whole crew and cast, clothed, swimming, and then a huge rainbow appeared above us. I said, Thank you, Miguel. We did it right.
—Lynn Geller has been a print journalist (Paper, the Village Voice, Spin, Spy, and L.A. Weekly, among other publications), a TV journalist ("ABC Closeup" and "20/20"), and now works as a screenwriter and music supervisor on feature films.
Originally published in
Featuring interviews with Roberto Bolaño, Laura Restrepo, Miguel Leon-Portilla, Nancy Morejon, Graciela Sacco, Tunga, and Los Carpinteros.