Painter Lee Quiñones grew up on the Lower East Side and began his career tagging subway cars. His latest paintings are cut from his studio walls.

Discover MFA Programs in Art and Writing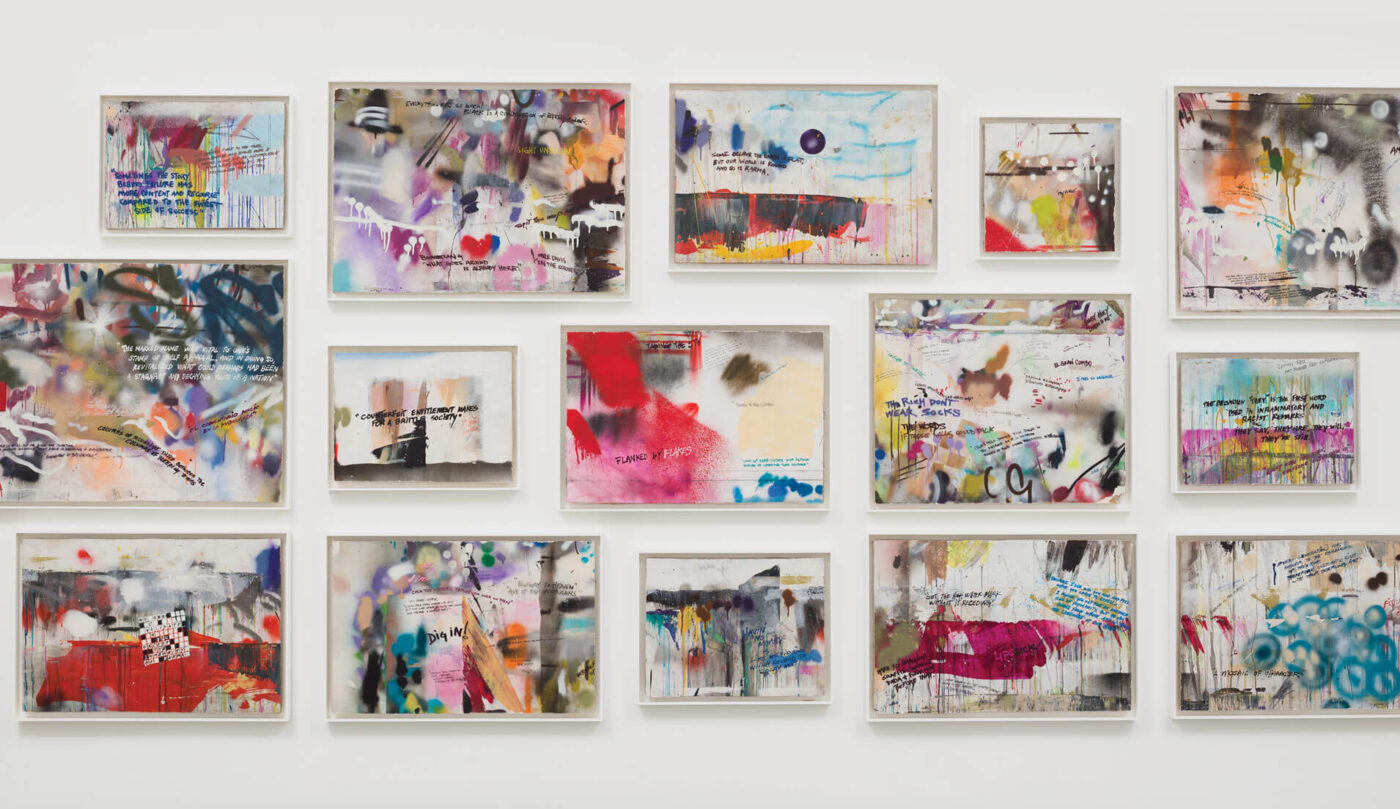 I've known about Lee Quiñones for forty years. I saw his distinctive LEE cars in the subway system in the '70s—you couldn't miss them—saw him in Charlie Ahearn's Wild Style (1983), where he starred as Raymond Zoro, and in Blondie's video for "Rapture" (1980). And over the years, in galleries and on exterior walls, I'd seen his later work, always explosive and meticulous, socially conscious and often autobiographical, transferring the kaleidoscopic energy of his subway pieces to other media. I didn't meet him, though, until both of us had appeared in Sara Driver's documentary Boom for Real: The Late Teenage Years of Jean-Michel Basquiat (2017). In the autumn of 2018, Sara and a bunch of us traveled to Randolph College in Virginia to participate in an exhibit, lectures, and readings connected to the movie. The college rented us a house for the three days and we hung out, heavily. I found out that Lee is relaxed and generous, a charismatic storyteller and a great cook. I learned that he'd ridden his bicycle from New York City to Florida to raise money for the survivors of Hurricane Katrina (the city shut down a lane of the Holland Tunnel to let him bike through). I discovered that he is fierce and passionate about his family, his friends, painting, vehicles of all descriptions, the city, food, and much else besides. We got a chance to continue the conversation on an unusually warm Sunday afternoon in March, at a table outside Il Posto Accanto, on 2nd Street on the Lower East Side, one of his favorite hangs.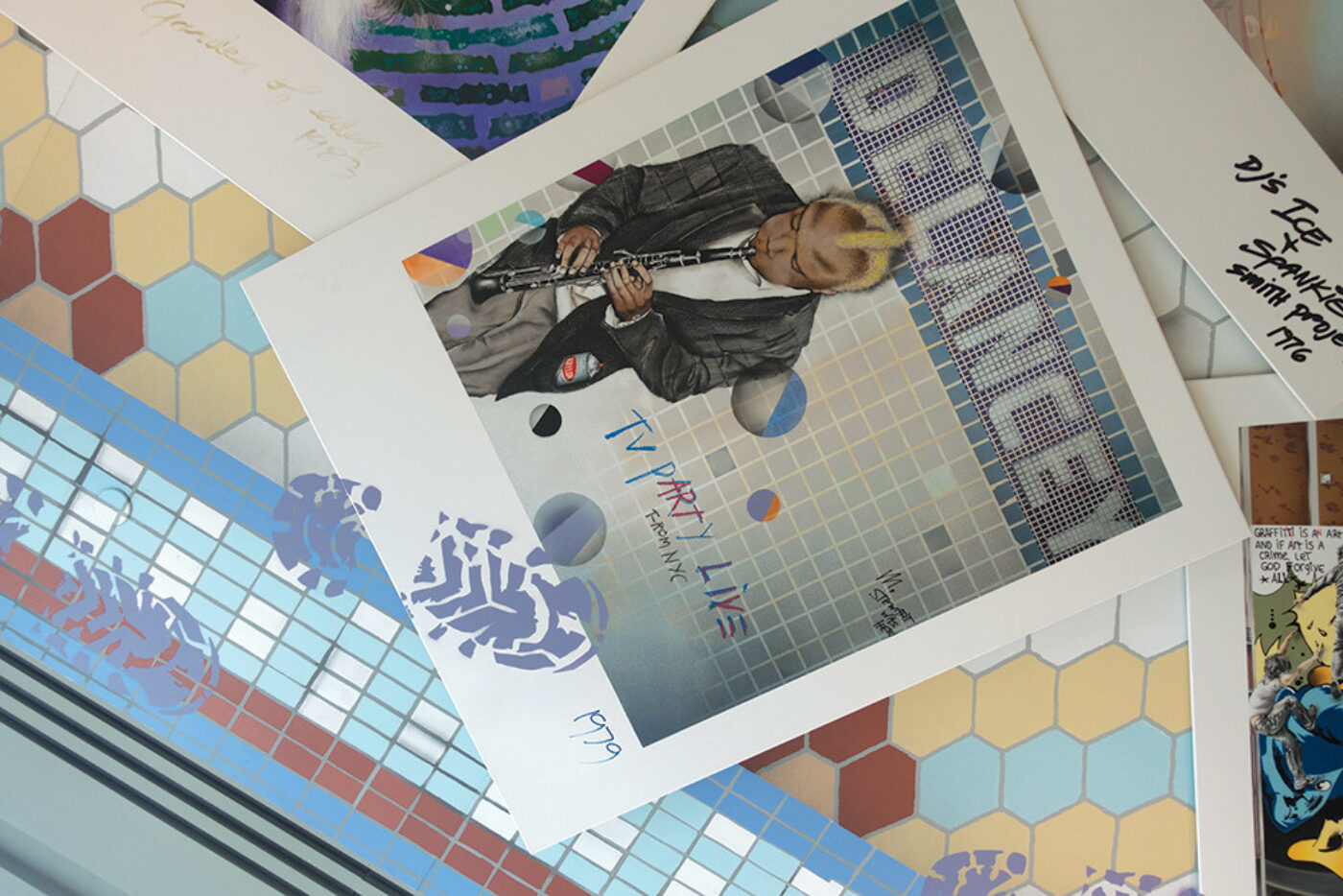 Luc Sante Tell me about that ceiling mural in the Indigo Hotel on Ludlow Street.
Lee Quiñones That mural was sort of speculative, leading to a wonderful discovery. They hired me to create an image for the hotel's Sky Lobby. The building wasn't even up yet. I asked them, "What do you want me to do? Just splash colors?" And they were like, "We want you to do whatever you want. But we'd love to find out more about who you are." So I told my story to a table of architects, engineers, and a peppering of bean counters listening in, and they were all floored. At the conclusion of my presentation, they were like, "We want to turn this into the Lee Hotel." Then it was my turn to be floored.
LS Where's my ten percent?
LQ Right? I thought: You know what? This is my neighborhood, I grew up here, and I have fond memories alongside crazy memories, but there's so much more than just my own account of what happened here in the '70s and '80s. I went back and said, "This is my rough sketch of what I would like to do, but I understand it's a hotel, so we'll meet in the middle." We're talking about culture and experimental music, the underground film scene, and everything in between. And they were like, "Wow, this is fantastic. Go back to the table and draw up something." But even though I brought up the idea, I couldn't see a vision. So I started looking through old photographs and talking shop with my good friend, the artist Justen Ladda, who's been living in the neighborhood since 1978.
I remembered my old Polaroids from 1979, then started looking at the Polaroids Maripol had taken and at the way Andy Warhol formulated his work. There's the lightbulb moment: when you get together with the boys or your family, you break out the picture album. The concept of Polaroids scattered on top of each other on a table came to me. The mural's DNA then started coming together (snaps) with one thing after the other. I started thinking about all the things I heard, saw, and felt. I didn't get to see the Ramones play, but I could feel their presence at CBGB, where I went a few times. And I met Miguel Piñero many years before, but I didn't really get to hang with him—he was much older. I put him into the mural with thoughts of how Martin Wong, who was a dear friend of mine, had once loved him. I went through all these avenues of people that I knew. Of course, I knew Jean [Michel Basquiat] and hung out with him sparingly, had a fight with him once—an argument. I felt that love and I wanted to give that back. And the glamorous Patti Astor, she put us all on the map. I saw the legendary Garden of Eden growing before my eyes as I worked down the street from the garden, at the pet store on Eldridge and Houston.
LS Oh, the one with bicycles and birds—
LQ Exactly. I was working there when Barbara Gladstone and Allan Schwartzman walked in and said, "We want to buy a painting from you. We want to give you a show." All those things came back to me in that mural. I was gung-ho to make it. You know when you get the idea for the book and you just can't wait to write? It took a year to develop because there were a lot of logistical fires to put out, timetables, and deadlines. I learned the grind, but it drove me crazy.
LS Did you paint it in sections and then assemble it?
LQ Yeah, all those Polaroids, they're break-formed aluminum panels fabricated by Juan Marcos over at Pinocchio Woodworks. I created each one individually on the ceiling with the idea of having a background like a bird's-eye view of the Lower East Side. I just couldn't wait to get to each and every portrait. Even if it was of a street corner, or of the Nuyorican Poets' Café. And Maripol's fabulous portrait of Patti.
LS You made her look like Liberty in the Delacroix painting.
LQ Exactly. Patti was fabulous flair. I looked at a lot of photographs and reached out to every one of the photographers. I was like, "Maripol, I really want to use that photograph, and I want to stamp your name on it. I want your approval. In return, I want to give you the original study drawing." I said that to every one of the photographers. And they were like, "Lee, you didn't have to give me a drawing, but wow." Artists invite artists as I say.
LS You worked at JBJ's Pet Shop. In my first book, Low Life, there's the story of a Lower East Side gangster, Monk Eastman, who was really into bicycles and birds. One of his gangs was called the Squab Wheelmen. This is like 1900 or so. I came across that information while I was aware of your store, thinking there was maybe this tradition of birds and bicycles.
LQ The gentleman who opened that store was named Jerry D. He was a World War II vet with a checkered past and kind of connected, if you know what I mean. He was a mysterious guy to many in the neighborhood, but he was very generous with me. The store was about bicycles, motorized minibikes, exotic birds and fish, and whatever else was crawling under the table. I worked there from '77 through '82, on and off. A man named John, who was Jerry's surrogate son, eventually took over the store and became a good friend and father figure over the years. He was very overprotective of me, but it was all new to him—when Keith Haring came in to buy a drawing from me, John was like, "You can't buy anything from him. He's too expensive." He thought Keith couldn't afford my work. John offered me a studio space on one of the vacant floors above the store, and ironically it was this endowment that upended our friendship at the time. When I started to sell those paintings in Europe and the US, and getting busy and scattered with travels, I wasn't around the pet store as much. I was twenty-one. I was like, "This is what I've been doing. I've been painting trains since I was fourteen years old, and I got a chance here, you know."
LS Was that your mural on the outside of his shop?
LQ It was. I did the murals on the front facade and the gates and the signage on Eldridge Street. The store was dear to me because I was into building and riding minibikes. Like many young men throughout the LES. The store served as a destination that fed my fixation with craftsmanship. I had a lot of fun there, but I was also working long hours caring for animals while being tossed in every direction, particularly within the art world. The demand was intense, I had a sold-out show with Barbara in 1982 at her Fifty-Seventh Street gallery, yet it was difficult to disengage from not only the pet store but the subways.
LS One of the things that blows my mind is that you had the show in Rome in '79, before anyone else had a show anywhere. Was that through Barbara Gladstone?
LQ No, that was before things started jumping off in New York. A gentleman by the name of Claudio Bruni, who was the heir to the Bruni wine fortune, was a huge collector of art, on par with the Agnellis and other noble Italian families. He had homes scattered all over the globe: Morocco, Rio de Janeiro, New York, Rome. He was a fabulous, animated, openly gay man. When he discovered [Fab 5] Freddy and I, it was in the old-fashioned happenstance way—riding the subway trains and wondering who was this mysterious Lee character and the Fabulous Five. Then he read a Village Voice ad we had put out showcasing an unprecedented entire handball court mural that I singlehandedly painted in 1978 and stating: "Fabulous Five murals created at $5.00 a square foot. Please call…" Obviously he didn't know who I was, or who we were, until the Voice ad connected the dots.
December 1979: In a leap of faith and after a toast on the town, Mr. Bruni gave us our first show at his Galleria La Medusa in Rome. Fresh off the trains, Fred and I hastily painted the pieces in the show at a popup studio we shared with Basqiuat down at the bottom of Canal Street. The show sold out before it even opened to the public. Then Claudio organized a show at the Paolo Seno Gallery in Milan the very next year in 1980. Claudio was in charge of the Giorgio de Chirico estate, and he and his partner, Antonio Allen, also had a lot of Futurist paintings and sculptures in their collection. There was not enough space in their townhouse on 72nd Street to house the entire collection, but they made room for a few of my pieces. All of a sudden, my paintings were hanging alongside Boccioni sculptures and De Koonings. I remember him saying, "You know, Lee, this is the most fragrant, most colorful, purest American form of art since Pop art and Abstractionism. I want to support you guys." He was pushing us very hard in Europe when no one knew what was going on.
LS Was that before Patti Astor's FUN Gallery?
LQ Way before the FUN. When we came back, Fred and I had our first show with Josh Baer at White Columns, our first New York show right off the heels of the Milan show. We painted the entire gallery and maybe four or five people came to the opening. Who was going to walk down to Spring and Greenwich Street back then? It was desolate and dark. At that first show in New York, the buzz was, "Lee and Fred had a show of paintings in Europe! On canvas! Can you believe that?" I remember people going, "Yo, what happened?" "I don't know. I'm just happy to be back painting in the subway yards." I now had money in my pockets instead of fat caps; it was pretty amazing. It dawned on me at that moment: This is now your next step.
LS It could just be a flash in the pan, right?
LQ Right, it could just be some novelty, some pageantry moment. At that time, I'm like the most wanted graffiti writer in New York. As in WANTED, literally by the police. I'm not surprised that I'm now famous or infamous because of what I was doing. I knew that at that point I was really making art and going against the grain no matter what anyone said. I didn't think that this would be the segue to the art world, but the gates were open. It was a magical moment—confusing and emotional.
LS Had you already been using canvas at that point?
LQ No, that was the first time I had ever created paintings on canvas. They were actually burlap, some cheap-grade potato sack material, which I was surprised that Claudio let us paint on. We went and bought the materials. He'd give us the money. We'd make paintings and he'd buy them from us, and then he would sell them in the gallery, so he was making his little kickback of course. And we were happy to be walking home with a few thousand dollars in our pockets, a lot of money in 1979. Oh my God. Fred was beside himself. But he always kept his game face on. He was surprised and kind of shell-shocked, but he was like, "This is the way we do it." So kudos to Fred. It was a great moment. We can't even grasp it now.
LS That must have been so heady a time. You started on trains when you were fourteen?
LQ 1974.
LS Did you start right away with the spray paint, or was it markers at first?
LQ It was right away spray paint, the tool of the trade. I've been drawing since I was five years old, on paper or anything I could find at home. But I didn't go outside the home with the work until 1974, after taking notice of what was going on as early as 1972, 1973, while traveling with my mother on the subways. All these colors, and these animated friendly bubble letters. There was something youthful and unrestrained about it. Very fun. And rebellious. I never said anything to my mother at the time, but I knew I had to engulf myself into the gray, chocolate-brown train atmosphere. The gloomy mist of incandescent lights. The reflective tiles. And then this bright, colorful, beautiful, poppy stuff rapidly moving by.
By '74 it was explained to me by kids in the neighborhood. Everyone had a nickname, an alias, a nom de plume, reflecting an identity crisis among the city's youth. And I quickly put those thoughts together. It's moving on the subways and yet it's on the streets. Where's the connection? Where's the meeting place? It was the salon of the spiders. Everyone was like, "This is where you do it, in the stillness of the dark with markers and spray paint." Spray paint that you didn't have the funds to buy. So you're thrust into criminality by having to steal your spray paint, out of necessity and tradition. Also, out of showing that you're not some privileged kid with an easy way in. I came from a very decent home in a very rough neighborhood, but all of a sudden: Now you're one of us. Now you have to go and steal the paint, steal yourself into the system. You gotta steal the fat caps that make the paint spray in wide swaths. And all that Catholic guilt started to feel like daggers in my soul. (moans) Then to go sneak into the tunnels, and then serially do it again and again. It was pretty nerve-wracking as a fourteen-year-old kid, to be like, Wow, what do I do with this? I knew that it was somehow right when it seemed wrong. It felt like the real thing to do at that moment.
LS You did trains for six years?
LQ I did trains for ten years. I had my last official hurrah in '84, and then I threw in the towel. By that time, I was having my second show with Barbara in SoHo. Things were really looking up.
LS Also, the city was scrubbing the trains much more regularly. Sometime in the '80s, you just stopped having that thrill of standing in Union Square and seeing the trains go by. They cleaned them off right away.
LQ Yeah, they had systematic programs of cleaning trains or painting them entirely. Their maintenance always dictated that every four to five years they would have to paint the trains anyway. They were made out of iron and cold rolled steel back then, and that stuff starts to decay after a while. Because of that, they went from the classic railroad red and black to the silver with the blue line. Within a two-year span from 1972 to 1974, the art went from little mosquito bites to full-on color sieges of entire subway cars. They didn't know what to do. Where are these kids doing this? How? When? Why? They were just as much deer in the headlights as we were. But we had it down. I was religiously regimented and very respectful of my environment because I knew I was coming back. I wanted to do it undisturbed. That was my biggest fear, being disturbed in the middle of making a piece. An unfinished piece in New York City, where you will see it again and again, is a complete embarrassment, like not knowing your lines in front of a Broadway crowd. It's excruciating, horrifying. The car had to be finished. Because of that, I was cautious about who I picked as my friends, my compadres, who I spoke to, what information I let out.
LS And the people you painted with back then, early on, are any of them professional painters today?
LQ The majority of the painters that were painting on subways went on to lead normal, domestic lives. The very few that stood behind—it's an editing system that happens with anything that doesn't have a manifesto to describe or announce itself, right? Out of that majority, a few stood behind, being curious: What is this about? Can I still indulge in this? Can I conduct myself in a different format, to a different audience, for different reasons? And also, at the same time, look inside myself so that I can feel comfortable bringing this work out? Very intimidating, because you're now break-dancing with an intellectual, elitist crowd. Nowadays everyone can be part of the same greasy dance, but back then it was frightening. I can see why people got intimidated and fell off. And some who were great painters in the subways didn't translate to canvas very well, and either they knew it, or people let them know it. Then you have this group, myself included, that now is in the spotlight. The question is, How do I translate the very honest, juvenile, happy moment of just painting, constructing my life, in a colorful, geometric way and with the letters in dialogue with the art world, within its intellect? Whereas no one was questioning me in the studio of the subway tunnels. No one was even there. I'm there by myself. I had control of this whole thing. So it was a learning curve that was quite honestly difficult for me. There were moments of self-destruction, but I had the ambition to move forward. I had to look deeper and go into my fears, my relations, my history, questioning things. And saying, You know what, I can talk about this now. I can be relevant in this conversation. Because I come from a world of many colors. I don't come from a privileged background. My running joke is that I don't come with a BFA or MFA, I come from the MTA. We as a collective, and we, meaning just a few of us, didn't reference art history, because we were making art history. There are great things that come out of looking back and making references and collaging together what you have—but we never had that luxury because we never knew it was there. I was making what was dear to me, what was really affecting me, which now has anchors in history. And household-name artists can look back and say, Oh, yeah, now we get it. It may be a recollection of something that happened a hundred years ago, or two hundred, but we get how close that is, how peripheral that history is, that time, where we were as people of color, with disenfranchised family issues that made us do what we did. I strongly believe that breakthroughs in art come from places of courage, places of—what would you say? Difficulty.
LS Improvisation?
LQ Yup, exactly. You have to think in between all the distractions. You start getting little snippets, and then you start to feel it's got some meat and potatoes to it. It's been like chum in the waters for a while, to get that catch, because it's invented and cultivated and pushed through those few decades of not knowing if it was going to ever last. It was all ephemeral at that time too. Once it left the subway yards, it was ephemeral in theory. Am I ever going to see that train again? You can't revisit that museum. You have to bench trains for hours to see, "Oh, yeah there it is! Get a photo of it!"
LS What are you doing now? What's your project?
LQ Well, I'm doing half of one thing and half of another. I'm painting and really diving into sculpture.
LS Oh wow. How much of that have you done?
LQ Very little. I've made little maquettes. Ideas for shows and or public site-specific installations that I want to do. But I'm painting using subliminal letters and messages in the background. I love music. I love listening to lyrics. I love reading whenever I can. So all those things eventually fuse themselves into these paintings and drawings. I still have my studio practice here in Brooklyn. I had a great pop-up show of early and current work with Nicole Klagsbrun on the LES in 2015. Nicole is a silent thunder in the arts. My show with her helped bridge my past and present work in a more in-depth conversation. And I just came off my first solo show in Los Angeles at the Charlie James Gallery.
LS I got the announcement.
LQ Which came off—you might dig this—the litter of my studio walls. I just write on my walls. Jean [Basquiat] would cross out letters, supposedly, so that you could look at them more closely. I cross them out because I misspell them. (laughter) Because in that fleeting moment of ideas, I don't want to lose it, so I gotta write it real fast. And I know I'm misspelling something. And I'll cross it out. All this stuff ends up on the walls in my studio in its purity. Mary Boone came by almost three years ago and said, "This is a masterpiece in itself. This whole wall." And I was like, "That's where I'm testing my spray paint." I'm throwing stuff at it: tea, boogers, whatever. I'm writing stuff as it comes. Ex-girlfriends are writing, "I hate you," along my "I loved you." I write all this stuff because I'm either going to make it into a painting or it feeds paintings down the road. And Mary sees it, wants to do a show, then it just doesn't turn out to be for whatever reason. The last words she said to me were, "Hi, Lee. So nice to see you." What a gentle shutdown.
LS Oh wow.
LQ And several years later, just a little over a year ago, I meet Charlie James from Los Angeles at PPOW's booth at Art Basel in Florida. And right off we just started goofing. Just talking. I'm thinking, He's a small gallery; he's probably trying to see what's on the playing field. He says, "I'd really love to come to your studio." So he comes. He later turned me on to so many great LA artists that he shows, like Sadie Barnette, Ramiro Gomez, and Patrick Martinez. He has an incredible eye. He sees the same work that Mary had seen three years before and says, "That's the piece." So kudos and a wink to her eye.
LS It's your notebooks, right?
LQ Yeah, it's my soundboard. I'm like, "I'm just writing stuff. I don't even know what I wrote." He's like, "How can we do a show with this?" And I was like, "I'll just cut out the wall." I felt like Felix the Cat or something, cutting these slabs out. Mind you, I'm not just cutting slabs. I'm trying to make paintings out of what's already there, like, Oh man, I love that but it's a horrible background, and two inches away is another part of me just testing paint, and that looks beautiful. I had to excavate as I was editing. Or rather curate a show. I ended up with fifteen slabs from that. And I knew how I would frame and seal them. I work with a great fabricator and framer in Brooklyn, East Frames, whose family from Japan have been framing since the 1930s. They were like, "Wow, this is kind of crazy, Lee. We've never done this. But we love it." I love crazy. I love discovering new things with people that seemingly have seen everything. And they came out beautiful.
Now I can't wait to get back to working with found objects, mainly computers, their motherboards. I'm composing all these abstractions as a background, and then painting on top of them. I've secretly been doing them since 1996. I'm creating those at the same time that I'm making little maquettes for public installations.
LS Is this what you're referring to as sculptures?
LQ It could be considered sculpture, but to me it's just creating layers. Creating a platform for what I want to paint or write. In one piece I want to collaborate with two people, maybe three: Lenny Futura 2000, Al Diaz, and I'll keep the third one to myself for now. I'm really excited about doing them. They're speaking out on environmental issues. Labor issues. Immigration and privacy violations. And how we work with each other through technology but still long to go back to the dinosaur age, when we looked at people face to face. You don't know who's on the other side of that phone or computer unless you can look in their eyes. Everything is ephemeral now. Words are weaponized. Everybody's fucking angry, I believe, because we are lost in the fog of convenience.
LS Or depressed.
LQ There are a lot of struggles in the world. People pushed into corners. You're depriving people of livelihoods and morals and religion and culture. When you become a culture that destroys culture, what kind of culture is that? I'm questioning that in these paintings. That's where I'm at now. But I'm all over the map because I like loitering in different places. Oh, here's the second part: The subway movement came mainly from places of hurt, yet also of curiosity, places of unanswered questions, in your living conditions and in how you interact with people in a city like this. How can I get my message across by formulating my letters and composing them into two-dimensional sculptures? I often have to defend myself against the nostalgia for my time in history. People who seemingly know better still try to paint me into their corners of nostalgia.
LS Yeah, it happened in X year, and you're stuck there for the rest of your life.
LQ That's it. Even though I'm doing other things physically, mentally, aesthetically, conceptually. That's a great moment for us to have among ourselves in a bar, but you shouldn't dictate that my legacy is stagnant within one era only. That old work that you're referencing was once new. What are you getting out of this if you're just staying in that moment? If you think that back in 1975, I had some kind of power in what I was doing. Why wouldn't you believe that I have power in what I'm doing now? You're denying my ability to be accepted as a painter, as an artist, and you're denying yourself the ability to realize how work can transcend its era. How work can respect its past by arriving at the present and spilling into the future.
LS You've reinvented yourself continuously over decades.
LQ It's all experimentation. I'm still experimenting. I don't have it all in one nutshell. I don't have the complete answers.
LS That's what art is. It's continuous. You never get to the place where you can stop. Until you're dead.
LQ When Nicole and then Charlie said, "I want to do a show with you," I felt that I had arrived at a juncture where I could comfortably show something from the past without it overshadowing what I'm about right now. There's a process. And it takes time. It gives you confidence, even when you're not aware that you're doing something. So yeah, I like to imagine that there are people out there who will maybe even think beyond what I can think and see something in these cuttings from my studio wall. I believe that art is never finished because it's all subjective. But someone can see something else that takes it further. And I might learn something from it.
Luc Sante's books include Low Life, Kill All Your Darlings, and The Other Paris (Farrar, Straus and Giroux, 2015).

Originally published in
Featuring interviews with Mary Weatherford, Nanfu Wang, Lee Quiñones, Venkatachalam Saravanan, Tyshawn Sorey, Ben Whishaw, Édouard Louis, Geovani Martins, Prageeta Sharma, and James Thomas Stevens.